Town Government
By Sharon Bass
Police officer John Sullivan brought home the most municipal bacon in 2007: $154,397. Fire Marshal Brian Badamo earned more than anyone else in his department in 2007: $142,198, coming in fourth of the 50 highest-paid town employees for the '07 calendar year.
Twenty-nine firefighters and 21 cops filled the list. Their yearly pay includes overtime hours. Both departments had been short-staffed last calendar year. The blue force is now fully staffed, but the red crew is still down about eight bodies.
Also, Mayor Craig Henrici has not filled the assistant fire marshal post. Badamo was the assistant until Mark Barletta retired as marshal in 2006. Now Badamo works solo, unlike past practice where there were two in the office.
The following list comes from the Finance Department in response to a Freedom of Information request. Assistant School Superintendent Hamlet Hernandez said the top 50 School Department earners should be ready today or tomorrow. No FOI request was needed. Stay tuned.

2007 Highest Wage Earners

L-NAME F-NAME HOURS GROSS LOC
1 SULLIVAN JOHN 3751.5 154,397.41 HPD
2 SMITH RONALD 3296.25 151,117.28 HPD
3 ONOFRIO WILLIAM 3044.25 145,184.67 HPD
4 BADAMO BRIAN 3223.07 142,198.51 HFD
5 MCNEIL MICHAEL 3211.5 139,390.34 HPD
6 TESTA JOHN 3431.25 138,429.97 HPD
7 COUTURE GARY 3802.25 137,998.76 HFD
8 SIGMON MICHAEL 3450.5 135,117.84 HPD
9 SAMPERI KEVIN 3160.88 134,417.87 HPD
1O BONET JAIME 4338.5 133,661.25 HFD
11 O'DEA JOHN 3581.75 131,463.47 HFD
12 KICAK BOGUSLAW 2739.25 130,441.89 HPD
13 BAKER DENNIS 3626 129,757.74 HFD
14 PATRICK SETH 4213.5 129,011.75 HFD
15 DOLAN BRIAN 4093.5 126,730.66 HFD
16 NG DAVID 3151.5 126,512.09 HPD
17 WYDRA TIMOTHY 2993.25 125,784.90 HPD
I8 PUTNAM DENNIS 3351 125,101.76 HPD
19 PEREIRA GREGORY 3893.5 125,015.94 HFD
2O ANDERSON JOSEPH 4012.5 124,511.46 HFD
21 HILBERT EDWARD 4641.75 122,401.65 HFD
22 VOGT KURT 3855.75 120,962.86 HFD
23 TIERNEY BRION 3997.75 120,474.64 HFD
24 ZUSCIN BRENT 3030 120,241.73 HPD
25 MCDERMOTT FRANCIS 2879.75 117,976.98 HPD
26 DESROCHES RONALD 3307 117,693.20 HFD
27 PROULX DAVID 3878 117,136.51 HFD
28 VENDITTO JASON 3185.5 115,808.46 HPD
29 BARLETTA ADAM 3828 115,735.83 HFD
3O SURPRISE ROBERT 2983 115,650.34 HFD
31 OTLOWSKI RICHARD 3362.75 114,473.18 HFD
32 STRAWHINCE DAVID 2948 114,277.86 HFD
33 DISTEFANO MICHAEL 3102.25 114,132.26 HFD
34 LA BANCA DONALD 2945 113,895.45 HFD
35 GRASSO JOHN 3249 113,644.42 HFD
36 POLZELLA ANGELO 2891.75 113,042.14 HPD
37 REMILLARD DONALD 2932 112,908.88 HPD
38 MADIGOSKY ROBERT 3359 112,718.98 HFD
39 MATTHEWS JAY 3525 112090.56 HFD
4O RHONE THOMAS 2804 111,471.63 HPD
4I BEATON DAVID 3623.5 110,970.85 HFD
42 DOYLE TIMOTHY 4237.84 110,531.36 HFD
43 TAVARAS PAUL 4343 110,340.02 HFD
44 SIKORSKY WILLIAM 2809.75 110,097.13 HPD
45 JACKSON VICTOR 3499.25 109,048.71 HFD
46 LOPES JULIO 3218. 109,047.89 HFD
47 DEGRAND STEPHEN 2912. 108,898.99 HPD
48 YOUNGBERG NATHAN 2739.75 108,776.45 HPD
49 SPENCER JOHN 2805.5 108,396.90 HFD
5O DOLAN SEAN 2739.75 107,393.22 HPD
------------------------------------------------------------------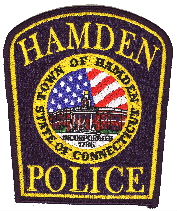 Armed Robbers Ram 2 Cop Cars
From Capt. Ron Smith:
On Jan. 28 at approximately 9:50 p.m., Hamden police were dispatched to the report of an armed robbery at the Apna Bazar, 1890 Dixwell Ave. Apna Bazar is a Middle Eastern grocery store.
Investigation revealed that two individuals, later identified as Abraham Ismail and Richard Lefrancois, entered the store with a firearm and demanded money. After taking an undetermined amount from the cash register, they fled southbound on Dixwell Avenue in a gold-colored vehicle.
Officers Lance Helms and Matthew Barbuto observed the vehicle and attempted to stop it, but to no avail. The vehicle engaged officers in a pursuit through the southern section of Hamden into New Haven. The fleeing vehicle was struck by another vehicle at the intersection of Fitch and Blake streets. Ismail, who was operating the fleeing vehicle, then rammed into a Hamden police vehicle. He put his vehicle in reverse and rammed a second police vehicle.
Officers were then able to arrest Ismail and Lefrancois, who were taken to area hospitals with injuries. Ismail was treated at Yale-New Haven and Lefrancois at the Hospital of Saint Raphael.
The firearm, which was allegedly tossed from the vehicle, was a facsimile. It was located in a residential area of Hamden. New Haven police and Southern Connecticut State University assisted.
Ismail, 34, of 75 Kay Vue Drive, Hamden, was charged with robbery in the 1st degree, larceny in the 5th, interfering with a police officer, unlawful restraint in the 2nd degree and conspiracy to all of the aforementioned charges. He is being held on a $500,000 bond and is scheduled to appear in Meriden Superior Court on Feb. 11. Lefrancois, 39, of 511 George St., Hamden, received the same charges, bond and court date.
---
January 29, 2008
Town, School Audits Fairly Clean

Report yields pretty good news
By Sharon Bass
The town and school are talking to each other about finances.
The pension fund is a little sounder.
The health-fund deficit is less than half its previous size.
Those were among the top talking points from father and son accounting team Robert and David Cappelletti, of the Woodbridge firm of Levitsky & Berney. They presented their audit findings for the '06-'07 fiscal year to the Legislative Council Monday evening.
According to the number-crunchers, as of June 30, 2007, the town had total assets of $283,934,707 (up from $274,054,142 in '05-'06), total liabilities of $239,475,045 (up from $236,782,438), for a total net worth of $44,459,662 (up from $37,271,704).
Robert Cappelletti said compared to last year's "awful communication" between the town and school administrations, the two are pretty chatty now.
"What we're seeing is, there's still problems but they're sitting down together to solve them," he said. And unlike last fiscal year, the accountants found no big boo-boos in the school audit.
The nagging municipal retirement account is better funded this year but at the same time, the unfunded liability has grown. The fund has $86 million compared to '05-'06, when it had $5 million less. However, its unfunded liability rings in at $103 million, up from $94 million because the number of retirees continues to grow. (Click here to see the fluctuation of the fund over the last 10 years.)
Finance Committee Chair Curt Leng said one of the best pieces of news is the town's self-insured health account. The $3.4 million deficit from last year has shrunk by $1.8 million, according to the Cappellettis.
"It's in the best shape since 2003," said Leng.
A few problems were spotted in the Parks & Rec account. In reviewing cash distributions, the accountants found:
Payments made to employees for reimbursements of expenditures without proper documentation;
Receiving documents were not maintained on several items prior to payment, making it difficult to determine if correct items were delivered to the correct location;
Invoices submitted for payment were altered. Found one item that appeared to be altered so that the original contracts were submitted for payment below the procurement level.
Asked how serious the above findings are, David Cappelletti said, "We have to comment on anything we find no matter how small it is."
Leng said this marks the third consecutive budget in the black. Beforehand, he said there were several deficit budgets. Either more money was spent and/or lower revenues were collected than budgeted for.
"Our financial standing is continuing to improve," said Leng. "I'm pleased to say with a couple of exceptions the audit was very sound this year."
Remarked Council President Al Gorman: "We are on the right track, moving slowly in the right direction."
Schedule of Employer Contributions to the Pension Fund
(employees contribute a much smaller amount)
Fiscal Year/Annual Required Contribution/Percentage Contributed
2007 $15,959,437 56.4 percent
2006 $13,951,743 43 percent
2005 $$13,287,374 22.6 percent
2004 $10,660,385 9.4 percent
2003 $6,044,233 8.9 percent
2002 $5,756,815 4.1 percent
2001 $7,252,800 0 percent
2000 $7,073,400 0 percent
1999 $6,801,300 24.7 percent
1998 $6,801,300 58.8 percent
---
January 20, 2008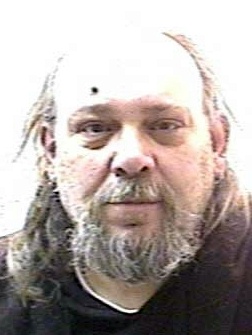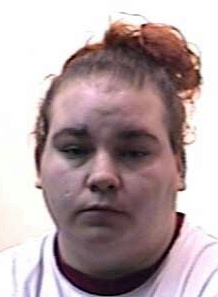 Charles Patricelli Sr. and Natasha Patricelli were arrested Jan. 18. Police photos
From Capt. Ron Smith:
Arrests Just Made on a December Attack
On Dec. 12 at approximately 10:50 p.m., Hamden police were dispatched to Save A Lot, 1125 Dixwell Ave., on a report of a fight in progress. Investigation revealed that two individuals (one an employee at Save A Lot) identified as Arcilio Rodriquez, 23, and his brother Joseph Vasquez, 18, were assaulted in the parking lot by five subjects.
Both Rodriquez and Vasquez were attacked with a hammer and fists. They were threatened with a firearm. Rodriquez suffered a severe head injury and was hospitalized at the Hospital of Saint Raphael. Vasquez was also injured during the incident.
After an extensive investigation by the Detective Division, three arrests were made Jan. 18. At approximately 4:30 p.m. on this date, officers responded to 1653 State St. in Hamden and arrested the following individuals:
Charles Patricelli Sr., 50, of 1653 State St. was charged with assault in the 1st degree, threatening (two counts), reckless endangerment in the 1st degree, carrying a dangerous weapon and interfering with a police officer. Patricelli as detained at police headquarters on a court-ordered $250,000 bond and is scheduled to appear in Meriden Superior Court on Jan. 22.
Natasha Patricelli, 21, of same address as charged with conspiracy to commit assault in the 1st degree, threatening and interfering with a police officer. She was detained at police headquarters on a court-ordered $100,000 bond and is scheduled to appear in Meriden Superior Court on Jan. 22.
A 17-year-old male Hamden resident was charged with assault in the 1st degree, conspiracy to commit assault in the 1st degree (two counts), carrying a dangerous weapon (four counts) and threatening. He was detained at police headquarters on a court-ordered $250,000 bond and is scheduled to appear in Meriden Superior Court on Jan. 22.
Police expect to make additional arrests.
------------------------------------------------------------------
Man Wanted for Approaching Child
On Jan. 17, Hamden police responded to a Meadow Road residence on the report of suspicious activity. Police ascertained that an 8-year-old Helen Street School student was walking to school, when he was approached by an individual who asked him if he wanted a ride.
The individual is described as a middle-aged black male, glasses, operating a white Ford van with tinted windows and a ladder on the back. The incident occurred on Blacy Street, near Pine Rock Avenue. If anyone observes a vehicle fitting this description, please contact police at 230.4000.
---
January 16, 2008
Happy and Full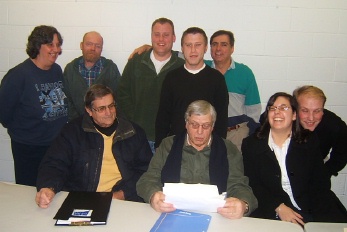 Republican Registrar of Voters Tony Esposito goes over last night's town committee caucus results in the Miller Senior Center. (Standing, from left) Cathy Mosher, Charles Mosher, Councilman Craig Cesare, Jonathan Cesare, DTC Chair Mike Iezzi and Board of Ed member Austin Cesare; (seated, from left) Dick Reilly, Esposito and Jennifer Cutrali. Photo/Sharon Bass
By Sharon Bass
Hamden Republicans were buoyed last night by something their town committee hasn't seen in 10 years. At some of their district caucuses, where they nominate new members for two-year terms, there were more candidates than there are seats though no real contests. Typically the party has a hard time just filling its five seats per district. Now all are filled up except in the 3rd, which is still shy two bodies but also up two from last time.
They attributed their modest growth to last November's very close mayoral race and rising taxes.
"There's been a lot more interest in getting involved in the Republican Party, especially since the last municipal election," said Republican Town Committee Chair Mike Iezzi. Last November, GOP mayoral candidate Ron Gambardella lost by 651 votes to incumbent Democrat Craig Henrici. In '05, Henrici beat his Republican rival by over 8,000 votes.
And Iezzi said the presidential primaries are also helping to drive up GOP numbers.
"It's the wildest turnout we've had in 10 years," said Republican Registrar of Voters Tony Esposito. Fourteen of the 45 members are new this term. (Click here to see the new HRTC.)
"There are more young people who are buying houses in Hamden and want to get involved [with the Republicans] because of the increase in taxes," said Jennifer Cutrali, a 3rd District committee member.
The 1st (Iezzi's) and 3rd districts caucused Tuesday evening at the Miller Senior Center. In past years, all districts caucused together. This time, the other seven districts met in members' homes.
The Democratic Town Committee is naturally larger. At last count, Hamden had 13,313 donkeys to 4,311 elephants, according to the Registrar of Voters Office. The DTC has seven people per each of the nine districts, and often there are opposing slates in party elections that lead to primaries.
"We've reaped the benefits of having people join the party who are looking for change," said Republican Board of Ed member Austin Cesare. "And who have had it with cronyism and escalating taxes."
---
January 15, 2008
'Nothing Surprises Me Anymore'
Council responds to the mayor's personnel changes
By Sharon Bass
Huh?
That's how some councilmen reacted upon learning that Mayor Craig Henrici gave Public Works Director John Busca a totally new job -- without a description, without Council approval and without posting it first; all three are required by Town Charter.
They're also questioning the need for the job and if Busca is qualified.
As reported Monday in the Hamden Daily News, Henrici rehired Joe Velardi to lead the Public Works Department and created a new position for Busca. The men started their new jobs yesterday. Busca has been appointed to oversee new construction.
"Nothing surprises me anymore," said 7th District Councilman Mike Colaiacovo. "In the next couple of days I'm going to investigate how [Busca's new job is] being funded and what kind of job he's doing."
As for Velardi returning to his old post, Colaiacovo, like his peers, said he was fine with that. "He's very well qualified and I will probably" approve the mayor's appointment, he said.
Others on the Council also wanted to know how Busca's salary of $74,525 (same as he was paid as Public Works director) is being funded. It's not in the budget. They also voiced concern about adding another town job and about Busca's credentials to be the new construction manager. He used to run a State Street paving company, but it's unclear whether he has construction experience.
The administration's explanation for the hiring and reassignment could not be obtained since Henrici will not return messages from the HDN. Neither will Council Majority Leader Matt Fitch, Henrici's adviser, nor Council President Al Gorman.
"What did we pay [Busca] to do today? And what's he doing tomorrow?" said at-large Councilman Craig Cesare. "I'm not happy about it."
Asked if he would support Busca's new appointment, Cesare said, "Number one, I would have to see his résumé first. Number two, I fail to see the need for the job now. Someone needs to explain to me why we need this job. I don't feel the need to create another town position.
"At the end of the day, we have an obligation to the taxpayers," he said.
But Velardi, Cesare said, "I have no problem with. There's no reason I wouldn't support him. I think he did a pretty good job in his tenure there."
Ditto, said at-large Councilman Jim Pascarella. "I never had a problem with Joe. I don't have a problem with approving him," he said.
Pascarella said he believes Velardi's and Busca's appointments will be brought up at the Jan. 28 Council committee meetings.
"The mayor may have set this up but it's my understanding that he'll have to come to the Council with a job description, the salary and the reason he wants to create the job," said Pascarella. "I want to hear what the administration has to say. We're building a $20 million police station. That's a major construction project. Does the administration plan to have Busca supervise that?"
At-large Councilman Jack Kennelly, chair of the Public Works & Engineering Committee, said Velardi "did a very good job when he was there before. I suppose I'd be OK with him."
But Kennelly was mum about Busca. "I don't have any information on that so I prefer not to comment," he said.
First Day on the Jobs
Monday morning Busca and Velardi had a meeting. In the afternoon, Busca was sitting in his new office in the Purchasing Department on the upper level of Government Center. He was asked if he had a job description. He said no and didn't want to comment further.
Velardi said Henrici asked him "maybe about a week ago" to take over Public Works again. Asked if he was surprised -- since Henrici had replaced him with Busca in early 2006, shortly after taking office for the first time -- Velardi said no.
"I had heard rumors the last couple of weeks ago that he may be asking. There's always stuff," he said. He will be paid the same as Busca, $74,525. His pension checks will stop while he's working for the town, he said. There will be no double dipping.
"I wouldn't do that," said Velardi.
On his first day at work, he said he arose at 1 a.m. to get the crews out as the snow fell. "I'm glad to be back," he said.
Velardi was a councilman for 10 nonconsecutive years starting in 1979 until 1994, when former Mayor Lillian Clayman appointed him Public Works director. He lost the position under a succeeding administration and was reappointed by former Mayor Carl Amento in 2003.
---
January 14, 2008
Henrici Quietly Gives Busca New Job;
Velardi Returns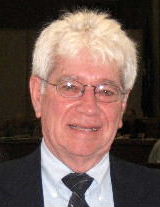 John Busca. File photo
By Sharon Bass
Mayor Craig Henrici has just created a brand new job for Public Works Director John Busca and has brought back former PW Director Joe Velardi to replace him, according to two inside sources, who said the men will assume their new posts today.
The sources, who asked not to be identified, said Busca will now oversee new construction. It is unclear how his new position will be funded as it's not included in the '07-'08 town budget, or what if any department "new construction manager" will fall under. The sources said there's no job description and the position was not posted.
Neither Busca nor Velardi could be reached yesterday for comment. Henrici does not return messages from the HDN.
Chapter V, Section 5-3 of the Town Charter reads: "The Mayor shall have the power, subject to the approval of the Council, to provide for the creation of any new position or department delegating to said department any of the powers reserved to the Mayor under this chapter and to appoint a department head for such department thereby created."
The newly created position never went before the Legislative Council. The sources said Henrici just told Busca last Friday about his job transfer.
Velardi headed Public Works until Henrici became mayor in 2005. Henrici replaced him with Busca, who took over in February 2006. The post is a political appointment. Velardi had supported former Mayor Carl Amento during the 2005 primary against Henrici. Velardi has officially retired from the town and collects a pension, said the sources. It is unclear whether he'll keep getting his retirement checks now that he's reportedly back on the town payroll.
Velardi is a 2nd District member of the Democratic Town Committee.
---
January 11, 2008
Almost Uneventful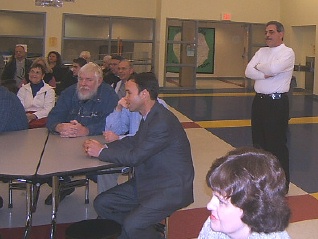 Inside Bear Path School last night, the 8th District caucused. Standing is 8th D Councilman and committee member John DeRosa; at table is Board of Ed member Mike Dolan and new DTC member Don Werner, with the gray beard. Photo/Sharon Bass
Democrats put together their 2008 party
By Sharon Bass
The turnouts were pretty healthy and the process smooth sailing at yesterday's Democratic Town Committee caucuses. Except for the 9th District, where a pro-Henrici slate went up against critics of the mayor.
"It was over in about a minute and a half," said Holly Masi, a new member of the 1st District committee. "Uneventful, unopposed and unanimous." Other districts echoed.
Fifteen new Dems were elected to the committee of 63. Four are former incumbents: Ann Altman (5th), Jack Kennelly (7th), Bill LaVelle (8th) and Don Werner (8th). LaVelle is also a former committee chair. (Click here for the 2008 DTC.)
"With the exception of the 9th, I understand from conversations with those who were at caucuses in other districts, there were no contests," said Chair Joe McDonagh. The 9th reported a turnout of 117, while other districts brought in fewer than half that number; however that's still considered decent. The 8th drew about 75.
According to McDonagh, there were two slates in the 9th.
"The winning slate was supported by 9th District Councilman Jim Leddy and HDTC 9th District Chair Betsy Gorman," he said. "All members of that slate won quite handily, garnering 83 to 90 votes. The other slate included Jackie Downing, Anthony DelGrego, Robert Mordecai, John Nolan, Peter Torello, Michelle Young Torello and Matt Whelan; they won 25-31 votes apiece."
Leddy and Gorman supported Mayor Craig Henrici's reelection bid last year. Downing worked on Republican mayoral candidate Ron Gambardella's campaign.
There was rumbling last night about a possible primary in the 2nd. Reportedly, Paul Jacques, who made an unsuccessful bid for an at-large council seat last November, might present a challenge as he did in 2005. He could not be reached for comment last night.
Primary petition forms must be submitted to the Registrar of Voters Office by 4 p.m. Jan. 30. Petitioners must get the signatures of at least 5 percent of registered voters in their party from their district. Primaries will be held March 4.
The Republicans hold their committee caucuses Jan. 15.
---
January 8, 2008
Council Talks Miles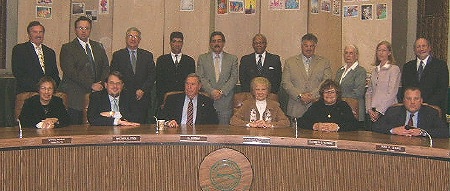 File photo
By Sharon Bass
Last night Administrative Assistant Scott Jackson fulfilled Councilman Matt Fitch's request to tell the public how much it would cost taxpayers if Mayor Craig Henrici drove a town car versus getting paid for using his own. Fitch also asked Jackson how many cars Henrici has eliminated from the town fleet since he was first elected mayor in '05.
What wasn't explained was what those dollar and number figures had to do with the real subject at hand: Henrici's barely-filled-out mileage logs -- for which he was reimbursed $2,446.51 from July 1, 2007, to Nov. 30, 2007-- and the controversy surrounding them.
However, the subject at hand promptly reared its head.
"It's about the way the logs were filled out," said Councilman Craig Cesare. "I'm just curious how the council instructed the mayor on how to fill them out. The IRS would not accept those logs. In the business world, you can't do it like that."
After over three months of sending Freedom of Information requests for Henrici's mileage logs and then having to file a complaint with the FOI Commission because of the mayor's noncompliance, the logs were sent to the HDN on Dec. 13. Last budget season, the mayor had asked for a flat $570 a month for a travel allowance, which wouldn't require proof of business trips. But the council decided instead to put the mayor on the IRS' 48.5-cents-a-mile reimbursement plan, which requires documenting each business trip with destination, reason for destination, date of trip and number of miles driven. Henrici only jotted down the total number of miles he allegedly drove each month and used two cars. The administration and some council members said the problem stems from the council not being specific enough about how the IRS mileage plan works. Meanwhile, the state is looking into the issue to determine whether a criminal investigation is needed.
"He's always the mayor," Jackson said to Cesare. "How do you distinguish between personal and business miles?"
Jackson said if Henrici went to the veterinarian (personal trip), for instance, and the vet asks him about guardrails, "Is that personal or business?"
"With all the scrutiny, it would have been better if he'd just taken a [town] car," said Cesare.
Councilwoman Betty Wetmore said she was "under the impression" during last year's budget hearings that Henrici was only to be reimbursed for business miles.
"I do believe he should be held accountable for his miles, like everyone else in business does," she said.
Councilwoman Carol Noble agreed that Henrici should log his business miles as other employees do, but said the council was "remiss" in not telling the mayor that.
"We probably do need a mileage plan," said Councilman Matt Fitch.
Several councilmen said constituents have been asking them about the mileage controversy. Councilman John DeRosa said some people approached him in a diner recently about the mileage logs. And Councilmen Mike Colaiacovo and Cesare said their constituents are calling them to find out what's going on.
"When will there be a [mileage] policy?" asked Councilman Jim Pascarella.
"I don't know," said Jackson. Later on, Jackson said the mayor's office will develop a policy and Council approval will not be needed.
Wetmore said since Henrici is the first mayor not to drive a town car, guidelines should have been set when he went on the IRS plan July 1, 2007. "But we never agreed to pay for his personal miles," she said. "I thought he'd be keeping a mileage log like he expects his town employees to."
Asked if the taxpayers should pay for the mayor's personal miles, Councilman Curt Leng said, "The true answer is the mayor's job is 24/7, so there are many business miles."
Asked how he knows Henrici puts in "many business miles," Leng said, "I can't answer that question." And added, "If something is clearly a personal trip, I don't think we should pay for it."
And as for the dollar-figure comparisons Fitch asked from Jackson at the beginning of the mileage conversation, Jackson said a town car would cost $10,634 a year, the $570 monthly allowance Henrici requested rings in at $7,050 and Jackson figured the mayor will get $5,713 this fiscal year in actual reimbursement. And the answer to the number of town cars retired from the fleet is 12.
Some council people, who asked not to be named, said they may push during budget season for Henrici to drive a town car, like every other mayor did.
-------------------------------------------------------------
Council says yes, with pause, to architect for new police home
By Sharon Bass
Legislative folks had some trouble OK'ing a contract between the town and Bianco Giolitto Weston Architects for the design of the new police headquarters, which is to be joined at the hip with Memorial Town Hall and extend to where the cops' current decrepit home sits.
It's at least a $20 million project (the architect gets 10 percent) and there were jittery feelings about it in the Council Chambers last night. Most claimed the administration didn't give them have enough information and the contract was just sent to them three days earlier, not enough time to properly review it.
Councilman Jim Pascarella asked if the vote on the contract meant no other site, such as the Dadio Farm, would be considered.
He was told yes.
"How are we going to pay for it?" asked Councilman Craig Cesare.
"The financing of it can get a little complicated," said Chief Administrative Officer Scott Jackson. The hope would be federal earmarks and grants. Memorial Town Hall is an historic landmark and may be eligible for historic money.
Cesare said he had "reservations about jumping into this without knowing the ramifications on the taxpayers."
"We have to be prepared to put every [local] dollar into the project," said Jackson, if no state or federal funds materialize. "So we really don't know the ramifications. But we have the financial capacity" to pay for the police headquarters.
Councilwoman Betty Wetmore expressed the same concern. "If we don't get any state or federal grants the taxpayers have to foot the entire project," she said.
Jackson said there are five separate projects including the new police digs and renovation of old Town Hall. The others are the auditorium to be used as a community center, the streetscape and the communications center.
"You're still not answering my question," said Wetmore. "$25 million for the police station and millions in the fire station. How does it impact the taxpayers?"
Jackson said it would increase the debt service payments. "It also depends on what the market is doing on the day we go to market [to sell bonds] and our bond rating," he said. "We don't know yet."
Like other council members, Jim Pascarella complained he just got the contract three days ago "but because of the poor condition of the Police Department, I will vote in favor."
"We strongly support this with the understanding that the administration will come forward with more information," said Councilwoman Betty Wetmore. "It's been going on for years. Please get us contracts earlier than three days."
The Council's environmental conscience, Kath Schomaker, inquired about onsite renewable energy sources, such as solar. "We need to control the cost of operating the building, not just the cost of building it," she said.
An amendment was passed to include Schomaker's ideas.
"There's been town employees who have been taken to the hospital because of the condition [at police headquarters]," said Councilman Gabe Lupo. "We open ourselves up to liability. I agree with Mr. Jackson that we need to move expeditiously" on the project.
Councilman Jack Kennelly wanted to know who would be the owner's rep. The person or committee in charge of change orders and other decisions. "I think it's absolutely essential to have an owner's rep," he said. "Would the Town Building Committee decision be binding or is there a higher power?"
Jackson said all changes would require the mayor's and TBC's signatures.
Councilman Curt Leng said he asked Finance Director Mike Betz to do a little math on what the debt service payment on a $20 million bond would be. Leng said Betz told him it would cost taxpayers $1.5 million to $2 million a year for the first five years, but didn't supply information for the rest of a bond's typical 30-year lifespan.
"For 20 years we've examined a new fire station and police station and the [price] keeps rising," said Carol Noble, president pro tem, who ran the meeting in President Al Gorman's absence.
"I urge my committee to vote yes," said Noble.
Despite the unresolved concerns, the vote was unanimous.
Not so for the mayor's choice for the new purchasing agent. Some of the Council, such as Kath Schomaker and John DeRosa, felt Parks & Rec supervisor Richard Cumpstone, a 21-year town employee, didn't have the qualifications to be town purchaser.
Finance Director Mike Betz said Cumpstone understands purchasing procedures and has already successfully fixed three problems in the Finance Department.
And former Purchasing Agent Judi Kozak spoke glowingly of her successor. Her words carried weight with at least one council person.
Kennelly said he too was hesitant about the mayor's appointment but said Kozak's endorsement of Cumpstone influenced his opinion.
Leng said if Kozak wasn't hired for two weeks to train Cumpstone, he would vote against the appointment. Jackson said Judi would be available by phone.
All voted yea except Leng, DeRosa, Pascarella and Mike Colaiacovo, who all abstained. Cumpstone, 41, said the pay for his former and new jobs is the same: $63,773.
--------------------------------------------------------------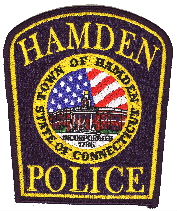 Street Team's 2007 Totals
From Capt. Ron Smith:
The Hamden Police Street Interdiction Team was formed in the fall of 2006. The team operated in 2007 with a lieutenant and seven officers. The officers report for duty in either a uniform or plain clothes. Their primary function is to investigate quality-of-life crimes. Their goal is to keep our neighborhoods free from crime.
During 2007, the team compiled the following statistics:
Arrests: 340
Narcotics Seized:
Cocaine, 414.9 grams with a street value of $35,995
Heroin, 120.8 grams, $9,060
Marijuana, 56.6 pounds, $513,430
PCP, 1.3 grams, $40
Pills:
Ecstasy (15), $375
Methadone (12), $240
Subutex (3), $60
Cyclobenzaprine (11), $275
Percoset (25), $500
Suboxone (25), $500
Xanax (8), $160
Oxycodone (10), $300
TOTAL VALUE OF SEIZED NARCOTICS: $560,665
FIREARMS SEIZED: 7
VEHICLES SEIZED: 8
CASH SEIZED: $48,934.87
The Street Interdiction Team quells disturbances in neighborhoods; addresses littering, graffitti and abandoned vehicles; does gang enforcement, public speaking at schools, civic organizations and neighborhood and church groups.
The team can be reached at 230.4062.
---
January 5, 2008


By Sharon Bass
It's election time in Hamden, again. Democrats and Republicans will be filling their town committee seats on Jan. 10 and Jan. 15, respectively.
The parties do it differently. Or used to. Registered Republicans go to their district voting site and choose among the candidates who show up. The Democrats' rule was candidates had to send a letter of intent to the registrar of voters and only they could be chosen at the caucuses. But that changed two years ago when there was a spat in the 8th.
"Every two years we were following the local rules, which said letters had to be submitted," said Rose Mentone, recording secretary for the Democratic Town Committee. "Two years ago it became an issue in the 8th District because more than seven people wanted to be on the committee."
There were two opposing slates in the 8th in '05. It was decided at the caucus, held at Bear Path School, that people could be nominated who hadn't sent in letters. Some cried it was unfair to change the rules on the spot. But the slate that didn't submit letters ahead of time, headed by former Councilman Mike Germano and Councilwoman Carol Noble, won. Their opposition, led by district chair Anne Ramsey, Tony Mentone and now-Councilman John DeRosa, challenged the rule change to the state party. The verdict was the change was permissible since at the state level there's no letter requirement and state law trumps local.
However, the Ramsey team successfully primaried the Germano group.
Though the Dems say they've now agreed to follow the state rule, many still sent written notice to Registrar of Voters Peggy Rae of their desire to fill a party seat this year. The letter deadline was Thursday.
Here's Rae's letter list:
1st District: Councilman Matt Fitch, Joanne Iacobellis, Kevin Bohan, Gary Schark, Johanna Becker, Ed Grant, Michael McGarry
2nd District: Shirley Farm, Sue Hutchinson, Connie Vitale, Joe Velardi, former Councilman John Flanagan, Holly Masi, Harry Gagliardi Jr.
3rd District: former Councilwoman Berita Rowe-Lewis, Police Commissioner Gerry Migliaro
4th District: Andy Wormser, Joan Rudolph, Phyllis Epstein, Gabe Rosenberg, Steven Mongillo, DTC Vice Chair John Morrison, Mary Glynn
5th District: Richard Morton Sr., Ray Sims Sr., John Donohue, state Rep. Peter Villano, Ann Altman, Irene Fiss, former Councilman Willie Mewborn, Michael Ross, Newhall activist Elizabeth Hayes
6th District: Elaine Dove, Elliott Kerzner, David Huston, Wayne Spies, Councilman Curt Balzano Leng, Barbara Anton, Al May
7th District: Janet Mills, Judy Rich, Barry Herman
8th District: Councilman Jim Pascarella, Jim O'Brien, Councilman John DeRosa, Don Werner
9th District: Jennifer Rignoli, DTC Chair Joe McDonagh, Rosenthal, David Howell, David Massaro, Betsy Gorman, Tony Stratton, Richard Baker, Robert Bretko
In March, both parties will elect officers. It's unclear whether chairs Democrat Joe McDonagh and Republican Mike Iezzi will go for another two-year term.
-------------------------------------------------------------------
By Sharon Bass
Mayor Craig Henrici has withdrawn a controversial appointment he made to the Police Commission and has given the Legislative Council another name to consider, according to several Council members who got the notice in their packets at the end of the week.
At a special meeting Dec. 17, the Council removed the mayor's appointment of retired New Haven cop Brian Sullivan for the commission. Sullivan is related through marriage to Police Chief Tom Wydra and many council members called it a conflict of interest.
Former Police Commissioner Republican Raeanne Curtis, who lost her seat when Henrici was elected in 2005, is named as Sullivan's replacement in the Council packet. Curtis is the commissioner of the state Department of Public Works. A vote on her appointment is expected at the Jan 7 Council meeting.
Comment from Henrici could not be obtained as the mayor does not return messages from the HDN.
---
January 1, 2008
State to Review Mayor's Miles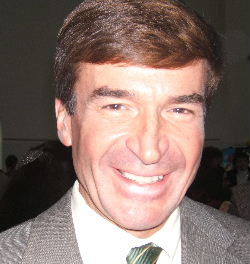 File photo.
By Sharon Bass
The state will look at Democratic Mayor Craig Henrici's mileage claims for potential wrongdoing and could launch an investigation depending on its initial findings, according to the Division of Criminal Justice.
Mark Dupuis, communications officer for the division, which includes the Public Integrity Bureau, confirmed receiving a Dec. 8 e-mail complaint from the HDN and said the bureau will review it to decide whether to conduct a criminal probe. He said he could not comment on whether the integrity bureau has received other complaints about Henrici's questionable travel logs
"We do not comment on any matter that may or may not be under investigation," said Dupuis. If an arrest or referral to "another law-enforcement agency" is made, he said the matter would then become public. "If the investigation closes and no action is taken it does not become public," he said.
Henrici did not return a message left yesterday seeking comment.
Some on the Legislative Council have said they would support a local investigation into Henrici's mileage claims. However, in light of a state probe, they said they want to wait and see before acting.
"If the state's looking into it I'd like to hear what their thoughts are on it before I would recommend that the council proceed," said Democratic Councilman Jim Pascarella. "I think it's such a fuzzy, murky thing."
"Let the state look into it and we'll take it from there," said Democratic Councilman Ozzie Brown.
Ditto, said Democratic Councilman Mike Colaiacovo.
Budget Issue
Before voting on the mileage line item this budget season, which covers Henrici's and other employees' travel reimbursement, Colaiacovo said he wants to know how many business miles the mayor actually drives each month. Henrici did not separate business from personal miles on his July 1, 2007, through Nov. 30, 2007, logs, and claimed he drove 5,183 miles during that period for which he was paid $2,446.51.
After more than three months of sending Freedom of Information requests to the town for the logs and then lodging a complaint of noncompliance, the HDN received them Dec. 13.
In the '07-'08 budget, the mileage-reimbursement line item is $18,900. Henrici had originally asked for a fixed $570 a month for himself, but last spring the council knocked down his request and put him on the IRS' "accountable" reimbursement plan at 48.5 cents a mile. That requires documenting the date, destination and reason for each business trip and miles driven -- all of which Henrici left blank on his logs.
"I was not in favor of the flat amount a year ago," said Pascarella. "We'll address the reimbursement issue during the budget proceedings in April because it is a line item in the mayor's budget." (It's actually a Finance Department item.)
"We're definitely going to take a hard look at it at budget time," said Colaiacovo. "By that time we may know what the state's going to do. Before we go into the budget process, I'm going to have my homework done about the mileage and what we should and shouldn't do. I'm going to talk to other council people and see their feelings."
Dupuis said he didn't have even a ballpark estimate of when an investigation would begin, if deemed necessary. "The Public Integrity Bureau is a busy operation," he said, and public safety allegations get top priority over those of fraud and embezzlement.
Tax Issue
According to inside sources, Henrici plans to claim on his tax return some or all of the $2,446.51 he received in mileage reimbursement from July through November -- even though under the IRS' accountable plan, business travel reimbursements are not taxable.
"From an IRS standpoint, if you declare the amount of money you receive as income it's not an issue from a tax standpoint," said Pascarella.
An e-mail sent to Henrici Monday morning seeking comment on the tax issue was not answered. And a phone message left late last week for Councilman Matt Fitch, a close adviser to the mayor, was not returned.
Also, on Dec. 18, this reporter sent an FOI request to Town Attorney Sue Gruen asking for a copy of Henrici's town appointment book from July 1 to Nov. 30. The same request was made and granted for former East Haven Mayor Joseph Maturo, to determine how much time he spent at his home in Florida. It was revealed he spent a few months of the year down South. Maturo lost his re-election bid this November.
Gruen responded to the HDN's Dec. 18 request in a Dec. 20 letter, writing in part: "… request has been forwarded to the mayor's office and will be reviewed and responded to in accordance with the Freedom of Information Act."