Town Government
February 28, 2007
Town looks to state pension plan
By Sharon Bass
The goal is to put to bed the anorexic local pension plan and have all town employees on the state's instead. It won't happen overnight. It won't even happen over the next few decades. But with the fire and police unions' recent nods to accept the town's proposal for new hires to go with the state's Municipal Employees Retirement Fund, it is expected to happen. Eventually. Over time.
Last week, IAFF Local 2687 (fire) voted in a tentative agreement for new employees to be in MERF. The week before, AFSCME Council 15 Local 907 (police) also agreed, said Personnel Director Ken Kelley. Now Legislative Council approval is needed, which is expected at the April 2 meeting.
The guardians' pension contract expired June 30, 2006. Other town locals' will expire June 30, 2008, but negotiations are slated to begin next month. (Teachers are in the state teachers' retirement plan.)
"We're going to meet with the union presidents and see. The plan we have now is unsustainable," Mayor Craig Henrici said of the pension account, which is just 29 percent funded. "[MERF] takes nothing away from present employees and it helps the town dramatically. The best thing, long range, well into the future, it guarantees the end of our current defined benefit pension plan."
"We contacted MERF. We said, 'Look, our pension plan is in trouble,'" said Kelley. "No more employees will be going into the town plan. The savings will start off slow and then it will snowball."
Currently, 17 percent of the town payroll is fed into the retirement account because of years of under-funding, he said. With MERF, it would be 8 percent. MERF B is the state's plan for municipalities; A is for state employees.
Police officers and firefighters hired after July 1, 2006, will be in the state plan, said Kelley, if the Council ratifies the tentative agreements. However, a few cops have been brought on since then and are on the town plan but may get the choice to switch to MERF. Henrici instituted a hiring freeze this Jan. 1, so there have been no other new hires.
"Those three guys are in flux. We don't know if MERF is going to accept them if MERF says we're only going to take new hires," said Kelley. "When MERF takes over a unit they either want everyone to switch over or only take new hires after a certain date."
Neither he nor Henrici could say what the difference would be for employees between the state and town pension plans.
Hamden's retirement fund was adopted in 1949, said Kelley. Some $15 million is paid yearly to 630 retirees, including spouses of those who have died. Under the death benefit, spouses get 50 percent of the pension and children are also eligible up to a certain age, of which Kelley was unsure.
Town workers -- except guardians who can retire earlier -- are eligible for a pension once they've put in 30 years of service, or are at least 55 with 20 years of service, or are at least 65 with 10 years.
---
February 27, 2007
Auditors tell Council they found no malfeasance with school department's mishandling of money but admit they only did a 'snapshot' review
By Sharon Bass
Robert Cappelletti and his son David told the Legislative Council last night they found no evidence of criminality in their audit of the school department. The Woodbridge accountants did find some already-reported purchasing irregularities -- which have spurred the Board of Education to write new protocols -- but no malfeasance.
However, the men from Levitsky & Berney said they reviewed just a sampling of school purchase orders, invoices and other financial documents from fiscal year 2005-06. And some councilmembers, notably John Flanagan, said they would like a more intensive or even forensic audit of the school's books, especially in light of $267,632 under-the-table wiring jobs for three schools that were initiated without a bid and without notifying the town, violating the local purchasing ordinance and Town Charter.
Other than the school department, the Cappellettis gave the town a pretty clean report card.
They said the general fund balance has increased by $11 million; $6.7 million in undesignated funds and the rest in designated. Some $4.2 million came from the 2005 sale of the Water Pollution Control Authority to New Haven.
"I'm really pleased with the town's financial news in this audit," said Councilman Curt Leng, chair of the Finance Committee. "The undesignated fund balance is at a healthier 4.3 percent level, the pension contributions are steadily increasing and the auditors noted our start to getting the self-insurance fund into better shape. Overall the town's financial health is looking up."
But most of the discussion and concern centered on the education department.
"Anything to lead us to support wrongdoing, theft, embezzlement? Anything of a criminal nature?" asked Council Prez Al Gorman.
"It's not one of our requirements to find all the fraud," said David Cappelletti. A test audit is limited, he said, but no fraud was found in the sampling they reviewed. Instead, he said "internal control weaknesses" were spotted.
School Superintendent Alida Begina responded to the audit in writing with corrective actions. (Click here for excerpts from her letter.) "I read her response and I think she's addressing the problem," said the younger Cappelletti.
In layman's terms, Councilwoman Kath Schomaker asked him to explain how Begina is proposing to correct the problems.
"Moving [school] finance to Government Center," Cappelletti said.
"Your sense of this is just by being physically proximate to each other" problems will be ameliorated, Schomaker said.
But Councilman Ron Gambardella told the auditors that the improper financial doings appeared intentional.
"To say if it was deliberate or not is difficult to say," Robert Cappelletti said, and made note of the BOE's proposed purchasing rules. (Click here to read the rules.)
"What assurances do I have that anyone is going to follow the new regulations?" Gambardella asked.
"The Board of Education would have to answer. You have to get that direct from them," Cappelletti said.
Councilwoman Betty Wetmore asked if it's "advisable to have another audit just of the Board of Education. You say you just looked at a snapshot of it."
Cappelletti said that's a management decision.
Councilman Jim Pascarella defended the school department saying it is taking a "more proactive approach. The end result of your little investigation is that it was reasonably OK. And the cost of the [wiring] jobs were within reason. On the basis of what you saw, you found no embezzlement, etc."
The Cappellettis had earlier said they found no malfeasance and repeated their answer with the caveat that they performed just a test audit.
"I think we have a situation of system failure," said Gorman. "And in terms of 'can we trust them in the future,' I think the Board of Education is embarrassed enough not to let this happen again. But the two items noted here [the purchase orders for the wiring jobs] are the tip of the iceberg. Mr. Flanagan has looked into more and has distributed [what he's found] to the Council, and some of these items are interesting."
Gorman was referring to improper practices such as splitting purchases into two or more orders to avoid having to go through the town purchasing agent or get Council approval; no-bid purchases; and other questionable spending procedures.
Flanagan said signatures are missing from school financial records. "We can't find out who initiated the purchases," he said. "The town has had a purchasing manual for years. [Purchasing Agent] Judi Kozak had to send one recently to the education department because they seemed to have misplaced theirs. And I was there when she sent it so I'm not making this up."
"As I look at these findings, there seems to be more here than what's being presented tonight," said Gambardella. "People just didn't want to follow the rules. There are rules and now we are saying these new rules will make sure it won't happen again."
Gorman asked BOE Chair Michael D'Agostino to approach the podium.
"I appreciate the questions and the concerns that are being raised. If people could just dial down the rhetoric," he said. "As was said tonight, there is no evidence of fraud. I can assure you that no one intentionally didn't follow the purchasing ordinance. I think I would appreciate it if we could dial down the rhetoric because there have been no findings of malfeasance. We apologize to the extent that the town policies were not followed."
Gambardella shot back, "You didn't answer my question. How will it work differently now than in the past?"
D'Agostino said there would be more rigorous oversight by the Board. "That's all we can do. If you want to hire a third party to oversee every Board expense … If we fail again, we deserve not to have our jobs," he said.
Gambardella brought up another concern -- encumbering funds. The school department is not allowed to have an emergency and contingency fund (E&C). The Cappellettis found that some of the funds allocated for purchases were not liquidated, leading some to think the money was being held in an E&C-type account.
D'Agostino said accounts were typically frozen until the end of the fiscal year (June 30) to ensure there would be enough money to cover medical bills. However, the school's self-insurance fund was moved to the town side last year so freezing accounts will no longer be necessary.
"We're not going to be left with the so-called June spending spree," he said.
Wetmore told D'Agostino she was disturbed about his last presentation to the Council when he made promises of school-spending transparency but failed to mention the red-flagged wiring jobs.
"I felt we were blindsided by this audit. That's why it's difficult for me to trust you," she said. "You guys must have known about it."
"We were blindsided by the TV," he said.
After the auditors were done and before the Council committee meetings began, D'Agostino was asked to comment about the proposed purchasing regulations. "No comment," he said.
The HDN then approached Board Finance Director Ed Sullivan who walked over to D'Agostino to get the information. D'Agostino promptly pulled a copy of the regulations out of his briefcase and gave the document to Sullivan, who in turn handed it to the HDN.
"The [BOE] Finance Committee is going to be keeping an eye on everything," Sullivan said. "I think this is an excellent process [new purchasing procedures]. It's a check and balance." He said the proposed regulations would soon get a second reading and a vote.
"To me it's not enough for them to say we made a mistake and that's the end of it," Councilman Bob Westervelt said during the break. "The questions I have are for the Board of Education. I would like to see the finance director for the Board of Education and the finance director for the town working in the same office."
Maybe not in the same office, but if Mayor Craig Henrici's plan goes through -- as it is expected to -- they will be in the same building, along with the other central office administrators. Just one floor down from the mayor's digs in Government Center.
In a letter dated Feb. 22, 2007, addressed to Bob Cappelletti, Superintendent Begina listed and then addressed two of the auditors' findings.
Finding 06-03 Finding 06-03 [sic]: Inadequate Financial Operations and Procedures
Cause: There is currently a lack of communication between the Town and the Board of Education concerning the activity of operating and payroll accounts. This allows activity recorded on one department's general ledger without being recorded to the other.
Effect: The Department of Finance and the Department of Education do not maintain accurate information that agree between the two departments.
BOE Response: During calendar years 2005 and 2006, the Town and the Board of Education experienced extensive transitions in both personnel and procedures. Also, during this time, responsibilities shifted from the Town to the Board of Education. In an initial response to this shift, specific procedures were developed to simplify bank reconciliations … These new procedures should ensure timely and accurate transfer of funds and sharing of information between the Board of Education and the Town. Further proposed procedures include cooperative budgeting for all revenue and medical expenses. Moreover, the move of Board of Education offices to Center One … will also ensure that the Town and the Board of Education finance departments work cooperatively …"
Finding 06-4: Department of Education Purchasing
Condition: During our test work of the period after June 30, 2006, the Department of Education entered into and liquidated the following two purchase orders in excess of $100,000:
Contractual services that includes the wiring of several schools. The original purchase order totaled $127,937, of which $41,109 was liquidated after June 30, 2006. Neither the Town's Purchasing Agent, nor the Department of Education was able to provide evidence of procurement procedures of waivers. Currently there is no contract, which is Required [sic] for all services over $50,000. Original quotation submitted by the contractor was $150,000.
For contractual services and materials that included materials and services for wiring. The original purchase order totaled $139,695, of which $116,095 was liquidated after June 30, 2006. Neither the Town's Purchasing Agent, nor the Department of Education was able to provide evidence of procurement procedures or waivers. Currently there is no contract, which is required for all services over $50,000.
Cause: The financial records of the Department of Education's are not supervised or maintained by the Town's Department of Finance, as stated in the Town Charter. The Town's purchasing Agent depends on the Department of Education to deliver the required requisitions.
Effect: Capital projects were being performed without the reliance of the proper procurement procedure and the legal protection of a construction agreement or contractors insurance.
BOE Response: The Board recognizes that it should follow the Town's capital purchasing procedures, ordinances and Charter in reference to the funding of capital projects … As such, the BOE has since developed and implemented procedures to ensure this will not happen again.
Purchase order (b) for $139,696 was for equipment and professional services. These items were purchased as part of the technology implementation approved by the BOE and were funded from the Board's operation budget. The purchase order was issued to a previously approved vendor from the HMS project.
BOE's Proposed Purchase Protocols
POs in amounts from $500-$1,999 require a verbal quotation from three vendors. POs that are $1,999 and less require approval by finance director only.
POs in the amounts from $2,000 to $49,999 require three written quotes. The lowest quote is usually selected. If the lowest quote is not selected, a written explanation is required as to why. Approval of the Superintendent is required for POs in the $2,000-$49,999 range. In addition, copies of all POs in this range must be sent to the Finance Committee on a monthly basis for informational purposes.
For purchases over $50,000 a formal advertised bid is required. Finance Committee approval is required for amounts between $50,000 and $99,999. Full Board approval is required for all amounts over $100,000.
All POs must have detailed description of each item, for what location the purchase is intended, the requestor's name, and appropriate back-up [sic] documentation.
If a requested PO (for any amount) would exceed the budget allocation for a particular line item, the PO must be returned to the requestor with a note that states that the requested amount is over-budget [sic], and by what amount. The requestor must provide a written explanation as to why the amount is needed to the Superintendent, with a copy to the Finance Committee. Superintendent approval is then required for over-budget amounts up to $10,000. Requests that exceed a budget allocation by more than $10,000 must be approved in advance by the Finance Committee or full Board …
Each audit year, the Finance Director must report audit status of the previous year to the Finance Committee, in writing, on a monthly basis, beginning with August 1 of the new fiscal year.
A written description of all BOE line item budget transfers approved by the Board must be attached to the BOE meeting minutes at which the transfers were approved.
A spread sheet [sic] showing all BOE transfers and expenditures must be provided to the Legislative Council on a monthly basis, consistent with the Town Charter.
The Board of Education Finance Director will work with Town Finance Director on matters of common concern.
------------------------------------------------------------
DOC is the Rx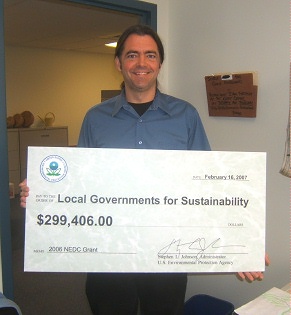 Chris Marchand with a check for healthier air and kids. Photo/Sharon Bass
By Sharon Bass
Diesel engine exhaust from school buses not only pollutes the air it can damage children's health. According to the federal Environmental Protection Agency, it's shown to worsen asthma and bronchitis and can even lead to lung cancer.
But DOC is on its way.
Hamden is the only community in Connecticut to receive a grant from the EPA to retrofit buses with a filter-type contraption called a DOC -- diesel oxidation catalyst -- that should significantly reduce the amount of exhaust school buses spit out, said Chris Marchand, the town grants coordinator.
Last week, the EPA awarded ICLEI-Local Governments for Sustainability nearly $300,000 to reduce school bus emissions in Hamden, Brattleboro, Vt., Cambridge and Springfield, Mass., and Syracuse, N.Y. Hamden got $20,000.
Why Hamden?
"Because when I was previously working as a consultant on energy initiatives in the mayor's office I had worked with ICLEI, so when the opportunity became available for recipients for this grant they contacted me," said Marchand.
Though Laidlaw owns the school buses only those serving Hamden will be retrofitted. And, Marchand said, there will be no cost to the town.
The 20 grand will buy DOCs for roughly a third of the 110 buses that take children to and from Hamden public schools, he said. A DOC is put on the bus' exhaust system and acts like a filter, trapping nasty, harmful particles that would otherwise go into the air and down kids' lungs. Marchand said he's talking with the state Department of Environmental Protection for more funding to buy more DOCs.
He said the catalysts will either be purchased from the state bid list or be put out to bid, and should be in place before the next school year begins.
Since all buses can't get a DOC, Marchand said the newest will be chosen. "We don't want to retrofit the ones from 1998," he said. According to Hamden's contract with Laidlaw, buses cannot be more than 10 years old.
"Laidlaw has tentatively agreed to install the catalysts," he said. "We could have spent $5,000, $6,000 to retrofit them." Instead, that money will go to DOCs.
---
Distressed by improper school-purchasing procedures, Flanagan wants a forensic audit
By Sharon Bass
It's not just the education department's questionable purchase of a $6,111 TV. Or the under-the-table $267,632 spent on school wiring, recently uncovered by auditors, which violates both the Town Charter and purchasing ordinance. There's a lot more, said Councilman John Flanagan, and he's calling for a forensic audit.
At tonight's Legislative Council committee meetings, Flanagan said he plans to bring up the need for "a detailed forensic audit. It's very intense. It also looks for any criminal problems." Levitsky & Berney, the Woodbridge firm that did the town audit, is also scheduled to present its findings this evening.
The 2nd District councilman said he's spent eight hours -- and ticking -- pouring through school purchase orders, requisitions, invoices and checks. "By law, the Board of Education members are legally responsible, individually and severally, for any moneys that this mismanagement has cost the town," he said. "They're supposed to be watching the store and it doesn't look like they have been. The ones I hold most responsible are the ones who have been there the longest, not the ones who were newly elected at the last election."
Flanagan sent a letter to the Council, the mayor, finance director and purchasing agent outlining the school department's "mismanagement of funds" and asking for a criminal probe.
"The only place the town of Hamden had a major problem that was cited separately in the audit was the education department. The education department budget is what drives the taxes up," Flanagan said.
"We are trying to find out what the cost of a forensic audit is. Where the money would come from," said Council President Al Gorman. "There's no budgeted item for this type of audit."
Last year, West Haven spent $65,000 on a forensic audit of all city departments, including education, he said. "So you cut it in half and it's still a lot of money."
Gorman said he's asked Council Clerk Evelyn Parise to find a firm that performs such audits and what the cost would be. According to Gorman and Flanagan, Hamden has never had a forensic audit.
But the president is hesitant.
"There's a question of whether we should move forward with this because the term forensic infers criminal activity and our auditors found no evidence of criminal activity," said Gorman. "No one stealing anything. No one embezzling. They found other things. Irregularity. Inconsistencies the way things were reported. Hard to find how things were paid for. So given that fact that we don't have a clear-cut picture of any criminal activity, I don't know if we'll move forward on a forensic audit."
But Flanagan said he's not so sure there has been no criminal activity and that's what he wants to find out. It will be the Council's decision whether to conduct such a probe.
One of the things that raised his eyebrows was "intentional splitting" of project costs so school administrators could bypass the town purchasing office, he said. Expenditures $5,000 and over must go to town Purchasing Agent Judi Kozak; those $50,000-plus need Council approval.

For instance, a purchase dated June 29, 2006, to Bender Plumbing for a "Bradley" replacement sink in a girls' bathroom at the high school came to $4,996.59 -- just $3.41 shy of the $5K cutoff. However, a second order was made to the New Haven company for $1,395.90 to remove the old sink, totaling $6,392.49 for the sink job. Flanagan also questioned why a $1,200 bid from Trash Master to remove the sink was nixed for the higher price.
Two purchase orders dated Aug. 8, 2006, to North Haven Ceramic Tile were for "replacement of tile and flooring for Church St. and West Woods, STEPS & REACH." One is for $16,294.50, the other for $37,098.60. Splitting the order kept the cost below the $50K threshold. And a third purchase order to the same company for the same stated reason was made on July 10, 2006, for $4,606.90.
Flanagan said North Haven Ceramic was chosen from a state bid list instead of being put out to bid. "You can't use the state list to avoid a bid," he said. Ditto for other purchase orders that are noted as "no bid used" with the explanation of "sole source" or "local bid."
Another purchase order dated June 29, 2006, to Aztec Technologies for printer toners for the high school was made for $10,430.39. However a check was cut $16,648.32 with no documentation explaining the dollar difference, said Flanagan.
Many of the purchases orders were dated June 29, 2006, the day before the fiscal year ended when unspent dollars were to go back to the town.
"I had no problem with them spending the money on textbooks and stuff for the students" that was cut in that year's budget, he said. "But when they start buying TVs, or 'not a TV' as the superintendent calls it, and there's confusion on what money was spent on wiring at the new middle school, which should have been included in the original bond for the new middle school, we have negligence on the part of the people who had been overseeing it."
Gorman said he invited Superintendent Alida Begina and Board of Education Chair Michael D'Agostino to tonight's presentation by Levitsky & Berney, but doesn't know if either will show. He said Begina has responded in writing to the improperly executed wiring jobs.
"Basically she said that they recognize them as problems. They apologized and will correct the situation," said Gorman. How will they correct them? "I don't know. I forget," he said.
---
February 23, 2007
Sendroff Gets the Nom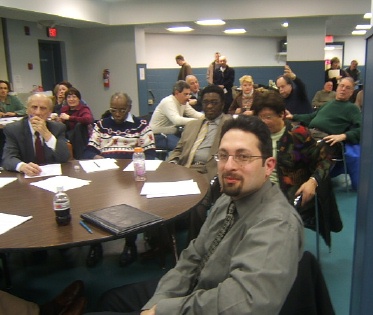 Adam Sendroff after his victory.
But Mentone will also vie for the BOE vacancy next month
Story and photos by Sharon Bass
The 2007 Hamden election season was ignited last night inside the Miller Senior Center. A healthy crowd of state and local politicians, current and retired town officials and residents-with-a-cause piled in to watch the Democratic Town Committee choose between retired educator Rose Mentone and newcomer Adam Sendroff for the nomination for a school board vacancy. To virtually no one's surprise, Sendroff took the vote 30-20.
However, it's up to the Board of Education who gets to replace Jennifer McGrady-Heath, who resigned on Feb. 1. And Mentone said while she was "very disappointed" to lose she is forging ahead. Her votes primarily came from the 2nd, 7th and 8th districts. Harry Gagliardi (2nd District) initially passed and then voted for Mentone.
From the mayor's office to the boardroom at 60 Putnam Ave., there had been a steady push to get votes for Sendroff. On March 8, the Board will interview Sendroff, Mentone and anyone else who applies for McGrady-Heath's seat. A vote is scheduled for March 13.
"I understand the Board of Education is going to listen to our recommendation, which would be nice," DTC Chair Joe McDonagh said at the onset of the meeting.
"I don't know Adam, but he is a member of the PTA and we'd really appreciate that," said Marjorie Clark, a 9th District committee member and PTA president.
Second District Councilman John Flanagan nominated Mentone. "I've known Rose Mentone for 25 years. We shouldn't have an aversion to intelligent women. Comparing résumés [between Mentone and Sendroff], I don't think there is a comparison. You have to vote for Rose," he said.
Flanagan said Mentone is not afraid to make judgments or go after facts.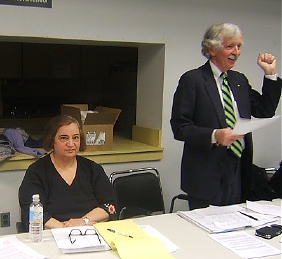 Rose Mentone shortly after her defeat. Standing is committee Chair McDonagh.
"She's always been a dedicated Democrat," said 8th District member Ann Ramsey. "She's had a long and extensive career in the New Haven public schools."
Laticia Mewborn, 5th District, voted for Sendroff. "I think it's important to have a voice on the Board of Education committee. Adam is a parent with children in the system," she said.
Sendroff, 35, is the marketing and sales director for Garland Science, a subsidiary of textbook publisher Taylor & Francis Group. According to his résumé, his background has been exclusively in sales and marketing. He has a bachelor's of arts from the University of Massachusetts and is the PTA Council rep for Ridge Hill School, where his 7-year-old attends. Sendroff serves on the town's Community Development Advisory Commission and is a 5th District DTC member.
Mentone is a retired schoolteacher and administrator. Her last post was assistant principal at Hillhouse High School in New Haven. She also chaired the New England Association of Secondary Schools. Mentone has a bachelor's in Italian from Albertus Magnus College, a master's in urban studies from Southern Connecticut State University and a sixth-year certificate in supervision and administration from SCSU.
She's the only woman to ever chair the HDTC, was named citizen of the year by the Hamden Chamber of Commerce in 1990 and given the 2006 Public Service Award from the secretary of the state. Among her many other credits, she sat on the BOE in 1993 as a replacement and was president of the Bear Path PTA.
BOE Chair Michael D'Agostino stood in the back of the room with other spectators, such as retired Police Chief Jack Kennelly, retired Fire Chief Jim Leddy, Council President Al Gorman, Councilwoman Berita Rowe-Lewis, 2005 5th District Council candidate Kelly McCarthy, Planning & Zoning Commissioner Ann Altman, former Councilman Pat Corso, Hamden's state delegation and a small bevy of tax activists.
Asked for comment on the outcome of the evening's vote, D'Agostino said, "No."
"I'm looking forward to my interview with the Board," said Sendroff. "I want to make sure kids get everything they need while being fair to the taxpayer. The educational landscape is changing fast." He was referring to the upcoming search for a new superintendent as Alida Begina recently announced
she'd be retiring
by June 30, and the No Child Left Behind legislation, which is up for reauthorization.
---
February 21, 2007

By Sharon Bass

Nearly two months ago, state police arrested firefighter Donald Buechele, 52, in North Haven for driving while intoxicated. He was off duty in a town vehicle and crashed into a metal beam guardrail on Route 15. Last Friday, the Hamden Fire Department concluded its internal investigation on the matter.

Buechele's punishment is suspension without pay for 10 days -- Feb. 19 to March 2 -- and to reimburse the town for the $4,400 repair bill on the red Ford pickup he damaged, said Fire Chief David Berardesca. The state took Buechele's driver's license away for six months.

"I wanted to make sure we did the right thing," Berardesca said in response to why it took so long to conclude the investigation. "Not only for this case but for future cases. So basically I laid the groundwork if this happens again. I didn't want to have a knee-jerk reaction on this at all. The main thing was to get Donny healthy again and back to work."

Although Buechele, superintendent of alarms, is without a license, the chief said most of his work is confined to the garage where he makes mechanical repairs on vehicles and apparatus. If driving is required to help out at a fire or for an emergency road repair, Buechele's assistant, Bernie Amatrudo, will take over.

A message left at Buechele's Hamden home was not returned.

Berardesca said he is unaware if Buechele, who joined the HFD in 1982, has been disciplined before. Before coming to Hamden last summer, the chief was with the Wallingford Fire Department, where he said he "occasionally" had to discipline employees. He said he used "progressive discipline," which started with a verbal warning to a written one to suspension and finally termination. Berardesca said he only fired one firefighter in his 16 years in supervisory positions.

"You couldn't use progressive discipline with Donny because of the seriousness of the offense," he said. "I think a lot of the time we took for this case shows what kind of person Donny is. He's an excellent employee. Doesn't abuse sick time. His job performance is excellent. He's the kind of employee any employer would want. But unfortunately, he made a bad decision. But now he's back on the right track."

Buechele was named the 2006 career firefighter of the year and was honored at the Hamden Elks Club last month.
--------------------------------------------------------------

Leave it to Leddy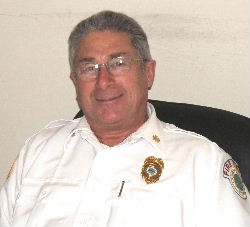 Jim Leddy. File photo

By Sharon Bass

Because former Fire Chief Jim Leddy gave his son Brian Leddy and other new firefighters overtime work last year, all eligible firefighters -- including those who have since retired -- will be compensated, said Fire Chief David Berardesca. Current workers will get an extra personal day and retirees will get paid for a day's work at their exiting salary level.

According to the Hamden firefighters' labor contract, overtime cannot be given to employees with fewer than six months on the job, as was the case with Brian Leddy and the others who got the overtime. They're on probation. Since the former chief passed over those who were qualified to work the extra hours in favor of his son and others on probation, a union grievance was filed and the taxpayers will now have to pay for Leddy's decision.

When those personal days are taken this year overtime pay is all but guaranteed for those who fill in, especially with the department being down 12 fighters and a hiring freeze in place.

Berardesca said he doesn't know how much it will cost and directed that question to Personnel Director Ken Kelley. However, several messages left last week for Kelley were not returned and he was not available for comment yesterday.

It's also unclear how the settlement was reached. Nancy Steffens, spokeswoman for the state Labor Department, said the union overtime grievance did not go to the Labor Board or to Mediation and Arbitration and was likely settled between the firefighters' local and the town. A message left for union president Gary Merwede was not returned.

"It's a problem we inherited and it's settled," was Mayor Craig Henrici's only statement.
---------------------------------------------------------------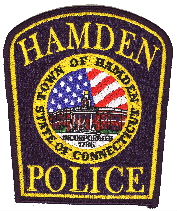 Burglar Tools Lead to Teen Arrests

From Capt. Ron Smith:

On Feb. 19 at approximately 4 a.m., Hamden police were dispatched to the rear of 1166 Dixwell Ave. on a report of two males attempting to break into motor vehicles. Moments later, police located two subjects that fit the physical description walking on Woodin Street. Investigation led to a search of the subjects, which produced burglar tools on one of them.

Two juveniles were arrested.

A 17-year-old Hamden male was charged with conspiracy to commit burglary in the third degree, possession of burglar tools and conspiracy to commit larceny in the second degree. He was detained on a $500 bond and is scheduled to be in Meriden Superior Court on Feb. 27.

A 15-year-old Hamden male was charged with conspiracy to commit burglary in the third degree and conspiracy to commit larceny in the second degree. He was released to a relative. His court date is scheduled for March 5 in New Haven.
-------------------------------------------------------------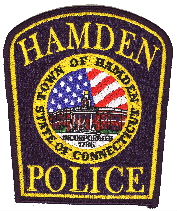 Sex Offender Caught for not Registering

From Capt. Ron Smith:

In November 2006, police received a list of Hamden sex offenders. The list indicated that Ibrahim Shareef had failed to verify his address.

On May 8, 2006, Shareef verified his address with the Sex Offender Registry Unit. He was then mailed a 90-day address verification from the Connecticut Department of Public Safety that he was required to return on or before Aug. 8, 2006. Shareef failed to return and verify his address in accordance with the law.

Shareef, 41, of 63 Dest Drive was arrested and charged with failure to register as a sex offender. He was detained at police headquarters on a $10,000 bond. Sgt. John Riordan of the Detective Division conducted the investigation.
---
February 16, 2007
Something to Write Home About


Public Works people John Busca (left), Mary Brennan and David Rhone, with Joe Collello behind the plow. Photo/Sharon Bass

PW pleases town

By Sharon Bass

With the exception of about two-dozen mailboxes that were knocked over by plows, feedback has been pretty much the same: Public Works really rocked cleaning up Wednesday's snowy ice storm. Streets in virtually all sections of town -- working, middle and upper class -- seemed equitably as dry as a bone, which is not typical.

So the HDN paid Director John Busca and a few of his men -- and woman -- a little visit yesterday to find out just why things went so well this time.

Joe Collello, PW foreman of buildings, said he got "at least three e-mails [about well-plowed streets]. They were very thrilled about how well everything worked out." Praise like that was also heard in Town Hall and around town yesterday, just one day after the town got hit by 2-4 inches of frozen precipitation.

Intra-department kudos went to David Rhone, supervisor of trees and parkways.

But Rhone said it was no big deal and did nothing differently. "I thought it went pretty good," he said. "Not having school helped us quite a bit because there were no school buses."

The job began at 4:30 a.m. Wednesday, when central communications called a sleeping Busca at home. By 5 a.m., he had 15 trucks loaded with sand and salt and 19 workers ready to plow. Many worked close to 20 hours straight, like Mary Brennan, PW's only female field worker (there are two women clerks). She said besides it being a literal pain in the butt sitting in a truck for so long, it wasn't hard work and she was still energized when she got home.

Busca said most of the budgeted $288,000 is left in the department's snow account. Employees are paid overtime until 7 a.m. and get a contractual minimum of four hours. "Whether they were here an hour or an hour and a half," said Busca.

Parks & Rec cleared the town buildings and the schools have their own crew.

Rhone reported no injuries to human or truck. "Every storm is different," he said.
------------------------------------------------------------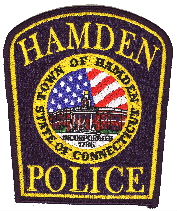 Nabbed for Assisting

From Capt. Ron Smith:

On Feb. 13, Hamden police arrested Christa Sakelarakis for her involvement in a robbery that occurred in July 2005. Sakelarakis allegedly assisted another individual in the robbery. She was arrested on a habeus

During the July 2005 robbery, which occurred at a Wintergreen Avenue residence, a lone male gunman grabbed the resident when she opened the door. The subject then placed a firearm to her head and ordered her to lay face down on the floor. The subject then stole approximately $200 and credit cards. Hamden police hold an outstanding arrest warrant for this subject, who is currently incarcerated in New Jersey.

Sakelarakis, 21, of 69 Bradley Ave., Hamden, was charged with conspiracy to commit robbery in the first degree, conspiracy to commit burglary in the second degree, conspiracy to commit larceny in the second degree, criminal liability robbery in the first degree, criminal liability burglary and criminal liability larceny. Sakelarakis was detained on a $50,000 bond and appeared in court on Feb. 13.

Nothing further.
---
February 15, 2007
Let There Be Art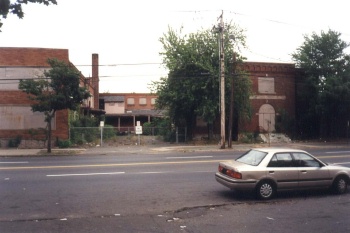 Just approved for reincarnation. File photo

P&Z says a resounding "yes" to Highwood artists' colony

By Sharon Bass

Highwood Square -- a trendy residential/commercial project for artists that's hoped to be a catalyst for the rebirth of the southern Hamden neighborhood -- got the Planning & Zoning Commission's unanimous stamp of approval Tuesday night.

Now, after years of some pretty creative planning, it can finally rock 'n' roll.

"It's a huge step. We're ecstatic that after almost six years we're at the threshold of the beginning of the project," said Economic Development Director Dale Kroop.

The so-called artists' colony needed a special permit from the P&Z because of its density. It will be built on the former Johnson Wholesale Perfume property at 953-965 Dixwell Ave. Plans call for 27 affordable apartments and up to 20,000 square feet of commercial and studio space for residents and nonresidents.

According to Kroop, the $8 million effort will put $125,000 to $150,000 in the local property tax till a year. Completion date is late 2008. The town will foot the cost of the infrastructure, such as sidewalks, he said. Mutual Housing Association, a New Haven nonprofit, is the developer and taxpayer. Apartments and shops will be rented out.

"It was a pleasure to be able to vote in favor of something that has the support of local artists, the Arts Commission, the town and the neighbors," said P&Z Commissioner Ann Altman. Arts Director Mimsie Coleman and 3rd District Councilwoman Berita Rowe-Lewis were among those who voiced strong support for the project Tuesday evening.

P&Z Chair Joe McDonagh said it has been a long time coming. "The site was a blighted piece of property for too long," he said, "and the project will be, I think, the beginning of major renovations to lower Dixwell Avenue. In 10 years, I think we will look on this project as one of the most important in the economic expansion of Hamden."

The 27 one- to three-bedroom units will have studios. The artist-tenants will make their living from their work, said Altman. Highwood Square is also designed to have exhibition space, community workshops and events in an open-air public space. Parking on Columbus Street will serve as overflow for the project and the Farmington Canal line.

"We need to increase our stock of affordable housing and the opportunity to create affordable housing -- while at the same time creating an artists' colony and an arts-related destination at the south end of Dixwell Avenue -- is particularly welcome," said Altman. "The commission voted unanimously in favor of this chance to breathe new life into southern Hamden."
---------------------------------------------------------------

Books Need Bodies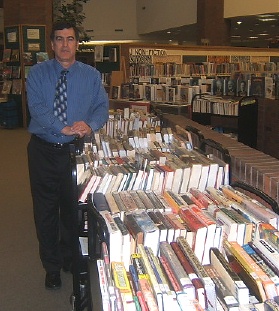 Library director Gualtieri says shelving books is taking a lot longer now with his staffing shortage. Photo/Sharon Bass
By Sharon Bass
Miller Library tech Bea Gambordella says she's running out of space to put new books waiting to be catalogued. Her department is short three bodies. With the mayor's hiring freeze, and the town being down 11 cops and 12 firefighters, Gambordella is probably going to have to learn creative space-making.
And acting department head Carrie Kerzner is going to have to learn how to split herself in thirds. "I feel like I'm trying to be three people. It's not easy," she said. "I definitely feel the stress of it. People out there don't see what goes on for us, trying to get that bestseller out."
It's taking about two additional weeks to shelve new books, said library director Bob Gualtieri. Typical turnaround time is four to six weeks, he said. With the technical services department only half-staffed -- it's budgeted for three full-timers and three part-timers -- the director said workers are being pulled in many directions trying to make up for the lost employees. There's stress as well as backed-up books.
A new self-checkout machine sat by the front counter earlier this week, still in box. "It's a tradeoff. Do you catalog books or set up the station?" he said.
Gualtieri put the three vacant positions -- and two new ones -- in his 2007-08 budget request to the mayor.
Mayor Craig Henrici said since he's in the midst of meeting with department heads about their budgets he'll reserve comment about the library situation. But, he said, "I expect him [Gualtieri] to manage his department accordingly and I will remind him of such at our budget meeting."
Gualtieri is asking for a 13.7 percent increase for next fiscal year. From $1,644,083 to $1,869,865. Of the increase, he said 11 percent goes to contractual wage hikes. The town's three libraries -- Miller, Brundage and Whitneyville -- are budgeted for 27 full-time and 14 part-time employees. Three years ago, two part-time positions were cut, which Gualtieri wants restored. He said if he gets the new employees, Miller could go back to staying open until 9 p.m. on Thursdays. It now closes at 5:30 p.m.
---
February 13, 2007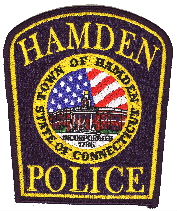 Unclear if Subject 2 is Also Subject 1

From Capt. Ron Smith:

On Feb. 12 at approximately 2 p.m., Hamden police were dispatched to the area of Warren and Dix streets on the report of a subject running after two individuals, while firing a handgun.

A short time thereafter, police encountered a subject fitting the given description who fled on foot. Officers secured the area. Moments later, they saw a subject (unknown if it was the same subject) fleeing on foot through a back yard on Burke Street. He was identified as Kyshone Jackson. And he was arrested.

Upon searching the immediate area, police located a handgun hidden under leaves. With regards to the initial report of a subject firing a handgun at two individuals, police are continuing their investigation. At this point it is uncertain if Jackson is connected to the initial dispatch.

Jackson, 31, of 76 Second St., Hamden, was charged with criminal possession of a firearm, criminal trespass in the third degree and interfering with a police officer. He was detained at police headquarters on a $25,000 bond and is scheduled to appear in court on Feb. 13.

---
February 12, 2007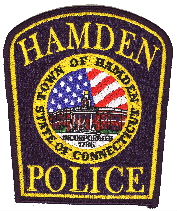 Thatsalotta Pot

From Capt. Ron Smith:

On Feb. 3, members of the Street Interdiction Team observed a drug transaction in the parking lot of Taz Mania's Sports Bar at 1537 Dixwell Ave. Investigation led to searching Aaron Brazille, from whose person police confiscated five bags of marijuana. An additional 118 bags were found in Brazille's motor vehicle.

The street value of the 123 bags of marijuana is estimated at $1,750. Police further seized $485 in cash and Brazille's 1998 Mazda.

Brazille, 20, of 26 Glemby St., Hamden, was charged with possession of a controlled substance and possession of a controlled substance with the intent to sell. He was released on a written promise to appear and given a Feb. 20 court date in Meriden.
---
February 9, 2007
Relieve and Increase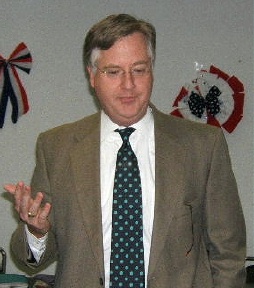 Hamden state Rep. Brendan Sharkey calls Rell's plan part shell game, part facing reality. File photo
Under the governor's budget, property-tax reform is realized by hiking the income tax
By Sharon Bass
Democrats kind of like it. Republicans -- eh. It's Republican Gov. Jodi Rell's proposed 2007-09 budget. If it passes through the General Assembly as is, Hamden stands to get an increase of $3.5 million in state aid next fiscal year to lower the mil rate.
"It's a good start. It's a proposal that frankly I don't think a Democratic governor could have proposed without getting their head handed to them," said state Rep. Brendan Sharkey (D-Hamden). "It essentially embraces what Democrats have wanted to do" -- offer property tax relief.
"I personally don't like the tax increase," said state Rep. Al Adinolfi (R-103).
On Wednesday, Rell unveiled her proposal. It calls for increasing education cost-sharing dollars to Connecticut's 169 municipalities by increasing the state income tax by .5 percent, .25 percent each year of the budget. She's also revived her failed car-tax elimination idea. The extra school dough would not go to increased spending, but rather to give property-tax relief.
Hamden's ECS contribution would go from $19,465,692 this year to $22,215,504 in 2007-08 and $24,066,684 in 2008-09. (Click here to see other estimated state contributions to Hamden.)
"If there's additional money coming to the towns there will be strings attached. It's not a blank check to spend more money on education," said Sharkey. "It's designed to make sure the local taxpayers are paying less."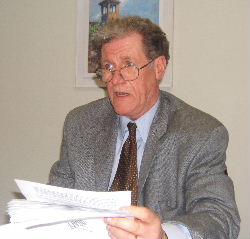 Betz
Finance Director Mike Betz is being cautious.
"It's too early to tell what it means to Hamden. We're losing some in some areas but we're picking up overall," he said. "It's only February. There is a long ways to go before any of this stuff can be viewed as a hard numbers. What she's proposing is really quite extraordinary. For years, there's been no recognition of equalized education funding."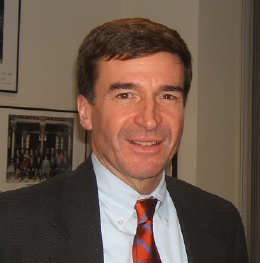 Henrici
Mayor Craig Henrici is optimistic.
"It's obvious we need radical property-tax reform. This is a good start," he said. "I think Hamden will fare better than the governor's proposal. The local real property tax is confiscatory. I always said if we can work with our state delegation and all our state legislators we can do great things."
Adinolfi is skeptical.
"My guess is once it goes to Appropriations [Committee] it goes to the backroom, and I don't agree with that, and the leadership will negotiate and make compromises," he said. "The other way is the Democrats kill it and do what they want. But the Democrats I've talked to think it's a step in the right direction."
And Sharkey is suspicious.
"There's a little bit of a shell game," he said of the car-tax repeal -- this time Rell wants to phase it out over five years. "The Democrats are against it and it's not likely to happen." If towns lose their car-tax revenue, the increased state contribution would somewhat compensate for that loss, he said.
"It's a gimmick. It's regressive," said Sharkey. "You are also going to lose the $500 tax credit you get on your income tax [in Rell's proposed budget]. It's a giveaway to the rich. That's why Democrats are against it."
Those earning over $150,000 a year do not qualify for the tax credit. And if they don't have to pay car taxes, they come out ahead. Meanwhile, their poorer counterparts would lose the tax credit. And their property-tax relief would be offset by the hike in their income tax. "It's a wash," he said.
So Sharkey and other Dems propose increasing the income tax only on those who earn $250,000 or more -- aka the millionaire's tax. "It's not a huge burden to ask someone who's making a million a year to pay an extra 1 percent," the state rep said.
Gotta mess with the spending cap
"You can't do property tax reform without redoing the spending cap," said Sharkey. "Republicans say they'll never agree to adjust the spending cap. It's a political game. The Republicans have tried to maintain this. They try to make it that the spending cap should never be touched or else you're called a tax-and-spend liberal," Sharkey said. "In my opinion it's the spending cap more than anything else that has caused the property tax crisis we're in right now because we can't give the money to the towns even if we've got it."
When Connecticut gave birth to the income tax in 1991 it also put a spending cap in place. The cap can only be increased at the same pace as the average income increase of Connecticut residents. Without allowing for an adjustment in the cap, Sharkey said the state wouldn't have the money to send to communities for property-tax relief.
"The governor has finally recognized the reality that we need to adjust the spending cap," he said. "Without re-basing the spending cap, we'd be $500 million over the spending cap in 07-08."
Rell is suggesting just that. She advocates increasing the cap by 7 percent in 2007-08, and 4 percent the next year. And then return to basing it on the average income hike. Sharkey said having a cap is a useful measure but not during poor economic times. Fixed expenses, like contractual raises and benefits for government employees, rise each year at a brisker rate than the average income. "Over time we're not able to increase our spending to reflect the fixed costs. When the economy is bad the spending cap is so artificially low it makes it impossible for state government to function," he said. Health care costs are expected to jump 15 percent this year.
The lawmaker is also pushing for regionalizing services, saying it would produce long-lasting property tax relief. He introduced a bill this session that ties state aid increases with towns sharing services. For instance, Hamden is planning to build a dog shelter. Sharkey said other towns should be included to spread out the cost.
"We should be thinking more about regional services. Whether it's trash collection. Whether it's procurement of [municipal] vehicles. There's no reason why towns should not be working together and buying in bulk, basically. Those are the kinds of things that make property tax reduction permanent," he said.
According to the state Office of Management and Policy, these are the dollar estimates for Hamden based on Gov. Rell's proposed two-year budget:
Category 2006-07 2007-08 2008-09
PILOT, state-owned property 641,438 539,850 539,850
PILOT, colleges, hospitals 2,407,299 1,777,890 1,777,890
Mashantucket Pequot and Mohegan 1,450,086 1,403,877 1,403,877
Fund Grant
Town Aid Road Fund Grant 330,605 242,443 242,443
Local Capital Improvement Program 414,422 414,422 414,422
Public School Transportation 953,573 913,482 913,482
Non-Public School Transportation 189,645 182,417 182,417
Adult Education 175,117 168,837 168,837
Education Cost Sharing Grant 19,465,692 22,215,504 24,066,684
Casino Assistance Revenue Grant 0 1,555,471 3,515,249

---
February 8, 2007
Same Reservations about a West Woods Hotel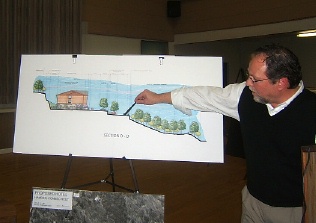 Cheshire engineer John Milone shows a cross section of the proposed 90-room hotel. Photo/Sharon Bass
By Sharon Bass
The latest public hearing on the latest proposal for a much-opposed hotel in northern Hamden was decidedly smaller and less energetic. Last night the Inland Wetlands & Watercourses Commission listened to West Woods Properties' revamped plan, after turning down the initial one 11 months ago. When it came time for public comments, just five rezzies of the barely two-dozen who showed voiced an opinion.
"I'm a little surprised at the showing of the public," said Alan Gold of Todd Street. "But I'm really not surprised. Developers can keep coming back and drag it out. In reality, this proposal is not really different."
Gold challenged the IWW to be strong and scrutinize the second plan for a 90-room hotel at 55 West Woods Road "for a fair outcome for the town."
The commission denied the first proposal on March 1, 2006, after agreeing it would adversely affect the Mill River, among other things. West Woods filed an appeal in New Haven Superior Court on April 11, 2006, which is still pending. Meanwhile, the developers hatched a scaled-back proposal, which it introduced yesterday evening in Council Chambers.
An attorney for West Woods, Dana Friedman, said since the matter is being appealed, the original plan could not be discussed. But the new blueprints are "markedly different," he said.
"The primary difference," said Cheshire engineer John Milone, is the hotel is now sited on the west side rather than the east of the property. The original 101 rooms have been shaved down to 90. A 1,500-square-foot conference center is now 500 square feet. Parking has been scaled down to accommodate a total of 119 cars -- a 29-vehicle lot within the building and 90 parking spaces outside. And more engineering is being proposed on water runoff to better protect the water in the Mill River, which eventually empties into Lake Whitney, which supplies drinking water for 16 towns including Hamden, said Milone. To safeguard trout in the river, the water temp cannot exceed 32 degrees centigrade, he said. It's now at 30 degrees.
"Under the worst conditions, it would rise 1 degree leaving the [hotel] site," the engineer said, "without any of our management systems in place. We're comfortable that the plan will protect the temperature of the Mill River."
One of the complaints from the last go-around was unattractive, 30-foot-high retaining walls. They have been redesigned to be no higher than 10 feet, said Milone. He said there would be wooded and vegetated buffers to protect the river. The revamped storm-water management system includes a detention facility to deal with runoff from paved hotel surfaces, and catch basins would be the "first line of defense" to pick up coarse sediment.
The hotel comprised of two buildings -- one two stories, the other three -- would take up 60,000 square feet of the 6-acre wooded parcel behind Talbot's, down from an original 80,000. The Farmington Canal trail runs parallel to the property.
When the developer's spiel concluded, IWW Chair Steven Sosensky said to the folks in the audience, "Why don't you tell us if you're for or against the proposal."
Don Werner of Mix Avenue, who used to run his business the Mulligan Shop in that neck of the woods, approached the podium first. He talked of the "catastrophic floods" that occurred in 1999 and 2005 when up to 44 inches of water filled the stores' basement and ruined $5,000 worth of merchandise. "So we had 200-year floods in the space of six years," he said.
"This proposal, I think, is going to cause more flooding because of the impervious land there. I didn't hear the applicant say anything about blasting," said Werner. Blasting could create fissures in the ground causing runoff water to scamper uncontrollably in different directions. He also said the hotel is out of character with the rural area. A sentiment echoed over and over since last year.
Cynthia Civitello of Berkeley Court came prepared with a letter written by a hydrologist from the University of Georgia, who said the new plan is an improvement but still leaves many questions. Most notably, he wrote, since construction hadn't begun it's hard to actually know how it will work. West Woods "may have under-predicted their discharge plan," she read from the hydrologist's letter.
"I'm going to make a plug for amphibians," said Andrew Brand of Brooksvale Avenue. The little critters travel to the lowlands to breed every March. If the hotel's curbing is too high, the short-legged amphibians won't be able to step over it and will be trapped, potentially winding up in one of the catch basins. Brand asked for slanted or low curbing.
Sosenksy encouraged more people to voice opinions but no one else budged. After repeated requests for Mike Guaglianone of the Regional Water Authority to get up and talk, the IWW chair succeeded.
"We like this plan a little better than the last plan but there are still some serious issues," Guaglianone said. Noting that he had little to add because he hadn't received the new environmental studies, he said, "I don't know exactly what was changed."
New Hurdle from P&Z
After the wetlands commission turned down the hotel plan last year, the Planning & Zoning Commission passed an amendment requiring a special permit for hotels and motels. To get a permit, there must be a minimum lot size of 80,000 square feet with no more than 20 bedrooms per acre. West Woods' plan fulfills that criterion. However, it doesn't meet another that requires vehicular access to one of Hamden's four main roads -- Whitney, Dixwell or Sherman avenues or State Street.
Attorney Friedman was asked about that before last night's meeting commenced. He said he's considering proposing an amendment to that regulation because the hotel will not have egress to a major road. Of course, the West Woods hotel plan would have to pass IWW muster before proceeding to P&Z -- something many in town hope will never see the light of day.
-----------------------------------------------------------
No Snow, More Dough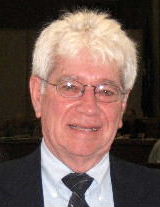 PW's Busca. File photo

By Sharon Bass

John Busca's watching the weather forecasts pretty closely these days. "No snow on the horizon," the Public Works director said yesterday. It's been basically a snow-less winter so far, which means a good handful of change is collecting cobwebs.

Last year, Busca's department spent $353,587 on snow-related expenses, like overtime, supplies and equipment repair. So far this year, 47,614 tax dollars have gone to ice and snow removal.

What snow?

"Two weeks ago we had an inch," he said. "And the year's not over, remember." Busca said he doesn't know how much snow dough was spent by this time in 2006, but it was a lot more than 47-plus grand. Of course, there was also snow on the ground.

Asked to comment on the money so far saved, Mayor Craig Henrici said, "What you save on the peanuts you spend on the bananas. We've been very fortuitous on what we've saved but other things always pop up. There's always things you have to spend money on that you weren't expecting."

In the 2005-06 budget for snow jobs, $315,000 was budgeted and $353,587 was actually spent, Busca said. This fiscal year, $288,000 was put in that line item. Last year, supplies and overtime went over budget while equipment repairs only came to about one-third of what was allocated. As of yesterday, $21,029 have gone to supplies (sand and salt); overtime has rung in at $23,000; and equipment repairs have cost $3,585.

"Something breaks down, something happens," said Busca.

Leftover loots goes back to the general fund and will come in handy for bills such as electricity, which is going up 66 percent, he said.

"We're saving on everything. It's a wonderful thing," said Busca. "If this keeps up for the rest of the year I will be so happy for the taxpayers of Hamden who deserve a break."
---
February 7, 2007
Hello, Dadio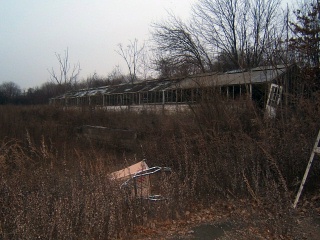 The Putnam Avenue farm is being reborn.

The town closes on the long-awaited farm purchase, and a new fire headquarters -- and more -- becomes a reality

Story and photos by Sharon Bass

Once upon a time, a big Texas developer came into town fixing to build 284 apartments on the Dadio Farm off Putnam Avenue. But the townsfolk cried, "No. It will cost too much to school the new children and hire more cops and firefighters. The traffic will be intolerable. No, no, no!" But the Texan wouldn't back down.

The town of Hamden struck back. The Planning & Zoning Commission denied the big Texas developer's proposal in fall 2005. Then Irving, Texas-based JPI Apartment Development, which had bought the development rights from the Dadio family, took the town to court and won an appeal last spring.

So the town offered JPI $4.2 million for the 11.8 overgrown acres, complete with ramshackle buildings. The big Texan still said no. Next the town tried to take the land by eminent domain but yada, yada, yada, a $6.5 million purchasing deal was finally struck instead. Last fall, the Legislative Council approved the bonding.

And yesterday, that deal was sealed. JPI signed on the dotted line. Mayor Craig Henrici said it was an "uneventful" ending. Now the ball will start to roll on building a new fire headquarters, a new firehouse to replace the dilapidated one on Circular Avenue and selling off about 7 acres to businesses as an expansion to the abutting Hamden Business Park.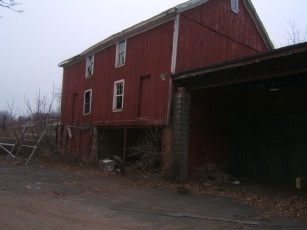 Ye old barn will come down.
With little open space left in southern Hamden, the Dadio Farm is quite a catch. "I've been contacted by numerous, numerous commercial brokers and companies interested in expanding or coming here," said Economic Development Director Dale Kroop. "Home Depot was interested in the site and retailers have contacted me for seven years."
He expects to reap $1 million or more by selling off parcels, and the municipal piggybank will be enriched with commercial tax dollars.
Kroop's 20/20
Three acres on the right side of the farm are being dedicated to the fire buildings. Another acre is wetlands and cannot be touched. Infrastructure, like access roads and utility and sewer lines, will take up some land. And the rest, about 7 acres, will hopefully be sold to light industrial and manufacturing firms. While the business park is off limits to retailers because it was developed with state loot in the mid 1980s, Kroop said since no state money was used for the Dadio purchase, nothing is off the farm table. Except housing.
The next step is getting Council approval to send out RFPs (requests for proposals) for the 7 acres. By this summer, Kroop said a subdivision plan should be in place. And the land-use commissions should start hearing the proposals this fall.
"I would say a year from now, with no major kinks, we should be preparing to do site work [for the fire headquarters]," he said. "By the spring of '08, the land development should start. The businesses [that buy lots], presumably, will start their construction before the town does."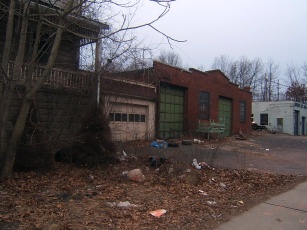 These Putnam Avenue structures to become history.

Three old buildings on Putnam and the house and greenhouse on the farm will be razed. Kroop said he's unsure when the fire headquarters will be completed. A committee comprised of Kroop, Town Planner Leslie Creane, Fire Chief David Berardesca, Hamden engineering firm DeCarlo & Doll and others is working on the concept.

Besides saving the town a ton of money had the Texan built apartments and getting a much-needed fire headquarters, Kroop said the development is an integral part of the revitalization of the Highwood neighborhood. A so-called artist colony is in the works at 953-965 Dixwell Ave., on the old Johnson Wholesale Perfume property. Mutual Housing Association of South Central Connecticut is in the process of building 27 apartments, galleries and retail space, giving the neglected site a real kick of life. The old middle school is also in the revitalization picture, but its makeover is still very much up in the air.

"I think this is very exciting for Highwood, the 3rd and 2nd Districts," said Kroop.

The Dadio Farm project needs a special permit from Planning & Zoning because of the expected density. The commission is scheduled to take that up next week.
---
February 6, 2007

Town officials say they were in the dark

By Sharon Bass

Town Purchasing Agent Judi Kozak said she knew nothing about a highly questionable and stealthy school-wiring job until she read the HDN yesterday..

Finance Director Mike Betz said he didn't know about it until a week or so ago, after auditors discovered the inappropriately handled expenditure.

Mayor Craig Henrici dittoed Betz.

"This is out of the blue to me," Kozak said of the $267,632 the education department spent last year on wiring newly leased computers -- and allegedly kept secret. According to the auditor, Levitsky & Berney, no contract was obtained for the work. No bid went out. The Legislative Council never saw it. It violated both the Town Charter and purchasing ordinance.

"I don't know who the vendor is. That's a very large ticket item for us and we wouldn't have done it on a verbal," said Kozak. Bid waivers over $5,000 need Council approval; those between $2,000 and $4,999 require the signature of Kozak, Betz and Henrici. And contracts for $50,000-plus need Council approval.

Messages left for Assistant Superintendent Hamlet Hernandez and school Finance Director Tom Pesce were not returned yesterday.

"I don't know anything. We just got the audit Friday. It should have come to me but it didn't," Betz said of the two purchase orders for the network wiring. "They should have been requesting Council approval. I have no understanding why they didn't." He too said he didn't know who did the work or which schools were wired and when.

Same with Henrici. "We weren't notified [about the wiring jobs]. We didn't know it was going on," he said. "You heard some rumblings about it. It came to light during the auditing process. I first learned about it in this past month when the auditors were waiting for information from the Board of Ed. I'm looking to move forward to making sure something like this doesn't happen again."

Moving central office administrators into Government Center is the mayor's goal and fix. He said plans for the transition should be completed by the end of this month. The Board of Education would then vote on it "and we will take it from there," Henrici said. "We have no desire to control them but we want them to be part of the whole process. If we're working under one roof the process should be greatly enhanced."

"There has to be more exchange of information financially between the Board of Education and the town," said Betz. "Our role is to look forward to streamline and communicate [with the school department] in formal and semi-formal ways to make sure the ordinance and the charter are complied with on both sides."

Kozak said she also never saw the state contract for a $6,111 TV purchased by the school department on June 29, 2006, one day before the close of the fiscal year when it's spend it or return the surplus to the town. She said she should have seen that one, too.

Betz echoed her. "I read about the plasma [TV] thing. I should have gotten notice of that," he said. "Fiscal prudence would dictate that they should shape up their purchasing procedures."

Meanwhile, Councilman John Flanagan said he is going to ask for a forensic audit of the school's financial records. He said he's pouring through 3,500 school purchase orders and other spending documents and has found some questionable items.
------------------------------------------------------------

By Sharon Basss

The Legislative Council last night approved a temporary labor agreement for the cops, but not without taking a few jabs at one another. Most notably between Republican Councilman Ron Gambardella and his Democratic nemesis John Flanagan.

Gambardella argued that the proposed contract was too lofty. Unrealistic. Unaffordable to the taxpayers. Flanagan countered that police deserve a healthy deal because of their risky line of work. "What if they take a bullet for one of us?" he said, eliciting a chamber-full of laughter

"This contract is more of the same," Gambardella said pointing to the health-care provisions and the new sick-day incentive. "I don't see that we've made any progress and that troubles me. I don't think the town can afford this. Clearly we need to move much more aggressively forward to be in line with other industries."

Flanagan said he'd had it with Gambardella's criticism of union contracts. "I'm getting weary. I don't want to hear about it anymore, that they're getting too much money." He pointed to the Washington Republicans' "Draconian" cuts to health care.

Councilman Curt Leng jumped in. "I think Mr. Gambardella's points are unfair. I think it is slow. Would I like to see more? Sure," he said. "But we're going in the right direction. There's a savings to the town."

Besides, Leng said Hamden is not a private company and the comparison Gambardella makes is not applicable. "We're a municipality and I think if you compared it to the other 169 municipalities [in Connecticut] it would be comparable," he said. "I think it's a well-negotiated union agreement."

The tentative agreement, which would span from July 1, 2006 to June 30, 2010, is considered by most a fairly typical give and take between organized labor and management. The police Local 907 is an AFSCME unit.

Wage increases are 2.5 percent in the first year (July 1, 2006-June 30, 2007) and 3 percent the next three years ending June 30, 2010.

The purpose of the new sick-time incentive is to cut down on giving officers time-and-a-half pay to replace "sick" cops, said Personnel Director Ken Kelley. If officers use nine or fewer sick days a year, they are awarded $750 on their anniversary date; 11 or fewer, they get a $500 bonus. And if they maintain a balance of 150 days of unused sick time they get 100 bucks; 175, 200 bucks; and 220, $400, on their anniversaries.

Asked what sick time is meant for, Kelley said, "When someone's sick." Then how can someone control his or her sick-time usage? Kelley said the proposed measure is meant to reduce misuse.

"Anything we can do to reduce overtime," said Deputy Chief John Cappiello, who called the tentative agreement "fair."

Hamden's finest also gets a choice of three health plans. The century preferred (aka the Cadillac), a POS (point of service) plan, never offered before, and a POE (point of entry) policy. Currently cops pay 5 percent toward their premiums, said Kelley. Under the new agreement, the Cadillac would cost police 9 percent in the first year; 10 percent in 2007, 11 percent in 2008 and 12 percent in 2009. The POS is scheduled at 7 percent, 8 percent, 9 percent and 10 percent. The POE is just 1 percent, 2 percent, 3 percent and 4 percent over the four years.

Kelley said most cops opt for the Cadillac.

Gambardella, who sells private health plans, said insurance costs are rising faster than the rate of inflation. "In my opinion, no one is looking out for the taxpayers. We have former union organizers on this Council. It has to stop. We have to do something now. People are pleading with me for tax relief, but I can't do it alone!"

Flanagan is a former union organizer and said he's darn proud of it. "If we are going to follow Mr. Gambardella's reasoning he should not be commenting either. He's in the health insurance business," he said.

As forcefully as Flanagan supports labor contracts, he abstained during the vote; Gambardella was the sole no vote. Flanagan said he thought there was going to be a move to private retirement accounts to take some of the burden off the town's ailing pension fund. Kelley said the pension contracts are separate and are currently being negotiated. Councilwoman Gretchen Callahan also abstained saying she wanted to see more benefit to the taxpayers.

"Every contract we see is a step forward," said Councilman Matt Fitch. "I just think it's going to take a long period of time. You can't go from the Cadillac to the jalopy. You shoot for a Chevy."

Gambardella said the time is now.

The local's contract expired last July and Finance Director Mike Betz said retroactive pay would total $116,000 if the agreement is ratified.
---
February 5, 2007
The $267,632 Wire Job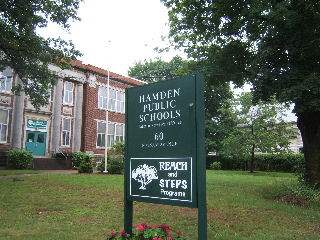 Town audit reveals school administration secretly, improperly paid for computer-network wiring
By Sharon Bass
Last year, the Legislative Council gave the schools permission to lease new computers. But the cost to network the new machines via wires was reportedly overlooked. The work was subsequently done to the tune of $267,632. But few knew about it until public accountants Levitsky & Berney unearthed the expense while preparing the just-released town audit for fiscal year 2006 (July 1, 2005-June 30, 2006).
In its report, the firm found the expenditure (divided into two purchase orders) was carried out without a contract, without being budgeted for and without going before the Council -- all of which violate the town's purchasing ordinance.
Even as recently as Jan. 29, when Board of Education Chair Michael D'Agostino gave a presentation to the Council about proposed school-purchasing reforms in response to questionable spending -- such as a $6,111 big-screen TV for the superintendent's conference room -- D'Agostino didn't mention the $267,632 under-the-table wiring jobs. The reforms are also in response to Councilmen John Flanagan's and Curt Leng's requests for all school purchases made in fiscal year 2006.
"One thing we want to have is complete transparency with you, with the town, with the mayor's office," D'Agostino told the Council last Monday. It is unclear which contractor got the wiring job, who authorized it and why it was not conducted legally.
From the auditors' report dated Jan. 18, 2007:
"During our test work of the period after June 30, 2006, the Department of Education entered into and liquidated the following two purchase orders in excess of $100,000:
Contractual services that includes the wiring of several schools. The original purchase order total $127,937, of which $41,109 was liquated after June 30, 2006. Neither the Town's Purchasing Agent, nor the Department of Education was able to provide evidence of procurement procedures or waivers. Currently there is no contract, which is required for all services over $50,000. Original quotation submitted by the contractor was $150,000.
For contractual services and materials that included materials and services for wiring. The original purchase order totaled $139,695, of which $116,095 was liquated after June 30, 2006. Neither the Town's Purchasing Agent, nor the Department of Education was able to provide evidence of procurement procedures or waivers. Currently there is no contract, which is required for all services over $50,000.
Levitsky & Berney also wrote, "There is currently a lack of communication between the Town and the Board of Education concerning the activity of operating and payroll accounts. This allows activity recorded on one department's general ledger without being recorded to the other. The Department of Finance and the Department of Education do no maintain accurate information that agree between the two departments. The Town should reevaluate the financial procedures of the Town and Board of Education …"
"The Board of Education has been running out of control for at least the past six years," said Councilman John Flanagan, who said he was not given a copy of the auditor's report as of Sunday evening. ""When I was finance chair [1999-2001] we couldn't get information from them then."
About the lack of communication between the town and school, Councilman Matt Fitch said it was no surprise to see that in the auditor's findings.
"It was something we felt was the case all along and I'm glad the auditors stated it," he said. "I thought it started to get better when Myron Hul became Board chair and Michael [D'Agostino] has moved it even closer."
Fitch said the discovery of the wiring jobs emphasizes the need of Mayor Craig Henrici's push to move central office administrators into Government Center.
Furthermore, the auditors found that the way school administrators handle money runs counter to the Town Charter.
"The financial records of the Department of Education's are not supervised or maintained by the Town's Department of Finance, as stated in the Town Charter. The Town's purchasing Agent depends on the Department of Education to deliver the required requisitions. Capital projects were being performed without the reliance of the proper procurement procedure and the legal protection of a construction agreement or contractors insurance. The Department of Education should follow the guidelines of Ordinance 142 [the purchasing ordinance]."
Town Side OK
Last Thursday at 2 p.m., Council members Fitch, Leng, Ron Gambardella, Betty Wetmore, Jim Pascarella and President Al Gorman met at Government Center with Levitsky & Berney to discuss the audit.
"We got a clean audit. What happened on the town side is they found things were managed correctly, our surplus grew," said Fitch. "Baby steps in the right direction. Our financial situation did improve year over year because of the WPCA [Water Pollution Control Authority] sale" of roughly $10 million in 2005.
"The Board of Education obviously has its problems but I'm confident the Board of Education is assessing them," he said.
While the audit contained no red flags on the town side, chronic problems like the under-funded pension and medical accounts, need for more commercial tax revenue and the declining state educational cost-sharing dollars were highlighted.
From Levitsky & Berney's assessment: "The Town of Hamden will face important budgetary challenges in the next few years. Opportunities to generate additional revenue are limited. State revenue will remain flat as the State deals with its own financial difficulty. There is limited opportunity for economic development to increase the grand list and thereby ease the tax burden for homeowners. Therefore, the Mayor and Town Council will be charged to make budget reductions, thus reducing discretionary spending as well as expenditures for repairs, maintenance, equipment replacement and education as well as increasing appropriations for unfunded liabilities, such as the pension fund and self-insurance fund. As part of the 2007-2008 budget process the Mayor and Town Council will explore alternative strategies that will provide an acceptable level of services for taxpayers at a reasonable cost."
Facts & Figures
The accountants provided the following information in their report:
Pension Fund
Fiscal Year Annual Required Contribution Percent Funded
2006 $13,951,743 43
2005 $13,287,374 22.6
2004 $10,660,385 9.4
2003 $10,152,747 8.9
2002 $6,044,233 4.1
2001 $5,756,815 0
2000 $752,800 0
1999 $7,073,400 24.7
1998 $6,801,300 58.8
1997 $6,571,400 68.5
1996 $8,154,300 55.2
Medical Self-Insurance Fund Deficit
Fiscal Year Fund Deficit
2006 $3,393,849
2005 $2,903,974
2004 $2,184,234
2003 $1,420,310
2002 $886,616
2001 $878,816
2000 $546,155
1999 $485,541
1998 $895,457
1997 $1,208,748
1996 $568,170
The town's assets exceed its liabilities by $37,271,704. Total net assets increased by $16,494,826 in the current year. Property taxes went from $106,378,992 in 2005 to $116,109,903 in 2006, marking a 9.15 percent increase, primarily due to the 2005 revaluation.
Long-term debt totaled $101,575,000 at the end of 2006. Interest on this debt dropped $2,657,648 or 49 percent "due to refinancing and the affect of shifting principal payments to earlier years." Hamden maintains an A2 rating from Moody's and an A from Standards and Poor's. Triple A is the best.
----------------------------------------------------------------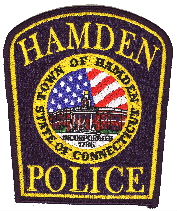 Crack, Gun Seized

From Capt. Ron Smith:

On Feb. 2 at approximately 12:45 a.m., police officer Robert O'Neil observed a motor vehicle traveling on Goodrich Street with a license plate in the rear window. A motor vehicle stop and search was subsequently conducted on Dixwell Avenue at Goodrich.

Police found 28 Baggies, each containing crack cocaine for a total of nearly 14 grams with an estimated street value of $1,000. Police further seized a loaded 9 mm handgun, located inside of the vehicle.

Tauheed Harvey, 19, of 661 Pine Rock Ave., Hamden, was arrested and charged with criminal possession of a firearm, criminal possession of a pistol, weapons in a motor vehicle, carrying a pistol without a permit, possession of narcotics, possession of narcotics with the intent to sell, operating a motor vehicle under suspension and improper display of plates. Harvey was detained at police headquarters on a $50,000 bond and is scheduled to appear in Meriden Superior Court on Feb.15.
---
February 2, 2007
A New Voting Era Has Begun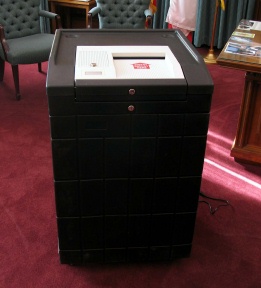 The optical scanner. Photo courtesy of the Secretary of the State's Office

Hamden gets 130 new ballot booths

By Sharon Bass

It's out with the old lever voting machines and just in with the new paper and pencil ballots. On Wednesday and Thursday, 130 private booths and nine tabulator readers were dumped at Government Center. They didn't cost a local tax dime. Some $33 million was funneled to the state from the feds for the new voting machines, and the state parceled it out.

Instead of pulling levers, voters will fill in an oval by their chosen candidates' names with either a pencil or black marker and then feed their ballots into a tabulator reader, or optical scanner. Hamden Republican Registrar of Voters Tony Esposito said it's going to be great.

For one thing, waiting lines should be a thing of the past, or close to it. The town had 60 lever machines -- one per every 900 voters, said Esposito. With 130 booths there's now one for every 250 dutiful souls. Real recounts are also entering the election picture, since the tabulators store the paper ballots after they're read and can be easily retrieved and put through the scanner again (and should come in handy for those fiery 2nd District primaries). With the lever types, recounts couldn't be done. In a close or contested race, just the backs of the old machines were reread.

"I think it's going to be great," said Esposito. "All the reports I have heard from the 25 towns that use it [they were in a pilot project last November] said they love it. It's simple. It's easy. The voters love it."

Furthermore, he said, "The elderly population is going to love it. If they can fill out lottery tickets, they can fill out these."

The machines come from LHS Associates, which won the state bid.

Where Did All the Levers Go?

"We disposed of them at no cost as scrap metal," said Mayor Craig Henrici.

Last December, Hamden unloaded the 60 dinosaurs to a metal recycler. Esposito said the town will get $25 to $55 per machine.

But Town Clerk Vera Morrison thought that was premature rejection.

"I was opposed to the voting machines being disposed of before the new machines arrived or we knew they operated properly," she said. "A more suitable use [than scrap metal] could have been found."

Morrison said both town committees had talked about giving the levers to countries with developing democracies, however the shipping costs proved to be prohibitive.

Henrici countered, "We've been assured by the secretary of the state [the new machines] will be fine."

There will be town-wide demonstrations of the new voting ware, said Esposito. "We're going to go out to the senior centers, to the library, wherever it's needed during the summer."

As of Yesterday

According to the Registrar of Voters' Feb. 1 count, Hamden has 13,478 registered Democrats, 4,507 Republicans, 14,448 unaffiliateds and 83 third-party (other) voters. Here's the district breakdown:

1st: 1,010 Dems; 464 Repubs; 1,867 uns; 5 other

2nd: 1,249 Dems; 469 Repubs; 1,498 uns; 16 other

3rd: 1,137 Dems; 233 Repubs; 1,199 uns; 8 other

4th: 1,685 Dems; 516 Repubs; 1,505 uns; 11 other

5th: 2,043 Dems; 376 Repubs; 1,583 uns; 18 other

6th: 1,826 Dems; 556 Repubs; 1,514 uns; 5 other

7th: 1,400 Dems; 426 Repubs; 1,680 uns; 3 other

8th: 1,538 Dems; 615 Repubs; 1,714 uns; 11 other

9th: 1,590 Dems; 852 Repubs; 1,888 uns; 6 other
----------------------------------------------------------------

Fugitive Barricades Himself in North Sheffield Home

From Capt. Ron Smith:

A New Haven man escaped prison about two months ago and last night barricaded himself inside his girlfriend's Hamden home, leading to an hours-long standoff with the Hamden police. The Connecticut State Police had issued an arrest warrant for Derrick Hoover for running away from a correctional institution.

Learning Hoover might be with his girlfriend -- Shavon Mullings of 50 North Sheffield St. -- police conducted a surveillance of her home. At around 6:30 p.m., the Street Interdiction Team saw three men leave Mullings' residence. Then one of the males, identified as Hoover, went back inside the house and barricaded himself inside. The Hamden Special Response and Crisis Negotiation teams were summoned to the scene.

Four individuals were barricaded in the house with Hoover but were safely evacuated without incident. Police later negotiated with Hoover by both bullhorn and telephone. Hoover announced he was in a second-floor closet.

Then, about four hours after Hoover was initially observed leaving the North Sheffield residence, police were able to force entry and arrest him. However, he was found inside a second-floor bedroom. Mullings allegedly assisted Hoover with the barricade. Furthermore, she lied to police throughout the ordeal.

Hoover, 23, of 24 Sheldon Terrace, Apt. 12, New Haven, was arrested and charged with escape from a criminal institution in the first degree, interfering with a police officer and possession of narcotics. He was detained at Hamden police headquarters on a $25,000 bond and given a Feb. 15 court date in Meriden.

Mullings, 22, was charged with hindering prosecution, possession of narcotics and interfering with a police officer. She was detained at police headquarters on a $25,000 bond and given a Feb. 15 court date in Meriden.
----------------------------------------------------------------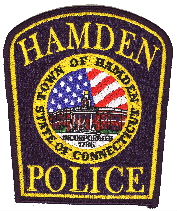 Crack on Goodrich
From Capt. Ron Smith:
On Jan. 30 at approximately 2 a.m., police officer Crawford observed what appeared to be a drug transaction around Goodrich Street. Upon approaching the area he located a small Baggie containing crack cocaine, which was allegedly thrown to the ground by Marquis Richardson.
Investigation led to the search of Richardson's residence at 324 Goodrich St., Apt. 10, Hamden. There, police located 38 small bags containing crack cocaine and drug paraphernalia. The street value of the crack is estimated at roughly $530. Marquis Richardson, 19, was charged with sale of narcotics, possession of narcotics and possession of drug paraphernalia. He was released on a written promise to appear and given a Feb. 16 court date in Meriden.