Schools
September 27, 2006
More on the Big TV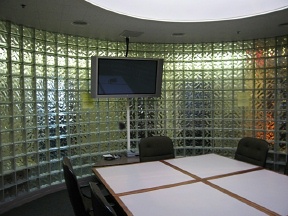 The 50-inch plasma at 60 Putnam. Photo/School Administration

By Sharon Bass

When the HDN sent a Freedom of Information Act request to the Hamden Board of Ed about its 11th-hour purchase of a 50-inch TV -- made just one day before the end of the fiscal year, when leftover money is to be returned to town coffers -- the answers came out of the mouth of Assistant Superintendent Hamlet Hernandez.

But the request specifically asked for sales and other hard-copy documents for the $6,111 LG 50-inch plasma TV. So another FOI was sent to Hernandez, who then made the documents available.

The purchase order is dated June 29, 2006, and lists RnB Enterprises in Newtown as the vendor. According to its Web site, RnB has a "5 year Connecticut state contract … all audio, video and projection equipment, displays and peripherals for all connecticut [sic] schools, towns, state agencies and non-profit organizations."

The "extended price" listed on the order is $6,111.79, of which $797.19 went to freight delivery.

The TV is hooked up to the ceiling in central office's second-floor conference room.

The bid from RnB is dated June 27, 2006. The LG 50-inch plasma with ASTC tuner, computer input and built-in speakers cost $3,399; a peerless LG ceiling bracket kit cost $369; a Zenith 313 DVD/VCR cost $118; wire mold for an electrical cord and cables cost $231.60; a VGA splitter cost $261; a computer input plate and box cost $86; and $850 went for installation.

Meanwhile, it was reported last spring that math and other textbooks were needed for the classrooms. PTA Council President Tim Nottoli said math books were subsequently purchased, also at the tail end of this fiscal year, for grades three through six.

He said the current need for textbooks is "a judgment call. There was a book that my daughter had last year that was printed in the early '90s. Is the information still the same? Most of it is," Nottoli said.

"Every year books come up for review and they [Board of Education] decide what really needs to be replaced and what they're OK with right now. Usually there are some that are outdated."
---
September 26, 2006
Un-Full Disclosure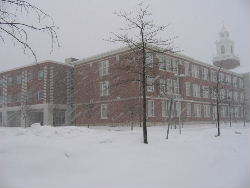 Hamden High. File photo
Police reports unveil signs of school bullying and administrative hush-ups
By Sharon Bass
Though a bullying charge was stricken from the current Alyssa Lotto lawsuit against the Board of Education, her lawyer hopes to resurrect it. And if he does, he has some ready-to-go evidence: a small pile of police reports.
For two years, Alyssa's parents say they have telephoned, written and e-mailed school administrators about their daughter being continually threatened by the same group of girl students -- at school, on the bus, on the Internet and over the phone. Two years earlier, one of the girls assaulted Alyssa causing her to suffer a concussion. But for two years the Lottos said they were told no bullying was going on -- and never has in Hamden public schools.
However, Alyssa's lawyer, John Williams of New Haven, said police reports of violent threats against his client and notations of the administration's awareness of those threats will show that school bullying does exist in Hamden, gets covered up in Hamden and Alyssa Lotto has been a victim of it.
"They acted like they knew nothing about it," Alyssa's father, Al Lotto, said of the administration and the police reports, which span from September 2005 until April 2006. "Mark Heinisch was the only one willing to listen and try to help [before his promotion last year to HHS assistant principal]. Since he's become an administrator, it is apparent he's been silenced."
Assistant Superintendent Hamlet Hernandez did not return a message left for him yesterday. Heinisch did not respond to an e-mail seeking comment.
Lotto said one disturbing event occurred late last September. On Sept. 26, 2005, he said his daughter had received violent threats through IM (Internet messaging device) and over the phone "all night from the same [students] who had been harassing her. They said they were going to beat her up during fifth period."
The next day, Al called Stephen Rossacci, who was Hamden High's school resource officer at the time.
According to the report filed by Scott Levenduski, also a high school resource officer last year: "On 9/27/05 Officer Rossacci received a telephone call from Al Lotto, father of HHS student Alyssa Lotto, who stated that his daughter had received harassing phone calls last night stating she was going to get 'jumped' 5th period. Lotto stated to Officer Rossacci that he was calling him to make him aware and to keep an eye out for his daughter around that time. HHS Assistant Principal Art Arpin was made aware of the situation. Arpin stated that Alyssa has lunch 5th period and that he would be in the cafeteria for that lunch wave. Before 5th period, this Officer went to the cafeteria and Officer Rossacci was in the hallway outside the cafeteria. Officer Rossacci called this Officer out into the hallway and stated that Alyssa had been approached by another student but a teacher had stepped in between them and escorted them both out into the hallway. Alyssa stated to Arpin that [name of student blackened out] approached her and asked if she had called her a liar. Alyssa stated she responded and [student] kept asking her and then the teacher stepped in … Alyssa was sent back to the café and [student] was escorted to Arpin's office …"
Yet, when Al Lotto recently obtained his daughter's school files, he said there was no mention of the above or any other incident. So he wrote Heinisch about it. On Feb. 23, 2006, Heinisch responded.
"I understand your concern about the accuracy and completeness of Alyssa's file. When I said that I would comply with your request for a log of the contents of her file, I was unaware that this is not a normal procedure at the high school," Heinisch wrote. "I spoke with Mr. Iezzi [former HHS principal] about this and he suggested that we would be willing to send you updated copies of Alyssa's file after reasonable requests for them are received from you."
Lotto said there was also no mention in his daughter's file of another school incident. And not only weren't the police notified right after a student told an administrator she was going "to get" Alyssa, Al Lotto said the school didn't tell him at all. He said he just found out when he got copies of the police reports.
On April 12, 2006, Rossacci wrote: " … this officer was advised at 1400 hrs by Asst. Principal Cathey [sic] Szerzen [sic] that earlier in the school day Alissa [sic] Lotto and [name of student blackened out] both students at HHS had a verbal altercation. Szerzen stated that upon suspending [student] for this incident she stated that she was going to get Lotto because she was getting suspended any way [sic] so it did not matter … This officer advised Szerzen that this incident should have been reported to HPD when it occurred and so this officer could have spoken to [student] immediately concerning this matter.
"That on April 12, 2006 this officer attempted to contact [student] to advise her to have no further contact with Lotto. This officer was unsuccessful in contacting [student]. This officer also attempted to contact [student's] mother … at her place of employment but was unsuccessful …
"That on April 12, 2006 this officer spoke to [student] concerning this matter. This officer advised [student] to have no further contact with Lotto or police action would be taken against her. [Student] stated that she would follow this officers [sic] advisement.
"This officer also advised HHS officials of this officer's advisement to [student]."
Threatening a teacher is grounds for student expulsion in Hamden public schools.
As reported yesterday in the HDN, Alyssa's lawsuit against the Hamden BOE is going forward despite several appeals. Her father said he thinks that may be why the administration is bucking him.
As former vice principal Arpin said to the Lottos last October, "As long as I've done this job, there's not been a bullying incident."
Al sent Hernandez an e-mail yesterday.
"Dear Mr. Hernandez
This letter is to inform you that I have obtained police reports which clearly document 4 situations that happened last year while my daughter, Alyssa Lotto, was a student at Hamden High. My greatest concern is that these reports point clearly that members of your staff withheld information vital to my daughter's well-being … Frankly, I am amazed how the school administration, (and by this I mean Mr. Iezzi and Mr. Arpin mostly, followed by Ms. Szerszen and Mr. Heinisch) have skirted the issues and minimized the bullying and harassment situations my daughter has had to endure … It is ridiculous that a parent is left with no choice but to sue in order to get answers from the BOE and your office … As you know, since 2004 I have yet to be granted one conversation with Superintendent Alida Begina.

"I am particularly incensed that an administrator on your staff took it upon herself not to notify us when she discovered another student threatened our child. Instead we find out in a police report many months later … I find it unconscionable that your staff minimizes, sometimes erases and sweeps the existance [sic] of the incidents in the files."
---
September 25, 2006
The Lottos (Probably) Get Their Day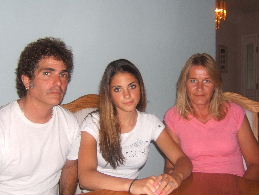 Al, Alyssa and Lisa Lotto. File photo

By Sharon Bass

It looks like the Hamden Board of Ed has run out of appeals in its attempt to squash a May 2005 lawsuit alleging a student was not given an education when she was expelled from school -- as mandated by state law. Yet, Alyssa Lotto was given high grades. And according to her New Haven attorney, teachers are ready to testify to that.

A New Haven Superior Court judge recently denied the BOE's latest -- and likely last -- argument and the case is expected to go to a jury trial.

"I'm glad we're at least going to get a jury trial on some of our claims and have the public see and hear in a courtroom some parts of the scandal of the Hamden Public School system," said New Haven lawyer John Williams. He said he believed the school has exhausted its appeals.

BOE Chair Michael D'Agostino would not comment.

The original May 24, 2005, suit carried five counts, all of which were thrown out except one: breach of contract.

"They promised if the parents did not contest the expulsion they would give two hours a day of academics and counseling," said Williams. "So the parents went along with that."

According to the original complaint: "The defendant [Hamden BOE] failed and refused to provide Alyssa with the alternative educational opportunity to which she was entitled during the period of expulsion. In fact, although Alyssa was given excellent grades for work allegedly performed during that period, she in fact was given little or no school work … "

Now a Hamden High sophomore, Alyssa was expelled in late 2004 for reportedly bringing alcohol to middle school, although none was found on her or in her locker. In the terms of her expulsion, the BOE promised Alyssa would be tutored at the Keefe Community Center, but she wasn't, said Williams. She was an honor roll student, and the grades she was given during her expulsion were A's, said her father, Al Lotto.

Other charges the BOE's attorney, Jim Williams of North Haven, successfully argued to dismiss include the school not responding to Alyssa being bullied for about two years, and state constitutional claims for equal education, which are limited to racial segregation, said John Williams.

But on Aug. 29, 2006, Judge Levin denied the BOE's second motion to strike the remaining charge, and that one will stick, said Williams. The Board was earlier denied on July 11, 2006, and then filed a motion to reargue that Alyssa was not deprived of an education and there was no grade tampering.

"There are teachers who would testify to that," said Williams. "She'd get grades in things that weren't taught to her for one minute. And when [her parents] complained, they were told she got good grades. What are you complaining about?" said Williams.

Al Lotto said he and his family are complaining about more than falsified grades.

"This situation has the family so stressed out that we can't even live a normal life," he said of the two-plus years Alyssa has been reportedly bullied. In eighth-grade, she was physically assaulted by another student. Alyssa suffered a concussion and the student was expelled. However, she said the bullying by that student and others did not stop and is continuing in high school. Her parents say their pleas to school administrators -- who claim Hamden has never had a bullying incident -- have fallen on deaf ears.

Williams said he is representing another Hamden student under the same charges: denial of education and grade tampering. Bullying is also involved, he said, as it is in most of his student cases.

A legislative challenge

The New Haven lawyer said the Lotto trial might not happen until 2008. But he's already got plans for afterwards. He plans to appeal the bullying claims the court threw out -- on the Lottos' and other Hamden cases -- and needs lawmakers' help.

"The [state] bullying law cannot be enforced in court by parents. In other words, it's toothless. It can only be enforced through the Department of Education," he said. So he's calling for state legislators to tweak the statute to give courts that power.

"If the Legislature is serious about doing something about bullying it will make the statute explicit by simply writing a one-sentence amendment" allowing it in court, said Williams. "It's easy to promise parents the world. It's just as easy to pass a statute that has teeth in it."