Schools
December 15, 2006
They Want School $$ Docs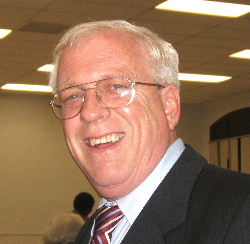 Leng Flanagan
By Sharon Bass
Yesterday, Councilmen Curt Leng and John Flanagan sent separate letters to different school officials requesting documents that show exactly how the department spent the taxpayers' money last budget year.
"I thought elected officials deserve to look at the same paperwork as [the HDN] is looking at," said Leng. "I want to wait to comment until the Board has a chance to respond. I think that's being fair. I'm a budget nut and before we do next year's budget, as I do with any other department, I'm preparing."
The 6th District councilman sent his request for financial info to Superintendent Alida Begina and Board of Education Chair Michael D'Agostino. (Click here to read his memo dated Dec. 15, which was sent anonymously to the HDN.]
Flanagan sent his letter to school Finance Director Tom Pesce. He's asking for a number of things.
First, Flanagan said he wants to know which items the BOE cut from its last two budgets (2004-05, 2005-06) after getting the Council's bottom line, "because they can't spend money ahead into the next year." He said he expects that information within a week.
"I believe we're dealing with about $300,000 spent on textbooks from last year's surplus and that's illegal," the 2ndDistrict councilman said. That sum for textbooks, he said, was budgeted for this fiscal year. "If textbooks were cut from the previous year's budget they could buy those but they can't go forward into the next year."
Flanagan also requested copies of requisitions, purchase orders and payments from March 15, 2006, to June 30, 2006, the last day of the fiscal year when unspent money is supposed to go back to the town. And he said he wants documentation of whether the BOE or a school administrator authorized the spending. In his letter to Pesce, he said he could get the data on disk to save money and time on printing it out. He said he expects the info between Christmas and New Year's.
The reason he sent his requests to Pesce instead of to the BOE is because Flanagan said he distinguishes between the administration and the elected Board.
"The administrators are merely hired managers. They're a department. They're the same as the Public Works Department, the Police Department -- they're the same as any other department," he said. "The Board of Education is just the nine elected officials. The rest of them are all hired help. The superintendent, the assistant superintendent are hired managers. That's it.
"I'm the chairman of the [legislative] Administration Committee and I want to verify they're administering the town funds properly," said Flanagan.
Memo
Office of the Legislative Council
To: Dr. Alida Begina, Superintendent, Michael D'Agostino, Chairman, BOE
From: Councilman Curt Leng Finance Committee, Chairman
CC: Mayor Henrici
Al Gorman, Council President
Legislative Council Members
Scott Jackson, CAO
Date: December 15, 2006
Re: Request for Financial Information
In my capacity as the Chairman of the Council's Finance Committee, I regularly evaluate Department's budgets, old and new, to prepare as best I can for budget season.
This year, based on public news reports, there appears to be some extensive expenditures made by the Board of Education in the month of June and early July that were charged to the 2005-2006 Operating Budget.
As such, I would like to formally request copies of the following documents:
A copy of all Board of Education Purchase Orders dated from June 1, 2006 through July 15, 2006 that pertain to the 2005-2006 Annual Operating Budget. (My understanding is that all P.O.'s had to be dated by June 30, 2006 to formally hit that budget. If this was the case and this policy was followed, June 1, 2006 through July 1, 2006 is acceptable.)
The appropriate back-up information all purchases that are in excess of $10,000 in total funds or do not follow the Town's purchasing policies.
Copies of all operating budget transfers made by the Board of Education during the 4th Quarter of 05-06 (April 1, 2006 – July 1, 2006), approved by either Board Department's in accordance with BOE policy, and all account transfers brought before and approved by the Board of Education. (Both Finance Committee minutes and Board of Education minutes and back-up for minutes would be appreciated.)
I ask for hard copies or electronic copies of all requested documents because I plan on having a set available for other members of the Finance Committee of the Council that may be interested in reviewing the information.
I also understand that this information, or a form thereof, was requested by a member of the local media. Perhaps as you prepare my documents, you can also prepare a set for this individual to avoid any fees related to FOIA issues.
Thank you in advance for your cooperation. As a decade long supporter of Hamden's Public Schools, I appreciate the chance to review what may be a voluminous set of documents, so that I can comfortably continue my level of support in the future.
If you have any questions, please feel free to drop me an e-mail at councilmancurtleng@sbcglobal.net.
---
December 12, 2006
HH gymnasts leave Hamden studio for their head coach's employer in North Haven
By Sharon Bass
The Hamden High gymnastic team has trained at New Era at 1180 Sherman Ave. for as long as Tom Alberti, the owner, could remember. At least a dozen years.
Then he got an unexpected phone message in October, the HDN recently learned through an anonymous source. He said it was from the school's athletic director, Jeannie Cooper, who informed him the team would be using North Haven's In-Flight Gymnastics Center instead. (Cooper is reportedly out of town and could not be reached for comment.)
Turned out, Natasha Miller, the head coach for the Hamden High team, is also the head coach at In-Flight. She said she asked for the change of venue.
"I can't judge the decision without knowing all the facts," said Alberti. "The only thing about the decision is I would have liked to have had the decision sooner because I could have put someone in their place [this school year]. It was taken out of Hamden and the decision was made without any consultation with me."
A message seeking comment from Assistant Superintendent Hamlet Hernandez was not returned.
Miller, who became head coach at In-Flight this past April, said she pulled out of New Era because she couldn't get after-school practice hours. Alberti said the Hamden team had made that request in the past but always stayed with the 6 p.m.-9 p.m. schedule he could offer. "No one said either give afternoon hours or we're pulling out," he said.
"Basically we wanted to have after-school practices and they didn't have the time for it. At New Era we had to work around the classes that were there," said Miller. "I just thought it would be better for us to have more time on each event."
Asked why the team didn't switch to In-Flight sooner since it had wanted after-school hours for years, she said, "I guess because New Era is in Hamden and it's easier for the parents. But I work here now." She also said, "Tom's gym is bigger."
School buses weren't needed when practices were at New Era, but now Laidlaw is providing roundtrip service to and from the high school. Miller said it's free going to the North Haven center because the team leaves at 3 p.m. and the bus company doesn't charge until after 5 p.m. But it costs coming home since practice doesn't end until 5 p.m. She said she didn't know the cost, and that the Board of Education pays In-Flight close to $3,000 from November to February plus the bus fee.
"Financially, it was not a loss to me because I was more doing a favor for Hamden over the years, because I was accepting payment for a group that only worked out three months of the year," said Alberti. "I could have had another group of gymnasts this year paying money." But he found out too late that the BOE had severed business with him.
---
December 4, 2006
International Delight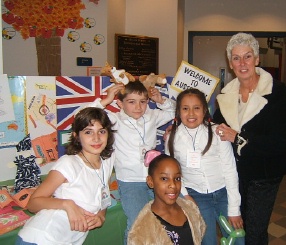 Helen Street principal Lynn Kelleher with students (left to right) Emily Cuevas, Albert Homa, Zytka Zuniga and Chante Green (front, center) by the Australia exhibit.
Story, photos and videos by Sharon Bass
The Helen Street singers, a chorus of fourth-graders, performed "Funga Alafia," a West African welcoming song, and "Take Time in Life," a Liberian folk song.
On stage in the gym children did the salsa.

New Haven dance instructor Alisa Bowens shows Helen Street kids how to salsa.
Displays of Puerto Rico, Mexico, Japan, Italy, Ireland, Costa Rica and Australia lined a hallway in the elementary school.

Fourth-graders Akosua Aidoo and Exavier Santiago critique the international victuals.
Around the corner were tables of collard greens, pork fried rice, Gallo pinto, sweet and sour chicken, poached chicken with yogurt sauce, spanikopita, veggie summer rolls, miso soup, pasta with marinara sauce, rice and beans and good old American mac and cheese.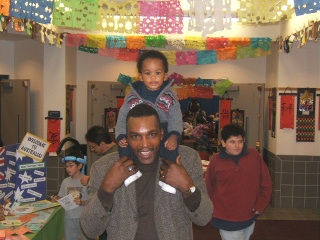 Helen Street PTA vp Jimmy Brown and son Kevin, 14 months --"The future principal of Helen Street," according to dad. "But don't tell Ms. Kelleher."
All told, it took about 500 folks -- including the school's 360 children -- to put on the annual Celebration of Culture this past Saturday evening, said Ellen Mulligan, a parent and chair of Helen Street's Connections Committee, which started planning the lively, colorful event last August.

(Left to right): Jamie Brown, 3rd grader, Mena Vollano, 4th, Ryenne Carpenter, 4th, and Zareya Lewis, 5th, discuss Helen Street's Celebration of Culture.
And, as in prior years, it was a huge success. Nearly 200 parents and children celebrated the international event at the school, which boasts of being the most culturally diverse in Hamden.

Fifth-grader Noah Segal-Gould on the discovery of America.
Said principal Lynn Kelleher, "I'm just grateful we have opportunities like this to celebrate our cultures together."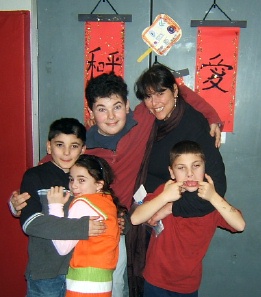 Robyn Segal with oldest son, Noah, and her first-grade triplets (left) Ian hugging sister Arielle and Oliver stretching his mouth. Behind them are student-created Chinese wall hangings.
-----------------------------------------------------------
HDN files a formal complaint with the FOI Commission against the BOE
By Sharon Bass
Last month, the HDN reported on some of the last-minute purchases made by the Board of Education in June 2006, when it's either spend it or give the surplus back to the town. After repeated Freedom of Information requests and phone calls to Assistant Superintendent Hamlet Hernandez, about 1,000 purchase orders were made available for review, with just one hour allotted. In addition to the lack of sufficient time, the background documents, which explain what most of the items are, were not made available although they were requested.
So more FOIs and calls were made to Hernandez who did not respond until last Wednesday.
"I am going to respond to you professionally …" he said to the HDN, in a very loud voice. He delivered a forceful diatribe disallowing any comment from this reporter. "DO NOT INTERRUPT ME!" he roared three times.
When it seemed he was done talking -- although he did not address the question at hand -- the HDN attempted several times to ask when the FOI'd materials would be ready. Each time Hernandez interrupted saying, "This conversation is over!" And hung up on this reporter refusing to answer one question.
The HDN then filed an official complaint with the state FOI Commission. In addition to sales documents, FOI requests were sent to and ignored by Hernandez for the cost of processing FOIs (which need to be reviewed by an attorney) over the last year, and for the school district's recycling policy -- something that should not require an FOI. A couple of parents who are school volunteers had informed this reporter that teachers have asked them to take home classroom recyclables, such as paper, to combine with their personal recycling and wondered if there was a recycling program. Starting Oct. 10, 2006, three e-mails and two phone messages were left for Hernandez about whether there is such a policy. He completely ignored all queries.
From: Sharon Bass
Date: Saturday, November 04, 2006 3:57 PM
To: Hernandez, Hamlet
Cc: foi@po.state.ct.us
Subject: Fw: Recycling
Dear Mr. Hernandez,
I have not heard from you regarding this Oct. 10 query (see below), which I had hoped would not lead to another FOI request. But since the Hamden Board of Education has not responded at all to my query, I am resending it under the Freedom of Information Act.
Again, I have been informed that parents are asked by teachers to take home recycling materials from the Hamden schools to combine with their home recycling. I am requesting a copy of the school system's recycling policy, if there is one.
Thank you.

Sharon Bass
founding editor
Hamden Daily News
www.hamdendailynews.com
State law mandates a response within four days of lodging an FOI query. Hernandez is in violation.
From: Sharon Bass
Date: Thursday, November 30, 2006 4:39 p.m.
To: foi@po.state.ct.us
Subject: Complaint about Hamden School District
Dear FOI Commissioners,
I have attached nine FOI requests I've e-mailed to the Hamden Public Schools. I have still not gotten the documents I've asked for. Yesterday, Assistant Superintendent Hamlet Hernandez returned my calls/e-mails after a two-week wait. He was extremely rude. Did not allow me to respond and hung up on me. He told me to deal with the Board of Education Chair Michael D'Agostino. I sent D'Agostino (see attachment) the information I cannot get from the school administration. I just e-mailed it to him yesterday and am waiting for a response. However, I have e-mailed him before and have not received a response from him either.
I am only asking the Hamden School Department for documents, not to do research. Hernandez told me a while ago that he spoke with an ombudsman at the FOI commission who told him he didn't have to respond to me if I am asking him to do research. I NEVER asked for such a thing. This school system has a long list of parent/teacher complaints and many lawsuits -- a number of which are active -- leveled at it.
Thank you for your assistance.
Sincerely,

Sharon Bass
founding editor
Hamden Daily News
www.hamdendailynews.com
An FOI Commission spokeswoman said it would take five to six weeks to process the complaint.
Also, during the one-way phone "conversation" on Nov. 29, Hernandez ordered that all questions be sent to BOE Chair Michael D'Agostino instead of to him. So the HDN sent D'Agostino this e-mail, to which there has so far been no response:
From: Sharon Bass
Date: Wednesday, November 29, 2006 3:45 PM
To: Michael D'Agostino
Subject: Per Hernandez's request
Dear Michael,
Hamlet Hernandez instructed me to contact you for information that I've asked him for.
I do not like having to send my requests as FOIs, but I am left with no other choice. I have saved the e-mails, both FOIs and not, I have sent to Hernandez since September. His responses are highly inadequate and it usually takes two or more e-mails and phone messages to hear back from him. And if my requests are not in the form of an FOI, he does not respond at all. You had asked me last year when you became chair not to FOI because of the cost. One of the requests I made to Hernandez was the cost over the last year of FOIs. I know the BOE has incurred great costs because of lawsuits. As we discussed also when you first became chair, open communication could prevent some of these suits and FOIs.
I am also writing to complain that when I spoke with Hernandez today, he would not give me a chance to speak and then hung up on me. Literally. That is not very professional or appropriate behavior on the part of a school administrator. I tried to tell him I was disturbed that I am being thwarted in my attempts to write about the good stuff kids do, such as the highly successful debate team. I asked [Hamden High principal] Gary Highsmith in person during the CAPS awards about covering the team and he seemed very agreeable. I followed up with a phone message and an e-mail to Highsmith. Yesterday, I received an e-mail from him saying he needs to get permission. I do not fault Highsmith on thehis [sic] delayed response. I know he is following orders.
Because I investigate potential wrongdoing at central office should not negate my giving exposure to the students. That is unfair to the children, which this system is supposed to be all about.
Thank you for your time.
Sincerely,

Sharon Bass
founding editor
Hamden Daily News
www.hamdendailynews.com