Town Government
Visualize Seeds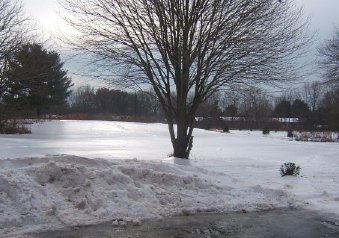 When it all thaws, a food garden will be created behind that tree in Town Center Park. Photo/Sharon Bass
Two community gardens to sprout in Hamden
By Sharon Bass
A social worker, local children and Parks & Rec will toil in the soil together to grow healthy stuff in Hamden, for Hamden. They're giving birth to two community gardens.
"I've always been interested in nutrition," said Jennifer Zitser, a clinical social worker at Quinnipiac University and a Spring Glen resident. "I've always eaten healthy and I love to garden."

Zitser and ranger Vinny Lavorgna plan to develop a community garden at Brooksvale in spring '08, called Seeds for Wellness. The focus would be on both nutrition and education, said Zitser, as they hope to launch a Brooksvale garden camp for kids next summer.
Further south, Parks & Rec will lease garden lots to residents on Town Center Park, just behind the Hamden Farmers Market stand.
"I think it's a great thing. A good marriage between the private sector and the town," Parks & Rec Director Frank Rizzuti said of the two gardens. "I don't see any problems. Not at all."
Funding Firmly Planted
On Dec. 17, the Legislative Council approved "garden" grants from the state Department of Environmental Protection: $32,500 for Town Center Park and $5,850 for Brooksvale. Plus, said grants administrator Chris Marchand, the town will donate $17,500 worth of in-kind donations in the form of maintenance, design, engineering and oversight.
Based on public input sessions -- which started during the Amento era -- the desire for community gardens is strong, said Marchand. Before the middle school construction began, he said there was a community garden on Meadowbrook and folks want it back.
"People are eating healthier," said Marchand. "We anticipate the lots will be sold out."
Both Marchand and Zitser are keeping their fingers crossed that the veggies, fruits and flowers will be grown organically. "I think there will be an issue where pesticides won't be allowed," said Marchand. But that policy has not been set.
The garden lots at Town Center will be roughly 12 feet by 12 feet, and leased on a first-come-first-served basis, he said. The number of lots and lease fees have yet to be determined. Rizzuti said his department will meet this week or next to discuss the fees and "how we're going to approach [the gardens]." Fees require Council approval.
"Kids should learn about where their food source comes from," said Zitser, who has a certificate from Integrated Nutrition in New York "I don't have a financial investment in it. I have an investment in helping parents feed their children healthy." She said she was unsure how much she will be paid to run the summer camp.
In addition to teaching campers how to grow gardens, Zitser said they will get recycling and composting lessons.
"You know, gardening is a fun, hands-on way to teach children about nutrition," she said. "Kids need to see where carrots come from.
--------------------------------------------------------------
Retired Cop Arrested
for Counterfeit Bills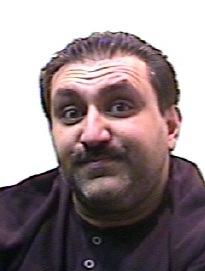 John Oneto. Courtesy photo
From Capt. Ron Smith:
On Dec. 18, Hamden police received information that retired Hamden cop John Oneto was in possession of counterfeit U.S. currency, and equipment to produce the money.
The Detective Division subsequently prepared a search warrant for Oneto's home at 147 Twin Brook Road in Hamden. Along with a member of the Secret Service, police searched the residence and found $76,800 in counterfeit currency. The bills were in denominations of 100s, 50s and 20s.
Oneto, 41, was charged with criminal attempt to commit larceny and three counts of forgery in the first degree. He was detained at police headquarters on a $50,000 bond and was scheduled to appear in Meriden Superior Court on Dec. 18.
---
December 18, 2007
By Sharon Bass
As reported in the HDN, Mayor Craig Henrici's mileage logs from July through November 2007 do not indicate where and when he traveled on business -- or much of any other required information -- but he was paid $2,446.51 anyway. The monthly checks were authorized by Finance Director Mike Betz.
Council people were asked if they think an investigation is in order. Some said yes. One said no. And others didn't want to comment on the record.
"It needs to be explained to me," said Councilman Craig Cesare. "Right now I'm staring at a blank mileage log and I need more explanation than that. And if I don't get it, I'd support an investigation."
"Yes," said Councilwoman Betty Wetmore. "I don't think we should be paying for his personal trips. To me it's inconceivable to pay for his personal travel. He should be held accountable like he holds everybody else accountable."
"No," said Council Prez Al Gorman. Asked why, he said, "Because I trust the mayor. That's why."
Councilman Curt Leng said there's some good news about the mileage controversy. "I don't think the mileage issue was handled well. I think there should have been a documented [travel] policy," he said. "But the good news -- although it's late -- there's a written policy coming out."
Leng said the mayor's office is working on the policy, expected to be done in about two weeks. He said he didn't know what the document will include.
"I don't even know anything about it," Councilwoman Kath Schomaker said of the mayor's questionable travel logs. "I'd need to look into it."
--------------------------------------------------------------------
Council OKs All But One Commissioner;
Council OKs Teachers' Contract
By Sharon Bass
After a half-hour Democratic caucus Monday evening, the Town Council opened committee meetings and removed one item from the agenda: the mayor's appointment of retired New Haven cop Brian Sullivan to the Police Commission. According to inside sources, Sullivan is related through marriage to Police Chief Tom Wydra and some council members saw that as a conflict of interest.
Public Safety Committee Chair Kath Schomaker said Sullivan's name was removed "because of an issue," but didn't elaborate.
The other nine appointments to the Police and Fire commissions easily sailed through the Council, with only words of praise. Especially for returning Police Commissioners Democrat Elliott Kerzner and Republican Meg Nowacki. Serving with them for the next two years are retired New Haven cop Reginald Higgins, a Dem, and former Fire Commissioner Gerald Migliaro, also a Dem.
On Fire, Democrats Henry Candido and Michael D'Andrea and Republican Duane Wetmore were reappointed. And former Hamden Police and Fire Commissioner Bob LaTorraca, Dem, and Republican Dick Reilly (2005 mayoral candidate) round out the team.
The terms for the eight men and one woman end Dec. 31, 2009. It's unclear who will be named the fifth police commissioner, but it will have to be someone from a minority party or an independent. There can only be three from the majority party on each board.
Terms of Education
Also approved last night, with little fanfare, was the teachers' contract. The agreement between the Board of Education and the Hamden Education Association runs from July 1, 2008, to June 30, 2011.
"I read through it carefully and think it's a very fair contract," said Councilman Curt Leng. "I think it's a good example of compromise."
"I applaud the teachers' union for a very reasonable contract," echoed Councilman Jim Pascarella.
But others behind the legislative bench were more critical. Councilwoman Betty Wetmore said the teachers' insurance premiums could have been set higher. Board Chair Michael D'Agostino said annual raises were kept under 3 percent as a compromise.
Councilwoman Carol Noble questioned the increasing number of stipends for teachers who run after-school programs.
"The stipends have grown," said Assistant Superintendent Hamlet Hernandez, "but we are taking a very hard look at it."
The terms, which were settled on Oct. 11, call for a 2 percent salary hike in fiscal year '09; 2.5 percent in '10; and 2.75 percent in '11.
Currently teachers pay 14 percent of their health premiums. Under the labor agreement, they will pay the same in fiscal year '09; 15 percent in '10; and 16 percent in '11.
Hernandez said the cost to the town for the first raise will be about $685,000. He said many getting pay hikes are at the top step in the school promotional ladder and can only be rewarded with more money. Forty-seven percent of Hamden's 530 teachers are at the top, he said.
"As well as being the best, Hamden teachers are one of the top paid in the state," said Wetmore.
School officials present in Council Chambers disagreed. According to union president Diane Marinaro, Hamden educators were the second highest paid in New Haven County until their last contract, when they received very small raises. She said she didn't know where they fall now but intended to research that.
--------------------------------------------------------------------
By Sharon Bass
Animal control officer Chris Smith recently told his North Haven colleague, Steve Gimler, that Hamden was looking for a part-time animal warden. "I gave him a résumé," said Gimler, 38. The position was vacated last month when Mayor Craig Henrici fired Gina Cahill.
The résumé was given to Henrici and he appointed Gimler, who started work Dec. 11. The job was not posted as the Town Charter requires. This marked the third time in Henrici's tenure that he bypassed posting a mayoral appointment.
Police Chief Tom Wydra said Gimler went on the payroll Dec. 11. Asked why the job wasn't posted, he said it might be a temporary appointment, but wasn't sure.
Chief Administrative Officer Scott Jackson said he didn't know anything about it being temporary. Henrici will not talk to the HDN.
Gimler, who began his animal control career in July, works in Hamden from 8 a.m. to 5 p.m. on Tuesdays, Wednesdays and Thursdays. Fridays through Mondays he's catching dogs in North Haven.
Hamden is "quite a bit different from North Haven," said Gimler, a former truck driver. "It's a little more challenging. More investigations, dog bites, animal abuse."
"He's very knowledgeable and a good guy," said Smith, who's been on the job since February.
"We have an excellent working relationship," said Gimler.
Neither man has previous experience in the field.
But unlike Smith, the new assistant said he's spent a lot of time with animals. He once worked in a pet store, he said, and has had a menagerie of pets, from snakes, dogs, cats, birds and guinea pigs.
"My cousin was a bird breeder in Florida and I helped her," said Gimler, who also trains rats. He puts little leashes around the rodents' necks to teach them commands. "They're very smart," he said.
--------------------------------------------------------------------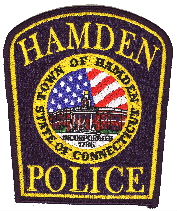 Cook Strikes Twice
From Capt. Ron Smith:
On Dec. 15 at approximately 11:15 a.m., Hamden police responded to 11 Gorham Ave. on a report of indecent exposure. The complainant advised police that an individual knocked on her door, attempted to expose himself and then tried to force entry into her apartment.
Moments later, officers found the individual, identified as Rodney Cook, inside his apartment. Cook grabbed an officer in a sexual manner. Cook then allegedly tried to take the officer's radio and taser. Other officers responded and assisted in the arrest. Two suffered minor injuries during the struggle.
Earlier in the morning, at approximately 9:30, police responded to a report of a street robbery at a bus stop in the area of 1245 Dixwell Ave. An individual, later identified as Cook, approached a female teenager and demanded money. Cook then allegedly grabbed the female by the neck and began choking her. He fled the area on foot, but not before taking some of the teen's personal items.
Cook, 27, of 11 Gorham Ave., #202, Hamden, was charged with two counts of assault on a police officer, criminal attempt to commit burglary, criminal attempt to commit public indecency, criminal attempt to commit sexual assault, risk of injury to a minor, interfering with a police officer and disorderly conduct. He was detained at police headquarters on a $500,000 bond and is scheduled to appear in Meriden Superior Court Dec. 21.
With regards to the street robbery, Cook was charged with robbery, unlawful restraint and larceny. He was detained at police headquarters on an additional $10,000 bond.
---
December 15-16, 2007
Henrici Must Explain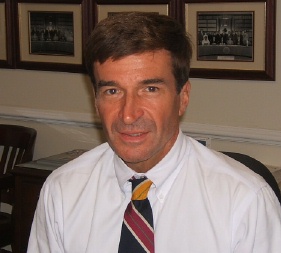 Mayor's travel logs are woefully inadequate
By Sharon Bass
According to the Internal Revenue Service, Mayor Craig Henrici's employer -- the town of Hamden -- should investigate his mileage claims because his travel logs sorely lack information required under federal law.
Ms. Washington, of the IRS' Business Tax Law Department, said the person who authorized Henrici's travel reimbursement checks needs to initiate the investigation. That person is Finance Director Mike Betz.
On Dec. 13, the HDN received the mayor's and Tax Assessor Jim Clynes' travel logs after sending Freedom of Information requests to the town for three months -- and getting a run-around -- and lodging a formal complaint with the FOI Commission. The logs go from July 2007 to November 2007.
While the forms clearly state what information is required -- date of business trip, odometer mileage when departed and returned, total number of miles per trip, other expenses, destination and reason for destination -- Henrici only jotted down a monthly total of miles on the top line of each log and left the required data blank. (Click here to see the mayor's logs.)
This information was relayed to Washington. "Whoever is responsible for authorizing and writing the checks should be investigating it," she said. "It's their job."
When told that Betz, who OK'd each check, is a political appointment and therefore may not want to investigate the mayor, Ms. Washington said, "There needs to be more people involved in the process. The mayor needs to be exposed, just like the president would be."
Henrici and Betz do not return calls from the HDN.
If it is found that Henrici didn't put in the number of business miles as he claimed, it would constitute fraud and embezzlement, Washington said.
From Here to Miami
From July 2007 to November 2007, Henrici was reimbursed $2,446.51 on his claim that he drove 5,183 business miles. Washington said only business trips are reimbursable. However, it appears the mayor combined both personal and business miles in his monthly claims. Because he didn't itemize each trip as he should have, he reported what his odometer allegedly read at the beginning and end of each month. For instance on the July log, Henrici wrote 82,125 miles at the start and 83,570 at the end of the month and was reimbursed for every mile -- $643.02 for 1,445 miles. In August, he claimed 1,613 miles and Betz cut him a check for $717.78. It's 1,371 miles from Hamden, Conn., to Miami, Fla.
Then the mayor's mileage claims dropped significantly for September through November. The HDN's initial FOI request for his logs was in September. His next check, issued on Oct. 11 for the month of September, was $257.65 based on 579 reported miles. For October, Henrici claimed 941 miles and received $456.38; and for November, it was 605 miles for $293.42.
Henrici also used two cars, according to his logs. The odometer reading in July begins at 82,125 and ends at 85,183 in August. In his September log, the odometer reading is 115,855-116,439, and in October the odometer reading is 86,000 and ends in November at 87,551.
During the last budget season, Henrici asked for a flat $570 a month for travel for himself and $270 for Clynes. (The IRS calls that the non-accountable plan, where mileage logs are not required.) But the legislative council nixed that and instead put both men on the IRS' accountable per-mile plan. Washington said the rate is 48.5 cents a mile and will increase to 50.5 cents in 2008. (Click here for Clynes' logs. Each month, he received more than the mayor's suggested flat reimbursement.)
If Henrici can't prove where he drove on town business, including date and destination per trip, Washington said he would have to claim his reimbursement income -- which is typically tax free -- on his tax return.
If criminal wrongdoing is suspected, it would likely be investigated by the Public Integrity Bureau of the Office of the Chief State's Attorney. The bureau is responsible for the recent arrests of two North Haven town employees, charged with embezzling cash and falsifying mileage reports, as well as the finance director, charged with hindering prosecution, evidence tampering and conspiracy. (Click here, here, here and here to read the North Haven affidavits.)
-------------------------------------------------------------------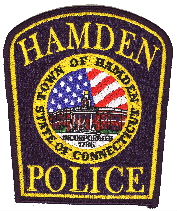 63 Minors Arrested
From Capt. Ron Smith:
On Dec. 13 at approximately 12:30 a.m., Hamden police conducted a liquor compliance check at Jack Rabbit Slims, 3000 Whitney Ave. Over the last five months, police have responded to this establishment numerous times for a variety of complaints.
Sixty-three minors inside Jack Rabbit Slims were arrested on Dec. 13. Thirteen were in the possession of fake identifications. A majority of the arrested are Quinnipiac University students. The minors were all charged with simple trespass. They were given infractions and released.
Also arrested was the manager of Jack Rabbit, Damien Wagg, 28, of Bridgeport. He was charged with loitering on permit premises and permitting minors to possess alcohol.
---
December 12, 2007
Cumpstone Named Purchasing Agent
By Sharon Bass
Parks & Rec superintendent Richard Cumpstone was made town purchasing agent yesterday. He starts the job Dec. 17.
Money, the 41-year-old said, was not the reason he applied for former agent Judi Kozak's position. In fact, Cumpstone said the salary is the same, $63,773. "There's actually a loss of overtime," he said.
Asked why he applied for the job, Cumpstone, who's worked for the town for 21 years, said, "You can see how much more you can do to better the town."
Cumpstone said he interviewed for the civil service position this Monday and tested the highest out of eight applicants. The post is also a mayoral appointment. Mayor Craig Henrici will not talk to the Hamden Daily News, so he couldn't be reached for comment.
The new purchasing agent grew up in Hamden and graduated Hamden High in 1984. His first position with the town was at the ice rink. At that time, the rink was part of Public Works. In 1996, it became a Parks & Rec program. Eventually, Cumpstone was promoted to superintendent of the department, where he said he gained purchasing experience.
"I've been involved with purchasing for about three years," he said. "Requisitions, purchase orders, bid specifications. Judi is close by. She's only a phone call away."
Kozak retired on Aug. 1, 2007, but stayed on through the end of November on contract.
Asked if he will keep food in his office for all to share as Kozak did, he replied, "Yeah, she had the candy bowls and everything. There will certainly be a coffee pot, that's for sure." His supervisor is Finance Director Mike Betz, who doesn't return calls from the HDN.
--------------------------------------------------------------------
Deciding whether to dig into the Town Charter is sluggishly -- at best -- moving forward
By Sharon Bass
With Mayor Craig Henrici's recent firings of animal warden Gina Cahill and longtime emergency management volunteer Neil Gorfain -- both executed without warning or reason -- some feel it's a good time to revisit the Town Charter, a visit a committee has been sitting on for over a year. Reducing mayoral hiring and firing power is one idea floating around.
"Not that we want to micromanage the mayor but there are too many gray areas," said at-large Councilwoman Betty Wetmore. "I don't think we should take all his appointments away but there should be select [mayoral] appointments. Day-to-day jobs should be protected more. Now they're at the whim of the mayor."
Former Councilman Ron Gambardella had suggested turning certain mayoral appointments into professional posts to ensure longer-term job security and thus attract higher quality workers, particularly in Finance and Public Works.
Wetmore and Council peers (at-large) Carol Noble and (1st District) Matt Fitch comprise a charter committee President Al Gorman established last year. They've met three times and plan to meet once more before giving the full Legislative Council their recommendation on whether to slice open the charter, said Noble.
She said the committee was close to making a recommendation earlier this year, but held back after learning that Town Attorney Sue Gruen had researched the impact a charter revision might have on the town. Noble said she wants to review Gruen's findings before making a decision.
"I think definitely we should look at the charter. I'd love to see something done to it," said 7th D Councilman Mike Colaiacovo. "We should go through the whole charter paragraph after paragraph and see what's working and what's not working. And let the public decide through a public-input session."
If revision does go forward, Noble said the mayor would choose a charter committee of residents, Town Hall officials and some Council members. "A group that is representative of the town of Hamden," she said.
"I wouldn't have a problem opening it up at this point. I think the atmosphere out there is a lot more conducive," said Noble. "We're not in an election year." She said she's not in favor of stripping appointing powers from the mayor because those employees would then be unionized, costing the town more in benefits, and it would be hard if not impossible to fire them.
Noble said she's in favor of removing provisions and rules from the charter "that don't work" or no longer exist, and possibly extending the terms for at-large council members and the mayor. She also thinks there should be more qualifications for "certain town positions, such as finance director," written into the charter.
Otherwise, Noble said she's pleased with the 1983 29-page document. "We have a very, very good charter. It's as good as the Constitution of the United States," she said.
Wetmore said she's for longer council terms, but not so much for the mayor. "At one time I thought it would be good to have the mayor's term be four years, but I'm really hedging on that now," she said. "I think the department heads' and appointees' job descriptions should be more clearly defined." And she advocated having a people's referendum on the annual budget in lieu of the council vote.
Community activist Mark Sanders is another voice for limiting mayoral power and making the finance director a professional instead of appointed post..
"Recent personnel bullying by Mayor Henrici illustrates the importance of revisiting the universe of department heads and others subject to mayoral hiring/firing in order to restore faith, combat cronyism and attract talented public servants," said Sanders, a member of the Hamden Alliance for Responsible Taxation.
"I can think of no good reason why the animal control officer and his assistants should be political appointees. Similarly, we are not likely to be able to attract top-notch finance directors unless we have authority under the charter to offer them an employment contract that extends beyond the term of any given mayor," he said.
But more than any other change, Sanders said the most important is giving "voters a greater potential voice in government. For instance, the current charter seems to give voters a right to overrule the budget by referendum, yet this is an illusory right since the petitioning threshold (signatures of 20 percent of the electorate, or 6,600 signatures, to be obtained within 20 days ) is completely unattainable. We should lower the threshold to not less than 5 percent (1,650 signatures). 1,650 valid signatures in 20 days is still a daunting task -- and will deter frivolous challenges -- while still allowing a true groundswell to force a vote up or down at a budget referendum."
Sixth D Councilman Curt Leng said the charter is not the most pressing issue in town right now, but if the document is worked over he'd like to see staggered terms on the Police and Fire commissions.
"One thing that I do think should be changed in the charter is the political nature of the police and fire commission appointment process," said Leng. "While I think we have great commissions now, there have been times in the past where the charter-given ability to dump an entire commission upon the election of a new mayor has been used for political purposes. I would prefer a staggered approach like most every other town board and commission."
Gorman did not return a message seeking comment.
---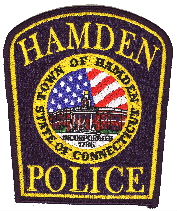 Woman Stalked at Car Wash
From Capt. Ron Smith:
On Dec. 8, Hamden police were dispatched to Kenny's Car Wash at 210 Skiff St. on a report of a dispute. The complainant told officers that she has been stalked by Hamden resident Lee Copeland, an acquaintance of hers.
She said she drove to Kenny's Car Wash to get her vehicle cleaned and upon exiting the car-wash tunnel, her vehicle was rammed by a vehicle driven by Copeland. The complainant suffered a laceration to her eye area and her vehicle was damaged.
Approximately an hour later, police located Copeland at his residence. He was arrested and transported to police headquarters.
Copeland, 38, of 1898 State St., Hamden, was charged with reckless endangerment, assault in the third degree, stalking in the third degree, breach of peace and evading responsibility. Copeland was detained at police headquarters on a $1,000 bond, and is scheduled to appear in Meriden Superior Court on Dec. 18.
---
December 9, 2007
Town Blocks HDN
The Hamden Daily News received calls from town employees today saying the HDN Web site was blocked from their computers this morning.
According to one town worker, the local news site was accessible at around 8 a.m. But by 9 a.m., it had been blocked. Those trying to log onto the HDN say they received this message: "This site is blocked by the Sonic Wall firewall. If you feel this site has been blocked incorrectly please notify Dave Richards in IT or Ken Kelley in Personnel. All visits to the site listed below are logged. Reason for restriction; administrative custom list settings." -- Sharon Bass
--------------------------------------------------------------------
Henrici Continues to Defy FOI Law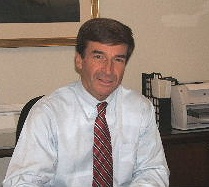 File photo
HDN files a complaint in Hartford for being denied access to the mayor's press releases, and another with the IRS for possible "mileage" fraud
By Sharon Bass
Early last summer, when election season was in full bloom, Mayor Craig Henrici removed the Hamden Daily News from his office's media press release list. Up until then, the HDN automatically received releases like other news outlets.
According to Town Attorney Sue Gruen, the Freedom of Information law states the mayor does not have to keep the HDN on the list, but he must turn over those public documents -- to the HDN or any other party -- upon request. The HDN has made many such requests but has received nothing.
On Dec. 7, the HDN spoke with Tom Hennick, public education officer for the FOI Commission, about the problem. He confirmed what Gruen said about the law. He was asked if it would make sense to visit the mayor's office and demand the documents. He said yes, and said he was willing to speak by phone with Henrici or another employee of the mayor's office if the releases weren't handed over during this reporter's visit.
At 3 p.m. last Friday, the HDN walked into the mayor's office and asked his secretary Marybeth Perry for press releases that were issued over the last week. She said since the HDN has an active FOI complaint against the mayor (for not disclosing his mileage logs; click here for background story), she could not hand over the releases. Perry was informed that that was irrelevant and was told Henrici was violating the FOI law. She refused to call Hennick.
Henrici then came out of his office and walked by this reporter. "Craig, I am here …" He turned his head and quickly left the office refusing to listen.
A few minutes later, the mayor returned and upon seeing this reporter still in his office, he said, "Sharon, do I have to physically remove you from my office?" This reporter told Henrici she would leave when the public documents she had requested, under state law, were released.
Henrici turned to Perry, who told him the police chief "will be up." Henrici returned to his own office and did not reappear again.
Perry was asked if she had called Chief Tom Wydra to "remove" this reporter. She said no, that he was coming to the office "to pick something up." Asked when she expected his arrival, she said it could be any time between then (a little after 3 p.m.) and 4:30 p.m. A few minutes later Wydra and Deputy Chief John Cappiello showed up.
This reporter explained the situation to the top cops and asked if she had to leave. Neither said yes or no.
"You know they're not going to give it to you," said Cappiello about the press releases.
"There's another forum for complaints about documents not being produced," said Wydra.
This reporter voluntarily left.
On Dec. 8, the HDN lodged a complaint with the FOI Commission about the mayor withholding public documents.
IRS Informed
Despite months of efforts to obtain Henrici's mileage logs to back up his monthly reimbursement claims for driving his personal car on business, no logs have been released. Federal law mandates such logs, which are public documents, be kept. On Nov. 25, the HDN filed a complaint with the FOI Commission. Hennick said the complaint has been received and will be pursued.
However, all the commission can do is demand documents that exist. If they don't exist, Hennick said there's nothing further the commission can do.
The HDN has now filed a complaint about potential fraud with the IRS.
---
December 6, 2007
Gina's Goodbye Day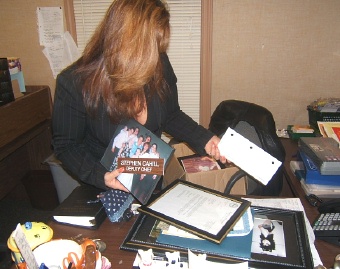 Cahill collects her things two days after her surprise firing.
Story and photos by Sharon Bass
On Monday, Mayor Craig Henrici fired the town's lowest-paid fulltime employee, assistant animal control officer Gina Cahill. Without warning.
Two days later, Cahill handed in her uniforms, cleaned out her Johnson Road office and said goodbye to coworkers in the Police Department.
"I don't know why I got fired," said Cahill as she made the rounds yesterday to police headquarters on Dixwell, the public-safety training facility on Sherman and her small office on Johnson, where the fire administration used to be. "But I have thoughts running through my mind. I'm so sad, I haven't even gotten angry yet."
Cahill, a Democrat, made her entry into local politics this year. She ousted incumbent John Flanagan in the September primary for the 2nd District Council seat, and then narrowly lost to Republican Gabe Lupo in the general election. Although a Democrat, she wouldn't run as a spoke on the party machine.
First stop: Police Records Division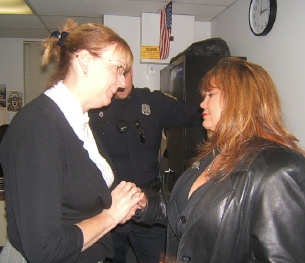 Records tech Johnson tells Cahill to keep in touch.
"I always took a liking to her," said technician Karen Johnson. "From what I can see, she's a hard worker. I hope she hangs in there. She has a lot to offer. She's a great person, a good mother and a good wife."
Johnson and Cahill hugged goodbye, as tears ran down the latter woman's cheeks. Johnson would be the only Town Hall employee yesterday willing to talk about Cahill on the record or have her picture taken.
"I could waitress two days a week and make more money [than the animal town job] and not be on call," said Cahill, back in her SUV heading up Sherman. "But I've always been an animal person. When I got animal control officer I felt I got lucky. I could do something I enjoy and get paid for it."
The 46-year-old said she couldn't remember a time in her life when she didn't have a pet or two.
"I absolutely love animals. Every single animal I saved made me feel so important," said Cahill.
Henrici did not return a message left at his Government Center office Wednesday. On Nov. 16, Neil Gorfain, deputy director of the Office of Emergency Management, was let go, also without warning or explanation. The 30-year volunteer is credited with building up the office and training the volunteers.
From temp to perm
In 2001, Cahill was hired to fill in for now-retired animal control officer Jean Murray, when Murray went to England for six weeks, said Cahill. A few months later, the legislative council approved a new part-time animal officer position. Murray had worked alone for years, but it was deemed necessary because of her advancing age to bring on an assistant. And that was Cahill.
In January 2005, Cahill was made full time but not unionized. When Murray retired early this year, Henrici quietly gave Murray's job to an unemployed hockey acquaintance of his, Chris Smith. (Click here and here for background stories.)
Since Smith had little experience with animals (he had told the HDN he hasn't owned a pet since childhood), Cahill was instructed to train him. The mayor ignored and violated the Town Charter by not posting the job. ("Public notice shall be given for all openings in Town positions, including Mayoral appointments, prior to the filling of such positions." -- Chapter XVII, Hamden Town Charter )
However, Henrici did cite the charter in his Dec. 3, 2007, dismissal letter to Cahill.
He wrote: "Pursuant to Section 10-4 of the Charter of the Town of Hamden you are hereby removed as the Assistant Animal Control Officer effective immediately."
Section 10-4 says: "The Mayor shall appoint and may remove a Dog Warden and such assistants as may be necessary … The Dog Warden shall be responsible to the Police Chief …"
Police Chief Tom Wydra actually handed Cahill the letter, just minutes after she returned to work Monday morning in full uniform after being out on workers' comp for three months, she said. Cahill had been injured on the job and then in a car accident and required two surgeries.
"[Wydra] said to me, 'There's no easy way to tell you this. The mayor has chosen to let you go,'" said Cahill. "I was so stunned that I just sat there, hoping there'd be further explanation but I didn't get one."
Dropoffs and pickups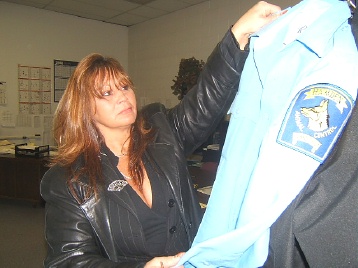 A teary-eyed Cahill hangs up her uniform.
Cahill stopped in front of the police/fire training building on Sherman and pulled two boxes from her SUV. They contained used and new uniforms, her town-issued cell phone and a few other items. On her way out, she stopped before the exit door and wept. The reality that she lost her position seemed to be sinking in more.
"This job validated me as a person. It gave meaning to my life," she said. "I was actually doing something in this world that was making a difference." And she talked about how she'd socialize strays that were slated to be euthanized, and was then often able to find homes for them. And how good that made her feel.
Last stop of the day -- which had turned dark and cold -- was her office. The old school building on Johnson Road was empty. Cahill walked to her desk to begin packing. She picked up a ceramic angel that was given to her by a "grateful resident," whose dog Cahill helped. The two had become friends; one of the many Cahill said she made on the beat.
"I would educate pet owners instead of enforcing the law for various violations," she said, as she had done with "grateful." "I considered that an asset that I wasn't so power hungry. My goal was to keep animals safe and sound and keep the town safe and sound."
Reached by phone yesterday, Murray said she had no idea Cahill was fired. "I don't know why or what happened," she said. Murray is working with other town volunteers on building an animal shelter on Shepard Avenue.
She called Cahill a "very good animal officer. The only thing is she fell in love with everything she picked up. That happens when you first start out."
Some folks whom Cahill encountered on her goodbye day called her firing a loss to the town of Hamden. But none wanted to go on record.
Kim Kinell did, but she doesn't work for the town. She's an assistant at the North Haven Animal Hospital where stray Hamden animals are taken for medical reasons, not shelter. Kinell said she's known Cahill for three years.
"I'm not happy about [her dismissal]. She's wonderful," said Kinell. "It's a huge loss that she got fired from her position."
Heading down Whitney Avenue, Cahill said she's not sure what she'll do next. And she cried.
"It wasn't about the money," she said again. "I mean nobody likes to get hit by a financial lost right before Christmas, but I found my niche in the world."
---
December 4, 2007
Prophetic Vote?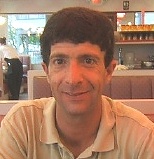 Councilman Colaiacovo initiated a telling vote Monday evening. File photo
Also, committee appointments are announced
By Sharon Bass
The Henrici rubberstamp council may have bit the dust on Election Day, if a vote last night is any indication.
A light item on the Legislative Council agenda asked for approval of a lease between the town and a private daycare center housed at the Alice Peck School. The Community Children's Center stepped in last July after the YMCA had to close down its operation at the Hamden public school due to state violations. Since CCC has taken over no rent has been paid to the town. While the Y claimed it had 85 to 90 children enrolled, the new operator reportedly has just 30. The proposed lease allows for varying amounts of rent depending on enrollment.
Councilman Mike Colaiacovo (Democrat, 7th D) made a motion to table the matter until Dec. 17, the last Council meeting of the year. Councilman John DeRosa (Democrat, 8th D) seconded.
But Councilwoman Kath Schomaker (Democrat, 5th D) disagreed. She said the lease should be signed now, as much time has passed since the new daycare moved into Alice.
A vote was taken on Colaiacovo's motion.
It passed 8-6 (Councilwoman Betty Wetmore [Republican, at-large] was absent). Along with Colaiacovo, Councilmen Jack Kennelly (Democrat, at-large), Curt Leng (Democrat, 6th D), Craig Cesare (Republican, at-large), Ozzie Brown (Democrat, 3rd D), Jim Pascarella (Democrat, at-large) and Gabe Lupo (Republican, 2nd D) voted to table the lease until Dec. 17.
Henrici loyalists Councilmen Matt Fitch (Democrat, 1st D), Al Gorman (Democrat, at-large) and Councilwoman Gretchen Callahan (Democrat, 4th D) along with Councilwomen Carol Noble (Democrat, at-large) and Kath Schomaker (Democrat, 5th D) and Councilman Jim Leddy (Democrat, 9th D) opposed.
Someone in the Council Chambers quietly said: "There's no more rubberstamp council."
After the meeting, Noble lashed into Colaiacovo for wanting to delay the vote. Colaiacovo said he needed some time to review the document to better understand the financial aspects.
In other Council biz, Prez Al Gorman released his committee appointments Monday evening.
"I worked very hard to offend everybody so there's parity on the Council," he joked. "Remember, we serve the public."
Both Leddy (retired fire chief) and Kennelly (retired police chief) wanted the Public Safety chair. It was given to Schomaker. Click here to read Gorman's committee picks.
------------------------------------------------------------------
Here She Is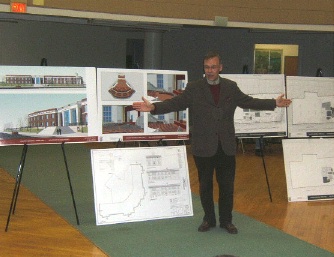 Architect Bianco shows off his work. Photo/Sharon Bass
Council, police give the new headquarters-on-paper a once over
By Sharon Bass
When Police Chief Tom Wydra first heard the mayor's idea to build a new police headquarters attached to Memorial Town Hall, he was not happy. Nor were many of his troops.
Yesterday in Council Chambers, Middletown architect Jeff Bianco propped up renderings of the police headquarters/Town Hall coupling, and Wydra has become a firm believer in the brick-and-mortar marriage he once pooh-poohed.
"It's beyond my wildest dreams," he said. "The plans you saw tonight changed my mind." And the chief rattled off a bunch of positives about the $20-million-plus project, which Bianco said could break ground next summer and take 20 or so months to complete.
"The size excites me," said Wydra. "What also excites me is we've been at this location [Dixwell and Whitney] for over 80 years. That's a big plus." Folks know where to find the cops.
"I think it's a major step to revitalize the area," said Deputy Police Chief John Cappiello.
Bianco's drawings were quite impressive, showing elegant new stairways and other interior structures as well as a streamlined exterior look. A police station would be built onto the southern end of Town Hall and made of the same brick. Besides the new addition, police would get 12 percent to 15 percent -- or 6,000 square feet -- of Town Hall space, down to the rotunda. Administration and a police museum would be stationed on the second floor; training on first.
The project is the largest piece of the first step in restoring the historical landmark building. Besides police, phase one includes a 1,400-square-foot council office and another 1,400-square-foot space on the second floor for future occupancy. It is undetermined when the rest of Memorial Town Hall will be renovated.
Because there are just 3 acres for the new headquarters to be built on, a roughly $2 million multi-level parking lot is needed, Bianco told the Council and police during his Monday night presentation. The bottom portion of the parking structure would be strictly for police vehicles and off limits to the public. The top for the public. He said about 100 spots per level.
Bianco had drawn more ideas for phase one, like constructing two stairways inside the Council Chamber that reach the balcony. He'd like the room to double as a meeting place where social activities, such as movies, would occur. So he suggested replacing the council bench with a portable one that can be put away.
Councilwoman Kath Schomaker asked if healthy environmental measures will be employed with the construction.
"We're looking to do this as green as possible," said Bianco.
Schomaker pressed for specifics, to which the architect replied: "It comes back to how much you want to spend."
------------------------------------------------------------------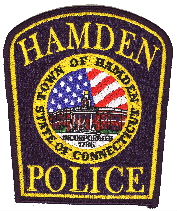 9 Kids Arrested Partying
From Capt. Ron Smith:
On Nov. 30 at approximately 9:30 p.m., Hamden police were dispatched to the Hamden Elks Lodge, 175 School St., on a report of several unwanted parties.
Upon arrival, officers encountered 300 to 350 teenagers inside the establishment and on the parking lot. As police assessed the situation, mutiple physical altercations broke out. When officers tried to arrest some individuals, others would intervene by attempting to free them. Every available Hamden officer, as well as police from North Haven, responded to the incident. Nine teens were arrested.
The Arrested
16-year-old, male, Hamden resident.
17-year-old, male, Hamden resident.
16-year-old, male, Hamden resident.
16-year-old, male New Haven resident.
14-year-old, male, New Haven resident.
14-year-old, female, Hamden resident.
15-year-old, female, West Haven resident.
George White, 18, of 655 Fitch St., Hamden.
Brian Brown, 18, of 35 Anthony St., New Haven.
Everyone arrested was charged with inciting a riot and breach of peace. All were released on a written promise to appear. Court dates range from Dec. 11 through Dec. 14.
---
December 2, 2007
'An Army Without a General'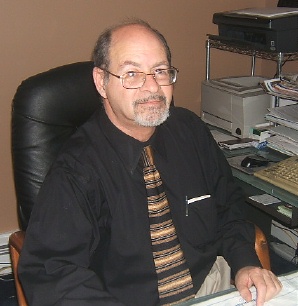 Neil Gorfain at his Whitney Avenue office. Photo/Sharon Bass
By Sharon Bass
Things are changing at the town's Office of Emergency Management. And folks are crying foul politics.
Longtime volunteer deputy director, Neil Gorfain, has just been canned.
Deputy Fire Chief Clark Hurlburt has been demoted from OEM director to deputy director of the volunteer effort that steps in when there's a natural disaster such as a fire, ice storm or flood.
For the first time in Hamden history, the fire chief has taken the top spot.
And team volunteers, whom Gorfain trained, say they're thinking of calling it a day. They say the emergency operation has become somewhat dysfunctional since new leaders have taken over.
"I'm hurt. I got punched in the gut," said Gorfain. "I'd be foolish to say I'm not after 30 years."
"It's a slap in the face. I feel really bad for Neil. I'm thinking about leaving," said Jackie Tiroletto, a Community Emergency Response Team (CERT) member since its inception four years ago. "It's an amazing team. We work well together. It would be sad for the town to lose us. We are all volunteers."
"Considering all the changes and all the political garbage, I am not happy with the leadership and am seriously considering leaving it," said Greg Goulart, another CERT member. "I have been talking to members and team leaders and the general consensus is they are going to leave the OEM."
Neither Mayor Craig Henrici nor Berardesca would return messages seeking comment. And Hurlburt did not wish to comment for this story.
During the last budget season, Henrici merged the OEM with the Fire Department and stripped Gorfain's $2,500 yearly stipend. But the legislative council restored it. Then Fire Chief Dave Berardesca, the new OEM director, gave Gorfain the ax. With no warning.
"I knew it was coming when Clark told me he was demoted," Gorfain said during an interview at his Whitney Avenue cruise business. Although he said no one -- not the fire chief, not the mayor -- called him or had any conversations with him about being removed. Until he got a letter from Berardesca.
Dated Nov. 16, 2007, the letter says in part: "As you are aware, I have been assigned the position of Director of Emergency Management (EM) for the town of Hamden. Deputy Chief Clark Hurlburt and Captain John Lujick of the Hamden Police Department will take on the responsibilities of Deputy Directors … Due to these command decisions, you will need to return the Motorola HT1250 portable radio encoded as OEM 2 and all accompanying equipment along with a Town issued cell phone. Please return these items to the Fire Administrative office in the Government Center."
"I don't know why Craig [Henrici] doesn't like Neil or respect what he's doing," said former Republican Mayor Barbara DeNicola, one of nine mayors who worked with Gorfain. "I don't know why Neil was let go. To me he was Johnny on the spot. We had an apartment fire off Ridge Road and he was already there before I got there. He provided shelter. It was a cold night. I remember that. He was always there when you needed him."
Former Democratic Mayor Carl Amento called Gorfain creative and "extremely conscientious." He said Gorfain established the Emergency Operations Mobile Unit for around $10,000; it was budgeted for $50,000. "He was very creative to put that together and cobble resources," said Amento.
Gorfain was also instrumental in establishing the Emergency Operations Center in the basement of Memorial Town Hall (the old Purchasing Office). Before that, "it was created on the fly [when there was an emergency] and set up in the Legislative Council Chambers," said Amento.
Around 2001 Gorfain, who is reportedly the only licensed teacher in Hamden to train emergency volunteers, put together a 55-member CERT. They provide water, food, shelter and other necessities to victims, firefighters and cops during emergencies.
"Before that you just had Neil and Clark. Emergency management became a really big deal" after 9/11, said Amento.
"A very big compliment"
Gorfain worked without a stipend for most of his three decades as deputy director. In '05, he was given a $2,500 yearly stipend for becoming acting director when Deputy Fire Chief Ed Badamo (also the OEM director) retired.
"It was a very big compliment to me," said Gorfain. He said the stipend wasn't put into the budget "but the council felt I deserved something." The stipend was put into the following budgets.
The OEM is primarily funded by a state grant. This fiscal year the grant is $14,250 and the operating budget is $11,800. Goulart said some of the grant money went to special police uniforms.
"When there's an emergency -- up until this mayor -- mayors or the council presidents would tell us to do what's needed to be done and 'we'll pay for it,'" said Gorfain. "I feel bad because in the state, Hamden's OEM department is admired. Maybe my time has come to leave it to other people, but no one talked to me about it or asked me to train my predecessor.
"The only thing this administration does is knock down all the good things we have done," Gorfain continued. "But they can't take away from me the people I have helped."
"I think it's really sad that they let him go and now they have people who don't know what they're doing," said Tiroletto. "Neil is really the brainchild of this whole thing."
She and Goulart said the new OEM leaders don't know the protocol. "They don't know how to activate the team. Then they get mad when the team doesn't show up," said Tiroletto.
For instance, at the recent Hamden Plaza fire.
"I had heard the mayor got upset that we didn't show up at the fire at Miami Glo," Tiroletto said. "We didn't show up because we never got a phone call that we were supposed to. Protocol wasn't followed."
"I am not pleased about the changes at all on a number of levels," said Goulart. "One, who the changes were directed at -- Neil and Clark. Obviously how the changes came to be -- through backdoor politics, back stabbing, no communication regarding how these changes were going to take effect. And there has been absolutely no communication between the new director, Chief Berardesca, to the volunteer personnel who make up the OEM organization. One would think a new director would want to communicate to keep the members apprised of what's going on. As far I'm concerned we're an army without a general."
Echoing Gorfain, Tiroletto said she gets a lot of satisfaction from her volunteer post. "But I may leave because Clark has been demoted and Neil has been kicked out and they've been the driving force behind the CERT team," she said.