General News
April 30, 2007
Gloria & Pat 4Ever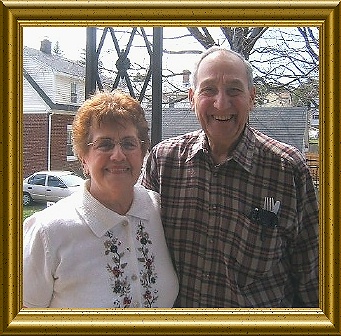 The Corsos, days before their 60th. Photo/Sharon Bass
It's been about commonsense and acceptance
By Sharon Bass
Seventeen-year-old Pat Corso was rolling a flat tire through the family kitchen on Arch Street, en route to the cellar, when his eyes met Gloria's for the first time. Gloria just happened to be visiting after attending a bridal shower for Pat's cousin.
"And his heart went boopity boop," said Gloria, who then lived on State Street.
"It was one of those hot days," said Pat, who later became a Hamden councilman.
That was 1944. Last Thursday, Pat and Gloria celebrated their 60th wedding anniversary. No easy feat.
Back to June 1944 in the Corso kitchen. Pat's aunt asked him to drive Gloria home. He said he was trying to pair her with his friend Art Roth, so he brought him along for the ride.
"Art Roth was a very shy person and you had to speak for him when it came to girls," said Pat. "After I got home again, I said, 'What am I doing here? What about me? Charity begins at home.'" He said he was attracted to Gloria and wanted to ask her out but didn't have a home phone. However, his grandmother had one.
"His aunts insisted. They pleaded with me" to call Pat's grandmother, said Gloria. "I didn't like the idea. I didn't call guys." But she called anyway.
"Then, what do you think he did? He took me to the movies to see 'The Five Sullivans,' a tear jerker about five brothers who died in the Navy during World War II. You take a girl to a movie and she's crying her eyes out?" said Gloria.
Pat had a couple of good reasons he chose that flick for their first date. "It was during the war and it was at the [now-defunct] Dixwell Playhouse," he said. "Gasoline was rationed. You couldn't go far. You could only get three gallons a week."
A short time later, on June 14, 1944, Pat graduated Hamden High and two days afterwards was sworn into the Marine Corps. He left town July 18. Pat was stationed in Guam and with the exception of one leave that year, he and Gloria didn't lay eyes on each other again until Aug. 12, 1946, when Pat came home for good.
Gloria said she waited for him "like a good girl," not dating anyone else. On April 26, 1947, they married in St. Stephen Church, which was then on State Street where a Department of Motor Vehicles office is now. The couple honeymooned in Quebec.
Pat wanted to become a teacher. He got a bachelor's and a master's degree in industrial arts education from Teacher's College (now Central Connecticut State University) and a six-year advanced degree from the University of Bridgeport. Meanwhile, Gloria worked at the old Malley department store in downtown New Haven.
He taught at Harding High in Bridgeport for five years. Then at Michael J. Whalen Junior High (the old middle school on Newhall Street) for 28 years.
The Corsos, who live in White Drive, have three children: Carol Miller of Branford, Bruce Corso of Virginia and Marty Corso of California, and six grandchildren. When her kids went to school, Gloria became a paraprofessional at Dunbar Hill School for 23 years and then retired.
Pat and Gloria said they held no party affiliation for quite some time. Pat said he enrolled as a Democrat to vote for a friend running for probate judge. And Gloria became a D when her husband ran for the council. He served from 1989 to 1999, and was president during his last two years. Gloria has been a member of the Hamden Women's Club since 1991. And Pat belongs to the Hamden Veterans Commission.
They attribute nothing in particular to the longevity of their marriage.
"Probably a lot of tolerance," said Pat, 80. "I believe once you're married you stay married. You had a commitment. You had children. You worked it out, you know?"
"You try to make the marriage work. You both gotta give in and have to be stubborn," said Gloria, 79. "I make my point and so does he. We had some rip-roaring arguments, believe me."
'We had some tough times monetarily," said Pat.
"We were blessed with three children and they're doing well," said Gloria.
Likewise, there was nothing spectacular about their 60th wedding anniversary celebration. The couple spent the day Manchester.
"We shopped," said Pat. "I was looking for a half-inch drill. I needed that to do some repair work."
"I went to Vanity Fair. I bought underwear. And I went to Easy Spirit. I love shoes. And then we went to the Christmas Tree shop afterwards," said Gloria.
They finished the day dining at Outback.
When they returned home, they found a proclamation from Mayor Craig Henrici citing their six-decade milestone.
From their chance meeting when Pat rolled a flat tire across the kitchen floor. To their long separation during World War II. To the three children they created and point to with pride. From Pat's long teaching career. To their involvement with the community. The Corsos have a lifetime of memories made possible by their seemingly no-nonsense approach to marriage and life.
---
April 24, 2007
Holy Revolution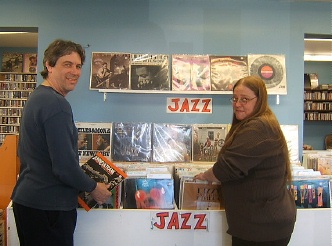 Doug and Mary Snyder surrounded by their angels.
Story and photos by Sharon Bass
Vinyl connoisseurs -- no, make that worshipers -- don't mind spending big bucks on an old LP. The sound is unmatchable, they say. The feeling is groovy.
Take Fred Dalrymple of Wesley, Mass. The other day he was in Hamden's new Replay Records at 2586 Whitney. He had been in Wethersfield on business and said he'd learned of the vinyl shop over the Internet. And hurried on down. He spent hours inside examining not just the condition of the LPs, but the labeling and other telltale marks to determine if they were originals. Vinyl is sacred to Dalrymple.
"It's my whole life. I'm an audiophile," he said. "Record stores are hard to find. They're closing up. This is one of those that has a good reputation."
Dalrymple said he has about 9,000 45s and 8,000 LPs at home. That's more vinyl than Replay has on its shelves -- roughly10,000 short and long records.
Vinyl is also Doug Snyder's religion. He co-owns the shop with his wife, Mary Snyder. They have original LPs of the Beatles, Bob Dylan, Jefferson Airplane, The Byrds, Miles Davis and Dizzy Gillespie, to name a few hot sellers. They also have those thick old records from the '40s and '50s, like "Ragtime Jamboree" and Rosemary Clooney's "White Christmas."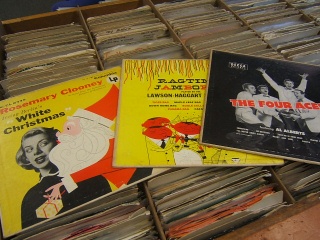 The Snyders aren't making a mint from peddling old vinyl. Mary works at the Yale Program for Recovery and Community Health as well as at the shop. But the couple says they are hooked and so are most of their customers, like Dalrymple.
Doug was a recording engineer at Wallingford's Trod Nossel. He can rattle off the science behind what makes vinyl superior to CDs and tapes. But the bottom line is the inimitable sound, he said. "The sound."
Mary has no background in vinyl, other than childhood memories.
"I get a lot of joy seeing the young kids come in because I know how much I enjoyed it as a kid," she said. "Music for me was an escape in a lot of ways."
Not Easy
They buy 80 percent of their stock from individuals and the other from outfits that sell reissues of classics, said Doug. He's picky. He said he turns away about 50 percent of what folks try to sell him.
"We don't need the Barbra Streisands, James Taylors, Frank Sinatras," he said. "They're too common. You can find these at Goodwill and flea markets every weekend."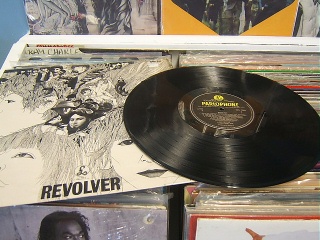 One Snyder oldie but goody is the original Beatles' "Revolver," the 1966 British issue (in photo above). It sells for $75, which Dalrymple snatched up along with 29 other albums that met his strict criteria.
Replay was born in New Haven in 1989. A year later, the retail house of worship moved to West Haven. Last December, it came to Hamden. The Snyders live on Hill Street and said they wanted to have the store close to home.
They were also looking for a better location. More traffic. New faces. When their West Haven rent went up 75 percent last year, they said they were prompted to relocate. But they're not getting a better deal here.
"Hamden rents are higher," said Doug. Their West Haven shop was 1,100 square feet. In Hamden, they have just 700 and the rent is $100 more a month.
"We are paying more but it's much better for business," said Doug. "We have gained brand new faces, which we wouldn't have gotten in West Haven."
"The visibility here is incredible," Mary chimed in. She called vinyl a "more connective and sensual experience" than digital recordings. CDs are made from a wav (digital) sample, she passed down some of the sound science Doug has taught her. Whereas records are made from an analog, the original sound source.
"We don't hear in digital. We hear in analog. Digital has to be converted back to analog. We hear more of the sound of the music on a record than a CD," she said. The reason CDs sound clearer and crisper is because old vinyl is often smudged and or scratched, said Doug. Before putting newly obtained records on the shelves, they get washed with soap and water. Some vinyl collectors, like Dalrymple, take the cleaning process further with their own elaborate and painstaking method.
"I believe in the intelligence factor of our clientèle," said Mary.
"What you can say about CDs is they're convenient," said Dalrymple."Vinyl is not convenient." But true believers can only look back.
---
April 23, 2007
To Jeanne with Love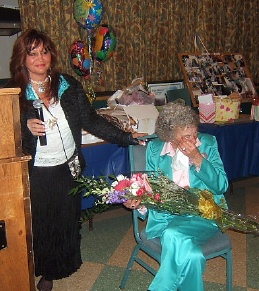 Gina Cahill (left) speaks with much emotion of her former boss, Jeanne Murray, as Murray sobs.
Story and visuals by Sharon Bass
Many had pet stories to share. How Jeanne Murray had given them a dog. Or rescued their dog. Many were teary eyed as they paid tribute to the recently retired, longtime Hamden animal control officer who never asked for overtime although "she should have." But Murray shed the most tears of all at her send-off party yesterday at the Elks Club, where she was showered with praise and gifts.

Click the arrow to hear Jeanne Murray thank the crowd at her retirement party.
About 150 politicians, municipal workers, friends and family came to wish Murray a happy and long retirement. She started working for the town on June 19, 1961, as a crossing guard. In 1979 she was named animal warden and retired early this year.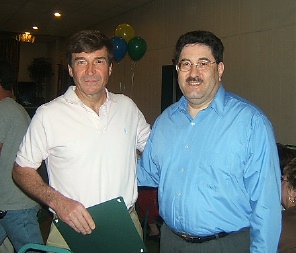 Mayor Henrici and his immediate predecessor, Carl Amento, share an amicable moment.
"She was a staunch advocate of animal protection," Mayor Craig Henrici read from his proclamation to Murray.
"Jeanne has always had a way with dogs. Whenever there was a dog no one would touch, we'd call out our secret weapon, Jeanne Murray," said Barbara Godejohn, state animal control officer for New Haven County.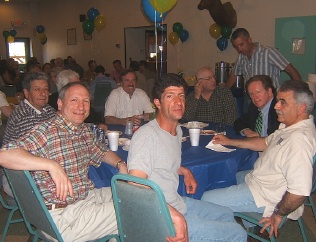 The guy table (from center going counter clockwise): Councilman Mike Colaiacovo, Democratic Town Committee member Mike Crocco, Councilman Bob Westervelt, unidentified, former Police Chief Jack Kennelly, the top of Public Works Director John Busca's head, unidentified, and Councilman Jim Pascarella.
"My mother's done a great job. We all know that," said one of her three sons Jim Murray, a retired Hamden Public Works employee. "She's probably the best animal control officer this town has ever had and probably ever will have."
Another son Joe Murray, a retired Hamden cop, also called his mother great. "She's always worn a uniform. [Starting with] Howard Johnson's [as a waiter] when she was in her 20s, to help support her three sons. I wish I had half the overtime she had over the 27 years" that she never claimed, he said.
Maureen Ambrogio read aloud a letter written by her husband, former Police Chief Jack Ambrogio, who was in Florida: "Jean did not demand overtime, which she should have. Our days and nights of arguing with the Legislative Council are over."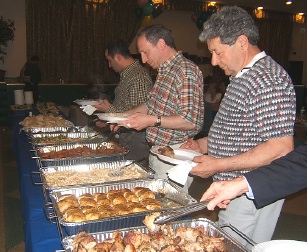 Filling the seats in the Elks Club, chowing down on pork, stuffed chicken, salad and two dog-shaped cakes made by assistant animal control officer Gina Cahill -- who with Murray's sons arranged the party -- were the likes of councilmembers Bob Westervelt, Al Gorman, Carol Noble, Jim Pascarella, Mike Colaiacovo and Ron Gambardella. Former Mayors Carl Amento and Barbara DeNicola, Public Works Director John Busca, former Police Chief Jack Kennelly and state Rep. Peter Villano (D-Hamden).
"I'm flabbergasted," Murray said about the turnout.
In her early years as animal warden, she said 30 to 40 dogs a day needed rescuing. Now that number has dropped to 18 because more people are fixing their pets, she said.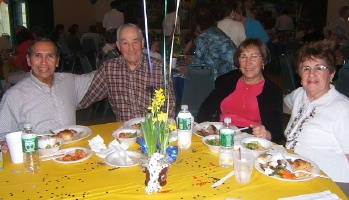 From left, Ed Noble, former Councilman Pat Corso, Councilwoman Carol Noble and Gloria Corso.
"It's been a wonderful experience working with animals and being able to save some of them," Murray said. She left Stoke-on-Trent, England, where she had grown up, in 1947 to move to Hamden. She still retains a bit of her British accent, which party-goers fondly pointed out.
Even the DJ, Bryan Poole of Helen Street, had a Murray dog story. In between spinning rock classics from the '50s and '60s, he said Murray and Cahill gave him an abandoned, abused beagle. However, the poor dog acted out so badly, Poole said he had to give the pup to a friend.
Busca said his German shepherd ran away from his Brooksvale Avenue home "at least 20 times and Murray would bring him home."
Amidst a sob-filled goodbye, Cahill recalled a conversation she had with Murray which cracked up the crowd. When Cahill first came on as assistant in 2001, she noticed there were 10 puppies produced by a German shepherd and a pit bull. She asked her superior how the shepherd impregnated the bull.
Murray's explanation? "A stiff prick has no conscience, my love."
But according to virtually everyone who's known Murray, she does have a conscience. And a big one.
-------------------------------------------------------------------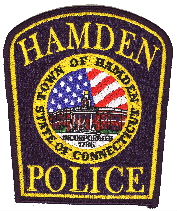 Hamden Man Dies After Fight
From Capt. Ron Smith:
A Helen Street man police tried to subdue with a taser last Saturday died at Yale-New Haven Hospital about one hour later. The Chief Medical Examiner in Farmington performed an autopsy on David Mills. The results are pending a toxicology report.
It all started at 2:51 a.m. on April 21. Hamden police responded to a complaint of suspicious activity in the area of 136 Helen St. Three subjects, described as black males, were walking through the back yards of homes on Helen Street. Cops observed two people, later identified as Mills and Adrian Teddington of West Haven, involved in a physical altercation. Teddington was holding Mills. Mills was speaking incoherently, stating he was on angel dust and talking about demons. Mills and Teddington then both fell to the ground still engaged in the fight.

Officers tried to intervene by separating the men. While attempting to restrain Mills, he continually resisted by punching, kicking and biting police. During the struggle and due to Mills' irrational behavior, medical assistance was summoned. As Mills became increasingly aggressive and prevented officers from restraining him, a cop utilized his department-issued taser. It appeared that the taser had no effect as Mills continued to struggle. When backup arrived, the Hamden resident was eventually restrained.

While awaiting the arrival of Hamden Fire Rescue and AMR, officers noticed a change in Mills' breathing. He was taken to Yale where he was pronounced dead an hour later.

Meanwhile, Teddington continually fought with police throughout the incident. At one point Teddington injured an officer by punching him in the face and kicked other cops. When he was put in the backseat of a police vehicle, he attempted to kick out the windows.

Medical assistance was rendered to Teddington due to his irrational behavior. Officers believed he was also under the influence of drugs and/or alcohol, hence the reason for transportation to Yale-New Haven. While there, Teddington broke free of his restraints and threatened to kill a police officer in the near future.

Teddington, 26, was arrested on three counts of assault on a police officer, interfering with an officer and threatening. He was released from the Hamden Police Department after posting a $50,000 bond. He is scheduled to appear in court in Meriden on May 4.
---
April 16, 2007
An Inconvenient Awakening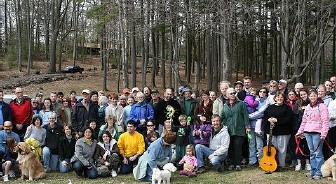 The crowd gathered at Sleeping Giant.
Hamden and the rest of the USA cry about global warming
Story and photos by Melinda Tuhus
The weather was perfect as about 125 people gathered at the picnic knoll at Sleeping Giant State Park Saturday to "Wake Up the Sleeping Giant to Climate Change." It was one of almost 1,400 such events around the country that called on Congress to "Step It Up -- Cut Carbon 80% by 2050." That's the amount deemed necessary to avoid truly catastrophic impacts from global warming.
Posters were tied to trees at the Giant highlighting some of the climate changes expected or already underway in Connecticut -- like the migration north of birch, beech and maple trees, growing threats from insect pests and a proliferation of poison ivy. Kids colored in posters of lobsters because warming waters in Long Island Sound were considered by scientists to be partially responsible for the massive lobster die-off there in 1999.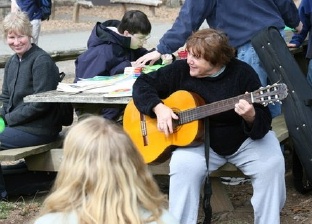 Ellen Greist of Hamden entertains the troops.
People were given brochures on how to sign up for green energy and how to reduce energy use, as well as a graphic from the World Resources Institute that shows the impact different legislative proposals would have on cutting carbon emissions. The Waxman bill in the House and its companion in the Senate, cosponsored by California's Barbara Boxer and Vermont's Bernie Sanders, are projected to reduce emissions by 80 percent by 2050.
Congresswoman Rosa DeLauro (D-Conn.) could not attend the Giant event but sent a letter of support, adding that she's a cosponsor of the Waxman bill. Hamden state Reps. Brendan Sharkey and Peter Villano were at the park Saturday, as well as Councilwoman Kath Schomaker. Mayor Craig Henrici came toward the end.
The event was sponsored by the Unitarian Society of New Haven's Green Sanctuary Committee, chaired by Schomaker. For more info, click here.
Melinda Tuhus of Hamden was an event organizer.
---
April 11, 2007
Show Us Your Business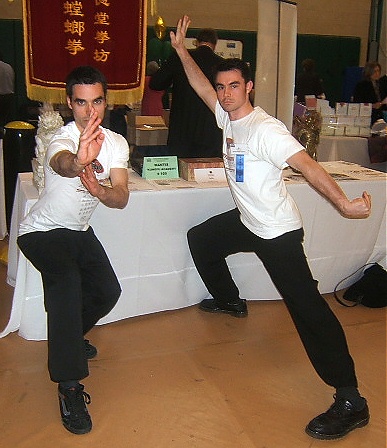 Danny Ferland (left) and Al Baubonis, assistant instructors at Hamden's Mantis Kungfu Academy, demonstrate what they sell.
Words and pictures by Sharon Bass
The high school gym was the place to do business yesterday. Some 110 local and regional firms set up booths to self-promote and network from noon to 5 p.m. Banks, floral shops, bakeries, massage practices, Realtors, restaurants, trade schools and even utility companies came together for the third annual Business & Community Expo, a product of the Hamden Chamber of Commerce.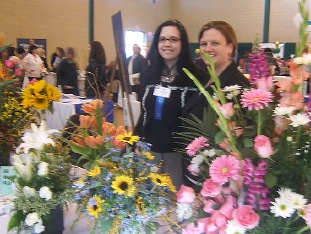 An olfactory treat from Glen Terrace Flower & Gift Shop on Whitney Avenue. Behind the bouquets are saleswoman Jessica Symington and floral designer Darlene Ravid.
Chamber director Nancy Dudchik figured about 800 adults and children wandered through over the five hours. The atmosphere was almost fair-like, with a large popcorn machine going, lots of cookies and other treats for the taking, a huge blown-up rat brought by a pesticide biz and an Amber Alert booth where kids' identities are recorded in case they're missing. The place was packed and full of energy.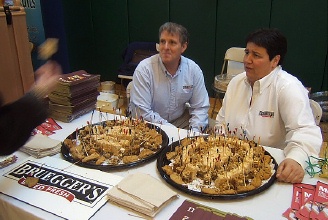 Hamden's getting a new bagel joint, probably this summer. Bruegger's, a chain biz, is to occupy the former Duchess Restaurant on Dixwell Avenue. Area manager Pat Masloski (left) and marketing director Carla Copertino man the booth.
"Because we're not a walking downtown we need an event like this to bring them all to one place," Dudchik said at the end of the day. Last year, she said the word "community" was added to the event's name to broaden its scope and feel. The Amber Alert service is an example. Dudchik said many more families started attending the expo when that was added.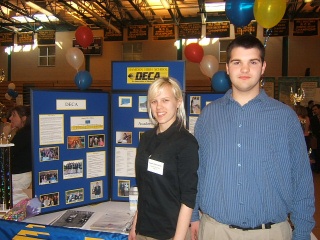 Hamden High DECA (Distributive Education Clubs of America) students Joanna Danielewicz and Bryan McKiernan. The seniors say they're headed for college in the fall.
And businesses get in some serious networking time. "UI is talking to businesses to help them with energy conservation," she said.
Vendors paid $225 or $325 for a booth, depending on whether they're chamber members.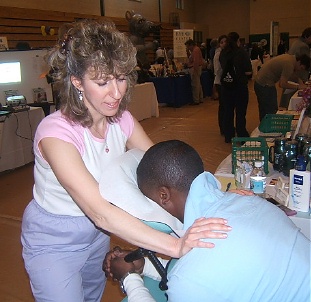 It doesn't get much better than a free massage. That's Lisa Lancia of Excel Physical.
---------------------------------------------------------------------
In Remembrance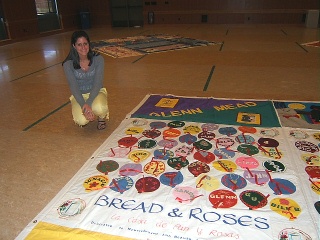 Student organizer Kimberly Johnston among the quilts.
Words and pictures by Sharon Bass
Quinnipiac University is temporary guardian of five pieces of The AIDS Memorial Quilt. They arrived yesterday and leave the school at 8 tonight, as they continue their travels around the country reminding people that anyone can get AIDS. And everyone who has died from an AIDS-related illness was a victim.
The quilts lay naked on the floor in a large, empty room in Alumni Hall. The atmosphere seems to mirror the subject it holds. The five pieces of cloth cover a mere fraction of the otherwise vacant floor, and the room is quiet save for some occasional whispering.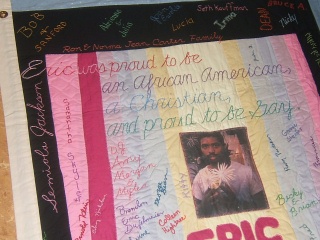 Every minute, a student standing before a microphone breaks the near silence. He softly says the name of one victim. Then there is quiet until the next minute.
Sophomore Kimberly Johnston organized the exhibit. She is president of the SADD (students against destructive decisions, formerly students against drunk driving) chapter at the university, targeting unsafe sex as well as alcohol and drugs.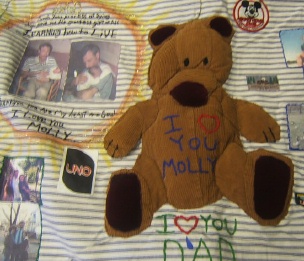 The AIDS quilt project began in 1987. It brings comfort to those who have lost someone to the insidious virus, makes for an effective PR tool and vividly illustrates the uniqueness of each human being. No two pieces are anything alike. To date, there are over 5,712 sections bearing more than 83,440 names.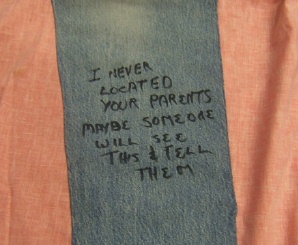 AIDS and safe-sex pamphlets are offered at a booth inside the Alumni Hall room. There are also free condoms and dental dams. At each side of the booth are signs with facts: At the end of 2005, 40 million people worldwide were infected with HIV. Some 2.3 million were children under 15. One American under 22 is infected every hour. Connecticut had 643 new AIDS cases in 2004.
In conjunction with the exhibit, AIDS activist Elaine Pasqua will present "Loving in a World with AIDS" at 8 p.m. today in Alumni Hall.
---
April 2, 2007
Batter Up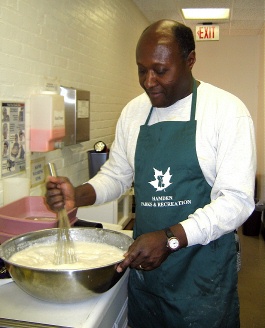 Parks & Rec's Frank Cooper gets the batter ready for breakfasters.
Pancakes raise dough for summer camps
Words and pictures by Betsy Driebeek
The smell of pancakes wafted into the Miller Senior Center parking lot early Saturday morning as Parks & Rec held its fourth annual pancake breakfast with, who else?, the Easter Bunny.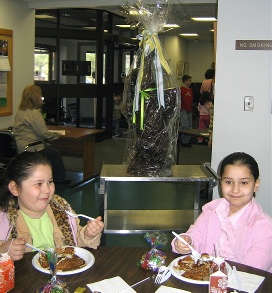 Here are 6-year-old Shepherd Glen student Emily (left) and her sister Meghan Demanchyk, 9, who attends St. Rita's, gobbling up Cooper's offering. Delicious Harvey hangs out behind them.
Thirty pounds of batter -- about 350 pancakes -- and two gallons of syrup were served along with sausage and beverages. The Easter Bunny hopped around looking for photo ops while kids were having their faces painted and filled out entries to win a bike and a jar of jellybeans by guessing the correct number of beans inside the jar.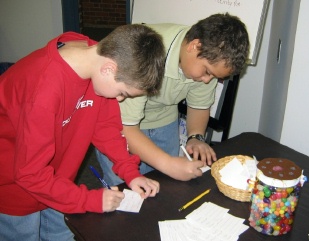 Jeffery Jannitto, 11 (left), and Dominick Sannino, 10, both St. Rita's students, calculated the number of beans in the jar as 1,003 and 1,300 respectively.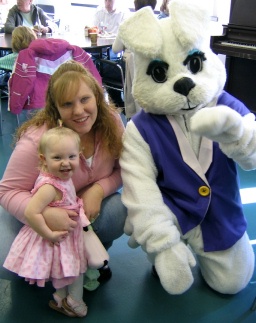 The Easter Bunny strikes a pose with Hamden resident Amy Handy and her 10-month-old daughter, Rachel.
And Harvey, that 3-foot Belgian chocolate bunny -- seen snooping around Government Center the past few weeks -- finally inched closer to finding a home. His adoption raffle was held as promised, and his parents-to-be will be selected today. Harvey hails from Kent, Conn., and was named after the 1950 Jimmy Stewart movie about a pleasant man with a 6-foot invisible rabbit for a friend.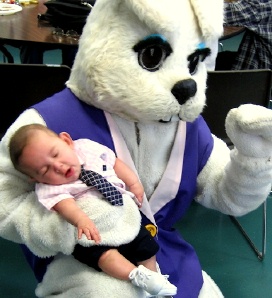 Four-month-old Jayden Geiger takes a snooze on the bunny's lap.
Bike and Harvey winners will be chosen today at noon in the Town Clerk's Office; the jelly bean winner will be notified on April 12. All proceeds from the pancake breakfast will benefit the Hamden summer camp scholarship fund.