Town Government
November 29, 2007
Mayor Mile Mystery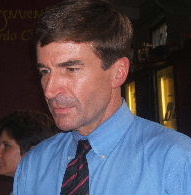 Craig Henrici. File photo
By Sharon Bass
It's been nearly three months since the Hamden Daily News first asked for Mayor Craig Henrici's travel logs -- on which his monthly, mileage reimbursement payments are based. Several Freedom of Information requests have been sent to Town Hall. The FOI Commission in Hartford has gotten involved.
Yet the town has not turned over one requested document during a three-month runaround, where the HDN has gotten conflicting information and town officials have refused to return phone messages.
The HDN lodged a formal FOI complaint on Nov. 25.
Since at least July 1, 2007, Henrici has been getting reimbursed the IRS rate of 48.5 cents for every business mile he travels in his personal car. Unlike mayors before him, he chose not to drive a town car. He first tried to get a flat allowance of $570 a month (about 1,200 business miles) but the legislative council said no to that last spring, and added Henrici's name to the list of employees who get reimbursed per mile.
Henrici did not return messages seeking comment.
In a phone interview, Kerri Siddiqui of the IRS said employees who are reimbursed using the IRS rate must submit a written mileage log and other records of travel expenses to their employers (in this case, the town of Hamden) "at or near the time of the expense." She said the IRS asks for these records when it audits public and private entities.
Siddiqui said Henrici is on what's called the "accountable plan." The "non-accountable plan" is what he had asked the council for. Expense and mileage records are only required under the accountable plan, she said.
She said the 48.5-cent-a-mile reimbursement factors in car depreciation, gas, oil, tolls, lease payments, insurance, parking fees, etc. Another type of accountable plan reimburses for actual costs rather than a flat 48.5 cents a mile.
"Regardless of which method they use, they have to produce records when they claim them on their [tax] return to prove this is how much they drove," said Siddiqui.
The Runaround
The HDN's initial FOI request was sent to Town Attorney Sue Gruen in early September 2007. It asked for Henrici's and Tax Assessor Jim Clynes' mileage submissions for July and August 2007. The mayor had also asked for a monthly travel allowance (non-accountable plan) for Clynes. The FOI request was sent to Gruen because that has been the protocol for the media.
Four days later, Gruen sent a letter saying her office is working on the request, which included documents showing the number of miles Henrici and Clynes submitted for July and August 2007, and the travel logs that back up the mileage claims.

On Oct. 15, 2007 -- over a month later -- the HDN sent another e-mail to Gruen:

Dear Sue,

I am still waiting for the items I requested under the Freedom of Information Act, which are the mileage records for Mayor Craig Henrici and Tax Assessor Jim Clynes for July and August 2007. Also, I have requested copies of those employees' travel logs for those months. In addition, I am requesting documentation for the amount of money paid to each man for the aforementioned months in mileage reimbursement. If this last request holds up the first two, please fulfill the first two and complete the third item afterwards.

Please let me know when I should receive those documents.

Thank you very much.

Sharon Bass
772.4072

Gruen still didn't respond or return any of several phone messages subsequently left for her.

The HDN sent an e-mail complaint (unofficial) to the FOI Commission on Oct. 18. A few days later Tom Hennick, a staffer at the FOI office, left a message on the HDN voicemail saying he spoke with Gruen who told him the requests should be sent to the mayor's and tax assessor's offices -- not hers.

Then on Oct. 23, Gruen sent this letter:

Dear Ms. Bass:

In response to your email of October 18, 2007, please be advised that I am not the keeper of the records you requested and therefore your request should be directed to the finance department.

Yours truly,

Susan Gruen
Town Attorney

Cc. Mayor Craig B. Henrici
Mike Betz, Finance Director
Freedom of Information Commission

That contradicted the information Hennick had given about where to send the FOI request.
So on Nov. 8, the HDN sent Finance Director Mike Betz the following e-mail:
Dear Mike,
Town Attorney Sue Gruen told me to send this Freedom of Information request to you.
Under the FOI Act, I am asking for a copy of Mayor Craig Henrici's travel logs -- on which he bases his monthly mileage reimbursement -- for July, August, September and October 2007. I am also requesting documentation showing how much Henrici was reimbursed each month.
Thank you.

Sharon Bass
founding editor
Hamden Daily News
www.hamdendailynews.com
And on Nov. 9, Betz sent this letter in response:
Dear Ms. Bass:
This will acknowledge your request to me via email regarding information and copies of records pertaining to mileage reimbursement to the Mayor.
My office will be researching this and will have information for your review and copies available in a reasonable amount [sic] time. I will contact you when the information is available.
Sincerely,
J. Michael Betz
Director of Finance
JMB:dom
Cc: Mayor Craig Henrici
Betz did not return messages seeking answers to why it would take "research" to produce monthly documents that are allegedly in existence, and to define a "reasonable amount of time."
-----------------------------------------------------------------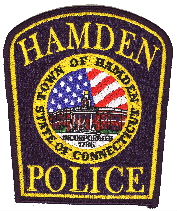 Police News
From Capt. Ron Smith:
Hamden police have received numerous complaints and e-mails concerning people talking on their cell phone while operating a motor vehicle.
Subsequently, on Nov. 5, the department kicked off a three-week initiative regarding statute #14-296aa(B): "Operating a motor vehicle while using a hand-held mobile telephone to engage in a call or while using a mobile electronic device when vehicle is in motion."
By Nov. 26, officers had issued 107 infractions (tickets), 26 written warnings and 26 verbal warnings for this violation, which occurred throughout town. The department would like the motoring public to know that this law will continue to be vehemently enforced.
Also, Officer Ronald Glifort has been appointed the community liaison/crime prevention officer. He will be responsible for maintaining liaisons with community and blockwatch groups, and crime prevention and youth programs. Glifort will also provide security surveys for residents and commercial establishments. He can be reached at 407.3187 or at rglifort@hamden.com.
---
November 27, 2007
Ready to Serve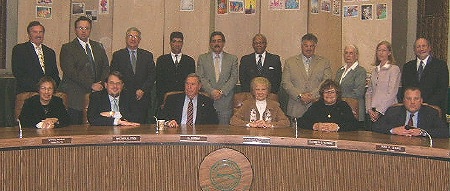 The '07-'09 legislative crew (seated, from left): Carol Noble, Matt Fitch, Al Gorman, Council Clerk Evelyn Parise, Betty Wetmore and Craig Cesare; (standing, from left): Jack Kennelly, Curt Leng, Jim Leddy, Mike Colaiacovo, John DeRosa, Ozzie Brown, Gabe Lupo, Kath Schomaker, Gretchen Callahan and Jim Pascarella. Photo/Sharon Bass
By Sharon Bass
Feeling among local Democrats and Republicans is the new legislative council -- with six new members and three (up from two) Republicans on the 15-member body -- won't bear a great resemblance to the previous one. However, some say it's too early to tell exactly how coalitions will shape up.
"I think a lot of it is going to be dictated by the mayor and how he chooses to run things, because this Council is clearly not a rubberstamp council as he's been accustomed to," Republican at-large Councilman Craig Cesare said last night, after the newly christened Council's first meeting.
In addition to one more Republican on the '07-'09 Council, there appear to be more Democrats not aligned with the Henrici machine.
But Democratic at-large Councilwoman Carol Noble predicted coalitions will form based on issues rather than political alliances.
"Unless they're being told from someone in the background, they will speak their own minds and will come to logical and reasonable opinions," she said.
Noble agreed with Republican Town Committee Chair Mike Iezzi that it's too soon to call coalitions.
"I think it's too early to think of any Council coalition," said Iezzi, who attended the inaugural meeting Monday. "That will be based over time on how the mayor manages the town and how inclusive he is. I think it's very clear from this election that there is some discontent based on the 651 votes [Mayor Henrici won by] compared to the 8,000 [in '05]."
"I don't think at the beginning you're going to see any coalitions," said Noble. "When they get their feet wet they will become more involved in the issues."
"I don't want to speculate which direction I'm going to take right now," said Cesare. "The mayor has been exclusive of the Republican Party, and the Republicans will put the taxpayers first as elected to do, where I feel in the past [Council Democrats] made the taxpayers second. I'm sitting here with a wide-open mind."
Henrici did not return messages seeking comment.
Slender Agenda
The primary task at Monday's half-hour meeting was to choose the leadership.
Democrat Al Gorman was reelected president.
Noble was reelected president pro tem.
Democrat Matt Fitch was re-nominated majority leader. He named Jim Pascarella majority whip.
Republican Betty Wetmore was re-nominated minority leader. She named Cesare minority whip.
And Evelyn Parise was given another two years as clerk.
Gorman is expected to announce committee appointments at the Dec. 3 meeting, 7 p.m., Memorial Town Hall.
Council versus Town
How well does the new legislative body mirror the town?
It has four women, 11 men; 14 whites, one black; 12 Democrats and three Republicans.
According to the 2000 census, Hamden has 31,691 females, 26,985 males; 45,311 whites, 9,105 blacks, 2,929 Hispanics, 2,112 Asian Pacific and 81 Native Americans; (and according to the latest numbers from the Registrar of Voters Office) 13,762 independents, 13,164 Democrats, 4,314 Republicans and 57 Greens.
---
November 26, 2007
Here's Looking at the Next 2 Years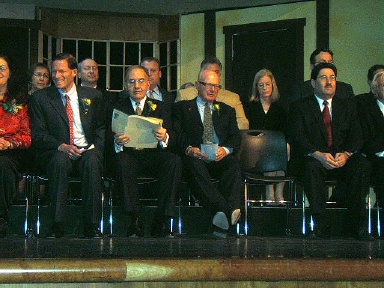 On the high school stage (front row, from left) a sliver of Town Clerk Vera Morrison, Attorney General Dick Blumenthal, Senate Majority Leader Martin Looney, state Sen. Joe Crisco and former Mayor Carl Amento; (back row) at-large Council reps Carol Noble, Jim Pascarella and Craig Cesare, 2nd District Councilman Gabe Lupo, 4th D Councilwoman Gretchen Callahan and 6th D Councilman Curt Leng.
Story and photos by Sharon Bass
Hamden's new governing team became official yesterday in the high school auditorium with little fanfare and a light audience (estimated at under 200). Mayor Craig Henrici, Town Clerk Vera Morrison, the 15 Legislative Council reps (12 Dems, three Repubs) and three Board of Ed members (the nine-member Board has scattered terms) were sworn in.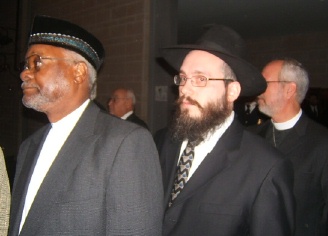 Men of the cloth Imam Abdul-Majid Hasan, Rabbi Menachem Piekarski and Rev. Douglas House march to the stage.
Local lawyer Ned Burt played the master of ceremonies at the 2007 inauguration. On stage with him were a priest, a reverend, a rabbi and an imam, Hartford pols, former Hamden mayors and the newly elected town and school officials.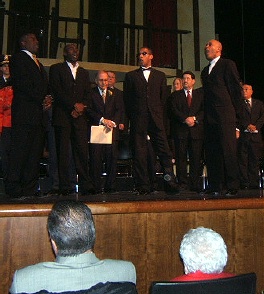 Soul Tempo belt out the national anthem.
Soul Tempo, a quartet of lifelong buddies, made some beautiful music performing "America the Beautiful" and the national anthem.
Attorney General Dick Blumenthal announced that former Gov. Bill O'Neill, 77, had died Saturday, and then spoke accolades about Hamden's elected officials.
"[Henrici and the Council] provide strong leadership, especially on environmental issues," said Blumenthal. "Vera has been in the trenches day in and day out when people have attempted to be cynical. She has made us very proud."
Recently departed Gloria Sandillo, a political fixture in town, was honored by Henrici and Secretary of the State Susan Bysiewicz. This year's inauguration was dedicated to her. Sandillo's children were given a silver bowl in recognition of their mother.
"We thank the Sandillo family for [Gloria's] beautiful service to the town of Hamden and state of Connecticut," said Bysiewicz.
"We are truly touched by this honor to my mother," said Laura Sandillo.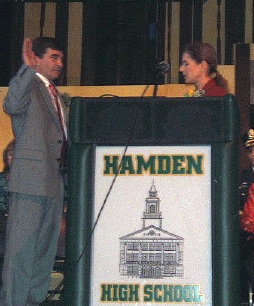 Secretary of the State Bysiewicz inaugurates Democratic Mayor Henrici.
Bysiewicz then swore in Henrici for a second term.
"He did very, very well in leading Hamden in his first term," she said. "Ultimately, the buck stops with the mayor. Craig has brought his common sense and integrity and intelligence [to the mayor's office]."
"Every decision was made for the long-term benefit of the town, not for political [expediency]," Henrici said. "I thank the citizens of Hamden who put trust in the people on this stage. Hamden's finest days lie ahead."
Folks then piled into the high school cafeteria for brownies, cookies, fresh fruit, punch and coffee.
Tonight at 7 the new Council meets in Memorial Town Hall to kick off the next two years.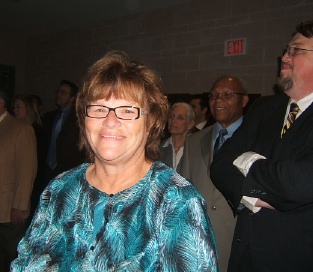 At-large Councilwoman Betty Wetmore and, at the edge, 1st D Councilman Matt Fitch.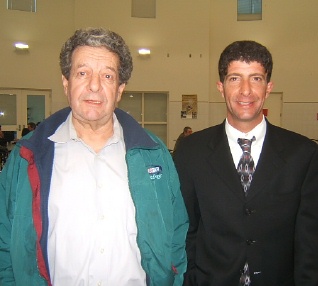 Pop and pol: Mike Colaiacovo Sr. and 7th D Councilman Mike Colaiacovo Jr.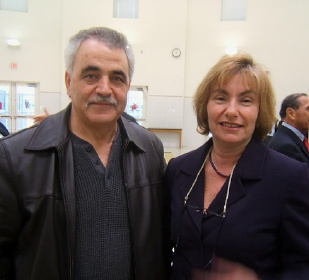 Hamden Democratic Town Committee member Mike Crocco with New Haven DTC chair Susie Voigt.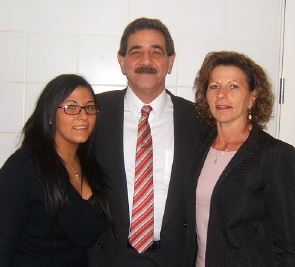 8th D Councilman John DeRosa with daughter Kimberly and wife, Marie.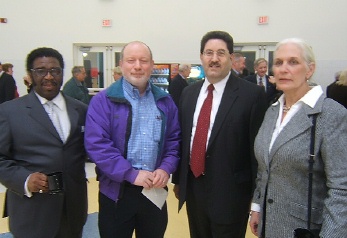 Just-former Councilman Willie Mewborn, town Economic Development Director Dale Kroop, former Mayor Carl Amento and 5th District Councilwoman Kath Schomaker.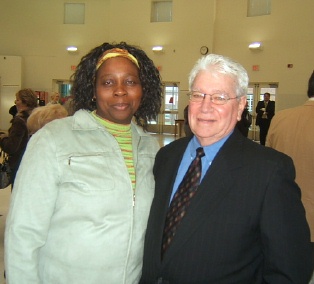 Just-former Councilwoman Berita Rowe-Lewis with Public Works Director John Busca.

Soul Tempo delivers a sweet rendition of the national anthem during Sunday's inauguration for elected officials. -- Sharon Bass
---
November 11, 2007
Dems file a boo-boo
By Sharon Bass
Mayor Craig Henrici raised about twice as much dough as his Republican challenger, Ron Gambardella, in this year's race for mayor -- $84,960 to $41,815. As of the latest campaign filing on Oct. 31, each candidate had spent about half his bounty. Henrici for Mayor had $43,943 left in the kitty, and Gambardella for Mayor had $20,811.
Both sides received beaucoup donations from lawyers, cops and contractors. Maximum allowable contribution per person for mayoral candidates is $1,000.
A few folks gave to both campaigns: former Republican Hamden Mayor Lucien DiMeo ($100 to Henrici; $250 to Gambardella), Hamden attorney Bernie Pellegrino ($650 to Henrici; $250 to Gambardella) and Matt Manchetti ($1,000 to Henrici; $250 to Gambardella). On Henrici's filing, Manchetti is listed as being employed by Laurel View; on Gambardella's as owner of On Course Construction in Hamden.
Donkey Boo-Boo
The Henrici finance records indicate that a particular election law was not consistently obeyed. It calls for disclosing whether a donor giving over $400 has a current contract with the town for over $5,000.
With each contributor's name and other info listed in the state filing is a box that reads: "If contribution is in excess of $400 to a candidate committee for a chief executive officer of a municipality does contributor or business he/she is associated with have a contract with said municipality valued at more than $5,000?" followed by two boxes: yes and no.
Only the "no boxes" were checked in the Henrici filing, when there is at least one donor, retired Purchasing Agent Judi Kozak, whose box should have read yes. She had donated a total of $410 by Oct. 10 while working for the town under a $20,000 contract that went from Aug. 1, 2007, to Oct. 31, 2007.
Attempts to reach Kozak were unsuccessful.
According to William Smith, a staff attorney for the Election Enforcement Commission, the campaign treasurer is responsible for lack of disclosure. He said the penalty is either twice the amount donated or $2,000, payable by the treasurer. But the penalty is only exercised if a written complaint is made to the EEC, he said.
Elliott Kerzner is Henrici's treasurer. Kerzner said he depends on the accuracy of the information given to him.
"I'm on the hook for any glitch. Like it or not, good or bad," said Kerzner. "I rely on the contributors' declaration. What I will do is ask Judi Kozak to sign a declaration that she has a municipal contract" and will amend the report. In the '05 mayoral campaign report, Kerzner said there were "a few people who said they had municipal contracts."
There are other Henrici contributors who had contracts with the town this calendar year and gave over $400, but it's likely that those agreements expired before the donations were made. And no one listed on the Gambardella report did business with the town during the last two years of Democratic control.
Top Henrici Givers
John Coassin, retired, $1,000
Joanne Coassin, retired, $1,000
Michael Coassin, president of Atlantic Masonry, $1,000
Matt Manchetti, Laurel View, $1,000
Ralph DiCaprio, principal of Trash Master, $1,000
Lorraine Panzo, spouse of town record of agent Lew Panzo, $1,000
John Busca, Hamden Public Works director, $950
Steve Cavanaugh, owner of Biltmore Construction, $750
Mike D'Agostino, Board of Ed member, $750
Steven Rolnick, Hamden attorney, $700
Daniel Ioine, Hamden attorney, $700
Edward Burt, Hamden attorney, $700
Carl Porto, Hamden attorney, $660
Bernie Pellegrino, Hamden attorney, $650
Howard Raccio, Hamden contractor, $600
Andrew White, Wallingford attorney, $600
William Keating, owner of Keating Bros Motors, $500
Donna Sandillo, Hamden resident, $500
Joan Aceto, Hamden Hall teacher, $500
Louis Tagliatella, owner of Franklin Builders, $450
Ronald Palumbo, Cheshire attorney, $450
Ozzie Brown, 3rd District councilman-elect, $410
Peter Burns, engineer for DeCarlo & Doll, $410
Judi Kozak, retired purchasing agent/town consultant, $410
Anthony Stratton, retired Hamden resident, $410
Jack Kennelly, at-large councilman-elect, $400
Susan Epstein, Hamden attorney, $400
Richard DePodesta, DePodesta Real Estate, $400
Top Gambardella Givers
John Quilghini, owner of Beacon Construction Group, $1,000
David Nyberg, New Haven real-estate developer, $1,000
Anna Gutowski, Weston real-estate agent, $1,000
Nelson Dasilua Jr., Prospect carpenter, $1,000
Mike Iezzi, Hamden RTC chair, $1,000
Gina Massella, manager of Brick Oven Pizza, $1,000
Craig Cesare, at-large councilman-elect, $750
Angelina Maluchnik, retired East Haven resident, $750
Shelia Fiordelisi, of Core Development in Cheshire, $750
Michael Sarno, Hamden High School security officer, $625
William Nagle, of Milone & MacBroom, $500
Henry Platt, Hamden RTC member, $500
Tariq Farid, CEO of Edible Arrangements, $500
Kamran Farid, COO of Edible Arrangements, $500
Gerald Longobardi, owner of Gambardella Company, North Haven, $500
Mark Saller, manager of Steamatic Inc., $500
Melinda Levelle Saller, Watson Foods employee, $500
John Lang, Hamden RTC member, $500
---
November 6, 2007
Henrici Narrowly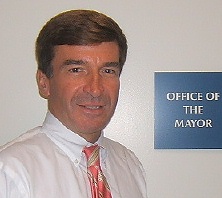 Gambardella wins 2nd, 7th & 9th districts
By Sharon Bass
By 651 votes, Democratic Mayor Craig Henrici inched into his second term. He beat Republican Ron Gambardella 6,749-6,098. A far departure from two years ago, when Henrici took the top elected office with a record-breaking 10,414 votes to Republican Dick Reilly's 2,595.
Today's municipal elections produced just one more Republican for the heavily Democratic legislative council. Police Lt. Gabe Lupo won the 2nd District, bringing the total from the GOP to three. Voters gave Democrats, both incumbents and newcomers, the other 12 seats.
Vera Morrison easily won her eighth bid for town clerk. And the Board of Education didn't change a hair.
Of the town's 31,423 registered voters, 12,944 -- or 41.2 percent -- cast ballots in the Sept. 6 election, including 582 absentees. The highest turnout was in the 9th District with 48. 3 percent; the lowest was in the 3rd with 26.4 percent.
Democratic Registrar of Voters Peggy Rae said there were no glitches with the new optical scan machines, which replaced the decades-old lever machines this year.
"Based on the primary we thought things would go smoothly, but of course this was a much larger scale so we were a little apprehensive," she said. For the first time, the registrars were given the responsibility to do the counting instead of the town clerk's office. Rae, Republican Registrar Tony Esposito, deputy head moderator Pete Vining and head moderator Bob Anthony tabulated the results.