Town Government
March 31, 2008
Hush Money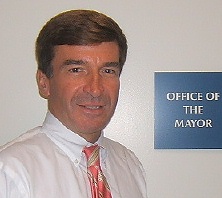 The mayor. File photo
Henrici got a hefty, seemingly secretive travel allowance for nearly a year
By Sharon Bass
Hardly anyone on the Legislative Council knew that Mayor Craig Henrici was helping himself -- with the assistance of Finance Director Mike Betz -- to $587.49 a month for undocumented "business travel" for 10 months last fiscal year. It wasn't in the budget. The men skimmed from three line items outside the mayor's office to come up with the sum. The Town Charter mandates council approval to transfer funds. The charter also gives the council power to recover those dollars and remove officials and employees who authorize or "make any expenditure in violation of the provisions of this Charter."
The HDN discovered Henrici was paid $5,874.90 as a travel allowance -- $587.29 a month -- from September 2006 through June 2007, via a Freedom of Information request followed by a formal complaint. (Click here to see the check-payment document.) During the 2007 budget deliberations, Henrici asked for $570 a month for travel. Council members flatly turned him down, saying it sounded excessive ($570=1,200 miles) and instead put the mayor on the IRS plan of 48 cents a business mile.
"After seeing the documents I was shocked and very disappointed that the payments were made to the mayor, that both myself and other members of the council had no idea were being made," said Councilman Curt Leng, the finance chair. "I think what the administration did was wrong. From what I can see so far, it's an unauthorized use of town money and inappropriate use of accounts set up for very specific purposes, which would constitute two charter violations."
Leng said he will try to put the issue on the Finance Committee's agenda tonight. He needs a two-thirds committee vote to do so.
Councilman Mike Colaiacovo said he knew nothing about the mayor's allowance. "I'm pretty upset about it. We are the fiscal authority of the town and it seems something was going on that nobody knew about, including myself," he said. "During the (2006-07) budget I remember the mayor asked for an allowance somewhere around $500. I remember voting against it. I thought it was too much."
It was also news to Councilman Jim Pascarella.
"This is the first I've heard of it. I'm surprised to hear of this. I had no idea this reimbursement had occurred," he said. "It is clearly, in my opinion, a violation of the charter. I'm disturbed they chose to do this without engaging us, which is what the charter would have required. I'd like a full explanation as to what happened."
Neither Henrici nor Betz return messages from the HDN.
According to the "check history" document, Henrici was paid $2,349.96 on Jan. 16, 2007 (presumably retroactive for September 2006 through December 2006), and $587.29 on Jan. 18, 2007, Feb. 8, 2007, March 1, 2007, April 5, 2007 and June 6, 2007. The checks came from three line items -- two from Public Works, the other from Finance. On July 1, 2007, Henrici went on the council-approved 48-cents-a-mile reimbursement plan. Before September 2006, the mayor drove a town-issued SUV.
Ethically Bankrupt
Leng and Councilman Craig Cesare suggested the matter go before the Ethics Board.
"I need someone like the mayor or Mr. Betz to come up and explain to me how this wasn't a flagrant violation of the charter," said Cesare. "I think it's something that should be taken up by the Ethics Board."
Leng said that was an "option."
However, money for an investigation might be scarce. Henrici cut the board's funding in half in his '08-'09 proposed budget -- $1,000 to $500.
Skimming Lines
The mayor's little-known travel allowance came from Public Works' "gasoline" and "vehicle maintenance" accounts and from Finance's "insurance liability" line. According to a Town Hall source who asked for anonymity, the gasoline line item "is exclusively to pay for gas for town vehicles. And vehicle maintenance is to maintain town-owned vehicles only."
The finance director controls all line-item expenditures in the budget.
Leng said he will ask the town attorney for her opinion "as to the validity of the potential charter violations. The mayor's office has the power to put together whatever policies it wants regarding a wide range of matters except for matters that involve finances. The approval of financial expenditures and approval of budget line items is exclusively a council authority."
Also just obtained through an FOI request/complaint were the mayor's mileage logs for December 2007 and January and February 2008. (Click here and here to view logs.) Henrici was under fire last year after the HDN exposed his mileage logs from July 2007 to November 2007. Nearly all required information was left out and the amounts claimed were met with skepticism for seeming too high. Henrici claimed he drove 1,445 business miles last July and 1,613 business miles last August.
The HDN's first FOI request for his logs was in early September. The mayor's mileage claims then dropped significantly. He reported 579 miles for September, 941 for October and 605 for November.
The three mileage logs received last Friday were absent the same required data as the earlier ones: trip destination and reason, and the mileage per trip. The mayor just recorded an odometer reading and a monthly total. In December 2007, he claimed to drive 449 miles on business; in January 2008, 555; and in February 2008, 471.
Henrici's official town appointment book, also obtained via an FOI request, shows he made just one out-of-town trip in a five-month period. (Click on the month to view the mayor's appointments: July 2007, August 2007, September 2007, October 2007, November 2007.)
According to the Charter
Section 18-8: Expenditures and Accounting
E) When any department, commission, board or officer (except the Board of Education) shall desire to secure a transfer of funds set apart for one specific purpose to funds set apart for another, before incurring any expenditure therefore, such department, commission, board or officer shall make application to the Council, through the Director of Finance whose duty it shall be to examine the matter, and upon approval of the Council, such transfer shall be made …
H) If any official or employee of the Town of [sic] the Board of Education shall knowingly incur any obligation or shall authorize or make any expenditure in violation of the provisions of this Charter or take part therein, such action may be cause for removal or civil action. In addition, the Town may, by vote of the Legislative Council, undertake to recover from such official or employee, an amount equal to such obligation or expenditure so made.
---
March 28, 2008
By Sharon Bass
The discussion on the new police digs continued last night at the Town Building Committee meeting. Joining the committee was architect Sean Bianco.
Not everyone in town agrees with the administration that the headquarters should be attached to Memorial Town Hall. But the decision has apparently been made. For clarification, Committee Chair Matt Fitch asked Bianco: "Is this [design] footprint set in stone?"
"From our standpoint, we're at the later end of the schematic design so this is what we're proposing," said Bianco.
Fitch said alternative sites had been looked at.
Committee member Gretchen Callahan questioned the need for 206 parking spaces (a 15-space lot for staff and people with handicaps; and a two-tier garage with 191 spots for the public and police).
"It sounds like the footprint is set," she said to Bianco. "Is the parking also set?"
Chief Administrative Officer Scott Jackson jumped in. "What the architects are doing is putting out their best product. It will be up to us to look at the details and what we need to massage," he said.
Resident-elect member Chris Daur cautioned of costly, 11th-hour problems. He said the Police and Fire departments and other "end-users" need to sign the approved plans and make a commitment to them to avoid last-minute change orders, cost overruns, etc.
"I haven't heard numbers at all," said Daur. "What are we looking at?"
"Over $20 million," said Jackson.
The town has about $800,000 for the project, he said. There's $300,000 left in a 2002 state police and fire grant, and $500,000 has already been bonded. Jackson said the town will try to procure the $20-plus million from a variety of sources: the market, federal earmarks and state, federal and private grants.
Thursday was the deadline for responses to an RFP the town issued for a construction manager. Jackson said there were 10 submissions, and a choice should be made by late April. He said the applicants are asking for a fee of 1.5 percent to 2.5 percent of the total project cost.
Longevity and energy
Callahan had another question for Bianco. "Will the building be adequate for 30 years?"
Committee member Jack Kennelly took this one. "It's designed to last 30 years," he said.
"If your police department is growing by leaps and bounds, you can relocate your Office of Emergency Management," said Bianco. The OEM is sited in the basement of Town Hall.
Committee member Kath Schomaker steered the conversation toward energy efficiency. She asked the architect about "building efficiencies" and "operating costs."
"I will be honest. I'm not the best person to talk" about that, said Bianco.
"My understanding is if you really want to design an [energy-efficient] building, you make it a priority at the beginning of the design," said Schomaker. "Presumably, you can save the most by making it a priority. What I'm frustrated at is I've never gotten a straight answer from anyone on the team."
She pointed to the March 24 public budget hearing. "Did anyone notice how many people brought up energy? That didn't happen a year ago," said Schomaker. "I just want to be on the record having asked that question."
Spend more up front on energy-saving mechanicals, she advised, to save money down the road. Schomaker said a cost-benefit analysis should be done. "I hope we don't get just one option as we have for the design footprint," she said.
Agreeing with Callahan about the parking, Schomaker asked, "Could we do some analysis on parking and have a discussion?"
Committee member Craig Cesare, a partner in a construction company, was quiet during the meeting. Afterwards he was asked for his opinion about the project.
"I think parking is adequate. I don't think we can cut it," he said. "Energy efficiency has to be one of the driving forces. But it is still early in the process."
Memorial Town Hall wasn't Cesare's first choice for the new police digs, he said. "But we're trying to move past that point now. This is a lot of building for the size of the site."
Earlier in the evening Bianco had made the same point. "The site was a big constraint. This [design] is a reduction of the original idea," he said.
The TBC meets again on April 17. Special guest: the Fire Commission.
---
March 25, 2008
Conversation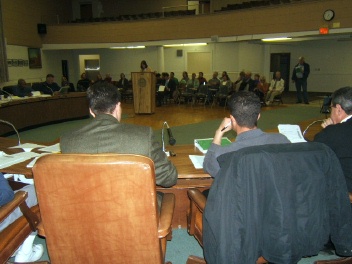 At last night's public hearing. Photo/Sharon Bass
By Sharon Bass
The Town Council decided to make last night's public hearing on the budget a two-way conversation. All voted to suspend the rule that doesn't allow councilpeople to respond to public comments and questions.
Let there be dialogue.
"We are very concerned about the overstated revenues," said Joan Warren, a member of Hamden Alliance for Responsible Taxation. "It's unrealistic. Very unrealistic."
Like others who would follow Warren, the evening's first speaker, she questioned certain revenue items in the mayor's $177.3 million 2008-09 budget, such as the $1.3 million that was to come in from hunting down out-of-state license plates and the $2.8 million projected in building permits.
"The motor vehicle [license plates] has brought in zero dollars to date," said Warren. "And maybe [Mayor Henrici] knows something we don't know, but the real estate market isn't doing very good. There's a huge difference between the mayor's numbers and reality." So far $626,050 has been realized in building permits.
"I'm very concerned that revenue has been overstated," said Carol Christmas of HART.
Councilman Matt Fitch responded. "I want to comment on the revenues," he said. "It's been accepted now through repetition that it's fact. The real estate market generally, maybe not this year, picks up in the spring. Regarding the two new [revenue] programs, they're just getting off now so we feel pretty good about those. I think there's some new construction in the pipeline."
Mark Sanders, also of HART, talked about the pension fund. "It occupies by itself an opportunity for tax relief," he said. The mayor has proposed putting $13.5 million into the retirement account -- $1.5 million more than in the current budget and $1.5 million less than the Finance Department requested in the new budget. Henrici has also dropped his bid for $55 million in pension obligation bonds, an idea that was not too popular among councilmembers last year.
But Sanders said a total deposit of $6 million would do the trick. That, he said, would lower taxes by 2 mils "and make you local heroes."
"Hamden is not, repeat not, required to have a pension fund," said Sanders, who researched municipal retirement accounts and then penned a column about his findings for the HDN. "Nor is there any provision in the labor contracts to have a fund. Contributions are made at the discretion of the council."
He said actuaries, who tell the town how full the fund should be, wrongly apply the same standards for a municipality as they do for private business.
"Because a private company can go out of business at any moment, it's logical" to build up its pension account, said Sanders. "But the town will never go out of business because it has the power to tax. Our Hamden employees should rest assured they'll always be paid."
Councilman Jim Pascarella responded.
"I can assure Mr. Sanders when we go through the budget we will have reviewed the performance of our pension fund," he said. "The idea is to maintain the fund to provide stability."
Resident Cathy Mosher called giving Animal Control Officer Chris Smith a raise "the most offensive" thing in Henrici's budget.
"Mr. Smith should consider himself lucky that he's still got a job," said Mosher, referring to Smith admitting he threw dead dogs off a cliff at the transfer station. "He should be suspended without pay while an independent investigation" is conducted.
"We do in fact have an independent investigation," said Fitch. The mayor hired Hamden attorney Andy Houlding, a former investigative TV reporter, to investigate the dog-dumping. "I think it would be grossly unfair to suspend him without pay."
Former 2nd District Councilman John Flanagan was up next.
"The biggest item in the budget is going to be energy and that is woefully underfunded," said Flanagan. "The most ironic thing I found in the budget is the mayor cut $30 for mileage from the Legislative Council Office. He can make all the jokes he wants." (The department's total request was $30.) In Henrici's March 12 budget address, he joked about driving "aimlessly around Hamden trying my best to rack up mileage." There has been controversy over the mileage logs he has submitted for himself.
Then Flanagan got to his favorite topic: the school budget.
"The $3 million increase for the Board of Education is obscene. They have never done a comprehensive evaluation. The mayor came trotting back saying we need $60,000 for a reading specialist. Don't give the Board of Education $3 million [hike] until they give you an explanation," he said.
Tax activist Mariana D'Albis, who frequently attends Council meetings, asked about charter reform. She said Fitch and Councilwoman Carol Noble are "blocking" it from happening. A committee of Fitch, Noble and Councilwoman Betty Wetmore, appointed by Council President Al Gorman, met twice in 2007 about whether to recommend opening up the Town Charter for revision. But nothing has moved forward.
"As usual, you're mistaken, Ms. D'Albis," said Fitch. "I never attempted to block it."
Hamden middle schooler Rebecca Muolo defended the education budget.
"Right now my class sizes are 28 in social studies [and 28 in most other classes]. How do you think these numbers will change if the funding is cut?" she said. "I know these are hard times."
Muolo said her family is compensating for the "hard times" by lowering the heat at home and bundling up, limiting length of showers (especially for her older brothers) and using one car to run multiple errands.
"Who has a town car and who needs a town car?" the 13-year-old asked. "Your decisions not only affect the adults in this town, but us, the children."
Another HART member Sharon Adrian said Quinnipiac University should give more to Hamden as Yale does to New Haven. "Charge Quinnipiac for police services," she suggested.
Gorman said the town-gown legislative committee formed last year to deal with Quinnipiac is defunct. "There was no headway," he said.
Councilman Jack Kennelly disagreed with Adrian. "Quinnipiac contributes substantially. They buy cars" for the Hamden Police Department.
School supporters took the mic.
"The school budget only covers inflation," said Jonathan Dull of Walton Street. "The primary reason to support education is because we love our children." He said Hamden is known to have an "excellent" system.
"Superintendent Rabinowitz has made a strong case in why you should trust her," said Marjorie Clark, PTA Council president with two children in the local schools. "Preserving the quality of our schools … Keeping class sizes … Wintergreen [magnet school] is an asset and we should protect it. Attract and keep quality teachers and staff.
"People say, 'I want the best education for my kids but I don't want my taxes to go up. That's not realistic," Clark continued. "Everything goes up. The Town Council has a really hard job. I've spoken to some who say they don't want to cut [the school budget] but …"
Pascarella said if the state fully funded Hamden schools, the town would get another $5 million or $6 million in education cost sharing.
"The lack of ECS funding has done permanent damage to our mil rate," he said, adding Connecticut comes in 48th in the nation for state aid for education.
After the hearing, Superintendent Rabinowitz said she was worried about her budget.
"I really understand many of the taxpayers' concerns. But I think we have to look at the big picture," she said. "People come to a town because of the school system. The future of the town is in its children. And it's myopic to concentrate just on yourself. In my opinion, this [school] budget is lean."
Rabinowitz said if the Council chisels away at the $77.7 million ed tab, "we'd have to go back to the drawing board. When I said the budget is lean, it is lean." She said if the system has to do with less money, some of the positions being vacated via retirements could be eliminated. Eighteen school employees are expected to retire this school year.
---
March 24, 2008
Undernourished?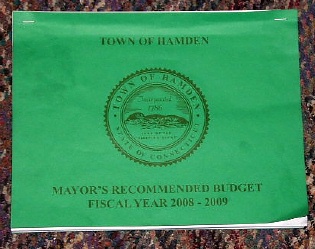 Mayor Henrici appears to have underfunded many contractual expenses
By Sharon Bass
On closer inspection of the mayor's 2008-09 proposed taxpayers' tab, some councilpeople are finding that certain line item expenditures -- those with no wiggle room -- appear underfed. Mayor Henrici announced on March 12 that the town side of his $177.3 million budget reflects just a .4 percent hike. (Schools got a 3.19 increase.)
But that .4 percent might not be possible to hold down.
Councilman Curt Leng said in addition to "apparent" underfunding of contractual items (stuff mandated in union contracts), the mayor also skimped on energy costs in his budget.
"Some fellow Council members and a couple of department heads have voiced concern about apparent underfunding of some contractually required budget accounts," said Leng, the legislative finance chair. "While it's still very early in the process, I do share some of those concerns. When I've reviewed the budget, in these early stages, I see some holes that the Council will need to fill to make for a responsible budget."
Henrici does not return messages from the HDN. Neither does Finance Director Mike Betz.
Another councilperson, who asked not to be named, said, "It looks like the mayor is giving the Council the dirty work." Meaning if the Town Council raises taxes beyond the mayor's recommendation, the Council would incur the public heat, not Henrici.
Most of the contractual items in question are, naturally, in the three largest departments: Police, Fire and Public Works. (Click here to read Henrici's proposed budget.)
In the mayor's request to the Council, some of the Police Department's contractual expenses appear underfunded. For example:
Overtime - Municipal Events: Police chief asked for $25,000; the mayor reduced it to $15,000. In '06-'07, $23,103 was spent from this account. It pays cops to do security and traffic control at town affairs, such as the summer concert series at Meadowbrook, the July 4th fireworks and National Night Out. Some $21,000 was allocated in the final '07-'08 budget. The police chief explains in the budget narrative that the extra 4 grand is "due to contractual salary increases."
Telephone Service: Chief request, $115,000; mayor's, $105,000. According to union contract, the town must provide a certain level of phone service to squad cars, etc. In '06-'07, $104,875 was spent on this service.
Vehicle Replacement: Chief requested $209,200; mayor proposed $150,000. The money goes to lease contracts and "for the purchase of 9 new marked vehicles, 3 new unmarked vehicles and 1 multi-purpose pick-up truck." In '06-'07, $197,450 was spent.
Overtime: Police chief wanted $600,000; mayor decreased it to $500,000. Overtime criteria are outlined in the police labor agreement. In '06-'07, $507,449 went to OT.
Examples in Public Works:
Overtime: Director asked for $280,000, mayor approved $200,000. In '06-'07, $258,248 went to OT.
Waste Removal Contracts: Director, $1.5 million; mayor, $1.35 million. In '06-'07, $1.38 was spent from this account.
Snow Removal: Director, $180,000; mayor, $120,000. In '06-'07, $122,717 was used. However, so far this season $167,513 has been spent on snow removal.
Leaf Removal: Director, $160,000; mayor, $120,000. In '06-'07, $139,480 was allocated for leaves.
Examples in Fire:
Substitutes/Straight Time: Fire chief wanted $1.6 million; mayor trimmed request to $1.5 million. This line item "covers normal replacement of personnel to maintain the 23 firefighter minimum manning clause of the contract …" In '06-'07, $1.54 million was spent.
Protective Equipment - Volunteers: Chief, $30,000; mayor, $10,000. In '06-'07, $29,931 went to this equipment. (This item is not contractual.)
Medical Supplies - EMS: Chief, $45,000; mayor, $25,000. This is for durable and disposable supplies, like oxygen masks, medications, suction catheters and ventilators, needed for patient use.
"Meeting individually with each department head so that we can ask the serious questions about contractual requirements, increased energy expenses and other operational needs will shed a lot of light on this subject," said Leng. "Depending on what we learn, we may have a lot more questions for the Finance Department as to why certain things were left out.
"On the positive side, I also see the possibility of trimming between $300,000 and $600,000. I'm not certain that it can be done, but I'm certain it's a goal we should work for," he said.
The public has three opportunities to voice its opinions about the proposed budget. Today and on April 8, there will be public hearings on the town side of the budget at 7 p.m. inside Council Chambers at Memorial Town Hall. On April 9 at 7 p.m., folks can comment on the school budget.
---
March 18, 2008
'We Have Been a Family of Winners'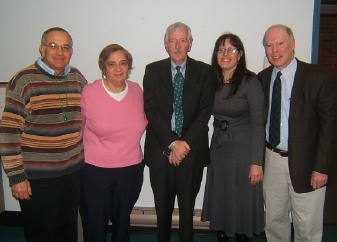 The just elected Democratic leadership (from left): treasurer Harry Gagliardi, recording sec Rose Mentone, chair Joe McDonagh, corresponding sec Holly Masi and vice prez John Morrison. Photo/Sharon Bass
By Sharon Bass
With the exception of one new officer, there was little else of note about last night's Democratic Town Committee elections. They were quick. They were amicable. They were all uncontested. In fact, every vote was unanimous, something that didn't happen two years ago. Though the divisions within the party seem as intact as ever, no one abstained or cast a dissenting vote.
Betsy Gorman (9th D) made the first nomination.
"As the patriarch of this family, he's kept us financially sound," she said of Chair Joe McDonagh, who was elected to his third term Monday evening at the Miller Senior Center.
"This is a man who believes in the Democratic process and leads by example," Gorman said. "We have been a family of winners. We've operated like a healthy family."
Elaine Dove (4th D) seconded.
"He's so forthright and hardworking," she said. "He brings a lot of prestige to Hamden and runs a transparent organization."
McDonagh forwent his acceptance speech.
"The great thing about a meeting on St. Patrick's Day is I'm not going to give a speech," he said. "I have better places to be."
(Afterwards, McDonagh and a group went to Dunn's Pub while another group of Dems went to the Hamden Town House.)
Curt Leng (6th D) nominated John Morrison for another term as vice chair. "John Morrison has been hardworking, trustworthy. Most importantly, he and his wife [Town Clerk Vera Morrison] as a team provide the town with a good moral compass."
John Morrison said he's been VP since 1993.
"It gives me great pleasure to nominate Holly Masi," said Rose Mentone (8th D). And Masi (2nd D) was elected to her second term as corresponding secretary.
Tony Mentone (8th D) nominated his wife to a second term as recording secretary. Rose Mentone became the first -- and so far only -- woman chair in the mid 1980s, and then was vice chair.
Longtime treasurer extraordinaire Bernie Nitkin is hanging it up after four decades as the party's money man. Harry Gagliardi (2nd D), nominated by John Flanagan (2nd), was elected his successor.
$$$$$$$$$$$$$$$$$$$$$$$$
In other HDTC news, Rose Mentone gave an update on the new Sandillo Scholarship, named after well-respected Democratic insider Gloria Sandillo, who unexpectedly died last November. Mentone said she's forming a committee to choose the winning student. There will be one scholarship.
The contest is open to high school seniors who live in Hamden, are registered Democrats and are involved in community service. Mentone said it is not based on financial need.
Student applications are due in Mentone's mailbox (real or virtual) by April 1. The scholarship is to be awarded at the town committee fundraiser in mid May, she said.
--------------------------------------------------------------------
Going for Zero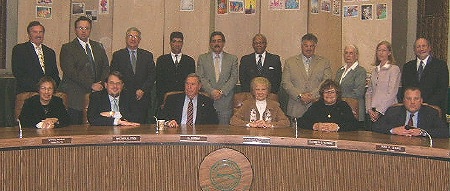 The 2007-2009 fiscal authority. File photo
Some councilmembers say no tax increase is OK in the new budget
By Sharon Bass
Mayor Henrici handed the Town Council a $177.3 million '08-'09 budget March 12 that translates to a 3 percent mil rate hike. While legislative reps say the budget is pretty lean, some say no increase this year is acceptable after the last two years of good-sized tax jumps. They vowed to find ways to trim both the town and school budgets.
"I will not hand the taxpayers of Hamden another tax increase," said Councilman Craig Cesare (R-at large). "I will look objectively on the school and town sides to find places to cut."
"Looking through the departments, I saw potentially between $400,000 to $600,000 that could be cut," said Councilman Curt Leng (D-6th) and Finance Committee chair. "If we cut that out we'd have a zero increase on the town side. I think that would be a really nice goal for us to try to obtain."
Asked for specifics, Leng said, "I saw areas in Personnel. I saw areas in overtime. I saw areas in non-contractual expenditures." But, he said, "I think it's early. I'd like to talk to my colleagues and get more information. This is a long process and we've just started."
"My initial reaction is it is going to be a very tough budget year all the way around," said Councilman Jack Kennelly (D-at large). But didn't want to elaborate until he reviews the budget in more detail.
Councilwoman Kath Schomaker (D-5th) also said she wasn't ready to comment. "I had the flu last week," she said.
But others, like Cesare and Leng, were more loquacious.
"I think that Craig did a really good job of cutting the town side," said Councilman Mike Colaiacovo (D-7th). "It's up to us to come in and maybe reduce some line items. I think the $3 million increase [in the school tab] has got to be looked at very closely. We're approaching $4 for a gallon of gas and heating oil is about $3.50 a gallon. Our residents can't afford another tax increase."
Councilman John DeRosa (D-8th) said while he's still studying the budget, "it seems like there are a lot of cuts in there already, but I'm sure adjustments have to be made."
What Councilwoman Betty Wetmore (R-at large) said she can't understand is why Henrici again merged the Office of Emergency Management with the Fire Department in his current budget. He did so last year, but the council decided to keep the departments separate.
"I am very upset about the office not being a separate entity like we voted on at the last budget," said Wetmore. "We had the best OEM office in the state and they basically dissolved it by firing [longtime volunteer] Neil Gorfain and removing [Deputy Fire Chief] Clark [Hurlburt] from it. I think they made a big mistake. We can vote on separating it again but the mayor's going to do what he feels like doing, like he did this time."
She also said she'd like to see a budget with no tax increase.
The mayor turned down nearly every department head or other nonunion employee for a raise, except two: Animal Control Officer Chris Smith and IT Manager David Richards. (It was incorrectly reported last week that the mayor also granted Fire Marshal Brian Badamo a pay hike. His is contractual.)
"The animal control officer's raise ain't gonna happen for me," said Cesare. "I will not support a raise for him. I have not been impressed with his performance as of late."
Cesare and Leng said the budget has both overestimated revenues and understated expenditures.
Particularly building permits, said Cesare. The mayor projected that $2.7 million will be realized next fiscal year from permits. In '06-'07, the town took in $692,538 from permits. In the current fiscal year so far, $626,050 has come in from building permits while the projection is $2.8 million.
"With the building industry being the way it is, I find it hard to understand how the mayor came up with those estimates," said Cesare, a partner in a Greenwich construction firm. "Even in the Greenwich economy, we're seeing falloffs in building permits."
Leng said he sees underfunded areas in Henrici's budget, such as energy expenditures.
"There's no indication energy costs are going to decrease. Gas, oil, electricity, mainly in Public Works are under-funded, in my opinion," said Leng.
In the PW budget, the mayor allocated $90,000 for heating oil for '08-'09. So far this fiscal year, which ends June 30, 2008, $99,902 has already been spent on oil. The department asked for $125,000 for next year, but Henrici knocked off 35 grand.
Leng said he doesn't think that line item is realistic, "unless there's a specific reason such as we changed a certain piece of equipment. But common sense tells you if you spent more this year, rates are not going down."
He said he was unsure about the requested raises, and would like to consider attrition for vacant funded positions in the budget.
"I think there are between a half-dozen and a dozen personnel issues that the Council's going to have to look at. I think given the tax increases residents have felt over the past few years, we have to be very conservative with our personnel decisions," said Leng. "I'm not saying I'm going to vote against every single one of them. I think they have to be looked at very closely this year."
The public has three opportunities to speak out about the budget. On March 24 (town and school budgets), April 8 (just town) and April 9 (just school), all at 7 p.m. in Council Chambers at Memorial Town Hall.
---
March 17, 2008
Leng Gets It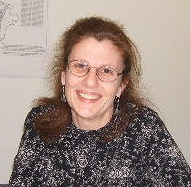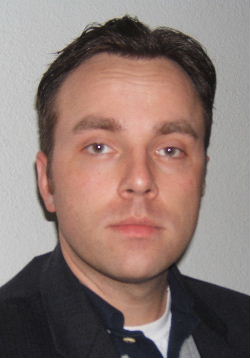 The town planner. The councilman. File photos
Creane delivers
By Sharon Bass
Councilman Curt Leng said he nudged and nudged Town Planner Leslie Creane for two months for the status of the Dadio Farm subdivision. But he said he got barely anything from her until he made his plight public on March 11. On that same day, Creane gave Leng what he wanted.
And perhaps a little more.
In the town planner's lengthy written response to Leng, she said the land-use commissions are doing site visits of the farm this month and plan to take up the subdivision proposal at their mid April meetings. Creane outlined the approval process going into details about things like "mylars" and "8-24 reviews."
She ends the memo with:
"Lastly, I regret the tone of your latest email. I have left you several unanswered voice mails stating my willingness to discuss this and any other matter that concerns you or your constituents. I also approached you at the last two Legislative Council meetings to express my willingness to discuss this matter."
Leng responded in writing three days later:
"I am sorry that you 'regret the tone of your latest email', but a project that means $1,200,000 in revenue to the Town budget is something that needs prompt and detailed response when questions or concerns are raised. Had your memo been sent to me in January we would never have escalated the situation."
"My main concern from day one is, are we going to get $1.2 million in time for this year's budget close," Leng said in a phone interview. "It's a tight timeframe but professionals are telling us it will happen and I can only hope that it does."
He said he was "pleased that [Creane] gave the detailed information that I've been asking for. I think it's a little optimistic to think the entire process will be done and approved by April. If it is, I certainly would applaud her and her department."

Creane does not return messages from the HDN.
If the farm subdivision lots aren't sold by the end of this fiscal year (June 30, 2008), Leng said the town has three more months to collect the money to be counted in the '07-'08 audit.
The councilman said he is also concerned about other projected revenues in the current budget -- such as the $1.3 million-out-of-state-license-plate line item -- that are currently woefully under budget. A potential consequence, he said, is the town would have to dip into its rainy day fund, which would lower the town's bond rating. But Leng said he didn't think it would come to that.
---
March 14, 2008
Morrill Takes Over Local GOP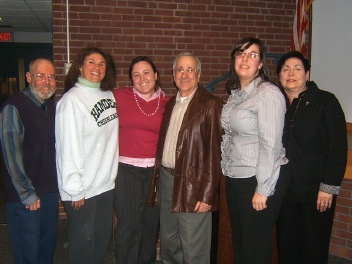 The new officers (from left): treasurer Lenny Caplan, recording sec Chris Wilson, chair Sarah Morrill, vice chair Lee Campo, corresponding sec Jen Cutrali and historian Christine Esposito.
Iezzi steps down after a decade at the helm of the HRTC
Story and pictures by Sharon Bass
In 1984, Hamden Republicans made Wendy Doolittle the first "chairlady" of their town committee. Last night, they made Sarah Morrill the second.
Outgoing Chair Mike Iezzi nominated Morrill. "I feel it's time now that we have a change," he addressed the town committee, which met in Thornton Wilder hall to elect new officers. "We need new ideas, new blood standing at the top of the ticket."
Morrill, 30, was voted in unanimously. There were no contests.
The new chairlady grew up in Maine, near the capitol. Her parents were very active Republicans and Morrill said she was very much influenced by the political climate in her home. Sometimes she'd get up in the morning to find a Republican state legislator or adviser asleep on the family couch.
She came to Connecticut to attend Sacred Heart University, where she earned a bachelor's in political science. Then she got a master's in poli sci from Southern Connecticut State University. Morrill is the community development coordinator for the town of East Haven.
"I think it's time for younger people to take an active role in our government and our society," she said last night after the election. "Someone my age being the face of the Hamden Republicans shows that at least the Hamden Republicans are going in that direction."
Recruiting people -- especially young ones -- to the party is Morrill's main objective. "The backbone of the party will be the volunteer committee, to double the numbers on the committee," she said. As of Jan. 31, 2008, there were 13,786 Dems, 4,360 Repubs and 13,529 independents in Hamden, according to the Registrar of Voters Office.
"I'm really looking forward to leading Republicans in the time we're in right now," said Morrill of local and national issues. "I'm honored."
Iezzi said he'll be hanging around to help the second chairwoman make the transition as well as to work on campaigns and stay active on the RTC. He said he got involved with the party when Barbara DeNicola was mayor (1997-1999).
"It's just been a pleasure," said Iezzi. "You people have really become my friends, my family. The reason I stayed on for 10 years is because I didn't want to betray, to leave. I'm not saying goodbye. I'm passing the baton."
"We've grown because of Mike," said RTC member and Ethics Board Chair Colin Odell.
The Republicans elected Lee Campo vice chair. Iezzi nominated him, too.
"He's extremely loyal to this party. He's a peacemaker and a wonderful guy," Iezzi said of Campo.
"I'll do my best to work with Sarah and hope the party grows," said Campo.
Jen Cutrali was re-elected corresponding secretary. "A young face for the party," said Morrill, who did the nominating.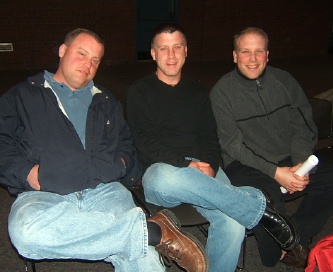 The Cesare bros: Councilman Craig, RTC member Jonathan and School Board member Austin.
Brand new Republican Chris Wilson, Hamden High's cheerleading coach, was elected recording sec. Jonathan Cesare nominated her.
Wilson earlier said she was a Democrat up to last November's municipal election. "My daughter and I switched together," she said.
Lenny Caplan was given another two years as treasurer. "Lenny's been not only a loyal party member but has done an excellent job as treasurer," said Walter Rochow, his nominator.
And longtime Hamden Repub Christine Esposito was elected historian. "She's been in this town committee longer than I've been around," said Iezzi.
Speaking of longtime Hamden Repubs, Barbara DeNicola was asked what she thinks of the newly elected party leadership.
"I think it's an absolutely marvelous group. They're dedicated. They have a lot of vitality," she said. "I hope membership is increased and we gather strong candidates and win an election."
---
March 13, 2008
Mayor Proposes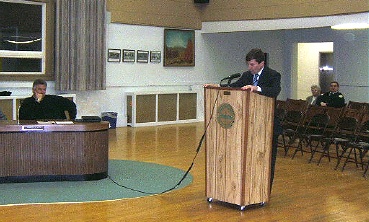 Craig Henrici delivers his address to a fairly empty room. Photo/Sharon Bass
He asks for $177.3 million for '08-'09
By Sharon Bass
Two cleverly timed jokes pumped up the mayor's budget address last night inside Council Chambers. The first, at the beginning of his speech, broke the ice. The second, launched at the tail end of the address, left many heartily laughing.
"At the outset I would like to thank my staff and department heads, especially Finance Director Mike Betz and the right arm of my administration, Scott Balzano Jackson," Craig Henrici began. The room cracked up. It was a play on the new middle name Councilman Curt "Balzano" Leng recently adopted.
Leng laughed, too.
"Anyway, onto the issue at hand," said the mayor. And he presented his proposed 2008-2009 budget to the Council and the roughly two dozen residents who showed up.
Henrici's asking for $177,302,411 for both town and school operations, nearly $4 million more than the current budget of $173,340,658. If the mayor's tab was left untouched the mil rate would go from 29.10 to 29.97 -- a 3 percent increase. Local education accounts for 44 percent of the budget; the town side and debt service, 33 percent; and pension and fringe benefits, including medical, 23 percent.
Henrici accepted the full school budget of $77,736,335 presented to him and asked the Council to consider adding another 60 grand for a reading specialist at the high school.
"Our schools should be our number one priority, and I appreciate the hard work of the Board of Education in presenting a fair budget," Henrici said. "It's not enough to promise through empty rhetoric that no child will be left behind."
He said he won't "revisit" the pension obligation bonds as he did last year. And is suggesting an increase of $1.5 million -- for a total deposit of $13.5 million -- for the pension fund, instead of the $3 million-more-a-year-"Amento Plan," to avoid a bigger tax increase.
"It looks like the administration has put a lot of work into the budget," said "Balzano" Leng. "It's certainly one of the smaller increases in recent memory. But now it's time for the Council to take a very sharp pencil and look for further reductions."
Guts
The "Mayor's Recommended Budget Fiscal Year 2008 – 2009" is 213 pages and covered in green this year. Every line item from every department is listed, such as salaries.
Henrici turned down most of the department heads and nonunion workers who asked for raises:
Building Department head Bob Labulis asked for $7,000 more (from $75,000 to $82,000). The mayor said no.
Registrars of Voters Democrat Peggy Rae and Republican Tony Esposito asked for $5,000 raises (from $12,500 to $17,500). The mayor gave them half the hike.
Finance Director Mike Betz wanted a 3 percent raise (from $92,185 to $94,950). The mayor said fuhgettaboutit.
Risk Manager Art Giuleitti asked for 4 percent more (from $63,015 to $65,536). The mayor said no.
Police Chief Tom Wydra wanted a 10 percent raise (from $92,190 to $101,409). The mayor said no way.
Fire Chief Dave Berardesca wanted a 5 percent raise (from $92,190 to $96,799). The mayor said no.
Deputy Fire Chief Clark Hurlburt asked for another $3,157 (from $85,890 to $89,047). The mayor said no.
Personnel Director Ken Kelley wanted $3,510 added to his paycheck (from $76,490 to $80,000.) The mayor said cannot do.
Town Attorney Sue Gruen asked for 5 percent more (from $68,958 to $72,406). The mayor said no.
Assistant Town Attorneys Timothy Lee and Mike Kamp also asked for an extra 5 percent (from $32,781 to $34,420). The mayor said, don't think so.
Library Director Bob Gualtieri wanted another 3 percent (from $69,377 to $71,459). The mayor said nope.
But Henrici didn't say no to everyone.
Fire Marshal Brian Badamo wanted $2,565 more (from $80,347 to $82,912). The mayor said OK.
Animal Control Officer Chris Smith asked for a 3 percent hike (from $39,959 to $41,158). The mayor said sure.
IT Manager David Richards asked for another $3,985 (from $56,015 to $60,000). The mayor said yes.
The biggest requested raise in the mayor's bill to the taxpayers is nearly 10 grand. It's for Pat Riccitelli of the Finance Department. In his budget last year, Henrici asked for a $6,338 raise for Riccitelli but the council turned him down. Like last year, Riccitelli has a new title, "operation manager," to go along with the raise (from $63,773 to $73,161).
Henrici also created a new job in his office. Under the current budget, he has two part-time confidential secretaries, paid $19,400 apiece. In early January, he blended the two positions into one fulltime secretary. The mayor did not follow the Town Charter rule that he must get council approval before creating a new job. In Henrici's '08-'09 budget, "Rose Lion" is noted as the fulltime sec at $38,800. A 15-hour-a-week confidential secretary at $19,400 is also listed, but not funded.
The mayor's budget contains the projected revenues from the '07-'08 budget and the amount of money collected to date. Apparently, not enough.
In fact, very little has been collected so far on the three first-time revenues that were thrown in the current budget at the last minute: $1.3 million from out-of-town license-plate hunters; $850,000 from undeclared personal business property; and $1.2 million from selling some of the Dadio Farm.
Zero dollars have come in from the license plates. That revenue projection has been decreased from $1.3 million to $250,000 in the mayor's budget. On the business property, $112,196 has been realized. That projection has been downsized from $850,000 to $400,000 in the new budget.
And no lots on the farm have been sold. But that revenue projection was kept steady at $1.2 million in the mayor's recommended budget.
Some departments are not seeing anywhere near their projected revenues.
The Assessor's Office was budgeted to bring in $2,153,000 by June 30, 2008. So far just $113,346 has come in, and the projection has now been decreased to $652,900. (In fiscal year '06-'07, the office collected $2,639; the huge surge to over $2 million in the '07-'08 tab was due to the projected license plate and business property tax revenues.)
The Finance Department was scheduled to raise $5,090,000 by the end of this fiscal year. In Henrici's new budget, the projection has been lowered to $4,427,000. So far $1,992,878 has been realized.
The Building Department is also coming up short on its revenues. Projected to collect $2,350,000 this year, just $734,313 has come in. However, the mayor upped the projection to $3 million. The biggest deficiency is in building permits. Budgeted at $2.8 million, $626,050 has been collected to date.
"My friends, the budget is now in your hands," Henrici concluded his address Wednesday evening. "I am always available to work with you in this important process. You can feel free to call me in my car as I drive aimlessly around Hamden trying my best to rack up mileage.
"Thank you."
Before the Legislative Council takes a "very sharp pencil" to the mayor's proposal, the public will have three opportunities to voice its opinions. On March 24 and April 8, there will be public hearings on the town budget. On April 9, a public hearing on the school tab. All hearings are at 7 p.m. inside Council Chambers at the historic Memorial Town Hall.
----------------------------------------------------------------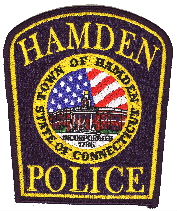 Man Nabbed for Burglarizing Old Newhall School
From Capt. Ron Smith:
On March 1, Hamden police were dispatched to the Newhall Community Center, at 490 Newhall St., on a suspicious activity report. Witnesses observed an individual exiting the building and placing items in his motor vehicle.
Moments later, officers located Thadas Harrison on Morse Street. He was in the possession of burglar tools. Investigation led to the search of Harrison's vehicle, where several items -- including window frames and weights taken from the building -- were found.
Harrison, 45, of 14 Augur St., Hamden, was charged with burglary in the 3rd degree, larceny in the 5th degree and possession of burglar tools. He was detained at police headquarters on a $5,000 bond and is scheduled to appear in Meriden Superior Court on March 25.
---
March 12, 2008
Andy Houlding. Courtesy photo
Local lawyer probing the dog dumping vows to be fair, independent
By Sharon Bass
Yesterday, Mayor Henrici and an investigative-TV-reporter-turned-attorney shook hands on a dog-dumping deal. Lawyer Andy Houlding will investigate why dead dogs were thrown over a cliff at the transfer station and not buried, and the town will pay him $200 an hour for his efforts.
"Which is actually a pretty big discount off my rate," the longtime Hamden resident said.
So why give the town a break? "I live here. I pay taxes myself," said Houlding.
Last weekend, the HDN was tipped off that Houlding was chosen to do the investigation. Several messages left for Police Chief Tom Wydra on Monday and Tuesday, seeking confirmation, were not returned. Henrici doesn't talk to the HDN.
Councilman Craig Cesare said he was disappointed that the mayor chose the investigator.
"I definitely thought the Council would have formed an investigative committee and chosen a completely outside investigator and not someone who lives in town," said Cesare. "I would think on a matter like this that the Council would be the one to select [the investigator] and not one who is part of the investigation, the mayor. But I am hopeful that the investigation will shed light on the truth."
Houlding is a partner in the Hartford firm Rome McGuigan. He said he had never met or talked with Henrici before being called in to discuss the investigation.
"I don't know him [Henrici]. I have nothing to do with his administration whatsoever. As far as I'm concerned, I'm completely independent. Nobody's going to tell me what to do or not to do," vowed Houlding. "This is not the Kenneth Starr grand jury investigation."
He said he got the assignment because he had submitted his résumé to the town clerk to apply for a town commission seat. "I gather my résumé came up at the time when this issue was on the front burner," said Houlding.
"The question is, am I going to be independent? I am," he said.
"I'm going to do what any investigator does. Ask questions. Look through records and try to figure out where the truth lies," he said, adding he has no timetable and officially started the investigation Tuesday.
"Right now I'd say I know no more than the general public [about the dog dumping]," said Houlding.
Asked if he will have subpoena power to confiscate things such as computer hard drives, and if his results could amount to more than a "he said, he said" conclusion, the attorney said, "I expect all town employees will cooperate."
Councilman Jim Pascarella said he hopes the investigation will clear up some inconsistencies in the explanations given for the dumping of the dogs.
Weeks before the HDN broke the story on Feb. 22, sources reported that Animal Control Officer Chris Smith was seen more than once throwing dead dogs off a cliff at the transfer station on Wintergreen Avenue.
When the HDN went to take pictures of the dogs on Feb. 21, an eyewitness approached saying Smith had just thrown a dog off the cliff, behind the leaf piles, that day.
But Smith had a different story, which he told the Legislative Council -- and a very angry public -- on Feb. 25. He admitted dumping the dogs, but said he did so just once, on Dec. 12, 2007. Smith said he hadn't returned to the station again until Feb. 21 to dump a rabbit and possum.
He said Henrici made a policy change last September to stop cremating dead stray dogs and instead dumping them at the transfer station to save money (it was later determined that the savings is a max of $1,700 a year). The community screamed and the mayor reverted the policy.
Another inconsistency surrounds the mayor's memo about going from cremation to Public Works policy on animal disposal, which includes burial. The memo is dated Sept. 7, 2007, and was sent to Chief Wydra and then-Public Works Director John Busca. Wydra said he received the memo around that date; PW said it never got the memo. Its union claims workers had no knowledge of the alleged policy change.
"There are inconsistencies in the story we have been told between the various parties involved," said Pascarella. "The investigation will be worth it if the parties involved cooperate fully. It is in everyone's best interest for the truth to come out. The entire matter has been extremely upsetting to me personally."
---
March 11, 2008
'Seems to be a Roadblock of Information at the Planning Department'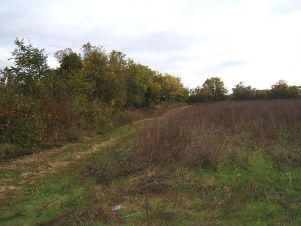 The Dadio Farm, off Putnam. File Photo
Leng claims town planner has shunned his Dadio requests
By Sharon Bass
Since January, Councilman Curt Leng said he has been trying to get an update on the Dadio Farm subdivision -- which is budgeted to bring $1.2 million into the town in lot sales -- but has been met with stiff resistance.
"My only concern about this is financial," said Leng, also chair of the legislative Finance Committee.
Leng said he's requested info from Town Planner Leslie Creane more than 10 times over the past two months, and she has not been forthcoming. Until yesterday, when he sent her a "formal information request." Leng said she responded that she'd have the data for him on Tuesday.
(Click here to read Leng's formal request.)
Creane does not return messages from the HDN.
"As finance chair I check the budget reports every month for how our expenditures and revenues are doing, and I have serious concerns about the revenue side -- one of them being the Dadio Farm subdivision sales," said Leng.
He said he's asked Economic Development Director Dale Kroop "a lot of questions" as well as Creane. Unlike Creane, Leng said Kroop has been "very helpful." (Read an interview with Kroop about the Dadio Farm sales.)
"I think if a councilperson is asking for information about something of this magnitude to a department head, I think a department head has the responsibility to respond in a detailed, timely manner," said Leng. "I think the public deserves answers. And I can't give those answers because there seems to be a roadblock of information at the Planning Department."
Asked why there "seems to be a roadblock," Leng said he didn't know.
He said the ball is in Creane's court. "We have to make absolutely certain it goes through the Planning Department processes in a timely manner," the councilman said.
The lots can't be sold until the subdivision is approved. Kroop told the HDN last month that he wasn't sure if the budgeted $1.2 million would be realized by the end of the fiscal year, June 30, 2008.
There are two other first-time revenues in question in the current budget: $1.3 million from out-of-town license-plate hunters and $850,000 from undeclared personal business property -- plus about 30 percent commission. Finance Director Mike Betz has been sent a Freedom of Information request for the status of the three revenue line items, after refusing to disclose the public documentation when asked.
*************************************
To: Leslie Creane, Town Planner
From: Curt Balzano Leng, Councilman, 6th District
RE: Formal Information Request - 3rd REQUEST -
Dadio Farm Subdivision
In at least a half dozen e-mails and two formal written memorandum, I have kindly asked for a status update - from you in your official capacity as Town Planner - regarding the Dadio Farm Project and specifically the sub-division process as it relates to P&Z.
First, you refused to answer the memorandum, then upon 2nd requests you sent e-mails with vague references to the process. In those e-mails, you never gave specifics and you never gave an anticipated start or end date other then generalities.
Now I am forced to formally request, in writing, the following:
1) Can you please give me an overview, in detail, of the exact process that your Department will undertake from now going forward regarding the Dadio Farm sub-division;
2) I don't think that you mentioned the Wetlands process in any of your prior e-mails. Can you please walk me through this process and include the dates when hearings, meetings and/or site visits are scheduled;
3) Has a date been scheduled for Planning & Zoning to do an 8-24 review? Does this need to come to the Legislative Council after P&Z and if so, when do you anticipate submitting the item; 4) Has a date been scheduled for Planning & Zoning to go through the rest of the process, please include the dates when hearings, meetings and site visits are scheduled;

5) What is the "final required approval" for the project;

6) Are there any other steps or aspects of the project that your Department will be handling that are key to the project's success?

7) Is there any other Department or Town official that I should be talking to that can give additional information that you cannot supply?

Thank you, in advance, for taking some time out of your day to answer these questions. As you know, this project has incredible impact on the Town's 07-08 Fiscal Year budget and I believe the Legislative Council and the people of the Town deserve to know if it going to be successful or not.

If you have any questions, please don't hesitate to contact me at councilmancurtleng@yahoo.com.

Cc:
Mayor Craig Henrici
Al Gorman, Council President
Legislative Council Members
Scott Jackson, CAO
Mike Betz, Finance Director
Dan Kops, Dep. Town Planner
Dale Kroop, Director, Economic Development
---
March 8, 2008
Wagging Tale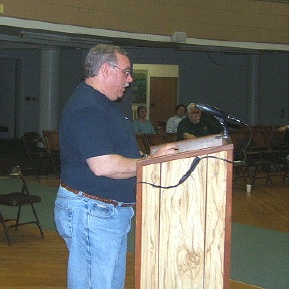 Wayne Gilbert of UPSEU addressing the Council last year. File photo
By Sharon Bass
Until late this week, the Town Council had officially heard just one side of the story behind the dead dogs dumped down a ditch and left unburied at the transfer station. The administration has pointed its collective finger at Public Works, claiming workers didn't do as they were told.
Now the Council has heard the other -- or another -- side to this saga, which has drawn national attention and boos. They were sent copies of a letter written to Mayor Henrici from Wayne Gilbert of the United Public Service Employees Union, which represents Public Works, saying: "None of our members knew or were told at any time of the disposal of the animals, or to cover them up."
Some Council members said they were not surprised by Gilbert's assertions.
"That was definitely the theory that was being discussed," Councilman Curt Leng said of the administration's claim that "Public Works dropped the ball. I don't necessarily agree with that. The letter pushed me a little closer to wanting an outside investigation by an independent source."
At the March 3 Council meeting, President Al Gorman said there is money available for an independent investigation into why dead dogs were left in a ditch and not buried. Originally the mayor's office was going to conduct the inquiry, but some felt that would be a conflict of interest.
"First of all, hopefully they're going to have an outside investigation and the Council will get to choose the [investigative body]," said Councilman John DeRosa.
"From what we've been told, Public Works had no knowledge of [a policy that required them to bury the dogs] and I believe that unless we find out differently," he said. "We have multiple stories. I have a tendency to believe [Gilbert's letter.]"
In a phone interview yesterday with Gilbert, he sounded more than annoyed that his men have been blamed. He said Animal Control Officer Chris Smith, who physically did the dumping, told two PW supervisors that his throwing the dogs off the cliff was a clandestine plan.
Smith does not return messages from the Hamden Daily News.
Here's what happened, said Gilbert.
"Someone called into Public Works that they found a dead deer in Hamden," he began. He said he didn't know exactly where the deer was found.
"One of our Public Works maintainers picked it up and brought it down to the landfill. As they're putting it down they find all these dogs. And you know how hard that is because it's gotta be a good 25- to 40-foot embankment. Those are not little slopes," said Gilbert.
"Maintainers thought it was [the result of] an illegal dog-fighting ring. So they tell two supervisors, who also think that's what it might be. They go to ACO Smith to tell him. He gave them assurances it wasn't an illegal ring. It was something that is being done on the QT," he said.
Councilman Ozzie Brown said it's hard to know whom to believe.
"As a union leader, I think he's just trying to protect his guys. I don't think he'd want any harm to come to them," said Brown. "We have to wait until the independent investigation is over before anyone jumps the gun. It's just someone's word against another. Right now, as I see it, one of my colleagues is asking for Officer Smith to be fired. And I'm saying it's unfair to the gentleman. Someone must have told him to dump the dogs there. There's a lot of things going on. Right now everything is messed up. You don't know who to believe."
But Councilman Craig Cesare said Gilbert's letter backs up what Public Works Director Joe Velardi said at the Feb. 25 Council "dog" meeting -- that he knew nothing about the mayor's policy change that dogs are to be dumped at the transfer station and no longer cremated.
"It shores up my initial feeling about it having had spoken about it to Director Velardi, who had no idea it was going on," said Cesare. "Now to hear it from both management and the union side that neither were aware of it. I do feel now that the Council should launch an official investigation into this matter."
Brown agreed an investigation is in order and the Council should approve who does it.
"If Craig [Henrici] picks someone it will look like a conflict of interest. He can choose someone then bring it to the Council to approve that person," said Brown. "Whatever you do, you have to be honest. We need to get to the bottom of this."
Leng suggested even more distance from the mayor. He said the Council should choose the investigator "as opposed to the mayor or any other town department to make sure there's complete independence and transparency in the whole investigation process."
He said the Council could vote on a "request for proposal" for an investigator at its April 7 meeting, and doubted it would happen any sooner. The mayor is slated to give his budget address on March 12 at 7 p.m. to the Council and public, but Leng said typically budget night is restricted to just the budget address.
Leng said the money for the inquiry would likely come from either the Legislative Council's legal or professional/technical line. In the 2007-2008 budget, $15,500 was allocated for professional/technical services, and 10 grand for legal. It's unknown how much is left in those accounts or how much an investigation would cost.
"What will be the outcome of this? Who knows? But the whole town of Hamden has been very much embarrassed by this whole scandal," said DeRosa. "And that's the shame. As long as people do the right thing for the town, I have no issues."
----------------------------------------------------------------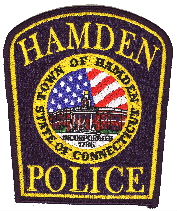 3rd QU Student Struck on Whitney
From Capt. Ron Smith:
On March 6 at approximately 11:15 p.m., Hamden police responded to the report of a pedestrian struck on Whitney Avenue near Sherman Avenue.
Upon arrival, officers found that Kaitlyn Sarcona, 19, of West Babylon, N.Y., was struck by a vehicle that was traveling northbound on Whitney Avenue.
Sarcona, a Quinnipiac University student, was crossing the street in front of 3300 Whitney Ave. -- approximately 100 feet north of the crosswalk located at the intersection of Whitney and Sherman avenues. Sarcona suffered a leg injury and was transported to Yale-New Haven Hospital. She is in stable condition.
The vehicle that struck her was operated by a 59-year-old Cheshire resident. There are no charges pending for the operator of the vehicle.
However, Sarcona was issued an infraction for "failure to walk in crosswalk."
This is the third pedestrian struck near this intersection in the past year. All three pedestrians, one who was killed, did not use the crosswalk.
In September 2007, Chief Thomas Wydra contacted the state Department of Transportation to review the street lighting conditions in the area. The DOT made improvements last fall.
---
March 5, 2008
'Mike, Mike, It's Not About Your Credentials'
Henrici replaces a 'dedicated and enthusiastic' land-use commissioner who didn't want to be replaced
By Sharon Bass
Mike Conklin was the only soil scientist on the Inland, Wetlands & Watercourses Commission. Now there are none.
When his first two-year term ended last April, he applied for reappointment but said Mayor Craig Henrici would not act on it. And Conklin continued to attend meetings.
Then in mid-January he said he got a letter from the mayor.
"It was very vague. It just said thank you for your service and if you're interested in serving on a commission 'in the future' submit letter of interest to town clerk," said Conklin. But, he said, it didn't actually say he was removed from the IWW.
Henrici's response could not be obtained because he does not talk to the HDN.
"I didn't even know I wasn't reappointed until [IWW Chair] Steve Sosensky called one night [in February] and said I had been replaced," said Conklin. "He didn't know why."
The next day, Conklin said he called Henrici.
"What the mayor told me is that the town staff [town planner and her assistant] recommended that I be replaced by this other gentleman. I said to Henrici, 'You're replacing the only wetlands scientist on the wetlands commission?' His response was, 'Mike, Mike, it's not about your credentials. I have to make my decisions based on staff recommendations,'" said Conklin.
His replacement is Andrew Brand, who served on the Natural Resources & Open Space Commission. Sosensky said Brand does not have a background in soil science.
"I was never told why Michael was not reappointed," said Sosensky. "We do not have a soil scientist on the commission. Mike was a dedicated and enthusiastic commissioner. The commission was dealt a blow by his not being reappointed."
Conklin's Analysis
"I was shocked. I thought everything was kind of peachy. I had no idea I'd be replaced," he said. Conklin said he asked town planning officials why they axed him from the commission and said they told him they were not happy with "the tone of the commission and they felt by replacing me that the entire tone of the commission would change and more projects would be approved much quicker.
"They explained that this other gentleman had put in his time on the Natural Resources & Open Space Commission and it was time to move him up a rung on the ladder," said Conklin. "I believe the town staff thinks by removing me the rest of the commissioners would not ask as many questions or review projects in as much detail.
"The long and short of it was they weren't happy with my scientific analysis of projects. I looked at every project to determine a few things. What was the best decision for the natural resource, which is the wetland, and what's the best decision for our town from an economic standpoint."
Asked if he felt Conklin held up projects, Sosensky said no. "Mike asked the questions expected of a soil scientist. I never felt Mike held up projects. Mike is a product of his education and experience," the chair said.
Mayor Carl Amento appointed Conklin to the IWW in April 2005. For his first seven months he served with Austin Cesare, who is now on the School Board.
"It's a great loss for the town of Hamden to lose him," said Cesare. "He was probably one of the most experienced commissioners I ever served with."
Cesare said it troubles him that the mayor issues press releases asking residents to join boards and commissions "and then removes them if they ask too many questions." Henrici recently removed Michele Helou from the Town Building Committee after just one meeting. She said she had voiced opposition to the new police headquarters plan. (Click here for her story.)
"My concern is just because people ask questions that don't go along with the administration that makes them a problem. Each commissioner should be able to ask any question they feel is important," said Cesare. "If you ask questions you seem to be removed or not reappointed. Ms. Helou and now this. So much for honest and open government. The only people they want to have involved is yes people."
"What I find disturbing is that the town staff, who are staffed to this wetlands commission, can essentially pick and choose what town residents get to be on the commission because the mayor doesn't question their decisions," said Conklin. "He rubberstamps their decisions. Typically, town staff works for the commission, not for the mayor."
---
March 4, 2008
Cats vs People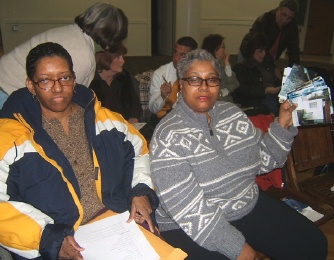 Sisters Candace Walcott and Sydney Simpkins say they've had it with feral cats. Simpkins holds up photos of damage the strays reportedly did to their property. Photo/Sharon Bass
Council tables feral cat ordinance again
By Sharon Bass
Sydney Simpkins and her sister Candace Walcott say dozens of feral cats have wreaked havoc on their Wilmot Road home.
"My car has cat scratches all over it," said Simpkins. "My patio and porch carpeting reek of cat feces and urine. These cats totally robbed us of the enjoyment of our home." She said she's appealed to two mayors and Police Chief Tom Wydra but to no avail. There's no cat law in Hamden "so there's nothing they can do," said Simpkins.
The sisters told the Legislative Council last night they are thinking of suing the town for the damage, which they say comes to about $4,700.
But a proposed ordinance the town has written to try to curb wild cats isn't passing muster with the Council and some of the public. For the second time, the item was tabled Monday evening.
"We're trying to balance here humane treatment of cats and the rights of pet owners and residents," said Councilwoman Kath Schomaker.
The ordinance requires people who feed and/or harbor feral cats to register and vaccinate them for rabies. If not compliant, the cat "keeper" would be fined $100. It also mandates that the animal control officer impound feral cats "unless in the opinion of a licensed veterinarian, the cat is so injured or diseased that it should be destroyed immediately …" To advertise these cats in a newspaper, and if not claimed within seven days of publication, a vet may spay or neuter the cat.
"This ordinance, no question, meets legal muster but where is the humanity?" wrote Dolores Giannini, board chair of Hamden's Happy Tails Foundation. She was unable to attend last night's meeting and had someone read her written statement to the Council.
Among her complaints, Giannini said "to the best of my knowledge" feral cats cannot be housed with domesticated cats, as they would be at the North Haven Animal Shelter. Like others who voiced opposition to the proposed ordinance, she questioned where the money would come from to board and medically treat feral cats. She said the ordinance "should be defeated" and instead the town should form partnerships with nonprofit agencies to deal with stray cats.
One such nonprofit is Halfway Home Rescue in North Haven. President of the agency, Stephanie Maselli, said Halfway has "provided some type of assistance" to more than 400 cats found in Hamden since its inception in 2004 -- and funds are drying up. It costs $85 to spay or neuter one cat.
"Our services will help to solve the problem," Maselli told the Council. "But we need some financial help."
"$85 an animal is absolutely atrocious," said Sue Clark of Dest Drive. "You cannot deal with feral cats. They do stink everything up." She said she didn't know if she was for or against the ordinance. "I don't even know what the ordinance is," said Clark. A lament expressed by others.
North Haven ACO Dave Carney said he wasn't for or against the ordinance but questioned where the feral cats would be housed. He said his shelter is not set up to take in the strays.
"A lot of these feral cats can't be adopted, especially the adults," said Carney. "They're too wild."
Councilman Mike Colaiacovo called the ordinance "unenforceable," and therefore should not be adopted.
"My fear is we pass this ordinance and do what with it?" said Councilman Craig Cesare.
"The ordinance is flawed," said Councilman Curt Leng. "One, I don't think the ordinance gives enough time to get cats adopted. I have a problem with that section. And second, we don't have a place to put the cats."
"I wish people would care as much about people as they do about animals," said Candace Walcott.
Her sister chimed in: "Cats don't pay mortgages. Cats don't pay taxes. The only thing they do is eat and have sex."
Councilman Matt Fitch agreed. "I'm a cat lover but we have to put homeowners first who are affected," he said.
Hamden ACO Chris Smith said there is currently no place to board the cats. "It's going to be difficult to enforce. We are putting the cart before the horse," he said.
Giannini and her group have been working for years to build an animal shelter in town. Last night the Council approved applying for $55,000 in state funding for the second phase of "preconstruction surveys and engineering services for the proposed animal control facility."
"I do sympathize with the residents," said Councilwoman Betty Wetmore. "I think this ordinance has a lot of good points" but made a motion -- which passed unanimously -- to table it for a month.
-------------------------------------------------------------------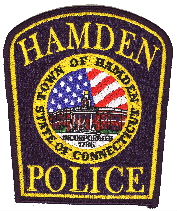 Burglary, Heroin Arrests
From Capt. Ron Smith:
On Feb. 29 at approximately 11:30 a.m., Hamden police were dispatched to a burglary in progress at 400 Goodrich St. Upon arrival, officers found a broken window in the east side of the building. One of the individuals, Rueben Lewis, who entered the building came outside when officers issued verbal commands.
Officer Jason Venditto and his K-9 Titan arrived at the scene. Titan was released to search the building. Shortly thereafter, Terrell Ledbetter, who was hiding in the ceiling, surrendered.
Lewis, 49, of 92 Shepard St., Hamden, was charged with criminal trespass, possession of criminal tools and conspiracy charges. He was detained at police headquarters on a $5,000 bond and is scheduled to appear in Meriden Superior Court on March 13.
Ledbetter, 45, of 64 St. Mary St., Hamden, was charged with criminal trespass, possession of criminal tools and interfering with a police officer. He was released on a written promise to appear and was turned over to the custody of the New Haven Police Department, which was in possession of an active warrant. Ledbetter's court date is March 13.
Also on Feb. 29, the Street Interdiction Team was conducting a narcotics investigation in the area of Winchester Avenue and the New Haven line. The investigation involved heroin. Officers approached Garland McClam, who subsequently fled on foot. He was apprehended after a short-foot pursuit. Police found 21 wax folds of heroin and $188 in his possession. The street value of the heroin is estimated at $540.
McClam, 52, of 84 Bryden Terrace, Hamden, was arrested and charged with possession of narcotics and possession of narcotics with the intent to sell. He was detained at police headquarters on a $25,000 bond and is scheduled to appear in Meriden Superior Court on March 14.
---
March 3, 2008
'Get Rid of Anyone Who Questions'
By Sharon Bass
Michele Helou was chosen to be a resident-elect on the new Town Building Committee, created to oversee the proposed police station at Memorial Town Hall. She went to the first committee meeting on Feb. 11. The second one is tonight.
But Helou won't be sitting at the table. Mayor Craig Henrici axed her after she voiced opposition to the location of the new police headquarters. She said she got a letter from the mayor dated Feb. 27 telling her she has been removed.
Council President Al Gorman, also a committee member, criticized Helou during the inaugural meeting for questioning the site. She said he told her the committee's job is to discuss stuff like "where to put the marble and the PV panels." The location, Helou was told, is a done deal.
Gorman did not return a message seeking comment. Henrici does not talk to the HDN.
HDN: How did you first learn the mayor was taking you off the committee?
Helou: I was told over the phone from a Council/committee member earlier in the week that the mayor had removed me from the building committee, and I received a letter this Saturday. Interestingly, I also got a notice that the next building committee meeting is Monday, March 3, at 5:30 p.m. at the Council Chambers in Town Hall -- free and open to the public. At last check, I have not been removed from 'the public.' Also, the mayor was not at the first meeting. I never talked to him. In fact, I have never even met the mayor. So this clearly did not come from him.
HDN: What inspired you to join the TBC?
Helou: I wanted to help Hamden build good buildings and get the best value for the cost. I was also interested in having the building designs incorporate some simple green building and energy-saving features. When I first moved here four years ago, I looked at the plans for the middle school and thought, 'Oh, how horrible.' But I never said anything. I was upset that the architect presented it as a 'green school.' A green building is resourceful and beautiful so it is loved enough to be taken care of for the next 150 years. The design did not even incorporate a basic energy strategy. Indeed, some classrooms have no windows at all and I understand a mistake in egress lighting circuitry meant many lights were on continuously! We all pay for these mistakes. I thought the building committee could use more architectural expertise.
HDN: What is your background?
Helou: I have a bachelor's in engineering from the University of Virginia and a master's in architecture from the University of Oregon. I have eight years of architectural design experience and over seven years of building energy research, green building and LEED consulting. The bulk of my experience was in Portland, Ore., a national model for town planning and architecture. I learned a lot there. When we moved here I worked on design and construction documents for the Barnard School in New Haven involving both a major renovation of a 1911 school and major new addition. Then I went back to green building consulting to have a shorter and more flexible schedule for my children.
HDN: Who asked you to join the committee?
Helou: Councilwoman Kathleen Schomaker initiated the process from her interest in green building. I talked with Council member and committee chairman Matt Fitch for at least an hour over the phone the week before the first meeting; the mayor sent his invitation to join the committee immediately afterwards.
HDN: Describe the Feb. 11 meeting.
Helou: The architects had the floor to present the plans to the committee. Several Council members asked them how the plans had developed so fast in this direction without official program requirements or evaluating design options. I felt their concerns were dismissed. I was amazed that there had been no feasibility study addressing traffic impacts on police response times, historic preservation, handicap accessibility, structural/foundation assessment, fire code egress, state program requirements, acoustic impacts, planning and zoning review -- nothing. Having the Council give the go-ahead for full architectural fees without a completed feasibility study is simply another mismanagement of funds and another waste of tax dollars. Going on the construction guestimate of $20 million without any kind of formal independent cost estimate or binding bid seems purposely deceptive. I have looked back at the last months' of discussion on this project. I am not the first to ask these questions, but they have not yet been answered.
At the meeting I questioned the plan, specifically tearing down two historic buildings, adding a massive addition that was going to compromise the architectural character (not to mention public purpose) of our Town Hall and the need for a 200-space parking garage. I was told by Council President Al Gorman very clearly at the end of the meeting that this Town Hall/police station plan was set and that input was only needed on 'where to put the marble and the PV panels.' As you might understand, that is not how you make a building good or green. His statement made it clear to me that the committee was not put together to find good solutions, only to rubberstamp the project as is and then take the heat when it turns out awful and expensive.
HDN: How do you feel about being removed?
Helou: I understood it was a risk and I felt it was worth taking to alert Hamden citizens. My letter [in the HDN] objected to the plan and the process. The plan is not wise for 100 reasons; pick your favorite. But I was particularly alarmed since it was apparent that the process has been closed to the public, to the building committee and even to the full Council. After seeing how this administration works, I'm not surprised. This seems to be standard operating policy -- just get rid of anyone who questions or disagrees with a policy or a plan. Honestly, I think it's a loss. I was willing to volunteer my expertise and could have helped find a much better and more affordable solution for a new police station and the renovation of Memorial Town Hall.
HDN: What is the loss?
Helou: Well, we lose a Town Hall and the remaining history of a town center including the original Miller Library, lovely architecturally but also in need of interior renovation. Some people may say regarding the Town Hall, 'Who cares? This is just a building.' But my feeling is that it's much more than that. It is Hamden's last public venue for an open government and a symbolic center of a town. It should be renovated honorably but simply and affordably in small steps. Town Hall should remain welcoming, familiar and a center for government and community again. It should be where you sign your kid up for Little League, where you come to sit in on a commission meeting or a planning review, and where you attend public events. Nobody is going to feel like going to a council meeting at our Town Hall when there is a jail attached to it. Of course, who knows, if that's the whole idea in the first place, then it's brilliant.
HDN: And your petition against the current police building plan?
Helou: Many people do not realize that the Hamden Charter does not give the public much power to affect decisions except through their votes for representation. This needs to be changed, in my opinion, through charter reform to avoid an abuse of council power. Charter Section 3-10 requires a large percentage of voters to petition a specific resolution or ordinance in an unreasonable amount of time in order to bring an issue to referendum. It was not my original intention to reach this threshold, only to call attention to the project and to these kinds of decisions being made, without public input and without due diligence. People need to understand that they must now also hold their council representatives accountable for their votes. There is also a paper version of the petition circulating.
----------------------------------------------------------------
Colaiacovo Says Henrici Misunderstood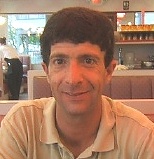 By Sharon Bass
"Stick to the issue. The dog warden threw dogs off a bank," said Councilman Mike Colaiacovo.
He said Mayor Craig Henrici's written response to his Feb. 27 letter -- urging him to fire animal control officer Chris Smith -- was not relevant.
Henrici wrote that a "complete investigation into the recent events at the former landfill" is being conducted. And called the councilman's request to fire Smith "both inappropriate and entirely unfair."
"The mayor misunderstood what I was trying to say. I want Chris Smith removed because of the fact that it was inhumane treatment of dogs," said Colaiacovo. "Forget about the policy or the legality of the matter. It was not compassionate."
Henrici does not return messages from the HDN.
On Feb. 21, the HDN witnessed four or five dead dogs at the bottom of a ditch at the Wintergreen Avenue transfer station. They were not buried as the state requires, and as the mayor wrote, the town is investigating.
"I don't necessarily disagree with the investigation. And if there are more people involved, they should be disciplined," said Colaiacovo.
Asked if he will continue to push to get Smith fired, he said, "I'm going to wait and see. I sent my thoughts to the mayor and see what he does with it."
---
March 2, 2008
Henrici Calls Colaiacovo's Request 'Unfair'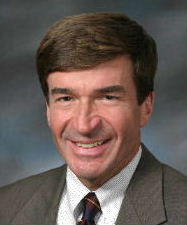 Henrici. File photo
By Sharon Bass
Councilman Mike Colaiacovo wrote a letter to the mayor on Feb. 27 asking him to fire Animal Control Officer Chris Smith for throwing dead dogs off a cliff at the transfer station. Mayor Craig Henrici responded to Colaiacovo in a letter dated Feb. 28, 2008:
"Thank you for yours [sic] Feb. 22, 2008. Rest assured that this administration takes the above referenced issue [dog dumping] extremely seriously.
"We have been asked by various members of the council and public to conduct a complete investigation into the recent events at the former landfill. We are in the process of conducting same with all deliberate speed. Once the facts are determined, I will report the findings to the Legislative Council.
"I hope you agree that jumping to the conclusions as set forth in your correspondence and as proposed through various other communications, [sic] is both inappropriate and entirely unfair." --Mayor Craig Henrici
Henrici also sent his letter to the rest of the Council and the New Haven Register.
In other dog-dumping news, at the Feb. 25 Legislative Council meeting, Police Chief Tom Wydra handed out copies of a memo he said he received dated Sept. 7, 2007, from Henrici to Wydra and then-Public Works Director John Busca outlining the "Disposal of Dead Domestic and Wild Animals."
The memo states that domestic animals will be disposed of according to Public Works policy. It is Henrici's explanation -- and "proof" that he made a written policy change last September -- for why dogs were dumped at the transfer station instead of being cremated, as had been town policy.
However, Wydra's memo was not date-stamped, as is department policy, adding more doubt to when the mayor actually composed it. Elected officials and others, who have chosen to remain anonymous for now, have expressed doubt that Henrici wrote the memo on Sept. 7. Some claim he did so after the HDN discovered the dead dogs on Feb. 21 and broke the news..
It caused a huge public outcry, leading Henrici to revert to cremation for dogs and cats. Reportedly, the mayor chose dumping dogs in a ditch to save less than $1,700 a year in cremation costs.
Meanwhile, Henrici collected $2,368 from the town in a five-month period for highly questionable mileage claims. Click here to see his mileage logs from July 1, 2007, to Nov. 30, 2007. Click July 2007, August 2007, September 2007, October 2007, November 2007, to see his official town appointment book for the same time period.
---
March 1, 2008
Hamden Escapes Environmental Probe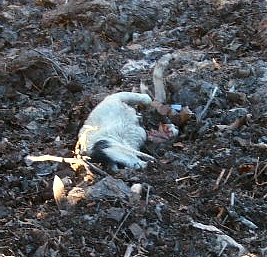 At the transfer station Feb. 21. File photo
But state may fine the town for illegal dog-dumping
By Sharon Bass
The state Department of Environmental Protection said Hamden violated the law by throwing dead dogs off a cliff at the transfer station and not burying them. But there will be no investigation or site visit.
Case kind of closed.
"You can't throw dead animals out there," DEP spokesman Dennis Schain said during a phone interview Thursday.
While he said the department has no plans to visit the Wintergreen Avenue transfer station and capped landfill, "we reserve the right to cite [Hamden] for violations and impose penalties. But it's not something that's been decided."
After the HDN broke the news that four to five dead, exposed dogs were at the bottom of a ditch Feb. 21, scores of shocked and angry animal activists and concerned citizens protested. In response, Mayor Craig Henrici said he stopped the dumping practice and all dogs and cats will once again be cremated -- as they were until last fall when the mayor decided to have domesticated animals dumped instead of cremated to save a couple-thousand dollars a year. The latest cremation policy also includes small wildlife.

Earlier in the week, the Quinnipiack Valley Health District visited the transfer station and announced to the media that the disposed dogs presented no health violations.
But Schain said the DEP is not quite done with Hamden. Department officials plan to talk to local officials about the dog-dumping. He said he didn't know when.
"We will discuss this issue with Hamden officials and we also expect that they will not renew this [dumping] practice," said Schain.
Henrici could not be reached for comment as he has not returned a message from the HDN since last year.
Technically, the town violated the terms of having a closed landfill, said Schain. "Key point is if the landfill has been formerly closed, as this one has, you cannot dispose of additional items without coming to DEP." Henrici didn't.
"The wildlife issue is not unique to Hamden," said Schain. But he said he knows of no other communities that throw away dogs. They cremate.
"There are situations where you can dispose of dead animals, including dogs, at a landfill but that would have to be done in the proper manner and covered properly," he said.
Meanwhile, the town announced an internal investigation to find out why the dogs were not buried. At the Feb. 25 Legislative Council meeting, explanations -- contradictory at times -- were given to a skeptical packed room. Animal Control Officer Chris Smith, who dumped the dogs, blamed Public Works for not burying them. Police Chief Tom Wydra said there was a breakdown in communication between Animal Control and PW. But PW Director Joe Velardi said he knew nothing about the mayor's new dog-dumping policy. Velardi returned to the top PW post last month, after having served two previous stints as director.
Some councilpeople and residents want to know more than why the dogs were left exposed, such as how they died and whether the dumping policy was actually written, as the mayor contends, or carried out covertly via oral communication between Henrici and Smith.
Councilman Mike Colaiacovo sent a letter to the mayor Thursday asking him to fire Smith.