---
Town Government
August 27, 2007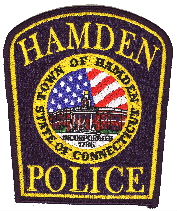 Bootlegging, Pot Operation Busted
From Capt. Ron Smith:
On Aug. 23, the Street Interdiction Team executed a search-and-seizure warrant at a business storefront located at 810 Dixwell Ave. Hamden Police, who were assisted by a representative from the Recording Industry Association of America, seized 456 pirated CDs, 595 pirated DVDs, a computer and printer, 10 bags of marijuana and $94. The marijuana, which weighed 4.7 grams, has a street value of $240.
Police had earlier received information that pirated/bootlegged CDs and DVDs and the drugs were being sold at this storefront. An in-depth investigation led to the search warrant.
Walter Andrade, 18, of 51 Arch St., Hamden, was arrested for possession of marijuana and possession of marijuana with the intent to sell. He was released on a written promise to appear in Meriden Superior Court on Sept. 6. A New Haven man was also arrested at the scene for illegal transfer of records/tapes and forgery of a stamp label as well as marijuana possession.
---
August 24, 2007
'A Vital Institution in a Democracy'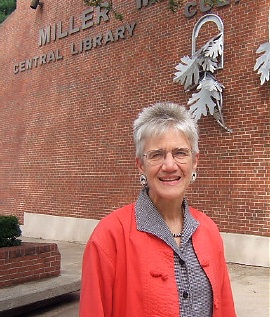 Judy Lhamon is starting a new chapter in her life. Photo/Sharon Bass

By Sharon Bass

It was a long, circuitous route that led Judy Lhamon to Hamden to be the associate library director in 2002. After five years, the 61-year-old will embark on another circuitous route, as she retires from her post today and leaves her Whitneyville home for a 10-week car trip around America.

Lhamon grew up in Virginia and Seattle. She got a bachelor's in English from American University; a master's in teaching from Trinity College in D.C. In the '60s, she worked for the Quaker lobby, Friends Committee on National Legislation. She taught in D.C. public schools for three years. Was then hired as an administrator at the now-defunct Antioch School of Law.

She moved to New Haven in 1984 to work at the Yale law school. Twelve years later she earned a second master's, from Southern Connecticut State University. This one in library science. Before landing the No. 2 spot at Miller, Lhamon spent seven years at the Silas Bronson Public Library in Waterbury. Then she worked briefly at the Albertus Magnus College library on weekends, and part time at Fairfield Hills in Newtown, a minimum-security prison.

Soon, Lhamon and her partner will travel to Seneca Falls, N.Y., the birthplace of the women's political movement, Toronto, Montana, Seattle, California, Oklahoma, D.C., North Carolina and Colorado. And back to Whitneyville. After that? She just shrugs her shoulders.

"I really believe in public libraries. They are a vital institution in a democracy such as ours," Lhamon says during an interview on the first floor of Miller. "They used to be called poor people's universities. [Libraries] nurture people's curiosity. What could be better?

"My partner is seven years old than I and we always said when she retired, we'd take a long trip together. And I'm coming up on 62. I'm truly open to what I'll do next. That's another beauty of retirement. We can be spontaneous.

"The thing I'm proudest of [at the Hamden Public Library] is the Sunday operations we've had for the past five years. It was a very savvy, forward-looking position. Let me tell you one of the other things I'm proud of. That is the PACK grant, Parents and Communities for Kids, at the Brundage Community Branch. It's brought new families into the library. It's specifically designed to give out-of-school learning experiences for families and children.

"The summer reading program [this year] drew 400 kids. It's for kids 6 to 10, but no kid is turned away. One has come back as a volunteer. The branches are well utilized.

"I've gotten a tremendous amount of satisfaction seeing an excellent staff and an excellent collection [of books]. People from Guilford, Killingworth, North Branford and even Granby come on their lunch hours. We're a real destination.

"I staffed the children's room one morning a couple of weeks ago and saw a couple of stay-at-home dads. They were interacting with their kids around the summer reading list and really giving their child time to explore. That made me proud. There are people here all the time studying for the CNA exam, the police and fire exam, vigorously.

"I think I and many other people come to the library for signs of hope and community. It's a place where you can be very much on your own, find books and CDs you never knew about before. It nourishes my soul.

"In many cases, there's a lack of understanding about what the library is all about. A number of people who move to town come here the first day to get a library card. I hope the library is permitted to grow. That it gets the tools and resources that brings distinction to the town of Hamden."
-----------------------------------------------------------------------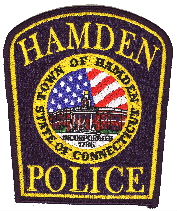 Weed Squeeze
From Capt. Ron Smith:
On Aug. 20, members of the Street Interdiction Team conducted an investigation into drug activity on Mix Avenue. Officers subsequently observed a hand-to-hand transaction in the parking lot of a Mix Avenue apartment complex.
An individual who was involved in the drug transaction, identified as Nicholas Simiola, was seen entering a motor vehicle. Police stopped the vehicle on Mix. Upon searching it, officers located nearly an ounce of marijuana that was packaged for sale, as well as drug paraphernalia.
During the course of the investigation, police learned that another person was attempting to purchase marijuana from Simiola. An arrangement was made to meet with the buyer at the Hamden ice rink. Moments later, Aaron and Elliott Rudd were arrested at the rink.
Simiola, 18, of 2360 Shepard Ave., Hamden, was charged with possession of marijuana, possession of marijuana with intent to sell and possession of drug paraphernalia. He was released on a written promise to appear in Meriden Superior Court on Aug. 30.
Aaron Rudd, 19, and Elliott Rudd, 22, both of 95 Filbert St., Hamden, were charged with criminal attempt to possess marijuana. They were both released on a written promise to appear in Meriden court on Aug. 31.
The street value of the marijuana is estimated at $400.
---
August 23, 2007
'Your Concerns Are My Concerns'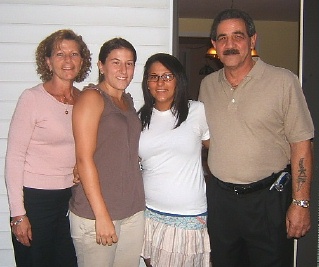 The 8th District candidate with his family (left to right): wife, Maria, and daughters Tiffany and Kim DeRosa.
Words and pictures by Sharon Bass
Anne Ramsey likely had the friendliest and happiest party in town last night. The 8th District Democrat hosted a fundraiser for John DeRosa, the party-chosen candidate for the 8th District Council seat.
Donation was 50 bucks and the smorgasbord was heavenly. Brie baked on bread with honey, a veggie platter with humus, Swedish meatballs, pigs in a blanket, a fancy fruit tray designed by Geoff Ramsey, homemade chocolate chip cookies, rich brownies and nuts and wine.
DeRosa will be primaried by Councilman Mike Germano on Sept. 11.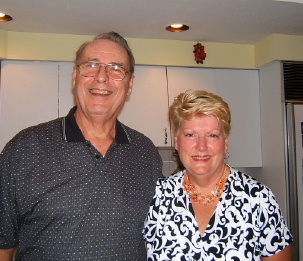 Jim O'Brien and Anne Ramsey.
Jim O'Brien, of the 8th, provided the humor. He's got a great repertoire of jokes and delivered them impeccably. Eleanor Curran came by for a spell. She sat on the Democratic Town Committee for 30 years representing the 1st District, and is a former deputy registrar of voters.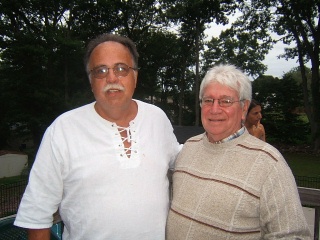 Tony Mentone with John Busca.
Others who came to Ramsey's Skyview home included Rose Mentone and her husband, Tony "If You Each Pay Me $100 I'll Jump Butt Naked into the Pool" -- an unfulfilled request he made numerous times Wednesday evening; former Mayor Carl Amento; Barry Herman, Michele Mastropetre, Mike Crocco, Deb DiLeone and her son Mark, all from the 7th; Public Works Director John Busca; former DTC Chair Bill LaVelle; former deputy finance director Lou Affinito; and current DTC Chair Joe McDonagh.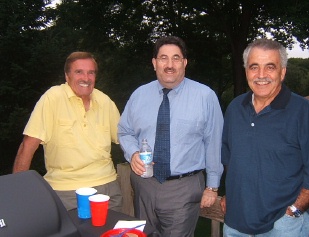 Jack Kennelly, Carl Amento and Mike Crocco.
Just five of the 17 Democratic-endorsed candidates showed: retired Fire Chief Jim Leddy, running for the 9th Council District; 7th District Councilman Mike Colaiacovo, going for another term; at-large Councilman Jim Pascarella, also seeking reelection; retired Police Chief Jack Kennelly, going for an at-large seat; and Ozzie Brown, running for the 3rd.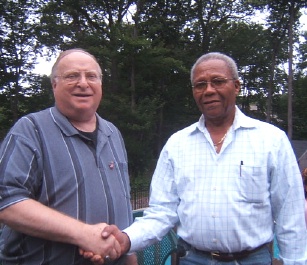 Barry Herman and Ozzie Brown.
On Ramsey's back porch, overlooking her swimming pool, DeRosa said a few words to his friends.
"We're all working hard and hopefully everything will work out," he said. "Our slogan is, 'Your concerns are my concerns.' When we win, I plan to have quarterly meetings with the district to hear their concerns."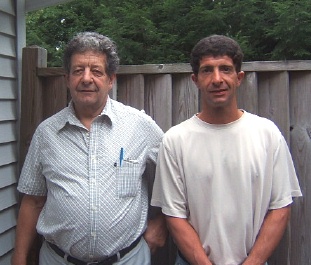 Councilman Mike E. Colaiacovo with his dad, Mike Colaiacovo.
DeRosa cited fast-rising property taxes and sorely needed infrastructure improvements as high-priority issues in Hamden.
-----------------------------------------------------------------------
By Sharon Bass
Mayor Craig Henrici had hoped the school department would leave its Putnam Avenue digs and move into Government Center this summer. Of course, it didn't. In fact, the committee that's to take up the relocation hasn't yet determined if it's doable.
But John Keegan, chair of the Board of Ed's Operations Committee, said he expects to take it up again at the Sept. 4 meeting, and send the recommendations to the full Board in time for its regular meeting a week later.
Neither Henrici nor Keegan could say when or if the transition would occur.
Keegan said there were more pressing issues to deal with this summer.
"The reality is we just hired seven administrators and we're almost done with the superintendent search," he said. Fran Rabinowitz has been named the finalist. "The successful operation of the [school] district is the priority, and moving isn't a priority."
Henrici said he's disappointed it didn't happen this summer, but said he understands.
"I think the process could have been much quicker, but I understand there are committee rules," he said. "My expectation is to see what the board's position is before I get excited or disappointed."
In the $6.2 million '07-'08 capital improvement plan, approved by the Legislative Council on July 31, $175,000 is earmarked for the relocation to Government Center, which includes furniture, equipment and moving costs.
Keegan said there are pros and cons to the anticipated change of venue, but he didn't want to elaborate just yet. He said he will draw up a recommendation for the move to present to his committee on Sept. 4.
"Basically, we want to cooperate with the town on the move, but it's not a black and white issue," he said. Keegan said many questions need be answered, such as the best timing for the move, how it would be done and if the entire central office would be transplanted.
The mayor said the idea was his and the town auditor's. The last school audit report revealed a host of problems -- improper spending procedures, lack of communication with the town purchasing agent and questionable purchases.
"I think [the move] would go a long way to eliminate the 'we and they' mentality that sometimes exists," Henrici said. "And it makes fiscal sense having both the Board's and town's finance departments in the same building. They're accountable to each other."
But he said there would be no cost-saving, since the two finance offices are reportedly unique to each other and cannot merge any functions or personnel, as town Finance Director Mike Betz told the Council last month before it voted on the capital budget.
Keegan said the merger might prove to actually be costlier.
---
August 16, 2007
Drop It Already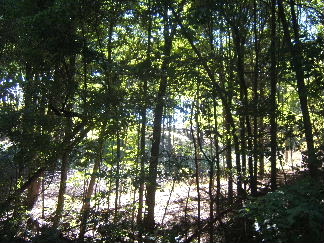 The natural beauty of 55 West Woods Road. File photo
Developer not keeping its word to terminate lawsuit against the town
By Sharon Bass
When a developer got approval from the Inland Wetlands & Watercourses Commission to proceed with its second application for a controversial hotel in a patch of woods on West Woods Road, it was with the understanding that it would drop its lawsuit against the commission for turning down its first application.
That was on April 4. Over four months later, the appeal is still pending in New Haven Superior Court and is slated for a "status conference" -- when a judge asks a lawyer for an appeal update -- next Monday, said Assistant Town Attorney Tim Lee.
"Based on the representations made by the attorney at the public hearings, I thought the case would have been withdrawn several months ago," said Lee.
The developer's attorney, Dana Friedman of Milford, told the commission last April that his client, Westwoods Properties, would withdraw the appeal if the second application got the green light. It got the light with 15 conditions.
However after the meeting, when the Hamden Daily News asked Friedman if he was definitely dropping the suit, he said, "We need time to review the conditions."
The IWW-approved plan would next go before the Planning & Zoning Commission.
Neighbors showed up at the many public hearings held in 2005 and 2006 to protest the hotel and conference center on the narrow, wooded street in the northern part of town. In March 2006, wetlands denied the first hotel application. Commissioners cited concerns about the construction's impact on a nearby tributary that feeds into the Mill River and empties into Lake Whitney.
The developer sued and returned with a scaled-down version -- fewer rooms (90 from 101) and a smaller parking area.
"I've sent correspondence to attorney Friedman demanding he withdraw the lawsuit but I haven't heard back from him," said Lee.
"The owner is not free to ignore that promise and the town would be within its rights to sue Westwoods Properties to force it to honor its promise to withdraw its appeal," said IWW Chair Steven Sosensky. "Our decision [to approve the second plan] was based, in part, upon the agreement to withdraw the appeal of our denial of the first application."
A couple of messages left yesterday for Friedman were not returned.
Meanwhile, P&Z last year passed an amendment requiring a special permit for hotels and motels with the following stipulations: minimum lot size of 80,000 square feet, no more than 20 bedrooms per acre and vehicular access to one of Hamden's four main roads -- Whitney, Dixwell or Sherman avenues or State Street.
The proposed hotel for 55 West Woods Road would not meet the third criterion. But like any applicant, the developer can apply for a variance through the Zoning Board of Appeals.
---
August 9, 2007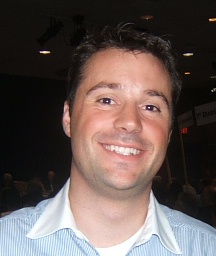 vs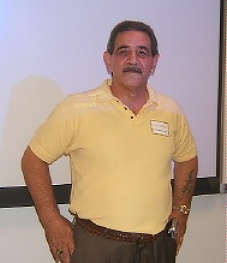 Democratic Councilman Mike Germano is primarying John DeRosa. File photos
By Sharon Bass
Four Democrats will fight for their districts' nod Sept. 11.
Gina Cahill, 2nd District, and Councilman Mike Germano, 8th, made yesterday's 4 p.m. deadline to get their signed primary petitions to the Democratic registrar of voters. Cahill will take on Councilman John Flanagan, who got the town committee endorsement last month. And Germano will try to defeat party-chosen John DeRosa.
Tony DelGrego had intended to primary retired Fire Chief Jim Leddy for the 9th Council seat, but didn't deliver his petitions.
"I'm excited. I feel it's just the first leg of the race," said Cahill who turned in 83 signatures. She needed 61. "I'm kind of looking at things in increments."
This marks the assistant animal control officer's first stab at running for elected office. After knocking on doors for signatures and getting a good reception, Cahill said she is feeling encouraged.
"I was able to turn a few people around who didn't want to talk to me," she said. "This is not about attacking Flanagan. Being an employee of the town of Hamden, it's enlightened me to the things that happen that need to change. We all know taxes are high. We all know we need an animal shelter. My approach is, I'm a very intelligent, compassionate person. I want to learn more about the town. What's right about it and what's wrong about it. Maybe I have something to bring to the table. I am affected by so many things that happen in that Council Chambers.
"So why not me? Why not me?"
"She's free to primary," said Flanagan. "I have no idea where she stands on any of the issues. It will be interesting to find out."
While Cahill pointed to her town employment as an asset to her candidacy, Flanagan said it could be a conflict of interest. "I don't think it matters how I feel about a town employee running. It's legal for them to run. I think it's going to depend on how the district voters view a person possibly voting on her own salary," he said.
With five helpers, Germano garnered 75 signatures and needed 74. He said he's ready to go.
"I plan to knock on every Democrat's door from now until the primary. After going door to door -- and all the people who are supportive going door to door [for him] -- I feel extremely positive about the campaign. After the convention so many people called me up and offered support, and said I was the best candidate in the district. That renewed my energy in being a representative and finishing the things I started."
Calling himself "a voice on the Council that understands modern technology," Germano wants a second term to see the "wi-fi completed and getting Quinnipiac to guarantee four years of housing and held accountable to that. I'm very proud of the work I did with the technology infrastructure for the future of the town."
DeRosa simply said, "That's his right [to primary]. What else can I say?"
DelGrego said he erred trusting someone to collect signatures for him. He needed 81.
"I assumed everything was going the right way. It was my fault. I should have been hands-on," the U.S. Postal worker said. He said he'd try again in two years. Meantime, DelGrego said he plans to get more involved in town government.
Former 2nd District Councilman Paul Jacques decided to run as an independent for an at-large Council seat instead of forcing a primary. He filed his intention with the secretary of the state and submitted signed petitions to Town Clerk Vera Morrison. Since he's not running under his party, both Democratic Registrar Peggy Rae and Republican Registrar Tony Esposito must verify the signatures he collected. He needed 140 instead of the roughly 650 had he primaried as a Democrat. Rae said Wednesday that Jacques' petitions have not yet been verified.
---
August 7, 2007
Caution: Children at Play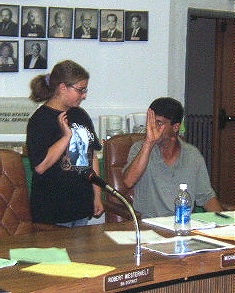 Dunbar Hill grad Rebecca Muolo, 12, votes yes with her district councilman, Mike Colaiacovo, on funding a new playground for her alma mater -- and the rest of the capital plan. Photo/Sharon Bass
Dunbar Hill gets a new playground; town gets a license-plate hunter; Flanagan tries to get a vote on Rev. Sanderson
By Sharon Bass
Monday evening, in the hot, sweltering Council Chambers, the legislative body approved the 2007-08 capital improvement plan. That meant, among other things, that the toxic and otherwise unsafe playground at Dunbar Hill School will be replaced by a healthy new one.
Interested parties took no chance that their new play set could be carved out of the CIP. Members of the elementary school's PTA filled the back-row seats (in the left section facing the stage) of the chambers along with their new principal, Steve Bergin.
'07 Dunbar Hill grad Rebecca Muolo was also there. The 12-year-old came with a prepared speech, which she read to her elected officials imploring them to approve the funding.
When it came time to vote on the CIP, Rebecca got permission to stand next to Councilman Mike Colaiacovo, her district rep, to vote with the "grownups."
Afterwards, Rebecca's mom, Sue Foraker, said the 20-plus-year-old playground is made of arsenic-treated lumber. "That type of lumber has been outlawed for 15 years," she said.
The arsenic is supposed to repel bugs, she said. But apparently it's doing the opposite. Bees, and lots of them, nest in the Lane Street playground lumber, parents said. And some of the lumber is rotted. Rebecca, a six-year Dunbar Hill playground veteran, said some steps going to a slide are missing and there are "gaps in the wood."
"I'm just excited for the school community and the reward for the hard work of the PTA," Bergin said.
The Council had discussed when work on the play site could get started. School opens Aug. 27. Chief Administrative Officer Scott Jackson said he wasn't sure when the vendor could begin. He was asked if Public Works could raze the toxic playground instead of the vendor. Jackson said he believed so. By having the town do the work, it would presumably save money and get the job done faster. The vendor would build the new play structure.
Reached at home Monday night, PW Director John Busca said his crew certainly could take down the Dunbar Hill play equipment.
"We can do it if someone asks us," he said, adding that it could be done by the end of this week.
Car hunt begins
Monday evening, in the hot, sweltering Council Chambers, the legislative body approved a contract for Municipal Tax Services to track down out-of-state license plates on cars parked in Hamden, and have them register in town and pay current and back taxes. In the new budget, the administration projected $1.3 million in revenue for this first-time Hamden effort. Since Municipal takes a 30 percent commission, about $1.7 million would have to be collected to meet the revenue projection.
When the issue was discussed during budget meetings last spring, some councilpeople expressed doubt about seeing that kind of loot come in and also didn't like the idea of targeting college kids. They repeated their sentiments last night.
"I'll be voting against this item," said Councilman Ron Gambardella. "There's a lot of money in this item. And I don't believe there are enough safeguards" for car owners who justifiably sport out-of-state license plates.
"I couldn't be further from the opposite side of Mr. Gambardella," said Councilman Curt Leng. "A vote against this agreement is a vote against back taxes, and I can't imagine a responsible legislator voting against this."
Leng said the amount to be collected is "undetermined." But that Tax Collector Barbara Tito assured him the hunt is worthwhile.
"I think it's going to bring in some good revenue to the town and I hope the emphasis is on our college students," Leng said.
Councilwoman Betty Wetmore asked if students who live out of state can be made to register their cars in Hamden. Jackson told her only if they're registered to vote in town. (Students must also be in school full-time in order to be exempt, according to the Department of Motor Vehicles.)
"It's one of those things that I want to believe," Councilman John Flanagan said of the $1.7 million figure. "I also want to believe I'm wealthy." He said he didn't like the idea of "harassing college students."
Gambardella was the sole no vote; Wetmore and Flanagan abstained.
Too late? Or never really happened?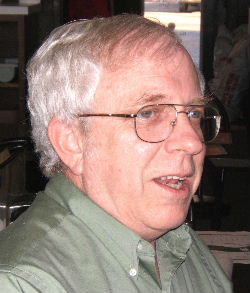 Councilman Flanagan. File photo
Monday evening, in the hot, sweltering Council Chambers, Flanagan asked to take a vote on Rev. Owen Sanderson's reappointment to the Ethics Board. Sanderson's term expired last January, and both times it wound up on the Legislative Council's agenda this year, it got tabled.
President Al Gorman said it was too late to take the item off the table. According to "Robert's Rules," the bible of parliamentary procedure, a tabled item's lifespan is just three months. After that, it has to be reintroduced as a new measure. Assistant Town Attorney and Council parliamentarian Mike Kamp checked his copy of "Robert's," which he said confirmed what Gorman said.
Flanagan disagreed. He referred to his copy of the parliamentary bible, which he had on hand. "I believe that's a gross misrepresentation of 'Robert's Rules,'" he bellowed.
A recess was called.
When the Council reassembled, it was announced that Sanderson's nomination would have to be brought up as a new item. Flanagan asked Kamp for a written legal opinion by the end of the week.
Later on in the parking lot, Flanagan said that the tabling might not have been legal anyway. Paraphrasing "Robert's," he said, if something is tabled with the intent to avoid voting on it -- rather than to put it aside temporarily -- it's considered "out of order" and therefore not a legal motion. And according to the Town Charter, if the council takes no action on a mayoral appointment (board and commission members are appointed by the mayor) within 45 days, the candidate is "automatically approved."
So in Flanagan's mind, Sanderson may have already been reappointed through the Council's inaction.
---
Regular Joe Makes a Run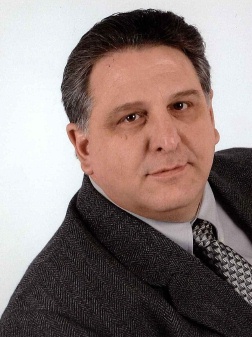 Tony DelGrego. Courtesy photo

Political newcomer aims to challenge Leddy for the 9th

By Sharon Bass

He has never run for elected office. Has no political experience. And frankly, Hamden, 54-year-old Tony DelGrego says he doesn't really give a hoot about politics.

But things and times, they have changed for the Greens Ridge Road lifelong Democrat, who's worked for the U.S. Postal Service for the last 30 years. DelGrego said he's fed up with escalating property taxes and longtime local problems that keep getting ignored, such as the ragged old police headquarters. And he's fixing to do something (political) about it.

He plans to primary retired Fire Chief Jim Leddy for the 9th District Council seat on Sept. 11. DelGrego needs 81 John Hancocks and he's in the race. He filed his petition papers with the Registrars of Voters Office last week.

"I am tired of being on the sidelines," said the father of two grown children. "I'm financing this myself. I will not collect any monies. I didn't go in this for money. I went in this to help the townspeople."

The 9th District men said they have never met. Party-endorsed Leddy, 61, said he found out about DelGrego last week.

"At this stage in life nothing surprises me anymore," said Leddy, who recently moved from his West Todd Street house to a Todd Street condominium. "I think he should have went to the convention and tried to get the nomination. But he didn't. That's his prerogative." Leddy said he decided to run a few weeks prior to the July 23 Democratic Town Committee convention.

DelGrego said he didn't bother asking for party endorsement because he didn't think he'd have a chance.

"I didn't submit my name to the party because they already knew who they wanted," he said.

DelGrego sits on the Hamden Economic Development Commission, has an associate's degree in computer engineering and a real-estate license, and is a Vietnam-era vet. He was in the Air Force from 1971 to 1973.

"If I don't make it this time, I'll try again. I'm tired of the way the town is going and my goal is to help the taxpayers of this town," he said. His real property taxes have gone up about 26 percent in the last two years, he said.

"When your education budget is more than your town budget there's a problem. Nobody's actually looking at the budget and challenging it. I don't think the Council people are taking an in-depth look," said DelGrego. "I've looked at [the budget] and at one time, the superintendent was bringing on an employee that was retired, at more money than when [the employee] retired."

He's also not thrilled with using Memorial Town Hall for the new police headquarters, as is the administration's plan.

"I think Mayberry has a better police department [headquarters]," DelGrego said of the current Dixwell Avenue digs. He advocated building brand new on the Dadio Farm, where a new fire department and house are slated for erection.

"We're trying to bring our police department into the 21st century. If a town like West Haven, that's in a $15 million deficit, can build a new police department then Hamden can," he said. "These men and women sacrifice their lives every day. They need a good place to work.

"This town is a wonderful town to live but the taxes are driving people away. You drive around and see a lot of homes for sale," said DelGrego.