Town Government
April 29, 2006
Waiting for a Reply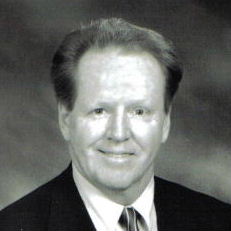 Councilman Bob Westervelt. File photo
By Sharon Bass
Councilman Bob Westervelt said he hand delivered a letter to Mayor Craig Henrici on April 21 asking him to withdraw his appointment of Brian Badamo for fire chief. The day before, Westervelt, a retired fire marshal, said he read Badamo's resume.
The councilman said he got no reply to his letter.
Five days later, he saw Henrici at the town observance for Holocaust Remembrance Day. "He said we'd have to sit down and talk," said Westervelt, when he bumped into the mayor during the event and asked about his letter.
Before he gave Henrici the letter, Westervelt said Councilman Matt Fitch had heard he was going to write it and called him. "He called to let me know that the mayor understands the message about Brian's qualifications," said Westervelt.
According to Westervelt, Fitch told him he could meet with Fitch and Henrici on April 28 -- yesterday -- to discuss Badamo. But Westervelt said the meeting never materialized, and a message he left for Fitch yesterday inquiring about it was not returned.
Fitch also did not return a message from the HDN seeking comment.
"I haven't heard from the mayor's office. I haven't heard anything from Matt Fitch. I haven't heard from anybody," said Westervelt.
Henrici said he received the letter but there was no scheduled meeting.
"He hasn't even asked me [about a meeting]," the mayor said. "He said something about Friday. Yeah, I'll talk with him about it."
Badamo's highly controversial appointment must be confirmed by the Legislative Council. The mayor has not sent it down yet for a vote. "I'm waiting till after the budget" deliberations, he said. The budget is expected to be done early- to mid-May.
Henrici said he hasn't heard much opposition to Badamo being chief. "I've gotten no pressure. I've had inquiries. But that's maybe two or three calls," he said.
Like many, Westervelt said his opposition to Badamo is not personal.
"I like Brian. I like his father [a retired Hamden firefighter]. We were friends. You have to look at this objectively. This is not a popularity contest. He doesn't meet the minimum qualifications," he said. Period.

Westervelt's Letter
Dear Mayor Henrici;
I believe your appointment of Brian Badamo to the position of Fire Chief is not in the best interest of the Hamden Fire Department, but more importantly, it is not in the best interest of the residents of the Town of Hamden.
After reviewing Brian's resume, it is clear that he had adequate training as a firefighter and most of his fire related educational background is his Fire Marshal Certification training.
At the present time, Deputy Marshal Badamo does not possess the demonstrated leadership ability or experience; the demonstrated fire ground command training or experience; or demonstrated Executive/Administrative/Supervisory experience necessary to become the Fire Chief.
Brian's present qualifications do not meet the standards as stated in the Hamden job description for the position.
In the interest of public safety, I am requesting that Brian Badamo's name be withdrawn from consideration and that you undertake a comprehensive selection process that would be open to all qualified fire professionals of the Hamden Fire Department that meet the criteria within the job description for the position of Fire Chief.
Whether you pick a new Chief from within the ranks of the Hamden Fire Department or decide to look outside the department for a replacement, I am confident a more extensive search for a qualified replacement will go a long way to improving the relationship between the fire department and the mayors [sic] office, and as a result, will benefit the Town of Hamden immensely.
I am available at your convenience to discuss this matter further if you so desire.
Thanks Mayor. I appreciate your consideration of my point of view.
Respectfully yours,
Bob Westervelt
Chairman, Public Safety Committee
Hamden Legislative Council
---
April 28, 2006
And Then There Were None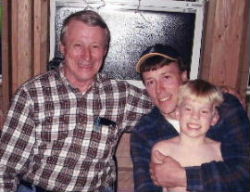 Former Fire Chief Paul Wetmore Sr., Battalion Chief
Paul Wetmore Jr., and Jr.'s son, Paul III -- the wildcard.
Courtesy/photo
By Sharon Bass
On Sunday, Paul Wetmore Jr. will put an end to a 60-year family tradition: being a Hamden firefighter. The 46-year-old battalion chief is saying goodbye -- and not so easily -- to the last quarter-century of his life. Sunday he retires.
Wetmore's son, Paul III, is the only possibility to revive the tradition. But that will have to wait a few years. He's only eight.
"It's definitely up to him," said Wetmore. "To be perfectly honest, he's like my brother who had no interest [in firefighting]. But he's young yet."
Wetmore is pretty young himself to be retiring. He said he realizes that and had a really hard time making the decision. He said he could have stayed another 10 years.
But Wetmore sees changes coming to the Hamden Fire Department, and feels he needs to get out now.
"I'm disappointed it's ending now. But I don't want to retire being miserable. I want to end my career on a good note when I have good feelings about the fire department," he said. "I think I'd be taking a chance with the current direction. I feel I've reached the end of my career. I've given all I can give.
"I can't picture myself working under the new proposed chief," he said. "When I look around the firehouse now, these guys are the cream of the crop. There's no question about it. I looked at the guys I was working with [Wednesday] night and I said, 'This is the best group of guys.'
"I have mixed emotions about leaving. I loved the fire department and I hate to leave it but I feel I've hit the end of my road," said Wetmore, who was named firefighter of the year in 1990 "on the night of my 30th birthday" by the Civitan Club.
That road started five Wetmore generations ago with his great great-grandfather. He was a member of the Pioneer Hose Company in the Highwood neighborhood. While still with the company, his son (Paul Wetmore Jr.'s great grandfather) joined up.
"The fire truck back then was basically like a cart, and they used to pull it six blocks and then another group of men would pull it the next six blocks. And then they'd hook it up on the trolley line to get it further up into town," said Wetmore.
His grandfather, a Hamden firefighter, was the superintendent of alarms (now called super of apparatus) until his retirement in 1968. His father, Paul Wetmore Sr., was fire chief from 1993 to 1996. And Wetmore Jr. had two uncles who were career firefighters here. His mother is Councilwoman Betty Wetmore.
Wetmore Jr. became a volunteer firefighter when he was 16, and joined the Hamden department in 1981 as a career fighter. He's served as a paramedic, lieutenant and captain, and for the last eight years has been battalion chief.
His last full shift was Wednesday night at Station 3 on Ridge Road. He said the guys whipped him up a farewell dinner of filet mignon, twice-backed potatoes and asparagus with homemade hollandaise sauce.
"It's funny. You say you'll put in 25 years and then do something else. But all of a sudden 25 years is here and then you just don't feel like [retiring]," said Wetmore.
"I absolutely treasure the time I had in the fire department. The experiences the fire department gave me I wouldn't trade for anything," he continued. "You get to deliver a baby or you get to save somebody -- really save somebody."
Wetmore said he plans to start his own business.
---
April 26, 2006
Area fire chiefs' resumes are being circulated around town to drive home Badamo's lack of credentials
By Sharon Bass
Mayor Craig Henrici said he hasn't budged on his decision to appoint Brian Badamo fire chief -- even though the move has created an inferno of opposition.
The anger is not confined to the firehouses, where many feel more competent and experienced contenders were unfairly skipped over. Some residents are pretty hot under the collar, too, and are passing around packets of information explaining why they think Badamo is not the right stuff. The packets, which were anonymously printed, contain the resumes of Badamo and three area fire chiefs, Hamden's job description for fire chief and a cover letter:
"Hamden Residents: Urgent Action Alert
Please join in providing citizen oversight for Mayor Henrici's nomination for Fire Chief, Brian Badamo -- review attached materials and take action.
Action Deadline: Friday, April 28, 4:30 p.m."
The letter implores folks to compare the qualifications of the chiefs from the three towns -- Wallingford, West Haven and North Haven -- to Badamo's. Then to call the mayor and the six at-large councilpeople to express their views about the appointment -- and to "take notes on your conversation."
The HDN also obtained retiring Fire Chief Jim Leddy's resume, and copies of letters written by Mayors Carl Amento and Lillian Clayman to the Legislative Council promoting their choices for fire chief.
On July 7, 1993, Clayman wrote about Paul Wetmore. "Paul has 38 years of firefighting experience. He has served as Acting Fire Chief since John Tramontano's retirement. He was the unanimous choice of the Fire Commission, who conducted a nation-wide search …" Wetmore got the job.
On Sept. 25, 1996, Clayman wrote about Tim Sullivan. "Tim is a 10-year veteran of the Hamden Fire Department. He served as Deputy Chief for three years and has served as Acting Fire Chief since Paul Wetmore's retirement … Tim also served 10 years with the Volunteer Fire Department leaving as Captain at Dunbar Hill. He is currently enrolled at the University of New Haven in Fire Administration …" Sullivan got the job.
Attached to Amento's May 7, 2002, letter is his appointment's (Jim Leddy) resume. Leddy joined the Hamden fire force in 1973, and was promoted to lieutenant, captain and battalion chief. He attended college but doesn't have a degree.
Hamden has 103 paid firefighters and about 50 or so volunteers. The fire chief's job pays just under $90,000. The department's annual budget is $9-plus million.
Peter Struble is Wallingford's fire chief. He has been with the department for 26 years -- the last six as chief -- according to his resume. He has associate's degrees in graphic communications and fire technology and administration, a bachelor's in fire science service management and is pursuing a master's in public administration at the University of New Haven. He is an adjunct professor at the university as well.
Struble, who is reportedly paid $113,000 a year, was a paramedic, a lieutenant and the assistant chief of training before clinching the top position. His department has a $5.6 million budget, and 63 career and 100 volunteer fighters.
Over in West Haven, Chief William Johnson gets paid $94,377 to command a force of 54 paid and 250 volunteers on a budget of $7.1 million. His resume states he has an associate's degree in fire administration, a bachelor's in education and a master's in fire science technology.
Johnson is a retired Marine lieutenant colonel, joining the West Haven Fire Department in 1966. He rose through all the ranks, he said during a phone interview, and "placed first in all my promotional exams."
Asked what makes a good fire chief, Johnson said, "He has to be a people person, first of all. He has to understand budgets, have knowledge of incident command, be able to train firefighters and direct them at a fire scene. You just don't throw water on a building.
"You have to make sure you have well-trained people. Their safety is your responsibility," he said.
Johnson said he is well aware of the contentious situation over Badamo's appointment. He said he's a good friend of the Badamo family. "Hey, give the kid a chance" at being fire chief, he said.
North Haven's top firefighter Vincent Landisio has an equally well-rounded resume. A bachelor's in physical education and a master's in fire science and administration. He oversees 30 career and 105 volunteer firefighters on $2.6 million a year. (His salary was not obtainable yesterday.)
Like the other chiefs, Landisio climbed the ladder rung by rung, starting off as a firefighter in 1983 and becoming chief three years ago.
As reported last week, the 32-year-old Badamo has no college education, was unable to make lieutenant and has had no supervisory experience. He is the assistant fire marshal.
---
April 25, 2006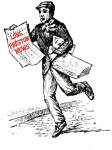 Yesterday's News
By Sharon Bass
The Beginning of a New Exodus
Last night, firefighter Scott Chasney and Deputy Police Chief Stephen Cahill inched one step closer to retirement. The Legislative Council OK'd lump sum payments for the men -- $35,000 and $40,500, respectively -- for accrued benefits. They're cashing out. Their last official day is June 30.
Many are predicted to follow because of unpopular changes expected in the new union contracts, which are currently being hashed out.
Police Chief Jack Kennelly said so far 11-13 cops -- a mix of patrol officers and management -- are retiring this year. About the same is predicted for the Fire Department. The exodus will further rock the town's fragile fiscal state.

Leaves With a Guarantee
Public Works Director John Busca approached the Council last night to explain why he was requesting a $99.5K transfer of funds. He said it was needed for overtime pay for leaf clean-up. Workers are contractually guaranteed 104 overtime hours apiece for picking up leaves.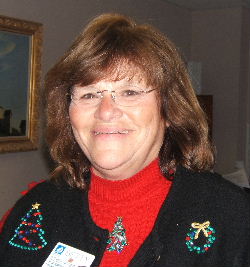 Betty Wetmore. File photo
Councilwoman Betty Wetmore asked how those hours are put in. Busca said one hour extra per workday and eight hours on Saturdays, for eight weeks. The Council then launched into a discussion about contracting out the job, and how it didn't work last time around.
Four years ago, Hamden outsourced leaf collection thinking it would save money. "Unfortunately, that didn't materialize," said Scott Jackson, the mayor's chief aide.
"The town unilaterally decided to contract it out ignoring the unions," said Councilman John Flanagan. "So you have to be careful" when messing with employees' contracts.
Councilwoman Berita Rowe-Lewis ended the discussion with her question: Is overtime paid even if the hours aren't worked?
"It's guaranteed," Busca said.
BOE Looks to Outsource Grass, Snow
The Council's Education Committee considered the Board of Education's request for a bid waiver to hire a contractor to cut the grass and plow the snow around all the schools and the headquarters at 60 Putnam Ave. The item was met with resistance.
Wetmore said she was hesitant to vote on it because the Council would have no say over the terms of the deal or how it's carried out. But according to Councilman Jim Pascarella, the legislative body would have a say. Per town charter, any contract over $50,000 or with a term of more than one year needs Council approval.
Wetmore asked if the two workers who are now getting overtime for grounds maintenance would continue to do so if contractors were brought into the picture.
Assistant Superintendent Hamlet Hernandez said he didn't know, that it would be a union issue.
Councilwoman Carol Noble suggested the BOE hold off until next year since most landscapers already have their work schedules pretty set by now, and thus it would be tough to get a good deal.
"Can you really negotiate now?" she asked Hernandez.
He said it would still be cheaper. "We don't know exactly how much the savings would be," he said.
Councilman Matt Fitch sided with the school department. "What [the BOE is] asking for is reasonable. I think it would be foolish not to give them a chance," he said.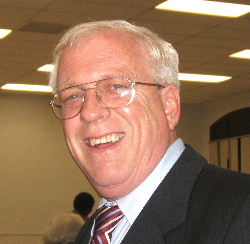 John Flanagan. File photo
"This looks to me like you're trying to undermine the unions," Flanagan said to Hernandez. And after the meeting the 2nd District councilman said, "I see an anti-union pattern and I'm not going to tolerate it. You can negotiate fairly."
Not Too Floody Here
While some towns got hammered with floods from Sunday's terrific downpour which crept into Monday, Public Works Director John Busca said, "We got away wonderful. I thought we were going to be buried. We were very, very fortunate. West Haven got murdered. New Haven got murdered."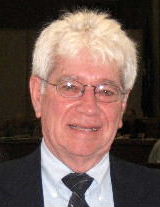 John Busca. File photo
"All the flooding we had to deal with were minor," said Deputy Fire Chief Clark Hurlburt. "I didn't have any reports of anything major. Most of the [road] closures are in places that we expect to flood."
Willow and Hill streets and part of Paradise Avenue were closed Sunday. The Fire Department pumped out the water, while Public Works unplugged the catch basins of leaves and other debris. Busca said two "humongous" pumps housed at Meadowbrook sucked up the water under the Wilbur Cross Parkway.
Hurlburt said his department responded to 16 flood-related calls at homes and businesses between Sunday and Monday.
"We're happy there was nothing of significance," he said.
---
April 21, 2006
Badamo, Objectively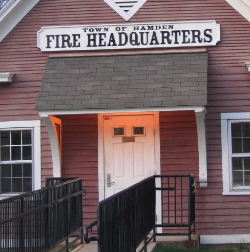 Photo/Betsy Driebeek
The resume, the job requirements, the test scores
By Sharon Bass
Push aside opinions and spins about Assistant Fire Marshal Brian Badamo's suitability to be Hamden's next fire chief. Instead, look at the facts.
The HDN sent a Freedom of Information Act request to the town attorney for Badamo's scores on the lieutenant and assistant marshal tests, and the job descriptions for fire officers. In addition, we got a copy of Badamo's resume.
The Resume
Objective listed is fire chief. Professional experience is with the Hamden Fire Department. Badamo's job history is deputy fire marshal from 2004-present; firefighter/EMT/engineer/pump operator from 1997-2004. Volunteer firefighter/MRT/Explorer Captain/1st Lieutenant from 1996-1998.
Under education are East Haven High School, class of '92, and courses he took in 2004 at the state Department of Public Safety in hazardous materials, code enforcement and fire investigation.
Licenses and certifications include emergency medical technician, American Heart Association CPR/AED, firefighter I and II and 2Q restriction Connecticut driver's license. There are also eight "awards and recognition," such as letters of recognition from Fire Chief Jim Leddy for giving lifesaving CPR on separate occasions to a female and a male, both in cardiac arrest, and the AHA's Heart Saver Award in 2003.
Badamo lists the community service he has performed: Columbus Day Parade Committee, 2005; chair of the Sleeping Giant Classic Benefit Hockey Game, 2004-'05; and chair of the Toys for Tots fund drive for the Yale Children's Hospital.
The Job Requirements
The description for fire lieutenant calls for a minimum of five years of continuous active service as a paid Hamden firefighter. The general statement says, "Executes and puts into operation all orders and directions from superior officers to personnel under his direct command; when assigned to line duties shall have the following duties and responsibilities including, but not limited to: supervisory and skilled fire fighting and emergency work on an assigned shift; immediate responsibility for directing all activities of a fire company … responsibility for directing the crew en route to fires and at fires; taking charge of all fire fighting operations at a fire or an emergency until the arrival of a superior officer …"
There's also a written exam.
Fire captains need to have seven years' continuous service in Hamden, of which two consecutive years must be as a lieutenant. Captains supervise lieutenants and firefighters. Under "knowledge, skills and abilities," it says, "Complete knowledge of modern fire fighting tasks … complete knowledge of modern fire fighting equipment and fire prevention methods … a working knowledge of training methods and techniques; ability to establish and maintain effective work relations with supervisors and employees .. ability to maintain discipline, exercise sound judgement, and to lead and supervise fire fighters effectively."
The battalion chief must have been a captain for at least three consecutive years.
To become a deputy fire chief, one needs to have a bachelor's degree in fire technology or administration or a related field and eight years of "increasingly responsible experience in fire fighting, or any equivalent combination of education and experience."
The job description also says, "Thorough knowledge of effective supervisory practices is necessary. The ability to direct large scale operations of personnel and equipment under emergency conditions involving danger of loss of life and property."
The written qualifications for fire chief are "a four year degree from a recognized colleague [sic] or university in fire administration or a related field plus 10 years of progressively responsible fire service administration experience including at least five years in a supervisory capacity, OR, any combination of experience and training …"
The Hamden fire chief must have a "thorough ability to administer the activities of a municipal fire department and to supervise the work of fire personnel … thorough ability to make difficult decisions involving the safety of others and the protection of property …"
The Test Scores
On Jan. 8, 2004, Brian Badamo scored second highest of five candidates for assistant fire marshal. On Jan. 19, 2006, Badamo scored 17th out of 19 for lieutenant.
---
April 20, 2006
By Sharon Bass
Bernie Nitkin chairs the town's three-member Board of Assessment Appeals. He says the job is getting tougher -- and more personal.
As a result of last fall's revaluation -- which raised home values an average of 89 percent, and commercial 40 percent -- 495 folks went to the board this year to contest their new assessments. Not one piece of Hamden property went down in value.
"It's very difficult," said Nitkin, an accountant and the local Democrats' campaign treasurer last year. "What do you do when a senior citizen sits before you and says, 'I can't afford the taxes,' and how they're going to go higher.
"The problem is, that same complaint I myself have. The assessment is too high," he said.
According to Town Assessor Jim Clynes, 585 property owners filed an appeal; 10 percent were for commercial real estate. He said 90 didn't show up for their hearing, 373 were denied and 122 got their assessments lowered. The total amount sliced off was $2.5 million on both residential and commercial. That's $2.5 million off the town's grand list.
The 2005 reval was done by Vision Appraisal of Northboro, Mass.
"So many people came in concerned about their taxes," said Clynes. "They're so worried where the mil rate is going."
Nitkin said it's a dire situation.
"Something's going to have to be done down the road as far as taxes," he said. "This is a problem all over. I don't know how much more the taxpayers can handle. I don't see any out at all."
---
April 19, 2006
By Sharon Bass
The mayor's hotly contentious appointment for fire chief won't be voted on next Monday, April 24, after all. Mayor Craig Henrici said he doesn't know when he'll ask the Council to consider Brian Badamo to lead the department.
"We'll have to play it by ear," he said.
Henrici said he might send assistant Fire Marshal Badamo's resume et al to the councilpeople next month or the month after or even the month after. "I'm not sure. I just have to see. There's time here," he said.
Another possibility is for the mayor to give Badamo an interim appointment, which can be done for a max of 90 days. Henrici said he's not considering that move right now, but might at some point.
"That's my prerogative. Jimmy Leddy is still going to be the chief for two and half more months," he said. "There's no vacancy and there's no hurry."
There continues to be a flurry of opposition to Badamo becoming chief. He lacks the experience, education and supervisory experience most deem necessary for the top fire post.
Last December, Henrici made Public Works chief John Busca interim. That appointment was also contentious, but not nearly to the degree Badamo's is. On Feb. 6 -- after about a month or so on the job as an interim employee -- Busca was Council-approved nearly unanimously (John Flanagan was the only dissenting vote).
While councilpeople say they've been swamped with calls about Badamo -- overwhelmingly from those who are against the appointment -- Henrici said he's just gotten one call.
"It was in favor of it, that's it," he said. The mayor said he's heard nothing from the opposition, but four residents have asked him for Badamo's resume.
Councilman Jim Pascarella said he's gotten a couple of dozen of calls -- 90-95 percent opposed.
He and others from the legislative body were asked if the statements by Hamden police and fire chaplain Rev. Owen Sanderson about the abduction of a fellow firefighter by Badamo's unit have influenced their opinion.
"It has had no impact on my decision. I am still extremely concerned about the qualifications and his experience," said Pascarella. "At this stage I'm not planning to support this appointment." He said he thought the committee vote was next Monday.
Councilman Matt Fitch, laughing as he spoke, said he didn't believe it. "I am confidently standing by Brian, and [the story of the abduction] was a whole lot of nonsense. I am not concerned about that at all."
Why?
"Because I don't think it's true. I think you got the story wrong," he said.

Flanagan had a different take. "I've always known Owen to tell the truth," he said. He also said he recently got Badamo's resume from the mayor. "I didn't find what I was looking for in there -- experience and leadership. [Badamo] called me and asked to sit down and talk to me about it," he said.
When told the committee vote was delayed, Flanagan remarked, "I thought it was going to be on the committee agenda this Monday night. Are they putting it off again?"
"I had forgotten all about [the abduction incident]. In the fire marshal's office you're insulated from the firehouse stuff," said Councilman Bob Westervelt, a former fire marshal.
"I would only base my decision on the qualifications of the job," he said. "I haven't even seen his resume yet. I've only heard about what his qualifications are. What I've been doing is getting resumes of area fire chiefs to look at Brian's qualifications objectively."
Likewise, Ron Gambardella said the firehouse "prank" wouldn't impact his vote.
"That to me alone would not persuade me one way or another. That particular incident, even though I don't approve of it, I would not hold that against him in terms of forever causing him never to rise through the ranks," said Gambardella, one of just two Republican councilmembers. "His lack of experience is clearly something that calls into question why the mayor would present someone with so much controversy to the Council, to the town. His credibility is already called into question."
Like Henrici, Curt Leng said he knew nothing about the abduction.
"The first I had heard of the incident was when I read it in [the HDN]. It did cause some concern. I plan to talk to the mayor and to Brian about the incident and take it from there," Leng said. "I haven't changed my position at this time. I remain supportive of the mayor's appointment, but I plan on asking a good number of questions."
---
April 18, 2006
Hamden's public safety chaplain says Badamo and crew apologized
By Sharon Bass
About four or five years ago late at night inside Fire Station #2 on Circular Avenue, Hamden firefighter Henry Puciato was abducted from his bed as he slept. He was put in the back of a pickup and driven away. He was then dumped on the street and left -- in his underwear only -- to walk back to the station. On his way, a cop saw Puciato and gave him a lift.
"He was traumatized. It would traumatize anybody. It would traumatize me," said Rev. Owen Sanderson, the Hamden police and fire chaplain and leader of Christ Evangelical Lutheran Church on Shepard Avenue. He said the above description is exactly what happened that night. He was called in to counsel Puciato.
"I never saw anything like this at the [police or fire departments]. You're bound to have some fun when you get a group of five or six people living together but I think this started out as a prank and got out of hand," said Sanderson.
There's more.
"It was the crew Brian Badamo worked with [that abducted Puciato]," the reverend said. Mayor Craig Henrici has just named Badamo, now assistant fire marshal, to be the next fire chief, which has drawn anger from within and outside the department. Badamo, 32, has no supervisory experience, could not make lieutenant and was turned down last year for assistant fire chief. His father, Ed Badamo, was deputy fire chief at the time of the abduction the reverend described.
"There were probably five people involved," Sanderson continued. "A group took [Puciato] out. They did leave him unclothed. It happened. The police didn't do anything about it. I counseled Henry Puciato because I married he and his wife. I've always been friends with him. I said to Henry, 'I know this is affecting you.'
"He explained exactly what happened. I just counseled him and said, 'Well, it will probably be handled in an administrative way and if they wish me to be present, have them give me a call,'" said Sanderson.
The reverend said he called a meeting with Puciato, Badamo, the other men in the unit and a few high-ranking officers. "The whole matter was discussed. Apologies were made and so forth," said Sanderson.
He said department officials also held an "administrative session" over the incident.
"There is an agreement that things like this would be handled in house. The police department felt this was an administrative matter to be handled within the fire department," said Sanderson. "Say it was someone in the recreation department. The police may have handled it differently. But in a public safety fraternal group, my supposition is they feel it was a situation where the administration of the fire department should stand in."
Mayor Craig Henrici said he knew nothing about the incident, and had no further comment.

A Friend but not a Chief
Rev. Sanderson said he doesn't think Badamo is the right person to sit at the helm of the department.
"I'm disappointed that others weren't considered who have much more experience," he said. "I'm not against Brian Badamo, but I know there were many who were passed over who were qualified. I'm very good friends with the Badamo family and I don't want to make it like I'm against Brian. But you have captains, lieutenants and a deputy chief with a lot more experience. [Deputy Chief] Clark Hurlburt is well liked by all the guys and shows up at all the fires."
But Sanderson said he thinks the mayor's appointment is a done deal.
"I've been around long enough to know if there are political appointments there's nothing you can do about it. They're cut in stone," said Anderson. "My feelings are, many a good people were passed by. But that's the mayor's prerogative. [Former Mayor] Lillian Clayman did the same thing. She appointed Tim Sullivan [chief] over other qualified people. This is not history-in-the making in appointing Brian."
Not exactly, said Clayman.

When she made Sullivan chief, he was in his late 30s. "And so was I. If people thought he was too young, so was I," she said. And he had served as deputy chief. Clayman, who was mayor from 1991-1997, said she didn't remember how long Sullivan had been on the force before he became chief.
"There were people who were opposed to Sullivan and Sullivan turned out to be a very good chief," she said. "Every time a mayor makes an appointment of a chief or anyone to a position of authority there's always an uproar -- and there's nothing you can do about it."
Messages left for Badamo and Fire Chief Jim Leddy were not returned. Puciato could not be reached for comment.
------------------------------------------------------------------------------
Tackling the $3.8 Million Dilemma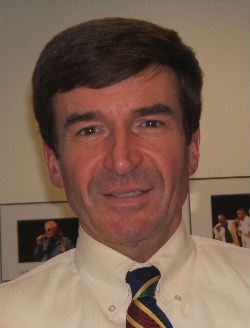 The mayor gives the Council suggestions on how to make up for the "car tax"
By Sharon Bass
After finding out that Gov. Rell's proposal to kill the car tax didn't survive committee, Mayor Craig Henrici had to take his '06-'07 budget back to the drawing board. If the governor's plan had gone through, Hamden expected $11.7 million from the state in lieu of car taxes. But the reality is, cars will only bring $7.9 million into the town coffers under the proposed 28.18 mil rate.
Still, the mayor's revisions don't seem to come close to narrowing the $3.8 million gap. He is suggesting cutting revenues by $1.5 million and expenditures by $1.16 million.
In a letter Henrici gave to councilpeople yesterday, attached to his recommended changes, he wrote: "The original budget that I submitted was crafted using certain underlying assumptions, one of those being the passage of the Governor's 'car tax proposal.' However, recent public statements by legislators in Hartford indicate that the car tax proposal is unlikely to be implemented in the upcoming fiscal year …
"As such, my office has reviewed each budgetary line item to identify additional opportunities for cost savings, increased revenue … "
Additionally, the mayor wrote that he is endorsing Public Works Director John Busca's request to restore the heavy equipment operator and maintainer II positions, and eliminate the new maintainer I.
Henrici said he felt fairly confident that Rell's plan would pass when he drew up his original budget earlier this year. "When the governor first proposed it, everyone was raving about it. Even Democrats," who eventually defeated it, he said.
"Anything that happens now is the Council's responsibility," the mayor said. "This is just a letter with suggestions."
Among Henrici's suggestions are to decrease funding to the medical reserve by $759,372 (taking it down to $22.9 million); to the pension fund by $750,000 ($9 million); to worker's compensation by $50,000 ($1.2 million); to accrual benefits by $50,000 ($600,000); and to heart and hypertension by $50,000 ($1.05 million). He recommended a $500,000 increase to insurance.
---
April 17, 2006
'You Want Someone Who's
Already Tested as a Leader'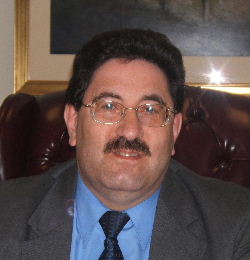 Former Mayor Carl Amento. File photo
Amento explains why he didn't promote Badamo
By Sharon Bass
Assistant Fire Marshal Brian Badamo didn't make deputy fire chief a year ago. Now the 32-year-old is positioned to become the full-fledged chief.
Last spring, then-Mayor Carl Amento went looking for a new deputy chief when Ed Badamo (Brian's father) retired from that post. Amento said there were seven applicants, including Clark Hurlburt and Brian Badamo. All were from the Hamden Fire Department.
"[Fire Chief] Jim Leddy was lobbying very hard for Brian at that point," the former mayor said. Amento said he didn't know why. "The chief's recommendation is an important component, but I had to do the interviews myself."
Badamo came in sixth or seventh of the seven candidates, Amento said. The job went to Hurlburt, whom some feel deserved Mayor Henrici's recommendation for chief instead of Badamo.
"I was looking for the most educated, the most respected person we could find," said Amento. He said he wanted the new deputy chief to have emergency management experience, supervisory experience as an officer, be "extremely" well trained and have risen through the ranks.

Amento, now an attorney for the city of New Haven, said he went to a National Incident Management training last week, where he learned the fire chief is also the head of Homeland Security response. "This means the chief needs command experience," he said.
While the former mayor did not want to say "yes" or "no" as to whether he thinks Badamo is now -- one year later -- qualified to be the chief, he did reiterate that he didn't find him qualified last year to be the deputy.
"I think Brian is a wonderful young man and could develop into a leader in the future. But I didn't find that he could measure up to the job [of deputy chief]," Amento said. "The only experience he had supervising firefighters was at the Boy Scout level with the Explorers. And we talked about that. And when I compared that with some of these very, very experienced people … He's a community-minded guy. Energetic. But not someone I thought should be in a position that high."

Chief Decision
Badamo's appointment has caused a flood of controversy. Many in the fire department say the move is entirely political. That Badamo, who worked hard on Henrici's mayoral campaign last year, lacks nearly every qualification to be chief. But they do not want to go on record saying so in fear of reprisal should Badamo be made chief.
Many who support Henrici's decision also worked on his bid for mayor. They say Badamo was an energetic campaign worker, and feel he'll bring the same youthful exuberance to the fire chief's office.

The Legislative Council's Public Safety Committee will vote on Badamo's appointment April 24. People from both sides of the heated issue are reportedly telephoning those coucilpeople, trying to persuade them to vote their way. From all reports, it looks like a close one.
But according to Councilman Ron Gambardella, even if the appointment dies in committee it can still be bought to the full body for a vote. That would be up to Council President Al Gorman. If he chose to do so, he'd need approval from at least two-thirds of the Legislative Council. However, if it passes in committee, it will automatically go to the Council for a final vote, which would most likely occur on May 1.
Henrici has said if Badamo doesn't make it, he'll go outside the department -- a move Amento said he'd never consider. A message left last night at Henrici's home was not returned.
"I had determined that we had plenty of good leadership talent within the department, so we were going to keep it in house," Amento said of making both the deputy and chief appointments. Furthermore, he said, "You have a hierarchy and you really try not to skip someone from a very low position to a top position. You respect the hierarchy."
In 2001, Amento appointed Jim Leddy chief. He said there were six to eight applicants, and made the decision with the help of a two-man panel, including current Fire Commissioner Gerry Migliaro.
"We interviewed everyone. Then we agreed on a selection and agreed on Jim Leddy," said Amento. "There were several people that were qualified. But Jim had 30 years of experience and he had been in all the command positions. You want someone who's already tested as a leader. [Leddy] was a lieutenant, captain and a battalion chief."
---
April 14, 2006
Shoulda Been a Choice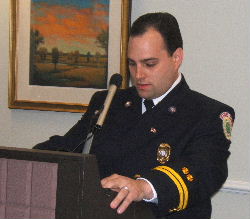 Brian Badamo at yesterday's press conference.
Former Hamden firefighter, union prez say others should have been considered for fire chief
Story and photos by Sharon Bass
As the mayor announced Brian Badamo yesterday morning as the next fire chief (pending Council approval) to a crowd of firefighters, politicians and friends, another fire chief was inspecting a building in Chatham, Mass., glad to be gone from the Hamden Fire Department. And its politics.
"The biggest problem I had with Hamden is that the people in the community do not stand up and hold people accountable for the people they're appointing," said Mike Ambriscoe, who left Hamden in December 2004 after serving a quarter-century on the fire force.
He said he was surprised Mayor Craig Henrici appointed the 32-year-old Badamo instead of searching around -- a decision that has drawn strong local criticism. Since Badamo was a supporter of Henrici's -- donating money and time to the mayoral campaign -- some, like Councilman Ron Gambardella, say the appointment was strictly political. Badamo has no supervisory experience and failed to make lieutenant last year. He's been a firefighter for nine years.
"I can't believe someone in that position [mayor's] would make an appointment to a top level position without posting the job to find out who's interested and qualified," said Ambriscoe. He was asked to be interviewed for this story.
On second thought, the former Hamden battalion chief said he wasn't really that surprised. Ambriscoe said politics nearly always dictated who got the fire promotions. And that's why he left the force.
"I've seen so many political promotions in that town. People you would never think would make it as an officer. People who would never have been considered for a promotion," said Ambriscoe. "I think people in Hamden should know I worked in that department for 25 years alongside some very qualified, educated and experienced people that worked their way through the ranks and would make an excellent fire chief.
"They're still there. They've been there, and they've been overlooked continuously by the mayors. But it's a waste of time to complain. If the people in the community aren't going to hold the mayor accountable, he's going to keep getting away with it," he said. "I found a town [Chatham] that was interested in my resume and qualifications. Bottom line, this community cares who they put in the fire department."
Lt. Gary Merwede, president of Hamden Professional Firefighters Local 2687, said he too was disappointed others weren't considered for the top seat.
"I'm surprised the mayor's selection process didn't include other members of the department. However, it is the mayor's appointment and if [Badamo] is confirmed by the Council I wish him the best of luck in his new position," said Merwede.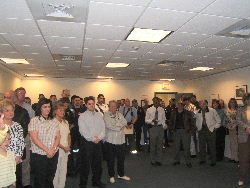 Back to Government Center, third-floor conference room, where the press conference for Badamo was taking place.
"He's a go-to guy, enthusiastic," Henrici said. "He will distinguish himself. I worked closely with Brian's father."
Badamo read a speech to the crowd, fighting back tears when he talked about the importance of his family. He apologized and continued. He announced his plans to restart the annual awards ceremonies and to establish an Explorer program, for kids 14-18 who aspire to be firefighters.
"This is how I started my career when I was 14," he said. "It's a dream come true. I have carried it in my heart for a long time. My father wore his uniform with pride. I do not take this job lightly."
"Thank you, Brian," said Henrici, taking over the mic. "That was a beautiful speech. Here's to a long and just career."
Fire Commissioner Henry Candido said he likes the mayor's choice. "I believe the appointment is a really good one. Our department is getting younger," he said. "The older ones are retiring."
Ditto, said Fire Commissioner Mike D'Andrea. "I got to know Brian a little on the [Henrici] campaign. He seems like he's young and he's got a lot of energy and it will serve the community well," he said.
Meanwhile, Ambriscoe said Chatham, Mass., is serving him well. The town of 7,000, which swells to 25,000-30,000 in the summer, is a "beautiful little seaside resort community," he said.
The Legislative Council's Public Safety Committee will vote on Badamo's appointment April 24. The meeting starts at 7 p.m. in Memorial Town Hall. If the committee approves Badamo for fire chief, it will go to the full Council May 1 for a final vote.

---
April 13, 2006
Supporting Badamo?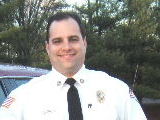 Brian Badamo. File photo.
Council members opine on the possible fire chief-to-be
By Sharon Bass
This morning at 10, inside the mayor's conference room, Craig Henrici is expected to publicly announce his choice for Hamden's next fire chief: Assistant Fire Marshal Brian Badamo. Chief Jim Leddy is retiring June 30.
Some consider Henrici's choice of Badamo the most controversial move he's made in his four months in office, calling it purely political. Badamo worked on the mayor's campaign last year and his family contributed $525. At 32, he would likely be Hamden's youngest-ever fire chief. Critics say he doesn't have the experience for the top post; supporters say his youth and vitality would be an asset to the department.
The Legislative Council will decide if Badamo gets the job. On April 24, the Public Safety Committee will vote on it, and if it passes, the full Council will have the final word May 1.
"I think he'll be a great chief. I think he will bring long-term stability to the department," said Councilman Matt Fitch. "I know he is Chief Leddy's choice to succeed him and I have great respect for Chief Leddy. I value Chief Leddy very much. I think this is the right guy to lead the fire department."
Asked what Badamo's qualities are for fire chief, Fitch did not want to comment.
"I have deep concerns and reservations about his qualifications," said Councilman Jim Pascarella, who sits on the Public Safety Committee. "As a person he seems like a very nice guy. But he's not at the officer level of the department. I have lots of questions concerning why he has not moved up in the officer ranks in the department. I think this would be an easier appointment if he had more experience and moved up the ladder. Perhaps in a few years, that might be the case. I would need more information to confirm this appointment."

Bits About Badamo
One thing most agree on is Badamo's passion for the work. When he was 14, he became an Explorer, kind of like a Boy Scout for fire departments. He did that for four years. At 18, he became a volunteer firefighter in his native East Haven and was a loss-prevention manager for the now-defunct Bradley's. He didn't go to college.
"I had to prepare budgets and documents for court. I never actually had to go to court," Badamo said of his Bradley's job. After that, he was a security guard and EMT at United States Surgical Corporation in North Haven.
In 1997, he joined the Hamden Fire Department. And in 2004, he became assistant fire marshal.
Badamo said he "definitely" feels comfortable taking on the responsibilities of overseeing a fire force of 101, even though he's had no supervisory experience. He took the civil service test for fire lieutenant last year, but didn't make it.
"When I was in the Explorers I was the Explorer captain for three years," he said.
Councilman Mike Germano said he supports Badamo.
"I think Brian's age is actually a benefit. Instead of having turnover every x amount of years, you have someone who wants to be in this position for a long time. I really do think Brian does have a well-rounded resume," said Germano, who's on the Council's Public Safety Committee.
"And you know what? He's very passionate about this. When you have someone with fresh ideas for the town of Hamden, that's the kind of person I want. I had the ability of working with Brian during [Henrici's mayoral] campaign and his commitment toward the campaign reiterates that he really cares about Hamden.
"The mayor appoints people who worked on his campaign because he knows what they can do. Their leadership. How they react to controversy," said Germano.
Council Prez Al Gorman said, "It's the mayor's appointment. It's his right to appoint anyone he likes." He wouldn't comment further.
Badamo said he's received several awards and citations in his 9-year-old career. Chief Leddy gave him a letter of appreciation in 2003 for helping an elderly woman out of her smoke-filled apartment. The apartment across the hall was on fire.
In 2003, the American Heart Association awarded him for helping to save a woman's life. Badamo and his partner successfully performed CPR on a woman who was having a heart attack. Badamo also received the Henry Renfrew Award in 2005 for "academic excellence. I was the individual with the highest GPA in the hazardous materials class at the state police headquarters" in Middletown, he said.
"I got to know Brian a whole lot better over the campaign time for Henrici," said Councilwoman Carol Noble. "I found him to be a very energetic, hardworking young man who always had the best interest of the group -- politicians who were running for office. He's a person who's a good decision-maker."
Noble pointed to Badamo's decision to cancel the July 2004 fireworks because it was determined they didn't meet state safety standards. "That shows a good leadership quality. He's a man who's willing to make a hard decision in the face of a lot of bad feelings that might have come from" canceling the fireworks, she said.
Having no college or supervisory experience is not an issue, said Noble, who's also on the Public Safety Committee. "Watching him work during the campaign shows me a man who's willing to take charge. He's a follow-through person. I also like the fact that he is young and energetic," she said.
Councilman Ron Gambardella said picking Badamo -- and not looking at other candidates -- smacks of pure politics.
"I talked to some of the other Council members, who will remain unnamed, and the indication from them is he doesn't have much experience. I don't know him personally but it seems to me you want to select the candidate that has the best qualifications and not as a reward for political support," Gambardella said.
"And I suspect some of that is going on with this particular position. To me, that is part and parcel to the political party that is currently in power. More than likely, without hearing the floor discussion and without having any more information than I currently have, I would say it doesn't look likely that I would support this individual," he said. "It seems to me to rubberstamp everything that the mayor supports, how do you equate that to representation of the people who elected you?"
John Flanagan said he's on the fence. "I want to see his resume and background -- the same as every other department head. He's a very nice guy," he said. But having supervisory experience is a biggie on his list of criteria for fire chief.
"I'll have to see what they're substituting for that. I didn't even know the appointment was coming. It completely blindsided me. But if that's how they want to play … That's why I have to see [Badamo's] resume," said Flanagan.
--------------------------------------------------------------------
Gateway Apartment on Hold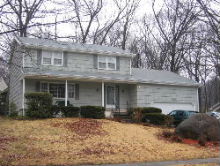 16 Gate Way, off-campus student housing.
Photo/Betsy Driebeek
And other news from P&Z
By Betsy Driebeek
The Planning and Zoning Commission's agenda brought in "the neighbors" Tuesday evening.
Sixteen Gate Way, off Shepard Avenue, is home to Quinnipiac University student Kevin Polikoff and friends. He's had a "special permit" request for an accessory apartment on the last two P&Z agendas, and asked for an extension both times.
But this time, the commission determined that Polikoff didn't need a special permit request after all. He only has to submit a site plan before the Zoning section, on April 25.
Twelve neighbors and folks associated with Concerned Citizens for Hamden Neighborhoods -- a group formed to fight the problems of off-campus student housing -- turned their heads toward one another, looking puzzled. They came to the meeting to speak against the proposed apartment at 16 Gate Way.
Not only didn't they get to talk that night, but P&Z Chair Joe McDonagh said Zoning-only sessions don't permit public comment. He also said that letters previously sent to the commission by those opposed to the apartment idea must be rewritten referencing the new application.
The people who came for 16 Gateway left the meeting at Thornton Wilder Hall visibly disgruntled. Assistant Town Planner Dan Kops followed them to the lobby.
Kops told Les Faiman, co-chair of CCHN, it's not a done deal. Sixteen Gate Way doesn't have a permit to operate as a rooming house. A cease and desist order has been issued and the town is ready to take them to court, said Kops.
Faiman directed the people to "send letters to the commission stating that because the application is for a separate apartment, the number of students living there will increase and that will exacerbate an already existing violation."
"Once this gets through, everyone who owns a student-occupied house will say, 'Hey, I can do this too.' This is a test case," said Joanne Iacobellis, co-chair of CCHN.
Another item that brought in neighborhood opposition was Alphabet Academy at 605 Benham St. The daycare center wants to expand by 2,700 square feet, nearly doubling the size of the early 19th century farmhouse to a total of roughly 5,000 square feet. The number of children would increase from 47 to 70, and staff from 11 to 14.
The plan includes a 16-car parking lot in the rear of the building with three additional spots for quick drop-off and pick-up. Currently, parents park on the street.
Alphabet hired engineer Henry Ditman to review the traffic situation. He told the commission that children arrive and depart on a scattered basis keeping the street -- Megin Drive, where the daycare's parking lot is -- "low-volume."
Commissioner Ann Altman asked Ditman, "Will it remain low-volume even with the increase in vehicles?" He said yes. Altman then said, "From the perspective of the people who live there, there's an impact that a traffic engineer doesn't see."
Seven neighbors stepped up to the podium in opposition. No one spoke in favor.
Greg Sims of Megin Drive said that the proposed size of the addition is not appropriate for a residential neighborhood. "Setting a time limit at drop-off and pick-up with small kids is not realistic. All you need is one car messing up the system and cars will be backed up," he said.
"[The expansion] is so disproportionate to the existing homes. We have capes and ranches. Mine is 1,100 square feet," said Jill Hallihan of Richard Drive.
Wayne Wallberg of Richard Drive said he thinks the expansion takes the school to a size beyond what the neighborhood can support. "They are not really adding parking spaces," he said. "They are just making it safe for the present facility and population."
Kops sent a letter to the commission on April 11 saying he felt the applicant's traffic report was flawed. With the staff growing to 14 and the parking lot having 16 spaces, it leaves "very few places for parents to use. Planning and Zoning still can not approve this application," he said. The item will be continued.
And the P&Z approved Quinnipiac University's plan to move its polling institute from the Mount Carmel Avenue campus to 305 Sherman Ave. However, the building is not actually on Sherman Avenue. The front of the building faces Whitney Avenue and the driveway is on West Woods Road.
---
April 12, 2006
Cahill: Over & Out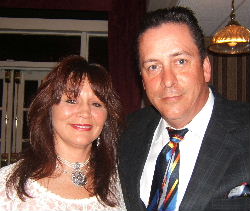 Gina and Stephen Cahill at the recent police retirement gig. Photo/Sharon Bass
Next stop: Iraq
By Sharon Bass
He said he didn't want to leave so soon.
"I would have liked to have stayed for four or five more years, but the town appears to be having serious fiscal problems and I think they're going to be addressed with reductions to employee benefits," said Deputy Police Chief Stephen Cahill, 45, a 22-year veteran of the Hamden police force.
On Monday, Cahill handed in his retirement papers. His last official day is May 31, but he'll be out of there on May 12 to use up vacation days he can't cash in. "It's locking in what I have now or taking a risk with the unknown," he said.
Cahill had been tossing around the retirement idea for some time. While there is friction within the department -- which has intensified, according to inside reports, since a lawsuit was filed against Chief Jack Kennelly -- Cahill said it's the anticipated pension and contract changes that led him to call it a day.
The police labor agreement expires June 30. Cahill said he's particularly concerned that the "sunset clause" -- which allows cops to cash in up to four years of sick time when they retire -- will not make it into the new contract.
"From what I'm hearing the town is not looking to extend that so I'm assuming it's going away," he said. Cahill is the only of Hamden's three deputy chiefs not in the union. However, he gets the same benefits.
Mayor Craig Henrici already stripped Cahill's $83,545 position from the '06-'07 proposed budget. He said he does not want to see the position refilled. "I think three deputy chiefs is absurd," he said.

"From a personal perspective and a departmental perspective, Steve will be missed very much. He has been an asset to me at the department and I will miss him," said Kennelly.

Don't Go, Daddy
Cahill's taking a month breather after he retires and then hopes to head for Iraq to train cops. He said he's applied to be an international police officer with DynCorp International, a private company in Irving, Texas. First, Cahill is to go to Virginia on June 13 for psychological and physical fitness tests. If he passes them, it's off to Texas for a two-week training.

"Then it's Iraq," he said. DynCorp will pay him $130,000 for spending one year there. Cahill said his police pension will be $60,000.
"It's tax-free money; $130,000 tax-free," he said. "And I think it's doing a good thing. I believe the Iraqis have to take over there. I want to do the right thing."
His family doesn't agree. Gina Cahill, his wife and a Hamden animal control officer, said she does not want him to go. "My family is going to miss me terribly and I'm going to miss them," said the deputy chief. "I've got a 9-year-old daughter. She tells me every day she doesn't want me to go." But he's going.
"I'm happy to be starting another phase in my life but I'm certainly going to miss the guys I work with. We have a brotherhood. When you leave, you're just not part of it anymore. I've watched a lot of guys leave and once you leave you're not a part of that brotherhood the police have.
"People always say, 'Oh, I'll come back. I'll be seeing you.' But we never see them again. It's sad. We do develop a certain bond that I don't think [happens] at normal jobs. There's not a lot of jobs where people are willing to die for each other. You build up that love for each other.
"You know, I'm going to miss that."
---------------------------------------------------------------------
And the Public Spoke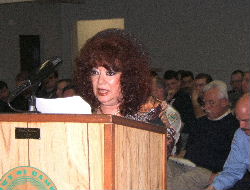 Helen Blitzer said her taxes will jump a grand under the proposed budget. Photo/Sharon Bass
Town budget hearing, uneventful
By Sharon Bass
The public hearing on the municipal budget last night proved to be standard fare. Local union officials argued for more money, saying town services will otherwise go downhill. Residents argued for a slimmer budget, saying there will be a significant exodus of Hamden homeowners if property taxes keep soaring. And Friends of the Hamden Library made pitches for its book-filled buddies.
They gave their opinions to the Legislative Council on Mayor Henrici's proposed budget (school and town) of $166.8 million. Compounding fiscal problems this budget season are a "loss" of $3.7 million in anticipated revenue, the recent revaluation which about doubled home values, and the dire need to fatten up the bulimic pension fund.
Don Werner spoke first, as he did the night before for the school budget hearing. He's a bus driver for Elderly Services and a member of the Town Hall local.
"I'm here to speak in favor of the mayor's budget," he opened. "There's a problem with staffing." Werner cited statistics showing calls to the police and fire departments have risen at a much greater rate than staffing levels.
"We know the makeup of the town has changed," he said. "I think it takes a lot of guts for you to go to your constituents and say, 'We need to raise your taxes for services you want.'
"The other unpopular thing I have to say is as a union member, I want to see an equitable arrangement" between town and union as they hash out new labor contracts. "I think we need an enlightened approach from you to the unions, and hopefully the unions will respond with an enlightened approach," Werner said.
Gary Murray, president of the Hamden fire union, told the Council it's important to retain the current pension agreement. "Hamden firefighters will never seek money from the Social Security system. Our pensions are not [gifts]. They're not the lottery, as some say. It's about the ability of a firefighter to retire at the end of his career," he said.
"We are asking you to fully fund the mayor's budget," said Murray. "We will certainly be there for you."
"The streets, the curbs, the sidewalks are disintegrating," said Peter Haller, president of the Whitneyville Civic Association. "Our local government has not invested in infrastructure in 75 years." He implored Council members to strongly support Public Works.
Helen Blitzer of Haverford Street said her taxes will jump $1,000 with the proposed mil rate of 28.18. In past years, she said they went up $400.
"If this escalation of our property taxes continues, there will be an exodus of Hamden homeowners," she said. "Fairness and good economic sense dictates that our prior 43.24 mil rate be cut in half to 21.62. Hamden must now live within in its economic means."
She pointed to Superintendent Alida Begina's salary as an example of excessive spending. "It's approaching that of the vice president of the United States. It is not ethically correct to increase [her] salary by $5,000," said Blitzer.
Before exiting, she called for "compassionate fiscal responsibility." And applause filled the Council Chamber.
Jim Kubat also commented on Begina's $152,000 salary -- the highest of any town or school employee. The mayor earns $86,487.
"I think her salary is outrageous," said Kubat of Middle Road. "She makes more than the mayor. My daughter, in seventh-grade, didn't have a math textbook."
Sherron Adrian of Earl Avenue said she was in "shock" over the budget. "Elevated city budgets that grow like a cancerous tumor. What do you do for me? Pick up my garbage once a week? If I'm lucky?
"You want high salaries and pensions for your officials. It's about living soft. We of the Greatest Generation never had these kinds of salaries. What about the single mother with two jobs?" said Adrian. She said her taxes will rise 33 percent under a 28.18 mil rate.
"Neither of the last two mayors did anything like that," she said. "People like me will be forced to leave."
Police Detective Ray Quinn, treasurer of his union, said eight to 10 vehicles need to be replaced every year, and they're not. Kelly McCarthy of the Whitneyville Civic Association told the Council a traffic director must be hired as the car population is swelling in Hamden. (Lee Davies, the town's last traffic director, retired last year.) Firefighters read long written speeches about the importance of "fully" funding their department.
And Albert Harary, of Friends of the Hamden Library, and Marlene Cohen of Canterbury Road pleaded softly for more financial support for the libraries.
"I hope you get the message that Hamden's library is an important resource," said Harary.
---
April 11, 2006
Badamo Tapped for Fire Chief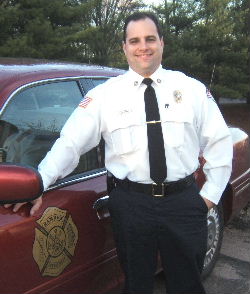 He's headed for the big chair. Photo/Sharon Bass
By Sharon Bass
Unless the Legislative Council says no, assistant Fire Marshal Brian Badamo will be the next head honcho -- and probably the youngest ever -- of the Hamden Fire Department, starting July 1. Chief Jim Leddy plans to retire the day before.
"He's young and he's smart and I can work with him," said Mayor Craig Henrici, who is recommending Badamo to the Council. "He will be fiscally responsible and he'll hit the ground running. And he'll be a great fire chief for many years to come."
"It was a good choice," Leddy said. "Brian's got the experience in the marshal's office that would help him here in the chief's office. He'll make a great chief."
"I think I will be great at the job," said Badamo, 32. "I always strived for it. I'm proud to be named fire chief." The chief's salary in the mayor's proposed '06-'07 budget is $89,505.
"I would have to guess that I am [the youngest Hamden fire chief]. I kind of think of it as a positive thing. I can bring energy to the department. My youth, my knowledge from the Fire Marshal's office. Most of the fire chiefs that we've had stayed anywhere from five to seven years. But I'll probably be there for quite some time," he said. "It's great to be out there."
Councilman Curt Leng agreed there are benefits to having a young chief, and said he's behind Badamo.
"I know him personally and he's energetic and I'll be happy to support him on the Council. I think it's good that he's a younger guy in that he'll be fire chief for a good length of time and will be able to bring some good changes possibly to the department," said Leng. "I'm confident that he is going to work with the rank and file to make it the best department."
Asked why he's confident, he said, "Because I've talked to him about the department and some of the ideas he's had for it, and they've always been pro-department."
Badamo joined the Hamden fire team in 1997. In 2004, he was made assistant fire marshal. Late last year, he said he took the civil service test for lieutenant. There were three openings. He said he passed the test but did not make lieutenant.
The mayor said he didn't consider anyone else for fire chief, not even Deputy Fire Chief Clark Hurlburt. Henrici would not elaborate.
Hurlburt said he wanted the chief's job but "I wasn't asked. There were a lot of factors that went into this. It was a tough campaign. We all know Brian was a good supporter of Craig's so they became friends during the election, so it's how things played out." Hurlburt said he's been a paid Hamden firefighter for 26 years and a volunteer since 1973.
According to the Henrici campaign's last finance filing on Jan. 9, 2006, Brian Badamo contributed $450 and a Jennifer Badamo, of the same West Meadow Road address, threw in another 75 bucks.
"I didn't really do much. I went to the [campaign] meetings and gave [Henrici] all the positive support I could," the assistant fire marshal said.
Hurlburt said he attended a couple of Henrici's fundraisers at which he donated a total of "maybe $200."

Family Fire Ties
Both Badamo's and Hurlburt's fathers were Hamden firefighters. Edward Badamo was deputy fire chief from 1996-2005. When he retired, Clark Hurlburt got his job.
Howard Hurlburt was a Hamden firefighter for 37 years and a Legislative Council member, his son said. And Clark's mother, Nancy Hurlburt, was town clerk during the administrations of Mayors John Carusone and Lillian Clayman.
When he was 14, Badamo said he became a fire Explorer for East Haven -- a volunteer position for teens.
"I knew it was something I wanted to do because I think it's important to follow in your father's footsteps. It was great for me. I was able to have new baseball bats, baseballs and gloves and good health insurance," he said. "It's actually a sense of adventure because you're able to go somewhere where a normal layperson can't go, like inside a burning building."
In 2004, Badamo moved from his hometown of East Haven to Hamden. "I enjoy Hamden. I love the community here. They have a lot to offer. You can go to any type of restaurant and get any kind of cuisine," he said. He also said he did it for work reasons.
If he becomes chief, he said a top priority would be to bring back awards night for Hamden firefighters. "Every day they put their lives on the line. They're the bravest people in the world," Badamo said. He'd also like to start an Explorer program here, and said he would take a grant-writing course.
"I want to see what monies are out there from the local and state and federal governments," said Badamo. "I like to think of myself as a leader. Not everyone is. There are a lot of followers out there. You're not going to make everyone happy or have everyone's approval. You just strive to do the best that you can and you know."
"I've been kicking around the fire department all my life," said Hurlburt. "I really care about this job. I grew up with it."
Meanwhile Leddy, who is retiring after 33 years on the force, the last four as chief, said he's on the prowl for a consulting gig. "I'm looking at some consulting possibilities in the private and public sector. I've been offered a couple of jobs. I don't know which ones I will take," he said.
One possibility is the town of Hamden. But the fire chief is staying pretty tight-lipped about it. "I haven't seen any paperwork on anything. There's a lot of rumors out there," said Leddy.
Henrici plans to announce his recommendation of Badamo at a press conference on April 13 at 10 a.m. at Government Center.
---
April 11, 2006
BOE Budget Hearing: Short and Quiet
By Sharon Bass
Eight parents and teachers pleaded with the Legislative Council last night to preserve every penny in the '06-'07 school budget.
Two residents told the Council otherwise.
And that was it. The annual public hearing on the Board of Education budget concluded in under an hour.
"We have 100 parents some years," said Councilman Jim Pascarella. He speculated that some parents might not have known about the public hearing.
"We've always had many more people here speaking on behalf of the Board of Ed," said Council President Al Gorman. He said possibly many didn't come out to support the budget because "they realize the financial difficulties the town is facing." Such as the recent revelation that Hamden will get $3.7 million less in state revenue than it budgeted. The town counted on getting that money based on Gov. Rell's car-tax elimination proposal, which never made it through committee.
Mayor Craig Henrici has proposed a 6.4 percent hike for the school department. The BOE asked for 6.6 percent; the superintendent wanted 10 percent more. Since the town plans to take over the school's self-insured health fund, about $14 million was stripped from the mayor's proposed $86.7 million school budget. So the figure currently stands at $71.8 million -- but for the first time the BOE won't have to pay its workers' medical tab, estimated at $17 million for the next fiscal year (including employee co-pays and deductibles).
Those who spoke in support of the budget warned that property values would plummet if the schools aren't well funded.
"The best thing you can do is invest in your school system. That will increase property values," PTA Council President Tim Nottoli said. "I don't have the solution but I think we have to maintain funding of education at a high level. We're looking at a tax increase no matter what."
"This is going to affect property values," said parent Christine Kirschenbaum of Carew Road. "Let's do something a little different this year and fund the entire budget."
Betsy Fitzsimons, a parent of three who lives on Thornton Street, said, "I applaud you for investing as much as you do [in the schools]. I'd just like to encourage you to keep it up."
"It seems to me the schools are suffering for supplies," Janet Skeeles of Birchwood Drive told the Council. As president of the West Woods PTA, she said teachers and parents ask for grants for things "that probably should be supplied by the town. Please pass the budget."
"It was painful as an educator to watch the Board [budget meetings]," said Diane Marinaro, a Hamden Middle School teacher and president of the local teacher's union. "I believe if you don't pass their budget you are really going to shortchange the children. I think every year the Board of Education has been shortchanged and you can't make up for that."
Ed Gervasi was one of the two who told the Council otherwise.
"The one thing I'm confused on is how can 54 percent of the budget go to 11 percent of the population?" the Skyview Circle resident said. Eleven percent of Hamden households have children in the public schools. "I'm just really, really having a tough time understanding what I'm getting for my money. If you're going to spend my money, I want to understand." Gervasi said he has no children.
Council meeting regular Don Werner said he opposed the plan to merge health accounts because the town didn't negotiate the medical benefit -- the school unions did. And he suggested charging parents for all-day kindergarten.

'It Was a Nice Night'
After the public hearing, Councilman John Flanagan said he heard nothing that would make him change his mind about what he'd like to do with the school budget.
"It was a nice night," he said with a smirk. "Cutting a recommended increase is not cutting a budget. The Board of Education always cries it's been reduced. But it never has."
As others on the Council have suggested, Flanagan said cuts could come from the administration. "I would look at management positions first. Their organization flies in the face of successful business management. Instead of bottom up, they're operating top down," he said.
In other words, he's saying it's fiscally prudent to have decisions made at the lowest level as possible, which could eliminate the need for some school administrators and free up money for the classrooms.
"I haven't gotten a good investment for my money," said Flanagan. "Test scores are falling and the budget is going up."
BOE Chair Michael D'Agostino said most of the 6.4 percent increase is eaten up by contractual obligations, rising utility bills and un-funded state and federal mandates. "I realize that everybody's gonna feel the pain. I just hope that [the budget the Council sets} is something we can work with," he said.
"We will make cuts. I know that I will go for less of an increase," said Councilman Mike Germano. But he said he wants to see more and better quality computers in the schools.
"We have one of the worst student per computer ratios in the state. I don't mind cutting an administrator if we're going to get X amount of computers," he said. "That's what makes it [school budget process] extremely aggravating. You can't tell the Board how to spend the money."
Gorman maintained that the school budget is "not out of whack. Who's against education? It's mom's apple pie. But the ability to pay for what you want is a different item."
---
April 7, 2006
'This Will Be One of the Worst Tax Years'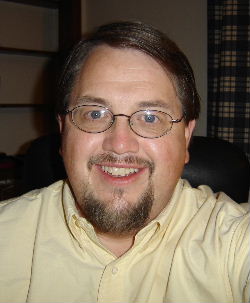 Councilman Matt Fitch. File photo
Council responds to the just-reported $3.7 million revenue shortfall
By Sharon Bass
After popping the $3.7 million surprise on the Legislative Council Wednesday night -- that the town is expected to lose that amount of revenue in the next fiscal year -- the mayor said he is back tinkering with the budget he had submitted last month.
"We're going to have to make quite a few revisions. I promised them an honest budget," said Mayor Craig Henrici. He said he would get his amended document to the town's 15 councilpeople before they begin budget deliberations, in a couple of weeks. Most say they first learned of the revenue shortfall two nights ago when Henrici spoke to them in Council Chambers in Memorial Town Hall.
The revenue shortfall for '06-'07 is due to the death-in-committee of Gov. Rell's proposal to kill the car tax. In lieu of Hamden getting the tax, the state was expected to send the town $3.7 million more than could be collected by taxing cars under the mayor's proposed mil rate of 28.18. It is now unlikely that the suggested mil rate will be lowered, as many had hoped.
About 24 hours after they got the news, the HDN asked Council members for their reaction and what they think should be done. They will make the final decisions.
"I'm devastated by the thought that we don't have the monies coming in, that Rell's tax is down the tubes," said Carol Noble. "How are we going to solve this problem? The mayor is submitting an amended budget to us because of the revenue shortfall. It will be interesting to see what he submits to us about his ideas on how to handle it. As far as the 28 mils, it's going to stay there. How can you reduce a budget when it has no extra dollars coming in? What do you cut? Services? Personnel? I would try to look at economies of services, not to hurt the personnel. Then I would look at positions that aren't filled at the present time [and not fill them] until we are on firm financial footing. Right now we have five openings in the fire department and a lot of people are retiring."
"I never thought that bill was going to pass," said John Flanagan. "Obviously the mayor and his finance director thought it was going to. I advocate cutting [from the budget, such as] the Board of Education. I'm still waiting for a readable budget from the Board. I had to get the magnifying glass to read some of the figures. We may have to leave positions empty. We may have to cut a little here and there depending on the department. I can find $3.7 million. We have $4.2 from the sewer. Then we have to look at adjusting other budgets."
"The governor's proposal was a gimmick. It would have helped people who didn't need it [the wealthy] rather than be a true property-tax cut," said Bob Westervelt. "We're going to have to deal with what we're going to have to deal with. I think we will be able to lower the [proposed] mil rate. I just don't know how much. I would have liked to have seen it in the low 20s, but I don't think that's going to happen unless we lay people off. A lot of the departments are looking for new positions but I don't think this is the year we can do that, unless they can prove they can pay for themselves. I think in the long term we have to look at co-pays and capping the pensions. No one wants to hear it."
"I knew there'd be a problem if the governor's plan cratered," said Matt Fitch. "Cars aren't revaluated but are taxed at the same lower mil rate. We can probably get the mil rate back down to the mayor's original proposal. But we wanted to get it down lower. An awful lot depends on whether we can phase in the reval. I respectfully disagree with some of my colleagues who say it's the budget not the reval. There's not a lot of new spending in the budget. There's not a lot of wiggle room. The largest pot of money goes to the Board of Ed. Everything's got to be considered because this will be one of the worst tax years. I don't blame people for being worried."
He said seniors on fixed incomes who own homes with no mortgages will probably be hardest hit by a tax hike. They have to pay their new, bloated tax bill in two lump sums -- July and next January -- unlike those with mortgages who pay taxes monthly with their mortgage payments.
"The payments for those months [July and January] would exceed their Social Security checks," said Fitch. "It's scary. Hamden has serious financial problems. We were called a bunch of Chicken Littles who say the sky was falling. The problems are real. We can't do business as usual anymore. As a town, our economic model doesn't work anymore. The unique situation Hamden is in is untenable. We get far less than our share of state aid. We have a large area of town that is not taxable [Quinnipiac University-owned property]. We have very little commercial inventory. And we have very talented town workers that have generous contracts. And we have an aging population."
"I wasn't at the meeting last night so I have no comment," said Willie Mewborn. "I'm going to look at that on paper before I comment. It's complicated how it's going to work and how it's going to affect the city and everyone else."
---
April 6, 2006

Mayor Henrici announces Hamden will be out millions due to the demise of the car-tax repeal

By Sharon Bass

Hamden is likely to lose $3.7 million in revenue for the '06-'07 fiscal year because of the recent death-in-committee of the governor's car-tax elimination proposal. Mayor Craig Henrici delivered the news to the Legislative Council last night in a surprise visit, pushing back scheduled budget talks.

If Gov. Rell's car-tax idea had passed, the state was to give Hamden at least $10.4 million in lieu of the car tax the town would have raked in. Under the current mil rate of 43.24, $12.5 million would have been collected. But with the proposed 28.18 rate, the revenue generated would be just $8 million. In addition, the town expected the state to actually pitch in $11.7 million, which is a line item in the '06-'07 budget. Hence, the $3.7 million loss.

Cars were stripped from the $4.2 billion grand list and will now be put back on. They ring in at $270 million.

The car-tax elimination proposal will likely return during budget deliberations between the governor and General Assembly. But predictions are it hasn't a prayer.

Hamden's fix is unclear at the moment. But it's likely the Legislative Council will have to make deeper cuts in the mayor's proposed $166.8 million budget, and a good chunk of the Water Pollution Control Authority sale money will need to be used. The mayor said he is determined not to see his proposed mil rate rise, but could not guarantee that wouldn't happen.

Finance Director Michael Betz, who attended the meeting, said he too hopes the property-tax rate won't have to go up, and said he will seek state grants. He said this is a double whammy for Hamden taxpayers this year. Last fall's revaluation nearly doubled residential property values and many tax bills are expected to rise considerably.

"I would like to report to you," Henrici said to the Council last night, almost apologetically. "When I ran as mayor I campaigned for fiscal responsibility."

He maintained he is a fiscal conservative and acted so when he drew up his budget. He said $11.5 million of his proposed $13.8 million spending hike is gobbled up by adhering to auditors' advice to fatten up the pension and self-insured health funds and debt service. Henrici said he's seriously considering using "a considerable amount" of the WPCA money to fill the $3.7 million crater. After paying off the sewer operating-budget deficit, the mayor said there is $4.1 million left.

"This is a very unusual year for Hamden," said Betz. "Everything's climbing: step increases in labor contracts, utilities."

The finance director said Hamden is not alone. Other towns have had recent revals and are grappling with the same dilemmas. And about 50 percent of the state assumed the car-tax repeal would go through and figured their assumptions into municipal budgets.

"We treated it [car-tax proposal] as though it were going to happen," said Betz. "Half the towns did. Half the towns didn't. It made a big splash. Whoopie! We don't have to pay car taxes anymore. But the devil's in the details. Elimination of the car tax is not exactly comprehensive tax reform."

Tomorrow in the HDN: feedback from the Legislative Council.
----------------------------------------------------------------------

The town construction manager makes a repeat disappearance

By Sharon Bass

After all the hoopla over Tony Civitello's employment contract last December, the town construction manager has seemed to quietly slip away. Again.

He hasn't worked in a couple of months, said Mayor Craig Henrici. "I got an e-mail saying he had a personal emergency and he continued not to be around. And we received his [office] phone via mail," he said. The phone went to Purchasing Agent Judi Kozak

"He never told us he was leaving, but sometimes you can get the message," said Henrici. So he said he sent Civitello a letter terminating his contract.

Still, in the '06-'07 budget there's a line item for Anthony Civitello for $75,000 as full-time construction manager. In addition to wondering why he's on a budget that was made after he left and then was fired, Civitello was employed on a part-time basis.

"When I came into office, Mr. Civitello said he couldn't work full-time. This was going to be a Band-Aid, so to speak. But I think it became clear to Mr. Civitello that he didn't want to be a part-time employee for the town of Hamden," said Henrici.

The mayor said he is seeking a replacement and has no candidates yet.

Attempts to reach Civitello were fruitless. Under his now-defunct contract, which went into effect Dec. 6, 2005, and was to end on June 30, 2006, Civitello was to work a minimum of 10 hours a week at $41.21 an hour. He was allowed to resign at any time with 14 days notice. Likewise, for the town.

Former Mayor Carl Amento also fired Civitello for not showing up for the job.

"When he was first hired he wanted to work part-time and the Council wanted him to work full-time," Amento said. So Civitello was hired full-time. "He's very, very good at what he does. It's a loss to the town. But he has other construction management that he does and I'm sure the mayor [Henrici] found himself in the same spot."

Amento said he doesn't think the town needs a full-time construction manager. "What other projects is this administration working on right now?" he said.

Councilman Curt Leng completely disagreed.

"I think having a single experienced construction manager in town is the most important position in town government at this time," he said. "I feel we need a head decision-maker on the school projects and the town, as well." Leng chairs the School Building Committee, a joint Council/Board of Ed/citizen body.

Leng said without a manager "you run the risk of shabby work, being overcharged" and projects not being completed on time.

The construction manager oversees all capital improvements and infrastructure projects, the councilman said, adding it should "absolutely" be a full-time job.

"The beauty of it is it can be funded out of the projects and it wouldn't be in the annual operating budget," said Leng. Since some projects, particularly school buildings, get two-thirds of their funding from the state, the construction manager's salary could be factored into the project cost rather than be listed as a line item in the budget.
-------------------------------------------------------------------------

IWW Approves Mt. Carmel Bridges, QU Polling Site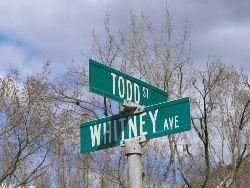 Todd and Brooksvale, where the Mt. Carmel bridges are located.
Story and photos by Betsy Driebeek
The two remaining Mt. Carmel bridge reconstruction proposals received a green light -- with conditions -- at last night's Inland Wetlands and Watercourses Commission meeting.
Unanimous votes approved the town's proposal to reconstruct the River Road and Brooksvale Avenue bridges, which both pass over Jepp Brook. However, the same five conditions were included in both votes:
* There will be no sidewalks.
* All concerns of the Regional Water Authority will be addressed, and the authority will be sent the final construction plans.
* Third-party oversight will be needed during construction, and reports are to be made on a regular basis to Planning and Zoning.
* The design should take into account recommendations made by the state Department of
Environmental Protection.
* Wooden guardrails, not metal.
Both Town Planner Leslie Creane and Assistant Town Planner Dan Kops had argued that sidewalks and guardrails are not within IWW's jurisdiction. But various members of the commission reasoned that there are environmental effects related to both. They cited an example of melting snow -- previously plowed onto the sidewalk -- dripping into the brook with dirt and oil from the street, as well as rust getting into the brook from metal rails.
The River Road bridge is currently 30 feet wide and the proposal maintains that width. The Brooksvale Avenue bridge varies between 22 and 26 feet wide; the proposal makes it an even 26. River Road has one abutting neighbor who gave his consent for the work. Brooksvale Avenue is bordered by town- and DEP-owned land only.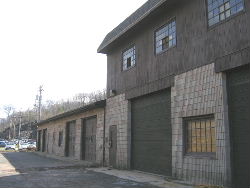 QU's new polling site-to-be.
Another Mt. Carmel issue on the IWW agenda was the renovation of a Quinnipiac University building for its new polling site. Formerly listed at 60 West Woods Road, the address is now 305 Sherman Ave. The building is sited next to the university's 365-car parking lot.
The commission unanimously approved the university's plan presented by civil engineer J. Howard Frommer to provide 43 paved parking stalls, and to reconfigure the driveway in coordination with the state Department of Transportation's plans to realign West Woods Road and Mount Carmel Avenue.
Architectural renderings for the Quinnipiac building renovation will go before Planning and Zoning next Tuesday night.
---
April 5, 2006
Henrici Says Yes to Malloy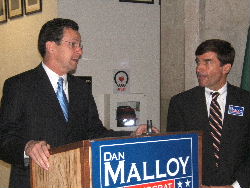 The Stamford and Hamden mayors.
Story and photos by Sharon Bass
Mayor Craig Henrici said he's not paying attention to how the 32 Hamden Democratic delegates plan to vote at the state convention. He's a Dan Malloy man. And to prove it, yesterday morning in Memorial Town Hall's rotunda he held a press conference endorsing the four-term Stamford mayor for governor.
Some local Democrats say they're holding out until they see if New Haven Mayor John DeStefano (who's challenging Malloy) will give them something for their vote. Specifically, a seat on state Central Committee.
But not Henrici, who hopes to be a proxy delegate to the May 20 state convention. "That obviously didn't play a part in my decision. I hope that a majority of Hamden delegates support Dan Malloy. I don't put as much importance on state Central as others do," he said.
Arriving a few minutes late -- playfully blaming "public transportation" -- Malloy waltzed through the small gaggle of Democratic delegates, reporters and a few others. He shook hands and made personal remarks to those he knew. The man knows how to work a crowd, albeit a tiny one.
He reached the podium and began his spiel.
"As we head toward the convention in May, we're feeling very empowered," he said. "We have a very long list of endorsements. But this campaign is going to be about vision and ideas. This is not a high school popularity contest."
Connecticut is adding jobs at less than half the national rate, he said. "It's the governor's responsibility to add jobs."
The candidate from Fairfield County mentioned the state's over-burdened property-tax system, saying he would look for a different payment method for public education. Malloy also touted his "pro-active" idea to reward businesses for job growth "as long as they're treating their employees well."
He debunked Gov. Rell's assertion that the state is running a real surplus this year. The financial health of Connecticut's pension fund is the fifth worst in the nation, Malloy said. "Surplus in an environment where we don't fund our obligations?"
And he threw out one of his star pet promises: making sure every kid is insured. He said under Husky B (an extension of the Medicaid program), families with an annual income of $50,000 pay $442 a month for the health care coverage. Malloy's plan is to knock that down to 75 bucks.
"We have suffered for 12 years because of a lack of leadership," he said. "This governor won't tackle a serious issue until after the election. My prediction is the only serious issue she'll have to tackle after the election is moving out of the governor's office."
Malloy predicted Rell would wind up with just 49 percent of the vote (he'll get 51 percent), even though her approval rating hovers around 80 percent.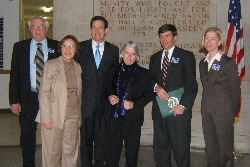 The Hamden gaggle (left to right): Councilman John Flanagan, Councilwoman Carol Noble, gubernatorial candidate Malloy, Ann Altman, Mayor Henrici and Councilwoman Gretchen Callahan.
Councilpeople John Flanagan, Gretchen Callahan and Carol Noble were the only Hamden delegates to attend the press conference.
"You want someone who can get the job done," said Flanagan. "I will vote for the candidate who I think will govern best and that's why I'm here today."
"I'm not in it for that favor [getting a seat on Central]," said Callahan. "I have been following Dan since I first met him in the fall and I'm impressed with what he's done for the city of Stamford."
The Hamden mayor said, "He was nice enough to come to some of my campaign events. He's personable. He's electable. And his personal style far exceeds either of his two opponents'."
DeStefano People
Democratic Town Committee Chair Joe McDonagh said he's sure Hamden will get that coveted seat on state Central. And DeStefano has his support.
"I'm endorsing John DeStefano. It enhances his reputation with Hamden Democrats that we're going to get a state Central Committee seat," McDonagh said. "I've been told we will [get a spot on Central]. Personally, I think it's something we more than earned. But I want to make clear that Hamden has had a tradition for the last 15 years that every delegate can make up his or her mind."
The DTC chair wouldn't say who told him Hamden will get on state Central. "I've been told by a variety of sources," he said. McDonagh said it's hard to predict how many delegates will go with DeStefano.
DeStefano's campaign spokesman Derek Slap said he's confident this town will go for the New Haven mayor on May 20.
"We feel like we're going to get the vast majority of delegates in Hamden," he said. "We base that on field work and our relationship with Hamden."
Slap also said, "Look, it's going to be close. There's no doubt." DeStefano did not return messages seeking comment.
Click here to see who's endorsed DeStefano so far.
---
April 4, 2006
Alice Peck to Get 85 Kiddos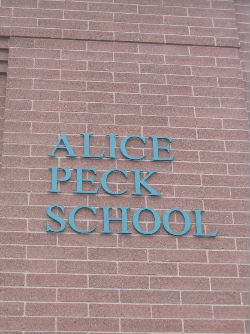 The Y's new daycare center. Photo/Betsy Driebeek
The BOE and YMCA broker a deal that raises some eyebrows
By Sharon Bass
Soon there will be less open space inside Alice Peck. The Y is moving its daycare operation of 85 infants to 5-year-olds to the Hillfield Road school, while it builds a brand new spanking one.
An agreement recently reached between the Board of Education and the Hamden/North Haven YMCA makes the BOE the landlord, charging the Y $2,019 a week to rent 7,500 square feet of Alice Peck. The Legislative Council last night approved the lease.
But not without some ado.
Councilmen Curt Leng and John Flanagan spoke strongly against the arrangement and were the only two to vote against it. Their biggest concern, shared somewhat by their peers, was about money. Specifically, why the rental income would go to the BOE when the town owns all school buildings. And that the town would be financially hit by having to cover the health benefits and pension for a full-time janitor, who is to be hired by the BOE for the Y's daycare at Peck.
"Why do you need a full-time custodian for 7,500 square feet?" asked Leng. State regs require one janitor per 20,000 square feet.
Assistant Superintendent Hamlet Hernandez said the 7,500 figure doesn't take into account common areas, such as hallways, that will have to be cleaned. "When I was principal there we had two custodians. Kids [from the Y daycare] will be eating in the classrooms. They will make a mess," he said.
There is already one janitor at Alice Peck for two preschool programs that are housed there.
The lease begins on July 1, 2006, and ends June 30, 2008. There is a one-year extension provision. Annual rent comes to $105,000.
Since the Y will only use the space for two or three years, Leng suggested the new custodian be hired on a two-year contract instead of as a permanent employee with a union contract. With a labor agreement, he said, it would be impossible to fire the person when the Y moves out.
"I'm not sure the terms are favorable for the town," the 6th District councilman said.
The 2nd District councilman went next. "It's the first time in history I totally agree with Mr. Leng," said Flanagan. "The town is the landlord. The Board of Ed is the only department allowed to collect money and keep it. We're leasing town property out. I think we need to keep much tighter control on this."
Hernandez said it will be a wash. The rental income will just cover the janitorial and utility costs.
"That's a very expensive school to run," he said.
Councilman Jim Pascarella promoted the idea as flawless.
"This is a simple issue and I'm obviously in favor of it," he said. He argued that the school buildings are owned by the BOE.
(Town Attorney Sue Gruen, who reviewed the lease, said the town owns all school property. But "so long as the building is used for school use it remains with the Board of Ed. [Therefore], the rent goes to the BOE." However, she said, if the town had to pay for a repair at Alice Peck and the Y reimbursed the BOE, the BOE would have to hand that money over to the town. Also, if the school no longer uses Peck for school purposes "then the lease would be assigned to the town," said Gruen. She said there is no stipulation on how the Board spends the rental income, and said it would probably be a monetary wash.)
"I agree that the way the money is being handled is a little sloppy," said Councilman Matt Fitch. But he said he was for the lease anyway.
"I, too, am strongly for this," said Councilwoman Betty Wetmore. But she asked the BOE to submit a breakdown of expenses to the Council.
Council Prez Al Gorman asked who would be responsible for snow removal at Alice Peck. Hernandez said the school department would be.
"Did you bottom line the profit the Board of Ed will make?" said Gorman.
"I indicated earlier there will be no profit," the assistant superintendent said. "Just for a custodian it's $48,000."
"That's about $65,000" with benefits, piped in Pascarella. "So that would leave $40,000 for everything else."
As noted before, the town would cover the health insurance and pension, so the cost for a janitor to the BOE is actually $48,000.
Asked where he thinks the rent should go -- town or BOE -- Mayor Craig Henrici said, "[The BOE] is maintaining it and they're paying the bills."
-----------------------------------------------------------------------------
Hamden's Animal House Inches Along
Architects submit ideas for a shelter
By Sharon Bass
Delores Giannini said she begged five mayors to support her idea to erect an animal shelter in Hamden.
"It's been a long process. There's always been priorities. Finally, we got former Mayor Amento to appoint this committee," said Giannini, co-chair of the Hamden Happy Tails Foundation.
She was referring to the Animal Shelter Committee, which met with six architects last Friday in Government Center. It marked another step forward in seeing Giannini's desire come to fruition. The shelter is planned for Shepard and Rocky Top. (Hamden uses the North Haven shelter to drop off stray and otherwise unwanted pets.)
"It's great to see there's a light at the end of the tunnel," said animal control officer Gina Cahill, who sits on the committee with Giannini, fellow animal control officer Jean Murray, Eileen Denny, who co-chairs the foundation, and others.
The architects submitted plans, ideas for energy conservation and their fees, which range from $7,500 to $55,000. The six contenders are Salamone & Associates and Silver/Petrucelli & Associates, both of Hamden; Simeone & Constantinti Architects and Svigals and Partners, both of New Haven; Wiles & Architects of Bridgeport; and Noyes-Vogt Architects of Guilford.
Giannini et al are still closer to the starting gate than the finish line. It's expected to take roughly another 10 dog years to get the building up and running.
"It's not a done deal yet," said Scott Jackson, the mayor's chief aide. "We still do have a public process we need to go through."
Before the committee selects an architect, the project needs to be redefined based on the ideas that were thrown out at last week's meeting, said Jackson. And then public input will be sought. He said he has no idea what the total project will cost.
"What we don't want to do is define the project by the dollars. We want the committee to say, 'This is what we need.' By no means is it going to be the $54 million middle school," said Jackson. He said the town will seek state and private grants and the shelter committee will do some fund-raising to foot a good portion of the shelter bill.
Asked if any local tax dollars would be needed, he said, "It would likely take tax dollars but there's a possibility they'd be minimal."
Darlene Butler, the mayor's deputy chief administrator, sat in on the meeting. She said the architects "talked about traffic flow, noise control, weather elements. They talked about energy conservation, such as using special lighting and ceiling heights."
"It went very well. We were really impressed. It was hard to even grade them," said Cahill. A decision is expected soon.
"We have one goal and that is to benefit the Hamden animal shelter," said Giannini, who is forming a board for her foundation. She said Happy Tails has also started a new fund, the Holly Fund, to help cover bills for medical emergencies and animal care "above and beyond what the town can do.
"I've always had a pet. I love animals. I've seen what Jean [Murray] has had to deal with over the years [not having a shelter]. I see what other towns have and it gets me a little more than annoyed that we don't have this kind of facility," said Giannini. "Our hope was to have a shovel in the ground by late fall. But it looks like spring of '07 and would open in fall of '07. It's not an easy thing."
Jackson concurred with her timeline. And her insistence that the town have a shelter.
"We need it because we're a community that has a glaring deficit. As the 14th largest community in Connecticut, we really ought to have this resource available," he said.
Giannini said she is sensitive about the aesthetics of the shelter, since it's slated for a residential neighborhood. "We're going to make every effort for it not to be an eyesore and to look like the homes across the street," she said.