Town Government
September 29, 2005
Farewell to the Chief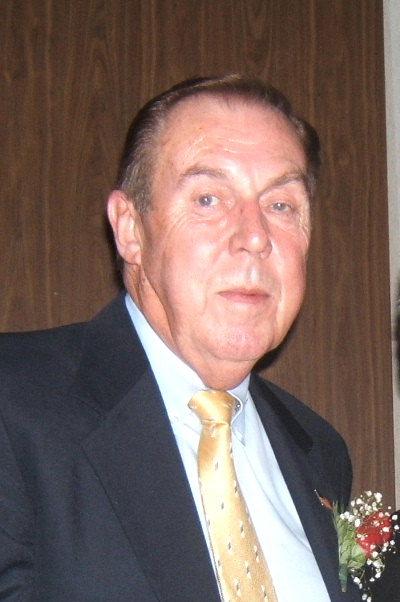 Hamden and beyond party for retiring police Chief Bob Nolan
Photos and text by Sharon Bass
Last night, Hamden Mayor Carl Amento, Democratic mayoral candidate Craig Henrici, Republican mayoral candidate Dick Reilly and "lady friend" 9th District council candidate Anne Balogh, Democratic Town Committee Chair Joe McDonagh, Council Prez Al Gorman, Deputy Police Chief Jack Kennelly, police Sgt. Gabe Lupo, town attorney Sue Gruen, school Superintendent Alida Begina, Hamden High principal Vincent Iezzi, at-large council candidate Jim Pascarella, former Mayors Barbara DeNicola and Lucien Dimeo, former Police Chief John Ambrogio, Arts Commissioner Mimsie Coleman, Town Clerk Vera Morrison, Police Commissioners Neil Longobardi and Marty Ruff, New Haven Mayor John DeStefano, New Haven Police Chief Francisco Ortiz, Bob Latorraca of American Medical Response, Judge Lubbi Harper, thrice-retired state forensic laboratory director Henry Lee -- to name a few -- dished out $55 apiece to attend a retirement shindig for Hamden Police Chief Bob Nolan at New Haven's 500 Blake Street.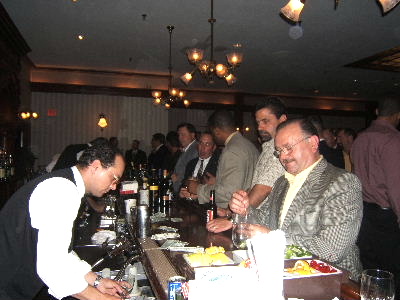 Tanking up.
The crowd numbered about 300, estimated Republican Town Committee Chair Mike Iezzi, the MC of the evening. It was three hours of hors d'oeuvres, booze, hugs and kisses and some pretty damn funny jokes delivered by a select group of speakers.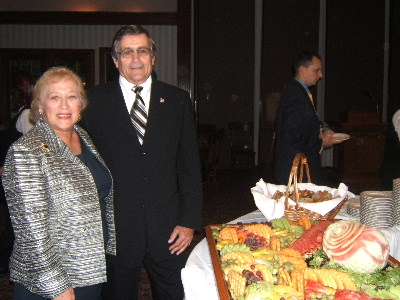 Republican mayoral candidate Reilly with "lady friend" Balogh.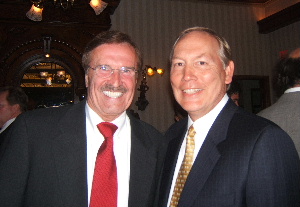 Police Chief-to-be Jack Kennelly with Bob Thomas
Ambrogio was one of the first speakers. (He now winters in Florida, where he's into the Italian wine-importing biz.)
"Who are we going to go to for favors now?" he said, cracking up the audience. He then switched his tone, saying Nolan -- who joined the Hamden police force in 1971 and became chief seven years ago -- "has a keen sense of dedication and loyalty to his friends.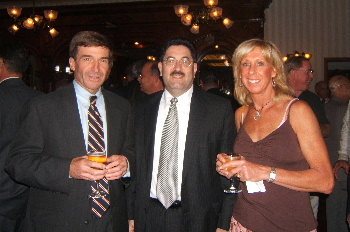 Mayor Amento flanked by Craig Henrici and his wife, Lauren
"I could not be more proud or content to see Bob Nolan replace me as chief of police. Welcome to Florida," he said to Nolan, who was sitting at a table with his family next to the podium. Nolan will be wintering down there as well.
"The chief was my mentor, my confidante," said Kennelly, the next speaker. Kennelly will take the throne later this fall when Nolan leaves.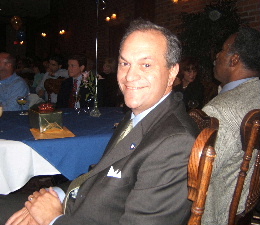 New Haven Mayor DeStefano
The jokes resumed when DeStefano took the mic. At the end of his tongue-in-cheek comments, he gave Nolan a gift: a white priest's collar.
LaTorraca was up next. "He can't fix a ticket anymore. Screw him," he said of Nolan's departure. "I love you, chief!"
Then LaTorraca said, "I never liked the guy. It's like at a wake. You say to someone, 'I thought you didn't like the guy.' And he says, 'I didn't. It's the right thing to do.' Well, this is the right thing to do."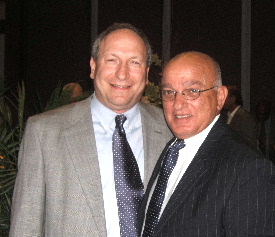 Council candidate Jim Pascarella with former councilor Henry Candido
Joking aside, he added, "If God made a great human being, he made Bobby Nolan."
Amento had very few words. "I can't compete with those guys," he referred to DeStefano and LaTorraca.
Ortiz was just about as brief. "We all really do love Bob Nolan. He's been the best," he said.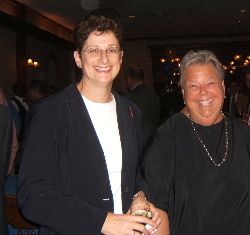 Town attorney Sue Gruen and purchase agent Judi Kozak
The last speaker was the man himself, Robert F. Nolan. "What can I say other than thank you." He was given an envelope full of cash and a Ruger Mark III gun with his name and years of service engraved in 24K gold.
But, wait. A surprise last-last speaker was called. Dr. Henry Lee. If there was an award for bringing down the house, Lee would have garnered it. He opened his spiel saying he wasn't really Henry Lee, but Jack Wong (or whoever), owner of a Chinese buffet, in response to a previous speaker cracking a joke about Lee's accent. He then told a sperm-collection story about Nolan (you had to be there), which doubled people over.
Goodbye, chief. Happy golfing.

---
September 27, 2005
Making A Lot Out of Nothing
Councilors listen to a plan to heal and beautify an ailing site on Dixwell
By Sharon Bass
It sounds like a win-win situation. Bring life to a blighted, ignored property on lower Dixwell. Fill it with affordable apartments for artists and retail spaces for little shops. Make 19 of the 27 units one-bedroom, cutting down on the number of new children added to the school system. Create an art gallery out of the only existing building on the lot, which has historical and architectural significance.
And not one dime would come from taxpayers.
That is what Economic Development Director Dale Kroop tried to sell to the legislative council's Planning and Development Committee last night. The project is called Highwood Square. It would be located at 953-965 Dixwell Ave., on the former Johnson lot. After a fire leveled most of that property about 15 years ago, the land has become nothing more than a polluted dumping ground.
A nonprofit agency, the Mutual Housing Association of South Central Connecticut, wants to make something pretty out of it. Its plans have been in the works for four years, said Kroop. The agency would pay Hamden $335,000 for the property, just below the appraised value of $385,000. It would clean up the toxins. It would purchase adjacent properties. It would generate maybe $90,000 annually in taxes, said Kroop.
And the neighboring businesses and residents are all for it, as Councilwoman Berita Rowe (D-3) passionately declared.
"The community itself has spoken. This is what they want. They have spoken," she said, after objections were voiced by a few of her peers. The strongest opponent being Councilman Eliot Sheiman (D-6).
"I'm a little overwhelmed. First, I want to say your office has done a great job with this project," said Sheiman. He then launched into a litany of complaints.
"I'm troubled by what's behind (the property). We have a blight ordinance," he said, blaming Public Works for being remiss in not tending to the abandoned property.
"I really think it's not the government's position to control properties" or broker real-estate deals, said Sheiman. He also objected to the $250,000 price tag to rehab the small building on the property, when it could be razed for $50,000.
"The business community strongly wants to preserve the building," said Kroop.
"Then let the private sector pay for it. Don't make taxpayers," Sheiman responded.
(In fact, the private sector -- the housing association -- is paying for all of it, including the building rehab, Kroop said after the meeting when asked about Sheiman's statement. Kroop also responded to the councilman's criticism of the town acting like a real-estate broker. "We're in the business of getting things done. Sometimes we have to broker deals." He pointed to the Eli Whitney Museum expansion, where the town and state had helped seal the deal with Amoco Oil, which owned the property Eli wanted.)
Councilman Ron Gambardella (R-at-large) asked the economic director if Hamden residents who meet the income guidelines would be eligible to rent an apartment at Highwood Square. Kroop said the housing is intended for artists, no matter where they live.
"What I'm concerned about is the type of businesses that would come in," said Councilwoman Betty Wetmore (R-at-large). "We have a million nail places and tattoo parlors. Do we have any control over who comes in?"
Kroop said while the town can't dictate the tenants, the housing association's aim is bring in "community shops," like ice-cream parlors, coffee shops and bookstores.
"Artist housing is a very up-and-coming thing around the state," he said, early in his presentation to the committee. "As you can see, they're trying to build a community in a community. Yes, it's affordable housing for artists," but they have to go through credit checks et al like anyone else looking to rent.
Council President Al Gorman (D-at-large) asked what other offers have been made for the Dixwell Avenue eyesore. Kroop said there have been some that offered the full-appraised amount, but none had specific plans for the site. "So you didn't know what you'd get," he said.
Gorman then disagreed with Sheiman's sentiment to take the little building down. "I'm glad it can be restored," said the prez. Not everything comes down to dollars and cents, he added.
"I see nothing but positive things happening for this project," concluded Committee Chair Carol Noble (D-8). The vote was unanimous in favor of the artist community that would bring color and vibrancy to the neighborhood. The item will be brought up next Monday to the full council.
Also going to the legislative council Oct. 3 is a bond request for $6.2 million for the town and school sides. Gorman had tabled the item saying councilors just received the information last Friday and haven't had time to digest it. At the start of last night's meeting, a teacher and a parent spoke in favor of the bond item, saying the high school desperately needs air-conditioning.
They were countered by council regular Fred McCarthy of West Todd Street. "Is the $6 million going entirely to the high school? I would strongly suggest getting a breakdown," he advised.

---
September 26, 2005
P&Z May Order Farricielli Tenants to Get Legal
By Sharon Bass
Another page is about to turn in the tediously long struggle to bring the Farricielli property on State Street into compliance, when the town's Planning & Zoning Commission goes to bat with the property owner and its tenants next month.
Only one of the 11 tenants at the State Five Industrial Park holds the proper local permits, said Assistant Town Planner Leslie Creane. That's the Nextell cell tower. The P&Z plans to vote on whether to issue a cease and desist order for the 10 in violation at its next meeting on Oct. 11. (The commission last met on Sept. 14 about a cease and desist, but tabled the item to await more info from one tenant, Modern Materials, that argued it shouldn't have to get permits and should be grandfathered in.)
"Most of the tenants are clearly not in compliance," said P&Z commissioner Joe McDonagh. "I would be inclined to vote for a cease and desist order at least for some of the tenants."
He said some want to comply while others have made little to no effort.
The State Five office located on the site is one that's made little effort. That firm also owns the property, which includes the infamous tire pond and shuttered illegal landfill. Joseph Farricielli, in an alleged attempt to evade millions of dollars in state and town fines for crimes against the environment, "sold" the property to Look Investment Agency for $0 on March 14, 1996. That agency turned it over to Farricielli's wife, Jean Farricielli, also for zero dollars on March 10, 2003, according to Appraisal Vision. (Not a penny of the millions owed has been paid; a lawsuit was filed in August over the matter; see "Making Farricielli Pay.")
Creane said there's been court action, action by the Inland Wetlands Commission (which issued its cease and desist earlier this year, giving State Five tenants six months to respond) and now the P&Z seems poised to move forward. "I certainly hope that the (P&Z) commission will see fit to proceed with the enforcement process," she said.
The town has been working on the permit piece of the Farricielli saga since summer 2004. It sent notices to then-property owner Bill Lavelle, of Look Investment, stating the tenants need permits. But Hamden has just one zoning enforcer and the matter dragged on.
Even if the P&Z votes in a cease and desist for the industrial park tenants, it doesn't mean they'll have to close shop.
"It is simply a notice to someone that they're in violation and for them to take action," said McDonagh.
And even if the businesses at 2895 State St. apply for permits -- they need one from Inland Wetlands and another from P&Z -- there's no guarantee they'll get them.
They can be turned down for environmental reasons and for operating a shop that runs counter to the zoning regulations in that commercial development district, said Creane.
"The problem with this one is it's acting as an industrial park," she said, and therefore needs access roads, a storm-water management system, landscaping and pest control -- all of which are the landowner's responsibility. That would be Jean Farricielli.
Who's responsible for securing permits has also been a cloudy issue. Usually, said McDonagh, the landlord is. But in this case the landlord is ignoring its duty so the tenants are being hit.
"I realize that ignorance is no excuse, but these people didn't know," he said of the shop owners operating without permits. Where they were previously located, their landlords typically took care of the permits, McDonagh said.
Creane said it's ultimately the property owner's responsibility "to govern what goes on on their property (e.g., ensuring everyone has permits). (Not doing so) is a flagrant disregard of the town's zoning regulations."
Permits are necessary in order for the town to regulate how properties are being used and to track environmental conditions.
Businesses located at the industrial park include State Five Industrial Park, Borrelli Equipment Sales, Cardinal Freight Carriers, Heitkamp, Milo Fabrications, Modern Materials, Northridge Enterprises, Recycling Services, Sanweiss Tree Service and Upscale Welding. Wheeler's Auto Service vacated the park on Sept. 1.

---
September 23, 2005
Hmm
Amento's still thinking about it
By Sharon Bass
Two things Mayor Carl Amento said he continues to wrestle with since his defeat at the primary are 1) why he lost the race and, 2) whether he'll run for a fourth term on the Green Party ticket in November. Actually, make that three. He's not sure what to put after the word "objective" on the top of his résumé, which he's updating.
"It's not a snap decision," the lawyer-turned-mayor said over his cell phone last night en route to a community function. "It's a big decision (whether to run with the Greens). I don't want to give a timeframe because then I'll get hell for it if I don't stick to it. A lot of people are approaching me with ideas."
The Democratic mayor, who lost the Sept. 13 vote to Craig Henrici by a wide margin, said he's been getting job leads. He wouldn't say to what kinds of jobs, but only that they are quite varied. "They're all over the place. I have a very broad background," Amento said.
One career choice he said he's definitely ruled out is starting another law practice. When asked if he's looking at a state job, he didn't say yes or no.
"I don't have an inner circle. I talk to lots and lots of people. I'm not a party insider. That's what I've been doing for six years (as mayor)." He also wouldn't comment on whether he thinks running on the Green line would diminish his chances of getting employment aid from the Democratic Party.
"I'm just putting my résumé together," he said. "A lot of people are trying to help. It's early yet. It's only nine days (since the primary). The first two days I mostly slept.
"We're still trying to figure out what the heck happened."
Sosensky v. Friedman
Inland Wetlands again takes up the West Woods hotel proposal
By Sharon Bass
For the third time this year, West Woods Development tried to convince a town committee that its plan for a 101-room hotel in northern Hamden would not hurt the environment. It didn't do such a good job, but one thing that was made clear last night -- after the two-and-a-half-hour public meeting -- is that there will be a Round 4 and probably more.
While dozens of people who live in the area of the proposed hotel showed up at Thornton Wilder Hall to express their many grievances, not one got to talk. They said they were disappointed but not surprised.
"You don't get to speak that often," said Barb Dickerson of Hillfield Road.
"You always have to come to a couple (of meetings) before the public gets to speak," said Velma Zilm of Todd Street.
Inland Wetlands and Watercourses Commission Chair Steve Sosensky spent the entire time grilling Dana Friedman, the lawyer for the project, and others involved -- a soil scientist, an aquatic biologist and various engineers -- about the environmental impact the development would have on the Mill River. The proposed hotel would be sited at 55 West Woods Road and encompass 5.69 acres of land.
The West Woods group had revised the site plans since its last meeting with the commission earlier this month, hoping the changes would do the trick.
But Sosensky, who's also a lawyer, was not satisfied with many of the answers he was given. In a theatrical delivery, Sosensky cross-examined the lawyer and the scientists.
"Studies have shown there will be no impact on the river," Friedman addressed the commission at the start of the meeting. He said this has been proven by the many scientific studies that have been conducted, and felt the matter should be closed.
"Are you suggesting you've been treated unfairly?" asked Sosensky. "What is your answer to that?"
"I think the record will speak for itself," Friedman responded.
One by one, the West Woods experts presented in tedious scientific detail the reasons the hotel would not harm the Mill River. There would be catch basins, sand and crushed rock installed to filter the water runoff as it travels from the hotel's parking lot to the river. This would help clean the runoff of toxins, and give it time to cool off after hitting a hot parking lot during the summer. (Dumping hot water in the river would adversely affect the fish.)
After the presentations, Sosensky told Friedman he wanted the developers to pay for an independent scientific study -- an idea some in the audience quietly applauded.
"I think it's good (Sosensky's) being harsh and critical," whispered Joanne Iacobellis of Kenwood Avenue.
As the meeting was coming to a close, the two attorneys went head to head.
"I'm not sure your two soil scientists are performing as you suggest," Sosensky said to Friedman. "Does anyone disagree with me when I say the town should have an independent analysis of the science?" the chair asked his commissioners. No one disagreed.
"It seems that the review of this application is stricter than for other projects," Friedman objected.
"I do not believe you're being treated prejudicially," countered Sosensky. Again he asked Friedman if his client would foot the bill for another analysis.
"The applicant has spent a considerable amount of money," argued Friedman.
"The town needs an independent study of the science submitted," insisted Sosensky.
The lawyers agreed on one thing: They'd both consult with Assistant Town Attorney Tim Lee and reconvene Oct. 19.
"I think we're being held to a higher standard than the typical applicant," Friedman said afterwards.
Hard to tell, but one thing that's easy to see is the neighborhood opposition.
"It's far too intrusive and it's also too big a footprint on the property," said Don Mitchell of Gate Way. "The runoff will probably go right into the Mill River."
Barbara Mulligan of Hillfield Road said, "I'm totally against (the hotel). It doesn't belong there. It's not characteristic of the neighborhood."
Iacobellis said it would be "a nightmare for everyone living in the West Woods neighborhood." She doesn't live in that area, but close enough to be affected by such a huge project, she said.
Some said they think the hotel would be used by Quinnipiac University as interim student housing, as the school is growing and lacking dorm space. "Quinnipiac is taking over the town," said Zilm
"It's a very bad idea," said Jeanette Murdock of MacArthur Drive. "The Mill River runs behind my house. The traffic is already out of control from the connector to Quinnipiac."
In 1989, a developer wanted to build a shopping center at the site. Residents opposed to it banded together, hired a lawyer and stopped it from going up. Last night there was noise about doing the same thing.

---
September 20, 2005
The Reval Is Coming,


The Reval Is Coming
Councilors get the lowdown on the upcoming property revaluation
By Sharon Bass
Every five years the value of Hamden's 20,000 real estate properties is reassessed. This is year five.
The town's Chief Assessor James Clynes and Vision Appraisal's Stephen Ferreira explained the process to the legislative council last night -- a performance the men plan to reenact for the public. They said real estate value has gone up a startling100 percent in Hamden since 2000. So all properties -- residential, commercial and industrial -- will get a new price tag. A higher one for sure. But inevitably that means the $43.24 mil rate will come down.
How much?
"We don't have a crystal ball," Clynes said. He said other factors have to be considered, such as the amount of state aid for education the town will get next year (it can go up, down or stay the same), and what the '06-'07 budget will be -- neither of which is yet known. The new property values will go into effect next fiscal year, as will the new mil rate.
"Revaluation is so very, very important," said Clynes. "I think the hair gets up on everybody's neck when they hear revaluation, but … " It's mandated by the state. Towns have no choice.
Unlike the last property reassessment, this year's will be a scaled-back one (called statistical revaluation versus a full one). "We are not visiting every house," said the chief assessor. Instead, it will be conducted using data already collected. Every property's sales history and physical details will be looked at.
A sales analysis will be done on buildings and land parcels that were sold between Oct. 1, 2004 and Oct. 1, 2005, and used to calculate the value of like property that hasn't changed hands in the last year. The analysis takes into account location, age of building, size, construction quality, features (number of bathrooms, etc.) and size of the lot. On commercial structures, rental income and operating expenses are also factored in.
Those assessed figures are then compared to what was actually paid. Under state law, the valuation must be 70 percent of market value. So a house that sold for $200,000 would have an assessed value of $140,000.
Most property owners should receive by mail their new values right before Thanksgiving.
Councilwoman Valerie Cooper asked if there is an appeals process. Ferreira said there are several steps people can take if they disagree with the revaluation of their buildings. They can take their grievances to town hall. If that doesn't work, court is a final resort.
Based on sales since October 2004, Ferreira said the value of condos has gone up 100 percent from five years ago, and the value of homes just slightly less.
"What we're seeing, we're seeing in a lot of other communities," he said. The average one-family home in Hamden costs $260,000, the man from Vision Appraisal said. (Visit www.visionappraisal.com to view Hamden's property values and real-estate transactions.)
Councilman Ron Gambardella asked if people's property tax bills will look much different next year. Ferreira said probably not.
"So it's mostly a redistribution?" asked Gambardella, meaning building values will go up and the mil rate will go down, sort of canceling each other out.
"Yes," said Ferriera.
He also said there should be little difference in the increase among neighborhoods. "This tends to be a homogenous community, so I wouldn't expect great changes," he said.
Councilman Eliot Sheiman praised Vision Appraisal's Web site. "That is really up to date and is really a pleasure to use," he said.
_________________________

In other business.
On the heels of Hurricane Katrina, councilors voted unanimously (11 were in attendance last night) in favor of a "memorandum of understanding" to participate in a statewide fire-rescue disaster response plan. This plan calls for local fire personnel to assist other communities in the event of large-scale fires and other emergencies -- without reducing its own fire protection resources.
And a motion made last week by Councilman Curt Leng to put a freeze on town hall hiring was reversed. He introduced the motion in part because of Finance Director Don Gray's sudden resignation early this month.
However, Town Attorney Sue Gruen determined that Leng's idea ran counter to the town charter. Only the mayor may initiate such a freeze, she said.
"The freeze is well intended," said Council President Al Gorman. But it had "unexpected consequences" on the police and fire forces. Hamden will now start searching for a new finance department head.

---
September 16, 2005
Talk About Losing
And, will Amento go Green this November?
By Sharon Bass
The Democratic primary is over. The winners have celebrated. The nail-biting, at times backstabbing mayoral race is over. Incumbent Carl Amento only prevailed in the 3rd District, losing to challenger Craig Henrici 2,965-1,960.
Before people's focus turns to Nov. 8 (well, hopefully it will; beats apathy), the candidates -- all vying for council seats -- who didn't make it on Sept. 13 talked to the Hamden Daily News about their losses and what's next for them. Of note is Kevin Bohan's gracious attitude.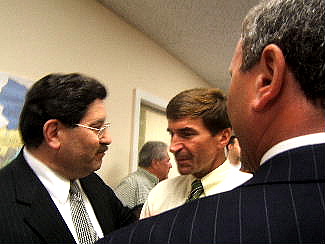 Mayor Carl Amento, tired and undecided
Amento said he has yet to make a decision about whether to accept the Green Party's invitation to run on its line for the general election. "I think no decision should be made this quickly. We'd just be making gut decisions. It's reasonable to take a few days and talk to everyone about it.
"Your first feelings are disappointment and fatigue.
"I certainly always prepared myself for winning or losing. So I was prepared mentally, psychologically. I don't have any animosity toward Craig. He was very gracious as well. The funny thing is when I went to congratulate him he had tears in his eyes. I said, 'I'm the one who lost.'
"But some of the people who were his backers and are council candidates on his ticket, I worry are not going to be acting in the best interest of the town. It will probably be an even more politicized council. In a politicized environment it's hard to get things done.
"I think they executed a brilliant, two-year-long coup d'éta. It has been very hard to overcome." The mayor said he didn't expect to lose by such a wide margin.
"They found a candidate who was not involved in anything in nine years. This way there was a blank slate so they didn't have to worry about any record.
"Life's gotta go on. It is a little bit like going to your own wake. Calls have been coming in saying they're sorry this happened. If you decide to go any further, we'll support you."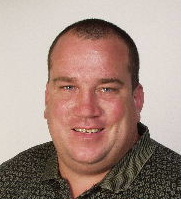 Kevin Bohan, 1st District, will try again
"169 votes for someone like me is a good turnout. I had a good time. Met a lot of neighbors. I wish Matt and Craig very well in November and hope all my supporters turn out for them." Incumbent Matt Fitch beat Bohan 249-169.
Expected to win? "Yes and no. I'm a good guy. I come from a big and very well-known and very well-liked family. I'm not a politician. I'm a good guy with a good head on his shoulders and could have made some good decisions for the town.
"Will I run again? I probably will. I don't plan to go anywhere. I'm very interested in local politics. We'll put it that way."
Tom Fortuna, 2nd District, has ideas
"I was surprised (about losing) because of the feedback I received from the voters I had contact with. But I realized anybody next to Craig Henrici was going to win. They could have been Franks & Beans next to Henrici and they would have won. I was hung out to dry." Fortuna served on the council for two terms in the 1990s.
"I have to rest from this primary. This took a lot out of me." Fortuna called this year's primary unusually hectic. "A lot of people were more invested in this campaign. Carl Amento desperately wanted a fourth term.
"The biggest disappointment I have is that it's going to be difficult for me to get my ideas out there. What I'm going to do is go to council meetings and put my ideas out there." One of those ideas is for the town and school sides to share one administrative team.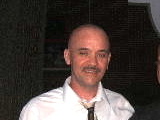 Paul Jacques, 2nd District, pleased with his results
"Taking into consideration what I saw town-wide, I was really proud and happy because in all the other districts Henrici's presence really made a difference. That to me says a lot. That's good for the future." Jacques lost to John Flanagan in the three-way council race by just three votes, 145-148.
"I'll always be involved. The biggest and best thing that really excites me the most is when I come home to my wife and kids. You win some and you lose some. But I'll be around." Jacques was the 2nd District councilor from 2001-2003.
Ed Beaudette, 4th District, expected a blowout
"In some ways I'm very relieved because I got my life back. I can't tell you how much time I lost with my son and my wife." Beaudette, the 4th District council incumbent, lost his re-bid Sept. 13 to Gretchen Callahan by 469-264 votes. He served on the Board of Education from 1993-1999, and on the legislative council from 1999-2005.
"I was pretty sure I was going to get murdered. I knew that Ms. Callahan was going to draw from the same Democratic profile I used to draw from. When I started my political career, I was very associated with Spring Glen School and the middle school."
What now? "I'm going to take a walk and not worry about the potholes or the tree stumps." Beaudette said he'll no longer have to deal with constituents' complaints. "I also don't have to worry about the angry people at Meadowbrook.
"Henrici had no real daily contact with anything that had to do with the town for 10 years. He wasn't on any committees or commissions. As far as I know, he had no interest in doing anything for the town. And who says he has to?
"I was shunted off to virtual obscurity during my first term. It wasn't until Roberta Mendenhall became council president and appointed me head of the education committee and the school building committee.
"I hope Ms. Callahan will follow the Democratic ideals, even though she was unaffiliated until before the primary.
"We need a little diversity on the council. It's kind of shocking that we have only one minority person on the council.
"The only thing I regret is that I won't be there to see the finishing of the middle school and the green. I only hope they don't use excuses to not finish (renovating) town hall."
Anthony Mentone, 8th District, not part of the new machine
"I'm a big boy. I've been at this a long time. I've won and I've lost. What hurt in the long run is I was pretty confident. I have a hell of a lot more experience than my opponent did. But I guess the Democrats wanted a change; I realize that now, the more and more I look at it. I was part of the old guard. My opponent is a young kid. He was aggressive." Mentone, 210; opponent Michael Germano, 345.
"Yesterday I was exhausted. But I feel fine. When you talk to people when you're campaigning you feel like everyone is for you. Some didn't go out to vote." Mentone was on the legislative council in the early 1980s.
"I lost the election. My life's not over. I'm still a Democrat and I'm going to support the Democratic Party."
---
September 14, 2005
2nd District Recount -- Done
By Sharon Bass
At a little after 2 p.m. today, Town Clerk Vera Morrison and company recounted the votes for the super-close 2nd District council race between John Flanagan and Paul Jacques, the Democratic Town Committee-endorsed candidate. Turns out last night's numbers were right on.
Flanagan beat Jacques by three votes: 145-148.
Morrison said the cost of a recount is not much but "it's a lot of labor." The voting machines need to be reopened and the absentee ballots recounted.
Speaking of absentee ballots, the election figures posted on the Hamden Daily News this morning -- based on last night's count -- have changed since the absentees have been taken into consideration. However, everyone who won last night still won.
Here's the final count. Mayoral challenger Craig Henrici got a total of 2,973 votes to Mayor Carl Amento's 1,960. In the 1st District, incumbent Matt Fitch pulled in 249 to Kevin Bohan's 169. Fourth District gave Gretchen Callahan 469 votes; incumbent Ed Beaudette, 264. And for the 8th District, Michael Germano received 345 to Anthony Mentone's 210.
Thirty-eight percent of registered Hamden Democrats went to the polls yesterday.

--------------------------------------------------------------------
Henrici Takes the Primary
Mayor Amento says "don't know" if he'll go Green Nov. 8
By Sharon Bass
After months of exchanging barbs and accusations, Democrat Craig Henrici beat three-term Mayor Carl Amento at the polls yesterday -- 2,965 votes to 1,960 votes. After months of party infighting, Henrici grabbed 61 percent of the voters. After months of watching the Hamden Democratic Party painfully fractured by this primary race for mayor, Henrici's win might help the party settle down.
Or will it?

Amento, who has been endorsed by the local Green Party for the general election, said at his headquarters last night that he was unsure if he'll run as a Green on Nov. 8. If he does, he's likely to take many Democrats with him. Maybe 1,960.
At around 8:10 p.m., just minutes before the results came in, Amento was pacing the floor at his campaign headquarters at Union Hall on Dixwell Avenue. The scene was quiet and somber. A dozen or so supporters waited anxiously with the mayor. Plastic-covered platters of sandwiches and cookies sat untouched.
"This is the closest election I've ever been in," said Amento. "I've been fortunate to be in blowouts" before.
A cell phone rang and everyone froze, thinking it was the call. But it wasn't. A few moments later the call came in. At 8:16 p.m., Districts 4, 7 and 9 reported.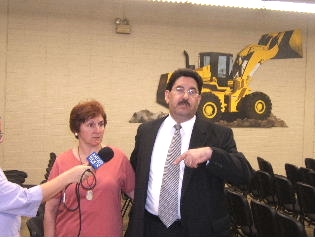 Amento delivering his concession, with wife Mary-Ellen.
"We already lost. Three districts came in and we did very badly," the mayor said. He gave a brief concession speech with his wife, Mary-Ellen, at his side, and then zoomed over to the Henrici headquarters to congratulate his rival.
In sharp contrast to Union Hall, the Henrici digs at 2600 Dixwell Ave. was smoking.
Hot, humid, sweaty and very noisy. The headquarters was jam-packed with politicians and friends. Half-empty boxes of pizza were stacked high on a table. Cookies and donuts sat on another table. Cans of soda and beer swam in coolers of melting ice cubes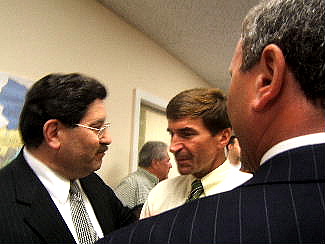 The men making peace.
Amento walked in, hugged Henrici and left.
"I was very impressed with the way Mayor Amento graciously came to the headquarters tonight," said Councilman Curt Leng, a strong Henrici supporter. "I believe the Democratic Party can heal itself now."
Asked for comment while swamped right and left by supporters, Craig Henrici simply said, "I'm very happy. The results are better than expected. I had a great organization."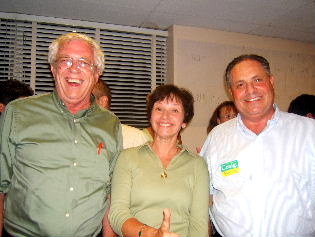 John Flanagan, former Mayor Lillian Clayman and former council prez Lou Panzo celebrating the Henrici win.
A host of who's who in the Hamden Democratic party was present at the Dixwell Avenue headquarters. Like former Mayor Lillian Clayman, state Rep. Peter Villano (D-Hamden), state Rep. Brendan Sharkey (D-Hamden), former Mayor John Carusone, former council prez Lou Panzo and current council prez Al Gorman. Henrici's headquarters will now be home to the Democratic Town Committee.
He will face Republican Dick Reilly on Nov. 8. And possibly a Green Amento.

Here's the breakdown of the votes:
1st District, Henrici, 251, Amento, 146; 2nd District, Henrici, 213, Amento 161; 3rd District, Henrici, 106, Amento 138; 4th District, Henrici 470, Amento, 260; 5th District, Henrici 416, Amento, 317; 6th District, Henrici 416, Amento 232; 7th District, Henrici 252, Amento, 209; 8th District, Henrici, 348, Amento, 202; 9th District, Henrici, 384, Amento, 228.
-------------------------------------------------------------
The Under ticket
Fitch, Flanagan (?), Callahan and Germano advance to the November election
By Sharon Bass
With the exception of the 2nd District, the legislative council races were won by a landslide in yesterday's Democratic primary.
Incumbent Matt Fitch beat challenger Kevin Bohan 233-163 for the 1st District. Political newcomer Gretchen Callahan took the 4th District from incumbent Ed Beaudette with a whopping 451 votes to his 256. Another newcomer, Michael Germano overcame Anthony Mentone by 336-200 for the 8th District.
All winners are on the Henrici ticket.
The 2nd District was a different story. In the three-way primary race, former Councilman John Flanagan barely eked by with 148 votes. Challenger Paul Jacques grabbed 145 votes and Tom Fortuna closed with just 97. A recount between Flanagan and Jacques is virtually a reality.
Said Flanagan, "I'm just tired. I won by three votes. There will be a recount."
"It's just beyond exciting," Germano said of his victory. "It just shows how a lot of hard work pays off."
"I feel good," said a sweaty, exhausted Fitch. "It was a double challenge because I felt like I was moonlighting as a candidate because I was Craig's campaign manager."
Callahan was quite smiley last night. "I really think I can make a difference as far as being a voice for the 4th District. I'm very excited. I'm really very excited. I'm really pumped. I really am," she said. "I thank everyone on my campaign team."
Adding to her high was a last-minute visit by her son Chris. He had left his University of Connecticut at Storrs campus yesterday to cast a vote for his mother.
"I'm ecstatic," the 20-year-old finance major said over the phone. He had returned home after the victory to get ready to return to school. "I came down to help my mom out. I voted for her." He said he was heading back to Storrs that evening. His mother seemed to disagree.

On Nov. 8, Fitch will face Republican Brittany Saunders, a Quinnipiac University student; Flanagan (or Jacques) will face Republican Hamden cop Gabe Lupo; Callahan will face Republican lawyer Chris Pappas; and Germano will face Republican former fire chief Timothy Sullivan.
------------------------------------------------------------
At the Polls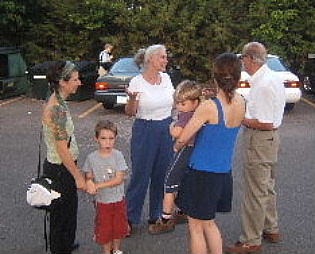 At-large Democratic Council candidate Kath Schomaker (center) and state Rep. Peter Villano debate the good and bad of the two mayoral candidates for voter Heather Raner (in blue top).
By Sharon Bass
Outside the Board of Education building at 60 Putnam Ave. -- the polling site for the 5th District primary -- a small group had gathered yesterday to discuss which mayoral candidate to vote for: incumbent Carl Amento or Craig Henrici. The group consisted of voter Heather Raner, state Rep. Peter Villano (D-Hamden) and at-large Democratic council candidate Kath Schomaker.
The discussion was a heated one. Villano was pushing Henrici; Schomaker, Amento. Eventually, Raner walked into the building to exercise her Constitutional right.
But after talking with Villano and Schomaker, she said she was confused. "I don't know who to vote for. I'm standing here and I'm undecided," she said. Raner said she didn't know much about either candidate but came down to vote "because Kathleen called me and told me to."
"I'm supporting Amento," said Sharii Olowu, who had just voted. "He supported the middle school. Education is very important to me as a Hamden parent and taxpayer. I think he inherited a problem, and he stepped up to the plate."
Over at the Helen Street School, 2nd District candidates Tom Fortuna and Paul Jacques were eagerly greeting voters.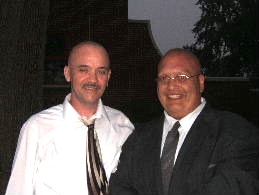 Both Paul Jacques (left) and Tom Fortuna pre-called the 2nd District theirs.
"I think it's looking good," said Fortuna about his chance for victory. "I'm optimistic. I'm going to pull out a win because the people who have been coming to the polls have given me positive responses."
Jacques also predicted a win for himself. "I feel fantastic," he said, with his mother a few feet away. "I've got a great campaign staff. I know we'll be at the finish line No.1."
The Miller Library was the voting place for the 1st District. "This is my first race and I feel comfortable and I'm glad it was kept honest and fair and there was no mudslinging," said candidate Kevin Bohan. "If Matt wins, my hat's off to him."
Exiting the library, Donald Campbell explained why he voted while the majority of people do not. "I came out to vote because I think there's issues in this town that need to be cleaned up," said the father of twin 14-year-old daughters. "I'm very unhappy with the sports programs. The high school doesn't make me too happy."
Robert Semack said he made the effort to cast one for Mayor Carl Amento. "Everything he's done is positive. He's the only one who has stepped up to build a new junior high school," he said.
Commenting on the feud and lawsuit, which was dismissed in July, over the new middle school being built close to the veteran's monument at Meadowbrook, Semack said, "Let these children be our future, and let's have some coexistence between the veteran's monument and the middle school."
---
September 13, 2005
Hours Before P-Day
Mayor Amento and challenger Henrici share some last-minute thoughts
By Sharon Bass
It's yesterday. Roughly 24 hours before the primary. And Mayor Carl Amento and his opponent lawyer Craig Henrici take a few moments out of their 11th-hour campaign pitches to talk about how they're holding up, as this year's quite contentious mayoral primary race comes to an end.
At around 1:30 p.m., the Hamden Daily News catches up with Amento.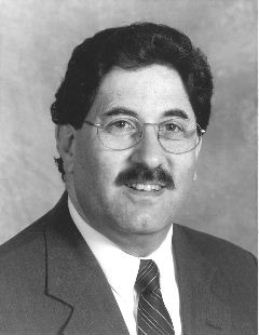 "We're working very hard," the mayor says. "The volunteers are really getting into it. We feel like we put out the best effort we could for tomorrow. We've put forth substance and results.
"I don't allow myself to prejudge what's going to happen or try to guess. We always play the underdog because the worst thing is to be complacent. So I've been out every day walking and talking. (No problem sleeping) after walking hours and hours.
"There's a high level of anxiety among everyone. You can't really obsess over the future. You leave nothing undone. It becomes a frenzy of activity in the last days and becomes harder and harder to try to balance some family life and the mayoral responsibilities. I'm juggling everything and the demands get higher and higher, and you almost can't wait for it to be over.
"It's been a privilege serving my community. I love the community and I think I have a good handle on what's going on. It's the most important thing you can do.
"We'll see what happens. I'm preparing myself to be gracious in winning or losing. I'm sure there will be strong emotions one way or the other.
"I don't think my opponent has come up with any ideas that make any sense. I hope people will look at our achievements instead of being negative about everything. There's just so much negativity being thrown out.
"I'm just going to project the positive image of the progress our community has made and that we'll continue to make."
A half hour later, Henrici is chatting with the HDN on the phone.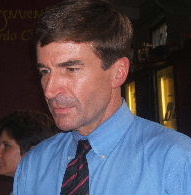 "I feel very good," he says in a decidedly calmer voice than his rival's. "I'm cautiously confident.

"Why do I feel good? Because I've been going door to door the last four and half months and I hear what the people are telling me. They want a change and they want better management in town hall.

"Actually I'm fine and my staff is fine. I've been working at my law office. I'll be leaving right after this phone call to go door to door. I've been sleeping fine. I'm not nervous because as far as I'm concerned, this is a win-win situation for me. Naturally I want to win the primary but if I don't, I'll be back at my desk at my law practice and it's always been a place where I've been very happy.

"Of course you wouldn't be human if you weren't a little nervous. It's like the feeling you get the day before a big hockey game.

"My exercise regime has suffered a little bit. Going door to door has taken a lot of time away from it. But I'm eating the same.

"My two oldest called yesterday and want to come down for the results, which made me feel really good because I know they like college.

"One funny thing that's happened is when my wife and I were walking our youngest to the bus today, there was a Carl Amento sign on my lawn. I don't think I can be criticized for taking it down. And it's in my garage if Carl wants it."
-----------------------------------------------------------

Color Gray Red
Despite "angry" memo, Amento maintains he and the former finance head got along just fine

By Sharon Bass

As reported in the Hamden Daily News on Sept. 2 ("Is There a Finance Director in the House?"), the town's head honcho of finance stormed out of Government Center on Sept. 1 for a very long -- as in endless -- Labor Day weekend. Before leaving, Don Gray dropped off a letter in the mayor's office. The reasons stated in the letter for his sudden departure were murky, Mayor Carl Amento had said, and added that it was not a resignation letter. However, he wouldn't disclose its contents.

But on Sept. 6, when Gray was reached at his New London home, he said he had officially resigned and was in the midst of sending an e-mail to Amento saying so ("Don Gray Speaks Out," Sept. 6).

"It had absolutely nothing to do with the mayor," he said of his leaving, during the Sept. 6 phone interview. "He was extremely supportive of me. I know my timing is not good for him, but … "

After receiving Gray's second piece of correspondence, Amento accepted the man's resignation and issued a press release saying the major reason was the "council's failure to fund two key vacant positions in the finance department ..." Gray had corroborated that during his Sept. 6 interview.

But what remained unknown was what Gray had initially written to the mayor on Sept. 1 that was deemed so murky. And what prompted him to abruptly leave his post. So Councilwoman Ann Altman sent an FOI (Freedom of Information) request to town hall seeking the document. Here's what Gray wrote:

"When you and I were discussing my coming to Hamden to help you out because the Town had been without a Finance Director for more than a year, part of our agreement was that I would be credited with three weeks of vacation time upon commencement of my duties as of January 3 2005. Once on staff, this agreement apparently was not conveyed to Personnel or Payroll. However, after numerous discussions with yourself, Personnel and Payroll, I was under the impression that all was worked out to our original agreement. I find today that this is not the case.

"I am fed up with this problem not being resolved as well as many other factors with the Town. I took this position on to help the Town out. It is abundantly clear to me that the Town does not want the help. I am leaving today. You may forward my last paycheck to me at my home address as well as my contributions to the Pension Fund along with any interest due and any other remuneration that may be due to me. I am sorry that this has not worked out to our mutual satisfaction."

When asked why he didn't view this as a resignation letter, Amento said, "It was written in anger. No boss would take that as a definitive leaving -- something written in anger. He had his buttons pushed when he walked out."

Gray did not return several messages left at his home.

In response to keeping Gray's first letter secretive, Amento said, "I'm a big disclosure freak. I believe in the First Amendment. I disclosed both letters.

"He and I got along great. There was absolutely no friction."

Deputy Finance Director Steve Hoff is currently acting head.
---
September 12, 2005
Mayoral Moolah
Part II
By Sharon Bass
September 6 marked the latest filing date for campaign finances. So the Hamden Daily News headed down to the town clerk's office last Friday to take another look at the money coming in and going out for the two Democrats vying for the town's top elected office in tomorrow's primary race (see "Mayoral Moolah," Aug. 17, 2005).
To date, Mayor Carl Amento's team has brought in $77,761, while rival Craig Henrici's pack has raised $46,580. Amento has spent $61,294, with $16,466 yet to play with. Henrici's expenditures have totaled $38,982, leaving his campaign with $7,597.
Donations from politicos and town hall workers since July 11 (contributions before that were noted at the last filing date on July 7) are as such:
For Amento: 1st District Democratic candidate Kevin Bohan, $100; 7th District Democratic candidate Michael Colaiacovo, $100; 8th District Democratic candidate Anthony Mentone, $100; Hamden Democratic Town Committee Chair Joe McDonagh, $100; mayor's assistant Jacqueline Downing, $100; Deputy Police Chief Jack Kennelly, 200; Hamden cops Ray Quinn, $100, John Testa, $100, and Thomas Wydra, $300; Parks & Rec Director Frank Rizutti, $100; Public Works Director Joseph Velardi, $250; town contractor Paul Siciliano, $100.
For Henrici: 4th District Democratic council candidate Gretchen Callahan, $50; state Rep. Brendan Sharkey (D-Hamden), $50; former mayor John Carusone, $150.
And that's all for now folks.
-----------------------------------------------------------------
Do You Know Where to Vote Tomorrow?
1st District: Miller Library, 2901 Dixwell Ave.
2nd District: Helen Street School, 285 Helen St.
3rd District: Keefe Community Center, 11 Pine St.
4th District: Spring Glen School, 1908 Whitney Ave.
5th District: Board of Education Building, 60 Putnam Ave.
6th District: Ridge Hill School, 120 Carew Road
7th District: Dunbar Hill School, 315 Lane St.
8th District: Bear Path School, 10 Kirk Road
9th District: West Woods School, 350 West Todd St.
If you're unsure which district you're in, click here. Remember, this is a Democratic primary. Only registered Dems can cast ballots.
Primary candidate recap:
Mayor
Incumbent Carl Amento* versus Craig Henrici
1st District
Incumbent Matt Fitch* versus Kevin Bohan
2nd District
Paul Jacques* versus Tom Fortuna versus John Flanagan
4th District
Incumbent Ed Beaudette* versus Gretchen Callahan
8th District
Anthony Mentone* versus Mike Germano
* Denotes candidates endorsed by the Hamden Democratic Town Committee.
---
September 9, 2005
Silly Cyber Speak
By Sharon Bass
You can tell it's a brutal election year when "silly" e-mail is circulated around town hall. Like this one that Hamden Town Planner Richard Stoecker sent to his staff:
______________________________________
From: Richard Stoecker
Sent: Tuesday, June 07, 2005 8:17 AM
To: Amanda Mana; Bruce Driska; Holly Masi; Leslie Creane; Valerie Smith
Subject: Silly Season
To All:
The silly season is upon us. Please refrain from giving political animals more grist. Please follow the following guidelines:
· Check your ego at the door and concentrate on the work at hand.
· Curb your aspirations to work with political campaigns.
· Do not talk with political operatives unless you give me a head's up.
· Thanks for your cooperation.
Peace ….. Out
RS
_______________________________________
Though written in June, the Hamden Daily News just got its claws on it. While the first bulleted item is proper advice, the second and third are at best questionable, if not illegal. What about Stoecker's staff's First Amendment rights?
Apparently, town attorney Sue Gruen found the "silly" e-mail questionable, too. Though Gruen did not return calls seeking comment, Stoecker told the HDN that Gruen had counseled him after she was shown the e-mail.
"She told me to repeal what I said," said Stoecker. So he issued the following e-mail the next day:
______________________________________
Sent: Wednesday, June 08, 2005 8:10 AM
To: Richard Stoecker; Amanda Mana; Bruce Driska; Holly Masi; Leslie Creane; Valerie Smith
Subject: RE: Silly Season
To All - I am sorry if I offended anyone with my Planning and Zoning Department - "Chalktalk" e-mail.
My Chalktalk message for today is a simple reminder that office hours are 8:30 to 4:30…… be there..
"And I feel like I've been here before, feel like I've been here before and you know it makes me wonder what's going on under the ground"
Déjà vu - Crosby , Stills, and Nash
Chalk talks - to continue daily.
Peace…. Out
Leatherman
_______________________________________
"I do get myself in trouble sometimes for saying things," Stoecker continued. "I wanted to keep everything within the department."
But isn't telling staff members not to get involved in political campaigning on their own time beyond a department head's purview?
"I'm very loose with people here," said Stoecker. "It was my inspirational thought of the day."
---
September 8, 2005
Holy Crossfire
By Sharon Bass
The Hamden Democratic Town Committee is asking the mayor and town clerk to "just say no" to other parties' endorsements for the Nov. 8 election. Last week, the DTC passed a motion requesting so. Fifteen of the 63 DTC members were in favor of the motion; nine said no; and one abstained. (The others weren't there.)
"It's unacceptable for endorsed Democratic candidates to accept endorsements from other parties," said DTC Chair Joe McDonagh. "We picked them. We helped them get elected. And they've done a damn good job."
Mayor Carl Amento has been courted by the Hamden Green Party to run on its line if he should lose next Tuesday's Democratic primary race against Craig Henrici. Democratic Town Clerk Vera Morrison, who has no opponents in either the primary or general election, was cross-endorsed by the Republicans at their July convention.
"These parties can't find a good candidate of their own," said McDonagh. "The Republicans and the Greens are doing it to take advantage of the reputation these Democrats have," he said of Amento and Morrison.
While their party wants them to say no thanks, both Amento and Morrison say they're not giving the request much thought. They're focused on the primary, not the general election.
"Right now I have an election to run. And when that election is over, we'll worry about the next one (Nov. 8)," said Morrison. "I'm an elections official. I'm doing my job."
Amento was more blunt.
"Nobody can tell us what to do," he said. "I'm mayor. I'm supposed to be working for everyone."
And, Amento said, "it's very premature. Let's just get through the primary. I really don't want to be diverted from my campaign. Joe McDonagh is a tremendous supporter of Craig Henrici. He has divided the party. We have Democrats who have not acted as Democrats for many years, and he hasn't said a thing about it."
In an e-mail response, Aaron Gustafson of the Hamden Green Party, wrote, "Our petitioning of Mayor Amento -- and indeed the cross-endorsement of Vera Morrison by the Republicans -- should have been taken as a compliment to the qualities of the candidates cross-endorsed. Ours is not an attempt to undermine the Democratic Party's dominance in town politics, though some people have twisted it to appear as such. A handful of Democrats are having a very bizarre reaction to something that is quite positive for all involved."
Michael Iezzi, chair of the Hamden Republican Town Committee, echoed Gustafson's sentiment. He claimed his party didn't endorse Morrison for political reasons.

"Therefore I am disappointed that the Democrats would take that position. Vera was cross-endorsed because of her ability to do her job. Period," he said. "Myself as well as many people in my party feel it's time to put political swords down and make decisions that are in the best interest of the town of Hamden."
When asked why the Republicans didn't put up their own candidate for town clerk, Iezzi said, "Because Vera's experience outweighs at this time what we could provide with an inexperienced candidate."

One thing the two town chairs agree on is that Morrison's post shouldn't be a political one since she serves all parties. "It should be a civil service position," said McDonagh.

The DTC vote was in limbo for a few days since there was not a quorum -- or at least half the members -- voting. Member Tony Mentone objected, and McDonagh said he then checked out the legitimacy of the motion with the Democratic State Central Committee. He said he was told the vote was good to go.

But where -- if anywhere -- it will go is anybody's guess.
---------------------------------------------------------------------------
FROM THE MAYOR'S DESK
MEDIA RELEASE
For Immediate Release Contact: Jackie Downing
September 7, 2005 203-287-7100
DONALD GRAY RESIGNS AS TOWN FINANCE DIRECTOR
Cites Council's Failure to Fill Vacant Staff Positions
Hamden-Town Finance Director Donald Gray has submitted a written letter of resignation to Mayor Carl Amento. Gray had abruptly left work last Thursday, September 1, 2005.

In Gray's letter he refers to the Council's failure to fund two key vacant positions in the Finance Department as the major reason for his leaving. Both the Budget Coordinator and Chief Accountant retired several months ago. The Mayor's proposed budget in March included funding for the two positions, which have both existed for decades. Gray states that he witnessed the Council's Chairman of Finance Committee, Curt Leng, move to fully fund the positions during the Council's budget deliberations. Leng later moved to reconsider the earlier decision and the Council voted to fund the two positions for only one half of the year starting January 1, 2006.

Gray was also disappointed by the lack of support from Leng and the Council regarding the need for temporary help to work on the annual audit. Gray requested the same amount of funding as had been approved for the previous year.
"It is unfortunate that political game-playing regarding crucial positions necessary for the Town's functioning played a major role in Don Gray's resignation," said Mayor Amento. "Don had extensive experience spanning over 30 years in municipal finance, which will be sorely missed."

The Mayor praised Gray's handling of the Town's finances, including an estimated $1.8 million budget surplus for the fiscal year ending on June 30, 2005, substantial increase in the Town's financial reserves from $3.3 million to $7.6 million, favorable bond rating reports in July from Standard & Poor's and Moody's and the successful regionalization of the Water Pollution Control Authority with New Haven, East Haven and Woodbridge.

The Mayor has appointed Deputy Finance Steven Hoff as Acting Finance Director. Hoff was the Finance Director in Litchfield for ten years and has worked for the Town for a little over one year.

The Mayor indicated he would begin a statewide search for an experienced finance director shortly.
---
September 7, 2005
Boy Talk
SRO at last night's mayoral debate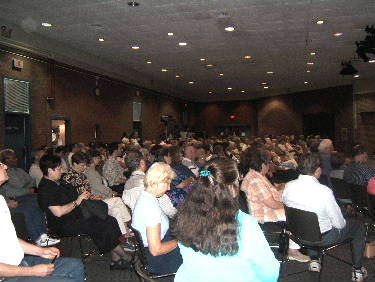 (Above, Thornton Wilder Hall was packed last night.)
By Sharon Bass
Open space. Sounds so bucolic. That's how last night's debate between Hamden's three mayoral candidates was billed: "Hamden Open Space Forum."
But it went beyond open space and into town hall issues, municipal money troubles, problems with Quinnipiac University -- you name it. As Gail Traester, of Brooksvale Avenue, put it after the two-hour event at Thornton Wilder Hall, "I just thought they were going to stick to open space."
During this volatile election year and with the primary just a week away? Not likely.
Ray Andrewsen of WQUN served as moderator, posing questions penned by the debate's sponsors to Mayor Carl Amento, his Democratic challenger Craig Henrici and Republican candidate Dick Reilly.

In front of a standing-room-only crowd, the show kicked off at 7 p.m.
Reilly opened the forum with a few words about himself. Amento went next with a few words about how his administration has made preserving open space a priority. Henrici followed with a few words about what's wrong with the current administration.
Question: How can the town balance the amount of open space between the southern and northern territories? (Editor's note: the questions as written in this article have been paraphrased.)
Reilly: "It can't be done. There's nothing left" in south Hamden.
Amento: "We're looking at some small properties" in south Hamden.
Henrici: "I agree with both of the prior speakers."
Question: With a lack of personnel, how can the zoning ordinances be enforced?
Reilly: "I would hire the people you need to run the town."
Amento: "We have a tremendous lack of personnel because of the political bickering on the council. We have one zoning enforcer doing it (all). I hope the next mayor will get the benefit of the new person (to be) hired in January" as allocated by the legislative council. Oops.
The audience roared.
Henrici: "I hope I do." More laughter.
Though it was Reilly who really cracked up the audience with his off-the-cuff, regular guy remarks, as the two Dems -- at times -- played out their roles as adversaries. Especially when topics such as the starved pension plan came up. Amento pointed to the stock market failure and state cutbacks as reasons for not feeding it properly. Henrici said it had been well nourished during previous administrations. They also argued over the town's bond rating. And so on.
Question: How can communications be improved between the mayor and legislative council?
Reilly: "I've never seen two sides go at each other as much. I think the legislature has usurped the mayor's authority. The cooperation has got to get better. It's sinful."
Amento: "This council has an agenda."
Henrici: "I want to be mayor, but my roots are with the legislative council." (Henrici was a town councilor for 15 years.)
On the wake of Don Gray's resignation as finance director, after a succession of four or six (depends on whom you ask) interim and hired heads for that department, a particularly timely query was posed.
Question: How will you keep a finance director?
Reilly: "You probably have to raise the ante. I don't think you're going to get anybody without paying $100,000." (Gray's salary was $89,000.)
Then Henrici made what appeared to be a big faux pas. "A 65-year-old guy from New London? Who would hire someone like that?" (He was referring to Gray, who lives in New London but is in his 50s.)
The seniors in the hall booed. (During his closing remarks, Henrici would clarify that statement. He said he meant it seemed senseless to hire someone whom he believed was a senior citizen, and expect him to be in for the long run.)

Question: Will you work full time as mayor?
Reilly: "I'm a 24/7 guy. I'm getting tired of playing golf."
Amento: "I gave up my law practice for this. It's a job I love. It's not like working on the legislative council."
Henrici: "Easy." The town charter requires the mayor to be full-time.
Right after the debate, Mike Teitelbaum of Corbin Road was asked for his opinion. "I think basically Amento was in the attack mode. He made a few good points, I'll give you that," he said.
Despite being surprised by the broader nature of the questions, Traester said, "I thought it was really great."
"I thought it was very informative," said Tony Stratton of Garvin Road. "I thought Mr. Amento handled himself well with the questions and was very knowledgeable with what's going on around town."
The sponsors included the Hamden Land Conservation Trust, the League of Women Voters of Hamden, the Regional Water Authority, The Watershed Fund, Friends of Brooksvale Park, Farmington Canal Rail-to-Trail Association, the West Rock Ridge Park Association, the East Side Civic Association, the Spring Glen Civic Association, the Hamden PTA Council, the West Woods Neighborhood Association, the Whitneyville Civic Association and the Kenwood Valley Neighborhood Association.
If you missed the debate, you can still catch it on CTV Channel 29 on Sept. 8 at 4 p.m.; Sept. 9 at 9 p.m.; Sept. 10 at 8 p.m.; Sept 12 at 7 p.m. and Sept. 13 at 2 p.m.
---
September 6, 2005
Don Gray Speaks Out
Yes, he has resigned
By Sharon Bass
Hamden finance director Don Gray has officially quit. Reached at his New London home this morning, Gray confirmed his resignation and said he was in the midst of writing a termination e-mail to Mayor Carl Amento.
He said he talked with Amento last night to tell him he was resigning. A letter he gave the mayor last week, he said, was not a final goodbye notice.
"It had absolutely nothing to do with the mayor," he said of his leaving. "He was extremely supportive of me. I know my timing is not good for him, but … "
Gray had previously been New London's finance director, and retired from that post. Then Amento asked him to come on board, and Gray said yes. But with a caveat.
"It was never in my mind for this to be long term," he said. However, he said he didn't think it would be this short term, either. Gray was hired last January.
While he would not state the official reason for his sudden departure last Thursday, the former finance head did say his office needed more staff and that the legislative council had promised that to him.
"The council was well aware of the manpower shortage," he said, but would not fill two vacant posts until next January. (Last fall, the town's chief accountant and budget coordinator retired.)
At last Monday's council finance committee meeting, "I told them that the audit wouldn't be done til the end of the year," Gray said. His request to hire outside help was met with some resistance by councilors, but the motion passed, with just finance chair Curt Leng voting against the item.
"Obviously the chair of the finance committee was reluctant. I cannot comment on his thoughts," said Gray.
Amento has been criticized for going through a string of finance directors during his tenure. Gray called that criticism "a little mean-spirited. The others weren't finance directors. They were to keep the office running while looking for a director."
Since Amento took office in 1999, there have been five people sitting in as finance director, but just two who were actually hired to head the department. James Hliva was director from December 1999 until December 2003. While looking for another director, Lou Affinito, who was the budget coordinator in the finance department, became the acting head from Dec.12, 2003 until Jan. 19, 2004. Then Lee Palmer, an interim director, served from Jan. 20, 2004 until he resigned that July. At that time Joseph Celotto took over as interim from July 5, 2004 until he left for health reasons on Dec. 31, 2004. Don Gray was hired as the official director on Jan. 4, 2005.
While Gray's leaving was sudden, he said he had been mulling it over for a while. He said he had spoken with Amento about his indecisiveness several times. "I believe Carl was aware I had contemplated leaving. We had some talks about it," said Gray.
Last Tuesday and Wednesday, Gray said he did not come to work. When he drove to Government Center on Thursday morning, he maintained he was still unsure what he was going to do. He left at 10:30 a.m. and did not return.
"I did not go into work Thursday with the intent to leave," he said. Gray would not say what exactly prompted him to take his signature stamps -- the only personal property he said he had in his office -- and leave for good at that moment.
"I never had anything in my office," said the former retiree.
-----------------------------------------------------------------
Read All About Them
Hamden's Democratic primary candidates
On Sept. 13, registered Democrats in Hamden will go to the primary polls to choose candidates for mayor and 1st, 2nd, 4th and 8th Legislative Council Districts. There are no Board of Education primaries this year. The general election will be held Nov.8, when all Hamden voters get to select the men and women -- which will include Democratic, Republican, Independent and Green candidates -- they want representing the council, BOE and town clerk's office. Make the choice to exercise your right to vote. And vote.
Mayor
Full Name: Carl Amento (incumbent)
Age: 55
Home Address: 273 Highland Ave.
Spouse: Mary-Ellen
Number of children: 2; Nick, 25, Sarah, 18
Education: Bachelor's in political science, Yale University, 1972; master's in secondary education, Harvard Graduate School of Education, 1973; J.D., Boston College Law School, 1977
Occupation: Mayor of Hamden
What did you want to do when you were a kid? Lawyer or teacher
1) Name your three favorite things about Hamden.
Hamden's people from many backgrounds.
Hamden's natural resources and beauty.
Hamden's many recreational, arts and cultural offerings.
2) Name three things you dislike about the town.
I can't think of anything I dislike about Hamden.
3) Fill in the blank: Hamden is a great community to live in.
4) How will you build trust among your constituents? By involving our citizens as much as possible in decision-making.
5) On a scale of one to 10 (10 being the best), how well do you think you know what your constituents want from the town? 8
6) Describe the funniest thing that's ever happened to you. I'll never forget the very first court appearance as a lawyer in 1978. I stepped on dog poop on the way into the courthouse, and did not realize it until the judge said, "Will counsel please approach the bench." Then I saw the judge's nose twitching and the expression on his face, and I looked down at my shoe.
7) What angers you most? Injustice and prejudice.
8) How are you enjoying the Bush Administration? Not very well, a lot of beneficial federal programs were cut or eliminated that would have helped Hamden.
9) Backing your answer with verifiable numbers, please describe the town's fiscal health. Before I became mayor there were four straight deficit budgets, which reduced the town's financial reserves to a dangerously low $1.7 million (only 1.5 percent of the budget). With four budget surpluses in our six years in office, we have boosted those reserves to $7.6 million. This represents 5.4 percent of the budget; financial institutions consider 5 percent of the budget the standard for a financially healthy town. The deficit years the town sustained were in the two post-9/11 years in which the country was in recession, the stock market had its largest decrease since the Great Depression and the state budget was in crisis. In those years, cutbacks in funding from the state caused revenue shortfalls for the town. In all six years I have controlled expenditures effectively, keeping them below the council-approved budgets. The latest bond rating reports from Moody's and Standard and Poor's cite the town's "significantly" increased reserves, "improved" financial position, "low" debt burden and the "hiring of an experienced director and deputy director of finance as positive factors." We have kept our debt low by refinancing to lower interest rates and by paying for projects with grant money. Four years ago I hired the town's first grant writer who has obtained over $12.5 million in state and federal grants for the town. Since 1990, the town has not made the recommended contribution to the pension plan. In 1998, the year before I took office, the town's contribution to the pension fund was $0. To have increased it to the $6 million recommended would have required a 2.3 mil tax increase for this item alone. Instead, we have increased the contributions gradually to the current level of $6 million so that taxpayers would not be overburdened. We have now reached the point where the inflows into the pension fund are greater than the payments.
Full name: Craig B. Henrici
Age: 52
Home address: 1135 Main St.
Spouse: Lauren
Number of children: 3
Education: Hamden High School; Middlebury College; University of Bridgeport School of Law
Occupation: Lawyer
What did you want to be when you were a kid? President, Micky Mantle, fireman
1) Name your three favorite things about Hamden.
People.
Spirit of community.
Diverse neighborhoods.
2) Name three things you dislike about the town.
Fiscal woes.
Lack of accountability in present administration.
Incomplete municipal projects
3) Fill in the blank: Hamden is my hometown.
4) How will you build trust among your constituents? I will be honest with them.
5) On a scale of one to 10 (10 being the best), how well do you think you know what your constituents want from the town? 10
6) Describe the funniest thing that's ever happened to you. College was fun!
7) What angers you most? I try not to get angry.
8) How are you enjoying the Bush Administration? I thoroughly enjoy living in America!
9) Backing your answer with verifiable numbers, please describe the town's fiscal health. Poor fiscal health; mil rate; unallocated reserve (without Water Pollution Control Authority cash); unfounded liabilities; bond rating; 25 percent tax increase in last four years.
1st District
Full name: Matt Fitch (incumbent)
Age: 39
Home address: 3379 Whitney Ave.
Spouse: None
Education: No reply
Occupation: No reply
What did you want to be when you were a kid? A boat captain
1) Name your three favorite things about Hamden.
The growing cultural opportunities.
The chance for one person to make a difference.
Living near the Mill River, Clark's Pond and Sleeping Giant.
2) Name three things you dislike about the town.
Quinnipiac's disregard for their neighbors.
The town's failure to stand up to Quinnipiac on behalf of the neighbors.
The way we seem to botch every new project we take on.
3) Fill in the blank: Hamden is home.
4) How will you build trust among your constituents? Accessibility and honesty. I am easily reached, residents know that I do return phone calls and follow up on their problems, and they always know where I stand. Even on occasions where we may differ in opinion, we usually leave a conversation with a level of mutual understanding.
5) On a scale of one to 10 (10 being the best), how well do you think you know what your constituents want from the town? Generally about an 8. I've lived here a long time and was obviously a politically concerned resident before I ran for office. But sometimes you do get surprised.
6) Describe the funniest thing that's ever happened to you. The funniest thing in politics was the woman who answered the door naked when I was campaigning in 2003. The overall funniest thing I ever experienced or witnessed was about 15 years ago and probably shouldn't be repeated here, but it involved an inebriated co-worker, a can of lighter fluid, a box of Milk Duds and his grandmother's wedding picture.
7) What angers you most? People with a victim mentality irritate the hell out of me.
8) How are you enjoying the Bush Administration? I think his administration has hurt our country.
9) Backing your answer with verifiable numbers, please describe the town's fiscal health. I genuinely believe Hamden is heading for a major crisis in the next five years without some serious restructuring. Our taxes are likely to continue climbing without major new state aid, and we have a couple of ticking time bombs in our pension and insurance funds. The mayor's so-called "plan" for shoring up the mess -- the fund has lost value every single year since he took office, close to half the value -- is for the town to start making massive contributions of $15 million or more per year after he leaves office. Essentially it will be close to pay as you go and the taxpayers will be on the hook for decades. We have large deficit in our insurance funds -- $3 million now, after running up another million in losses the past year alone. We did get some one-shot revenue from selling our sewer assets but that money will be run through quickly as well, and we ended up losing money on the deal.
Full name: Kevin Bohan
Age: 36
Home address: 162 Pelham Ave.
Spouse: Margaret
Number of children: 2
Education: 12th grade
Occupation: Metro-North Conductor
What did you want to be when you were a kid? WWE wrestler
1) Name your three favorite things about Hamden.
Great family communities.
Great schools.
Great location for work.
2) Name three things you dislike about the town.
Mill rate.
Traffic on Dixwell Avenue.
Good old boys club.
3) Fill in the blank: Hamden is a fantastic town to live in.
4) How will you build trust among your constituents? Listen to their concerns and act immediately on their most important issues.
5) On a scale of one to 10 (10 being the best), how well do you think you know what your constituents want from the town? 8. I am in constant contact with many of my neighbors, who I will be representing, and have been listening to their concerns about taxes and quality of life.
6) Describe the funniest thing that's ever happened to you. I got splashed by dolphins at Sea World in front of 500 spectators.
7) What angers you most? Candidates whose platform is based on a select few who do not know what the people of Hamden truly want.
8) How are you enjoying the Bush Administration? Not very well. Gas prices are outrageous, the stock market is volatile, Iraq is out of control, and terrorists dislike us more now than ever before.
9) Backing your answer with verifiable numbers, please describe the town's fiscal health. I believe it's in great shape. Carl Amento has done a wonderful job balancing our budget and we even posted a $1.8 million surplus in 2004-05. Our pension plan is gradually increasing where previous administrations ignored making any contributions. Hamden's financial reserves have more than tripled since 1999 ($1.7 million to $7.6 million) thanks to the current administration. Now that our financial "housekeeping" continues to improve, it's time to tackle what I believe is the most important concern for citizens of Hamden -- TAXES. I strongly believe we can hold the line on taxes and continue to improve our reserves as long as we stay within the current administration's policies.
2nd District
Full name: John P. Flanagan
Age: 58
Home address: 71 Chester St.
Spouse: Mary Ann (Mickey)
Number of children: 2; Eileen 27, Kevin 21
Education: Notre Dame High School, 1964; Seton Hall University, 1968, degree in social studies and education
Occupation: President of a company dealing with property and building inspection; building-restoration consultant
What did you want to be when you were a kid? An archeologist
1) Name your three favorite things about Hamden.
Most, but not all, the people I've met over the years.
The diversity of the town -- farms to factories to the many different neighborhoods and businesses.
Fall foliage, particularly Sleeping Giant and the view driving over the top of Skiff Street hill toward Paradise Avenue.
2) Name three things you dislike about the town.
Traffic on the Dixwell/Whitney corridors.
The current governmental neglect in neighborhoods south of the Parkway.
Litter.
3) Fill in the blank: Hamden is my chosen hometown.
4) How will you build trust among your constituents? By continuing my pattern of the past 30 years of not telling lies and delivering on what I promise. Church Street and Helen Street schools were replaced, as promised, the last time I served as district councilman.
5) On a scale of one to 10 (10 being the best), how well do you think you know what your constituents want from the town? 6.5 to 7. No one knows all of the problems or answers. If you listen, many times someone else has an excellent idea to solve a problem that you had never thought of. I'm a firm believer that, in most cases, there are at least 10 solutions to every problem -- some good, some just dumb.
6) Describe the funniest thing that's ever happened to you. Birth. Been laughing ever since.
7) What angers you most? "Politically correct" people who don't walk their talk, but expect everyone else to accept their decrees as if they came from on high.
8) How are you enjoying the Bush Administration? About as much as a root canal. Actually, I prefer the root canal.
9) Backing your answer with verifiable numbers, please describe the town's fiscal health. I no longer have the direct access to the finance department that I had when I was council finance chair. However, I would rate the town's current financial health as fair to poor. The mayor proclaimed a surplus this year of a bit over a million. However, he failed to account for the deficit in the pension fund, which last I saw the figures were headed upward of $60 million. Currently, there are cost overruns on many of the mayor's major projects and none of the costs are finished rising. The Hamden High School field work is approximately $3 million over and still not draining; the Hamden High hockey rink is approximately $2 million over and nowhere close to completion; the new middle school is $13 million over budget and rising; the existing middle school cleanup is four years in with $2.4 million bonded and no projection of completion of the total costs. The mayor is fond of comparing Hamden to other towns. That's pure bunk. We're a distinctly different entity. Most of us don't care what Cheshire, North Haven or West Haven is doing. We are heading into trouble and it needs to stop now! What's going on in other towns is irrelevant to our taxes.
Full name: Thomas M. Fortuna Sr.
Age: 49
Home address: 108 Bradley Ave.
Spouse: Dolores
Number of children: 3
Education: postgraduate
Occupation: Consultant
What did you want to be when you were a kid? President
1) Name your three favorite things about Hamden.
The Farmington Canal.
Tommy K's.
Sleeping Giant Park.
2) Name three things you dislike about the town.
Trash buildup in parks.
The dirty bathrooms at town facilities.
High taxes
3) Fill in the blank: Hamden is the best community of its size.
4) How will you build trust among your constituents? No reply
5) On a scale of one to 10 (10 being the best), how well do you think you know what your constituents want from the town? 10
6) Describe the funniest thing that's ever happened to you. Some 30 years ago, I checked into a hotel and received the key from the front desk clerk. I opened the door and found a couple in bed. The front desk clerk had made an error and double sold the room. I was so startled I slammed the door shut and ran back to the front desk.
7) What angers you most? High taxes.
8) How are you enjoying the Bush Administration? It is beyond me how much of this country voted for him. This country will need several Democratic presidents to undo all the damage he has done. Next question.
9) Backing your answer with verifiable numbers, please describe the town's fiscal health. Drawing from my previous experience as councilperson, I can tell you the books are cooked. I would work to adopt zero-based budgeting. Spending priorities for me would include police and fire, the pension fund and the library and park systems. I would work towards a balanced budget while achieving tax relief.
4th District
Full name: Edward Beaudette (incumbent)
Age: 54
Home address: 57 Central Ave.
Spouse: Jan
Number of children: 1
Education: Bachelor's in secondary education, Southern Connecticut State University
Occupation: Optician
What did you want to be when you were a kid? Bookstore owner
1) Name your three favorite things about Hamden.
Sense of community.
Summer concerts.
School system.
2) Name three things you dislike about the town.
Incessant political bickering.
Lack of a town green.
No movie theater
3) Fill in the blank: Hamden is a unique place, part big city, part small town and always interesting.
4) How will you build trust among your constituents? I always speak my mind, vote with passion tempered with intellect, and always tell the truth.
5) On a scale of one to 10 (10 being the best), how well do you think you know what your constituents want from the town? 9
6) Describe the funniest thing that's ever happened to you. Having someone call Geoff Fox, the worst weatherman on earth, when I was adjusting his mother's glasses. Pretty funny after the fact
7) What angers you most? Hypocrisy.
8) How are you enjoying the Bush Administration? Not very much but we will recover from it eventually
9) Backing your answer with verifiable numbers, please describe the town's fiscal health. A little better than average. Per capita income is only 90 percent of the state average yet we provide more services than most towns that are better off. Fund balance is back up to bonding company's 5 percent recommendation; cash on hand last month was $15 million; bonding limit still 2.5 percent under 10 percent cap. Level of indebtedness per capita well below Cheshire, East Haven and Wallingford. Infusion of pension fund contribution of $9 million, then $12 million per year will help shore up the town's credit rating. Sale of Hamden's WPCA will eliminate longstanding deficit accounts ignored by previous administrations. Tax rating went from sixth highest in state to 17th highest.
Full name: Gretchen M. Callahan
Age: 50
Home address: 43 Wakefield St.
Spouse: Robert F. Callahan
Number of children: 4
Education: Hamden High School, 1972; Boston College, 1976, graduated Cum Laude; Katherine Gibbs.
Occupation: Full-time mother
What did you want to be when you were a kid? I wanted to be an attorney
1) Name your three favorite things about Hamden.
The diversity of the town and our wonderful neighborhoods.
Town-sponsored events such as concerts and the Golden Bells Festival.
Our excellent recreational facilities, such as the Farmington Canal.
2) Name three things you dislike about the town.
Timely and economical completion of projects.
General maintenance of our public buildings, especially our schools.
The traffic congestion on our major streets.
3) Fill in the blank: Hamden is a town in need of new leadership. As a mother of four and a lifelong resident, I want Hamden to thrive now and in the future for all of us. I want us all to be proud to say we come from Hamden.
4) How will you build trust among your constituents? I will build trust by listening to and acting on the needs of those in my district. They will know that I am their voice.
5) On a scale of one to 10 (10 being the best), how well do you think you know what your constituents want from the town? I would say 10, but nobody can know what all their constituents want all the time so I have to say almost 10. I do know that there is a common thread in my constituents wanting fair taxes, controlled expenditures, completion of projects, a safe town and a school board that is responsive to the needs of our children.
6) Describe the funniest thing that's ever happened to you. I have experienced so many funny moments that it is difficult to single out the funniest. One that does come to mind was when my then-5-year-old son told his teachers, his friends and the neighbors the "lady" that lives in his house was an alien.
7) What angers you most? I am angered by the lack of respect for and reckless destruction of our public property.
8) How are you enjoying the Bush Administration? While it is clear that this is a provocative question, I can only say that what bothers me the most (and it has since the days of Clinton) is the polarity of the major parties. I would like to see a much more bipartisan approach from our leaders.
9) Backing your answer with verifiable numbers, please describe the town's fiscal health. I have read the budget and see that we have issues in several areas. For example, we have not funded the pension fund and this will be costly to taxpayers. We have increased taxes to try to meet the demands of expenses and not looked as closely as we need to at reducing and in some cases cutting expenses. I see a trend that needs to be reversed and this will only be done when a new team is elected in November. I am a member of this new team.
8th District
Full name: Michael Germano
Age: 23
Home address: 27 Forest Court North
Spouse: Single
Number of children: None
Education: Quinnipiac University, bachelor's in marketing
Occupation: Internet consultant
What did you want to be when you were a kid? Doctor
1) Name your three favorite things about Hamden.
People.
History.
Landscape.
2) Name three things you dislike about the town.
Increasing taxes.
Negativity towards administration.
Lack of accountability.
3) Fill in the blank: Hamden is in need of a fiscal and executive facelift.
4) How will you build trust among your constituents? Build a Web site for my constituents that will include my voting record, and explanation. Plus have a section that allows residents to submit and have answered any question regarding Hamden.
5) On a scale of one to 10 (10 being the best), how well do you think you know what your constituents want from the town? After walking door to door and meeting half the registered Democrats in the 8th so far, I feel that I am at a 7. I believe there is always room for improvement. Therefore, I will continue meeting residents and getting educated on their needs.
6) Describe the funniest thing that's ever happened to you. Don't know how this question would help voters, but if you would like to get to know me personally we can meet for coffee. For more information and contact info visit www.votemikegermano.com.
7) What angers you most? Drunk driving.
8) How are you enjoying the Bush Administration? I am not.
9) Backing your answer with verifiable numbers, please describe the town's fiscal health. The most important number is 43.24. I know with a responsible, efficient government we can do better.

Full name: Anthony F. Mentone
Age: 59
Home address: 541 Hill St.
Spouse: Rose V. Mentone
Number of children: 2
Education: Notre Dame High School; some college at SCSU
Occupation: Retired
What did you want to be when you were a kid? A high school athletic coach
1) Name your three favorite things about Hamden.
Its diversity in both geography and people.
Brooksvale Park.
High school sports.
2) Name three things you dislike about the town.
The physical condition of the police and fire stations.
"Pay for play" for high school athletes.
3) Fill in the blank: Hamden is a diverse town offering urban, suburban and farmland.
4) How will you build trust among your constituents? By being honest and hardworking as their representative.
5) On a scale of one to 10 (10 being the best), how well do you think you know what your constituents want from the town? 9
6) Describe the funniest thing that's ever happened to you. The funniest thing that's ever happened to me was playing Santa Claus for the Camp Rainbow program.
7) What angers you most? Child abuse.
8) How are you enjoying the Bush Administration? Ugh! I'm not!
9) Backing your answer with verifiable numbers, please describe the town's fiscal health. I will probably consider it a C+ at this time. Our financial reserve is $7.6 million, which is approximately 5 percent of the budget. Financial institutions consider this financially healthy. The pension fund has been increased to our current level of $6 million. It still needs some work, but it is much better than it has been. Due to state cutbacks, the fiscal health is sometimes questionable, and many worthwhile projects had to be curtailed.
(Missing: 2nd District council candidate Paul Jacques did not submit a profile or picture; 2nd District council candidate John Flanagan did not submit a photo.)
---
September 2, 2005
Is There a Finance Director in the House?
Hamden might have to hunt again for a new finance head
By Sharon Bass
While rumors are racing around town hall today that finance director Don Gray has called it quits, Mayor Carl Amento says that's not necessarily so. The mayor acknowledged getting a letter from Gray about his employment, but said its message is murky.
"I have something that's worded in a lot of different ways. It's not clear what it is. Don's status is uncertain," Amento said in a phone interview around noon today. "He's not in the office (but) I think the fact that someone hasn't been at work for less than 24 hours is not cause for any alarm."
A message left early this afternnoon at Gray's New London home was not returned.
Meanwhile, deputy finance director Stephen Hoff is taking over.
Yesterday, Amento said, Gray stormed out of town hall angry at another employee. "It's got nothing to do with me," the mayor said. "I think people want to jump the gun and turn it into a controversy. I've got people who are trying to create problems before the primary." He said he plans to talk with Gray over the three-day Labor Day weekend about his employment status with the town.
Also, at this past Monday's council finance committee meeting, Gray requested roughly $20,000 to hire outside temporary help to assist with closing the books at the end of the year. He met with some resistance, but the motion passed and is expected to go for a full council vote next Tuesday evening.
After a string of unsuccessful finance directors, Gray seemed a good find, with 30 years of experience under his belt. He took over the post last January.
"After five years the mayor finally hired a fully qualified finance director with impeccable credentials," said Councilwoman Ann Altman. "I was thrilled with the way Don Gray kept the council informed about the town's finances. He was a consummate professional. If he quit I am extremely disappointed."
Councilman Ed Beaudette concurred. "I'm disappointed. I liked him," he said, upon hearing that Gray may have resigned. "I was surprised we could get someone with as good qualifications to begin with. But he doesn't have the resources. The council decides what the staffing levels will be, and they've under-funded the finance department in terms of personnel."
"His office is short on staff," agreed Councilwoman Carol Noble. "He does need money to close the books. How else is he going to do it unless he has qualified staff?"
Last fall, the town's chief accountant and budget coordinator retired and have not been replaced.
"I've got a council that's bent on sabotage," the mayor said. "The council leaves me stranded without positions and meanwhile we're crippled.
"The audit is already being affected by a shortage of personnel in the finance office," Amento continued. "Hopefully we'll resolve all this. But there are people on the council who don't want us to. It's a self-fulfilling prophecy. You cut the staff and people complain things aren't getting done."
Noble said she was disappointed. "He seemed to be a straight shooter. The only controversy was he wanted to make some changes to the finance department that would have made it more efficient but it would have been costly. Right now we're trying to balance the books. It's tough."
---
September 1, 2005
Henrici for a Wireless Hamden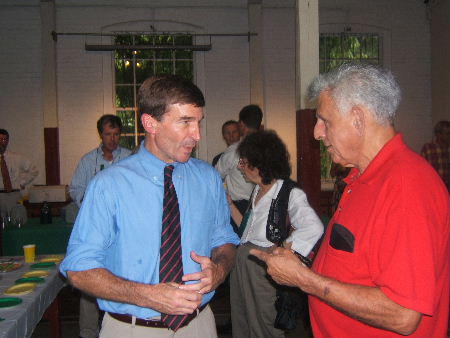 Craig Henrici talks to supporter John Carusone at last night's gathering.
By Sharon Bass
Mayoral candidate Craig Henrici drew dozens of folks to the Eli Whitney Museum last night to announce a new idea along his campaign trail: high-speed wireless Internet for Hamden. He's calling it WINS (Wireless Internet Network). He promises it will cost taxpayers nada and potentially turn a profit for the town.
Of course, he'd have to win the Sept. 13 primary and then the Nov. 8 general election to push his plan through. (More on WINS later.)
The evening began at 5:30. Former mayors, town councilors, municipal workers and regular joes and janes showed up. They munched on cheese and crackers and cookies and chips, and drank beer, wine, soda pop and water. Lots of water. The museum was hot and stuffy, as well as packed with warm, live bodies.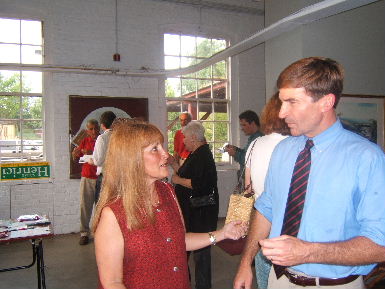 Community Service secretary Sharyn Wetmore chats with her future boss?
In addition to his WINS announcement, the mayoral contender introduced a "surprise" supporter, Mr. Perennial Mayor John Carusone. Carusone, who was Hamden's CEO from 1987-1991, implored the crowd to "please support Craig. He's a spectacular guy and was a helluva hockey player, too."
After Henrici's and Carusone's brief speeches, the Hamden Daily News randomly asked attendees what they had hoped to hear.
"Why he thinks he's better than the incumbent," replied John Sancomb of Hamden. "I've been exposed to him as a (former) member of the Planning and Zoning Commission and was impressed with him then. I'm doing my homework."
Fair enough.
Council President Al Gorman was working on a cold beer when he was approached for some feedback. "I've been supporting Craig for the last few months. This is the right choice for Hamden," he said. Gorman had supported Mayor Carl Amento during his three consecutive runs for office. This year Amento is going for a fourth term.
"The town needs refocusing on making this government work," the council prez continued. "We have financial problems; we have deficits in various accounts."
A couple of Henrici's law partners playfully uttered four words for their colleague last night. "We'll miss him terribly" should he become mayor, said Michael Kamp and John Conway.
Former mayors John DeNicola and state Rep. Peter Villano (D-Hamden) came to show their support. As did town Councilors Ann Altman, Carol Noble and Matt Fitch (Henrici's campaign manager), council candidates Michael Germano and Gretchen Callahan, and former Councilman Henry Candido.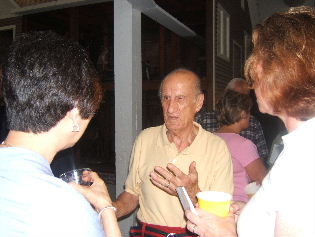 State Rep. Peter Villano and company.
Back to WINS. Here's how it would work, according to Fitch. Teeny, tiny antennas would be installed all over town, possibly on telephone polls. He said it would cost close to $1 million to set up the system, and Hamden would apply for public and private grants to foot the bill. Initially town buildings, libraries, public schools and the senior center would get the wireless service, which Henrici said would start in 2007. It would then be offered to residents and businesses for 10 bucks a month. Fitch said the town should break even with 2,500 subscribers.
Sound too good to be true? High speed for just $10?
In any event, take note, Comcast, et al.