September 6, 2007
'Halloween'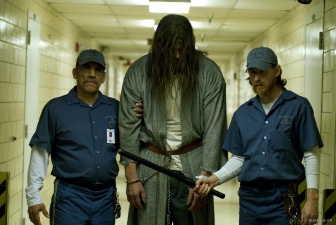 Tyler Mane delivers the good as the new Michael Myers.
By Shawn French

In 1978, John Carpenter's "Halloween" redefined horror movies and ushered in the slasher-flick boom of the '80s. Michael Myers was the first iconic movie monster since Universal's heyday and became the blueprint for seven sequels as well as the "Friday the 13th" franchise.
For better or worse, the modern slasher flick was born.
By today's standards, the original "Halloween" was pretty tame, focusing more on the chase and stalking of victims than the buckets of gore that seem to be a mandatory ingredient in horror films these days. So it was just a matter of time before someone took Carpenter's classic and bloodied it up for the ADD crowd. Enter Rob Zombie, the rocker turned director responsible for "House of 1000 Corpses" and "The Devil's Rejects," a pair of over-the-top horror flicks that I'm not a fan of.
Despite that, I had hopes for Zombie's "Halloween." The source material is solid and I liked the decision to remake the original with an added focus on the young killer's childhood. Considering the tremendous buzz among horror fans, I was surprised that Dimension Films yielded the "Halloween" opening weekend to the latest installment of Lionsgate's floundering "Saw" franchise. Instead, the studio elected for a much lower key September release, and set a new box office record for Labor Day weekend with a $32 million opening.
So what's my verdict on this re-imagining of the Michael Myers mythos? Let's start with the positives. It is Zombie's best film to date by far and I liked it more than any of the sequels. The fledgling director showed a restraint that I wasn't sure he was capable of, and the spastic trying-too-hard quality of his earlier films was largely absent. And the man can shoot a good chase scene, no question about that.
Daeg Faerch was quite good as the 10-year-old killer-to-be. I also liked the four-act structure and the decision to devote heavy screen time to Myers before he became a soulless killing machine.
But it was the opening act, the emotion core of the story, where the film struggled. I kept wanting to like it more than I actually did, much like how I felt watching "Hannibal Rising." Zombie has this strange affinity for white trash that I just don't share and the opening scenes are full of skuzzy characters and unrelenting filth. I realize the point was to establish a bunch of unlikable characters that the audience would want to see killed, but the first 15 minutes are likely to make some viewers want to bail out.
After a rocky start, the film hits its stride midway through the opening act and from there on out it's a serviceable horror flick with a few great scenes here and there. There was an increased focus on the relationship between Myers and Doctor Loomis (Malcolm McDonald), but the movie couldn't quite get it right. Each time he'd reach the precipice of a potentially great scene -- like when Loomis asks Michael about the night of his first murders -- Zombie dropped the ball. There are so many great answers the young sociopath could have given that would have allowed us a peek into his warped mind. "I don't remember" isn't one of them.
The cast was decent overall, with a standout performance by 6-foot-8 wrestler Tyler Mane (Sabretooth from "X-Men") as the adult version of Myers. And Sheri Moon Zombie brought a surprising emotional depth to her role as the killer's mother.
All in all, "Halloween" may not have much mainstream appeal, but I suspect most fans who knew what they were walking into will be at least marginally satisfied. It's a bit better than most of the films trying to pass themselves off as horror these days.
Shawn French can be reached at Chaosstrm@aol.com.
---
August 24, 2007
'Stardust'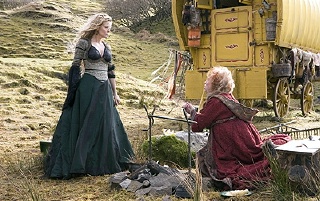 Michelle Pfeiffer steals the show in "Stardust."
By Shawn French

To me, movies are all about escapism and I love a flick that can take me out of my daily life for a couple of hours and send me to another place. Most of my favorite films have this transportive quality either directly ("Conan the Barbarian," "300") or indirectly ("Twelve Monkeys," "Fight Club"). I think it's a key ingredient shared by most classic films, regardless of genre.
In that regard, "Stardust" is a huge success. Based on the novel by Neil Gaiman, the film follows the journey of Tristan, a young man who undertakes a journey to retrieve a fallen star and win the heart of the object of his affection, Victoria (Sienna Miller). Unfortunately for Tristan, the star landed on the other side of a wall that his people are not meant to cross. It lies in the magical realm of Stormhold.
Complicating matters further, the star is a living woman (Claire Danes) and she's being sought by an ever-decreasing number of murderous princes, each vying for the throne, and a trio of wicked witches (led by Michelle Pfeiffer) who intend to eat her still-beating heart. All in a day's work for an aspiring fairy tale hero.
It's a story both epic in scope and simple in delivery, and I think fans of "The Princess Bride" would likely dig this film as well. While it isn't as funny as the Rob Reiner classic, it's entertaining throughout and there are some truly great moments, most involving the princes continually trying to kill each other.
Ricky Gervais cameos as a sleazy trader and steals every second of screen time (there's also an inside joke for fans of "Extras"). Regrettably, the swordplay in "Stardust" is dull and infrequent until an extremely cool and inventive final duel, whereas "Princess Bride" has some of the best fencing scenes in film history. But the films are so similar in theme that comparisons are almost unavoidable.
A lot of the buzz regarding this film focused on Robert De Niro, as the cross-dressing swashbuckler Captain Shakespeare. To his credit, this is the only time I can recall seeing De Niro be intentionally funny. (The first time he hosted "Saturday Night Live" was a trainwreck.)
I miss the old De Niro. It seems like every time he's onscreen these days he's either in a dress or wearing prosthetic breasts. If he wants to salvage what's left of his street creed, his next movie appearance really needs to involve him beating someone to death with a tire iron. Come back to the dark side, Bobby. You're a much better dramatic actor than a comedian.
The cast is solid, led by strong performances from relative newcomer Charlie Cox and Claire Danes. Their evolving relationship feels extremely natural. Michelle Pfeiffer is fantastic as the evil witch, Lamia, and brings a wonderful manic energy to the role. And there are several other cameos, including Ian McKellen as the narrator, David Kelly as the ancient guardian of the wall and Rupert Everett as a not-so-charming prince. And the ailing king is played by Peter O'Toole, who apparently isn't dead. Who knew?
While it isn't a kids' flick, per se, it's definitely kid appropriate. Most of the violence is off screen and the only questionable material is the witches using animal innards for divination, but they don't show it.
"Stardust" is a movie I could imagine parents and children enjoying equally, and that type doesn't come around too often. With beautiful sets and cool magic effects, it's worth catching this on the big screen. Unfortunately, the film opened to a meager $9 million, so it won't be in theaters for long.
Shawn French can be reached at Chaosstrm@aol.com.
---
August 10, 2007
'The Bourne Ultimatum'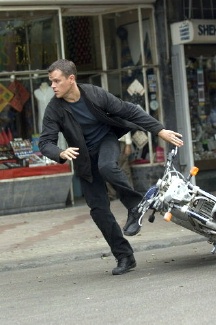 Bourne is back.
By Shawn French

Summer is blockbuster season in Hollywood, when studios roll out their big explosion-heavy spectacles. Flicks tend to be over the top and generally err by doing too much ("PotC: At World's End"), cramming in too many characters ("Spider-Man 3") or trying way too hard ("Shrek the Third"). Especially in the action genre, subtlety isn't a word you hear all that often.
But one of the best summer flicks is "The Bourne Ultimatum," the final installment in a truly great anti-blockbuster action trilogy. The first two installments were solid hits (a combined $300 million at the U.S. box office), but this franchise has never had the media frenzy surrounding normal summer movies. It's sort of slid under the pop culture radar, which means a lot of people have completely missed out on one of the best action trilogies, well, ever.
Matt Damon is back as amnesiac assassin Jason Bourne, evading the CIA bosses who made him what he is, while at the same time trying to learn what exactly they did to him and who he used to be. But what sets this trilogy aside (while likely costing it some mainstream appeal) is that it ignores the standard action-movie conventions. He's not slinging around bad puns like Bond; the films aren't full of cartoonishly large explosions; there are no catchphrases; he's not hitting helicopters with cars; he has no super powers or crazy gadgets. Simply put, Jason Bourne is an incredibly capable everyman. MacGyver with a license to kill. There's nothing flashy about him or the presentation of the movie and man. It's a refreshing change.
Director Paul Greengrass (who also helmed the second installment) is one of the best at the jerky handheld school of filming. Done right, the style feels more organic and can really bring the audience into the action. That brilliant long take of Clive Owen leading a newborn through a war zone in "Children of Men" wouldn't have been possible any other way.
Of course, it can backfire by nauseating some viewers "Blair Witch"-style. But aside from one early scene that was just two people talking while the camera jostled around for no apparent reason, Greengrass saves the wobbly camerawork for action sequences where it belongs. Generally speaking, I'm not a fan of extreme close-up, quick-cut fight scenes, which is an easy way for directors to camouflage the fact that stuntmen are doing most of the work. I prefer that the camera backs off a bit so we can actually see the choreography.
Greengrass has managed to succeed where other directors frequently fail -- he delivers kick-ass combat and great close-quarters fights that are thoroughly engaging even though the action isn't always in frame. And I love Bourne's improvisational fighting style, just grabbing whatever's handy and using it to pummel people. On DVD, I tend to find myself rewinding to watch some of the fight sequences frame by frame, which is really the highest form of flattery from an action freak like me.
The Bourne plotline, based on a series of novels by Robert Ludlum, is also rock solid and this film really pays off on a story that's three films in the making. After racing his former superior officers around the globe in search of a rogue agent, Bourne finally comes face to face with his makers and the resolution doesn't disappoint. Quality stuff.
So if you're in the mood for something a notch or three above the typical summer fare, this flick is really worth checking out. Well written, a solid cast and an entertaining ride start to finish. I highly recommend it.
Shawn French can be reached at Chaosstrm@aol.com.
---
July 12, 2007

A few years back, I was reading "On Writing" by Stephen King (I'd recommend it to any fledgling fiction writer out there). In the book, he starts writing a new tale just to show how he creates a story and how it changes draft to draft. It was an interesting process to study, as one of the masters of horror took his shot at the traditional haunted hotel room story that most horror writers eventually write.

It started as a writing exercise, but King later said he couldn't get the story out of his head. He eventually completed "1408" as a short story and now the tale is up on the big screen. It's the first movie I've seen that I got the chance to follow throughout the creative process and I'm happy to report that the movie lived up to my high hopes.

The story is simple enough. Author Mike Enslin (John Cusack) makes a living churning out trashy novels about his uneventful stays at allegedly haunted locations. When he receives a postcard from the Dolphin Hotel warning him against staying in room 1408, he decides to spend the night and document what, if anything, happens.

What separates this from most ghost stories is that it isn't about the ghosts; it's about the main character. He's haunted by his past as much as anything, and the manifestations in the room are deeply personal, which makes it so much scarier. His descent into madness is completely and totally believable -- a testament to good writing and a rock-solid performance by Cusack.

John Cusack offers further proof that he's one of the top actors of his generation in what is essentially a one-man show. Sam Jackson makes an appearance as the caretaker of the haunted hotel who tries to talk him out of staying there, referencing 56 deaths in that room over the years. But the final two acts are reserved for Cusack and his inner demons.

It's also the scariest PG-13 film I can recall seeing. I actually jumped a couple of times and that almost never happens. It's a natural fit for that rating, not just another R-rated film that had to chop out 10 minutes of gore to garner a PG-13. I am beyond sick of those movies. But "1408" doesn't need the blood and gore. It's a story of psychological torment and it hit me much harder than the "Hostel"-type films ever do.

Once Enslin is alone in the room, it's relentless to the finish. The atmosphere builds and builds as the room slowly tries to drive him mad. It's like the ultimate bad trip. Mind-bending, disorienting and a whole lot of creepy. I'll take a smart, suspenseful flick like this over another hack-'em-up "horror movie" any day.

Don't let the PG-13 rating fool you. This is a serious horror film and the best adaptation of a King horror story since "Misery." I highly recommend it.