Whitneyville Before Elvis
August 23, 2007
Afternoons with Sam and Ben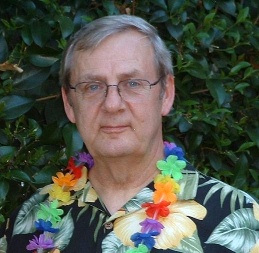 Johnson today.
By Raymond K. Johnson
We did a lot of our grocery shopping at The Neighborhood Market. It was just a block away, on the corner of Augur Street and Turnor Avenue. Although it was a small store, back in the 1940s and 50s it had most of the things mom needed. For the kids there was a glass cabinet just inside the front door that had all sorts of candies and bubble gum. The store was on the bottom floor of a two-story building. The left side had shelves all the way to the ceiling with all sorts of household items, tissue paper, soap and other sorts of dry goods. On the right side were the candy cabinet and more shelves filled with canned goods. At the far end were a big display case for meat and a walk-in refrigerator. They were separated by a big chopping block.
Sam and Ben Chodos owned the market. They looked like Mutt and Jeff from the comics. Ben, the shorter of the two, was the butcher. Whenever mom was going to make meatloaf or hamburgers, she would ask Ben for "2 pounds of lean chuck" and Ben would finish the sentence, "ground twice."
Ben would cut a big piece of chuck into chunks and then grind it twice in the big machine behind the chopping black. He and mom would then take a good sized pinch of the twice ground beef and eat it raw. Of course, this was always done after Ben had weighed the meat. Then he would wrap it up in a big square of butcher paper and write the price on it with a black grease pencil.
Ben was an old-time butcher. He would cut up chickens on request, cut a nice steak out of the center of a roast if that's what you wanted or cut baloney in big thick slices with a long curved knife, or slice it really thin on the big slicer on the back counter. When we were sent to the store to get bologna, Ben would usually give us kids the first slice to eat while we waited. He also had the best white cheddar cheese. It came in a wheel about 6 inches tall and about 2 feet in diameter. Mom called it rat cheese, and so did everyone who ordered it.
Whenever mom made flank steak she would ask Ben to cut a pocket in it so she could stuff it. Ben would always oblige, "free of charge." Many times Ben would give mom an extra package with a couple of bones in it. He would write "soup bone no charge" on it in grease pencil. It was for my dog, Jeff.
Sam, the tall one, ran the rest of the store. He knew all the customers by name; it was always Mr. or Mrs. So-and-So with the grownups, never first names. With us kids it was different; he knew all of us by our first names.
Sam took orders over the phone, writing all the items down on a scratch pad and then going to the shelves that lined the walls to get the items ready to be picked up. If the item was up on the top shelf, Sam used a long-handled reacher with jaws at the far end that would grip an item when you squeezed the handle. Sam was busy all the time, but when any of the neighborhood kids came to the store he would have to stop and help them at the candy counter. The glass cabinet was full of penny candies and bubble gum. Red wax lips, candied fruit slices, little wax bottles filled with colored sugar water and little pastel-colored sugar dots on wax paper were some of the things that you could get for a penny.
My brother and I once got in big, big trouble because of those little candies.
We had found a box of Indian head pennies in one of the dresser drawers in our parent's bedroom. We would take a few at a time and go up to the market and spend them on candy. Sam would take the pennies and give us the candy and we would be on our way. This went on for a month or so until one day my dad came home from work and told us to go upstairs to our room. We went and were soon followed up there by dad. He sat us down on the bed and reached into his pocket and pulled out a fistful of Indian head pennies and plopped them in a pile between the two of us. We sat there and stared at them, and then at each other and then at our father.
Before dad could say a word we both began to cry. My father stared at the two of us and said, "Stay out of my dresser drawer." He picked up the pennies and left the room. We continued to cry for quite some time. Later that night mom came up to our bedroom and told us what had happened. Sam had taken the pennies and set them aside, knowing they must have come from some sort of collection, as Indian head pennies had been out of circulation for more than 35 years. That day my dad had stopped by the store on the way home to pick something up and Sam told him the whole story and returned the coins to him.
When Louise, Lee and I got a little older, mom got a job as payroll clerk at the Brock-Hall Dairy on Whitney Avenue. She started to do all the grocery shopping at the First National Food Store. It was close to the dairy and she would phone in her order and pick it up on the way home. Trips to the Neighborhood Market didn't come as often after that, and when I started high school the money I used to spend on candy started to go for cherry Cokes and the jukebox at Nick's Candy Shop.
I enlisted in the Marine Corps after graduating from high school and a couple of years later while I was home on leave I stopped by the market to see Ben and Sam. A young man behind the meat counter told me they had retired and that he and his wife were running the place now. The candy cabinet that for so many years had been a big part of our lives was still there. The penny candies were all gone, replaced by the now more familiar brands of candy. I bought a Snickers bar and paid the man 25 cents. I thanked him, said goodbye and left the store with my candy bar and many wonderful memories of the Neighborhood Market and the two men who had been a part of my childhood years.
Raymond K. Johnson grew up Hamden. He graduated Hamden High School in 1957 and left town two years later, never to return. He now lives in Oceanside, Calif., with his wife, Kay. He is a retired United States Marine, and is penning his memories of growing up in Whitneyville in this column. Johnson can be reached at rkjohnson1@cox.net.
---
August 16, 2007
By Raymond K. Johnson
This is a story about my recollections of the businesses that served the residents of Whitneyville during the late 1940s and 1950s.
Kenny DeMaio was my best childhood friend. He lived three houses down the street from me on Francis Avenue. His father, Al, owned the Elm City Market located just across the intersection of Violet Street and Francis Avenue. The market was part of a large, square one-story building. Most people called it "Al's Market."
Looking back, Al DeMaio was way ahead of his time. His store was a real full-service one. He had two full-time butchers and a large fresh vegetable department run by an old Italian man named Tony. The store had a delivery truck. Bobby Deskin made the home deliveries. Alice DeMaio, Kenny's mom, worked the checkout counter and at one time made her own tomato sauce, which she put in mason jars and sold under the name of "Mother DeMaio's Tomato Sauce."
Sometime in the late 1940s, Al closed the Elm City Market and opened up the First National Store on the corner of Whitney and Ralston avenues. The meat department now had three and sometimes four butchers. One of his butchers was named Mike. We all called him Big Mike. He had been a professional heavyweight boxer and had huge hands.
The vegetable department had two greengrocers, Tony Paffumi and Tony Maci. Tony Paffumi, the older of the two, came with Al from the Francis Avenue store. Tony Maci had an eye for the ladies and spent most of his time watching them shop. Bobby Deskin was still driving the delivery truck and now had lots of deliveries up on Ridge Road, where all the rich people lived.
Bobby DeMaio, Kenny's older brother, started to help with the deliveries, but he eventually left to join the Air Force. Kenny took over Bobby's route once he was old enough to drive.
First National had two checkout stands with electric cash registers. There were no other stores in the area as modern. My mom and most of the others who had traded with Mr. DeMaio on Francis Avenue continued to call the new store "Al's Market." Later on, it changed names again to Universal Food Stores, and eventually to the Whitneyville Food Center.
When Al moved to his new store, the old Elm City Market building on Francis Avenue became home to the Sunrise Box Lunch and Rainbow Cleaners. The two men who owned Sunrise Box came in every morning about 4 o'clock and made box lunches to sell at places like the Winchester Gun factory in New Haven and other businesses in the Hamden area. Their small, blue panel trucks had a rising sun and the words "Sunrise Box Lunch" painted on the side.
Rainbow Cleaners was operated by two men named Dick and Art, I think. They would eventually move to the corner of Whitney and Putnam avenues next to the Country Club Bar and Grille. A big neon sign in the window of the cleaners offered "1 Hour Martinizing" (Martinizing promised one-hour dry-cleaning, and was done on-site rather than in a central plant).
Rainbow Cleaners took a lot of business away from the Country Club Cleaners, located just across the street next to the firehouse. Mr. Corangelo was an old-time cleaner, pressing all the clothes on a big steam iron. He also did alterations and always had a cloth tape measure hanging around his neck.
Next to the Country Club Cleaners was a building that had three businesses in it. The Country Club Barber Shop, Joe's Luncheonette and a hair salon. Next to them, on the corner, was the Mobil gas station.
The Country Club Barber Shop was owned by Benjamin D'Onofrio. He gave my mother her first haircut, he gave me my first haircut and he gave my son his first haircut. Benny was nice to us and always had candy for the kids. After he finished the haircut he would brush shaving cream all over the back of my neck, sharpen his straight razor on the big leather strap that was attached to the barber chair and then shaved my neck and pat on some Witch Hazel. I never liked it; it was cold and stung, and smelled like medicine.
Joe's Luncheonette was owned by Joe DeFrancesco and his wife, Tillie. The Thursday special was lasagna for 75 cents, and on Friday it was pasta fagioli. The luncheonette had a payphone and a pinball machine. The phone booth was always busy. Joe was a bookie and spent lots of time on the phone taking and making bets.
The pinball machine got played mostly by kids, but the older boys used to play for money; Joe would pay off for games won, five cents each. Kenny and I used to play but Joe wouldn't pay us because our fathers had businesses close by and he didn't want to get in trouble with them.
The hair salon was run by a man named Leon. My mom had her hair done there for many years until they closed, and then she went to Helen's Beauty Shop, around the corner on Whitney Avenue.
My father owned the Country Club Bar and Grille. It had a restaurant in the back but most people came for the beer. Some of the other stores on that side of Whitney Avenue were Schiller's Bakery, Topper's Liquor and the Whitney Theater. At the end of the row of buildings was a hobby shop.
Mr. and Mrs. Schiller ran the bakery and their glazed donuts were the best. They made all sorts of breads and pastries.
Dave Topper and his wife ran the liquor store. He had two Doberman dogs and kept them on a chain inside the store for protection. He used to take his dogs across the Lake Whitney footbridge to the golf course and let them run in the evenings. Sometimes they would run after balls that were hit off the 10th tee, and the golfers would go nuts.
The Whitney Theater was our favorite place to go. Every Saturday morning we would all go to see cowboy movies. There were two or three cartoons, followed by a matinee serial like Flash Gordon or Buck Rogers, then two 'B' Westerns. A ticket cost 17 cents including entertainment tax and we were entertained for about three hours. We'd stop at the candy counter and spend a nickel for a Sugar Daddy or a box of Good and Plenty and then rush down the aisle to get a seat in the front row.
Frank Ferguson owned the Whitney Theater in those days. There was an old man who would come to the theater for the Saturday matinee. He wore an overcoat and used a cane and always sat in the second row on the right-hand side of the theater. I think he was Mr. Ferguson's father.
When the matinee was over, we would go to the hobby shop to buy something worth a nickel or a dime; little magic tricks or pepper gum, things like that.
Across the street on the corner of Whitney and Putnam, next to the First Congregational Church, was Mr. Petrillo's shoemaker shop. It was in a very small wooden building and Mr. Petrillo could hardly move around inside there was so much stuff in there. He was a little old man with hands like leather. His son, Luciano, was in my brother's class in school. Luciano was one of four or five boys in our neighborhood who contracted polio. His had, by far, the worst case. His legs were completely paralyzed. He wore big metal braces on both legs and used crutches to get around.
But Luciano was always smiling and would watch the kid games in the school yard. You could almost hear him telling himself, "Someday, someday." Years later, I came home and the little shoemaker shop was gone. I never found out what happened to Luciano.
The Country Club Pharmacy was on the corner across from the shoemaker. Nate Hamerman was the owner. Next to the drugstore was a delicatessen called Joe's Salad Bowl. Later on it closed and Fowler's Jewelry Store opened. We used to go to the drugstore to get milkshakes and sundaes at the soda fountain and read comic books. There was a big fire there one year and Mr. Hamerman rebuilt the place, but it was never quite the same. All glass, aluminum, brick and fluorescent lights. And we couldn't sit on the floor and read comic books anymore.
The Mobil gas station on the northwest corner had the big red flying horse sign. The thing I remember most about the gas station was the rack in front of the office full of quart glass bottles filled with oil. The sign on the rack read: "Used Drain Oil 10¢."
Next to the gas station was a two-story brick building. On the second floor was the office of Dr. Hornstein, my dentist. I can still hear Dr. Hornstein's drill in my dreams.
Next to his building was the Zarkos Bros. Candy Shop. Nick and Sam Zarkos were the owners and along with their wives made homemade ice cream and candy. Everyone called it Nick's. There was an old-fashioned phone booth on the left just inside the front door. On the right side was a soda fountain. In the rear were a jukebox and three rows of booths. We used to go there after school let out and drink cherry Cokes and play the juke box, five songs for a quarter. When Nick's closed, Helen's Beauty Shop moved in.
The Whitneyville Hardware Store was next to Nick's. Mr. Brady, a plumber, owned it. He used to come to our house when the toilet was plugged up. At the end of the block, on the corner of Ralston Avenue was the Whitneyville Food Center.
Most of these places are long gone now, but there are times when I imagine it's Saturday morning and I'm in the Whitney Theater running down the aisle with Kenny DeMaio, racing to get the front-row middle seat.
Note: This story would not have been possible without help from two people, Ken DeMaio and Jane Heil. Ken straightened me out on a few names and locations. And Jane, as she always does, corrected my grammar and punctuation. The three of us went from kindergarten through 12th grade together. On Saturdays at the Whitney Theater, Jane sat behind Kenny and me in Row 2.
Raymond K. Johnson grew up Hamden. He graduated Hamden High School in 1957 and left town two years later, never to return. He now lives in Oceanside, Calif., with his wife, Kay. He is a retired United States Marine, and is penning his memories of growing up in Whitneyville in this column. Johnson can be reached at rkjohnson1@cox.net.
---
August 9, 2007
Growing Up in 'The Grille'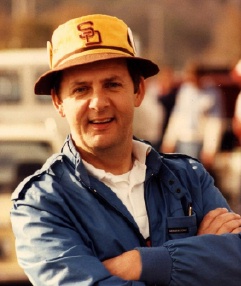 Raymond Johnson. Courtesy photo
A delightful and funny trip down memory lane
By Raymond K. Johnson
My father bought The Country Club Bar & Grille at Whitney and Putnam avenues sometime in the late 1940s. Mom wasn't too happy about it at the time; dad had quit his job at Winchester, mortgaged the house and with an old drinking buddy, Johnny Karpinis (everybody called him "The Greek"), as a partner, bought the place.
My brother and I thought it was great. Whenever we went down to Whitney Avenue to the movies or the hobby shop, we would go into the bar and get free sodas. Actually, we had to go through the restaurant entrance on Putnam Avenue; kids couldn't use the front door where the bar was.
We'd go in the side door and into the kitchen. Sometimes dad was there making a hamburger but most times he was behind the bar. Most of the guys in there didn't come for the food. Kenny McGinnis, one of dad's best friends, was a regular. He would call us by name and buy us a soda.
"Give Raymond and Lee a drink on me, Graham," Mr. McGinnis would say. Dad would fill highball glasses with ice and soda, plop in a cherry and put in a long red straw. We always thought we were getting a special drink when Mr. McGinnis was there.
There were a lot of regulars at the bar. The post office was next door and lots of times there were five or six big leather mailbags sitting on the floor while the postmen had a couple of drinks in between deliveries. Things were a lot different back then. We also used to see a lot of the milkmen from the Brock-Hall Dairy there. The Brock-Hall Dairy was owned by Donald Hall's and Muriel Brock's parents, and figures in at least one of Hall's early poems. In late afternoon, the crowd from Winchester would drop in for a couple. Mr. Koch and Mr. Rosengren, our neighbors from across the street, came in quite often.
A couple of years after dad bought the place, he decided to get the restaurant going and serve a full menu. Until then it was just burgers or BLTs or anything you could cook on the grill. Dad hired a chef from the Restaurant Institute of Connecticut (soon to be renamed the Culinary Institute of America). Bill Bock was his name. Dad also hired me as his helper.
Bill did not know how to cook. But he dressed the part. He wore the white pants, the white chef's jacket and the big tall stovepipe chef's hat.
Bill and dad came up with a menu and started advertising. I spent most of my time washing pots and pans and wishing I was up at the lot on Augur Street playing baseball.
The menu was pretty basic. Spaghetti and meatballs, meatloaf, stuffed cabbage, roast beef and a few other things. Bill was probably doing the things he was taught at the school but I never could figure out some of them. He would cook three or four boxes of spaghetti until it was almost done, then rinse it in cold water and portion it out, wrap each portion in wax paper and put it in the ice box. When someone came in and ordered spaghetti he would pull out a package, toss it in a pot of boiling water and warm it up. It always wound up overcooked.
My mom made better tomato sauce than Bill did.
Bill didn't stay at the Grille (mom hated to hear us call it a bar so we always called it "The Grille") very long. There were complaints about cold food and just plain bad food but the last straw was when Benny, the barber from across the street, complained to dad.
Benny D'Onofrio owned the Country Club Barber Shop just across the street on Putnam Avenue. Benny had been there forever. He gave my mother her first haircut. He gave my sister, my brother and me our first haircuts. He gave my son his first haircut.
So Benny came in one afternoon and ordered the special -- Salisbury steak with mushroom gravy, mashed potatoes and fresh string beans. Bill was ready. He had prepared the Salisbury steaks early in the morning, spending hours chopping and dicing onions and green peppers, making breadcrumbs and mixing them all together in a huge aluminum bowl. The patties were formed into almost football-sized lumps, wrapped in wax paper and tucked into the ice box next to the spaghetti.
"Ray, get me one Salisbury steak from the ice box," said Bill. I handed him one. He looked it over and returned it the ice box and studied the inventory, selecting a different one. It was becoming evident that I would never become a chef.
Bill flipped the Salisbury steak on the grill and turned up the heat. About every two minutes he would turn the steak over, examine it, adjust the heat and go on to get the mashed potatoes and gravy ready. This went on for about 45 minutes. I peeked out the service window to see if Benny was still there. Benny was on his third glass of sherry.
Bill finally announced that his creation was done. He had poked and prodded that little lump of ground beef for almost an hour. He picked up the Salisbury steak with his spatula and promptly dropped it on the floor. It broke in two. Bill did a quick 180-degree move, put his finger to his lips and shushed me. The look in his eyes was scary.
He picked up the two pieces, brushed them off with a towel, put them on the plate and pushed them together, put a double ladle of mushroom gravy over it, added the mashed potatoes and string beans and rushed the plate out to Benny. Benny had been there one hour.
Benny never ate at the Country Club Bar and Grille again. The next day he came in and told my father there were rocks and dirt in his Salisbury steak. It wasn't long after that that my mother took over the cooking duties at the Grille. Things were a lot better. I got fired along with Bill and got to spend a lot more time playing baseball up on Augur Street.
Dad had a party one time for a bunch of the guys from Winchester. As I recall it was a banquet for the golf team and all the participants from a golf tournament that they had at Meadowbrook Golf Course. Lobster was on the menu. For parties of this size we used the big kitchen in the basement. It had three big restaurant-sized stoves, big ovens, warming trays and a dumbwaiter to haul the food up to the restaurant. It would be my brother, Lee's, and my job to get the food upstairs.
Mom and Yolanda Umland, our next-door neighbor and mom's best friend, would do the cooking. Lee and I were in the downstairs kitchen examining the lobsters which were all packed in seaweed in bushel baskets. We tested out the dumbwaiter. Lee crawled in and I pulled him up to the restaurant. As the cooking of the lobsters started, mom would pull two or three out of the basket, examine them and then toss them into the boiling water.
At one point, she came across a lobster with a broken claw. She handed it to me and asked me to put it aside. At that age I wasn't into the whole lobster thing and I handled it as if it had a lit fuse inside. It made some kind of flipping move with its tail and I dropped it. It crawled under a storage cabinet.
I left to go check the dumbwaiter. Later that afternoon mom asked where I had put the broken lobster; she and Yolanda were going to cook it for themselves. I said it should have been in "that basket right there." Mom and Yolanda looked around and then figured they had cooked it and sent it up with the others. The party went well, dad was happy, Lee and I had fun with the dumb waiter, and after cleaning up we all went home.
Three or four days later, mom came to me and asked me again, "Where did you put that lobster with the broken claw?" She was not smiling. I told her the truth, "It escaped under the cabinet and I forgot about it". I was ordered to report to dad down at the Grille.
As I got to the post office, about 50 yards away, I smelled something awful. The closer I got, the worse the smell got. The delivery entrance to the basement kitchen was open and there was a big fan blowing out into the parking lot. My father was standing there, a towel across his face looking like a holdup man in a "B" Western.
I was handed a mop and a bucket and ordered to clean up the entire kitchen, especially under the cabinets. The smell was horrendous. Later I found out from Kenny McGinnis -- who laughed all the time he told the story -- that my dad had opened the trapdoor behind the bar to go down and get some whiskey from the basement. The smell of dead lobster sent all the customers out the front door onto Whitney Avenue. I spent the rest of the day in the cellar cleaning up -- and gagging.
But there were some very good times at the Grille. Once mom took over the kitchen (she said she hated it but she was in her glory) business got better. She had grown up next door to Yolanda Garafolo (now Umland), and had learned how to cook Italian food from Mrs. Garafolo. Her spaghetti and meatballs were the best. Mom also learned how to make great baked beans from my grandmother. The beans were on the menu every Friday night.
Our most famous visitor at the restaurant was Thornton Wilder, the Pulitzer Prize-winning author of "Our Town," "The Skin of Our Teeth" and "The Bridge Of San Luis Rey." Thornton lived just a few blocks from the restaurant and was a regular every Friday night. He ordered the same thing every time he came in.
"Mrs. Johnson, I would like to have the franks and beans. And two very dry martinis. In rapid succession," is all he had to say. Mr. Wilder never looked at the menu, just ordered the Friday Night Special. I swear my mother cooked those beans just for him. If not one other person ordered them she wouldn't have cared. Of course, it could have been the Rosseler's hot dogs he came in for, but I never thought it wise to mention that to mom. He even came to our house one evening for a couple of drinks and mom got him to autograph a copy of "Our Town."
Things slowed down at the Grille towards the end. The postmen were doing their deliveries without refueling. The milkmen weren't delivering as much due to the fresh milk in the supermarkets, and Winchester was cutting back on production. Dad finally sold out to the Dolan brothers who ran the place for many years. I would stop in whenever I was home on leave from the Marine Corps and would always run into Kenny McGinnis, and I'd buy him a drink or two.
Looking back on all those great times, I now wonder if the restaurant's new name, "The Playwright," doesn't have some connection to Thornton Wilder the playwright. Mom would have liked that.
Raymond K. Johnson grew up Hamden. He graduated Hamden High School in 1957 and left town two years later, never to return. He now lives in Oceanside, Calif., with his wife, Kay. He is a retired United States Marine, and is penning his memories of growing up in Whitneyville in this column. Johnson can be reached at rkjohnson1@cox.net.