December 23, 2007
Mann at Meadowbrook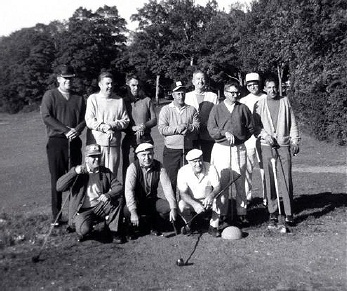 Meadowbrook golfers circa 1950s: (standing) Russ Cutler, Billy Day, Don Brainerd, Mickey Martino, Ray Williams, Harold Decker, Ray Avery and Pete Lupi; (kneeling) John Biondi, Toddy Ciresi and Mike Silvestri. Courtesy photo
By Raymond K. Johnson
On Feb. 23, 1938, Nathan Mann fought Joe Louis in Madison Square Garden for the heavyweight championship of the world. In the third round Mr. Mann got knocked out. He was one of the first people I met at Meadowbrook Golf Course.
Dad played almost all his golf at the local municipal golf course on Dixwell Avenue, up by Memorial Town Hall. I was about 12 the first time he took me along as his caddy and there are a few things I will always remember about that first time at Meadowbrook.
It was an early Saturday morning, no later than 6:30. I remember how quiet it was. I remember how the fairways and greens were still wet with dew and wherever you walked you left footprints. I remember walking with my Dad from the parking lot to the old Pro Shop and the funny crunching sound his spiked golf shoes made in the gravel. He met four or five of his friends and when they talked it seemed they almost whispered, even when they laughed, they laughed quietly. The guys he played golf with were quite a bunch.
Charlie Johnson owned the golf course back then and you could always find him sitting in his chair in the Pro Shop. Even at 6:30 in the morning, he was smoking a big smelly cigar. Charlie was getting pretty old and his legs and hips gave him trouble. My dad would always ask, "Charlie, let's play nine," and Charlie would always say, "Sorry, Graham, not today."
Julius Golaski was a friend of Dad's and had been to our house many times for poker games. Everyone called him Chuck. I don't think I ever saw Chuck completely sober. He lived in the big white house next to the Pro Shop and was always the last one to show up at the first tee. Chuck would come onto the first tee smoking a cigarette, his shirt still untucked, and was always cussing about something. When Chuck bent down and pushed a tee into the dirt everyone moved out of the way. You never knew where the ball was going to go, but it was a pretty safe bet it wouldn't find the fairway.
Pete Lupi and one or two of his brothers would usually be there. They owned the Lupi Bakery on Dixwell Avenue down towards New Haven. If you ever had Lupi's Italian bread back then, you know you will never have better.
Billy Day was a regular in the group; they always called Billy "June Bride." Whenever Billy hit a big drive or made a long putt it was always, "Way to go, June Bride." I never figured that out.
Another one of Dad's friends was Johnny Capuano. John drove a Cadillac. He had a big leather golf bag that weighed more than I did. His golf shoes were always shined and he looked like he should be playing at the New Haven Country Club, the private course across Lake Whitney a few miles down the road. Johnny was blind in one eye and it always seemed like he was looking at you, even when he wasn't. He was a very nice man and the few times I got to caddy for him he paid double what the other guys did.
Meadowbrook was already getting old the first time I went there with Dad. The course still had the original 18 holes, some good and some that were truly awful. The first hole was OK once you teed off. It was the tee area that was bad. It was mostly dirt, hard dirt, and most of the time you had to beat the tee into the ground with a club in order to tee up the ball.
Once you got to the green it was a pretty hole. A big tree at the backend provided shade and kept the green from browning out during the summer. The second hole was a long par 5 that went down into a big gully and then up to the fairway. Lugging the bag down and then up the hill was always a pain and once you got up to the fairway, you had to start looking for the ball because from the tee all you could see was a direction flag that indicated the direction of the green.
The nicest hole on the old course was the 10th. It was an uphill dog-leg left that cut right through the middle of a stand of lodge pole pine trees. In the morning it was so quiet there that if you put one into the trees, the ricochet sounds of the ball bouncing off five or six trees were unbelievable.
Then there was Nathan Mann. Nate lost big-time heavyweight fights to Joe Louis and Tony Galento, both by knockout and both in Madison Square Garden. But he was the Connecticut State Heavyweight Champion for many years and the people of Hamden loved him. The bout with Louis was for the heavyweight championship and when the ring announcer introduced him as "Nathan Mann from Hamden, Connecticut," the Garden crowd went nuts. The announcer had to ask everyone to stop yelling so he could get the fight going.
Nate Mann worked as a part-time bartender in the Meadowbrook Clubhouse. At the end of a round of golf, Dad and all the guys would go to the clubhouse and settle up all their bets and have a few drinks. I would go along and get a Coke and a hamburger and listen as the bets were settled. On this particular day I went up to the bar and asked for a hamburger and a soda. Dad looked at me and said, "Raymond, this is Nathan Mann. He fought Joe Louis in the Garden."
I shook his hand, the biggest hand I ever saw. I said something like "Hello, Mr. Mann," and he said, "Don't call me Mr. Mann, call me Nate."
He got me a soda and when he handed it to me it looked like some kind of miniature drink. I sat at the bar and ate my hamburger and Nate and I listened as Chuck, the Lupi's and all the others argued about their little nickel-dime bets. I learned a lot of new words when I went to the golf course with Dad.
They're all gone now, my Dad, Chuck, Charlie, the Lupi's, even the golf course, good old Meadowbrook. And Nathan Mann -- who had his shot at the title – died in 1999 at the age of 84.
Whenever I was home on leave Dad and I would drop by the Country Club Grille or The Sleigh House for a couple of drinks, and sooner or later the conversation got around to boxing. Eventually someone would bring up the Nathan Mann/Joe Louis fight. Dad would always say, "Nate always thought that he had Louis in the second round." I'm sure there were quite a few boxers who thought the same thing.
Special thanks to Bobby Ciresi for identifying the faces in the above photo. Bobby and I went to Hamden High and met at our 50th reunion in October.
Raymond K. Johnson grew up Hamden and graduated Hamden High School in 1957. Two years later he enlisted in the Marine Corps, from which he retired in 1979. He now lives in Oceanside, Calif., with his wife, Kay. He is penning his memories of growing up in Whitneyville in this column. Johnson can be reached at rkjohnson1@cox.net.
---
December 9, 2007
By Raymond K. Johnson
We had carrot pudding for dessert every Christmas. Nana made it. It was served with hard sauce; Nana made that, too. The recipe was simple.
Carrot Pudding
1 cup of beef suet
1 cup of raw carrots
1 cup of raisins
1 cup of raw potatoes
1 cup of flour
1 cup of sugar
1 tablespoon of salt
½ teaspoon of baking soda
Hard Sauce
Incorporate:
5 tablespoons of butter
1 teaspoon of salt
1 cup of confectioner's sugar (sifted)
1 scant tablespoon of whisky
Beat one egg into the above until mixture is very smooth. Refrigerate until ready to use.
For the pudding, the first four ingredients were passed through the fine blade of a food grinder with the full cup measurement taken after the grinding was completed. They were then combined with the dry ingredients, put into a double boiler and steamed for three hours.
The fun part was watching Nana make the pudding. She did as all good cooks do: She gathered and measured the ingredients, starting with a bottle of Canadian Club rye whiskey. Nana would pour a tablespoon of whiskey and toss it back in the best Johnson tradition, and usually follow that one with one or two more. She was now ready to start grinding.
After anchoring the old-fashioned food grinder to the kitchen table she would force the suet into the grinder and start to crank away. Once that was done, she would have another tablespoon of whiskey and grind up the carrots, another tablespoon of whiskey and then came the raisins, another whiskey and then the potatoes. At this point, a stream of goop from the ingredients was running down the sides of the grinder and onto the floor. Nana would throw down a towel and kick it around with her foot, making an ungodly mess. After combining the ground ingredients with the dry ones, it all went into the double boiler and onto the stovetop to steam for three hours.
Next up was nana's hard sauce. A tablespoon of whiskey to whet her whistle and she'd start sifting the sugar. Powdered sugar flew everywhere -- on the floor, on her clothes, on her face. She looked like Al Pacino in a scene from the movie "Scarface." The hard sauce called for a scant tablespoon of whiskey, but by this time Nana was measuring everything by eye and the hard sauce was taking on the aroma of a Manhattan. A few more sips from the bottle and Nana could have applied for Canadian citizenship. At this point, Mom had to clean up the grinder and the mess on the floor.
Fast forward three hours. The turkey is gone; the boiled onions, stuffing, Brussels sprouts and cranberry sauce have been passed around until there is nothing but empty dishes on the sideboard. It is now time for the carrot pudding.
Mom would always serve the dessert because by this time Nana was sitting in her chair, unable to do much more than gaze straight ahead. Mom would give Louise, Lee and me a small dish of the carrot pudding and put a large spoonful of hard sauce on top. The steaming pudding would melt the hard sauce and the aroma of rye whiskey filled the room. The smell was fantastic and for us kids the first mouthful of Nana's carrot pudding was what Christmas dinner was all about. About 10 seconds after the first spoonful, my lips would go numb. By the time I finished the last spoonful, I had trouble with pronunciation. My request for more was met with much laughter from Mom, Dad and my grandparents.
I still make carrot pudding every Christmas, but have cut way back on the amount of Canadian Club that goes into the hard sauce.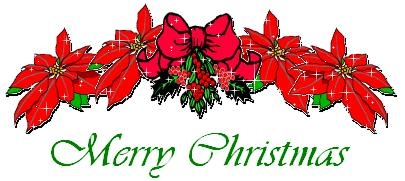 Raymond K. Johnson grew up Hamden and graduated Hamden High School in 1957. Two years later he enlisted in the Marine Corps, from which he retired in 1979. He now lives in Oceanside, Calif., with his wife, Kay. He is penning his memories of growing up in Whitneyville in this column. Johnson can be reached at rkjohnson1@cox.net.
---
December 2, 2007
Dogs I Knew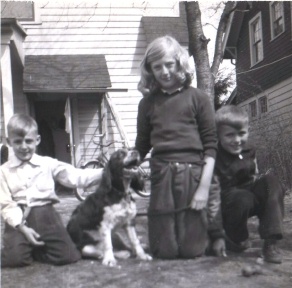 Me, my dog Bonnie, my sister Louise and my brother Lee. Courtesy photo
By Raymond Johnson
I was 4 years old when I uttered my first swear word. My mother told the story many times, and each time it ended the same way, with Mom saying: "He couldn't have learned that kind of language at home."
Mom and Yolanda, our next door neighbor, were sitting in the back yard one Sunday having their morning coffee when they heard a very little boy, with a very loud voice yell, "You son-of-a- *****!" Mom and Yolanda ran to the front of the house and found me standing in front of Mrs. Fehm's house, holding my hand and crying. Next to me was a little basset hound wagging its tail and jumping up and down.
Several neighbors rushed to their porches to see what all the commotion was about. Mrs. Reynolds ran up to where Mom, Yolanda and I were standing and she picked up the puppy. They were holding my hand and I was crying my eyes out. Through my sobbing I told Mom that the dog had bitten me, and I held out my hand to show her the mark. Mrs. Reynolds looked at my hand; there was a tiny red mark on my little finger. She looked at my mother and said, "He just nipped him, Betty." Mom looked at my hand and agreed and said to me, "Raymond, he just nipped you, you're not hurt."
All the time the three adults were examining my hand I was looking at the puppy, which was looking at me and wagging his tail. I looked up at Mom and said, "He's a nipper, he's a nipper." From that day on, that little basset hound's name was Nipper. Mrs. Reynolds had just bought him for her son, Walter, and they hadn't even given it a name yet. He got his name from me.
Before our little gathering broke up, my mother apologized to Mrs. Reynolds for the cuss word I used and told her she had no idea where I could have heard that kind of language. Mrs. Reynolds' reply was, "That's OK Betty, he probably heard it from Graham." She was referring to my father. Mom almost died on the spot. Yolanda used to tell me that it was the only time in all the years she knew my mother that she was at a loss for words. Nipper lived for many years and even though he wasn't my dog, he became my favorite dog of all.
A few years later Dad came home with a little black cocker spaniel named Jeff. He was for me. Mom wasn't too thrilled about having a dog in the house at first, but as long as I was doing most of the feeding and brushing and cleaning up the occasional "puddles," she tolerated him.
Jeff had one bad habit. He chased cars. Dad tried everything to stop him. He would drive slowly down the street and when Jeff started to run after the car he would squirt him with a water pistol. Jeff thought it was a game. Dad tried stopping the car and spanking Jeff's nose with a newspaper and yelling at him, but nothing worked. We tried keeping Jeff in the house but once he was let out, the chasing continued. It seemed there was nothing that could stop him.
It was in December when Jeff chased his last car. I had gone to my friend Russell Ellis's house for a birthday party. The party was fun. His Mom had all sorts of decorations and hats, a big cake, and we played all sorts of games. Pin the tail on the donkey was my favorite. When the party was over one of the parents drove us home. It was snowing and we couldn't wait for the next morning to jump on our sleds and go belly-flopping down the hill.
When I came in the front door I started to tell Mom and Dad about the party but realized something was wrong. Jeff wasn't there; he was always there when I came in the front door, jumping up and down and wanting to play. "Where's Jeff?" I asked.
He was chasing a car on Putnam Avenue in the snow and the car behind him couldn't stop in time. I sat on the floor in the dining room and cried for hours. The next morning I watched from my bedroom window as Dad dug a hole in the frozen ground and buried Jeff.
Then there was Bonnie, an AKC pedigreed springer spaniel that Dad was going to breed and sell the puppies. We all loved Bonnie. She was a beautiful liver and white female and had a long fancy name, but we just called her Bonnie. Louise, my older sister, would brush her for hours. Lee and I would take her for long walks around the neighborhood and play with her in the back yard. Bonnie would run around the yard sniffing for squirrels and chasing blue jays that had invaded her territory looking for acorns and cherries that had fallen from the trees. She never caught a thing because as Mom said, "Bonnie was a lady and acted every bit the part."
She was the best dog we ever had. Whenever Bonnie did something wrong she would walk quietly up to Mom, sit there and just look up. Mom fell apart at the sight of those big sad eyes.
The first time Dad brought a dog home to breed with Bonnie was a total fiasco. Dad and his friend put the two dogs together down in the cellar and stood there watching to make sure everything went as it was supposed to. Bonnie just didn't understand what was going on. She wouldn't let the other dog near her and after an hour or so the guy took his dog and left. Mom went down to the cellar and sat there with poor little Bonnie and cried. Later Mom and Dad had a long talk with Mom doing most of the talking.
How could Dad expect Bonnie to do "it" while two grown men stood there watching? But eventually the deed was done; Bonnie got pregnant and had a litter of six or seven puppies. Louise and Lee and I couldn't wait to see them. Dad had cleared a small space in the cellar and lined it with blankets for Bonnie and her puppies. The first time we saw them was one of those moments you never forget. Bonnie laying there nursing her little puppies. She looked up at us and wagged her tail a little and kind of smiled, almost as if she was looking for our approval for what she had created. For the next few weeks, Lee and I went to the cellar as often as we could and soon had picked out two of the puppies as our favorites. All this fun came to an end about three or four weeks later.
Dr. Fields was the veterinarian who took care of Bonnie. His office was on Whitney Avenue up by Sleeping Giant Golf Course. We had been out there several times with Dad when Bonnie had her checkups. But this visit was different. We all went down into the cellar with Dr. Fields and watched as he checked Bonnie and her puppies. Then he took out a pair of shears; Lee and I looked at each other, wondering what the shears were for.
Dad told us Dr. Fields was going to dock the puppy's tails. We just stared at him, not knowing what "dock" meant. Then he explained that he was going to cut off their tails. Lee and I ran up the stairs yelling for Mommy. Mom tried to explain that the puppies wouldn't feel anything and that the doctor would put a stitch in the end so they wouldn't bleed.
Lee and I hated Dr. Fields for a couple of days, but eventually the puppies were fine and starting to run around the cellar. Dad built a raised cage for them; every morning Lee and I had to go downstairs to clean up under the cage. Eventually the puppies were put up for sale, and one by one our favorite puppies were gone, all but mine. I had picked the smallest of the litter as my favorite and he turned out to be the runt. Bonnie had pushed him away and wouldn't let him feed. Against Dad's wishes, Mom and I got a little feeding bottle and nursed him by hand. He was the last to go. Dad gave him to a friend and I never saw him again. Another of the puppies went to Gail Ahlgren, a school classmate; she named her Flicka.
I never owned a dog again, but if I did, it wouldn't be a springer spaniel because of what they do to the tails. I think I'd get a basset hound and I'd name him Nipper II.
Raymond K. Johnson grew up Hamden and graduated Hamden High School in 1957. Two years later he enlisted in the Marine Corps, from which he retired in 1979. He now lives in Oceanside, Calif., with his wife, Kay. He is penning his memories of growing up in Whitneyville in this column. Johnson can be reached at rkjohnson1@cox.net.
---
November 26, 2007
Ultimate Sledding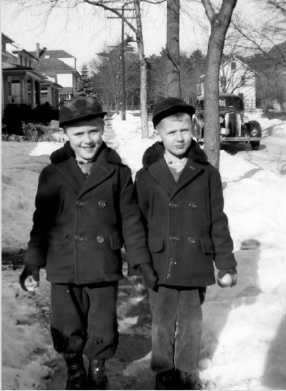 Lee and Ray Johnson in January 1948. I call this photo "Armed and Dangerous." Courtesy photo
By Raymond K. Johnson
Winters are a lot more fun when you are young. My brother Lee and I couldn't wait to go outside to make snowmen and have snowball fights. When you are 6 and 7 years old you don't feel the cold right away; at least I didn't. For Lee, it was a different story. Mom would go through all the preparations of getting us ready to go outside, dressing us up in our snowsuits, mittens, earmuffs, hats and galoshes. Once dressed, we looked like little robots hardly able to walk, much less run around in the snow.
Mom would open the backdoor and out we went, the snow halfway up our knees. Lee would step out into the snow, about three or four steps, and then head back towards the door.
"Mommy, I have to go to the bathroom," he would say. But Mom was ready. She had gone through this too many times and wasn't about to take all those winter clothes off and put them back on again. Mom had a wee-wee glass. Just inside the backdoor there was a small shelf and on that shelf Mom kept a Mason jar -- just for Lee. All she had to do was unbutton Lee's snowsuit and hold the Mason jar and let Lee pee. More often than not the volume was about a teaspoonful. After that Lee was ready to play in the snow.
When Dad bought us our first Flexible Flyer sleds we gave up playing with snowmen and started sliding down the hill on Francis Avenue. It was good for sledding but we were always looking for bigger and steeper hills so we could go further and faster.
One of our first big hills was Wilkins Street. It was just across Augur Street. We would start our slide at the top at Blake Road. That was a steep hill and there was no way to stop before we got to Augur Street, where cross traffic could be a problem. We solved that by stationing someone in the middle of Augur who would wave down the oncoming cars when one of us came whizzing down the hill. It was fun to go flying across Augur, make the little jog to the left and continue down Francis.
Another place that had a good hill for sledding was Hamden Hall Country Day School. It wasn't as steep or as long as Wilkins Street, but it was a whole lot safer, most of the time. One time when being safer got me knocked out cold. The hill at Hamden Hall was short but steep so we could slide down and run back up quickly, resulting in lots of rides before we got cold and had to go home. The problem was this: There were so many kids there you had to be careful not to run into someone on the way down.
One day I went down the hill sitting on my sled with my feet doing the steering. At the end of the ride I fell off and lay there in the snow for a moment. At the same time a loose sled came flying down the hill and crashed right into me, right on top of my head. I was out cold. My sister, Louise, Lee and Kenny DeMaio came running down to where I was lying. The cut on my head was bleeding badly; they thought I was dead.
They loaded me onto my sled and started towards Francis Avenue. When we got close to home, Lee ran down the street yelling for Mom to come quick. Of course, all the neighbors heard the calls as well, so by the time we got to the house there was a small crowd waiting to see what had happened. Once Mom washed the blood away all that was left to do was put a Band-Aid on the tiny cut on the top of my head. Then she forbade us from sledding at Hamden Hall.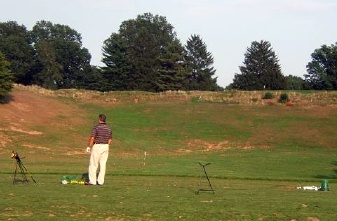 The hill we used to slide down at the New Haven Country Club golf course. Photo/Ray Johnson
But the best place in Hamden to go sledding was the New Haven Country Club golf course. The hill we used for sledding served as the landing area for the driving range in the summer. It was steep, long and wide with plenty of room for everyone. The walk from home wasn't too far and once we crossed the footbridge on Lake Whitney, you could hear the sounds of kids sliding down the big hill. Everyone our age went to the golf course in the winter. There were even grownups on toboggans, some on skis, but mostly kids on sleds. We would go down the hill sitting on sleds, standing up on them, sometimes with three or four of us on the same sled, anything to make the slide more fun. We could play there for hours but eventually we would get cold and have to head for home.
My friend Jane Heil remembers those days well. She wrote to me recently saying: "It was a wonderful adventure every time. I remember very cold days, my sled going across Whitney Avenue, across the footbridge and up the hill at the golf course ... I remember sledding down myself and also on top of some other people (I forgot who); that is, two on a sled, and landing in a heap at the bottom. It seemed like a long slide but if I looked at it now, it might be much smaller than it seemed then."
In closing, she added: "I also remember when the sun set and how beautiful the pastel colors were against all that snow."
Another friend, Gail Ahlgren, wrote: "Those were the days of kids having fun and freedom."
I could write for a year and not describe those times more beautifully.
One thing that stands out in my mind about the sledding days is all those times we went, no one ever had to go to the bathroom -- not even my little brother Lee.
But winter wasn't all sliding down hills and snowball fights; there was snow to be shoveled. Shoveling snow wasn't all that bad; many of the neighbors would pay us to clear it off the sidewalks. After our own sidewalk was done we would go around the block and ask the neighbors if they wanted the snow shoveled off their sidewalks. If a woman answered the door it usually meant we didn't get the job; "No, my husband will do it," would be the reply. If a man answered, we were pretty sure we would get a quarter.
Corner houses were worth a little more as were houses where driveways had to be cleared. Wet snow was our enemy; it was heavy and if there was a foot or more of it we had to take small shovelsful. It took twice as long to finish the job.
The Monrad sisters lived in the corner house on Putnam Avenue, which had the biggest sidewalk of all, and they only paid us 10 cents. Mrs. Fehm was our next-door neighbor. Her house was the corner one on Violet Street and Mom always made us shovel her walk for free. Mrs. MacDonald had the best house of all. She would always give us a quarter and once we finished she gave us a cup of hot chocolate. We used the money to buy candy, soda and Frisbee pies at The Neighborhood Market up on Augur Street. Blueberry was my favorite.
I hated ice storms. Whenever we got one of those we would have to go up the hill to the sandbox and bring sand down to spread on the sidewalks. The sandbox was a big square wooden box with a hinged lid. Inside was a mixture of sand and salt that was used to keep you from slipping on the ice. At the same time the salt helped melt the ice. There were sandboxes about every four or five blocks. Some of the neighbors used the ashes from their coal furnaces rather than go up the hill for sand, but Mom wouldn't let us do that. The ashes were messy and if you tracked them into the house they were hard to clean up. Most of the houses had coal furnaces when I was young. My Dad taught me how to bank the ashes and empty them out of the furnace. It was all right during the day but at night, I had to go down to the cellar and do it one more time before going to bed.
The cellar had only one small light bulb; I was scared to death to go down there. Once I cleaned out the ashes, I ran up the stairs just knowing something was going to grab me before I reached the top step. It seemed to me that I was colder down in that cellar for three or four minutes than I was after three or four hours of sliding down the hill on my sled at the golf course.
Raymond K. Johnson grew up Hamden and graduated Hamden High School in 1957. Two years later he enlisted in the Marine Corps, from which he retired in 1979. He now lives in Oceanside, Calif., with his wife, Kay. He is penning his memories of growing up in Whitneyville in this column. Johnson can be reached at rkjohnson1@cox.net.
---
November 18, 2007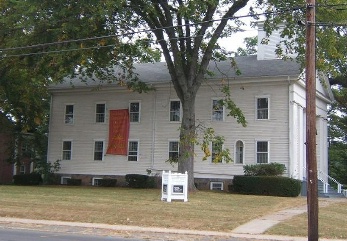 The First Congregational Church in Whitneyville. Courtesy photo
Holy Plane Landing
By Raymond Johnson
This story was originally published in 1984 in the Mira Costa College spring edition of Tidepools. That year I attended Mira Costa, which is in Oceanside, Calif. One of my courses was English 101 taught by professor Gloria Floren. The class consisted mostly of free-writing exercises, and the subject I wrote about was my childhood in Hamden. Professor Floren liked my work and at the end of the semester added a notation to my final paper: "Excellent stuff. You are too good a writer to stop. I hope you continue to write your book. It's worth reading."
This story is dedicated to her. (Editor's note: The story is reprinted in its original form.)
...................................
Mrs. Todd was my Sunday School teacher and was also in charge of the choir at the First Congregational Church in Whitneyville. I joined the choir when I was about nine years old. My parents were very proud of me and singing in the choir had its advantages; we got out of Sunday school early and got to sit upstairs in the choir loft where we could look down on all the people attending Sunday services.
Our pastor, Reverend Charles Floyd Fuller, was boring. His sermons on Sunday seemed to go on forever. Billy Scott and I used to sneak comic books up to the loft underneath our choir robes to read during the reverend's sermons. Mrs. Todd caught us one Sunday and made us promise to never read comics in church again.
A few weeks later during one of Reverend Fuller's sermons I was passing the time by folding a paper plane out of the little leaflet that contained the church service schedule and a list of Hymns that would be sung that day. I had to keep one eye on Mrs. Todd as I didn't want to get caught doing something wrong again. It was time for the choir to sing one of the Hymns so I put the plane on the ledge in front of me. As I stood up my choir robe brushed against it and off the ledge it went, starting a long graceful looping decent towards the congregation below. Three things stand out in my mind about that moment - I remember thinking, 'That's the best plane I ever made', Reverend Fuller stopped speaking and stared up at me, and the plane completed its decent, landing in the veil of Miss Elvira E. Holm, my grammar school principal!
The next thing I knew Mrs. Todd was trying to separate my ear from my head. She never uttered a word as she led me down the stairs with my ear firmly gripped by her thumb and forefinger. At the bottom of the stairs my mother assumed the grip on my ear and we walked, no marched, all the way home without saying a word. I was terrified of what my father would do when he found out what I had done.
Dad was lying on the couch reading the Sunday paper; he never went to church, something about Mr. Fuller's philosophy and his being worlds apart. I was sent up to my room and from the top of the stairs listened as Mom recounted the morning's events. When she finished I swear I heard my father laugh. Now Mom was mad at him. I new what that meant – more trouble for me.
My father called me downstairs. When I came down he was sitting on the couch with a Bible in his outstretched hand. He told me to go to my room and memorize the 23rd Psalm. I couldn't believe my good fortune as I knew most of it already. As I walked towards the stairs I looked out the front door and saw some of the kids heading up the hill to play baseball. I turned to my father and asked, "The whole thing?" In one swift motion he came up off the couch, stepped towards me, and took off his belt. I flew up the stairs and memorized my Psalm in record time. I didn't realize until I got upstairs that I was still wearing my choir robe. My father never mentioned the incident again but for the next month every Sunday Mom gave me a big lecture about behaving myself in church.
Raymond K. Johnson grew up Hamden and graduated Hamden High School in 1957. Two years later he enlisted in the Marine Corps, from which he retired in 1979. He now lives in Oceanside, Calif., with his wife, Kay. He is penning his memories of growing up in Whitneyville in this column. Johnson can be reached at rkjohnson1@cox.net.
---
November 13, 2007
My father loved baseball. There's an old family story that goes something like this:
Around 1932, a couple of Boston Red Sox scouts came to New Haven and "gave Dad a look." He was a pitcher, and a pretty good one at that. The scouts liked what they saw and met with Dad and his parents to talk about a minor league contract. Going off to play baseball in the middle of the Depression wasn't what my grandparents had planned for Dad.
Times were hard. Dad never signed a contract. Instead, he went to work to help out with the family finances. But from that day on Dad was a Boston Red Sox fan.
Dad passed that defective gene on to me and eventually the Johnson household became a house divided. My mother and my younger brother, Lee, were New York Yankees fans. Needless to say we grew up with baseball in the golden age of the sport. Lee had Joe DiMaggio; I had Ted Williams. And we played baseball all the time.
If you walk up Francis Avenue, about halfway up the hill on the right-hand side, you'll find a large white house with a big picture window. In the 1940s, there was a vacant lot across the street. Mr. Pascal used to grow grapes there -- big, fat, juicy Concord grapes that we would pick and eat until we were covered with juice and our shirts were stained purple.
One spring the grapes were gone and the lot was empty. An empty lot means one thing to a bunch of kids -- a place to play baseball. Kenny DeMaio, Lee, Arthur Umland and even my sister, Louise, would go to The Little Lot (as we called it) to play baseball.
Kenny's dad owned a grocery store so he would get empty cardboard boxes that we used as bases. Arthur was still pretty young but we used him as our catcher. He would stand out in the street and run down any foul tips and bring the ball back to us.
Louise would do the pitching; she always wanted to be in charge. That was fine with us, that way we got to bat more often. Our parents didn't worry about us, they could open the front door and hear the sounds of a Ted Williams homerun or a Joe DiMaggio triple as we all yelled and laughed just a couple of hundred feet up the street.
It was great fun for a couple of summers but as we grew the hits kept getting longer and longer and soon the baseballs were going into neighbors' yards. We had outgrown The Little Lot. So we started to go to The Big Lot up on Augur Street. It was a big athletic field used by Hamden Hall Country Day School for field hockey and other activities but was vacant most of the time. At the far end of the lot was our backstop: three or four telephone poles with chicken wire stretched across them.
The baseball diamond was all dirt and there were no bases, but we could hit the ball as hard as we could and it would remain in play. The problem with playing there was the big kids were there most of the time. Gavin Ardolino and Frankie, his brother, the Marioni brothers and the Hunts were all a few years older than we were so we had to wait until they were through. Eventually, they let us join their "team" and used us as outfielders. They were fun times.
Kenny and I smoked our first cigarette at The Big Lot. The Neighborhood Market used to sell cigarettes for a penny each. One day Kenny bought one and we went behind the big pine tree next to the backstop and lit up our first smoke. One of the big kids showed us how to inhale. Kenny got dizzy; I threw up. It was a while before we tried that again.
When I was a little older Dad used to take us to Rochford Field down on Newhall Street to play Peewee Baseball. On Saturdays there would be four games going at once, one in each corner of the field. Dad used to umpire the games I played in. Back then the umpire stood behind the pitcher and called the balls and strikes.
Of course, Dad wanted me to be a pitcher so I pitched. I wasn't very good at it, being kind of small for my age, but if I messed up Dad was right there behind me to try and help me out. Despite his good intentions, I eventually wound up in the outfield where I could make believe I was Ted Williams.
Those were the good times. But there is always one experience that kind of evens things out and there is no exception here.
One summer day Dad piled us all into the car and took off for Yankee Stadium to see the Yankees play the Red Sox. Dad had just bought me a Brownie Hawkeye camera and I couldn't wait to get there to take pictures of Ted Williams, Bobby Doerr, Mel Parnell, Dom DiMaggio (Joe's brother) and all the rest of the Red Sox.
We got to New York and had to park the car and take a train to the stadium. The train ride was a first for us, and I still remember how hot, smelly and noisy the trains were.

The second thing I remember, and will never forget, is what happened after we got off the train and were walking up to the entrance of the stadium. My father turned and asked me where my camera was. I looked at Dad and couldn't speak. I had left my brand new camera on the train! Dad got upset, but knew there was nothing we could do about it. We watched the game but the only one having any fun was Lee, as the Yankees beat the Red Sox (Editor's note: Go Yankees!) making my day worse that it already was. Even the hotdogs tasted lousy. This was my introduction to "The Curse of The Bambino."
The car ride home couldn't have been any longer than if we were going to the moon. I survived the loss of my brand new camera and remained a Red Sox fan. And through the years, I was usually on the short end of conversations involving baseball whenever Lee and I got together.
In 2004, the Red Sox won the World Series. I called my brother and we talked about Dad and how it would have been nice if he had lived to see it. On a hunch, I called the funeral home and asked if Dad's ashes were still there. They were.
On Oct. 7, 2007, I drove to Bristol, Conn., and placed his ashes alongside his mother's and father's graves in the Forestville Cemetery. Along with the ashes is a copy of an Oct. 28, 2004, sports story. The headline reads: "Red Sox Win World Series - BoSox '86' curse, sweep St. Louis."
I was one of eight classmates who attended a recent reunion for the Putnam Avenue School kindergarten class of 1945. Our guest of honor was Mrs. Lenore Pedersen McCauley, our teacher.
Beginning in April, much of the e-mail traffic coming my way concerned the 50th reunion of the Hamden High School Class of 1957. Many of the messages included addresses for classmates I hadn't seen in 30 or more years; some I hadn't seen since graduation day in 1957. I started to add users to my address book and before long realized I had quite a list of people who had gone all the way from kindergarten at Putnam Avenue through the 12th grade together.
The idea for a mini-reunion on Oct. 5 began to take shape and after contacting five or six of my Putnam Avenue friends, reunion plans were started. Jane Heil, Barry Rossberg, Fred Alling, Ken DeMaio and Russell Ellis thought it would be great to get together again after all these years.
We started out with plans to meet at the school, take some photos on the front steps and then go to a restaurant for lunch. A couple of weeks went by and Barry suggested we include all the students in the Putnam Avenue School graduating class of 1953 (eighth grade), not just those of us who graduated kindergarten in 1945.
Discussions of a large versus small get-together occupied the e-mail for another week or so. Barry had a listing for the graduating class and we agreed it would be the larger reunion; Jane composed an invitation letter and sent it off to all the Putnam Avenue School classmates that we had addresses for.
On July 25, 2007, at 7:58 a.m., I received the following e-mail from Fred Alling:
My first reaction was, "No way!" but I got on the Internet, compiled a list of senior facilities in the Hamden area, and picked up the phone.
The second phone call was to the Whitney Center on Leeder Hill Drive, located just two blocks from our old grammar school. I spoke with a lady at the reception desk and asked if they had a resident there by the name of Lenore Pedersen McCauley.