Tony
Talks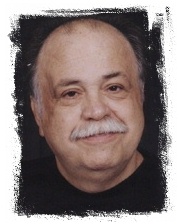 Sports
---
May 29, 2008
Student Athletes Awarded

By Tony Mentone
SENIORS HONORED
On a cool May evening with an even colder wind blowing, the Hamden Diamond Booster Club honored the 12 seniors on the Hamden High baseball team. Every once in awhile, a cloud would drop a tear as if to say we are so sad to see these young athletes leave.
As a preliminary to the ceremonies, Hamden played their last game against Shelton High. Shelton has had a tough year losing their coach of 29 years to a heart attack and a couple of weeks later losing their beloved headmaster, who died unexpectedly at the age of 43.
Shelton pulled out to a 6-0 lead as Johan Taborda had trouble finding the plate. Taborda later settled down and pitched three great innings. In the last inning, Hamden was down by a bunch of runs, and despite the fact that the game didn't mean anything, got two walks and five singles before finally succumbing to the Tigers of Shelton.
The highlight of the evening was the introduction of the seniors and their parents. Each senior was presented with an engraved alarm clock with a snooze alarm to make sure they wake up for classes in the fall. Pizza, soft drinks and brownies were served.
Thee seniors are Dante Blackmon, Darryl Brandon, Kyle Cummings, Rob Davis, Ron Esposito, M.J. Lombardozzi, Vin Morcaldi, Tom Roche, Tim Skomro, Billy Garcia, Alex Welch and Taborda.. Assistant principal Dr. Clydette Messiah was also on hand to lend her support.








HAMDEN FOOTBALL FOUNDATION
This Friday, May 30, the Hamden Football Foundation will present a "Meet the Coaches" night, with head Hamden High coach Scott Benoit. For more info, call Dom Rapini at 287.7555.








WHERE ARE THEY NOW?
Jessica Elkin (HHS '97) played basketball and volleyball. She graduated from SCSU. She lives in Hamden and is a physical education teacher at Shepherd Glen School.








LOMBARDOZZI TO BE HONORED
The Southern Connecticut Diamond Club has named M. J. Lombardozzi of Hamden High to be its annual "No. I in Team" award winner. The honor is given every year to an area baseball player who puts the team before himself. The award will be presented on June 8 at Monticello's Restaurant in Meriden.
Lombardozzi, captain of the team, caught every inning of every game in his senior year. He always had time to help out the younger players and pitchers.
He will attend Albertus Magnus College in the fall. Lombardozzi was an excellent defensive catcher. He batted .410 and had a .598 on-base percentage.








HAMDEN GIRLS' TRACK
At the SCC meet at Sheehan High in Wallingford, Alycia Washington threw the discus 140 feet and 1 inch to clinch the title for the Hamden girls' track team.
Besides Washington's win, Courtney Dinnan won the 1200 and 3200. Dinnan will attend UConn in the fall and plans to run in all three seasons.
The 4x100 relay with Shanea Green, Crystal Johnson and Chelsea Harris combined for the win. The Hamden team of Johnson, Libeman, Lawrence and Harris won the 4x100. Lauren Zilm garnered a first place in the pole vault.








BOYS' TRACK FINISHES THIRD
The boys' track team finished third at the SCC meet held at Hamden High. The 4x800 relay team of Matthew Dinnan, Justin Gee, Nicholas Sabo and Isaiah Whiting got a victory.
The team of Brent Hoyte, Moye, Anthony Covington and Whiting won the 4x400 relays. Moye also won the 400-meter dash and Whiting won the 800.
Hamden finished behind Notre Dame of West Haven and Xavier.








HAMDEN HIGH SOFTBALL
The Hamden High softball team qualified for the SCC tournament but lost their first game 4-1. Julie Bruhn had two hits for the Dragons and will play in the CIAC state championship tournament.








ALUMNUS EXCELS
Tom Fitzsimons (HHS '07) finished second in the decathlon for Mount St. Mary at the (IC 4) ECAC. Fitzsimons, a freshman, tallied 6,763 points.








ROTARY CLUB WINNERS
The Hamden Rotary Club, under the direction of longtime Sports Night chairman Rev. Owen Sanderson, will present its annual awards recognition dinner on June 9 at the K of C Hall. The award recognizes general citizenship and sportsmanship as voted by their teammates.
The Winners
In badminton, Nisha Tuttle; football, Ken Keen; girls' soccer, Jessica Orser and Katelyn Vaughan; volleyball, Donna Nolan; boys' soccer, Giusepe Pellino; girls' cross country, Allyson Costa; field hockey, Alycia Washington; boys' cross country, Isaiah DeRose.
In girls' swim, Colleen McElroy; boys' ice hockey, Scott Teulings; gymnastics, Samantha Goodwin; girls' ice hockey, Britany Sweet; boys' basketball, James Batchelder; boys' swim, Aaron Cubells; girls' basketball, Samantha Joyner; boys' indoor track, Matt Banas; girls' indoor track, Courtney Dinnan.
And in boys' outdoor track, Charles Gray; girls' outdoor track, Courtney Dinnan; baseball, Alex Welch; softball, Kassondra Silva; girls' tennis, Jennifer Canelli; boys' tennis, Dave Baker; golf, Mike Sanca and Sean O'Sullivan; girls' lacrosse, Emily Adams; boys' lacrosse, Matt Cavanaugh; and cheerleading, Christina Nero.
Tony Mentone is the former faculty manager and game assistant at Hamden High School. Tony is currently an assigning commissioner for the Greater New Haven Umpires Association and the assistant district administrator of Connecticut District 4 Little League. He also sits on the town's Parks & Recreation Commission. Please send info and announcements about youth sports or Hamden High sports to tonymentone@yahoo.com.
---
May 22, 2008
By Tony Mentone
U-14 DROPS 2 AGAIN
The Hamden Fathers' U-14 team lost two again this week against the Stratford Braves.
In the first game, Mike Frasier led Hamden with two hits, while Matt Hoff had a single and a double.
In the other game, the Dragons had two hits -- one from Bobby Rodriguez and the other from Robert Arroyo.
The Dragons are off for the Memorial Day weekend and play again next Wednesday against the Bombers at Legion Field.








HAMDEN HIGH DUO HONORED
Hamden High has placed two players on the SCC Quinnipiac Division All-Star Team: senior shortstop/pitcher Kyle Cummings and sophomore centerfielder Will Hindinger. Cummings batted over .500 for the year and was an excellent defensive player. He makes the play on the ball hit just by the pitcher as well as any high school shortstop I have ever seen.
Will Hindinger was brought up to varsity in the middle of his freshman year and has stayed there ever since. He has an outstanding range in center. He is batting over .400 and has eight RBIs on the season.








WHERE ARE THEY NOW?
Candace Giordano (HHS '99) played volleyball and softball. She went on to Albertus Magnus College and again played four years of softball and volleyball. In college, she was ranked second in the nation in strikeouts per game.
She lives in Hamden and is a fifth-grade teacher at Church Street School. Giordano continues to play softball and gives private pitching lessons.








HORNET'S NEST
I guess I opened a hornet's nest with last week's piece on the Hamden Football Foundation. TS Probably the most logical letter I received was from Ken Neveski. It is printed below for your perusal:
Hi Tony,
I just read your article about Hamden football and good ole Dom Rapini. I wanted to throw in a few comments about it. I know Dom well; we played together under Ronnie Carbone, along with Steve Canning. I'm involved with the high school program now; I know a lot of the kids. I'm also very much involved with Hamden Pop Warner football, where I help coach and being the Treasurer of the league.
First thing, Dom cares about the kids, all the kids. I know you know him from [sic] we used to see you on the field during Pop Warner games. He always has the kids [sic] best interests at heart, not just his own kid, but all of them. I know personally that he spends untold hours of his time, and money, helping these kids, not just a select few. People are worried that he's taking the money and wasting it, or spending it on only a 'select few', those are just cynical people who plain old just don't know what they are talking about. The phrase 'a select few' is very misleading. Most of the money raised goes to help some of the kids go to the summer football camp. Last year, they went to the Yale camp. This year, I think, Scott Benoit will be taking them to the SCSU camp. Now, some kids can afford these camps, hence they can pay out of pocket. However, some kids can't afford the several hundred dollars to be able to attend. I know Scott doesn't want just a few kids that can afford the camp to go to it, he wants ALL the kids on the team to be able to go. So that's where most of the fundraising money Dom is doing goes towards, helping the kids that can't afford to go to camp. If that's a 'select few', then so be it. A few years ago, no one bothered sending the kids to any camp. One of the reasons Hand of Madison is so good now, every year they send the WHOLE team to the Yale camp, every year. There's no reason that the Hamden kids can't go to a camp too. That parent who said, 'There is only so much money in the pot and it is costing more and more to have kids participate,' please. That's just a constrained, defeatist attitude that has played a role in the kids going through one-win season after one-win season. Trust me, there's plenty of money out there to raise for these kids to go to camp, to have the passing and kicking clinic, etc.
Secondly, I'm sure there's no conflict between the Dom's [sic] Foundation and the Gridiron Club. Dom, as I'm sure you know, is one of the easiest going guys around. He's got one of the big [sic] hearts around. If someone has an issue with what he's doing, he will sit down and listen to anyone's concerns. He'll make change if the concerns are valid. Parents are always going to complain, no matter what. It's human nature. But given the choice between someone who cares for the kids may be too much, and one [sic] cares little for the kids, I'll take the person who cares.
If Dom has a fault in these things, then it might be that he's a little too 'gung-ho'. That's why I think he blurted out that part about 'pride and dignity since Coach Carbone left.' I can see how that would legitimately irritate a few people. And Dom's a self-reflective guy too, and so he might say that what he said was a little out of line. But, still, no big deal. We need to put the pettiness aside and look ahead for these kids. I can tell you, as I know some of the kids on the football team, that they are excited to have Scott Benoit as their new coach. I think they may start to play with some passion and joy again, every game, not just against Cheshire in the first game. These kids deserve to play to their fullest potential, which I think Scott will do, with Dominic's help.
Sorry I rambled a bit. I just wanted two [sic] my three cents in.

Thanks, Tony.
Ken Neveski
CCSU Mathematics & Actuarial Science
New Britain, CT 06050








DUEL AND REILLY HONORED
The Hamden High Diamond Booster Club recently honored two Hamden greats at its first annual Little League Night. Ed Duel (HHS '66), a soldier killed in Vietnam, was represented by his sister, Tax Collector Barbara Tito. She presented an American flag to the program. Duel, a former Hamden High baseball player, was honored by the current players wearing his No. 11 on their hats all season.
George Reilly, a graduate manager for over 30 years, was memorialized with a plaque near the flag pole. His mother, Rose, father, Ed, and brother Tom were all on hand.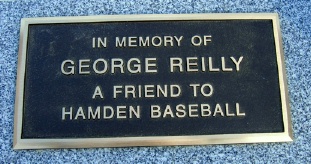 FIELDING COACH
In the off-season of 1981-82, a rule to allow a defensive coach on the baseball field was considered. Harry Wright, a Hall of Fame manager and a mover and shaker of the early game, was quoted in the New York Sun: "A team in the field needs a man on the coaching lines even more than a team at bat." This suggested the rule never passed.








HAMDEN HIGH GOLF
Hamden High's golf team, under the direction of Coach Steve DelGrego, has compiled an 11-6-1 record with two matches to go. The team is led by Adam Devine, Sean O'Sullivan, Dan Wheller, Dan Mendes and Mike Sanca.
The highlight of the season was when the Dragons defeated Xavier, the winners of the Quinnipiac Conference. O'Sullivan finished eighth in the league tournament. The team will play in the state tournament in Bristol during the first week of June.
Tony Mentone is the former faculty manager and game assistant at Hamden High School. Tony is currently an assigning commissioner for the Greater New Haven Umpires Association and the assistant district administrator of Connecticut District 4 Little League. He also sits on the town's Parks & Recreation Commission. Please send info and announcements about youth sports or Hamden High sports to tonymentone@yahoo.com.
---
May 16, 2008
New Football Foundation Draws Criticism
By Tony Mentone
"ONLY IN HAMDEN"
"Only in Hamden" is the centerfield fence on the baseball field that's shorter than left and right fields.
If you have any "Only in Hamden" sports items, please e-mail them to me and I will use them in this column.








U-14 DROPS TWO
In a great day of baseball at Legion Field, the Hamden Fathers' U-14 Dragons lost a doubleheader to the Darien CT Tides.
Eric Sullivan started out the first game with a leadoff homerun. Except for a single by Matt Hoff and a triple from Jake Lotto, the Dragon bats went silent. Lotto also played excellent defense at shortstop as the Dragons lost 4-1.
The second game saw more of the same as Lotto turned out several stellar plays at shortstop but the bats didn't seem to come alive. Hamden lost 1-0. Robert Rodriguez turned in a great performance on the mound for the Dragons.








HAMDEN FOOTBALL FOUNDATION
Dominic Rapini (HHS '79) has formed the Hamden Football Foundation. It seems to be a symbiotic relationship between the foundation, Hamden High football and Pop Warner football.
The foundation has two major programs going on right now.
Program one is a comprehensive website -- www.Hamdenfootball.net -- that will record the accomplishments of today's teams. It will also chronicle Hamden football since the 1940s.
Program two is a Hamden spring football event. It's a cocktail reception for parents and alumni. It is a chance for alumni to meet the new coach and his staff. For more information on these events call Rapini at 287.7555.
While Rapini is well intentioned, he has raised the ire of some ballplayers' parents and alumni who see a conflict. Although Gridiron Booster Club president Gary Prosco has talked to Rapini and said, "The two groups should be able to work together for the benefit of the kids," Rapini is appealing to alumni while the booster club appeals to parents.
An anonymous parent said there is only so much money in the pot and it is costing more and more to have kids participate. Parents also claimed that the money raised would not benefit all the players.
According to Athletic Director Jeanne Cooper, Rapini's fundraising was approved and the funds will be used to defray the cost for the "passing league" and the "kicking clinic."
Rapini is running a summer passing league and a kicking clinic with Matt Nuzzi, the UConn all-time leading scorer. The passing league consists of 12 teams.
What parents want to know is if the money is going to all Hamden players or just to a select few.
An e-mail to Board of Education Chairman Michael D'Agostino was not answered.
Also, many alumni and parents of alumni are upset about a line in the letter that went out where Rapini said, "We are working to restore the pride and dignity that has eluded this program since Coach Carbone's departure."
Let's just hope that all parties get together and do what is right for the kids.








PRO BASKETBALL
I love basketball. I've been known to sit through four games in the SCC boys' and girls' tournaments. College basketball is also a passion. My favorite time of the year is the first week of the NCAA tournament when games are played from noon until midnight.
For some reason, pro basketball does not elicit the same response. The players are probably the best athletes in the world. Huge men make their bodies do incredible things. I don't know if it is their excellence in their sport or their attitudes but I just cannot get into it.








JUNIOR HIGH BASEBALL
Many have asked why I am not reporting on the new middle school baseball roundup. Coach Sanchez usually updates me. For some reason, Sanchez tells me that the athletic department told him not to send the information anymore. This seems strange because for the past 15 years when I was working at Hamden High, coaches were encouraged to give game results to the press.
I am not sure if it is personal, a boycott of the HDN or some philosophical reason. However, if parents want to forward me the rundowns I will be glad to print them.








BASEBALL STILL NEEDS TWO WINS
On Tuesday night behind the three-hit pitching of southpaw Billy Garcia (HHS '08), Hamden beat Daniel Hand of Madison 6-3. Garcia was brilliant as he went the distance striking out eight.
Kyle Cummings (HHS '08) led the Dragons at the plate with a homerun and a single. Will Hindinger (HHS '10) had three hits and two RBIs. M.J. Lombardozzi played great defense throwing out three runners trying to steal.
Hamden still needs two wins against three teams to qualify for the state CIAC tournament.
Tony Mentone is the former faculty manager and game assistant at Hamden High School. Tony is currently an assigning commissioner for the Greater New Haven Umpires Association and the assistant district administrator of Connecticut District 4 Little League. He also sits on the town's Parks & Recreation Commission. Please send info and announcements about youth sports or Hamden High sports to tonymentone@yahoo.com.
---
May 8, 2008
By Tony Mentone
THUMBS UP
Dixwell Avenue restaurant Applebee's is truly a community treasure. It offers a great breakfast deal for nonprofit groups. For $5, you get juice, coffee, three hotcakes and two slices of bacon.
The group involved gets 80 percent of the money back. Many sports groups in Hamden have taken advantage of this deal. We certainly owe Applebee's a debt of gratitude and our patronage for their donations.








GIRLS' TRACK
In a recent quad meet among Hamden, Hillhouse, Cross and Sheehan, Chelsea Harris broke a 20-year-old school record in the 400-meter dash in a time of 58.2.
In the Irving Black Invitational in Hartford, several Hamden Dragons posted their best performances of the season. Aliycia Washington in the discus 112-1; Courtney Dinnan in the 1600, 5.10.30; and Alyson Costa in the 3200, 12:13.54.








WE'RE NO. 1
The Hamden Middle School basketball team, under the direction of coach Mike Canning, compiled their best record in the school's history of 14-0.
Highlights of the season were when they beat New Haven in overtime 68-61, and the last game of the season where they scored 108 points.
Participating on the team are Kendall Walker, Malcolm Thomas, Noah Medor, Michael Boateng, Jabron Matheny, Robert Grissette, Matthew Isenstadt, Christian Coassin and Michael Quinn.
Also, Kyle Holmes, Andre Anderson, Ronnie Williams, Richard Kennedy and Tim Dube








ONLY IN HAMDEN
There isn't a day that goes by that I don't hear someone say "only in Hamden."
It sometimes refers to sports and I will try to keep you up on some of the best only in Hamden
For example, only in Hamden do the track teams throw the javelin and the discus in left field of the high school baseball field.








SCSU FETES THE NEW YORK GIANTS
Michael Koblanski, associate director of communications and athletics at SCSU, will present a special program on May 12.
It's a night with Kevin Gilbride at the John Lyman Center for the Performing Arts. Kilbride, a 1974 SCSU graduate, is offensive coordinator for the Super Bowl champs New York Giants. Gilbride will outline the Giants' Super Bowl winning season.
Fans in attendance will view the Lombardi trophy and take a picture with it. The program begins at 6 p.m. For more information, contact Koblanski at 392.6005.








BASEBALL DRAGONS
Although the Hamden high baseball team is having a rough season, you have to love these kids, especially the seniors. They never give up, having had six one-run and two two-run games.
But what I particularly like about the 12 seniors on the team is that they have all been accepted by colleges.
Dante Blackmon – SCSU; Daryl Brandon – WCSU; Kyle Cummings – UCONN at Avery Point; Rob Davis -- Union; Ron Esposito - ECSU; M. J. Lombardozzi - Albertus Magnus; Vin Morcaldi -- Fairfield University; Tom Roche – SCSU; Tim Skomro - Cabrini; Bill Garcia -- Western New England; Alex Welch – UCONN; and Johan Taborda -- Salve Regina.








A MOTHER'S TALE
Two years ago as the Hamden JV team was warming up on the sidelines before a game, Alex Welch was taking his usual spot in the outfield. His mother, Betsy, mentioned to one of the assistant coaches that Alex loves to pitch and went home every night and practiced. The assistant coach talked to the head JV coach at the time, Sean Butterly, and Butterly said he needed a pitcher that day and put Welch in to pitch.
Welch did well and the rest is history. Welch has pitched ever since as a regular on the American Legion and the high school teams.
It's only a small thing but it shows the love of a mother. She doesn't care if you throw a shutout or get a touchdown or score 20 points. She will always be there.
An old gentleman once told me that the only one you can truly trust in your life is your mother.
HAPPY MOTHER'S DAY to all, especially my wife, who continues to put up with me. (God love her.)








YOUTH BASEBALL NIGHT
The Hamden Diamond Booster Club invites all youth baseball players to come to this Friday's varsity game versus Daniel Hand of Madison, starting at 6 p.m. Players 10 to 12 years old will be given a hot dog and a drink at the game.
There will also be a ceremony honoring former Hamden High and American Legion player Ed Duel, who was killed in Vietnam some 40 years ago. As was the case with most Vietnam veterans, he was never given the honor he deserved.
Duel was a tremendous player who went to Vietnam shortly after high school. His memory was rejuvenated when the Vietnam Veterans Memorial was brought to Hamden last summer.
The Hamden baseball team has been wearing Duel's high school uniform No. 11 on their hats this year as a tribute to him.








U-14 TEAM
The Hamden Fathers' U-14 team will play a doubleheader against the Connecticut Tide on Saturday at 12:15 p.m. at Legion Field.
Tony Mentone is the former faculty manager and game assistant at Hamden High School. Tony is currently an assigning commissioner for the Greater New Haven Umpires Association and the assistant district administrator of Connecticut District 4 Little League. He also sits on the town's Parks & Recreation Commission. Please send info and announcements about youth sports or Hamden High sports to tonymentone@yahoo.com.
---
May 1, 2008
No Cigar, But Great Hockey Season
By Tony Mentone
BAD BREAK
Hamden resident Jeff Natale is playing in the Red Sox organization. Natale is a former Hamden Fathers' and Hamden American Legion player.
Last week Natale got promoted from the class AA Portland affiliate to class AAA Pawtucket. His father, Tony, a former Hamden police officer, his mother, Barbara, and brother Matt attended his debut. Natale, hitting in the lead off, went 3-5 garnering a single, double and triple. A great start for the 25-year-old former Trinity College player.
Unfortunately, the next night disaster struck as Natale was hit by a pitch and broke his forearm. He was put on the disabled list and will probably be out for six to seven weeks.
All his Hamden friends wish him the best and look forward to his return.








PORTO TO BE FETED
Friends of Hamden High softball will have a retirement dinner at Laurel View Country Club for Andy Porto on May 15 from 6 p.m. to 10 p.m.
Porto, who is retiring, has been a social studies teacher for 37 years and head softball coach at Hamden High.
Tickets may be purchased by contacting Elise McCarthy at the middle school, 407.7200.








U-14 DRAGONS
Hamden Fathers' Baseball U-14 Connie Mack team split a doubleheader with the Westport Wreckers in an opening doubleheader at Staples High School last Saturday.
Hamden won the first game 8-4, although the score doesn't indicate the type of game it was.
Erin "Hoss" Voskul pitched brilliantly in the game, but his counterpart from the Wreckers was also up to the task as he had a no-hitter going into the fifth.
Hamden's Matt Altieri got things going in the fifth inning with a long double. Altieri wound up with three hits for the game.
In the second game, Hamden pulled out to an 11-2 lead and then the roof fell in. Everything that could go wrong did as the Dragons succumbed to Wreckers 14-11.
Coach Burt Leventhal was philosophical at the end of the day. "The first game we played great but these are young kids and anything can happen. Some of them are playing on a large diamond for the first time. We have 30 games to play and my goal is for the team to get better by the end of the year," he said.








LET'S CUT THE CRAP
It seems like everyone I talk to tells me how disappointed they are over the hockey season that just ended for Hamden High.
There is no denying it. Losing in the semifinals to Fairfield Prep was a bitter disappointment but this may be one of the best seasons Hamden has had.
High school hockey in Connecticut is probably the sport with the most parity in the state. Literally, at any given day anything can happen even when playing division two or three teams. Amidst all this, Hamden kept the No. 1 ranking in the Register's Top Ten pole for most of the season. When they were ranked number three, they beat the No. 1-ranked team in the state, South Windsor, 8-3.
Later in the year Hamden played to a 2-2 tie against Mount St. Charles of Rhode Island, who are usually the Rhode Island champs and one of the most storied teams in the nation.
OK, they got beaten in the state tournament, but they still had one of the best seasons in the history of Hamden hockey.
This was a team with no special stars. They picked each other up and played as a team. They left it all on the ice every game.
So pick up your heads high. Be proud. You had a great year.








DIAMOND BOOSTERS
The Hamden High Baseball Booster Club will sponsor a "porchetta" dinner this Friday evening at the Hamden Italian American Club. On Sunday morning, May 4, they will host breakfast for $5 a person at Applebee's restaurant.








SAY IT AIN'T SO
As I pulled into the Hamden Mart Wednesday morning, I spied several senior citizens walking around aimlessly. I stopped the car and asked them what the problem was and they pointed to the big "Closed" sign on the door of the AMF bowling lanes.
The lanes (in my day they were called alleys) had been open since the 1960s. It served various groups. In the mornings senior citizens filed in to enjoy some competition, exercise and fraternization. In the afternoon the children would take over the videogames and the lanes. On Saturdays, kids of all ages would jam the lanes in various leagues. There was even something called "bumper bowling" for the real young. Inflated tubes would be laid in the channel (used to be called the gutter) so that the ball would always stay on the lanes and the kids would knock down some pins.
At night the serious bowlers would show up for league bowling. Some may not realize it, but serious bowling is kind of like para-mutual betting. Each player pays a set amount of money per week. The bowling establishment takes out their expenses and the bowlers are paid back the remainder according to their league order of finish. Some nights were pretty serious.
I think the best part of bowling was the friendships that developed. My two sons, ages 33 and 30, still fraternize with friends they made at the lanes. My wife and I are also friendly with many of the people we bowled with in a Friday night mixed league.
Many birthday parties and charitable events were held there, but its proudest moment was in 1995 when it hosted the Special Olympics World Games.
A local newspaper has reported that AMF of Virginia says it's just a financial decision.
Tony Mentone is the former faculty manager and game assistant at Hamden High School. Tony is currently an assigning commissioner for the Greater New Haven Umpires Association and the assistant district administrator of Connecticut District 4 Little League. He also sits on the town's Parks & Recreation Commission. Please send info and announcements about youth sports or Hamden High sports to tonymentone@yahoo.com.
---
April 24, 2008
Our Tax Collector's Got a Mean Arm
By Tony Mentone
OPENING DAY
The sun was shining brightly. The sky was blue without a cloud. And a pleasant breeze blew as more than 500 baseball players filed onto Bassett Field on Ridge Road. It was opening day ceremonies for the Hamden Fathers' Baseball/Softball Association.
President for the past 15 years, Mike Reilly, stood at the podium calling the role of sponsors, as the ballplayers in multi-colors gathered on the infield.
Tax Collector Barbara Duel Tito presented an American flag that flew over the capital in honor of her brother Ed Duel, who was an outstanding Hamden baseball player killed in the Vietnam conflict.
Reilly then introduced invited guests Harry O'Neill, a longtime director of Little League, Arnie Mann, former coach and umpire coordinator, Bill Tito, coach and Babe Ruth director, and me, former Hamden Fathers' president. Reilly said there was about 150 years of service to the association represented by these men.
Mayor Craig Henrici in his finest opening day attire (shorts, sneaks and a polo shirt) told the players to enjoy the game. Mayor Henrici then threw out several ceremonial first pitches. The general consensus was "decent glove, no arm."
Barbara Tito looked out at the field and commented, "There are a lot of future taxpayers out there." She threw out the first ball for the girls' softball game and several coaches wanted to draft her.








TAG SALE
The Hamden High Diamond Booster Club will have a huge tag sale in the high school parking lot this Saturday morning. For more information, call Betsy Welch at 654.1789.








U-14
The U-14 team opens its season with a doubleheader against the Connecticut Xplosion of Stratford, this Saturday at noon in Stratford.








RULES, RULES, RULES
In every baseball rulebook there is a clause that says substitutions can only be made during a dead ball period.
Why the rule? In the late 1800s, a team hit a foul popup near a team dugout. The manager, realizing that the first baseman would not get to the ball, yelled, "Smith is in for Jones." Smith came off the bench and made the catch to retire the batter
The next year the substitution rule was added to the book.








WHERE ARE THEY NOW?
Kris Carmody (HHS '00) played basketball and softball at Hamden. She graduated from UConn as a Huskie. She lives in Hamden and is a sales representative at Enterprise Rent-A-Car.
Sister Erin (HHS '02) also played basketball and softball. Erin is a SCSU Owl. She also lives in Hamden. She is a snack food concessionaire at Bassett Field, Astorino Rink and Paradise Country Club.








ATHLETIC FRIEND ILL
A fixture at many Hamden sporting events is Mike Sarno (HHS '92) of the Hamden High security department.
Sarno is being treated for a serious illness. Although doctors say the prognosis is good, he will have a long recovery period.
Sarno's friends are having a fundraiser for him on Saturday, May 17, from 3 p.m.-11 p.m. at the Knights of Columbus, 2630 Whitney Ave. For more information, e-mail Sarnofund@Yahoo.com.








MIDDLE SCHOOL
Can anybody tell us when we can expect the middle school baseball field to be made playable? It really is ridiculous that the middle school baseball team has to be shipped to Rochford Field and back for home games.








HIGH SCHOOL BASEBALL
At the halfway point of the season, Hamden baseball is 3-7, needing to win half of its remaining games to qualify for the state tournament.
The team has lost three one-run games and is confident that they can improve in the second half. An inch here or there and they could easily be 6-4.
Leading the Dragons at the plate are Will Hindiger (HHS '10), Kyle Cummings (HHS '08), Alex Welch (HHS '08) and Bill Garcia (HHS '08).
Tony Mentone is the former faculty manager and game assistant at Hamden High School. Tony is currently an assigning commissioner for the Greater New Haven Umpires Association and the assistant district administrator of Connecticut District 4 Little League. He also sits on the town's Parks & Recreation Commission. Please send info and announcements about youth sports or Hamden High sports to tonymentone@yahoo.com.
---
April 17, 2008
By Tony Mentone
SOMEBODY HELP
I usually stick to sports in this column. And in a way this has to do with sports. It's GAS.
The price of gas for cars is becoming restrictive in allowing us to get our kids to games and practices, etc. Everybody pays the rising prices and nobody seems to be doing anything to stop it. Oil companies are making their biggest-ever profits and the public keeps paying.
The first candidate that could do something about this problem has my vote.








MORE SIGNS OF THE TIMES
All sports
40 years ago - hustling
Today - busting butt
Basketball positions
Four years ago - guard, forward, center.
Today - point guard, shooting guard, big forward, small forward, center.








U- 14 TEAM
Hamden Fathers' Baseball has selected its U-14 travel team members. They are Matt Altieri, Robert Arroyo, Gulian Carmona, Max Coassin, Mike Fraser, Matt Hoff, Jake Lotto and Erin Moskel.
Also, Vinny Purgatore, Rob Rodriguez, Cory Slusars, Eric Sullivan, Joe Tommaselli and RJ Ugolik.
The team will play at least 30 games in the Greater New Haven Baseball League 14-U Koufax South Division.
The team opens play on April 26 against the Connecticut Xplosion, away. All home games will be played at Legion Field. The team is coached by Burt Leventhal and Tony Mentone (me).








DRAGON PUPS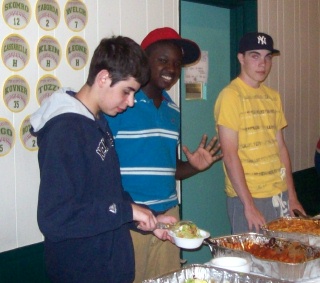 At the Hamden High pasta dinner. Courtesy photo
I have only seen them practice a couple of times, but many tell me this is the best freshmen baseball team Hamden High has ever had. HDN sports reporter Ned Burt will keep you informed as the season goes on. (Click here for Burt's latest write-up of the team.)








STEALING FIRST
With runners on first and third, the runner attempts to steal second in order to draw a throw so that the runner on third can score. If, however, the catcher does not throw to second and the runner is now on second, this runner can now steal back to first in order to create confusion and draw a throw, allowing the runner on third to score
This was legal in the major leagues until 1920.








PORTO ANNOUNCES RETIREMENT
Andy Porto, Hamden High's softball coach, announced his retirement after 25 years of coaching and after 37 years of teaching.
Ironically, a game Porto lost in 2001 is a game I remember the best. It was a Class LL semifinal against Bristol Central. Porto lost 3-2 in 17 innings. Although I started to leave the game several times, it was just too compelling to walk away from.








OPPOSITE DIRECTIONS
At the current time, the Hamden softball and baseball teams seem to be going in opposite directions. The softball team won their first four games, including an upset win over top-ranked Mercy. They now have lost two straight including a 1-0 loss to neighbor Sacred Heart Academy.
The baseball team is going the opposite way, after having lost their first five games. They recently beat West Haven and Fairfield Prep for a 2-5 record.








NO WAY
I am going to say it loud and clear: There is no way a high school athletic team should play five straight days as the Hamden High varsity baseball team was forced to do.
Not athletically, not academically.








TRAINERS
It's near the end of the road to contact your Legislative Council leaders and Board of Ed members to demand this service.
Only football and hockey have full-time trainers. Our middle-school athletes don't even know what a trainer is.








SWIMMER HONORED
The New Haven Register All Area boys swim team has chosen Hamden High swimmer Aaron Cubells to its team. Cubells specializes in the 200-individual medley and is also a scholar athlete as well as captain of the cross-country team.








OPENING DAY
This Saturday, April 19, is opening day ceremony for the Hamden Fathers' Baseball/Softball Association at Bassett Field on Ridge Road at 10 a.m. It really is inspirational to see all the players in the U-12 divisions lined up and ready to go.








THUMBS UP
The Hamden High baseball field had some remedial work done on it last week. A load of special sand was brought in to fill the infield and new baselines were cut on both baselines.
A little work like this a couple times a year will make this field shine.
Tony Mentone is the former faculty manager and game assistant at Hamden High School. Tony is currently an assigning commissioner for the Greater New Haven Umpires Association and the assistant district administrator of Connecticut District 4 Little League. He also sits on the town's Parks & Recreation Commission. Please send info and announcements about youth sports or Hamden High sports to tonymentone@yahoo.com.
---
April 10, 2008
The Way it Was: 19th Century Baseball
By Tony Mentone
It is amazing how much sports lingo has changed. For example, in basketball the lay-up 40 years ago was called a duck. Today it is called a bunny. A three-point shot 40 years ago was nonexistent. Today it is called a three ball. An offensive block-out 40 years ago was called a pick. Today it is called a screen.
In baseball, a homerun 40 years ago was called a Ballantine blast. Today it is called leaving the yard. Forty years ago a pitcher had good speed. Today it is called good velocity. Forty years ago you could say that the pitcher hits the spot with his pitch. Today it is called good location. Forty years ago, the ball dropped. Today it is called a cut fastball.
I am sure you can come up with many more. Send them in.








THERE OUGHT TO BE A LAW
Due to rainouts last week, the Hamden High baseball team has to play five games this week. There is no way that a high school team should have to play every day.
There is no high school pitching staff that can handle this not to mention the academic load the student must handle when he returns home from a game.
There is no other sport that is allowed to do this -- except maybe softball.








HOCKEY HONORS
Two junior hockey players have been named to the New Haven Register All-State Hockey Team.
Pat McGregor is 6 feet, 4 inches, weighs over 200 pounds and has the speed to dominate his opponents. His special talent seemed to be breaking up breakaways. He finished the season with five goals and 14 assists. It is rumored that he will attend prep school next year.
The second junior on the all-state team is goalie Anthony Avitable. He has made many outstanding saves in the course of the year. His biggest game of the year was 36 saves against Rhode Island powerhouse Mt. St. Charles.
Senior defenseman Scott Teulings was named to the second team. Mike Pierne was named to the third team and Matt Hickman made honorable mention.








LACROSSE SELECTION
Hamden High recently hired a new lacrosse coach. Many of you have asked me if the same procedure to hire the football coach was used to hire the lacrosse coach. The truth of the matter is, I haven't been able to find out but it does raise an interesting point.
If the same system was used, then hopefully we will get some consistency and all head coaches will be hired that way. If not, then why wasn't it?








HERE WE GO AGAIN!
Last spring I was appalled that the Register left Hamden softball star Cassandra Silva off its all-area team. Not only was she an outstanding pitcher, she was also a great hitter.
This year the Register's all-state hockey team named Matt Sather of Fairfield Prep as the coach of the year. Sather did a great job in bringing back Prep from a losing record to win the state title. But this award is called the Coach of the Year Award, not the Coach of the State Playoffs or the Coach of the End of the Year. In fact, most coaching awards are voted on before the final playoffs.
My coach of the year is Billy Verneris of Hamden. Verneris had his team at the top of the heap all year.
His then-ranked number three Hamden beat No. 1 ranked South Windsor and was in the No. 1 slot for most of the year. Verneris kept his Dragons at a top level the entire season except for one game in the tournament. There is no doubt he is "Coach of the Year."








STYLES OF PLAY
Catchers of the 19th century used a different style of play than modern baseball catchers. Gloves were usually fielders gloves with large webbing. Oftentimes the catcher wore a glove on each hand, but when in the 1880s the pitcher start throwing overhand, it caused the catchers to get beaten up regularly. Many teams rotated catchers from game to game to try to give the catchers time to recover.
Typically a catcher of the 19th century stayed 5 to 10 feet behind the batter. The catcher stood up straight and often blocked the ball like a goalie and many times caught the ball on the bounce.
The biggest challenge for the catcher was catching a low pitch
.
Next week: stealing first base and other early catching rules.








HAMDEN DIAMOND BOOSTERS
The Hamden High baseball boosters club will host a series of fundraisers.
The first event will be a pasta dinner on April 15 at the Elks Club served by members of the baseball team. E-mail Tom DiCosimo at thomas.dicosimo@att.com.
This will be followed by a massive tag sale in the school parking lot on April 26. For more information, call Betsy Welch at 654.1789.








FIELD OF NIGHTMARES
Does anybody remember when we built the new high school baseball field? Remember the drain along the first-base line?
Well, we have done it again. The new middle school baseball field cannot be used until there is a lot of remedial work. First of all, every time it rains it floods. Are you surprised that Meadowbrook floods? We didn't know this would happen?
In order to take water off the field, there is an "open" catch basin in the middle of the field. Who built and inspected these fields? Have they ever seen a baseball game?
So that's two strikes. Three strikes and you are out.
Tony Mentone is the former faculty manager and game assistant at Hamden High School. Tony is currently an assigning commissioner for the Greater New Haven Umpires Association and the assistant district administrator of Connecticut District 4 Little League. He also sits on the town's Parks & Recreation Commission. Please send info and announcements about youth sports or Hamden High sports to tonymentone@yahoo.com.