Town Government
February 28, 2006
One More Step for Johnson Pond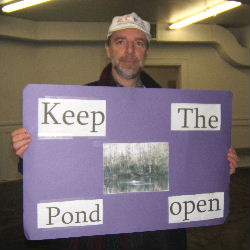 Andy Wormser of Bedford Avenue. Photo/Sharon Bass
By Sharon Bass
Moments before the Legislative Council came to order last night, Florence McBride showed off some colorful bird photos.
"I'll die if it doesn't pass," she said. "I really will."
The Woodlawn Street woman was talking about an item on the evening's agenda to approve the purchase of one of her favorite places in town: the so-called Johnson Pond at 277 Thornton St.
A bunch of like-minded neighbors joined McBride in Council Chambers, keeping their fingers crossed that their elected officials could understand how they feel about the three-plus acres of open space in the heart of Spring Glen. Its pond for skating. Its varied wildlife. And the place where McBride often goes to look at birds.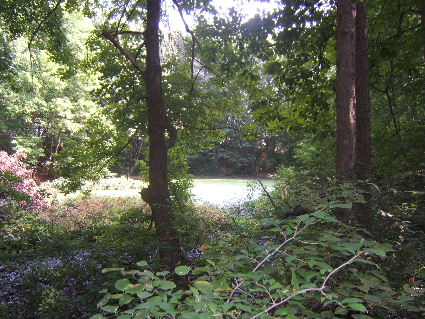 Johnson Pond last September. File photo
The item went before the Council's Planning and Development Committee.
"I'm in favor of this purchase," said Councilman Curt Leng. "It's very infrequent you get open space in southern Hamden."
"It's not just any piece of open space," said Stephen Mayer, treasurer of the Hamden Conservation Land Trust. He talked of the wildlife and how high school biology classes could use it as an outdoor lab.
The deal, said Mayor Craig Henrici hours before the meeting, is for the town to buy Johnson Pond for $270,000 and for the Hamden land trust to own it. The state would foot 65 percent of the bill; the town would put in $25,000-$30,000; the Regional Water Authority, $25,000; and the land trust, $35,000-$40,000.
The current owner, Terry Boyle, bought the property on Feb. 3, 2000, for $55,000. He put it on the market for someone to build a house on, which didn't please folks like McBride.
Though Boyle is making a pretty penny off the deal, Henrici said the important thing is "to keep that open space in perpetuity. It's well worth it." He said the closing date on the sale is scheduled for April 14.
"It's a hard piece to appraise because there's nothing comparable to it," said the mayor.
Councilwoman Kath Schomaker said the price tag is on the "seller's conscience."
"In many ways this parcel is priceless," she said, "and I'm not being flippant. The commitment by the neighbors to chip in money is a wonderful feature of this entire real-estate transaction."
So far, Mayer said, neighbors have helped the land trust raise $12,000.
Councilwoman Carol Noble asked about the insurance liability. Mayer said, "If someone were to get hurt the land trust wouldn't be as liable as the town would have been." But said he didn't know much more than that.
"Any contamination on this property?" asked Councilman Ron Gambardella.
None that Mayer was aware of. "I wouldn't be surprised if there has been some dumping, but I doubt anything toxic," he said.
According to a recent RWA assessment, the property is valued at $170,000. Council Prez Al Gorman pointed out Boyle will make a $200,000-plus profit.
"Johnson Pond is in my neighborhood," said Councilwoman Gretchen Callahan. "It's a very special place." One of the last vestiges of unspoiled land in southern Hamden.
Well, McBride didn't have to die. The committee unanimously approved the sale. On his way out, Marvin Rosenfeld, who's lived across the street from the pond for 35 years and is an avid photographer of its wildlife, said, "It's encouraging."
Next Monday at 7 p.m., the full Council will take a final vote on the fate of Johnson Pond.
---
February 27, 2006
Hogan's Heroes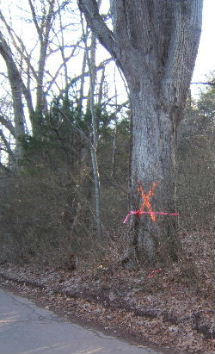 A tree on Hogan X'd for the ax.
People who live along scenic Hogan Road are fighting Big Development
Story and photos by Sharon Bass
The boundaries of Hamden (physical, not ethical) are on trial on Hogan Road. So is history. Or the importance thereof.
A five-house development called Blue Haven Estates is about to break ground off Hogan Road, just over the border in North Haven. Because the project is within 500 feet of the Hamden line, it needed Hamden approval, said Assistant Town Planner Dan Kops.
So last summer Jim Antanucci, the owner/developer of the subdivision, got Inland Wetlands and Watercourses Committee approval. And that's when the boundary confusion was discovered. (A message left for Antanucci was not returned.)
North Haven's approval of the subdivision requires widening part of Hogan Road -- which is off Mt. Carmel Avenue and called Brewster Lane in North Haven -- to increase the visibility or the "sight line" of the road for safety reasons.
But nobody can say which town owns a particular portion of the road needing widening. Both towns' engineers are currently scrambling to figure it out.

Boundary, Shmoundary
Drawing the line, however, will not do much for the people who live in the neighborhood on both the Hamden and North Haven sides. They say they moved there at least in part because they love narrow, bumpy Hogan, which is a designated scenic road. Developing it will draw more cars, especially from Quinnipiac, and forever destroy the natural history of the road.
Last Tuesday, they presented a petition against the widening to the Planning section of the P&Z Commission. About 31 signed and about 30 attended the meeting
"It'll make it a nice highway. Can't you just see it? Two wide sides," said Ruth Lindenfelsor, 89, who's called Hogan Road home since 1977. "And college kids going home this way. I would not like it. It's a quiet road now. I'm sitting where I can look out on the road and a car's not gone by while I'm talking to you. And it's a quiet road. We're lucky, I think."
Lindenfelsor signed the petition.
"I really don't want to see this road change. It's a beautiful road," said Donna Wade of Hogan Road. "One of the reasons we bought property here is the road. There are very few places like this. I know people say, 'What an awful road. It's so narrow.' But I love it. I love the potholes. I think widening the road and paving the road is going to bring traffic."
Wade signed the petition.
"It's just an open invitation to making cars go faster," said David Apter, who lives at the corner of Ridge Road and Ives Street in North Haven. "Brewster Lane is already wider than the Hogan Road part because [Hogan] is a scenic road. However, [Brewster is] still scenic and people walk their dogs. It feels like country even though it's been built up considerably. Part of the concern we all have is it's one of the last places not to look like a typical housing development."
Apter signed the petition.
While public comment was not allowed at the Feb. 21 meeting, Planning commissioners took the petition seriously. They denied the road-widening request because of the murkiness around the town line and the fact that Hogan is a scenic road. It also sent an unfavorable recommendation to the Legislative Council. Since it's considered a "municipal improvement," said Kops, it needs Council approval.
As well as the widening, Kops said two mature trees on the Hamden side would have to be yanked because of Blue Haven Estates. That's also raising a stir.
"When you have a scenic road you can't cut down trees," he said. "When it's designated scenic you have to get Council permission to fix a pothole. There aren't many scenic roads in Hamden."
"The commissioners seemed to have a really good grasp of what the citizens want," said an Ives Street woman who asked to be anonymous. "It's such a touchy issue. The people who want to develop it are really heavily invested into the project and here's something that could inflame things," she said explaining why she doesn't want her identity known.
"We're a little uncomfortable with the idea that somebody on the other side thinks we ran to the media. We're not against the development. We're against them cutting trees down and widening the road," the woman said. "We're concerned that Quinnipiac students will use it as a back road."
"I think you'd be inviting theft," said Lindenfelsor. "New people coming through and going faster. I wouldn't want to see two cars going 45 mph. But I won't be around to see it. I figure I'm not going to see it paved."

Not in Apter's 'hood
Apter seems to love everything about the area -- and will fight to keep it the way he found it. When he was president of the Sleeping Giant Neighborhood Association, he said, "We were particularly concerned with this area which some call the best-kept secret in this part of Connecticut."
He bought his home in 1969. The oldest part was built in 1721; the newest in 1750 or 1760, he said.
"It's a typical white clapboard Colonial house with barn and outbuilding. It's also interesting that it was built in an area that was an Indian campgrounds, because we dig up arrowheads and grinding stones and lots of oyster shells," said Apter.
On the Hamden side, he passionately pointed out, are 19th-century barns that were converted into studios for the late painter/stained glass artist John La Farge. http://www.answers.com/topic/john-lafarge
"The area itself, the woods make it pretty special. The North Haven town engineer wants to widen the road at some point 3 feet and that will in effect change the character of the place," said Apter. "People can do what they want with their land but …"
Wade said neighbors are thinking of formally uniting to fight the widening and slaughter of trees. "It depends on what happens. We may," she said.
---
February 22, 2006
Who Pays What & Why

The Kicak lawsuit money trail
By Sharon Bass
At the very least, the town of Hamden would be on the hook for 25 grand if the Kicak v. Kennelly and Nolan case goes forward. And most are pretty damn sure it will.
That is the amount of the deductible the town must pay for legal representation for the two chiefs, as stated in its contract with CIRMA (Connecticut Interlocal Risk Management Agency), a nonprofit insurer formed in 1980 to exclusively cover municipalities for lawsuits, workers' comp cases, car accidents and so on.
Like an HMO's doctor list, CIRMA has an attorney list. Hugh Keefe, who is currently representing Police Chief Jack Kennelly, is not on it, said Assistant Town Attorney Michael Kamp.
Kennelly can continue to use the New Haven lawyer but has to pay all of it out of his own pocket. And he would still be represented by a CIRMA-funded lawyer who would work as a team with Keefe. Kamp said it's unclear if the town would have to foot any of the legal fees. He was also unsure of CIRMA's liability limits.
"CIRMA has a list of lawyers they use and because they could be liable for damages in a civil action they pick the attorney," said Mayor Craig Henrici.
"The town is not paying Hugh Keefe," he said. "I know Chief Kennelly is conferring with Keefe. But I would doubt very highly if he has filed an appearance in the lawsuit," which would make him the official attorney in the case. Kamp said he expects an appearance to be filed in Hartford federal court in fewer than three weeks.
Henrici said if former Police Chief Bob Nolan uses a CIRMA-approved lawyer his legal representation would be covered, because he is being sued for something that allegedly occurred during his watch. "CIRMA is obligated to defend both of them but they will need different lawyers because there's a possibility that their interests would be different" in the case, the mayor said.
Kicak is responsible for his own legal fees, said Kamp. If he prevails in the case -- Kicak alleges that Kennelly and Nolan blocked him from getting promotions in retaliation for a 2002 incident -- Kamp said Kicak would likely try to recover his attorney fees and back wages from when he thinks he should have been promoted. The lawyer said CIRMA would determine whether Kicak is entitled to the money and, if so, the town would likely be held responsible.
If Kicak wins punitive damages, however, Kennelly and/or Nolan are on the hook.
Asked why the two cops are named in the Feb. 14 lawsuit instead of the town, the mayor said, "It's a legal question and I don't want to comment on that."
Nothing like Ambrogio
"This is a completely different set of circumstances than we had in the late '80s as far as the town's exposure for payment of attorney's fees," said Henrici, making an obvious reference to the Police Chief Jack Ambrogio case.
"You cannot compare this case to the Ambrogio lawsuit. It's unfair," said Kamp. "The town wound up paying a lot of money [in the Ambrogio case]. It's not even appropriate to discuss both of those cases in the same conversation."
"I agree on that completely," said John Carusone, who was mayor from 1987-1991. "The Ambrogio case was based on facts and the facts were on my side."
In 1989, Mayor Carusone suspended Ambrogio with pay for reprimands, alleged wiretapping and other violations. At the 1991 trial, he said Ambrogio had 21 charges -- and he won. The town paid for its defense and Ambrogio paid his own legal bill, said Carusone.
One year later, Ambrogio unsuccessfully sued Carusone saying his rights were violated when he was suspended, and his reputation was damaged. The town took care of Carusone's legal fees even though he was no longer in office. "When a mayor is sued for something he's done during his term the town is responsible," he said.
Though Ambrogio lost the case, Carusone said the town paid him over $100,000 "because he had agreed not to appeal the decision." Hugh Keefe was Ambrogio's lawyer in both cases.
---
February 18, 2006
UPSEU and AFSCME continue to duke it out for Hamden
By Sharon Bass
The ongoing war between two unions for town workers saw another battle yesterday when they met with state and town officials in Government Center.
Wayne Gilbert of UPSEU (United Public Service Employees Union) has his eye on AFSCME's (American Federation of State, County, and Municipal Employees) Local 818, comprised of 29 supervisors. He came to the meeting -- intended only to collect information -- armed with enough authorization cards to force an election. He needed 30 percent of the members to sign on.
Gilbert maintained there is a window for an election because 818's contract expired on June 30, 2003, and said there have been no meetings.
Kevin Murphy of AFSCME disagreed. He said there have been meetings and objected to an election. "I think the petition filed by UPSEU is a distraction to the collective bargaining practice," said Murphy, calling Gilbert's petition frivolous.
It will be up to the state Labor Relations Board to determine whether an election can be held, said spokeswoman Nancy Steffens. A written decision is expected in about two weeks.
"We don't believe the window is open," said Murphy. "They had enough cards. But based on the state statutes, we are in binding arbitration which closes the window."
"Catch this," said Gilbert. "What [Murphy] didn't say is he filed for binding arb last April and they haven't had even one meeting. Hello?" Murphy said there have been several.
Gilbert is betting he'll win this battle. Murphy doesn't think he has much of a fighting chance.
"If ASFCME weren't afraid of losing the election they would let it go forward," said Gilbert.
"He likes to spotlight" his name, said Murphy, who said he doubts the state will allow an election.
Also ...
The dispute between the Board of Education and UPSEU over 26 part-time paraprofessionals came to an end this week with the union prevailing. Though the school workers voted last August to join up, the BOE fought their decision.
The Board hired the Milford law firm of Bercham, Moses and Devlin to argue its case, claiming there was no window last August for UPSEU to hold an election. However, another union would have been allowed to solicit the part-time employees, said Gilbert.
"For them to spend thousands of dollars to say these people had the right to organize with any other union but not UPSEU" was a waste of the taxpayers' money, he said.
Neither Superintendent Alida Begina nor Assistant Superintendent Hamlet Hernandez returned messages seeking comment.
---
February 16, 2006
Will it Fly?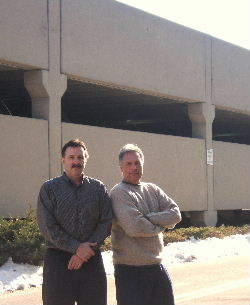 Mark and Guy Guarino in front of the parking lot slated for a helicopter pad.
Brothers in the sound business balk about a planned heliport
By Sharon Bass
Businessman Michael Belfonti is putting a heliport on top of his parking lot at Hamden Center One. It's for his personal use and will be the town's first.
Tuesday evening, the Planning and Zoning Commission voted unanimously to allow Belfonti to run the heliport -- but for just one year. Then it will be reviewed.
"It's a little complicated because they rewrote zoning regulations to allow it and part of their regulations require that police and fire have access to it in case of an emergency," said Holly Masi of the Planning Department. Hamden doesn't own a helicopter.
Another part of the deal is Belfonti is limited to five trips per month, however nobody can say if that means five roundtrips or five one-ways -- and to at least one neighboring business, that makes a difference.
"It's real simple," said Guy Guarino who owns Guymark Studios with his brother Mark. "The noise is going to disrupt our business. It will cost us more money if we have to retake video and sound." Their building at 3019 Dixwell Ave. is about 250 feet away from the Hamden Center parking lot.
"P&Z doesn't care about the little guy, " said Mark Guarino. And it's tough to fight the big guys.
"It was never defined what five means. I know that doesn't make any sense," Masi said of the murky language. "But I think the commission is thinking five landings."
"To be honest we debated that very question during the meeting. We left it vague. We simply said five trips," said P&Z Chair Joe McDonagh. "We couldn't come to an agreement as a commission." He said he interprets it as five landings.
However, Belfonti's lawyer Carl Porto Sr. is thinking 10 landings. Although he's not sure either -- and he wrote the zoning reg.
"As far as I understand it will permit five trips a month, which I would presume would be roundtrips or 10 landings," said Porto, whose law office is located in Hamden Center One at 2319 Whitney Ave. "This would only be used in unusual circumstances. If Mr. Belfonti needs to get to someplace fast. It's certainly not his intention to use this as a usual mode of transportation."
McDonagh said the commission is aware there are concerns -- not just from the Guarinos -- and asked to receive "copies of all complaints." He said the helicopters will travel along the Wilbur Cross Parkway, which could annoy property owners to the south.
"The homeowners were not notified of the heliport because they're not abutting landowners. It's a new thing for us," the chair said. "We had expert testimony saying most people will not even notice it."
The Zoning Commission approved Porto's regulation last September. "There literally was no zoning regulation that would permit a heliport in Hamden. We had to create a separate section of the zoning regulation," the attorney said. "All they're going to do is close off part of the parking garage and paint some graphics on the cement to indicate where the helicopter will land."
Belfonti could not be reached for comment.
Mark Guarino spoke against the heliport at Tuesday's meeting.
"My building is the closest building to the helipad. They had an expert there [at the meeting] who painted a very rosy picture of it and how it will benefit the community. But it's a private helipad. It's another toy for the police and fire to play with," he said. "I have a sound-sensitive business."
The brothers also claim the town didn't inform them of Tuesday's P&Z meeting or the public hearing last September when the zoning reg was voted on. Guy Guarino said a neighbor told them about this week's meeting.
Their father, Anthony Guarino, opened the studio in 1949 naming it Sleeping Giant Films. In 1982, the brothers bought the biz and a few years later changed the name. Their mother runs the front office.
"I would love to do something about [the heliport]," Mark Guarino said. "Problem is it's now zoned for that use. I've spoken to two attorneys and they said you're wasting your time."
Masi said the heliport was strongly endorsed by both Police Chief Jack Kennelly and Fire Chief Jim Leddy.
McDonagh said Porto will probably be asked to come before the commission again to define what five trips mean.
---
February 15, 2006
We Do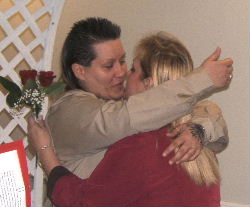 Kim DeParle and Trish Walters got to tie the legal knot this year.
Freebie marriages at Government Center yesterday
Words and pictures by Sharon Bass
To the melodious notes of the local women's a cappella group Silk'n Sounds, six couples tied the knot on Valentine's Day for free on the third floor of Government Center. On any other day, marriage licenses cost $30.
At 10 a.m. the ceremonies kicked off with the civil union of Kim DeParle and Trish Walters of Arch Street. As Silk'n Sounds sang "You Make Me Feel So Young," the couple walked down a short aisle to a heart-shaped arbor where they met justice of the peace William Sanford.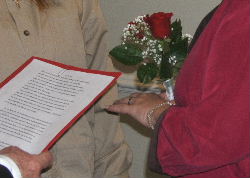 After they slid rings on each other's fingers, Sanford pronounced them partner and partner. And the women's friends and relatives threw confetti at them.
Last October, civil unions were legalized in Connecticut.
"Finally we can live as a couple with the same rights as regular married couples," said Walters, a student at Stone Academy. She said there was no money for a honeymoon but she and her honey were planning a trip to Foxwood this weekend.
"I just couldn't love her any more today rather than next week," she said.
DeParle concurred. "I love her. I couldn't be happier," she said. DeParle is a resident aide at New Haven's Grant Street Partnership, a facility for substance abusers. The couple have been together for less than a year, but DeParle said it was love at first sight.
This marked Hamden's 11th year of free Valentine's Day marriages. Local businesses donated cookies, cakes and other edibles.
---
February 10, 2006
Primary Talk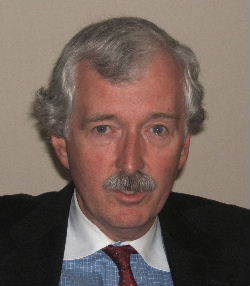 DTC Chair McDonagh.
By Sharon Bass
As the 2nd and 8th Districts rev up for their highly contentious Democratic Town Committee primaries next month, the chair offered a history lesson. (As with all elections, candidates who were not endorsed by their party can force a primary against those who were.)
"Records in the Town Clerk's office indicate that there have been six town committee primaries in the past 14 years. This year makes eight," said DTC Chair Joe McDonagh.
"One of those was a Republican primary. In March 1994, Frank Cesare and Barbara DeNicola and three others beat a challenge slate. The others have been Democrats.

"The 2nd -- the Democrats in the 2nd -- have primaried twice before, 2004 and 1998. This gives the 2nd the perhaps unwanted distinction of being the most commonly primaried district. Next comes the 8th. This year will be the second time in 14 years. Other districts -- the 9th, once in 1992, and the 1st, once in 1998.

"The turnouts vary widely. The highest was in the 8th in 1992, when 37 percent of the Democrats turned out for a primary that pitted a slate led by recently elected Mayor Lillian Clayman against party leaders William LaVelle, then party chair, Dennis Panagrossi and Charles Karjanis. Interestingly, Clayman's slate won five seats on the voting machines (Clayman, Carl Secola Jr., Anthony Mentone, Robert Lewis and Elaine Hunter), but they lost when the absentee ballots were counted.
"Panagrossi/LaVelle's slate garnered over twice as many absentee ballots as anyone on Clayman's slate. As a result, Clayman's slate only won three seats; Panagrossi & Co. won four.

"It is worth repeating that Tony Mentone and Bill LaVelle were on opposite sides in 1992. Tony ran with, among others, Lillian Clayman, Carl Secola and Tony's mother-in-law, Mary Velardi, who has since passed away. Dennis Panagrossi's slate included LaVelle, Karjanis and Bob Vignola who worked on Craig Henrici's 2005 mayoral campaign.

"In 1992, there was also a primary in the 9th; the winners included attorney Fred Sette, Matt Fitch and Al Gorman. The losers included former Town Planner Roger O'Brien, current Police Commissioner Joe Brandi, former town attorney Frank Glynn and former DTC chair and current insurance agent for the town, Lew Panzo. The 9th's turnout was also pretty good at 31 percent.

"The lowest turnout for a town committee primary was in 1998. Eleven percent of the 2nd turned out for a lackluster primary that only included 10 candidates. Some of them are, no surprise, familiar names, too: Tom Fortuna, John Flanagan, Shirley Farm and John Simpson.

"But the strangest outcome to a primary was in 2004. Fourteen candidates in the, of course, 2nd fought. The endorsed slate included Flanagan and Jacques -- together! -- Farm, Deborah and Richard Tropiano -- Jacques' sister and nephew -- Connie Vitale and Anthony Brown. The challenger slate, put together with Carl Amento's help, included Tom Fortuna, Bob Masi and Joe Velardi.
"Flanagan, Jacques, Farm, Fortuna, Velardi and Vitale all won; coming in tied for seventh were Anthony Brown and Deborah Tropiano. [Democratic Registrar of Voters] Peggy Rae had to pick a name out of a hat. And fate picked Deborah Tropiano."

This year
On March 7, Jacques' 2nd District slate of Deborah Tropiano, Michele O'Connor, Shelly Imler, Leslie Jacques, Kristina Vollano and Norma Carr will face Farm, Flanagan, Harry Gagliardi Jr., Sue Hutchinson, John Simpson, Velardi and Connie Vitale, who were chosen at the Jan. 10 caucus.
In the 8th, Mentone's slate of John DeRosa, Anne Ramsey, Rose Mentone, Jim O'Brien, Angelo Vitale and Susan Massaro will challenge the DTC-endorsed slate of Ricky Baltimore, Mike Dolan, Germano, Carol Noble, Gregg Pugliese, Steven Wilson and Marigrace Larke.

Complaints denied
On Jan. 24, DeRosa sent a written grievance to the State Central Committee alleging violations of party rules at the 8th District caucus. He maintained that the nominating process was flawed because the caucus notice was "inadequate and false." He also wrote that the "8th District caucus wrongly followed the state party rules, unlike the other Hamden districts which followed the town party rules." The 8th was the only district that allowed nominations to be taken off the floor and not limited to those who had previously registered their names.
An answer came back Feb. 6. The committee unanimously turned down both complaints.
----------------------------------------------------------------------------
Vacation Destination: Hamden, Conn.

A group formed this week to lure visitors into town
By Sharon Bass
Hamden has Sleeping Giant Park. Brooksvale Park. The Eli Whitney Museum. The Dickerman house. Quaint shops on Whitney Avenue. And a summer concert series that draws thousands.
Instead of having visitors of say Quinnipiac University sleep, dine and shop in New Haven, a new tourism committee met in Government Center for the first time Wednesday to strategize ways to keep them here.
"The town has a number of assets that we don't market enough," said Scott Jackson, the mayor's top aide. "The big ones that come to mind are the Farmington Canal and Sleeping Giant. The fitness-conscious group is growing. So if you're dropping your kid at Quinnipiac strap your bike to the back of your car."
And while you're at it, rent a room at the Clarion. Eat at one of Hamden's restaurants. And shop till you drop. "Clearly we have a lot of shopping," said Jackson. "We do have boutique shopping."
A smattering of folks showed up at the Wednesday meeting: Arts Commission coordinator Mimsie Coleman, Jackson, Economic Development Director Dale Kroop, Parks & Rec's Frank Rizzuti and Frank Cooper, Council President Al Gorman, Hamden Chamber of Commerce's Nancy Dudchik, Bill Brown of the Eli Whitney Museum, Lynn Bushnell of Quinnipiac U, two reps from the new Clarion hotel, former Mayor Carl Amento and Mayor Craig Henrici. (Some of these people will not serve on the committee.)
Coleman said she and Dudchik spearheaded the idea to bring tourism money into town and to stimulate economic and cultural growth. A couple of decisions came out of Wednesday's exploratory meeting: to work collaboratively with Quinnipiac, and to form a subcommittee to develop a brochure touting Hamden's finest, which would be distributed to area colleges, Government Center, the libraries, the Clarion and so forth.
"At this point," said Jackson, "there is no cost to the town."
---
February 9, 2006
Three mayors from the past mouth off
By Sharon Bass
The HDN wanted to know how past Hamden mayors would solve today's municipal problems. So seven questions were sent to five of the seven living mayors. One didn't want to participate. Another didn't respond to the e-mail or return phone messages. And three agreed.
The other living mayors are Lucien DiMeo and Carl Amento. DiMeo is reportedly in Florida without e-mail. And Amento wasn't asked because some of the questions pertain to decisions he made.
It boiled down to former Mayors Barbara DeNicola, John Carusone and John DeNicola.
The questions:
1) If you were mayor today, what would be your top five priorities?
2) If you were mayor when the new middle school's location was being decided, where would you have pushed for? Would you have considered rehabbing the current middle school instead?
3) Would you have purchased Government Center or restored Memorial Town Hall?
4) Do you think corporate mega-box chains like Home Depot are good for Hamden? Should Hamden concentrate instead on helping small businesses to survive and prosper?
5) Your worst moment as mayor.
6) Your finest moment.
7) Which fruit would best describe the kind of mayor you were?

Barbara DeNicola, 73, Dante Place, Republican, mayor from 1997 to 1999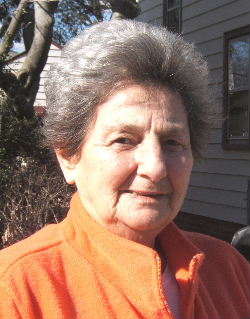 1) A) Taxes. B) Develop a plan for the funding of the pensions plan. The town will pay the price for five or more years of zero funding in the account. C) Contain costs and reduce the bonded indebtedness. D) Establish a scheduled maintenance plan for roads, bridges, sidewalks and town and school buildings, and develop a dedicated capital improvement fund for future expenses. E) Continue aggressive economic development.

2) If I had been mayor I probably would have opted to renovate the middle school or if that was not viable, relocate to the farm on Gilbert Avenue if it was cost effective.

3) I would not have purchased the spec building known as Government Center. I would have restored Memorial Town hall and relocated the fire department, destroyed the Public Works/Traffic garage and moved the police department for expansion purposes.

4) Mega-box chains are a part of the economic picture for Hamden and should be combined with the development of small, local business. We began this encouragement for local business with the town's first economic development plan, which included incentives, etc.

5) The house fire on Wintergreen Avenue, which resulted in the loss of a life. And not being able to rein in the Farricielli properties.

6) The settlement of the sewer bill with New Haven. The awarding of the DOT bus depot to Hamden for the Detroit Steel property. The appointment of former Police Chief Bob Nolan. The economic development plan. And reinstating the position of town engineer.

7) An orange. A person who reflected sunshine, energy and optimism.
John L. Carusone, 70, Daniel Road, Democrat, mayor from 1987 to 1991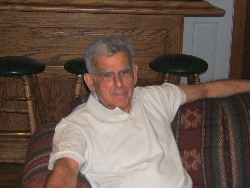 1) A) My first priority would be to sell the Board of Education building and return the proceeds to Hamden's fund balance. The BOE would move into the soon-to-be abandoned middle school. The community would be given adequate space in the middle school, also. The former Newhall School would be demolished. B) I would work as hard as I could to have Hamden receive its fair share of state aid. I agree with the Henrici decision to do this politically instead of resorting to litigation. C) I would meet regularly with our state delegation to get state funding for the many infrastructure problems we have. I believe my administration's success in gaining $3 million for the Thorpe Drive project is the last infrastructure project we had. D) I would work with the town's Economic Development Director Dale Kroop to develop a plan for the Farricielli property so that the town takes it over and develops its own industrial park. E) I would renovate Town Hall back to its 1924 origin and have certain offices, including the mayor's, moved back in there. The present auditorium would be a display hall that would include memorabilia from past administrations.
2) The middle school could have been renovated and added to on the existing site at approximately half the cost we are now paying on Meadowbrook. If that plan could not be sold, a new school on the former Gilbert site would have been far more advantageous than destroying Meadowbrook.
3) Purchasing Center 1 made no financial, logical or historic sense. In fact, had Center 1 been kept on the tax rolls over a period of 20-40 years, it would have generated adequate tax revenue to renovate Town Hall. My administration proposed renovating Town Hall while keeping certain offices there, including the mayor's office, but renovating portions of Town Hall back to its 1924 origin. An architecturally compatible office complex would be built next door including police facilities and town offices.
4) Yes, I believe Hamden should always try to attract prime businesses but should not ignore local vendors like Centerville Lumber, Spring Glen Hardware and other longtime Hamden vendors.
5) Losing the Ambrogio case.
6) Just watching the town come together after the 1989 tornado. Hamden is a town with very caring people.
7) I'm an apple. Sometimes hard to bite but real soft inside.
John DeNicola Jr., 71, Worth Avenue, Republican, mayor from 1985-1987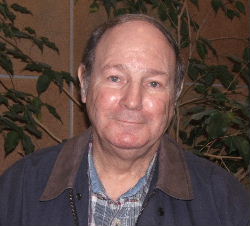 1) A) Get the pension fund up to date. B) Reduce spending in order to reduce taxes. C) Create new outdoor activities for senior citizens. D) Utilize more town employees for town projects and avoid going out to bid for outside contractors. E) Generate an honest surplus in the fund balance.
2) I would definitely not have pushed for a new middle school and I would definitely have pushed to rehab the current middle school. The soil around that building could have been removed and/or mixed with clean soil to minimize and dilute any potential contaminations. Former Mayor Amento and school Superintendent Begina misrepresented the alleged danger regarding contamination on that site by using scare tactics and distortions of the truth. During the summer of 1955, I was working as a carpenter's apprentice for the contractor that built that school. I worked in the "hole" building that forms for the concrete foundation footings. The only other people in the "hole" were the steelworkers and laborers. After the carpenters built the forms for the foundation walls the ironworkers entered and installed their iron web to strengthen and bind the concrete mix. If anyone should have taken ill on that site it would have been me or any of the other workers on that site. Yet, there is no record of anyone made ill at all. Here I am, 50 years later and have no ill effects from working on that construction site. For what it is costing for this new school, I could have renovated the present building and had money to spare. And I would not have mutilated the most beautiful open space in Hamden that so many seniors and residents enjoyed over the years.
3) I would definitely have renovated the present Town Hall. There was no need to purchase Government Center, which has cost the taxpayers well over $6 million -- and we are still spending money to fix up problems in that building. I would have knocked down the old traffic building adjacent to Town Hall and built an addition, renovated the interior, which did not require extensive work, and it would have been well under the six million that was spent on Government Center. By moving all offices there, former Mayor Amento has left the Town Hall an empty building and has done nothing to restore any of the offices, which were left in deplorable condition as a result of the moving process. He also mutilated the stage in the Council Chambers, which now looks like the remnants of a war zone.
4) Large business, such as Home Depot, are good for the town in one respect because it brings in tax money, but on the other hand harms small businesses that eventually cannot survive and ultimately have to close their doors. I would prefer a series of small businesses in a designated area so that the average businessman could survive and prosper.
5) I have no recollection of a worst moment when I served as mayor.
6) As for a finest moment, I can only say that I enjoyed having the opportunity to serve the town of Hamden as mayor, as my father did before me.
7) I would like to think I was low-key and pleasant and likened to a peach. But in politics you can feel you are doing the right thing but there are so many others who do not agree with what you are doing, that perhaps I might be likened by some as a grapefruit.
----------------------------------------------------------------------
Or help@hamden.com
By Sharon Bass
The mayor's help desk turns 30 days old today. He said it's doing great. The woman behind the desk, Darlene Butler, said it's already making a difference in the community.
The help line, as most are aware, was one piece of Craig Henrici's three-prong campaign platform last year. He said while going door to door people "were going insane" being sent from one Town Hall department to another. Going around in circles and getting nowhere.
"It holds me accountable. It holds department heads accountable," the mayor said from his office yesterday. "And I think people like that."
In a nutshell, the help desk does the walking for the resident who's got a problem. Instead of transferring callers to another department, Butler takes the information and finds a solution. It's kind of like telephone valet service.
Connie Vitale, the Town Hall switchboard operator, fields the same kinds of calls. Asked if Butler's $50,000-a-year job is duplicative, Henrici said "absolutely" not.
"It's totally different," he said. "First of all, Connie is a receptionist. [The help desk] is a computer system that follows up on complaints and concerns. It's like day and night" from Vitale's job.
"I have gotten zero complaints about [Butler's] position," he said.
The mayor said he has gotten only praise about the service -- in the form of about 20 e-mails from residents. One such e-mail said: "We had a problem. Our trash wasn't picked up for three years." You know that garbage is now getting picked up regularly since the help desk intervened.
"People pay a lot of taxes and they weren't getting constituent services," said Henrici.
Butler said she gets a total of 20 calls, e-mails and visits a day, often from angry people. "They feel bounced around or their needs aren't being met," she said. "We hear them out and try to figure out whose responsibility it is. I'm learning a lot about the interactions of the departments. Now I know how things are resolved."
Potholes and fallen tree limbs are the most common complaints coming in. She also gets an occasional weird gripe.
"We just got a complaint from a resident about planes flying overhead. He's suspicious of the flight pattern," said Butler. There's nothing Hamden can do about that. She told the caller it was a federal issue. She's also gotten calls about unsanitary nail salons. A woman from Ireland phoned in asking about renting a guesthouse while she's visiting the states. Butler said she gave the woman a Web address for a guesthouse site.
.
Vitale earns $20,000 less than Butler. Asked if she thinks she should make that much more than Vitale, Butler said yes. "The help desk is just part of the job," she said. Her civil service title is deputy chief administrative officer. Butler said she updates the town Web site, writes press releases for the mayor and will help organize town events, as well.
And she said Vitale refers complaints to her to deal with. "Some people just want to talk to the mayor so they talk to me," said Butler.
---
February 8, 2006
D+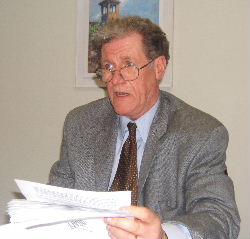 Michael Betz. Photo/Sharon Bass
Finance Director Betz gives a barely passing grade to the town's fiscal health
By Sharon Bass
Ten weeks ago, Michael Betz became Hamden's finance director -- again. He played that role from 1987-1990. When he left Town Hall nearly 16 years ago, he said the money picture was pretty rosy.
But not anymore. He gives the current picture a grade of D+.
First the good news.
"One of the scariest things in a town is liquidity -- having cash to pay the bills -- and we're not having that problem," said Betz. "But there's a lot to do. The days just go flying by. I have a lot of responsibility."
The '04-'05 audit is now 95 percent complete. "I've got some hints that that year went well. The town took in more revenue than it expended," the finance head said. And '05-'06 "appears to be in decent shape. We're not projecting any deficits. That's the good news."

Now the Not-So-Wonderful News
On the other hand, the health care, pension and other funds have been underfed for years. Not good.
The self-insured health care fund is $3 million in the red. Medical bills still get paid but from other accounts.
The pension fund is worth $80 million, said Betz.. It's enough to meet current obligations, which come to $1.2 million a month in retirement payouts. But as more workers hang up their hats, the fund could run dry if not properly nourished.
Only $3-$4 million of the $80 million is in cash. The rest is in corporate bonds and stocks, which yield an average return of $4-$5 million a year. This fiscal year, $6 million was budgeted for the pension fund, plus another $4-$5 million comes from employee contributions. But Betz said that is not enough. The fund needs yearly infusions of $12 million from the budget alone to meet future retirees' pensions.
It hasn't been fed adequately for years. In '98-'99, 22 percent of the recommended contribution was made; '99-'00, zero percent; '00-'01, zero percent; '01-'02, 3.4 percent; '02-'03, 7.8 percent; '03-'04, 8.1 percent; '04-'05, 19.9 percent; and '05-'06, about 40 percent.
Why the under-funding? "I guess because some people felt it would be tomorrow's problem, not today's. Do we put out fires today and worry about the retirees another time?" said Betz, adding that the pension fund problem is certainly not unique to Hamden. It's a dilemma in many municipalities.

Whoa to the Unions
The town also needs to slow down employee compensation in order to become more solvent, he said.. Eighty to 85 percent of the budget goes to salaries on both the town and school sides. "Government is a service agency," he said.
Every week, Town Hall dishes out $740,000 to 536 employees. The Board of Education's 755 employees earn a total of $815,000 a week, said Betz. These figures do not include benefits, such as health care, which come to 38 percent of one's salary.
To up the D+ grade to a C, he said Hamden needs to get tougher at the bargaining table to ease the growth of salaries and benefits..
"We have to get a handle on [union contracts]," said Betz. For instance, unionized workers contribute 4 percent to their medical benefit and fire and police pitch in 4.5 percent, while non-unionized employees [mostly department heads] pay 10-12 percent. He said the town is currently negotiating new union contracts for bigger health-care contributions from employees.
The sky's not falling, the director said. "We're heading in the right direction. There's hope."
---
February 7, 2006
By Sharon Bass
Late last year, Wayne Gilbert of the United Public Service Employees Union had his eye on a Hamden bargaining unit represented by Council 4 AFSCME. He hoped for an election to win over the 300 Town Hall clerks and school crossing guards, but it didn't happen.
Now he's looking at Council 4's supervisors union, Local 818. He said he expects a March election.
According to Kathy Foley of the state Board of Labor Relations, Gilbert filed a petition on Jan. 30 to represent the 29 members of 818. They are all Town Hall supervisors, many from Public Works.
Although Local 818's contract expired June 30, 2003, indicating there's a window for an election, it is not certain, she said. That will be determined after a scheduled Feb. 17 conference at Government Center with UPSEU, AFSCME (American Federation of State, County, and Municipal Employees) and the labor board.
"Supervisors have been three years without a pay raise because AFSCME hasn't been doing its job," said Gilbert. "I have another conference against AFSCME in Monroe [on Feb. 17]. Those guys are having problems."
Messages left with Larry Dorman of Council 4 AFSCME were not returned.
Gilbert said Town Hall supervisors had contacted him "ticked off at AFSCME [because] they have no contract, no pay raises. And AFSCME is refusing to pursue grievances for unfair labor practices." UPSEU represents Public Works (all employees but supervisors) and the Board of Education's clerical workers.
On Jan. 23, Gilbert held an organizing meeting with Local 818 at the Miller Memorial Library. "Quite a number showed up," he said, adding he collected "more than enough [authorization] cards" to pursue an election. The state requires 30 percent of a local's members to hand in cards in order to file a petition.
"I think Wayne does a much better job" than AFSCME, said George Jerolman, who was the Public Works union president for 16 years until he was promoted last November to supervisor. During those 16 years he worked with three unions, including UPSEU and AFSCME.
"The best representation was UPSEU. I think Wayne is more prepared all the time. We have access to attorneys for third-step grievances. AFSCME didn't provide that," said Jerolman. "We had a big confrontation with AFSCME years ago and we left" and UPSEU was eventually voted in.
But now that Jerolman is a supervisor, he's back with AFSCME and doesn't like it.
Pat Riccitelli who works in the Finance Department is president of Local 818. She said she could not comment about UPSEU's petition because of her union position.
"Wayne might not even win this one," said Jerolman. However, he said he hopes it will make AFSCME more responsive to its members.
-------------------------------------------------------------------------
38 Minutes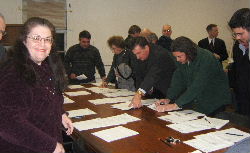 New commissioners fill out paperwork under the aegis of Town Clerk Vera Morrison (far left).
The Legislative Council does a quickie
By Sharon Bass
At first glance, last night's Council agenda looked long. On second glance, it looked skimpy. The second glance was right on.
About 90 percent of the agenda was done in one svelte swoop as a consent order: voting on the mayor's commission appointments, money transfers and property tax refunds. All passed unanimously.
And the meeting was almost over.
Interim Public Works Director John Busca received 13 of 14 votes (Councilman Curt Leng was absent) to get permanent status. Councilman John Flanagan cast the dissenting vote, having said at last week's committee meeting he thought Busca was not suited for the post because he didn't have a public service background.
The last vote of the evening, which passed unanimously, was to transfer $14K into the Community Services account to relocate tenants living in unsafe or illegal houses. Under the state Uniform Relocation Assistance Act, communities must help finance temporary housing solutions while property owners fix what's wrong. The owners have to repay the town for the relocation tab.
"It sends property owners a message, 'You can't get away with this kind of thing,'" said Community Services Director Vanna Francia. "The situation has just exploded." She said currently there are six Hamden families with a total of 24 members who are staying at New Haven's Econo Lodge because their rented homes and apartments have been condemned. The most common reasons for condemning are significant structural problems and illegal attic apartments, the director said.
Because of the scarcity of affordable housing, she said tenants are slow to complain about poor, unsafe living conditions as they have nowhere else to go. Typically fire, police, zoning or building officials discover the problems, Francia said.
If the problem is not too severe, tenants can stay put while the landlord has 30 days to correct it.
Francia said $12,000 of the $14K have already been spent on motel bills and moving and storage costs. Since property owners must repay the town for these expenses, the relocation account gets replenished. It's like a revolving door.
"The best scenario is the landlord fixes it and we move the people back in their homes," said Francia. "This is Hamden. Not Bangladesh." No one should have to live in substandard housing, she said.
The Council adjourned at 7:38 p.m.
---
February 2, 2006
Biggest Money in Town

Hot off Finance Director Michael Betz's desk: the top 50 municipal wage earners. The town has 564 people on its payroll. (That does not include the school side.) The 50 highest-paid (in salary and overtime) made over a 100 grand apiece last year. Twenty-eight work for the Fire Department; 20 for police; and two for Public Works.
Key:
RET: retired; amount indicates salary and retirement payout
HPD: Hamden Police Department
HFD: Hamden Fire Department
PW: Public Works
2005
1. ROBERT NOLAN, $163,962.93, HPD, RET
2. HAROLD MANGLER , $140,817.21, HFD, RET
3. GARY COUTURE, $134,471.45, HFD
4. WILLIAM ONOFRIO, $134,410.54, HPD
5. GUSTAVGERTZ, $133,464.84, HPD, RET
6. TIMOTHY O'FLYNN, $131,743.51, HFD
7. SETH PATRICK, $128,913, HFD
8. RONALD SMITH, $127,749.46, HPD
9. JOHN O'DEA, $127,612.65, HFD
10. KURT VOGT, $126,600, HFD
11. DAVID PROULX, $126,524.32, HFD
12. ROBERT SURPRISE, $125,463.65, HFD
13. ANTHONY MASE, $123,399.86, HPD
14. JOHN SPENCER, $121,631.52, HFD
15. BOGUSLAW KICAK, $119,060.15, HPD
16. JAMES ZARRO, $118,668.26, PW, RET
17. ROBERT MATURO, $118,010.49, HPD
18. RICHARD MAYBURY, $117,988.77, HFD, RET
19. JULIO LOPES, $116,888.97, HFD
20. RONALD DESROCHES, $115,750.76, HFD
21. STEPHEN CAHILL, $115,439.72, HPD
22. JOSEPH KENN ANDERSON, $115,328.38, HFD
23. JOHN TESTA, $114,623.76, HPD
24. KEITH BENWAY, $114,541.40, HPD
25. TIMOTHY WYDRA, $114,524.77, HPD
26. DAVID STRAWHINCE, $113,835.97, HFD
27. JOHN GRASSO, $113,649.52, HFD
28. GERALD WRIGHT, $113,557.54, HPD
29. JOHN SULLIVAN, $112,572.80, HPD
30. JASON BLYTH, $111,935.69, HFD
31. RICHARD OTLOWSKI, $110,583.99, HFD
32. FRANCIS MCDERMOTT, $110,010.94, HPD
33. WILLIAM SIKORSKY, $109,660.87, HPD
34. CHARLES LUBOWICKI, $109,377.85, HFD
35. BRION TIERNEY, $106,216.54, HFD
36. DONALD REMILLARD, $105,372.79, HPD
37. DENNIS BAKER, $105,117.56, HFD
38. GREGORY BANNON, $104,141.48, HFD
39. ANGELO POLZELLA, $103,927.53, HPD
40. MICHAEL SIGMON, $103,589.51, HPD
41. BRIAN BIRD, $103,583.61, HFD
42. THOMAS WYDRA, $103,417.78, HPD
43. DANNY MOTA, $103,145.01, HFD
44. DONALD LA BANCA, $102,569.98, HFD
45. DONALD BUECHELE, $102,208, HFD
46. THOMAS RHONE, $102,193.48, HPD
47. MICHAE LUZZI, $101,961.37, PW
48. DAVID BEATON, $101,530.05, HFD
49. KEVIN SHIELDS, $101,104.85, HFD
50. JOHN MORDECAI, $100,442.35, HFD, RET
-----------------------------------------------------------------------
Districts 2 & 8 Go to the Polls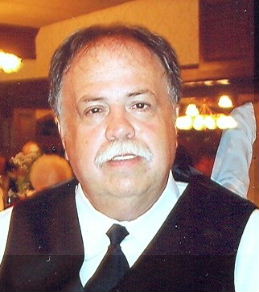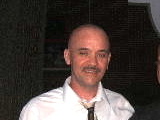 Tony Mentone and Paul Jacques. File photos
By Sharon Bass
The signatures are in and the voting machines are coming out. Two contentious Democratic Town Committee caucuses last month will be re-decided at a March 7 primary.
"We're going to run this like a campaign," said Tony Mentone of the 8th District and one of the leaders who pushed for a primary. "We have seven people who believe there was a miscarriage at the regular caucuses. We're going to do our best to get back on the committee." He said a campaign strategy meeting is planned for this weekend.
Paul Jacques from the 2nd said the Jan. 10 DTC caucus in his district "was basically a popularity contest. They excluded a few of us. The information wasn't being passed from the town chair to us. They decided to change the polling place without telling all of us." The 2nd usually votes at Helen Street School, but the caucus was held at Church Street School instead.
The town will shell out about $4,000 to run the primaries, which parallel regular elections with printed ballots, voting machines and so on.
In order to force a primary, the 2nd needed 62 signatures from the 1,231 registered Democrats in the district. Sixty-five were collected and verified by Democratic Registrar of Voters Peggy Rae. In the 8th, 76 were needed from a pool of 1,510 Dems; 138 signatures were turned in, also all valid.
At last month's 2nd District caucus for seats on the town committee, Shirley Farm, Councilman John Flanagan, Harry Gagliardi Jr., Sue Hutchinson, John Simpson, Joseph Velardi and Carmella Vitale were nominated. The contesting slate is Norma Carr, Shelly Imler, Leslie Jacques, Paul Jacques, Michele O'Connor, Deborah Tropiano and Kristina Vollano
Ricky Baltimore, BOE member Mike Dolan, Councilman Mike Germano, Councilwoman Carol Noble, Gregg Pugliese, Steven Wilson and Marigrace Larke were the chosen ones in the 8th. The opposition includes John DeRosa, Susan Massaro, Tony Mentone, Rose Mentone, James O'Brien, Anne Ramsey and Angelo Vitale.
"I tried in both cases to effect a compromise" to avoid a primary, said DTC Chair Joe McDonagh. "Let's just say there are some stubborn people in Hamden.
"It's kind of like two bites at the apple. You've got an opportunity to vote again. I just wish the people in both districts had resolved things instead of putting the town through the expense," McDonagh.
Meanwhile, DeRosa sent a complaint to Democratic State Central Committee about the way the 8th D caucus was conducted. It was heard on Monday in Hartford. DeRosa et al claim a key rule was changed on caucus night to benefit the "other side." Caucus Chair Carol Noble allowed the use of a state reg over the local about who can be nominated to the committee. State rule says any registered Democrat in the district who shows up is eligible. Local regs require candidates to submit their names five days before a caucus, said Mentone.
"If the answer is in our favor, we won't even need a primary," he said, although one solution from DSCC could be to hold a primary.
"The complaint has no merit. Period," said McDonagh. "I talked with somebody from State Central and the complaint is being turned down."
--------------------------------------------------------------------
IWW tackles one bridge and one hotel and time is up
By Betsy Driebeek
It was the bridges -- again -- and the proposed hotel at 55 West Woods -- again -- on the Inland Wetland and Watercourses Commission plate last night.
Town Engineer Al Savarese began by formerly withdrawing from the agenda three of the five bridge projects: Hillfield Road over Eaton Brook, Johnson Road over Brookdale Stream, and Todd Street over Eaton Brook. He said he wasn't able to procure the required approvals from adjacent landowners. Savarese said to continue on with those bridge reconstructions the approval requirement must be amended -- something he plans to pursue.
The River Road bridge over Jepp Brook was discussed first. The bridge is approximately 70 years old and is structurally and hydraulically inadequate, the town engineer said. A representative from Luchs Associates, the bridge designer, described the new construction as two 12-foot boxed culverts side by side, 30 feet wide with a 5-foot sidewalk.
"Our proposal involves the lowest cost, limited maintenance capabilities (and having the) least environmental impact," the rep said.
Commissioner Michael Conklin said Luchs' bridge proposal might cost less and have fewer maintenance needs, but others might be better for the environment.
"Is my impression that this is the least expensive cure for a decrepit bridge correct?" said Commissioner James Doherty.
"Yes," said Savarese.
The floor was then opened to the public. Joseph Goebel, the only resident with property adjacent to the bridge, stood up to oppose the current River Road project.
Goebel said he's against the double box culverts because they would double the width of the brook. He asked for the sidewalk to be placed on the south side of the bridge instead of on the proposed north, which impacts his property.
He said he's worried his land will be disturbed and damaged during the excavation and construction, especially since Jepp Brook runs through the middle of his land.
Goebel said when he bought the property in the 1980s he saw no signs of life in the brook. He said he pulled out debris and leaves from the brook and for the last 15 years or so, there's been a healthy flow of fish. He expressed fear that the bridge construction will harm the wildlife. He asked that natural timber be used on the railings leading up to the bridge instead of steel, which would cause discoloration.
Goebel said he understands the bridge needs to be replaced but would like it to be done as carefully as possible with his concerns in mine.
Time ran out for the bridge discussions. IWW Chair Steve Sosensky had allotted one hour for them. At next month's meeting, Brooksvale Avenue over Jepp Brook will be up first.
Another hour was given to the controversial, proposed hotel at 55 West Woods Road.
John Ibsen, a resident who said he has overseen building projects, brought up the structure of the 35-36-foot-high retaining walls, which would surround the hotel property. The walls create a dam on three sides.
He questioned the impact at the bottom of these walls since there would be no drainage to alleviate pressure on the upside of the walls. Ibsen said the entrance to the driveway is missing catch basins and water would flow down the driveway onto West Woods Road. He also said he could not tell from the design plans how roof water will be drained.
An environmental horticulturist, Andrew Brand talked about the amphibians on the property. He said in spring they leave their high grounds and travel down in search of vernal pools, for instance, to breed. He said with the building of the parking lot, the amphibians will come down the hill, onto the parking lot, bump into the curbs, move sideways and ultimately fall into the catch basins where the eggs will be left.
If the commission approves the hotel project, Brand asked that the curbs be sloped to give amphibians such as peepers, tree frogs and redbacked salamanders a chance.
Last night marked the last in a series of IWW public hearings on the West Woods Road hotel proposal. The commission will continue discussing it.