Town Government
August 30, 2005
Fireworks Should Cost Taxpayers Nothing
By Sharon Bass
The fireworks planned for Sept. 3 at Meadowbrook will not use any tax dollars, asserted Mayor Carl Amento.
The funding -- to the tune of roughly $35,000 -- is to come from sponsors, he said. For instance, Hamden-based Pyro-FX is paying for the sound and police coverage, said Amento.
Other sponsors include Tripeg Studios, which is producing the pyrotechnic display, Southern Connecticut State University, Albertus Magnus College, Konover Construction (the contractor for the middle school), New Haven Building Trades, Operating Engineers Local 478, Splash Car Wash & Detailing, Mechanical Contractors of Connecticut and the Connecticut Construction Labor Management Committee.
"The goal was to cover it all with sponsors and just make it a treat for anybody who wants to go, and it's not going to cost the town anything," said Amento. "People like to make something out of nothing," he added in response to criticism that public money might be used.
"I do believe all of the costs will be covered by sponsors," said Hamden arts coordinator Mimsie Coleman, who sits on the fireworks planning committee.
This marks the first time Hamden will host two fireworks displays in one year. Last year, the July 4 display was postponed -- due to technical problems -- until the Friday before Labor Day.
"We saw that that was successful, that people were looking for something like that in late summer," said Amento.
Also, he said, Meadowbrook "is not a golf course anymore. We wanted to make some other use of it besides the July concerts."
Asked if this is a way to promote his bid for re-election, the mayor said, "I can't help when Labor Day is. We've been planning this for a year. It's got nothing to do with the campaign." Live music and food sales kick off at 6:30 p.m. Fireworks bang off at 8:30 p.m.
-------------------------------------------------------------------
Councilors Put Lid on Potty Artist (for now)
By Sharon Bass
Last night, the legislative council's finance and administration committee batted back and forth a number of projects for which the town wants to hire outside architects. While most were critically questioned, the request that was pooh-poohed most harshly called for a designer for new bathrooms at the Dunbar Hill School.
"Do we really need an architect for a bathroom?" said Councilman Matt Fitch.
"This is more than just putting in toilets," countered Councilman Ed Beaudette.
Councilwoman Carol Noble said parents have called her about the outdated bathrooms, saying they need to be remodeled ASAP. The total cost would be $90,000, with the designer getting 10 percent, said Jackie Downing, the mayor's assistant. She said with a certified architect on the job, the town would be partly reimbursed by the state, but didn't know how much.
When Dunbar Hill was renovated some years ago, the architect forgot to update the 1950's era bathrooms. Not only was the committee asked last night to decide whether to hire an architect for the school's four bathrooms, but to make a decision quickly.
When asked how long it would take to complete the project, Downing said about eight months.
"We're told it's an emergency and it's going to take a school year to fix it?" said Fitch.
"I would hope the administration could move this ahead much faster," said council president Al Gorman. "Eight months is an absurd amount of time. You might as well wait until next summer."
Beaudette asked Downing if the bathrooms are usable. She said yes. It is not an emergency.
The town's new construction manager made the request, and a couple of councilors felt his advice should be heeded. "This is the second time we've ignored the building manager's advice. Why don't we just fire him?" said Beaudette. "I'm just tired of this whole thing. Why don't we listen to him?"
Councilman Ron Gambardella agreed, saying it would be a good test of the new manager's ability to go along with his idea.
But in the end, the committee voted 3-2 to table the item until next week, when the full council would vote on it. In the meantime, Gorman asked Downing to nail down the amount of the state reimbursement and the project's timeline.
---
August 26, 2005
The Scoop From Kroop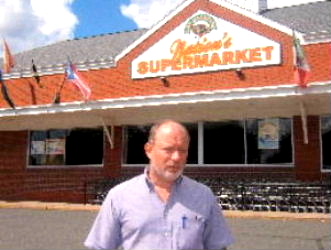 Economic Development Director Dale Kroop hopes a new food retailer will prosper here.
A tour of what's to come
Story and photos b y Sharon Bass
Driving down State Street, the town's economic development head honcho points to #1 Fish Market. "They're going to double their size," boasts the dead ringer for actor Richard Dreyfuss.
That makes Dale Kroop happy. It's his job, after all, to lure businesses into Hamden and watch them grow. And the 49-year-old seems to really love doing it. He took the Hamden Daily News on a tour the other day to show off what's in store for the near future.
He pulls into the former Nation's Supermarket parking lot, also on State Street. It only lasted about half a year, shutting down last month. After the A&P closed there a dozen years ago, Kroop said the store was empty for eight to nine years. Then Cash & Carry opened in 2001, after an infusion of public dollars fixed up the infrastructure. Two years later, that store was history. "Nobody really liked it much," he says. And it's hard to compete with Stop & Shop and Shaw's, even if you are the neighborhood market.
Then Nation's opened and closed. "The debate is whether a supermarket can survive," says Kroop. Looks like another food biz will give it a shot, but mum's the word on who it will be until the time is right, he says.
The DOT (state Department of Transportation) bus garage is slated for State Street as well. It's going to leave its New Haven home on James Street, and move into new digs just north of the Motor Vehicle Department office. Three hundred employees will work in the 250,000-square-foot building-to-be, going out to bid next year.
"It helps the restaurants, the small businesses," Kroop says of bringing a workforce that size into town.
Next he cruises down Welton Street, which was Hamden's major industrial area post-World War II. It's not doing so well these days. A big chunk of Kroop's job is to court manufacturing and industrial firms. Corporate retailers, like Home Depot, usually come on their own to communities, having strategically mapped out where best to set up shop. And they typically don't pay workers nearly as well as most manufacturing plants do.
Kroop says he'd like to see Welton Street become what it used to be. Today it's part residential with some industry, but it'd be a mad stretch to call it thriving.
Now on Dixwell Avenue, he pulls over by the Johnson Building site --1.5 acres owned by the town. The Mutual Housing Association of South Central Connecticut is redeveloping the property into a $6 million mixed-use structure. Some will be commercial; some will be residential. Plans also call for combined studios/living quarters for artists. Nice.
At the corner of Dixwell and Mather, a small version of a Boston's Quincy Market is slated to go into the so-called Rite Aid building. The massive chain drugstore once owned the ancient structure, but never developed it. Kroop said investors from Queens, N.Y., plan to transform it and name it Paradise Village Market. Like Quincy, it would be filled with many small food vendors.

That boarded-up eyesore is to be transformed into Paradise Village Market.
Not every ailing building in town gets to be reincarnated. Kroop stops in front of 400 Goodrich St. Part of the former metal-finishing plant lies in Hamden, part in New Haven. It's decrepit, a safety hazard and contaminated inside and out. He says the owner is not paying taxes to either community.
"So what do you do? Leave it and ignore it?" the economic development director says. "It doesn't just need a paint job."
Nope, 400 Goodrich needs an implosion, but who's to pay? This is a somewhat common conundrum. If Hamden or New Haven takes the property for back taxes, it would have to pay for the pricey cleanup. The owner can't be forced to do anything, says Kroop.
"You cannot build sustainable neighborhoods with really blighted, depressed properties," he says, and heads north where there are some nice new condos and other eye-pleasing development.
---
August 25, 2005
Jab & Defend
Mayor Amento and challenger Henrici fight for the elderly vote
By Sharon Bass
The room of 70- and 80-year-olds is whisper quiet. The seniors sit on pretty, blue, cushioned chairs. They had taken the elevator up to the sixth floor from their apartments below at Whitney Center, a retirement home, last night to listen to Mayor Carl Amento and his opponent Craig Henrici tell them why they deserve their vote at the Democratic primary.
The moderator of the evening is Whitney Center resident John Donohue. He calls the mayoral forum to order. (Later on he would be calling the boys, er, men to order as they lash out at each other. Good thing Donohue is sitting between them, at a table in front of the room.)
Amento is up first. He walks over to the podium and speaks about his background, his accomplishments in office, how Henrici supporters are grossly exaggerating when they say Hamden's fiscal health is on life support ... and Donohue tells the mayor his time is up.
"Just one more minute," Amento says, and finishes up his last few lines.
Henrici launches his spiel by announcing he won't talk as long as Amento did. He rattles off a long laundry list of stuff the mayor has allegedly done wrong -- overspending, not completing projects on time or on budget, hiring six finance directors in four years.
And Amento's up again for a three-minute rebuttal.
"Six finance directors? How does he come up with that?" the mayor tells the captive audience.
During Henrici's second crack at it, he takes every opportunity to slam Amento. "I'm not a doom and gloom type of person, but … " he says, maybe three times.
The candidates don't try to hide their mutual animosity. Henrici is on the attack and Amento is on the defense. ("That's what Henrici is supposed to do," a man says after the forum, as he makes his way to the elevator. "I couldn't hear Henrici," a woman walking next to him complains. "He didn't project loud enough.")
Next, Donohue fields questions from the audience.
"What are you going to do about the police department headquarters?" a woman asks Amento.
He tells her a new police and fire headquarters will likely be built on the Dadio farm off Putnam Avenue. He says the town got a $500,000 state grant for it. Henrici interjects that even though it's state money, it's still "your tax money."
"What can the mayor do to improve the quality of school curriculums and teachers?" asks another.
"We need leadership and that's what mayors are for!" declares a gentleman.
The mayor and his opponent turn to each other and begin tussling, seemingly forgetting for a moment that there is an audience before them. That's when Donohue breaks them up. And soon it's all over.
As the room empties, few will comment on what they had just sat through. Lillian Kaplan, who moved to Hamden 20 years ago, is one of the exceptions.
"I don't think it was convincing on either side," she says. "It seemed like a lot of bickering. It was disappointing."
Fellow Whitney Place resident Charles Forman disagrees. "I was impressed with both men and don't know how I'll vote."
He's got until Sept. 13 to make up his mind.
---
August 24, 2005
Making Farricielli Pay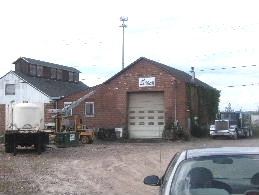 One of the small businesses at risk inside State Five Industrial Park.
Story and photos by Sharon Bass
Late last week, a lawsuit was filed against State Five Industrial Park in Hamden. That's the park that was once owned by Joseph Farricielli -- the man who made lots of headlines over the last two decades for environmental and other violations at his State Street property, and was eventually fined millions and spent four months in the slammer for them.
According to New Haven attorney Beth Gilson, the lawsuit, filed by the state and town of Hamden in Hartford Superior Court, alleges that the Farriciellis are using the rental incomes from the 10 businesses that lease at State Five on personal items, like their mortgage and property taxes, instead of paying off the millions of dollars in state and local fines Joseph Farricielli was court ordered to pay for his many violations.
The State Five park -- which Farricielli's wife, Jean, now owns -- is on one of the property's three parcels. It's called Parcel C. Joseph Farricielli still owns the other two parcels: Parcel A, where he ran his illegal landfill; and Parcel B, the site of the black tire pond. The lawsuit strictly deals with Parcel C.
"This is a personal slush fund," said Gilson, who's representing the town with regard to the industrial park. "We want to make State Five liable. It's the only way you can pierce the corporate veil. Then you say, 'Who owns the corporation?'" And then you go after the owner, who on paper is Jean Farricielli.
Corporations typically shield their owners from personal liability, Gilson said, but in State Five's case "the allegations show that the profits have gone to personal expenditures to evade payment" of state and town fines. And also to avoid remediating the land that was polluted by Joseph Farricielli's former landfill and his so-called tire pond, which he created by dumping tens of millions of tires.
"He has done nothing. He hasn't paid any money," said Gilson. "Things are very complicated."
A message left at Farricielli's Branford home was not returned.
Also, earlier this year, two town commissions issued orders to the 10 businesses at State Five to either close shop or apply for the necessary permits. They need permits from the town's Planning & Zoning and Inland Wetlands and Watercourses commissions in order to operate.
All the businesses signed leases with Joseph Farricielli when he still owned the industrial park, said Steven Sosensky, chair of Inland Wetlands. He said since a cease and desist order went out, one business has gotten a land-use permit, others have applied, and Jean Farricielli has gotten herself a lawyer.
Asked why the companies at State Five hadn't come forward before for the permits, Sosensky said, "They might reasonably disagree that they need a permit,"
Gilson said, "Maybe they didn't know they didn't have a permit. They already testified they didn't know."
Sosensky's commission is concerned with how the businesses, which are mostly light industrial, will impact the wetlands and water sources that abut the State Street park. "We want to know if the properties present a risk to the public health," he said. He's talking particularly about the effect on the public-drinking water supply.
He said the commission is giving Jean Farricielli time to produce required analyses of how the businesses affect the wetlands before enforcing the cease and desist order.
"What we really have in mind is to legitimize the businesses," said Sosensky, a land-use attorney with Shipman, Sosensky & Marks. "We're obviously sensitive to the balance we need economically while at the same time protecting the natural resources."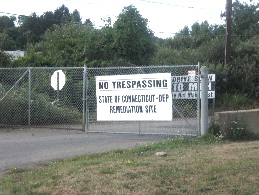 Another sight at the site.
Since 1981, Joseph Farricielli had been ordered to close his illegal dump and tire pond, Parcels A and B. There were several state and federal raids on the site. Asbestos and drums of poisonous chemicals were found.
An agreement was made in 1998 for Farricielli to clean up the dump and seal the pond, much of which is in North Haven. But instead of doing so, he blamed the businesses that lease from him for the illegal dumping. Still, he accepted about $1 million from them in rent and did nothing to stop their alleged foul play.
And nothing changed.
Then, according to Gilson, in 2001 the state and town joined forces to stop Farricielli from polluting the environment. He was fined and ordered again to close and cap the pond and landfill.
But Farricielli appealed. In November 2004, the Connecticut Supreme Court denied his appeal, upholding the 2001 judgment of $2.33 million to the state, and $1.4 million to Hamden. And four months behind bars.
(The Supreme Court's denial of the appeal allowed the town to go forward with the current lawsuit.)
Farricielli then gave -- for no money -- the stock for State Five Industrial Park to a buddy, said Gilson. Later on, his buddy handed it over to Jean Farricielli. "It was a sham transaction," said the lawyer.
"It wasn't until (Mayor) Carl (Amento) came into office that the town initiated enforcement actions with real teeth," she said. Those enforcement actions ultimately led to the criminal convictions.
Amento called the whole ordeal a thorny issue. "Who's at fault? The companies? The property owner?" he said. One of the companies at State Five is Recycling Services, which was caught last year ripping off Hamdenites for thousands of dollars. Recycling Services used to pick up the town's recycling and bulky waste at the transfer station.
"As soon as they were indicted we pulled the contract on them," the mayor said.
"I applaud the actions of both the Inland Wetlands Commission and the P& Z, and especially attorney Beth Gilson, who is taking the lead in this entire sordid matter," said former mayor John Carusone, who lives on Daniel Road, just up the street from the State Street property. "We've lived with the dump situation for years. There's been fire down there, smoke, nighttime dumping. There were terrible odors.
"Joseph has left a trail of scars that will last forever," Carusone continued. "I think Beth Gilson is right on target with the money trail. It seems to me we're running into one stumbling block after another." Carusone called Joseph Farricielli arrogant, someone who feels he is above the law. "That's his track record."
Gilson expressed concern for the fate of the businesses at State Five. "These are little guys," she said, trying to make a living, such as Upscale Welding.
Despite decades of watching Farricielli evade the law, Gilson said much has been accomplished. There is no more dumping at the tire pond or landfill, and some remediation has taken place. Carusone said the area doesn't smell anymore.
Now, Gilson said, "we want to get the money" Farricielli owes to the town and state, and get control of State Five.

---
August 22, 2005
Just Being a Pal?
Amento's campaign worker gives to Henrici
By Sharon Bass
Louis Affinito is Mayor Carl Amento's campaign deputy treasurer. Affinito contributed 100 bucks to the mayor. Affinito also contributed 100 bucks to Amento's mayoral challenger, lawyer Craig Henrici.
What's up?
"They are both good friends and I treat them both alike," said Affinito. The Hamden accountant said he's unsure whether he'll donate more money to either man's campaigns, but said he'll keep working gratis for Amento. It's a volunteer position that he called "very time-consuming. This is keeping me very busy. That's the name of the game."
"Carl and Craig, they're friends, too," he said, adding he had no qualms giving money to both campaigns while working for Amento. (He gave Henrici the $100 before becoming the mayor's deputy treasurer.) When asked why he's working on Amento's bid for mayor and not Henrici's -- since he said he likes the two men just fine -- Affinito responded, "I was asked to do (Amento) a favor. Craig never asked me."
"He was upfront and said he'd contribute to both campaigns," said Henrici. Affinito was the town's budget director when Henrici was on the legislative council. That's when they became pals.
"He's giving me more than $100 because he's doing much of the accounting work," said Amento. "He told me he was going to give money to Craig and I said that's fine. But he's definitely on my side as far as support."
Hmm. When asked if he was supporting Amento over Henrici to be Hamden's next mayor, Affinito only had this to say: "I'm not going to comment."
---
August 17, 2005
By Sharon Bass
The last filing date for campaign contributions for this year's elections was July 11. The next is Sept. 6. Here's a look at some of the public figures who have thus far given to the Hamden mayoral candidates, according to the town clerk's records. (No contributions were recorded for either town council or board of education candidates.)
Mayor Carl Amento, who's running for a fourth term and won the Democratic Town Committee endorsement last month. (Note: The following are just a handful of his many contributors.)
· Mike Colaiacovo, the DTC-endorsed candidate for the 7th Council District: $100
· Jacqueline Downing, Amento's assistant: $100
· Paul Jacques, the DTC-endorsed candidate for the 2nd Council District: $100
· Jack Kennelly, Hamden deputy police chief: $100
· Gabe Lupo, Hamden police sergeant and the Republican Town Committee-endorsed candidate for the 2nd Council District: $50
· Joe McDonagh, chair of the DTC: $150
· Willie Mewborn, the DTC-endorsed candidate for the 5th Council District: $100
· Jim Pascarella, head of the Hamden Education Foundation: $1,000
· Anne Ramsey, human resources director for Hamden-based Host America: $250
· Kath Shomaker, a DTC-endorsed at-large candidate: $100

Democratic challenger Craig Henrici, a former town councilor and state rep. (Note: The following are just a handful of his many contributors.)
· Joe McDonagh, chair of the DTC: $500
· Ann Altman, 5th District councilor: $250
· Craig Henrici: $500
· John DeNicola Jr., former Republican Hamden mayor: $200
· Carol Noble, 8th District councilor and a DTC-endorsed at-large candidate: $200
· State Rep. Peter Villano (D-Hamden): $100

Republican candidate Dick Reilly, who made an unsuccessful bid for mayor last time around, had a total of just five contributors plus himself, as of July 7.
· Richard Reilly: $550
· Robert McKiernan: $1,000
· Ronald Gambardella: $100
· Marilyn D'Ambrose: $50
· James Canelli: $100
· Frank Ardito: $100
---
Going Green?
Who knows?


Mayor Amento.
By Sharon Bass
If Democratic Mayor Carl Amento loses the Sept. 13 primary against Craig Henrici, voters might still see his name on the November ballot. Might.
But there wouldn't be a D after Amento's name. There would be a G. As in Green. As in the Green Party of Connecticut. He could be the first Green mayor in the state. (Darek Shapiro is running this year as a Green mayoral candidate in Stamford.)
However, there doesn't seem to be much loyalty toward the mayor coming from the Greens. "It's really not fair that nobody aside from Democrats can vote in the next primary. Carl is the candidate we're choosing to run, but it could have been anyone," said co-chair of the state Green Party and Hamden rezzie Aaron Gustafson. His wife, Kelly McCarthy, is running for the 5th District council seat as a Green.
If Amento wins a fourth term as a G, Gustafson said he might run a Green against him in 2007. And Amento sees it more as an endorsement than a petition to run on the Green line. He said if he bombs out on Sept. 13, he might hang up his hat altogether.
"At this point it's an option. I consider it an endorsement by a good group of people who respect my environmental record," the mayor said. "I'm not that partisan. And I don't think I should be as a mayor. I should be mayor for all the people."
Amento has appointed Republicans and Greens to town commissions, some as chairs. He said if he does run as a Green in the general election, he wouldn't change his party affiliation, although there would be that G after his name on the ballot.
Asked why he petitioned Amento and not Henrici, Gustafson said, "Henrici's general tone seems to be wholly negative. All he talks about over and over again are the dire financial problems in the town. While I agree, I haven't heard any solutions from him. All he does is complain. He just seems like a real downer frankly.
"Given the choice between Henrici and (Republican mayoral candidate Dick) Reilly, I'd probably vote for Reilly," he continued. "I haven't seen anything positive about Henrici. I'd like to. All they're trying to do is get a candidate to get Carl out."
Henrici responded. "I don't know the gentleman (Gustafson). I don't know how long he's lived in Hamden. (Gustafson moved to town four years ago.) I served 15 years on the council, 10 as the president. You know, anybody who knows me, has watched my career in politics, knows I'm not a negative person," he said. "If he thinks I'm a downer there's nothing I can do about it."
The Green Party has a progressive agenda. According to its Connecticut Web site, the party "is committed to grassroots democracy, social justice, non-violence and ecological wisdom."
Gustafson said Amento's political and social views somewhat mirror the Greens'.
"Carl is a pragmatist. We're very into fiscal responsibility," said Gustafson. "We take holistic views, instead of short-term thinking. I think he does take the long view. Our whole thought on this is we want to open up the democratic process to the entire electorate. And we happen to think Carl has been a solid mayor."
On the other hand.
"We certainly haven't agreed with everything Carl has done," Gustafson said, like the mayor's decision to close the middle school on Newhall Street and build a new one on the former Meadowbrook golf course "We feel it will ruin our neighborhood. It's taking a school out of a neighborhood and leaving a contaminated area."
Still, the Greens find Amento's political behavior attractive enough to bring him on their line.
"He's not always playing party politics. He's not just doing favors for his friends. He seems very open to people from different parties," said Gustafson. Amento has appointed three Greens to the town's Energy Use and Climate Change Commission, of which Gustafson is chair. His wife serves on the Clean and Green Commission.
Amento feels the political process needs to be open to all, especially in Hamden where the largest group of voters are unaffiliated.
"I try not to label myself. I'm kind of a populist," he said. "I like to involve people. That's what democracy is all about." Amento said he's been a Democrat since he was 18, because of the party's stand on civil rights and other social justice issues.
"I think it bodes well for the Henrici campaign," Henrici said of Amento potentially going Green. "I don't want to say it's desperation, but it looks like he's anticipating a bad result (at the primary)."
"I'm actually confident with hard work we will win the primary, so the option of going on the Green line will become moot," said the mayor.
---
August 12, 2005
Primary Fever
Mayor Carl Amento and challenger Craig Henrici.
By Sharon Bass
All petitions for the Sept. 13 primary are in. There are no Republican or board of education primaries. Just a handful of Democrats battling for legislative council seats. And, of course, a mayoral challenger for Mayor Carl Amento. All candidates had to get the signatures of at least 5 percent of registered Democratic voters.
In the 1st District, Kevin Bohan is taking on Democratic Town Committee-endorsed incumbent Matt Fitch. Bohan got 54 certified signatures and needed 49.
Two are vying for the 2nd District seat against the DTC's choice of Paul Jacques: John Flannagan, who got 64 signatures, and Tom Fortuna, who got 59. They each needed 59.
The DTC nominated incumbent Ed Beaudette for the 4th District. Running against him is Gretchen Callahan, who turned in 96 valid signatures to the registrar of voters, and needed 79.
Michael Germano retrieved 76 signatures for a run for the 8th District seat against the DTC's choice of Anthony Mentone. Germano needed 74 John Hancocks.
And, finally, the mayoral primary. The DTC endorsed Mayor Carl Amento. His challenger, Craig Henrici, turned in 812 certified signatures. He needed 635.
The races have begun.