Hamden Sports
April 24, 2008
Freshmen Clobber Sheehan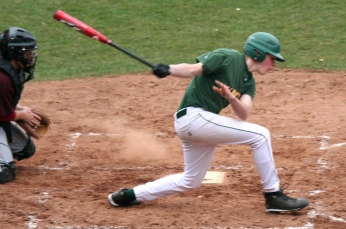 Don Pfeiffer takes a nice swing.
Story and photos by Edward C. "Ned" Burt Jr.
"It is colder out here than when I played hockey at Hamden," moaned former Hamden hockey star and captain Cliff Carignan as he walked onto the High School field during a recent freshmen baseball game. "These kids are gonna freeze."
It was more like Sheehan froze after a first-inning explosion saw Sheehan take a 3-0 lead against the Green Dragon squad. Nick Velardi and CJ Carignan shut down the Sheehan squad after that and thanks to Tanner Givens and Mike Franco, Hamden came back strong in an ultimate 8-3 victory.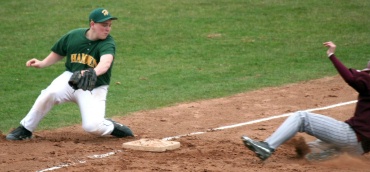 Jason Miller applies tag at third.
Franco started things out in the third as Hamden trailed. The multi-talented youngster ripped a single into left field. This was followed by RBI walks to Don Pfeiffer and Givens, and an RBI single by Jimmy Burt. Carignan then had an RBI double in the fourth inning followed by a double by Miller to the fence in right field, which was followed by another hit and RBI by Franco.
"The kids could have tanked it today," said Joe Weber, coach of the squad. "It was a raw day to play baseball. We were down 3-0. We got nothing out of a bases loaded situation in the bottom of the first, but the kids just never die. I am very proud of what they did today."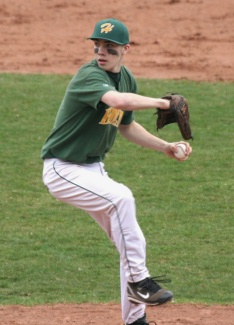 Pitcher extraordinaire Nick Velardi ready to release.
Givens has another big hit in the fifth that followed a two-run double by Jordan Teague. Velardi had seven strikeouts in six innings and Carignan struck out one in his inning of relief.
"Don Pfeiffer and Justin MacGregor had fine games on defense. We are getting contributions from everyone. I can't say enough about these guys," said Weber, shaking in the cold after the game.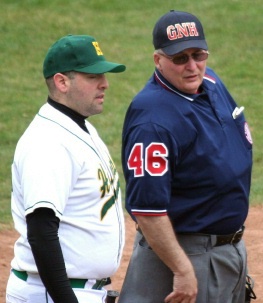 Hamden Coach Weber chats with the ump.
Matt Altieri and Brian Rothbard remain out injured. Ben Rego, Anthony Garcia, Adam Martinez and Mike Frazier also played well for the Hamden squad.
---
April 17, 2008
'Martinez's Hit Was Huge'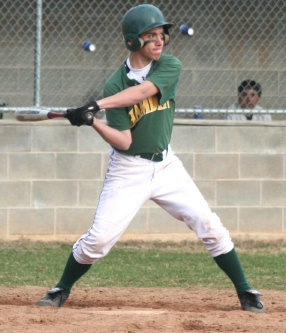 Martinez in the midst of his big hit.
Story and photos by Edward C. "Ned" Burt Jr.
Hamden High freshmen baseball won its third straight game Tuesday when it played rival Notre Dame of West Haven (8-2). PJ Scott pitched six strong innings, striking out five. CJ Carignan struck out two in one inning of relief.
"PJ had a phenomenal game," said Coach Joe Weber. "He was in control the entire game. We had solid defense and key hits. Everyone is contributing."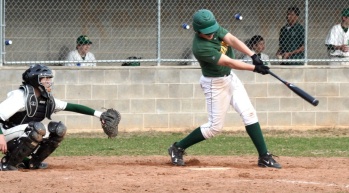 Tanner Givens strokes double.
Hamden took the lead early as hard-hitting Tanner Givens stroked an RBI double in the second inning. Some sloppy Notre Dame defense led to two more runs in the inning and Hamden found itself up 3-0 after two. The Knights fought back making it 3-2 after two were out in the third. No problem.
Hamden erupted in the sixth to put the game away. Mike Franco laced an RBI single and then Givens smashed another double. Adam Martinez hit a clutch RBI double, Scott a single, CJ Carignan a double with two ribbies and Nick Verlardi a two-out single and RBI. By the time Carignan took the mound, the Green Dragons were up 8-2 and the young squad's victory was well in hand.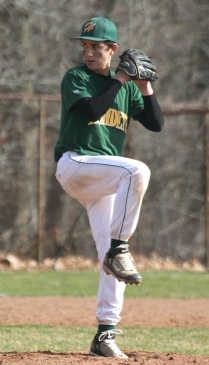 PJ on the mound.
"Martinez's hit was huge. Everyone is contributing," said Coach Weber. "I don't know what to do with myself. These kids are all great. They play as a team. They are genuinely happy for one another and I look forward to the rest of the season."
Catcher Jim Burt, Donny Pfeiffer, Mike Frazier, Ben Rego, Justin MacGregor, Jason Miller and Jordan Teague all played a solid game. Matt Altieri and Brian Rothbard were out injured.
Next up for Hamden is Sheehan, Fairfield Prep and Hand High School of Madison.
---
April 11, 2008
The Jordan & ...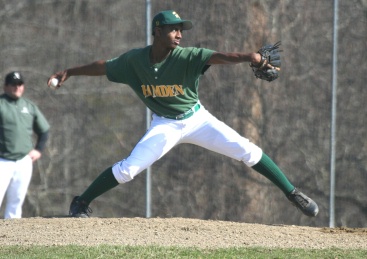 Jordan Teague fires a pitch home.
Jason Show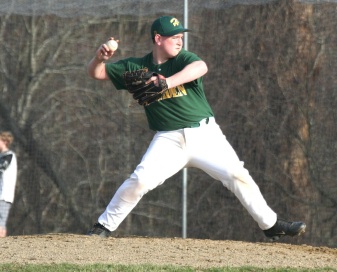 Jason Miller pitches.
Story and photos by Edward C. "Ned" Burt Jr.
"Can you say Jordan Teague?" asked Paul Scott, Teague's coach from his Little League days. "The kid is just simply amazing." And on a clear, warm day in Middletown this week, the kids from Xavier High were in a word "Teagued."
Teague was sick for the team's first game. The fans were cheated. The young man who two years ago led his Pee Wee Football team to the national championship game took off his helmet but didn't stop hitting for this young, tough Green Dragon Team.
Teague hit the fourth pitch he saw to the base of a tree in centerfield at the Xavier Field. If the monuments at Yankee Stadium are over 500 feet away, this tree seemed farther than that. He ended up with a double and the Hamden team soon took the lead after an RBI single by PJ Scott.
Teague was the starting pitcher for Hamden and didn't disappoint until he ran out of gas in the sixth inning of this thrilling extra-inning game. He finished the game with two strikeouts and six hits while giving up just one earned run. His double to the tree was one of three hits he garnered and was nothing compared to his monstrous homerun leading off the third.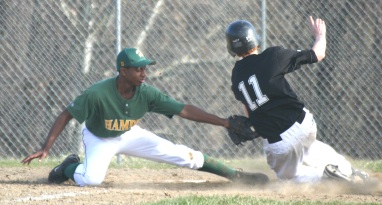 Teague tags runner out at home.
Route 9 is perched about a half-mile from home plate, high on top of a vertical cliff off Randolph Road in Middletown. Teague led off the third inning with a shot that went so far up that hill that a Connecticut Department of Transportation worker came down from Route 9 to retrieve the ball. It was a tremendous shot that had the crowd buzzing and the Xavier coach walking Teague intentionally the next time he came up to the plate.
"I've seen the kid hit for a long time," said Doug Franco, a longtime youth sports coach in Hamden. "He's got one of the quickest bats I have ever seen. That shot he hit today was simply a big-league homerun. It was pulverized."
The Hamden team lost a 4-0 lead with the home team battling back to tie it up in the bottom of the sixth.
"We played a little sloppy in the field today," said Coach Joe Weber. "It's early so I expect that, but we got timely hitting and good pitching. I didn't like the six errors but Jordan pitched well and Jason Miller pitched strong the last two innings and had the clutch double in the eighth that won the game for us."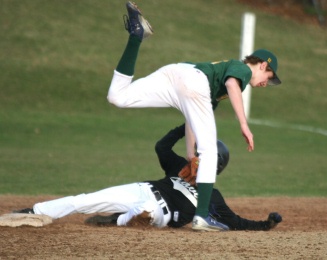 Jim Burt after tag out at second base.
Miller also had an outstanding game in the field handling several plays at third base. He started a 5-4-3 double play in the fifth inning that wiped out a Xavier rally. Tanner Givens had a couple of putouts at second base; Jimmy Burt had two assists and a tag out at second base; and CJ Carignan threw another runner out who was attempting a steal.
The Jordan & Jason Show produced four hits and three RBIs between them. Miller hit a shot to right center to bag two runs in the top of the eight to put Hamden up 6-4. His hit was followed by RBI singles by Givens and Mike Franco. PJ Scott had two hits and an RBI while Carignan and Nick Velardi had a hit and an RBI each. Burt, Donny Pfeiffer and Mike Frazier also had base hits for the visitors.
Ben Rego played a great defensive game at first base as did Adam Martinez in the outfield and Justin MacGregor in the infield. Hamden's next game is against Notre Dame of West Haven. The team record is 2-0.
---
April 9, 2008
Remembering Leah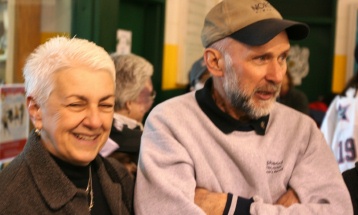 Helen and Bob Hall.
Story and photos by Edward C. "Ned" Burt Jr.
Nov. 11, 1995, is a day the Hall family will never forget. It is the day that their beloved daughter and sister, Leah Gabrielle Hall, was killed by a drunk driver. Last Saturday, Mother's Against Drunk Driving sponsored "Skate for Leah," an annual event in memory of the lovely 14-year-old Hamden girl.
The Louis Astorino Ice Arena was packed all evening long as the community came out in strong support. Rink director Rick Gentile said, "This is not only a fundraiser for MADD. It is an event that brings awareness to all as to the dangers of drinking and driving. Bob and Helen and the entire Hall family have shown a remarkable strength over the years lending their support to events such as this."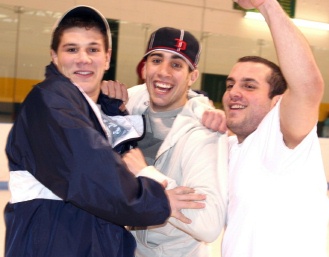 Jackie Vets and buds.
Adults and children filled the ice surface. Several members of the Hamden High Hockey Team -- current, past and future -- lent their support to the community effort.
"I wasn't going on the ice," said former standout bowler Al Hauser. Hauser and his wife, Priscilla, are dear friends to the Hall family. "But I will always be there to support Helen and Bob and the kids, and now their grandkids as well."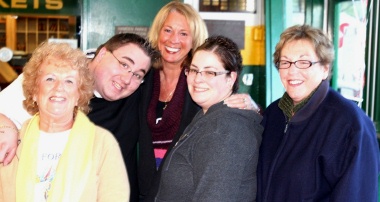 The MADD crew.
The Halls were recognized last fall by MADD for their devoted support of the organization and its efforts to save people from the horrors of drunk driving.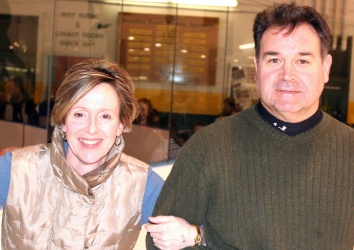 Chris Burt and Terry Boyle.
"Skate for Leah" has raised thousands of dollars over the years for programs geared to reducing and eliminating drunk drivers. All those involved -- and in particular, Bob and Helen Hall and family -- should be commended for their efforts.
---
April 7, 2008
All Eyes on the 'Velardi Kid'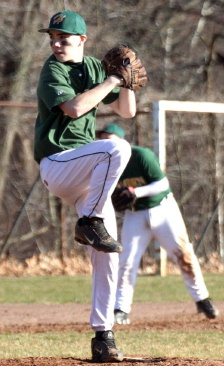 Nick Velardi on his way to 10 strikeouts.
Freshmen win their inaugural baseball game
Story and photos by Edward C. "Ned" Burt Jr.
The Hamden High School freshman baseball team got off to a good start last week with a 5-4 victory over East Haven. Hamden was led by Nick Velardi's outstanding pitching and solid team defense which included several stellar plays in the field.
Velardi started slowly as the first batter got on base on a walk. It was frigid and the wind was blowing gusts up to 30 miles per hour as fans bundled up for the winter-like season opener at Legion Field in Hamden. The Easties tested Hamden catcher CJ Carignan by having two runners attempt to steal second base in the first two innings.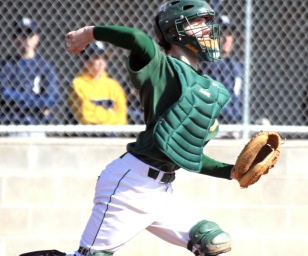 Catcher Carignan throws it.
"After CJ threw out the first two guys they didn't run on his gun after that, did they?" gushed Coach Joe Weber, who said he was very pleased with his team's inaugural performance. "What more could I ask for? The Velardi kid throws strikes and peas all game long. I get great defense and solid, clutch hitting. Great way to start the season."
PJ Scott had an outstanding game with two hits including a triple and RBI. He also made an all-world diving catch in centerfield to save a run. Andy Garcia made a circus catch in leftfield as the wind twirled the ball around and over his head as he leapt, caught the ball in midair and somehow held onto it as he crashed to the ground.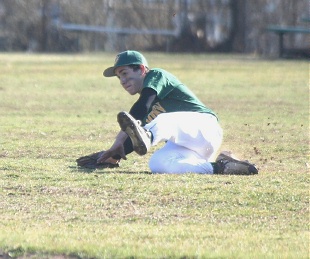 PJ Scott's diving catch.
Velardi had an RBI single to go along with his total game 10-strikeout performance. Mike Franco had a single and an RBI. Jason Miller had a double, and Tanner Givens had a game-breaking single that knocked home two runs. Justin MacGregor, Jimmy Burt, Don Pfeiffer, Ben Rego and Brian Rothbard also had solid games. Jordan Teague was out sick and Matt Altieri had a leg injury and was unable to play.
"I have an extremely deep team. I am really looking forward to the season. The kids all work hard and give it their all," said Coach Weber. "And how was that catch by Miller to end the game? The kid crashes into the garbage can, tumbles over and still holds onto the ball! What effort!"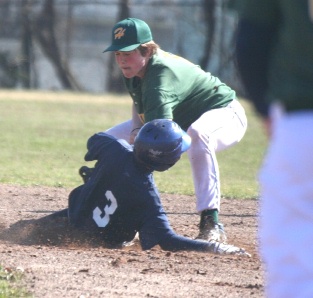 A Justin MacGregor tagout.