We Have a Finalist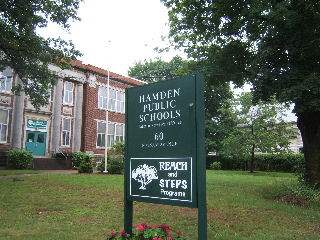 A school superintendent is chosen, but it's not yet official

By Sharon Bass

A good communicator. A serious background in curriculum. Likeable. Humble.

That's how Board of Ed members described their choice for Hamden's likely new school superintendent, Fran Rabinowitz. The Branford resident is the associate commissioner in the division of teaching, learning and instructional leadership for the state Department of Education. And if background and other checks work out, Rabinowitz is poised to take the helm of the local school system some time in September.

"Obviously, she's extremely bright. She comes from a strong curriculum background," said Lynn Campo. "She's got excellent relations with the people she works for, with and supervises. We need someone who's going to make connections with the Legislative Council and parents. She is supposed to be a tremendous negotiator."

Austin Cesare predicted the town will be happy with Rabinowitz, who holds a master's degree in arts and counseling from the University of Bridgeport, and a sixth-year studies diploma from Fairfield University.

"I think Fran Rabinowitz by far was the best candidate we interviewed," Cesare said. "She will be outstanding in helping to improve curriculum and instruction and improving communication with parents, teachers and students alike. Hamden residents will be appreciative of how open and straight forward she is when dealing with the public. And I know that she will help improve Hamden's test scores and streamline our central office bureaucracy."

Wednesday evening, the BOE search committee chose Rabinowitz out of three finalists. The HDN learned of the choice and left messages for Rabinowitz at her Hartford office yesterday to get confirmation of her nomination. A spokeswoman there said she was in meetings all day, and the messages were not returned. However at 4:05 p.m., a press release was e-mailed to the local media, Legislative Council and Board members announcing the selection.

Eliza Holcomb from Connecticut Association of Boards of Education was hired in May to find Hamden a new superintendent. According to Board member John Keegan, Holcomb screened 24 candidates and selected six who were interviewed by the Personnel Search Committee (comprised of the full BOE) on Aug. 6 and Aug. 7. The six were whittled down to three.

Rabinowitz was chosen in an "informal" discussion, said Keegan. The Board still needs to publicly vote on her appointment. Beforehand, he said there will be site visits to her Hartford office, background checks and contract negotiations. Rabinowitz is scheduled to soon meet with local officials, teachers and the community.

"We're being cautious and thorough," said Keegan, to make sure both sides have made the best decision. Rabinowitz would start "the second we vote her in," he said.

Salary has not yet been discussed, Keegan said, but he expects it will be similar to the late Superintendent Alida Begina's, which was about $153,000. Keegan said it is "unlikely" that the compensation would be affected by the fact that Begina had a doctorate degree and Rabinowitz does not.

"The salary will be commensurate with experience. It's going to be driven by the marketplace and the requirements of the individual candidate," he said.

Cesare said Rabinowitz told the Board that she intends to spend 80 percent of her time in the schools. "I heard she will be a superintendent who will be highly visible in the community and she'll make Hamden proud," he said. "She is very cautious with taxpayers' dollars."

"She's personable, likeable and most importantly I felt she has a sense of humility," said Keegan. "She never came across as defensive or arrogant and I think those are important skills. She'll be a good listener."
---
August 4-6, 2007
Thanks, Konover?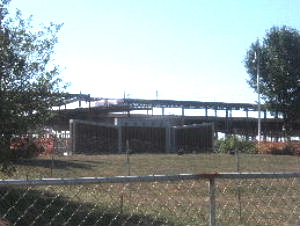 When the new middle school was just a skeleton, right behind the veterans monument. File photo
By Sharon Bass
The company that built the new middle school will construct a canopy -- for free -- at the school's entrance so long as it can put up a plaque bearing its name: Konover Construction.
That ticked off a couple of councilpeople while their peers seemed grateful for the offer.
A legislative committee overwhelmingly approved the agreement last Monday. But not unanimously. Council members Carol Noble and John Flanagan voted against the donation, saying the company doesn't deserve the recognition. (The full Council will vote on it Aug. 6.)
"I'm not happy with Konover advertising on the canopy. If you're going to make a donation, be magnanimous and keep your name off it," said Noble. "There are some things wrong with the school structurally. I can't give you facts but feelings from other people about this situation."
Flanagan easily concurred. And then some.
"This is no donation from Konover. It's an election year and they [certain councilpeople] don't want to make waves," he said. "Why should I put a plaque up for someone who's giving us our own money for goods we already contracted for? I think with the quality of work over there they should be run out of town, not given a plaque."
A message left for Konover president Mike Kolakowksi was not returned yesterday.
According to Chief Administrative Officer Scott Jackson, the former School Building Committee cut the canopy out of the design "when they thought the project would go over budget."
Then last year, he said, it looked like there'd be enough money and "we were very vocal [to Konover] about our dissatisfaction about this critical component being left out. And Konover said, 'We understand. You own the building, but it is really one of our showpieces of construction. We want you, the owner, to be happy.'" And offered to donate the canopy, said Jackson, with the plaque stipulation.
He said he didn't know how much the canopy is worth, but likely in the 10s of thousands. The covering provides both an aesthetic and protective purpose. It shields children from the rain and other inclement weather when they get off the bus or dropped off before school opens. And will add some design to the otherwise pedestrian-looking school front.
"We've gotten feedback that the building is dull looking," Council President Al Gorman said. "I knew we were missing something."
A canopy.
Gorman and Jackson said the plaque would be in good taste and not flashy.
"It's not going to look like the McDonald's sign," said Jackson.
"We're not going to have a big sign with flashing lights saying 'Konover,'" said Gorman, an SBC member for the last four years. "I have no problem with the plaque. They're giving us something worth a lot. It was value engineered out because the original design was very elaborate with an elaborate canopy." He said the original canopy would have cost over $200,000, but the new one will not be as "fancy-shmancy."
When the school's sidewalks were poured, canopy footings were put in, said Gorman, because "we knew one would be needed. Eventually Konover said it would do the canopy on their terms, so to speak."
One term was the Farmington-based company couldn't be rushed into the job, so the plan was to build it this summer when children are not in school, Gorman said. Another term was the plaque.
"We shouldn't look the gift horse in the mouth," the Council prez said. "Why people object to it? It's their own agenda."
Councilman Curt Leng, SBC chair, said he's also happy about the canopy donation and doesn't have any objections to the plaque. He said Konover did a good job, and the school was finished on time and on budget. Gorman agreed.
But Noble and Flanagan disagreed. They said the original amount the Council approved was roughly $43 million. The bottom line was increased at least once, said Noble. The cost is now close to $57 million, said Flanagan. And the school ain't done.
Ongoing Ills
The new Hamden Middle School, which opened on Dixwell Avenue last fall, still doesn't bear a permanent certificate of occupancy.
Jackson said the company is working with the school department on "low-level construction items, such as cabinet locks. We want to make sure the building security is adequate. And that all the places that need to be seen are seen [by security cameras]."
However, he said, those "low-level" items are not what's holding up the CO. It's the electrical outlets in the tech-ed rooms, which need to be moved. "I believe that was all that was left. There were some building drainage issues and they are done," said Jackson.
Also, 60 feet of coping fell off the roof last winter when hit by a big sheet of ice, he said. Rooftop icebreakers weren't installed or included in the design, as they should have been to prevent such breakage. Jackson said it was the fault of the architect, Tai Soo Kim Associates of Hartford. So Tai Soo is paying a roofer to fix the coping and install icebreakers -- and there will be no cost to the town, he said.
Flanagan said he's sending 116 photos he shot of "problems on the building's exterior" to the state Department of Education. Since the state footed two-thirds of the project's cost, he said it might be interested in seeing the flaws.
Noble sounded equally disgusted with Konover's workmanship. She said when town inspectors would check it out during the construction and report back that something was wrong, they weren't listened to.
"And Turner [Construction, paid $400,000 to oversee Konover] would say there was nothing wrong, nothing wrong," said Noble. "I wanted nothing to do with it."
She predicted the new middle school will be outlived by the half-century-old one on Newhall Street that it replaced.
"That one has real brick on the outside. Because it was built on that landfill, they sunk 50-foot steel pilings into the ground to support the building. They knew what they were building on, but back then nobody cared about landfills," said Noble. "That was 50 years ago. It lived through a tornado. The only wrong thing that happened to that building is it wasn't maintained properly."
---
July 20, 2007
Ass't Supers Get $14,600 in Bonuses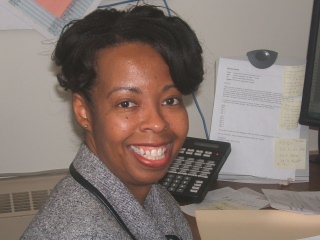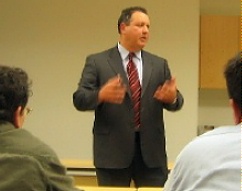 Bonner and Hernandez. File photos
By Sharon Bass
Toward the end of the Board of Ed's June 12 meeting -- when it was executive session time -- reporters (including this one) were led to believe that nothing further would be discussed in public session. And left.
Turns out three votes were taken afterwards, which just came to the HDN's attention.
By unanimous agreement, the Board gave Assistant Superintendents Portia Bonner and Hamlet Hernandez stipends of $8,000 and $6,600, respectively, to cover for late Superintendent Alida Begina, who was too ill to perform.
Their salary differentials, or bonuses, are a one-time deal to cover the three months from March 1 to May 31. Interim Superintendent Herb Pandiscio came on May 29. Meanwhile, a search for a permanent super is underway.
Board members say the two assistant supers deserved the extra cash.
"No one opposed any of those items," said Ed Sullivan. "Dr. Bonner was the acting superintendent and took on those extra duties and Hamlet took on some of hers." He made it clear that the money does not constitute a raise.
"These amounts are not raises. They have not received raises," said Chair Michael D'Agostino. The Board has yet to vote on raises and other terms of employment for Bonner and Hernandez, he said, but is discussing it. He said the Board will look at performance and a recommendation from Pandiscio in deciding whether to grant salary hikes for the two. There is no scheduled Board meeting for August, and D'Agostino said he's unsure when new contracts would be voted on -- if at all. The old agreements expired three years ago, he said.
Bonner and Hernandez are each paid about $123,000 a year. Last year, Mayor Craig Henrici appealed to the Board not to give "anyone a raise," said Lynn Campo, referring to Begina, Hernandez, Bonner and other nonunion employees. But the assistant superintendents were each given 3 percent salary hikes to compensate for the extra work they took on during Begina's illness, Campo said.
Board members agree that the two administrators are well worth the extra dough in last year's salary increases and this year's stipends.
"These are two very dedicated employees who contribute enormous amount of time and effort to our school system," said Mike Dolan. "The superintendent was out of the office prior to her passing away from the beginning of March until she passed away [April 19, 2007]. On top of their normal duties and their additional workload because of Alida's absence over the last year and a half, two years, these two dedicated and talented people deserve to be compensated for the work they did. And their salaries, when you compare them to assistant superintendents in area school districts, are in fact low." Asked which school districts pay their assistant supers more, he said didn't remember but received such information from Pandiscio.
"We had agreed on [the stipends] well in advance [of the June 12 executive session] to give more to Bonner because she held the [superintendent's] certification. I had no argument," said Campo. "We placed a great burden on them for a long period and they responded well so that's why there was no disagreement in giving them a stipend."
---
June 26, 2007
1st Wave of New School Admins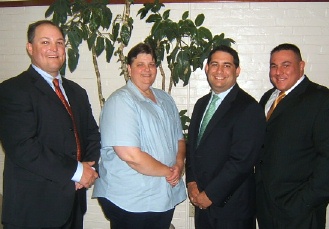 Jim O'Connor, Luann Gallicchio, Chris Mellilo and Joe DiBacco. Photo/Sharon Bass

By Sharon Bass

Wanted: a superintendent, middle school principal, two high school assistant principals, three elementary school principals and a director of adult ed. Place: Hamden, Conn.

Last night, the Board of Ed took care of five of the above with unanimous votes during a special meeting.

Jim O'Connor is taking over the middle school. Former principal Frank Pepe left the school several months ago for a similar position in Southington for roughly the same pay. O'Connor is the assistant principal at Wilbur Cross High in New Haven.

The new high-school assistant principals are Laura Rodriguez, who just stepped down as director of world languages for the Hamden schools, and Joe DiBacco, a special ed teacher in Meriden. (The world language post will reportedly remain in the budget but not be filled right away.)

Chris Mellilo was chosen to lead Shepherd Glen School. No stranger to the local system, he has taught at Bear Path and Church Street schools. Mellilo is currently the assistant principal at Thomas Edison Middle School in Meriden.

And Luann Gallicchio was named the new adult ed director. She is the coordinator of the Family Resource Center at Church Street School.

Also, the principals of Spring Glen and Dunbar Hill are departing. Cheryl Townsend (Spring) is retiring.

Meanwhile, candidates from out of state and Connecticut have applied for the superintendent's post, said Eliza Holcomb of the Connecticut Association of Boards of Education, but would not say how many have applied or if any are internal candidates.

On May 21, Holcomb was hired by the school board to conduct the super search. She has spent the last few weeks interviewing different groups -- parents, teachers, town officials, etc. -- to learn what is desired in a new school head. She said she'll present four or five candidates to the BOE for consideration.

In other Board news, the '06-'07 school year is concluding with an estimated 150,000 surplus dollars, which will be deposited into the town piggybank.