Schools
August 19, 2005
Parents Cry Foul Play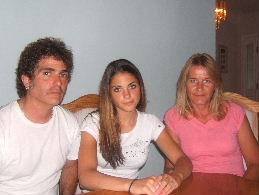 Al, Alyssa and Lisa Lotto say a teacher is getting preferential treatment over students. Photo/Sharon Bass
By Sharon Bass
Parents of students who have been bullied and beaten in school by other kids are wondering why an adult, who was arrested last month for arson at Ridge Hill School, will be allowed to begin teaching Spanish at Hamden High this September. They ask what kind of role model this teacher will be. And say if their kids set fire to school property, they would be expelled without a doubt. What's with the double standard, they cry?
"The board of education and administration's blatant defiance of doing what's right is an example of the lengths they'll go to defend themselves," said parent Audrey Santoro. She and her husband, Frank, are suing the Hamden school system because they claim the administration did nothing to help their son when he was bullied and attacked over and over. Yet, "this teacher (Rodriguez) admitted to what he did, and they're defending him," she said.
Javier Rodriguez, 22, was arrested on July 15 around 4 a.m. for setting Ridge Hill School's third base on fire and then running away from cops when they arrived at the scene. His mother is Laura Rodriguez, director of world languages for the Hamden public schools. A 2005 graduate of Quinnipiac University, Javier Rodriguez was recently hired to teach Spanish. (See "New Spanish Teacher Accused of Arson," below.)
"If the teacher can get a fair shake, the kids should get a fair shake. It goes back to who you know, especially in this town," said parent Paul Grego. "His mother works in central office. It just goes to show you there are strings being pulled. It's too bad they don't look out for the children like they do their own. The children are the ones I thought they were there for."
Grego said his son, now 13, "was beat by a group of four or five kids every day" while a student at Ridge Hill. He said his child suffered a concussion and chipped tooth.
"No action was ever taken against (the offending children). Every time we went to the school and complained about something, the principal would say, 'Don't worry about it. It will be taken care of. Boys will be boys,'" said Grego, whose son now attends ACES.
Calls and e-mails to school administrators, including superintendent Alida Begina, seeking comment were not returned.
Al Lotto, another parent of a bullied child, said, "The Javier incident is a perfect example of how the BOE (board of education) misuses their zero tolerance policies at their discretion without conscience. I have nothing personal against Javier. But with all my family has been through this past year, it seems to me the BOE has no problem retaliating and focusing in on certain children in a discriminatory manner while protecting others. Adults should be held accountable for their actions even more than adolescents. Evidently, it's all who you know."
The Lottos are also suing the Hamden school department. According to their legal complaint, on Dec. 1, 2004, their daughter, Alyssa Lotto, now 14, was expelled for nearly three months for allegedly bringing alcohol to Hamden Middle School on Nov. 9, 2004. Although no evidence of alcohol on or in her was found, she was arrested and ultimately expelled.
When Alyssa returned to school in February of this year, she said another student stole her pocketbook. While the purse was found, a cell phone and $40 were missing, she said. The student who committed the theft was identified, but not expelled "although the defendant (the Hamden BOE) has in place written policies providing for expulsion in cases of theft," according to the complaint filed in Superior Court.
Some time later, Alyssa said a former friend of hers snuck up behind her in school, pulled her hair and knocked her down giving her a concussion. Alyssa required medical treatment, including a CT scan. The student was expelled.
"I fully believe that when school starts again, I expect my daughter to be arrested and expelled because when (her bully) or anyone else in her bully's camp decides to hit my kid, she is going to deck them -- with my permission. Sad thing is, she is not a bad kid," said Al Lotto.
Frank Santoro said he's given his son the same instructions if he is attacked again this school year: "Beat the piss out of them," he said he told his son. Even though he acknowledged if his son does hit back, he'll get suspended. "(Although) if he doesn't hit back, nothing happens to anybody," said Santoro.
While a student at Ridge Hill, Santoro said "every single day (his son) got slapped in the head, sucker-punched, called a fat bastard" by the same student. "We went to administrators for help and nothing happened. They did nothing to my son's bully. They are trying to drive us crazy.
"The administrators, the principals, even the social workers are just following the superintendent's hidden agenda, to make the school system look good, like there's no problems," he said.
The BOE responds
Lynn Campo serves on the BOE . She said she knows Javier Rodriguez quite well and is surprised he was arrested.
"I have known Javier since he was a kid. It's weird. He was vice president of the class. He was a good student. He had never gotten into trouble," she said.
Campo said Rodriguez signed a "legal teaching contract" in June, and that contract can't be broken since he's not been proven guilty of anything. His case is scheduled to be heard in Meriden Superior Court on Sept. 27.
"As you know, when somebody gets arrested it's not over until it's over. He has his day in court. The judge could expunge it. If he is convicted of something, then at that point something would have to be done," said Campo. She said if he is found guilty, the matter would go before the BOE, but she would have to recuse herself because of her relationship with Rodriguez and his family.
"He's the last person you would ever think would do this," she said. "I will tell you, we've had a couple of other teachers involved in incidents, which were sexual in nature, and they resigned."
While the BOE's Jennifer Heath said she's never met Rodriguez, she said she's only heard good things about the new Spanish teacher.
"My understanding is he's a very smart guy, has a good track record. I think we need to reserve judgment until the case has gone to court," she said.
"There are policies about how we handle staff and how we handle student behavior," said Heath. "I'm not allowed to comment on specific incidents. (But) I can understand any parent being upset if their child has broken a particular rule" and gets expelled.
"I don't want to crucify this kid (Javier Rodriguez) because he made a mistake," commented Frank Santoro. "But I must say his actions are odd enough that he'll fit right in with the rest of the administrators. I absolutely have no faith in any of the school's administrators.
"I've got pure hate toward the Hamden school system," he said.

---
August 12, 2005
New Spanish teacher accused of arson
Javier Rodriguez's mom is director of world languages for Hamden schools
By Sharon Bass
Two items about Javier Rodriguez made it into the Hamden Journal on July 25, 2005. One said the 22-year-old Corbin Road man was arrested on July 15 for setting Ridge Hill School's third base on fire and running away from cops when they came to the crime scene. The other item said Rodriguez just got his bachelor's degree from Quinnipiac University, and is a member of a Spanish honor society.
But there is a third piece of news about Rodriguez -- son of Laura Rodriguez, director of world languages for the Hamden public schools -- that wasn't mentioned. The accused arsonist was just hired to teach Spanish at the high school.
Calls to Javier Rodriguez's home were not returned.
When asked about putting a suspected arsonist in the classroom, assistant school superintendent Hamlet Hernandez told the Hamden Daily News, "If you really want to do something for the community, do your homework. Do you know the disposition of that (Rodriguez's criminal case)?"
Fact is, it hasn't been resolved.
"The case is still open," said Iride, a clerk at Meriden Superior Court, where Rodriguez's case is expected to be heard on Sept. 27. Iride, who said she is not allowed to give out her last name, listed the charges against the new Hamden Spanish teacher: loitering in or about the school; reckless burning; and third degree criminal mischief.
According to Chris Pucci, records technician for the Hamden police, Rodriguez's arrest report cannot be released to the public until the court disposition.
"The BOE's much-touted policy of zero tolerance is a joke if accused arsonists are hired by Dr. Begina to teach our kids," said legislative councilor Ann Altman, a vocal critic of Begina. "Does zero tolerance disappear when the relative of an employee is involved? Is Dr. Begina's willingness to overlook a pending superior court hearing for arson the kind of professionalism that the BOE trumpets when they praise -- and re-hire -- Dr. Begina for being such a great superintendent?"
Superintendent Alida Begina did not respond to messages seeking comment
---------------------------------------------------------------------------

Why the BOE voted as it did For Begina
By Sharon Bass
On Aug. 3, the Board of Education voted to allow school Superintendent Alida Begina to continue on in Hamden, after she had accepted -- and then rescinded -- the top ed job in Syracuse, N.Y. The super cited personal and health reasons for her decision. (Begina did not respond to the Hamden Daily News for this story; she cancelled three consecutive interviews and did not answer an e-mail and several phone calls seeking comment.)
Begina reneged on the Syracuse job two days after N.Y. Gov. Pataki vetoed a $600 million provision for school renovations, but stated publicly that that didn't influence her change of mind.
While five of the nine BOE members voted to keep her in Hamden for the next three years (at which time she says she will retire), all agreed that her contract needed amending. Last year, she nearly took the school super's job in Milford, so there is concern that she might try to jump ship again. Reportedly, the amended contract doesn't give more money to Begina, who makes about $152,000 plus fringe benefits. Instead it calls for penalties if she is to leave Hamden before 2008 -- unless she becomes disabled. The latest version of her contract is being reviewed by lawyers and is not yet available to the public.
Voting in favor of Begina staying at 60 Putnam Ave. were Nicholas Bauer, Lynn Campo, Michael Dolan, Jennifer Heath and Valarie Stone. Against were Michael D'Agostino and Shawn O'Sullivan. BOE Chair Myron Hul and John Keegan were no-shows at the Aug. 3 meeting.
All BOE members were called for comment, but only a few were available by deadline. Here's what they had to say.

"Basically [it was] for financial reasons," said Bauer of his yes vote. "We saved some $200, $300,000 for a consultant to work with us (to find) a new super, and for an interim super for at least six months. And for [Begina's] buyout -- paying her for 53 days of sick leave. Begina was going to retire. That's what she was telling us.
"There will be no more money (in the contract)," Bauer continued. "We want some assurance that she will be here until 2008." Three lawyers are working on the contract: Thomas Mooney from Hartford, and BOE members D'Agostino and Dolan, who are both attorneys.
On the last Friday of July, there was a special BOE meeting with recruiters about finding a new super, said Bauer. "Begina came in at end of the meeting. She told the board she wanted to stay on. She told us health reasons.
"I think she's an exceptional superintendent. It's a hard town," said Bauer. "I think she's done an excellent job. For that matter, the BOE at the end of June gave her a highly commendable job review."
"We had just done [Begina's] evaluation at the end of June. And it was excellent," agreed Campo. "And losing (Assistant Superintendent) Mary Marrandino (who's leaving Sept. 15) … we were looking at brand new people (in central office). We were looking at the fact that superintendents don't come cheap. I was very unhappy about Hamden being (Begina's) second choice. When she told us about Monroe (in May 2004), within a week she let us know it was not something she wanted to do, even though they were offering more money. To be honest, she never told us why she turned down (the Monroe) job.
"She is an extremely hardworking person. I think she will continue to do her job as she has. But she has to rebuild credibility," said Campo.
"The fact that she had looked for employment in other districts in such a short span of time, I felt damaged her ability to function as the leader of the school system," D'Agostino said explaining his no vote. "I was equally concerned about the impact on the integrity of the board. We're frequently viewed as the superintendent's yes people. And obviously we are. She wouldn't have even asked to come back if she didn't know the answer would be yes. That to me reflects more on the leadership of the board than on the superintendent. There's not any independence between the board leadership and the superintendent.
"I think there's been both good and bad," he said. "I commend [Begina's] ability to get the construction projects done, like the middle school. But since I've been on the board the student test scores have been stagnant. I always felt her leadership is lacking there. And basic communication with teachers, staff and parents. We have had a number of incidents over the past few years (with students and parents), which in my opinion could have been handled differently before they escalated into crises. Avenues of communication are shut off from the beginning and we end up in litigation. I just don't see this as being a constructive move. I think it's time for new leadership."
Responding to allegations that his no vote was politically motivated, D'Agostino said he's not up for re-election. His term expires in 2007.
Furthermore, he said, "I disagree with the cost issue completely. We will have to search for a new superintendent in 2008 anyway. This has nothing to do with cost; it has to do with leadership."
"I would have voted in favor," said Keegan, who said he missed the Aug. 3 meeting because he was vacationing. "Couple of reasons. We had talked to a couple of recruiting firms. They were telling us it would be expensive, would take six months. The pickings were slim. It's very difficult to find qualified school administrators. We had just hired two new assistant superintendents, Hamlet Hernandez and Portia Bonner. That leaves us with a very inexperienced administrative staff. And the costs incurred in closing out (Begina's) contract. Her performance as superintendent has been good. I don't like to hear that parents or others can't reach her. To my knowledge she (is responsive)."
Keegan said, even after the Monroe episode, he was surprised Begina was going to take the Syracuse post. "I was just shocked. It was unanticipated. The new contract is not to benefit the superintendent. The purpose of it is to clarify the contract. She is to stay on until 2008."