Schools
March 28, 2008
All Best of Show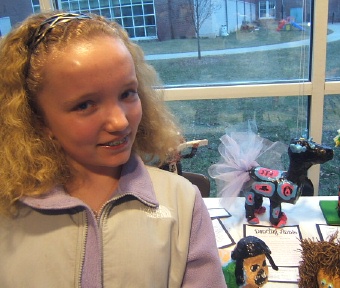 Kolby Matusovich created that fancy black cow with the lacy tail behind her. The West Woods sixth-grader named her artwork "Dancing Annie." Why? "I like to dance. I like cows. And I used to think Annie Lenox hated cows," said Kolby. She said the class assignment was to choose an animal and create a theme around it.
Words and pictures by Sharon Bass
The fantasies and thoughts of Hamden's children were on display yesterday at the high school. A truly dizzying array of student artwork -- from K-12 -- was tucked into Room C-107 vying for space with a nonstop stream of proud kids, parents and grandparents.
The artwork photographed for this story was chosen at random. The paintings, the sculptures, the wall masks -- everything -- at the annual school-wide art show were truly wonderful. Thanks to the children who drew the town into their personal, creative space.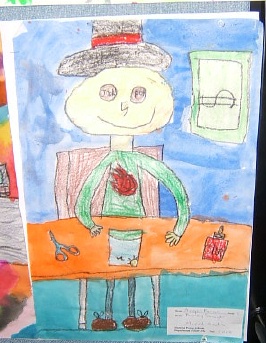 "Jack Pot" by a second-grader.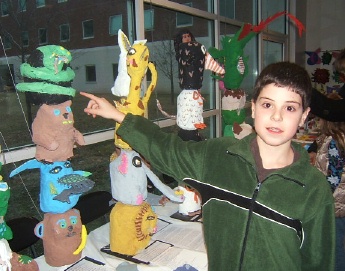 Shai Shukrun points to the top piece of an interesting papier mache sculpture. It's a snake made by Shai, a West Woods fifth-grader.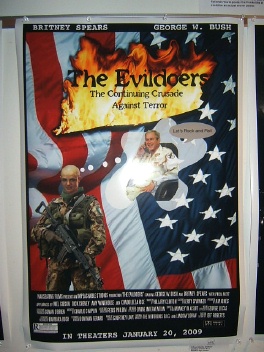 This clever political poster was designed by a 12th-grader in Graphic Art 2.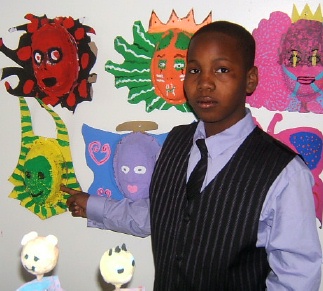 Dajaur Latimer points to the cool yellow and green mask he made. The sixth-grade Dunbar Hill student said the green was initially a mistake but he went with it.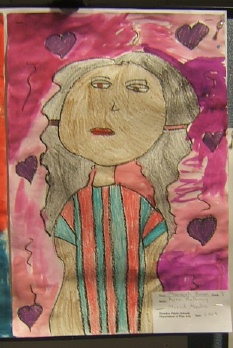 This Picasso-esque painting was mastered by a third-grader.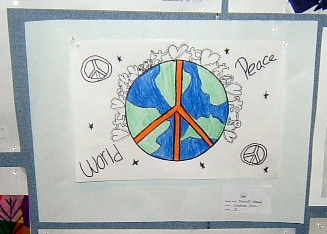 A fifth-grader spreads the message of the day.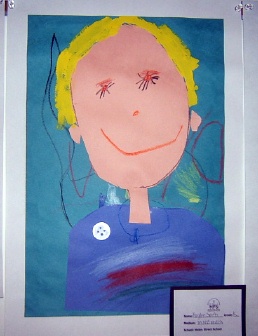 "Happy Boy," created by a kindergartner.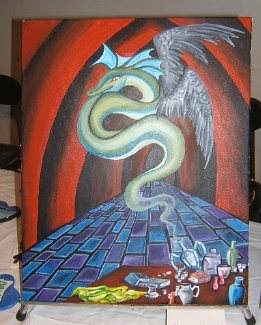 An 11th-grader's icy and intriguing painting.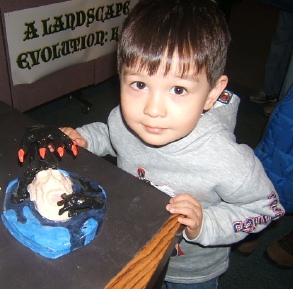 No, Jesse Chaput did not make that impressionistic sculpture. He's not even in school yet! A child in the third grade did. Jesse will start kindergarten in the fall and likely return to the school-wide art show next year to admire his own creative expression.
---
March 25, 2008
Bonner Reaches Her Zenith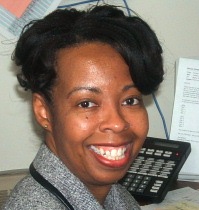 School officials contemplate what to do with the assistant super's position
By Sharon Bass
Longtime Board of Ed member Myron Hul called Hamden "training grounds" for school administrators on the rise.
"I think it's characteristic of Hamden to be used as training grounds for administrators who then use the training and experience they develop in Hamden to go on to bigger and better things," said Hul. "Having Hamden on their résumé enhances their marketability to other districts."
It apparently was a boost for Assistant Superintendent Portia Bonner, who just recently had two Massachusetts school districts interested in her for chief. Yesterday, she sealed a three-year deal with New Bedford, Mass., to be its super. Bonner starts July 1 and will be paid $160,000 for her first year.
"The mayor called her tremendously impressive," said Elizabeth Treadup, an aide to New Bedford Mayor Scott Lang. He chairs the school committee, which unanimously approved Bonner yesterday morning. She competed in a pool of 17 applicants. (Click here for the city's press release.)
A message left yesterday for Bonner was not returned. She was also a finalist in the Lowell, Mass., search but dropped out after getting the New Bedford appointment, and harshly criticized the Lowell hiring process in its daily paper. (Click here for story.)
"I wish Dr. Bonner the best of luck. And hopefully New Bedford is the district that's best suited for her and her career objectives," said BOE member Austin Cesare.
Hul also wished Bonner well. "I thank her for the contributions she has made to Hamden," he said. "She maintained central office along with Mr. Hernandez during a very difficult time. By doing so she saw that curriculum did not deteriorate. That the school system did not deteriorate."
"We're all excited for her," said Superintendent Fran Rabinowitz. "I think Portia has said this is her dream. She's always wanted to be superintendent."
Bonner came to the Hamden school system in 2005 to replace retiring Assistant Super Mary Marrandino. There is one other assistant super, Hamlet Hernandez. Some say there's no need for two assistants. That the department is top heavy. Rabinowitz said she understands and is thinking about what to do with Bonner's position.
"I'm really interested in keeping the budget as low as possible," she said. Bonner is in charge of curriculum. There is also a curriculum director, but Rabinowitz is replacing that position with a language arts director.
Cesare questioned the need to hire a new assistant. Bonner was paid $134,635 in 2007; part of that was from extra compensation she and Hernandez received for taking over when the late Superintendent Alida Begina became too ill to work.
"I honestly think that with the current tax situation in our town we should look closely at not filling the position and dividing up the work amongst the central office administrators we currently have, namely the superintendent and Hernandez," said Cesare, chair of the Curriculum Committee.
"With Fran's vast background and expertise in curriculum and instruction, I feel more comfortable having one assistant superintendent," he said. "Why don't we use this opportunity to save the taxpayers money as long as the work is being done?"
Hul said he has "no idea yet" what should be done with Bonner's post. "I would like to see a proposal from the superintendent," he said. "This affords the superintendent an opportunity to evaluate the organization she has inherited and make adjustments appropriate for her management style and the needs of the district."
---
March 14, 2008
Bonner in the Home Stretch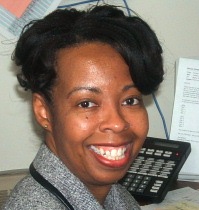 Portia Bonner. File photo
Looks very likely the assistant school super is bidding adieu to Hamden
By Sharon Bass
For the last three days, Assistant Superintendent Portia Bonner has been in New Bedford, Mass. She's one of three finalists for the top school job there.
"She's being interviewed by the community and she's visiting schools," said Hamden Superintendent Fran Rabinowitz.
Next week, Bonner will take three more vacation days to spend time looking over the Lowell, Mass., schools, Rabinowitz said. She's also a superintendent finalist there.
New Bedford Mayor Scott Lang and the school committee, which he sits on, came to Hamden on March 4 for a site visit. A candidate should be chosen by the end of this month, said Rabinowitz.
Bonner could not be reached for comment. A message left late yesterday afternoon for Mayor Lang was not returned.
Rabinowitz said she's not sure what she'll do about Bonner's position should she leave.
"I think Portia is an incredibly bright administrator who really cares about students and moving students forward," the super said. "I think she's ready to be superintendent."
Bonner had applied to be Hamden's new super after the late Alida Begina retired last spring. But Bonner didn't make the finalists cut. She had her 15 minutes last March when she tried to convince parents and teachers that school uniforms would increase test scores and decrease unacceptable behaviors. Her effort failed.
Rabinowitz won the Hamden super contest and took over Sept. 24, 2007.
"I guess when I have some confirmation [about Bonner's employment disposition], I'll think about my reorganization of central office," said Rabinowitz.
The reorganization has already begun. Rabinowitz turned the director of instruction position into a director of language arts (reading and writing). Instruction director Arlene Cassella's last day is June 30, 2008. Rabinowitz said Cassella "will be assured a teaching position" at the top of the pay scale but it would be less than what she is currently earning.
However, Cassella said she's unsure if she'll take a teaching job or look outside Hamden instead.
The new language arts position pays $110,000, Rabinowitz said. It was posted internally and externally, and a committee of principals, a teacher, a director and Assistant Super Hamlet Hernandez was formed to choose the candidate.
They chose Marie Jordan Whitney, who has the same role in the Greenwich schools. Rabinowitz said Whitney will be taking a $13,000 pay cut to come here. She starts March 24 and will be paid by federal dollars until June 30, 2008, when the new budget kicks in, said Rabinowitz.
Asked why Whitney, who lives in Stamford and reportedly plans to move to Hamden or nearby, is taking a job for less money.
"We asked her why," said Rabinowitz, "and she said she wanted to work in a school system where there's evidence of collaboration among teachers and administrators. And she really wants to work in classrooms."
---
February 27, 2008
BOE Asking for $77.7M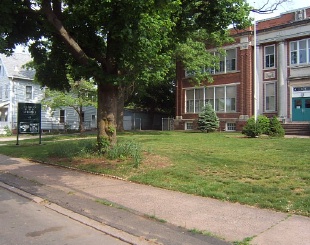 60 Putnam Ave. File photo
By Sharon Bass
Faced with stiff competition Monday with the Council meeting on dumped dogs found at the transfer station, still more than 100 people showed for the public hearing on the school budget, said Board of Ed member Lynn Campo. The hearing had to be moved to the gym for more space.
At the end of the evening, the Board unanimously approved a $77,736,335 '08-'09 budget, roughly a 3.19 percent hike over the current school tab. Superintendent Fran Rabinowitz had asked for a 6.95 percent increase or $79,284,965.
"This is probably the lowest request [percentage-wise] going in for any board of ed in this area," said Campo. About $23 million is expected from the state in Educational Cost Sharing, leaving local taxpayers with a $54 million-plus bill.
"I think they put in the essential programs and I didn't see anything gone that's going to hurt us. But it's tight," said Campo.
Three technology specialists from the superintendent's wish list were cut, said Board member Austin Cesare, whose motion to restore one specialist failed on a 3-3 vote. Cesare, Adam Sendroff and John Keegan voted in favor; Campo, Ed Sullivan and Michael D'Agostino voted against. (School board members Valerie Stone, Mike Dolan and Myron Hul were absent.)
"I believe since we're investing so much in technology we need to have another technology specialist to make sure the technology we're purchasing doesn't go to waste," said Cesare.
Campo countered that the district might not be able to afford to buy the "new technology," such as classroom computers, so the need for a specialist is not certain.
Another half-million dollars was cut from funding New Haven students to attend Wintergreen Magnet School. But Campo said that could come back to bite Hamden.
"The situation with New Haven is a big question mark," she said. Hamden has been footing the tuition at Wintergreen for 129 New Haven children, but New Haven could do likewise and stop paying for the 320-plus Hamden students who attend the Elm City's magnet schools. Campo said she didn't know how much that costs.
Sendroff made a motion to add a grant writer but it was defeated "because they felt they wanted to wait until after the Council deliberates the budget and gives us our final number to see if we can afford it," said Cesare.
One of the two custodians at Alice Peck School was eliminated plus "a lot of little cuts," said Campo.
Next stop: the mayor's office.
---
February 12, 2008
Everyone Goes, or No Deal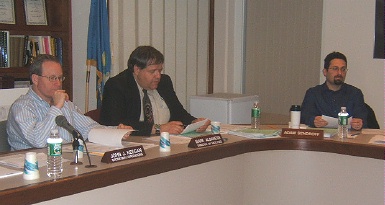 Operations Chair John Keegan, Facilities Manager Mark Albanese and committee member Adam Sendroff at last night's meeting. Photo/Sharon Bass
By Sharon Bass
The school Operations Committee made one thing quite clear last night: It's all or nothing when it comes to moving to Government Center. Either all central office staff move or there will be no move.
Otherwise, committee members said they were "optimistic" about the relocation; it's just not going to happen real soon.
"I'm optimistic but everyone has to move from central office," said committee Chair John Keegan. On Feb. 4, the committee toured their possible future home on Gov Center's ground floor. The main concern was whether there's adequate space, both inside and out on the parking lot.
In the schematics the town had prepared last year, room was made for 25 to 30 school staff members, said school Facilities Manager Mark Albanese. He said the drawing doesn't include the five directors and their secretary.
"It's critical the directors are near the superintendent and assistant superintendents," said committee member Adam Sendroff. Referring to last week's tour, he added, "I thought the space was nice."
Last year, the mayor pushed for the merger. He said it would happen by summer 2007, with the school's Finance Department leading the way. But Keegan has slowed down the process to see if it would work and be cost-effective. Also, he said, "you just can't move the Finance Department," which the school's 2006 audit suggested.
His committee will eventually make a decision pro or con and then give it to the Board of Ed for a final vote.
"It happens to be budget season," said Keegan. "If this [the move] somehow cuts our operating costs, that would be a real bonus. Otherwise, it's a game of musical chairs. And what do we do with this facility?"
"The reuse of this building is key," said Sendroff.
Various ideas have been thrown around about 60 Putnam Ave., such as selling it to the private sector. Monday evening Keegan suggested using the space to expand the preschool program at Alice Peck. He said it's a breakeven operation funded by grants and sliding-scale tuition.
Keegan referred to a 2002 study of the central office move, which indicated it would be a pricey venture.
"We concluded it would be a very experience undertaking. The costs would be prohibitive," he said.
What's different now?
"Nothing is different," he said.
However, Keegan said "it's way too early to make the call about the move," and what 60 Putnam could become. He said he'd ask Chief Administrative Officer Scott Jackson for a redraw of the schematics to reflect the committee's changes, such as added work space for the five directors and secretary. And he'll ask the superintendent and her assistants to attend the Operations Committee's next meeting on March 4.
A move would have to occur in the summer when school is out, said Keegan. Asked which summer, he said he didn't know.
---
February 6, 2008
Hamden's 50 Top-Dollar Educators



Assistant Superintendent Portia Bonner crowns the list at $134,635. Click here to see who the other 49 highest-paid school employees are.
---
February 5, 2008
Walkin' the Move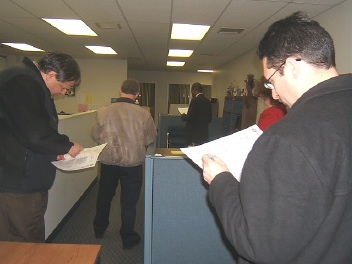 With schematics in hand, school Facilities Director Mark Albanese (left) and BOE member Adam Sendroff (right) tour the space in Government Center earmarked for them.
BOE, school officials take a field trip with Scott Jackson
Story and photos by Sharon Bass
During their virgin tour of the office space in Government Center they may one day call home, school folks seemed open-minded about moving there but often questioned whether there is enough conference space, parking space, staff space and where the boardroom would go.
Tour leader Chief Administrative Officer Scott Jackson told the group that the town will do its best to accommodate its space needs. Mayor Craig Henrici has been pushing for about two years -- and most doggedly last year -- to get central office under the town roof. But nothing moved forward until now.
One of the biggest concerns voiced during Monday evening's tour was the boardroom. The current one at 60 Putnam Ave. is a needed 960 square feet, said school Superintendent Fran Rabinowitz, and even with knocking down walls at Government Center it would be hard to create a boardroom that size.
"If we can get the boardroom here and we have my conference room and another, I'd be fine," she said. Rabinowitz, the Board's Operation Committee, Council President Al Gorman and school facilities director Mark Albanese took the tour.
"We'd love to have our boardroom here," said committee member Mike Dolan.
"If that's [boardroom] the priority, we will do the best we can," said Jackson.
The school department's new home would take over the Legislative Council and Parks & Rec offices on the main floor. Jackson said "it's to be determined" where those workers would go.
The central-office floor plan McCabe designed for the town last August was used in the tour, but amended every step of the way.
The tour started right outside the two offices. Jackson said the doors to those departments will be ripped down and a new and larger entrance would be built in front of them.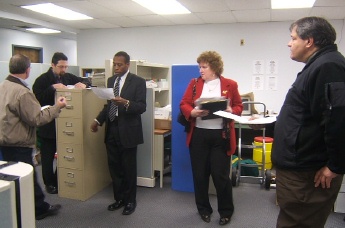 Chief Administrative Officer Jackson (center) explains what could go where to (from right) Mark Albanese, Superintendent Rabinowitz and Board members Adam Sendroff and John Keegan.
Then Jackson led the group through the Legislative Council Office. He pointed to a 250-square-foot space designed for three payroll employees. Rabinowitz said their current office is 400 square feet and there's not much elbow space.
"In my book, they're pretty squished in there," she said.
"250 isn't going to work," said Operations Committee Chair John Keegan.
Walking along the back of the office Jackson pointed to the offices for the super, assistant supers, secretaries and finance. "Engineering tried to give everyone dedicated office space," he said.
"It reminds me of Putnam Avenue in that the hallways are so huge, it's wasted space," said Rabinowitz. She also suggested getting rid of "at least" one of the two kitchens to allow for more staff space.
Asked for a ballpark figure on the renovation cost, Jackson said, "We're showing it to the Board for the first time. We don't even have an idea of what it will look like. We're just starting the conversation now."
Then there's the parking. Jackson said on a Friday at 10:15 a.m. he counted 72 vacant spaces in the Government Center lot. He said he didn't know how many parking spaces there are in total.
Rabinowitz said 72 would not be sufficient, especially when there are teacher-training workshops.
"You guys are here first [in the morning]," said Jackson. "It's not your issue" if there aren't enough parking spaces.
Post-tour, school folks said they will mull over the info to see if the move is a can-do.
"This is our initial walkthrough," said Keegan. "We're seeing if this will fit us."
"I need some time to go through it," said Rabinowitz. "I want to make sure there will be enough space."
The Operations Committee will discuss the walkthrough at its Jan. 11 meeting at 6:30 p.m. in the current boardroom.