Schools
February 17, 2007
By Sharon Bass
Since Alida Begina was a child, she has worked. Nonstop. "I think I've worked since I was 12 years old when I started babysitting," said the Hamden school superintendent, who
said Friday
she was retiring after 12 years. The 56-year-old said she's uncertain about her next step. But at least for now, Begina will experience something she hasn't in a long time. Being unemployed.
Begina said she plans to file for her state retirement within the next month. Her last day at the helm of HPS is to be worked out with the Retirement Board and the Board of Education. It will be by June 30.
She has two daughters, one a Madison teacher. And she has one grandchild, a boy named Jackson. So inspired by him, Begina has written six children's books based on Jackson, and so far one has been published, "Jackson has the Hiccups." Another, "The Colors in Jackson's World," should hit the presses any minute, she said. All proceeds are used to buy books for the public school libraries, she said.
Reading is also something the outgoing superintendent has done nearly all her life. Nonstop.
"I think books are so important and I love books so much," said Begina. "Reading has always been a big part of my life. I would hide under the covers when I was a child with a flashlight to read. Books have always been a treasure to me.
"This was a difficult decision [retiring] for me and my family. But I believe it's the right time. I need to concentrate on my health, and retirement will allow me to do that. Having just completed my 12 years as superintendent, I can reflect with pride on the accomplishments of the district and these accomplishments would not have been possible without a dedicated staff. I also want to thank previous and current board members for their direction and support during my tenure. I will miss everyone greatly.
"One of the accomplishments of my tenure was implementing Wintergreen Magnet School. It was the first magnet school of its kind in a suburban town. It's going into its 10th year.
"I've overseen $160 million of construction. When I came they had just started renovating Dunbar Hill. Then we went onto Hamden High School. Completely renovated Wintergreen to be the magnet school. Bear Path, Spring Glen and the middle school.
"Five years ago, we had zero all-day kindergarten and now we have 23 sessions. To me that's a huge plus for the town. And we have now two preschools. Hamden actually ranks low in the number of kids who go to preschool. So we know there is more need for preschool places. We know how important that early start is.
"Also five years ago, we were able to establish the Hamden Education Foundation with the support of the community, which has raised over $400,000 for students.
"The other thing that's important is providing a broad spectrum of opportunities for students including the arts, middle school athletics, 14 advanced placement classes and school-to-career choices, such as the culinary arts program at the high school. Offering as many options as possible has been a goal for me.
"I've been a consistent advocate for increased educational funding. We've had a decade-long adventure of lobbying in Hartford with parents. Working with the state legislators. We've tried different tactics and different strategies. If the Legislature had not capped the ECS, Hamden would not have lost the $45 million it did over the last 10 years. That's why I think it's worth advocating for. It's certainly something that would benefit Hamden. And it's really the intention of the state Constitution for towns not to have to rely on property taxes.
"It's understandable that there would be tension between a town and a board of education because there's only a finite supply of money. I appreciate the town's investment in public education. I think the challenge is to constantly be working with people and advocating for education. So I see that as being a big role for the superintendent, to be an advocate for the needs of the students.
"I always loved school and I loved learning and I think it was that passion that led me to education. That I could share that same love and desire to people who want to learn and even learn beyond their formal schooling. Beyond the high school diploma. I've taught Latin, English and Spanish. I taught a little ancient Greek as a club. Then I did some staff development curriculum for ACES. And then I did some central office work in two districts, New Britain and Bethel. And then I became a superintendent. I'm going to leave my options open. I'm not sure what I'll be doing. I'll definitely be spending time with my grandson. It's a unique experience."
-----------------------------------------------------------
Reactions to Begina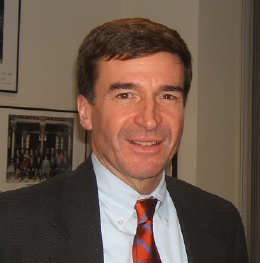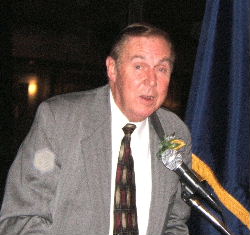 Mayor Henrici and former Police Chief Nolan.
By Sharon Bass
This past Tuesday, Superintendent Alida Begina told the Board of Education she was retiring. Yesterday, she publicly announced her decision to leave Hamden Public Schools after 12 years.
Begina's contract was to expire in 2008. While a replacement is being sought, all signals point to Assistant Superintendent Portia Bonner taking over in the interim. She has the credentials, which the other assistant super, Hamlet Hernandez, does not. Messages left for both were not returned. The Board will make the decision after Begina retires, which will be no later than June 30.
As a new school dawning is about to break, the HDN asked Board members (and others) how they feel about Begina's departure and what they want in a new super.
"I think because of health concerns was the reason she gave us. She didn't want to elaborate further," said BOE's Austin Cesare. "I'd like to wish her the best in her retirement. I look forward to an extensive search for a new superintendent.
"I think we owe it to the taxpayers to get someone who's new and innovative. And somebody who's going to address our test scores. And that person should be someone who's new and not beholden to Hamden or Hamden politics. Someone new and refreshing.
"She could leave in a month or she could leave in June," Cesare continued. "The ultimate goal is to have someone hired before she leaves so they can make the adjustment and be ready for the fall."
Cesare, a Milford schoolteacher, said a six-year certificate and a state superintendent certification are needed to serve as an interim. "As far as I know, Hernandez doesn't have [the certifications] and Portia recently got hers," he said.
"I'm going to miss her," said Lynn Campo, a Board member. "She hasn't been able to do what she used to do. You have to understand, this woman had been phenomenal forever. Look at all the buildings we built. The superintendent was everywhere, doing so much. She's just an incredible person when it comes to curriculum and ideas."
This year, the Board gave Begina her first negative review. "It was always excellent until this year. It started to show she could not keep track of everything. We had little things falling through the tracks. She wasn't there enough," said Campo.
"I think Portia is the only one who is qualified to be the acting. So I believe there is a sense that she would be acting until we can get together a search committee," she said. "We really need someone who can manage the diversity. There is wide diversity in schools. And someone who's strong in curriculum.
"It's almost scary because she was appointed superintendent [in early 1995] months before I was first elected to the board. So she's the only superintendent I know. We're going to miss her," Campo said. "It's difficult. I developed real trust in her. That's something that always takes time to develop. If you look back at Mr. [Ken] Henrici of Wallingford. He didn't have the trust of that board." Last year, the Wallingford Board of Education voted not to renew superintendent Henrici's contract.
"I have mixed emotions. She's been a very dedicated public servant over the past 12 years and we'll miss her expertise and dedication," said Board member Mike Dolan. "Unfortunately, some things beyond her control have forced her to not be able to finish her contract. But we're going to move forward and have a very comprehensive search." Dolan chairs the Personnel Committee, which is charged with spearheading searches. He said the committee will get input from parents, teachers and students and likely hire an outside job recruiter -- "a must in today's times."
"I think an awful lot of Portia. I also think a lot of Hamlet," Dolan said, not wanting to elaborate about the interim spot.
Mayor Craig Henrici said Board Chair Michael D'Agostino just told him yesterday about Begina's retirement.
When Henrici was Council president, he said he and Begina had monthly breakfast meetings, a practice the super initiated and which ended when Henrici left the Council for the state Legislature in 1997.
"Many times being a superintendent, it's a thankless job," said Henrici. "She's enjoyed a long tenure in Hamden and I wish her a long and happy retirement. Since I've been mayor I haven't had a lot of give and take with her. It's been easier to touch base with Hamlet."
"I had the pleasure of working with Alida, not only as chief but when I was an inspector," said former Hamden Police Chief Bob Nolan, who wanted to talk to this reporter after learning about Begina. "As superintendent, she was one of the most cooperative individuals. She was totally supportive of the police department in every way, manner or form.
"I think it's a sad day. It's Hamden's loss to lose a woman of such stature. If I was still chief there, the one thing I would have to say is I would definitely miss her and I would also wish her the very, very best and enjoy her retirement. She certainly earned it. She's a fine lady."
---
February 16, 2007
Begina to Leave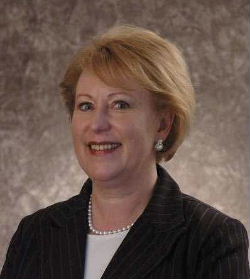 By Sharon Bass
School Superintendent Alida Begina is reportedly leaving her post some time between now and June, according to an unnamed, inside source. The source said Board of Education Chair Michael D'Agostino "pushed her out," and Begina will not get any severance or other kind of buyout pay. It is unclear who the acting superintendent will be.
The initial source, backed by another inside the school system, said D'Agostino had said, "I do not want Sharon Bass to get this story," and fed it to the New Haven Register.
Begina's contract expires in 2008. She has been at the helm of the Hamden Public Schools for 12 years.
Messages left for Assistant Superintendent Hamlet Hernandez, Begina and D'Agostino have not been returned. Stay tuned for more details.
---
February 14, 2007
Vive La Difference? Non?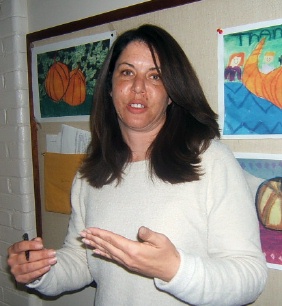 PTA prez Sue Foraker says no to uniforms. Photo/Sharon Bass
BOE, parents collide over mandating school uniforms; and Hamden High's Locke to take over for Pepe
By Sharon Bass
Sue Foraker said she doesn't mind that her Hamden High son wears baggy jeans and exposed boxer shorts to school. "I care what's going into his head, what he's learning," she said. And, please, don't make him wear a uniform, the Dunbar Hill PTA president implored the Board of Education.
Last week, the Curriculum Committee voted to have students in kindergarten though grade eight wear uniforms starting next year. Last night, the full Board and public discussed it. Contrary to earlier feedback from parents, those who attended last night's meeting and wrote letters to the Board -- as well as several BOE members -- voiced strong opposition to every child being forced to look the same. Parents were also taken aback by the suddenness of it saying they were not informed.
"This has come as quite a surprise that this is being taken up as a vote already," said Michelle Humble, president of the Spring Glen PTA. She said she's not crazy about the idea and it needs to be discussed with parents and the PTAs.
"It's a public school. Children need to express themselves," Foraker said, and wondered if teachers and administrators would have to wear uniforms, too. "I see [some] teachers coming to school and they don't look too professional."
"I don't like the idea of uniforms," said PTA Council president Tim Nottoli.
Board member John Keegan asked if the school system is regressing. "We seem to be going back 100 years," he said of the uniform and last year's same-gender classroom ideas. "I'm more perplexed by uniforms than anything. It doesn't achieve what we're interested in doing. How do we train and educate them?"
Mike Dolan agreed. He suggested instead of uniforms, school administrators should enforce the current dress code. "I don't think the [clothing] competition goes away with uniforms," he said. What about footwear?
But Austin Cesare, chair of the Curriculum Committee, and Assistant Superintendent Portia Bonner were 180 degrees away.
Bonner argued that uniforms "foster a safer environment" because they make it easy to spot people hanging out in schools who aren't students and may cause trouble. Wearing the same outfit reduces peer pressure, prepares children for the work world and would save their parents some money, she said. Parents, not tax dollars, would pay for the uniforms.
Her arguments were well backed up by the 695 parents of children in K-6 who were given a survey asking if they are for or against uniforms. Some 487 said yes; 181 said no; 12 were undecided; and 15 wrote nothing. But last night's opponents contended it wasn't a large enough or fair sampling, especially since no seventh- or eighth-grade parents were surveyed.
"I'd like a little more time," said BOE member Lynn Campo. "The PTAs haven't been involved. We blindsided everyone."
Cesare said his committee's intention was not to have the Board vote on it Tuesday evening, but to discuss it. However, it was listed under the consent agenda as: "Approval for the implementation of school uniforms for students in grades K-8, starting in the 2007-08 school year (Curriculum Committee, February 7, 2007). At the beginning of the meeting, it was pulled for discussion along with two other items, which were both voted on.
Myron Hul seemed to like the idea. He said he wore a school uniform until he was 12 and it wore off on him. "I don't like casual dress," he said. "We already do have a dress code, which is the principals' responsibility to enforce. At the same time, the students need a role model."
Hul wanted to know what happened at Church Street School.
Five or six years ago, Bonner said the elementary school did a voluntary uniform pilot. "It didn't go so well," she said but didn't elaborate. She told Hul she would look into it. (Bonner joined the Hamden School Department less than two years ago.)
Valarie Stone also voiced support for the concept. "I do believe it fosters a better learning environment," she said.
Chair Michael D'Agostino wrapped it up by sending the proposal back to committee and instructing his Board to solicit more input from parents.
"I feel that many BOE members do not understand the impact of uniforms, and PTAs need to be notified and given ability to take part in discussions," PTA president Humble said after the meeting. "Dr. Bonner's survey is not anywhere near an accurate reflection on parental support or disapproval."
In other school news, middle school principal Frank Pepe is expected to leave his job next Wednesday to begin his new position as principal of Southington's Joseph A. DePaolo Middle School. Superintendent Alida Begina said Dexter Locke, an assistant high school principal, will step in for Pepe while a search is conducted. The position has been posted internally, she said, and will be advertised externally.
-----------------------------------------------------------
School budget passes 5-3
By Sharon Bass
Saying that teachers could be cut if the school budget is cut on the town side, Board of Ed Chair Michael D'Agostino gave the nod with four of his seven peers to pass the school's $72,733,548 request.
"I hope the Council will be appreciative," he said right before last night's vote. "It's unheard of to have a 2.88 percent increase. If this budget is cut further, I fear it will impact teachers and classrooms. I'm hoping this will come back untouched by the mayor and Council."
Just four from the public spoke at the budget hearing, although 25 or so attended. One of the speakers was PTA Council president Tim Nottoli; another was meeting guru Meg Nowacki. And there were two mothers. D'Agostino said he was surprised there was so little public input. He said he got 12 e-mails yesterday about the school uniform proposal but not one about the $72 million budget.
"Presumably, after [the historic rise in property] taxes and everything, I don't think you're going to get your $72 million," said parent Cathy Muoll -- one of the four.
Muoll also complained that when she had asked what a certain line item contained, she was not given an explanation. Nowacki and BOE member Austin Cesare echoed.
"I'm going to be voting against this," said Cesare. "I think first of all, transparency is an issue. Quite frankly, I see these line items and I don't know what they are. Sometimes when I ask those questions I don't get all the answers I'd like."
For the third time this school budget season, Nowacki asked for a budget breakdown of the individual schools. She finally got her answer last night. D'Agostino told her he was against doing those breakdowns "so people don't think one school is getting more."
But Nowacki said that information has been available for decades, and said she wants to review it to see if money is distributed equitably among the elementary schools.
"Basically I was rebuffed," she told the Board about her attempts to get the budgets. "I'm not going to the FOI [Freedom of Information] for it. I think it's really not transparent when I have to push" so hard.
And she agreed with Muoll. "I'm not sure you're going to get what you want either," Nowacki said. She told D'Agostino she disagreed with his suggestion "to push Council" members to approve a new nursing supervisor position, which is in the proposed 2007-08 school budget for $70,000.
"You guys have spent a lot of good effort," Nottoli said. "That said, we need more money but the town" wouldn't approve that. "I think the nursing supervisor position should be funded."
Then the Board Went
Cesare, Myron Hul and John Keegan voted against the budget. D'Agostino, Lynn Campo, Mike Dolan, Valarie Stone and Ed Sullivan said yes.
"I have the same issues with this budget as I have had in prior years," Hul explained his opposition. "While I understand the need for fiscal responsibility -- the buzz word of the last few years -- I was not hired to be a fiscal agent." He said because the next fiscal year's revenues are unknown he could not support such a tight budget.
Keegan also called it tight. "It doesn't give us much room for error," he said. "There's absolutely nothing new or innovative [in the budget]." He said the impact of not funding the schools properly might not be felt next year, but it would down the road. And he advocated for the nursing supervisor.
Campo said neighboring school systems don't appear to be in such a bind. Wallingford, for instance, is looking at a potential 5 percent increase in its education budget, she said. "I hate to see all the cuts but obviously this is a tough period. I'm afraid to pare this down even more because we don't know what bill might hit us," she said.
In response to Cesare's remarks about lack of transparency, D'Agostino said that's not the case. "I do think our budget process is transparent. And if you're not happy with the answer, you can ask more questions." The chair said the school budget is more transparent than the town's.
"Not one dollar is hidden," said D'Agostino.
Next stop is the mayor's office. When he's done with the '07-'08 school budget, he'll give it to the Council for final approval.
---
February 12, 2007
Mentone, Sendroff Vie for Vacated BOE Seat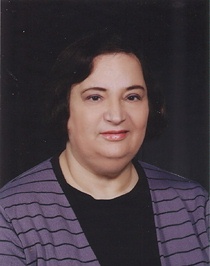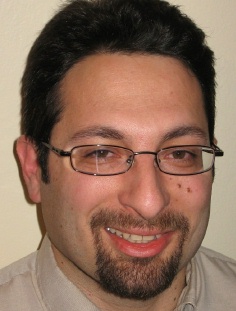 Rose Mentone and Adam Sendroff. Courtesy photos
By Sharon Bass
A teeny political contest later this month may forecast the bigger picture for August, especially in some Council primaries.
Two Hamden Democratic Town Committee members are going after Jennifer
McGrady-Heath's school seat
-- in a seeming struggle between the old Democratic guard and the newer. McGrady-Heath left the Board Feb. 1 because of family matters. Seasoned Hamden politico Rose Mentone is competing against newcomer Adam Sendroff, 35, who stepped into local politics last year when he joined the committee. He was born three years after Mentone earned her bachelor's degree.
The town committee will take the vote Feb. 22, however it is not binding. The decision lies with the Board of Education, which can entertain the DTC's choice or completely abandon it coming up with its own name(s). McGrady-Heath's term expires this year.
According to several inside sources who asked not to be named, BOE Chair Michael D'Agostino is pushing hard for Sendroff. Contact, however, was not attempted with D'Agostino because he has not responded to one message from the HDN in about a year.
"I feel that with my résumé I have a lot to offer the town of Hamden," said Mentone, town committee secretary and a retired teacher and school administrator. "I'm a lifelong Hamden resident. I spent my whole career in education in New Haven and also being a former teacher and administrator, I see both the financial and educational aspects of the school system. And I think my background in politics gives me an advantage because I have to work with both the Board of Education and the Legislative Council."
Mentone is the only woman so far to chair the HDTC. She served at the helm from 1983 until 1988. She was on State Central Committee from 1988 to 1994. And last year was elected to the local DTC.
In 1993, she filled a BOE vacancy but lost the primary that year to retain the seat. She tried again in 1995, but didn't get the town committee endorsement.
In response to the recent discoveries of improper spending at the school department, Mentone said, "It's hard to say what I would do until there. I would try to have conversations with the councilmembers who seem to know the situation. See what they want to do with the documents. The current Board members are embroiled with this now and know much more than I do. All I know is what you [HDN] write."
Sendroff is the marketing and sales director for Garland Science, a scientific textbook publisher. An '89 grad of Hamden High, he is the PTA Council rep for Ridge Hill School (where his 7-year-old attends) and on the town's Community Development Advisory Commission.
"I would say I'm running because I'm interested in participating in the decision-making process of the Hamden Public Schools," said Sendroff. "It has an immediacy knowing that it affects not just my children but all children who go to school in Hamden. The town is at a critical point right now and since the school budget is more than half of the town budget, I want to make sure money is spent responsibly."
Sendroff said he's for moving central office to Government Center. Wants the BOE to investigate using alternative energy "because electricity is our biggest driver this year," he said. And wants to explore the possibility of creating a new position for a school grants administrator to bring non-local tax money into the schools.
"I'm not saying let's do this, but let's see if it's possible," he said.
About the improper school expenditures, Sendroff said "protocols and procedures need to be followed and tightened. The recent reforms aimed at school transparency and spending are great." Sendroff was referring to the BOE's proposed purchase-policy reform Chair D'Agostino presented this month to the Legislative Council.
"I think the Board should be more accountable to the public," said Mentone. "Obviously, the public has a lot of questions. And they have an obligation to respond to the public as best as they could. It's hard for me to say if they've been as open and honest as they could be. The public deserves answers about the [computer-wiring] purchase orders. They deserve it openly and accurately."
Neither contender would say whether he or she would ask the Board for consideration if town committee turns them down. But Mentone said if she does become McGrady-Heath's replacement she will run for the seat in November. Sendroff said he didn't know.
Mentone's Letter to the HDTC
February 2, 2007
XX XXXX Street
Hamden, CT 0651X
Dear Town Committee Member:
I would like to fill the vacancy on the Board of Education. As many of you know, I have a lifelong career in education in a diversified school system. Also, as many of you remember, I had my name placed in nomination at the convention last July and many of you supported me at that time.
Attached is my résumé for your perusal. I hope I can count on your support the night of February 22, 2007 at the Town Committee meeting. If you have any questions, you may reach me at home, XXX-XXXX or by e-mail: XXX@XXXXXX.com.
Sincerely,
Rose V. Mentone (signature)
Rose V. Mentone
Sendroff's Letter to Chair McDonagh
Dear Mr. McDonagh,
I am very interested in filling the recent vacancy on the Board of Education. I am eager to participate in the decision-making processes concerning the Hamden Public School system.
As a parent of a first-grader at Ridge Hill (and a kindergartner enrolling this September), I see first-hand both the challenging and encouraging aspects of our school system. I would approach BOE decisions not only as a taxpayer, but also with the immediacy of knowing that the Board's actions will affect the education of my children, as well as all of the children in our community attending public schools.
My time on the town-wide PTA Council has introduced me to the experiences and perspectives of the varied schools around our diverse district, and has provided me with a forum to pay close attention to the school budget process.
I attended all Hamden public schools myself. I was educated at Shepherd Glen, The Hamden Middle School, and Hamden High. Since receiving a bachelor's degree in history from the University of Massachusetts at Amherst, I have been working in academic publishing.
I favor the move of the school administration from 60 Putnam Avenue to the Hamden Government Center, not only for the obvious cost-savings and synergies, but also to improve the relationship between the BOE and school administration with the town side of government.
I feel it should be a priority to direct spending on the process of teaching and on things directly affecting success in the classroom, as opposed to administrative costs, especially in this era of the No Child Left Behind mandate. To this end I support the recent reforms aimed at transparency in purchasing. Besides our longtime hope of the state Educational Cost Sharing cap being removed, I'd like to explore alternative revenue sources, specifically looking into whether the position of a Grants Administrator could work on the school side as it does on the town side. It is disheartening to see in this year's proposed school budget the skyrocketing cost of electricity. Perhaps it is time to seriously investigate whether alternative energy sources, such as fuel cells, are feasible to implement and if grant money is available for them.
I am confident that I can work with the BOE and town leadership. I am committed to the promise of public education. I feel invested in, and obliged to, Hamden Public Schools. I would be honored to serve on the Board of Education, and I respectfully ask you for your support.
Sincerely,
Adam Sendroff
Fifth District, DTC
---
February 6, 2007
Committee Passes 2.8% School Budget Increase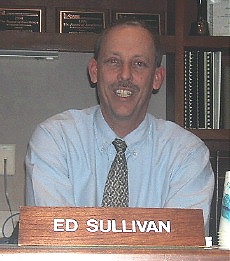 Finance Chair Sullivan. File photo
And the middle school lights are (kind of, sort of) off
By Sharon Bass
With just two votes, the Board of Education's Finance Committee lopped off $1,392,491 from the superintendent's 2007-08 budget request last night. Alida Begina had presented a $74,126,040 proposal a few weeks ago, marking a 4.85 percent increase over this year's budget. The committee recommendation came in at $72,733,548, or 2.8 percent more than the 2006-07 fiscal year.
"This budget represents where we'll be able to maintain the programs we currently have without deleting teachers or programs, that are working," said Finance Chair Ed Sullivan. "This was a very hard year because of the financial state of the town."
Sullivan was the only committee member to show up, so BOE Chair Michael D'Agostino sat in for just-departed member Jennifer McGrady-Heath. Austin Cesare also participated but could not vote since he's not a finance member. Since the committee has three members, two made a quorum.
Teachers and administrators had been asked where they thought cuts could be made, Sullivan said. The feedback was to save teaching positions above all else.
"They'd rather take money from supply lines and try to get by without all the extra supplies they may need or want," he said, "and preserve teachers."
One line item that was heavily trimmed was "periodicals." Sullivan said Begina asked for a 290 percent increase. "Someone said to me a child will pick up a Teen Sports Illustrated as opposed to grabbing a book," he said. But Sullivan argued magazine content can be found on the Internet. So "periodicals" was reduced to the current year funding level.
The full Board will vote on the budget Feb. 13. It will then travel to the mayor and then to the Legislative Council for final approval.
Here are the recommended cuts to Begina's requests for the '07-'08 school budget:
Central office salaries: $43,384 (super's request, $1,295,018)
Director salaries: $70,000 (super's request, $1,314,633)
Teacher salaries: $175,000 (super's request, $33,941,836)
Nurse salaries: $103,413 (super's request, $997,392)
Clerical salaries: $124,667 (super's request, $1,781,064)
Aide salaries: $88,109 (super's request, $1,793,078)
Custodian salaries: $112,403 (super's request, $2,268,720)
Maintenance salaries: $17,379 (super's request, $518,772)
Security/residency/attendance: $50,087 (super's request, $301,090)
Life insurance: $24,000 (super's request, $180,000)
FICA ER expense: $16,000 (super's request, $601,000)
Medicare ER expense: $16,000 (super's request, $562,000)
Unemployment compensation: $700 (super's request, $68,000)
Workers' Compensation: $5,300 (super's request, $337,000)
Annuities/defined benefit plans: $3,500 (super's request, $80,000)
Professional services: $10,000 (super's request, $799,000)
Technical services: $5,000 (super's request, $170,000)
Repair and maintenance, equipment: $12,000 (super's request, $50,200)
Repair and maintenance, buildings: $10,000 (super's request, $230,000)
Transportation, public: $50,000 (super's request, $3,064,500)
Liability insurance: $40,000 (super's request, $540,000)
Other insurance/benefits: $1,700 (super's request, $1,800)
Postage: $59,750 (super's request, $3,000)
Advertising: $2,000 (super's request, $10,000)
Printing and binding: $16,000 (super's request, $240,343)
Tuition, public: $200,000 (super's request, $7,558,955)
Staff travel: $7,000 (super's request, $45,650)
Staff conferences: $10,000 (super's request, $28,750)
Student activities: $30,000 (super's request, $193,300)
Maintenance supplies: $10,000 (super's request, $183,500)
Electricity: $50,000 (super's request, $2,401,000)
Textbooks: $75,000 (super's request, $312,512)
Periodicals: $16,850 (super's request, $22,650)
Instructional software: $25,000 (super's request, $112,150)
Non-instructional software: $7,000 (super's request, $70,000)
Non-instructional equipment: $10,000 (super's request, $83,750)
Dues and fees: $12,000 (super's request, $50,900)
About the Lights
The emergency lights at the new middle school, which have been glowing 24/7 and producing super-high electric bills, have been shut off. Sullivan said a temporary fix has been applied, but a permanent one is still in the oven.
Stay tuned.
---
February 2, 2007
'I Want Hillary'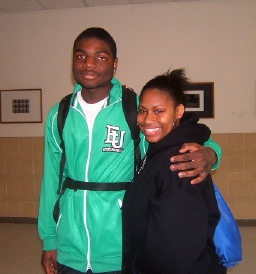 Marquise Knight and Lisa Christy just registered as Democrats.
Local students get revved up to begin their voting careers
Story and visuals by Sharon Bass
Hamden High set a new record for Secretary of the State Susan Bysiewicz Thursday morning, when 189 seniors registered to vote -- topping all other schools she's brought her get-out-the-young-vote message to.
At around 10 a.m. in the school auditorium, Bysiewicz implored the class of '07 to vote, vote, vote. She gave them the standard pitch and the kids seemed to really dig it (or getting some time away from class). Then registration forms were passed out.

Bysiewicz implores Hamden High seniors to register to VOTE.
"I hope you direct that enthusiasm to voting," Bysiewicz said to the energetic, chatty kids. She told them it's important to watch what's going on in Washington, D.C., Hartford and Hamden. She spoke of a possible draft for 18- to 24-year-olds. Of pending state legislation. Of local taxes.
"The saddest moment was going to the funerals of the 28 [Connecticut victims] killed in the Iraq War," she said.
"Even though you don't think one vote is important, it is," said Assistant Superintendent Portia Bonner. "We're at war. I hope you pay attention today. Make sure you vote."
Bysiewicz asked the crowd how many favor the Iraq War.
Six hands went up.
She asked how many are in favor of a draft.
The same six hands went up.
"This is why it's so important to be informed of who's running for office," Bysiewicz said. "Pick a party and vote."
Later on in the day, the registration forms revealed of the 189 who registered yesterday, 87 students chose unaffiliated, 86 Democrat, 15 Republican and one the Green Party, according to her office.

Hamden High senior Jarvis Manning, 18, talks about being a new voter -- and the Iraq War. Click arrow above to listen in.
"I can't emphasize to you enough the importance of voting," said Town Clerk Vera Morrison. "Some countries can't vote. Women and blacks didn't use to be allowed to in the United States. You are an American and you are the future for us. Take this right to vote as an American seriously."
High school principal Gary Highsmith added, "It's not just important to be a voter. It's important to be an informed voter." The Internet, he said, is a good place to get candidate info.
Bysiewicz had mentioned that the fine for using a cell phone while driving is doubling from $100 to $200. Lauren Edwards, 18, didn't like that too much.
"I didn't know about the fine going up on the cell phone thing," the senior said. About the draft, Edwards remarked, "I don't like it. I think it's too young." About the Iraq War, "It's stupid. We shouldn't be fighting."
The messages seem to stick with Marquise Knight, 18. "It was pretty interesting. Someone said you can't complain if you don't vote. I think [the Iraq War] is horrible. I can't stand Bush. He's just trying to follow what his father started." Knight said he's off to college in the fall, hopefully Rutgers, to study theater.
And Lisa Christy thought Bysiewicz's assembly was quite effective. "It helped a lot of kids out if they didn't know how to vote," the 18-year-old said. Both she and Knight said they registered as Democrsats yesterday.
"I think the Iraq War is bull," said Christy, who was accepted to Yale but is starting her college career at Post University in Waterbury instead. She wants to be a pediatrician. "We shouldn't be over there messing up another country. I want Hillary [Clinton in '08]. I can't wait."
---------------------------------------------------------------
McGrady-Heath Leaves School Board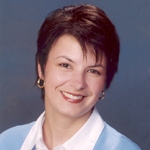 Jennifer McGrady-Heath. Courtesy photo
By Sharon Bass
Jennifer McGrady-Heath was one of three Board of Education members up for re-election this year. But the Democrat resigned yesterday because of significant family changes.
She gave birth to her first child, a son, last November. Then her husband was diagnosed with a serious illness. She said she was very committed to her role on the Board and found it increasingly difficult to do it justice.
"I struggled with the decision for the last couple of months. I wanted to be able to finish out my term. I'm someone who likes to complete commitments. But I just realized I couldn't do it," said McGrady-Heath, vice president for community leadership for the United Way of Greater New Haven.
At the Feb. 22 Democratic Town Committee meeting, Chair Joe McDonagh said there will be a nomination and recommendation to the Board for McGrady-Heath's replacement.
"I supported Jennifer when she was recommended by the town committee to fill a vacancy back in 2002. I campaigned for her in 2003 when she was elected to a full term, and I am sorry to see her go," said McDonagh.
McGrady-Heath said she was drawn to the Board because of her belief in good public education for all children.
"In Hamden, in particular, we were faced with hard choices, particularly during budget time. Overall I think we offer really excellent educational opportunities for kids. That said, there's always room for improvement," she said. "I was always surprised with the length of time it took to deal with capital projects. Things would be approved by the Council and there are so many different steps [after that]. People understandably would be frustrated. Why wasn't that fixed six months ago? That was actually eye-opening for me."
From the construction of the new middle school to bathroom improvements to the high school air-conditioning to the inception of all-day kindergarten, McGrady-Heath said it was tough going but an educational challenge for her as well. And she'll miss much of it -- especially the student interaction.
"I'm definitely going to miss hearing firsthand from students about the exciting clubs and classes they're part of. I will miss hearing from staff and principals about what I consider to be the creative things they are doing. And I'll miss the opportunity to provide input," she said. "I cannot see my interest in public education waning at all. I think I would be interested again" in serving on the BOE or a PTA."
Chair Michael D'Agostino's and Lynn Campo's terms also expire this year. A message left for D'Agostino was not returned, but one left for Campo was.
"I like Jennifer," said Republican Campo. "She was always hardworking and tuned into a lot of education issues. I'm happy for her and her baby. We worked together on a lot of issues so I'm sorry to see her go."
Campo, who's finishing up her third four-year term, said she's on the fence about whether she'll go for another.
"It's a long time to be on it. I have to assess my effectiveness. And I also want to know who else is interested. I've done a good time and I think I've learned a lot," she said. "I'm kind of listening to see what's going on with Republicans. If there are qualified people there who are dying to get on the Board, that might have an effect on my decision. But let me put it this way, the Board is a lot of work."
In addition to monthly meetings and sitting on two or more committees, BOE members have a healthy amount of homework. "Every Friday night we get a pretty sizeable packet," said Campo. "I've learned a lot. You hate to say, 'Gee, I'm going to toss it away, all this learning.'"
"I plan to stay involved," said McGrady-Heath. "I wish the Board well. They have some hard decisions ahead."
---
February 1, 2007
Examining Choice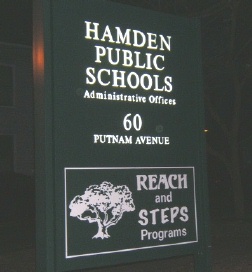 By Sharon Bass
In 1996, Hamden elected to take in students from New Haven -- and ship some of its own schoolchildren to that city -- to achieve ethnic and racial harmony. Eleven years later, the Hamden Board of Education is revisiting the voluntary state program, called Open Choice, to see if it's still needed.
"It racially balances our schools in the north end of town. Provides an opportunity for urban students to experience a better environment for their education as well as improve the quality of their education," said Assistant Superintendent Portia Bonner. "Open Choice was created to not only racially balance districts but to provide equitable opportunities for urban students."
But over the last 11 years, more minorities have moved to town and in just the last five, there's been a nearly 10 percent jump of minority students in the Hamden schools, said Bonner, going from 38.8 percent to 47.3 percent. (Click here for a school-by-school breakdown.) OC may have outlived its usefulness.
Bonner said 98 New Haven students were placed in Hamden last year, and 18 Hamden students have gone to New Haven.
"The legislation is written so that the racial balance doesn't get disturbed at either the sending or the receiving school," said Carolyn McNally, director of program development at ACES (Area Cooperative Educational Services).
Open Choice is run by ACES. It places children through a lottery system, drawn every April, and provides the school transportation. McNally said there is typically a waiting list of 100-120.
The per-student cost is less than for in-district kids since OC enrollment is capped if an extra teacher would be needed. The receiving district gets $2,000 from the state per child plus the state's educational cost-sharing contribution. The sending district pays nothing unless there are special needs, such as a personal aide or physical therapy, said McNally. The receiving district does incur extra costs, but the exact amount was not available.
As the name implies, OC is a school district's choice, not a mandate. Hamden is one of 14 communities in Greater New Haven to participate.
"It's up to the political and social will of the individual school district and the space," said McNally. OC was created after a Hartford family successfully sued the state Department of Education claiming their child didn't receive an equal to students in the neighboring suburbs. (Sheff v O'Neill)
Drawbacks
"I would like to say that I am a firm believer in neighborhood schools. I have a problem with busing students, sometimes over an hour and half each way, to be a part of this program," said Austin Cesare, the BOE's Curriculum Committee chair. "I think that we as a Board need to return to the concept of neighborhood schools. I think that Hamden students deserve to have lower classroom sizes."
At January's Board meeting, he said along with the extra cost to Hamden some OC students act out and are not showing the respect he thinks they should for being allowed to attend Hamden schools.
"We have serious budget issues to deal with this year and we should be looking after our own students first, before we go and look to take on students from other districts," Cesare said. "I am also concerned with the number of Open Choice students that have had discipline issues recently. Many students are found to be insubordinate to teachers and also have been expelled in the last year for offenses including bringing BB guns to school. I am concerned about that."
During that meeting, Assistant Superintendent Hamlet Hernandez shot back that OC students have no higher incidence of behavior problems than Hamden children.
To Bonner there's another drawback. "Most of our OC students start in our district after grade three [and] developmentally and educationally [these] students are under-performing their Hamden counterparts," she said. "Students who have been in a school from the beginning and are exposed to the curriculum do much better."
While McNally cites the long bus rides and the "strange environments" for OC children, she speaks more of the benefits of giving inner-city children a better learning environment. She said over 90 percent of the kids who graduate from the program go to college.
"It makes such a big difference for the children who participate and for the schools who welcome them," she said. "It's a very ambitious program. It's a hard thing to do but it's worth it."
Minority enrollment percentages in Hamden schools as of Oct. 1, 2006 (Information provided by Assistant Superintendent Portia Bonner.)
Bear Path, 32 percent
Church Street, 72 percent
Dunbar Hill, 59 percent
Helen Street, 68 percent
Ridge Hill, 68 percent
Shepherd Glen, 69 percent
Spring Glen, 34 percent
West Woods, 31 percent
HMS, 52 percent
HHS, 47 percent
"I want to make sure we're being realistic about what we want to accomplish," said Jennifer McGrady-Heath. "I want to make sure we don't hurt our ability to improve performance."
Wrapping up, Sullivan said he hopes the state will come through with more money for the increase in utility costs. He then turned to Begina and asked, "If the Board cut $500,000 from this budget, what effect will it have on the system?"
That and other information requested by Board members to be presented during round two.