Letters to the Editor
July 29, 2006
It has been many years since I have retired from the Department of Police Services in Hamden, Conn. -- 26 in all. So, many of you -- the residents of Hamden, the members of the police department and the politicos -- may not even remember me but rest assured, I remember most of you and I have fond memories, to be sure.
I was born on Beacon Street in Hamden on July 28, 1926. And I served the town of Hamden for 27 years until my retirement in 1980. This day is a milestone in my life that I share with you. The years pass, but my memory is very strong and I miss many of my old friends and coworkers, and the fine town of Hamden -- but not the winters. I just wanted to take this opportunity to say hello and wish all of you the best.
Edward "Foxy" Vreeland
Scottsdale, Ariz.
----------------------------------------------------------------------------
Another Round of Douskey v. McDonagh
As always, I enjoy reading Mr. McDonagh's letters about protecting the status quo and his pal Joe Lieberman.
First of all, Mr. McDonagh faults me for not reading his letter too carefully. I did try but had trouble staying awake.
In his letter he defends Joe Lieberman by telling us that the senator really saved us money on our electric bills, and that things would have been a whole lot worse last winter and at the gas pump without Joe, who is really in our corner.
As anyone who pays a utility bills knows, fuel oil, gasoline, electricity and natural gas have gone unchecked. Supposedly, there is a shortage of refined petroleum products. But, Mr. McDonagh's excuses aside, the various industries that supply our utilities are enjoying unchecked, through-the-roof profits.
Of course, when it comes to defending politicians, there is no shortage of natural gas.
Concerning the Medicare and Medicaid bill, Mr. McDonagh is quick to point out that Sen. Lieberman firmly averred: "This president and this congress have stuffed what was once a decent bill ... [and] ... weakened it." By "this congress," I will assume that Joe Lieberman was talking about the one in which he serves as a senior and supposedly influential senator. Well, if he is so influential, why did the bill pass overwhelmingly? And how did the courageous, moral and compassionate Sen. Lieberman vote, after all his bombast? Did he vote for or against?
Well, neither. He skipped out on the vote. I don't know about you, but to me what a man does is more revealing than what he says. A guy who skips out on an important vote is not who I want representing me. I doubt if that's the kind of guy Mr. McDonagh wants either. But he's one of those town representatives, and they have to support the status quo. Personally, I have no investment in the status quo.
Mr. McDonagh tries to pick at the corners of my letter. It's like trying to level Mount Rushmore with a pair of tweezers. Here is the big picture. Other than allowing the oil industry free rein and the pharmaceutical industry carte blanche and taking free rides on corporate jets, what has Sen. Lieberman done? And you can always tell when Joe is in trouble. He starts showing up in diners, patting backs and pretending he is one of us. Yep, he's our moral compass all right.
I will agree with Mr. McDonagh about one thing. Yes, I am still bitter about not being selected fire chief. After all, Joe said he would get me an interview if I promised to take him riding in a fire truck after hours. I even told him he could play with the siren and ring the bell. I was really looking forward to riding around in that red SUV they give the fire chief. I understand free lunches go with the job.
All seriousness aside, the bottom line is still the bottom line. Politicians and diapers need to be changed often, and for the same reason.
Franz Douskey
Ives Street
---
July 28, 2006
At first, I thought I would not reply to Franz Douskey's letter regarding my article about the visit by President Bill Clinton to Waterbury. The tone of Franz's letter was so belligerent, shrill and abusive, that I assumed he was still bitter about being passed over for the Hamden fire chief position. Heck, he didn't even spell my name correctly. (Editor's note: Apologies for not catching the misspelling. It has been fixed.)
However, when I reread Franz's letter, I realized that, unfortunately, he didn't read my article too carefully. No doubt he read the headline ("Bill Clinton Did Not Disappoint") and jumped to the unwarranted conclusion that I was writing to argue the case for Sen. Joe Lieberman's re-election. I support Sen. Lieberman. That is true. However, the article was not about his re-election, but rather was what I think to be a relatively straightforward account of the Clinton visit. In fact, the reason I wrote the piece is because I was asked to do so, by the editor of this fine online newspaper. I didn't have a cause to promote, and I wasn't trying to shill for a candidate.
A few of Franz's points deserve a response. Franz writes, "What does Bill Clinton's charisma and polemics have to do with Joe Lieberman's ability as a senator? In a word, NOTHING!" He is right, but I don't think I ever tried to make that case.
Franz writes, "The next time you fill up at the gas pump, ask yourself what Sen. Joe has done to ease the pain." It is a fair question, which Franz doesn't get around to answering, so I will -- plenty. Just one example: In 2003, Sen. Lieberman proposed a complete overhaul of the CAFÉ (corporate auto fuel economy) standards, which would have encouraged Detroit to produce more fuel-efficient automobiles.
Franz writes, "When you heated your home last winter and had to pay double for natural gas and fuel oil, what did Joe Lieberman do for you?" In March 2006, Sen. Lieberman helped to broker an agreement that reduces by half the electricity rate increase that LICAP (Locational Installed Capacity) would have proposed. According to the Connecticut State Consumer Counsel, the settlement will save Connecticut ratepayers $800 million over four years when compared to LICAP. The head of the Consumer Counsel's office, Mary Healey, called the settlement "truly historic in the positive impact it will have."
Franz writes, "Next time you're at the drugstore and you have to deal with high prescription bills, ask yourself what Joe Lieberman has done to cut the profits of pharmaceutical companies and what he's done to make Medicare and Medicaid easier to use." In 2003, Sen. Lieberman opposed the Medicare Part D prescription plan, for exactly that reason, that it failed to rein in drug companies' profits. Sen. Lieberman said at the time, "This President and this Congress have … stuffed what was once a decent bill, the one that passed the Senate overwhelmingly earlier in the year, with irresponsible and hurtful ideas that, rather than strengthening Medicare, weakened it. And rather than offering -- just offering -- prescription drug benefits to millions of seniors who needed it, this legislation reduces the benefits that millions of seniors have today."
If Franz had called me, I might have been able to let him know about Sen. Lieberman's record. It might have spared Franz the pain of writing such a vitriolic letter.
There is one more point that Franz makes. "Next time you read about the mess in Iraq, the loss of American lives, ask how many members of Sen. Lieberman's family are in uniform fighting for what Joe Lieberman says he believes in. He's done nothing." Here, I think, is the crux of the problem that Franz and many other Connecticut Democrats have with Sen. Lieberman. The Iraq War. In this case, I have to agree with Franz. Not regarding his red herring about who in the senator's family is in uniform in Iraq -- that is a meaningless misdirection, a gewgaw draped over Franz's real objection.
But the Iraq War is the issue that separates most Connecticut Democrats, including me, from Sen. Lieberman. I have decided that we are better off with the Sen. Lieberman who has accomplished (and will continue to accomplish) so much for Connecticut on the vital domestic issues that Franz raised, than with a newcomer with whom I agree regarding the Iraq War.
Franz and I disagree, I guess; it's not the first time, and it won't be the last.
Joseph P. McDonagh
Democratic Town Committee chair
---
July 26, 2006
What does Joe McDonagh's long, tedious, gushing column about seeing Joe and Bill in Waterbury have to do with Hamden? OK, some people think Bill Clinton is a darling. And no doubt, he is a dynamic, persuasive speaker. With that said, what does Bill Clinton's charisma and polemics have to do with Joe Lieberman's ability as a senator?
In a word, NOTHING!
Since the editor decided to run the promo for Sen. Lieberman's campaign, under the fairness doctrine I would like to offer a few thoughts about the senator to the citizens of Hamden.
The next time you fill up at the gas pump, ask yourself what Sen. Joe has done to ease the pain. When you heated your home last winter and had to pay double for natural gas and fuel oil, what did Joe Lieberman do for you? Next time you're at the drugstore and you have to deal with high prescription bills, ask yourself what Joe Lieberman has done to cut the profits of pharmaceutical companies and what he's done to make Medicare and Medicaid easier to use.
Next time you pay your taxes, ask yourself what Sen. Joe has done to eliminate the
marriage penalty, what he has done to reform an outmoded tax structure. Next time you read about the mess in Iraq, the loss of American lives, ask how many members of Sen. Lieberman's family are in uniform fighting for what Joe Lieberman says he believes in. He's done nothing.
Bill Clinton's words are hollow platitudes. No doubt he can rally the mindless and those suffering from political amnesia, but when was the last time anyone believed anything Bill Clinton said?
When I'm in the voting booth, I employ one theory: Diapers and politicians should be changed often, and for the same reason.
Franz Douskey
Ives Street
---------------------------------------------------------------------
Contamination Just Below the Surface
As a loyal reader of the Hamden Daily News and as a member of the Newhall Advisory Committee, I have been very pleased by the attention you have given to the Newhall remediation site in southern Hamden. This is the largest residential remediation in Connecticut history, and it is very important that the community knows what is going on.
In your most recent article, however, you quote Pamala Moore as a "concerned resident" who had glowing words to say about state Department of Environmental Protection Commissioner Gina McCarthy, describing her as a "woman of her word."
It is true that Ms. Moore is a "concerned resident," but she is also a full-time paid subcontractor for the DEP who has received more than $40,000 in the past year to serve as the department's community liaison. It is disingenuous of Ms. Moore not to reveal herself as a person in the employ of the DEP's main contractor for the Newhall site, Loureiro Engineering Associates. (Editor's note: Moore asked not to be identified as a DEP employee in the story. Agreeing to omit that information was a mistake on the HDN's part.)
She is part of a massive public relations operation that has spent more than $400,000 in the past three years at Newhall. It is worth noting that the allocation of this and other state bond money at the site is currently under investigation by the State Auditors' Office. I would also note that her views of Commissioner McCarthy are not widely shared.
McCarthy has repeatedly failed to keep her promises to the community. At the December NAC meeting, her employees seriously misled the community about the extent of the contaminated area and the proposed timeframe for a cleanup plan. We hold out the hope that this time will be different, but let us all prepare ourselves to take the necessary actions to make the DEP live up to its obligations to this community.
Keith Darden
NAC member
Homelands Terrace
---
July 25, 2006
Just a note to tell you how much I enjoyed reading your article on Lockwood Farm. As a Hamden expatriate having graduated Hamden High in 1976, your article was a very pleasant trip down memory lane for me.
Having grown up in the Knob Hill neighborhood in the 1960s and mid '70s, I spent many long languid days running around that farm with the local kids and their dogs. The large "basaltic boulder" in your article has always been known to us as "Kay Rock."
It was a time when parents could let their children wander freely and explore their world without fear of harm. Kay Rock became a gathering place and an imaginary fortress where we spent countless hours watching the clouds roll by and observing nature. On clear summer nights, it became an observatory to lay back and watch the stars.
Although the farm was always "officially" fenced off, we had our own secret hole to slip under. Over the years I got to know many of the state workers that manned the farm, talking with them in the main barn and eating apples from cold storage in the basement. Thanks again for allowing this middle-aged and slightly overweight man to revisit his long ago childhood.
Thomas Connelly
Potomac Falls, Va.
----------------------------------------------------------------------
I have read the pros and cons about the town's help desk. So I decided to give it a call.
I live at the crest of one of Benham Street's hills. Pulling out of my driveway on to Benham Street can be very dangerous at times.
So I called the help desk on a Friday afternoon about my traffic concern. The woman that answered the telephone took all my information and said someone from the Traffic Department would get in touch with me. I thought to myself that I would not hear from the department for at least a month or two. [Editor's note: Hamden no longer has a Traffic Department.]
Boy was I surprised when my doorbell rang the next Monday afternoon. A person from the town was standing there. We spoke about my concerns about the traffic. He told me the history of Benham Street traffic and said a stop sign could not go on the top of a hill; he also said he would look into some other options.
In less than 24 work hours I got an answer to my concern, so on a scale of one to10 with 10 being the highest I would have to give this a 10 rating. All I can say to the people at the help desk and Traffic Department is thank you for a job well done.
Thomas Alegi
Benham Street
---
July 22, 2006
As the owner of a Hamden home my mom lives in and whom I visit frequently, and the sports editor of the Forum Publishing Group in Deerfield Beach, Fla., I am really on cloud nine.
Not only is my hometown team ripping through districts and sectionals in Connecticut, but my Florida team in Deerfield Beach is also in sectionals after going undefeated in districts. We open sectional play in North Miami this weekend.
So hopefully when I'm covering the Little League World Series for Sports Ticker next month, I will have the added thrill of cheering on both Hamden and Deerfield Beach.
Best of luck, Hamden Little League All-Stars! Keep it going!
Rick Menning
Florida
---
July 21, 2006
This year's increase in property tax is going to happen again at some point in time. I would like to suggest something new to the Legislative Council. It should look for a way where the town budget could only be increased by 10 percent maximum in any given year.
State Rep. Sharkey, whom I respect greatly, wrote in his newsletter: "The solution can't be found at the local level. Only the state can develop realistic, long-term alternatives to over-reliance on property taxes." I guess what he is saying is that our local taxes would go down and our state taxes would go up -- or maybe a new 5 percent value added tax (VAT) like they have in Europe.
Let me run this by you and I will keep the numbers small in this example. Let's say Hamden needs $1,000 so it turns to the state for the $1,000. The state gives Hamden the $1,000, but the state has to add its operating cost of $500 to the $1,000 so now the state has to come up with $1,500. The state has two ways of coming up with the $1,500. It can raise taxes or it can ask the federal government for the money. The state chooses to ask the federal government for the money.
The federal government gives the state $1,500. The federal government's operating cost on the $1,500 is $1,000, so the Hamden taxpayer now has to pay taxes on $2,500 in the long run. Any time you get the state and federal government involved in something it's going to cost the Hamden taxpayers more money.
Thomas Alegi
Benham Street
---
July 18, 2006
I wanted to write a letter to again thank and recognize Duane Wetmore for his great contributions to the town. The New Haven Register did a wonderful job recently featuring Duane and his family in the Friday North Edition. The recognition at the fireworks was also very well deserved.
From the first time I met Duane, I could tell he was a special man. Here is a good example. Recently, Duane called me just to thank me for the job we have been doing. Imagine, he thanked me! Although I appreciated him saying that, it pales in comparison to all he has given to our community. You are truly a great man, sir. Young people can learn a lot from you and your family.

I look forward to continue to work with and learn from him.

Dale Kroop
Thornton Street
---
July 17, 2006
If It Doesn't Act Like a Democrat or Talk Like a … Please Vote Lamont
I call on fellow Connecticut Democrats to join me in supporting Ned Lamont as a positive alternative to Joseph Lieberman in the Aug. 8 Democratic senatorial primary.

The most significant single reason for supporting Lamont is that his position on the war in Iraq is more in keeping with the mainstream of Connecticut Democrats. Lieberman's support of Bush's war of choice in Iraq may well reflect his values, but those are largely the values that led George W. Bush to invade Iraq in this unnecessary war. Ned Lamont's views closely reflect those of Rep. John Murtha, the former Marine officer from Pennsylvania who believes it is time to begin withdrawal of U.S. troops from the heart of the Iraqi combat zone.
As a recently retired teacher, I am very disappointed with Sen. Lieberman's positions regarding elementary and secondary education. At a meeting of the Hamden Democratic Town Committee, prior to the state Democratic Convention, Lieberman's spokesperson passed out a pamphlet touting Sen. Lieberman's accomplishments. I was appalled that Joseph Lieberman actually took credit for "crafting the No Child Left Behind education reform."
Ask any teacher about the deleterious effects on the classroom experiences of students and teachers of this massive, top-down, bureaucratic bill. Sen. Lieberman has supported the use of tax dollars for private educational vouchers as far back as when he ran against Lawrence Denardis in the 1980s. I wouldn't be surprised to see him support vouchers again when NCLB "fails," as it must by the terms of the legislation. Sen. Lieberman's record on education is not in the mainstream of the Democratic Party.

Some of Sen. Lieberman's other positions on domestic issues do not support his contention of being in the mainstream of the Democratic Party. He was the only Democratic senator from New England who voted in favor of the Bush-Cheney Energy Bill, which includes massive subsidies for the oil industry. Joe Lieberman seems to have little sympathy for traditional Democratic positions on the separation of church and state; he has supported Bush's "faith-based initiatives," and even supported Gov. Jeb Bush's intervention in what should have been a family matter in the Terry Schiavo case.

If all of the above was not enough to support Ned Lamont over Joe Lieberman, consider their contrasting positions regarding support of the winner of the Democratic primary. If Lieberman were truly committed to the Democratic Party, he would have joined Ned in promising to support the winner of the Democratic primary. Instead, he has demonstrated his apparent belief that he has a right to a Senate seat by taking out petitions to run as an independent if he were to lose the Democratic primary.

Gary R. Schark
Patterson Road
-------------------------------------------------------------------
The state of things in Hamden is beyond repair. We are all sharing the burden of inflated taxes, misled government and egos so big they are crippling. The bulk of our taxes go to our school system. Our school system is run by a woman who does not associate with the public -- the people who pay her salary.
She has even been sending her assistant superintendent to Town Council meetings for her. Watch the meetings on TV or in person and notice that the Council members have not addressed the question, Where is Alida?
The school system is so top heavy and the bulk of the people do not realize that giving them more money hardly filters down to the children. More jobs at Central Office simply add high salaries and less work to the people already employed there. Yet, the minute anyone suggests not approving their budget the first thing they tell the media is that the children won't have books or pencils. When the Council recently passed a five-year contract for school computers, Carol Noble stated how great an offer it was be to able to purchase these for $1 after paying for five years. With technology the way it is, in five years it will cost more than $1 to haul away this outdated trash!
Councilman John Flanagan was the only one who got it, and stated that perhaps Alida should check with her old stomping ground Bethel and see how it's done on a rotating basis every three years. The rest of the Council approved a five-year contract. The BOE received another bonus when the mayor agreed to combine their health insurance fund with the town's. Now they are asking for even more money for the middle school because of last-minute loose ends. Who would build a gym without adding in the cost of scoreboards? People spend most of their time passing blame onto the current and last mayors. According to the Town Charter, the mayor is an honorary member of the BOE. Yet notice that Henrici's help desk will not address school issues nor would Carl Amento.
It is time someone address the current state of Hamden from the top down, starting with the party the bulk of our tax dollars go to: Alida Begina and her department.

Al Lotto
Earl Drive
---
July 15, 2006
I am writing to remind Hamden Democrats that a very important Democratic primary will take place on Tuesday, Aug. 8. A few years ago, the state Legislature changed the month of state primaries to August, and many voters may not be aware of the change.
On Aug. 8, voters will have a chance to choose a Democratic candidate for the U.S. Senate, and for Connecticut's next governor. In the Senate race, three-term incumbent Joseph Lieberman, who was endorsed at the state Democratic Convention, is being challenged by Ned Lamont. In the race for governor, New Haven Mayor John DeStefano is facing Stamford Mayor Dannel Malloy, who was also endorsed at the convention.
If you will be out of town on Aug. 8, you should contact the Town Clerk's Office to obtain an absentee ballot. The office can be reached at 287.7112, or you can print out an absentee ballot request form from the Secretary of the State's office.
Also keep in mind that your polling place might be different than it was in last year's municipal elections. To find out where you will be voting, call the Registrar's Office at 287.7081, or visit the Town of Hamden's Web site.
Joseph P. McDonagh
Hamden Democratic Party Chair
---
July 11, 2006
Two Ideas for the Price of One
I agree with Mr. Leng and Mr. Gambardella that new ways have to be found to lower our tax rate in this town.
I think it's time to form a new legislative committee. I would give the committee a name like Hamden's Cost Saving Committee. This committee would look at every department to find ways to save money for the taxpayers. Also, this committee would last year after year, not just a one-year committee.
If I were running things I would appoint Mr. Leng and Mr. Gambardella and five people of the town to this committee. I would also put a suggestion box in every department so town employees can suggest new ways of doing things. If the suggestion was used, the employee would receive $100.
Let me change hats for a moment. How many of you have been behind a school bus and saw the driver do something wrong?
What you need in order to file a complaint are the bus number and the company's name, if you can find them on the back of the bus. I would suggest putting the name of the company, bus number and a toll-free number that rings at the Motor Vehicle Department so people can report bad driver.
There are two new suggestions. Maybe I will get $100.
Thomas Alegi
Benham Street
---
July 8, 2006
The substantial tax increase in the town of Hamden is ominous, to say the least. The very notion of a property tax hike in the neighborhood of 25 percent should have all residents in an uproar. The legislative powers that be in Hamden are evidently more concerned with greasing the outstretched palm of the special interests, e.g., the administrative and educational factions who make the most, yet cry the loudest.
The recently passed computer contract in the mid-six figures for the schools is a shameful example of the contempt for taxpayers flowing from Town Hall. This, adding insult to the ongoing injury of the unneeded and poorly conceived middle school, as well as the bottomless pit better known as the administrative payroll in education.
Let me be absolutely clear. The personal services of any employee of the town of Hamden do not merit a compensation package valued at or above $150,000 annually. The suggested property tax increase will place a cruel burden on the elderly, the disabled, the working poor who may own a modest residence, and everyone on a fixed income. In these difficult economic times, especially in the face of $3-per-gallon gasoline and home heating oil, this 25 percent is an extreme bite out of the budget of those who can least afford it.
I call on the town of Hamden to put its fiscal house in order, make real and substantive spending cuts and cease and desist from their never-ending search for new ways to extract another almighty dollar out of the taxpayers.
Charles Mosher
Glenbrook Avenue
---
July 6, 2006
I read with deep regret that the Planning and Zoning Commission voted, with only two opposed, to allow the demolition of the pre-Civil War house on Dixwell Avenue.
This building at 2556 Dixwell Ave., called the Sanford House, is a dying breed here in Hamden. We are losing our heritage. It is unfortunate that nothing could have been done to preserve this house, located on an already crowded Dixwell Avenue corridor. It is now set to be demolished, like so many other buildings from our past.
On this note of historic preservation, I recently purchased an excellent book called "Images of America, Hamden," created by the Hamden Historical Society in 2004. I urge every Hamden resident to purchase this book. In it, there are countless pictures of homes from the past, some of which are still standing, but many have long since vanished to make way for urban sprawl. The Miller homestead on Whitney Avenue, built in 1785, was demolished in 1980. Also included in this fascinating book are pictures of some of Hamden's public buildings from the past. Connecticut's first McDonald's, located where Popeyes is now. Rowe's Drug Store, located in Centerville. The old Church Street School (my alma mater). The old Pine Street School. The old District 11 School in Hamden Plains. The old Hamden airport. Mt. Carmel School. And Hamden's first Town Hall, built in 1888. These are just some of the many buildings that will never be seen again. We have to protect what we have left.
Unfortunately, the Sanford House has now become one of these fading images of Hamden's history.

In closing, I would like to congratulate the Hamden Historical Society for putting together such a tribute to the history of our town. Its book should be required reading for every Hamden resident. Kudos to each and every person who worked on it.
In terms of the Sanford house, it is a sad example of why Hamden needs to preserve its historic buildings. We need better planning and zoning regulations that protect these kinds of properties. Please, Hamden, speak up. Come to meetings and voice your concern about the destruction of our heritage here in the Land of the Sleeping Giant. Our history and our children's history are at stake.
Austin T. Cesare
Hamden
---
July 5, 2006
On Behalf of Our Son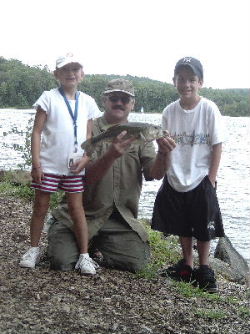 Jordan Jacques (right) at camp. Courtesy photo
The J.M.J. Scholarship Foundation was established in 2001 in honor of Jordan Jacques. Jordan, a student at Wintergreen Magnet School, was celebrating the fifth anniversary of the bone marrow transplant he had in 1996. Family, friends and staff at Wintergreen wanted to do something special for him, and decided to start the scholarship fund.
We had a dream that along with Wintergreen getting yearly awards, we would award one of Hamden's other schools. This dream came true last year when we awarded Church Street School.
This year we are pleased to give two students from Helen Street School an award along with Wintergreen students. This was only possible because of the generosity of the community -- and we thank you very much.
This year's awards went to Wintergreen eighth-graders Brittany Breland and Nancy Presnick. The other awards went to Karina Aponte and Andrew Hoang, both Helen Street sixth-graders. Congratulations to all the winners. A special thanks to Wintergreen principal Sharyn Esdaile and Helen Street principal Lynette Kelleher.
We thank Mayor Craig Henrici for attending the Wintergreen ceremony last week, and giving each student a special proclamation. We at the J.M.J. Scholarship Foundation look forward to keeping this tradition ongoing.
And a special thank you and congratulations go to our son Jordan on this being his 10-year anniversary of being cancer-free. You are a true inspiration for others who are going through tough times.
Paul and Leslie Jacques, Jordan's parents
Helen Street
---
July 3, 2006
The Fox Destroys the Old House
In my 25 years as a professional advocate for revitalizing and reusing historic buildings, I have been involved in countless negotiations to save buildings. In some cases, everyone involved genuinely agreed that preservation, while difficult and more costly, was the best thing for the community because it promoted a balanced and sustainable environment.
Such efforts have revitalized cities across this state and nation. One only need to look at New Haven, both downtown and some neighborhoods, to see that the promotion of historic preservation has provided both improved housing conditions and commercial success.
So one has to ask why, after 30 years of successful examples all around it, is Hamden so woefully behind in its ability to save historic structures.
I have heard just about every excuse and deceptive reasoning put forward by developers about why they must demolish historic buildings. Sadly, in Hamden, where our community ethic is undefined, the bottom line becomes their bottom line.
At last Wednesday's Planning & Zoning meeting, it became clear that the fox is running the hen house. In this case, a group of doctors -- relying on the advice of "experts" with little understanding of rehabilitating historic buildings -- was able to fool a majority of the commission and our town planners that the Dennis Sanford House, built in 1858 and located at 2556 Dixwell Ave., was "beyond repair." In fact, our public representatives, without independent verification from authentic preservation professionals, chose to rely on the developer's paid malarkey and stated so in the hearing.
Older buildings do take extra effort and sometimes more money to preserve. It is the value and nature of stewardship to do so. There are many experienced preservation and rehabilitation specialists who can be used to evaluate and rebuild special features. The Sanford House is actually in fair to good condition and it would not take much to blend it with a new building.
It is clear that this group of doctors, with a team of architects, set out from day one to demolish this landmark. They even purchased the lot next door so they could build a big enough building on the lot to satisfy their economic return. They presented no evidence that a full and reasonable examination was undertaken for rehabilitation and reuse of the Sanford House.
It is also clear that our historic-built heritage will continue to be lost to the highest bidder, as long as they have the keys to the henhouse. Even more frightening is we, the people, are without effective public advocates.
Peter Haller
Hamden Preservation Action
---------------------------------------------------------------------
I have attended Hamden's July 4 fireworks with my children for many years, and have always come away thoroughly impressed by the spectacular display and uplifted by the sight and sound of so many happy, celebrating families. However, this year's event was marred by the DJ's inappropriate selection of music to accompany the fireworks.
As the fireworks soared into the air, the DJ played two songs that detailed the events of Sept. 11, 2001. By the middle of the first song my elementary-school-age child was no longer looking at the fireworks -- he was distracted by the disturbing lyrics of the song and questioned me about them. By the second song, one adult member of our party was crying. She said in disbelief, "I didn't come here to cry!" Our group contained people on opposite ends of the political spectrum, but all agreed that the music was a disturbing distraction at odds with the purpose of the July 4 commemoration.
I attend the Memorial Day parade each year and salute the veterans who have made sacrifices for our country. I have personally participated in memorial services on Sept. 11 to honor the innocent victims of that horrific nightmare. But there is a time to laugh and a time to mourn. July 4 is a birthday party. A time for picnics and parties and dizzying displays of color in the night sky.
It was only a few short years ago that July 4 saw us all huddled on the golf course, listening to an orchestra's inspiring presentation of the magnificent 1812 Overture, followed by wordless renditions of songs like "Stars and Stripes Forever" and "America the Beautiful" -- truly fitting accompaniments to the fireworks that celebrate the birth of this great and complex nation. Even though I'm young enough to have small children, I find myself longing nostalgically for those good old days.
Christine Hayes
Hamden
-----------------------------------------------------------------------
Did your tax bill give you sticker shock? Don't like it? Suspect that the local tax burden is being shifted from those better able to pay and businesses onto poorer and middle-class citizens, just as has happened in Washington? I heard "we can't do anything about it now?"

"We can't" often means "we don't want to." Maybe it's laziness. Maybe it's because taxes might not have to be raised in fiscal year '07-'08 -- an election year -- giving a good impression to the taxpayers of the current administration and Council. Phase-in of the revaluation (a revaluation which is flawed for another set of reasons) would bring more fairness to the property tax situation and ease the sticker shock experienced by many citizens. It can still happen, through an adjustment to the second half of property tax payments due Jan. 1 2007. Despite the excuses about computer systems not being ready; despite all the other lame and anemic and shifting reasons given to us citizens by the administration and legislators, it can still happen.
If we want it enough we need to keep calling our legislative representatives on the Town Council. Just call and politely say you support the phase-in for the second half of taxes, and don't pay attention to the excuses you might encounter. You can do this from the privacy of your own home. Call Town Hall (287.7000) if you don't know the name/phone/e-mail of your district councilperson.

On Independence Day remember, taxation without representation is tyranny.

Want more information and some hard numbers on a phase-in? It's available from Hamden Homeowners for Tax Relief at 281.0345.

Barbara Schlein
Pine Rock Avenue
---
July 1, 2006
Regarding the revaluation and potential phase-in, I think people's anger and energy are misplaced. What needs to be reformed is Connecticut's tax system.
Unfortunately, Connecticut's municipalities have really only one way to raise revenue -- property taxes. While there are some fees and charges, the huge bulk of Hamden's and any other towns' revenue that it can control is property taxes. There is state aid, such as for education, but that is limited, does not increase at the level the spending does, and is totally out of the town's control. So we have property taxes.
These in turn are necessarily based on the value of one's property. Fortunately or unfortunately, property values have significantly escalated in the past five years, since the last town-wide revaluation. These increases have not been uniform. Condos and lower-priced houses have increased much more in comparison to higher-end and commercial properties.
So we have a system of taxation based on local property values. Why would it be fair to use old, outdated values when determining the amount of tax one owes? One could argue that the values should be adjusted annually, as they are in other states, but that is another issue. Is the reliance on local property taxes a good system? I think it is horrible, as it consistently penalizes high-tax, residential, older towns such as Hamden, and benefits towns that already have high property tax values (and thus wealthy residents), such as those in Fairfield County and along the shoreline.
Can the town of Hamden or its local officials change that? Obviously not. It is up to our elected state officials to make a concerted effort to overhaul this system of funding. The only time significant changes have been made at the state level is in response to lawsuits or court orders, such as in the Horton and Sheff cases which required changes in state education funding (never fully implemented, to Hamden's significant detriment).
So people can complain about Hamden's tax rate and talk about phase-ins until they are blue in the face. It is largely useless unless changes are made on the state level. I would call on those seeking a phase-in and complaining about their tax bills to direct that energy and anger at your governor, the candidates for governor and your elected state officials (I think all the links are on the HDN) and ask why the property tax system is not changed.

Paul Begemann
Hamden
---------------------------------------------------------------------
Although only 12 percent of Hamden households have children in our school system, astoundingly, the education budget eats up over half (56 percent) of the town's budget. And the superintendent of school's salary is higher than the vice-president of the United States at $154,000.
Of course, on this meager salary of $154,000, how could Ms. Begina afford to own a car? So the town is paying the lease on a brand new luxury car for her. That means the suffering homeowners of Hamden are paying for Ms. Begina's luxury car.
This is only part of the waste of funds at the Board of Education, the tip of the iceberg. Why does it take so many highly paid administrators to run only 10 schools? You see, much of the rapidly increasing money the town gives to the Board of Ed isn't really going directly to the children, but to the bloated salaries of administrators, too many unnecessary staff and pie-in-the-sky programs that just don't benefit our children the way we are misled to think they do.
I am an educator with a master's degree in education and a PhD in studies, and I do ongoing research which indicates that good education does not always mean just throwing a lot of money into the system and people's pet projects (many of them of unproven value). In fact, in a number of cities in Connecticut and neighboring states, statistics show that many times cities that have received increased funding have seen academic performance drop.
Moreover, the mayor and Council members are duty bound to protect all segments of their constituents -- not just one group. So by having homeowners pay a whopping 81 percent of Hamden's taxes is unfair, untenable and destructive to our community. It will ultimately negatively impact our children. Don't our seniors count as well as our children? What about mature adults who own homes? I know of a disabled adult whose wife lost her job. Doesn't it matter to our mayor and legislators that he and his wife and children will be forced from their family home because of this tax increase?
If the mayor and our Council are concerned with only our children (and that is the way it seems by their policies), that is age discrimination. This unfair and largest tax increase in Hamden's history will destroy our neighborhoods, because homeowners will no longer afford upkeep of their homes.
I was frankly appalled by the indifference of our mayor and most of the Council members toward homeowners. The mayor told us to "bite the bullet." It's high time businesses, renters and others also "bite the bullet." Homeowners pay 81 percent of taxes, while businesses pay only 19 percent.
Mayor, Council members, be on notice: We shall not forget what you did to us when we go to vote next election. Don't for a minute think that you can rely on your constituents' short memories at that time, because we now have very active homeowners' tax-fairness organizations who will heavily publicize the names of all those who told us to "bite the bullet." Every homeowner will know these names, and vote them all out.
Our motto: "Remember the Alamo, remember Pearl Harbor, and remember the largest tax increase in Hamden's history."
Helen Blitzer
Hamden
---