In Your 'hood
February 27, 2006
Hogan's Heroes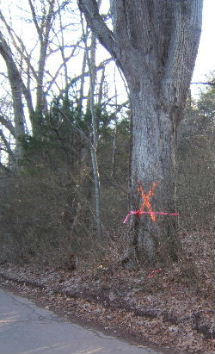 A tree on Hogan X'd for the ax.
People who live along scenic Hogan Road are fighting Big Development
Story and photos by Sharon Bass
The boundaries of Hamden (physical, not ethical) are on trial on Hogan Road. So is history. Or the importance thereof.
A five-house development called Blue Haven Estates is about to break ground off Hogan Road, just over the border in North Haven. Because the project is within 500 feet of the Hamden line, it needed Hamden approval, said Assistant Town Planner Dan Kops.
So last summer Jim Antanucci, the owner/developer of the subdivision, got Inland Wetlands and Watercourses approval. And that's when the boundary confusion was discovered. (A message left for Antanucci was not returned.) Nobody can say which town owns one particular portion of the road needing widening. Both towns' engineers are currently scrambling to figure it out.
North Haven's approval of the subdivision requires widening part of Hogan Road -- which is off Mt. Carmel Avenue and called Brewster Lane in North Haven -- to increase the visibility or the "sight line" of the road for safety reasons.
Boundary, Shmoundary
Drawing the line, however, will not do much for the people who live in the neighborhood on both the Hamden and North Haven sides. They say they moved there at least in part because they love narrow, bumpy Hogan, which is a designated scenic road. Developing it will draw more cars, especially from Quinnipiac, and forever destroy the natural history of the road.
Last Tuesday, they presented a petition against the widening to the Planning section of the P&Z Commission. About 31 signed and about 30 attended the meeting.
"It'll make it a nice highway. Can't you just see it? Two wide sides," Ruth Lindenfelsor, 89, said sarcastically during a phone interview. She's called Hogan Road home since 1977. "And college kids going home this way. I would not like it. It's a quiet road now. I'm sitting where I can look out on the road and a car's not gone by while I'm talking to you. And it's a quiet road. We're lucky, I think."
Lindenfelsor signed the petition.
"I really don't want to see this road change. It's a beautiful road," said Donna Wade of Hogan Road. "One of the reasons we bought property here is the road. There are very few places like this. I know people say, 'What an awful road. It's so narrow.' But I love it. I love the potholes. I think widening the road and paving the road is going to bring traffic."
Wade signed the petition.
"It's just an open invitation to making cars go faster," said David Apter, who lives at the corner of Ridge Road and Ives Street in North Haven. "Brewster Lane is already wider than the Hogan Road part because [Hogan] is a scenic road. However, [Brewster is] still scenic and people walk their dogs. It feels like country even though it's been built up considerably. Part of the concern we all have is it's one of the last places not to look like a typical housing development."
Apter signed the petition.
While public comment was not allowed at the Feb. 21 meeting, Planning commissioners took the petition seriously. They denied the road-widening request because of the murkiness around the town line and the fact that Hogan is a scenic road. It also sent an unfavorable recommendation to the Legislative Council. Since it's considered a "municipal improvement," said Kops, it needs Council approval.
As well as the widening, Kops said two mature trees on the Hamden side would have to be yanked because of Blue Haven Estates. That's also raising a stir.
"When you have a scenic road you can't cut down trees," he said. "When it's designated scenic you have to get Council permission to fix a pothole. There aren't many scenic roads in Hamden."
"The commissioners seemed to have a really good grasp of what the citizens want," said an Ives Street woman who asked to be anonymous. "It's such a touchy issue. The people who want to develop it are really heavily invested into the project and here's something that could inflame things," she said explaining why she didn't want her identity disclosed.
"We're a little uncomfortable with the idea that somebody on the other side thinks we ran to the media. We're not against the development. We're against them cutting trees down and widening the road," the woman said. "We're concerned that Quinnipiac students will use it as a back road."
"I think you'd be inviting theft," said Lindenfelsor. "New people coming through and going faster. I wouldn't want to see two cars going 45 mph. But I won't be around to see it. I figure I'm not going to see it paved."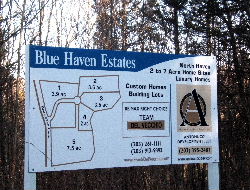 Not in Apter's 'hood
Apter seems to love everything about the area -- and will fight to keep it the way he found it. When he was president of the Sleeping Giant Neighborhood Association, he said, "We were particularly concerned with this area which some call the best-kept secret in this part of Connecticut."
He bought his home in 1969. The oldest part was built in 1721; the newest in 1750 or 1760, he said.
"It's a typical white clapboard Colonial house with barn and outbuilding. It's also interesting that it was built in an area that was an Indian campgrounds, because we dig up arrowheads and grinding stones and lots of oyster shells," said Apter.
On the Hamden side, he passionately pointed out, are 19th-century barns that were converted into studios for the late painter/stained glass artist John La Farge.
"The area itself, the woods make it pretty special. The North Haven town engineer wants to widen the road at some point 3 feet and that will in effect change the character of the place," said Apter. "People can do what they want with their land but …"
Wade said neighbors are thinking of formally uniting to fight the widening and slaughter of trees. "It depends on what happens. We may," she said.
---
February 23, 2006
Mediation for the Remediation

The state puts the brakes on rolling out its cleanup plan for Newhall
By Sharon Bass
The Department of Environmental Protection had a Dec. 31, 2005, deadline to finalize its remediation strategy for the contaminated Newhall neighborhood. Missing the deadline, it set a new one for the end of January.
That didn't happen, either.
DEP spokesman Dennis Schain said something has delayed the process. Something called a lawyer.
"Several weeks ago, we were approached by a law firm (McRoberts, Roberts & Rainer of Boston) representing a group of residents hoping to develop enough interest in a mediation process. To bring everyone together -- homeowners, Olin, town of Hamden, the water company," he said.
They want mediation. Schain said the first mediation meeting with the interested parties will be "as soon as it can be scheduled. It's difficult to say at this point [exactly when] because there are variables. We need to see if the mediation process has promise."
He wouldn't say how much of the state's remediation plan is written. But did say none of the recommendations have been finalized and wouldn't disclose what they are. "We didn't want to put out publicly our specific recommendations," said Schain, because of the upcoming mediation process.
Of the 302 properties within the 2003 consent decree area, 220 tested positive for contaminated material dumped years ago by the Winchester gun factory. The dirty dirt was also found behind the school and in the two neighborhood parks, Rochford Field and Mill Rock Park.
"Clearly we are looking at doing what is appropriate to clean the area and to remove contaminated soils," said Schain.
"We will be ready to put out our recommendations if that appears to be the best course of action, if the mediation effort does not take root," he said. The DEP has been working on the Newhall Remediation Project since November 2002.
---
February 14, 2006
Ideas for the old middle school from those who live nearby
By Sharon Bass
The middle school on Newhall Street will close its doors for good this June. What will become of the 180,000-square-foot building that sits on 29 acres of contaminated soil has not yet been determined. Town officials say they are poised to listen to what the people in the neighborhood want. The people in the neighborhood say they want to be heard. And at the top of many of their wish lists is a community center.
"I think that it should be a community center that would cater to the whole community," said Aisha Elm of St. Mary's Street.
"I'm bored out of my mind. I would love yoga classes that are affordable," said Eileen Carey who's lived on Winchester Avenue for 38 years.
"We want it to turn into some community facility that will benefit all of Hamden. Like the middle school was, everybody came from all over Hamden," said Abdul Hamid of Augur Street.
Economic Development Director Dale Kroop said last month that he is putting together a task force of business owners, a Parks & Rec employee, folks from the Newhall area and Councilpeople Willie Mewborn, 5th District, and Berita Rowe-Lewis, 3rd, to work with a consultant to figure out what to do with the school. One thing it won't become is blighted property, he promised. It will be redeveloped.
"That was my major concern about what they were going to do. Are they going to leave an empty building?" said Carey. "They've gotta do something good with it. They can't just let it sit there. I think it would be great if we had something for young people. Two community centers -- one for kids and one for seniors.

Will we really be heard?
Hamid, a member of the Newhall Advisory Committee, said he is skeptical about how seriously his neighbors' suggestions will be taken.

"There should be a discussion on this," he said. "It will not just be turned into something that becomes drug-infested and the problems of poor families. But they (the state, the town) haven't listened so far" about the cleanup of the area, which sits atop the former Winchester toxic waste dump. Hamid and others want all the contaminated soil removed and carted out of the area. The state has suggested removing some of the soil and dumping it behind the old middle school.

"They pretend they are listening. But in the end they do whatever they like and that is not very healthy," Hamid said.

Barbara Armstrong has lived on Newhall Street for 22 years and said she hopes she won't see year 23 at that address.
"Really, I'm trying to move out the area. I have contamination in my yard," she said. But she was brimming, nonetheless, with ideas for the middle school makeover.
Armstrong said she'd like to see an affordable apartment complex and a community center "because the kids don't have anything to do. Maybe a restaurant, too. Like a Ruby Tuesday or something."
Some said they didn't even know the middle school was closing.
"I didn't have the slightest idea," said Madie Barrett of Winchester Avenue.
Ditto for Donald Broadnax of Morris Street. Asked what he wants to replace the school, he echoed, "It should be a community center." And then he elaborated.
For starters, he is retired but said he would like to rejoin the workforce. "I need a job. It'll keep me out of mischief. It would give me an opportunity to socialize and chat with people.
"A lot of the people who live in the immediate area are senior citizens and it would be an area to meet and play pool," Broadnax said. "Kids could come and play basketball -- under supervision of course. Some of the profanity you hear is ridiculous."
Pamala Moore of Marlboro Street works at the Keefe Center for the state Department of Environmental Protection's Newhall Remediation Project. A lifelong resident of the area, she rattled off a long wish list for the middle school site.
"I want it to be a culture center. What I want in it is a café restaurant. I want a theater. I want a senior citizen center. I want an office for the handicapped. I also want a tourism office for the town of Hamden. In the back there, I want a skate park for the young people that have skills in that area. We could throw major competitions. I want to see a handicapped park with low basketball hoops and organized teams. I want an intermix of people and cultures involved in this center," said Moore.
Carey said she'd "love it" if adult ed classes were offered. "They did all that renovation in 1989 [after the tornado]. It would be a deplorable waste of money" if the school was razed. "It should be a place where people can meet each other. It would be fantastic," she said.

No retail, please
A retired New Haven teacher, Pearl Mitchell of North Sheffield Street said she envisions a place that offers performing and fine arts classes, a gallery, after-school tutoring, mental health and drug counseling for children and parenting classes.
"It's so needed. I wish the government could say that if you have children in school, you have to go to these classes. I think it would make children happier," said Mitchell. "I see parents shouting at children and it's just awful."
The former educator said many students are in need of tutoring but can't get it. "The children whom I taught who were in grade three were reading on a grade one level," Mitchell said. "In all the years that I taught, I realized the children needed tutoring but many of the parents couldn't afford it."
One thing Mitchell said she doesn't want to see is shops. "This is a residential area. Stores would just offend the people," she said.
---
January 20, 2006
Newhall residents made it clear last night they want tax relief for the contaminated landfill they live on
By Sharon Bass
Those living atop Winchester Guns' toxic legacy are pushing for a blanket property rebatement because of what's below the property they own.
"Everybody is in the same boat," said Abdul Hamid during last night's Newhall Advisory Committee meeting. The group meets monthly in the Keefe Community Center. Sitting with Hamid on the committee are mayoral aide Scott Jackson, community activists Pam Moore and Elizabeth Hayes, residents Herman Alexander and Henry Platt, state Rep. Peter Villano (D-Hamden) and others. New Haven attorney Kathleen Conway runs the meetings.
People from the state Department of Environmental Protection, the Regional Water Authority and Olin Corporation (owner of Winchester) are present at these meetings. They are all players in the long-overdue, controversial massive cleanup the Newhall area is to get -- the tab to be split between the state, RWA, Olin and the town.
Everyone is listening.
Jackson told Hamid that state law does not allow towns to give blanket abatements.
Hayes disagreed. She said there's a provision for that in the Connecticut general statutes. "It's a good statute. I've read it for five years," she said.
Villano said he was unaware of that law and would look into it. Otherwise, he said, "there'd have to be special legislation passed."
"There is already a state statute," Hayes shot back. "Should we talk to the governor?"
"Only to sign the bill," said Villano. He said such a law would be costly.
Meanwhile, Jackson explained how to apply for individual property abatements by filling out a certain form by Feb. 20. "If there are structural problems that would make a home worth less," he advised, apply for an abatement, especially in light of the recent property revaluation, which doubled assessed values.
Moore said the abatement should also be based on the condition of one's property. "I have contaminated land," she said.
"I wouldn't necessarily say that the land is the problem because you won't have as strong a case" for an abatement, Jackson said.
"But my problem is the land," said Moore, adding that its value rose the same amount as her house did.
"You have to find the things that make your property worth less," said Platt.
Alexander revived the argument for a blanket abatement saying the properties are worth less because of the widely known contamination. Committee members who live in the consent decree area said they're not allowed to have gardens, dig up their yards or install swimming pools.
"If you have to flag your house as contaminated (when the remediation begins), it does affect all of the properties as well," said Alexander.
"It sure does," said Jackson. "And should that happen, it would definitely be looked into."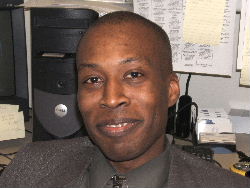 Mayoral aide Scott Jackson
Jackson then talked about the fate of the old middle school, which is also on contaminated soil.
"What are we going to do with this 180,000-square-foot building? Everything is on the table," he said. "Our commitment is to the people in the Newhall neighborhood."
Yesterday was due day for bids from contractors interested in transforming the school, said Jackson. Four or five came in. Bidders were asked to describe their backgrounds and qualifications for such a project and to give a cost estimate. Jackson said they were not asked for project ideas, as those are to come from the people in the neighborhood and other stakeholders.
He said he's nearly finished assembling a panel of five to seven members who will review the contractors' applications and make a decision. He said residents, business owners and a Parks & Rec person will be on the panel.
"I wasn't asked," said Hamid.
Jackson told him the members were all handpicked.
"You picked the ones you like," Hamid said.
"We have every confidence that this panel will not be good -- it will be great," responded Jackson.
Kelly McCarthy, a Green who ran an unsuccessful but strong race for the 5th District Council seat last November, was at the meeting. Asked for comment afterwards, she said, "The residents of the Newhall community have been waiting for over five years for promises to be fulfilled and for something to be done about the decades-old contamination that has labeled the neighborhood a 'brownfield.'
"The EPA defines a brownfield as a 'property on which expansion, redevelopment or reuse may be complicated by the presence, or perceived presence, of contamination.'
"I don't think many people would argue against assisting those who've suffered physical property damages, but the entire community has and will continue to suffer both psychologically and financially from the stigma of contamination," said McCarthy. "There is a national precedent for providing blanket tax abatements to residential property owners in areas known to be contaminated or recently remediated, one example being in Fort Wayne, Ind. Providing some tax abatement seems like the least we should be doing to assist our neighbors in this unfortunate situation."
---
January 6, 2006
Getting it Off Their Collective Chest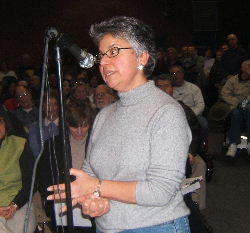 Helen Sherman was one of many to take the mic last night.
Folks vented at a three-hour public meeting about the troubles they've had with Quinnipiac students who live among them
Story and photos by Sharon Bass
When state Rep. Brendan Sharkey (D-Hamden) opened last night's packed forum on Quinnipiac students who live off campus, he mentioned the good and the bad of the university.
He said Quinnipiac has "irresponsibly" enrolled too many students for whom there is not enough on-campus housing, and does not respond to the community's complaints. He then shared with the 400 people who filled Thornton Wilder Hall his own trials and tribulations with the university.
"I'm a veteran of this issue," said Sharkey, who lives on Mt. Carmel Avenue. "What we were experiencing 10 to 12 years ago is (now) being felt around town."
The audience was with him.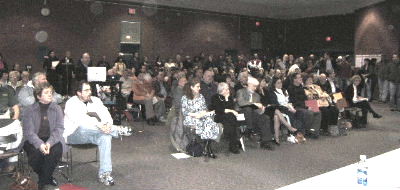 It was a packed house at Thornton Wilder Hall last night.
But when the three-term legislator pointed out some positives about Quinnipiac -- "I have not heard a single resident say to me that Quinnipiac is not an asset, with its cultural offerings. Its architecture is beautiful" -- the crowd grunted.
So was the mood for the cathartic evening entitled, "Quinnipiac Off-Campus Housing: Its Impact on the Community." It was organized by Concerned Citizens for Hamden Neighborhoods, a new coalition spearheaded by Joanne Iacobellis of Kenwood Drive.
Folks lined up behind three microphones to speak their minds and pour out their feelings about what it's like for them to live among students, and how Quinnipiac officials systematically ignore their pleas to find solutions.
They were angry. Frustrated. Scared.
One by one, they told stories of speeding cars, all-night drinking parties, loud music, car doors slamming in the wee morning hours, beer cans and other litter on their property and in their streets, six to eight kids living in a house, when town ordinance says only four unrelated adults can inhabit the same home, and a university that has turned a deaf ear on them.
And some expressed gratitude for the public forum. "I'm so thankful that you're doing this tonight," said one woman.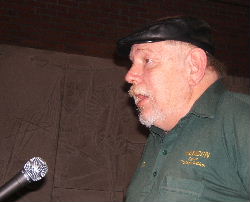 Don Werner asked to speak to a ghost.
"The question I have is directed toward the representative from Quinnipiac," Don Werner, a longtime Hamden resident and town employee, said rhetorically.
He knew, as did most of the crowd, that no one from the university showed.
"That's all I have to say," said Werner as he stepped away from the mic.
The audience applauded.
Iacobellis whispered to the HDN that she had e-mailed notice of the forum to Quinnipiac public relations director John Morgan, but had gotten no response.
In a statement e-mailed to the HDN late yesterday, Morgan wrote: "University officials recently met with the mayor and his chief mayoral aide and we're looking forward to working out a resolution to the perceived problems with off-campus housing. The issues brought forward at the meeting tonight involved mostly houses owned by private landlords whom the university has absolutely no control over. We look forward to continuing to work with the mayor toward a resolution."
Fred McCarthy of West Todd Street told the crowd how he felt about sharing his street with students. "I get pretty tired of picking up trash all the time. But my main concern is (the impact of the students) on police and fire. We can't afford it."
Sharkey, Mayor Craig Henrici, Councilman Matt Fitch and neighborhood activist Les Faiman sat at the front of the auditorium, listening to the grievances and occasionally responding.
Sharkey explained the state gives Hamden PILOT dollars (payment in lieu of taxes) since Quinnipiac's real estate holdings in town -- over $86 million in 2004 -- are tax-exempt. However, the PILOT program gives 30 percent to 35 percent less than what the actual property taxes are. "And not a dime of that comes from Quinnipiac. That money is coming from all of us," he said.
The audience clapped.
He said in other college towns arrangements are made where the school compensates the community in a variety of ways for not paying taxes. "That is something we can suggest to the mayor and Council," said Sharkey.
A man from West Todd Street stood before a microphone. He held a paper bag. He walked onto the stage and dumped the bag's contents: a single beer can. Returning to the mic he said, "I can't say this was dropped by Quinnipiac students, but a car with New York license plates" came barreling down his street and threw the can out the window.
The audience roared.
He said the student caught firing a shotgun in a back yard last year is his neighbor. "There is screaming and yelling constantly at 3 o'clock in the morning because the bars get out at that time," the man said.
The audience applauded.
"The cars not only go off the roads, they go through the bushes," the man from West Todd Street added.
A woman said she called the university after the infamous Halloween party bust last October at a student home on Whitney Avenue. "What I heard was those are not our houses, contact the landlord," she said. "I don't know the landlord."
Helen Sherman of Amherst Street said she spoke several times with Hamden's previous town planner about her dilemmas with the students next door, and was told nothing could be done about it. "We're screwed," she told her peers.
Donna Wilson of Forest Street also talked of failed attempts to get resolve from the Planning Department. Her gripe was about students parking their cars "everywhere. It got so bad they parked on the yard of the woman across the street," she said. "We sent pictures to Zoning and the comment we heard was, 'We aren't sure if those cars belong to people living in that house.'"
Furthermore, Wilson said, she's awakened every two hours by noisy students. She said they are as arrogant as the university officials. "Their attitude is, 'We pay our $35,000. We'll do what we want.' I'm sick of it. I can't sleep anymore," she said.
The crowd moaned with empathy.
On a wall were huge sheets of papers listing off-campus student houses -- those owned by Quinnipiac and private investors. All evening, people eagerly penciled in houses not on the list:
52 Riverside Drive
16 Gateway
58 Broadway
61 Linden Avenue
69 Eramo Terrace
136 Cannon St.
5 Costanzo Court
300 Fans Rock Road
25, 99, 123, 142, 152, 160, 188, 355, 385, 475, 560 and 660 New Road
3085, 3151, 3159, 3165, 3185, 3449 and 3455 Whitney Ave.
A Realtor who lives on Kenwood Drive said people buy $300,000 homes from him "and there's no way they can put four kids in there and pay the mortgage. They have to put in seven kids. They're taking advantage. Why can't we enforce" the four-unrelated-people-in-a-house rule?"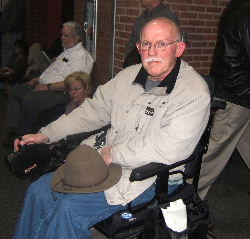 Spencer Adams wants speed bumps.
"Why can't we put speed bumps in?" asked Spencer Adams who's lived on New Road for 30 years. "It's done all over the state. I was told by (the town) we can't do that." He said he's contemplating moving.
"Our neighborhood is not a neighborhood anymore," said another.
"Will they put up a dorm on our street?" a New Road rezzie asked nervously. "They've taken an entire neighborhood and turned it into theirs. It's criminal! It's criminal!"
The audience roared.
"Quinnipiac has become a thorn in our side!" bellowed former Police Commissioner Neal Longobardi of Renshaw Road. "We should become a thorn on their side!" He urged people to find out who owns the student homes in their area "and call them at 2 a.m. Inundate them with calls!"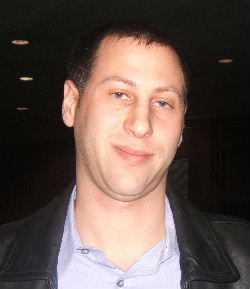 Landlord Jacob Bergman doesn't want to know.
While no one from Quinnipiac was present, one landlord of student housing attended the forum. Jacob Bergman, a '99 grad of the university, said he owns 13 houses in town. When asked by the HDN if he rents them to students he said, "I don't know. It's none of my business."
Bergman, 30, lives in Manhattan where he is a hotel developer. He said he also "lives" part-time at 3321 Whitney Ave., where he said he has an office and students living. Asked if he checks references, credit and income of his tenants, he consistently replied with, "I have my own application. I do a good job with what I do. Pointing fingers isn't going to help."
What will help? What can realistically be done about a school that has seen a 40.5 percent increase in enrollment between 1995 and 2004? A school that is short 2,464 student beds? A school that shows no signs of slowing down growth?
Quinnipiac needs to willingly come to the table, Sharkey said after the meeting. But even with a court mandate to do so, the school has not complied.
In 1999, the Sleeping Giant Neighborhood Association, of which Sharkey is a member, appealed a town decision to allow Quinnipiac to build a parking lot between Whitney Avenue and New Road, where a former tree farm was. The basis of the appeal was the parking lot would not be connected to any of the university's property. While the appeal didn't work, the court approved an agreement between the town, the Sleeping Giant Association and Quinnipiac that says "the school would agree to meet with neighborhood groups at any time in respect to their plans for development," the state rep and land-use attorney said.
Though it's a legally binding agreement, Sharkey said Quinnipiac has not followed through on its promise.
What's left, besides community pressure and persistence, is going after the university's reputation. Bad publicity, such as what came out of last night's seminar, is not good for its financial health.
"They don't want that reputation," said Sharkey.
From the sound of things, it might be too late.