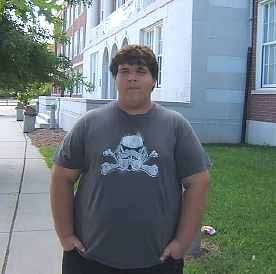 Ethan Long's
HallwayStoriesHallwayStoriesHallwayStories
---
April 9, 2007
Tackling the Great White North, Part II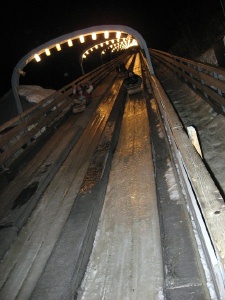 A toboggan slide in Quebec City. Photo/Ethan Long
(Hamden High junior Long recently went on a weekend school trip to Quebec City. Here's his account of day one.)
After settling into the hotel and dressing appropriately for the brisk northern exposure, we met outside the front steps to meet our tour guide, Francis. He introduced himself and talked about the surrounding area where our hotel was. To the left of the hotel was the Quebec focal point, Château Frontenac, a luxurious hotel where the rich and famous stay. We started our walking tour of the city there, and progressed down a hill to the tourism office. Here, we converted our U.S. dollars to Canadian currency. We went back outside and walked towards the city wall.
Everything in Quebec City is pretty much in French. Every now and again you'll have to use hand motions to convey what you're trying to say. It wasn't that hard to find my way around. By the last day, I had quite the feel for this part of the city that we were first exploring that day. The group stopped at the corner of a road where a red "Arrêt" sign was. Francis talked about how the city was formed and the royal family's connection.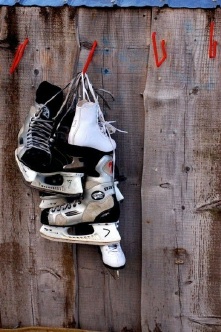 Photo/Liz Braun
Our guide led us to a small ice-skating rink, where we rented skates. It was pretty cold, but we managed to skate around. Right next to a frozen patio was a booth that sold maple sugar candies that you could make yourself with snow.
We walked down the same street, which just happened to be in the middle of a shopping district. Francis recommended a good music store. We went inside and listened to francophone musique. A few people bought CDs but most of us just checked it out at that point. When we were done with that, everyone went outside and we continued to walk.
The sidewalks in Quebec are either very well shoveled or covered with ice/snow but easily walkable because they are well sanded. You could be standing on a couple of inches of slippery ice and not slip. Walking around the streets was pretty easy as long as you knew where you were going. A lot of stairs and parks were closed off because they weren't shoveled or plowed, so you would have to walk around a detour to get to a point across from you. After walking back up the hill, we ate dinner at a fondue restaurant where we ate -- of course – fondue.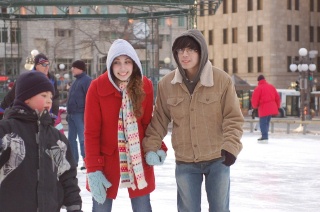 Hamden High students on Canadian ice. Photo/Ethan Long
After dinner, Francis took us tobogganing. The toboggan slide is much like the potato sack slides you see at the annual fairs but iced over. A group would have to walk up a long incline of ice to the top, then ride back down in a matter of a few seconds. Everyone went on a few times and around 9 p.m., we went back to the hotel and got ready for sleep.
The hotel room had a bathroom, a clock radio and a TV with cable. I watched a favorite show of mine "Star Trek: Voyager." I came on during the middle of a fight between the ship Voyager and the Borg. The shot went back to interior, with Capt. Janeway about to talk. She opened her mouth and all I could hear was French jibberish that I couldn't understand. Most of the TV channels were in French except a few in English.
At 10:30 p.m., a security guard came to watch over the HHS rooms to make sure no one did anything bad or ran away. Patrice, the guard, would be on watch until the morning. The first day of our adventure was over and we had hardly an idea how fun the next three days would be.
Ethan Long has attended the Hamden School System since 1995. He is currently an 11th-grader at Hamden High. He is also a news editor at ABXY.org. You may contact Long at Streetsim@gmail.com.
---
April 2, 2007
Last week, Assistant Superintendent of Schools Portia Bonner was quoted in the Hamden Daily News as saying that some surveys given about uniforms had mentioned including the high school in the plan.
Well, I'm here to tell you right now I will not wear a uniform -- and neither will the majority of the 2,500 students at Hamden High. While I agree that the dress code isn't enforced as much as it should be, I do not believe that forcing everyone to dress the same is right. Let's take a look at the supposed "positives" that uniforms would have.
Encourage children to focus more on academics. (If we weren't so fixed on uncomfortable clothing, maybe.)

Improve test scores. (Kids will still socialize during class, missing lessons.)

Reduce friction between children over clothing. (I have never, ever, seen a fight over clothing.)

Increase attendance. (Just because I now look like everyone else, I will want to come to school?)

Decrease tardiness. (With the new uniform shoes, we'll be able to run faster to class, eh?)

Cut down on the amount of time teachers deal with clothing problems. (Here's the only one I really agree with. During the summer, every once in a while, a teacher will tell a kid to put on a jacket if his or her shirt is inappropriate, but it doesn't take up hours of teaching time.)
"Option Two" would redress the dress code with much stricter rules. Let's take a look at why this is also dumb.
Pants, shorts, skorts, skirts and jeans must be worn at the waist. (Fine.)
Shorts, skirts, skorts, jumpers and dresses no higher than the bottom of a child's fingertips when standing and arms at side. (Fine.)
Undergarments worn inside clothing. (I would hope so.)
No pajamas. (A lot of girls love to wear pajama pants to school.)
No hooded tops. (Absolutely not. I wear hoodies all the time. I will not come to school during the winter if I am not allowed to wear a hood.)
Shirts must be tucked in. (Also, no. Never.)
Only v-neck, collared and crew neck allowed. (I might be able to let this one slide, but my entire closet is full of T-shirts. Maybe if central office paid me $20 for each T-shirt, I might consider changing.
See, at Hamden High, what you wear is your own image. It's your choice to show people your style. It's a way of expressing yourself without being a distraction.
Hamden High is not a school you want to change as far as creativity and expression go. A lot of people agree with me on this. As of now, on Facebook.com, 160 HHS students are in a group rallying against uniforms. This group started roughly five days ago. One hundred students joined within the first night. Others won't join because they simply don't believe that the school system would do this to Hamden High. No one would wear a uniform on the first day even if they were mandatory.
On a final note, as far as uniforms for HMS and the K-6 schools go, I do not believe they are needed. I think if someone's attire is inappropriate, then the teacher should just send the child to the office. At the office, they should have a couple of big jackets that could easily cover anything. At the end of the day, the child would return the jacket.
It isn't like someone is ruining their life or someone else's life because of what they picked out of their closet in the morning. Nothing drastically horrible ever happened because of clothes.
Ethan Long has attended the Hamden School System since 1995. He is currently an 11th-grader at Hamden High. He is also a news editor at ABXY.org. You may contact Long at Streetsim@gmail.com.
---
March 26, 2007
Tackling the Great White North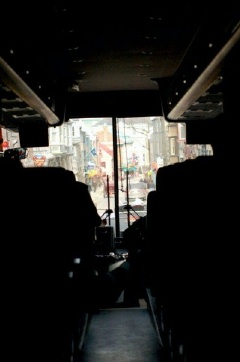 Our bus going down a main road in Quebec
City taking us to our hotel. Photo/Liz Braun
The thing I miss most about elementary school is field trips. When I became a student at Hamden Middle School, the trips suddenly stopped. We had our annual end of the year trip, but that was about it. I longed for the chance to get off campus and learn somewhere with a change of scenery. Sadly, I was no longer a little kid anymore and my duties were centered in the classroom setting. I thought I would never be able to escape the serious halls of HHS when I started my freshman year, but I soon learned trips happen all the time. Within the first month of freshman year, I was signed up to go to Montreal, Canada.
Back then I was taking French and the teacher, Mr. Apgar, had planned the trip with Immersion Tours. That trip was extremely educational. It taught me about North American history as well as traveling and life. I look back on that trip as the best of my high school career.
That is, until I signed up for this year's French trip to Quebec City. The excursion to old Quebec City would cost a few hundred dollars, but I was all in. Some of my best friends had signed up, including one whose birthday fell during the weekend we would stay there. There was no turning back.
In every Hamden public school, there's always this one medical form for parents to fill out. When I saw the form as a kid at West Woods, I would smile because I knew a trip would be coming up. So when I recently received the form, I returned it as soon as I could. I filled more forms, gave deposits, gathered my travel documents, and on March 9 at 6 a.m. our coach bus pulled out of the Hamden High parking lot and we were on our way to the great white north.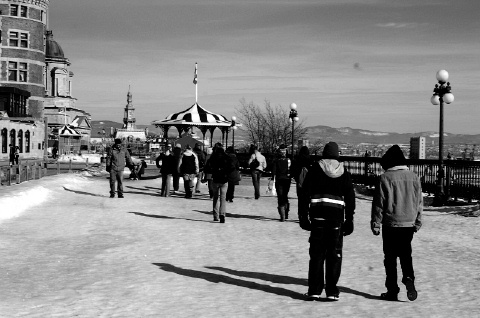 HHS students walk on a snow-covered boardwalk near our hotel. Photo/Ethan Long
Along with us were Mr. Apgar, Mrs. Rodriguez and her son Mr. Rodriguez. Mrs. Rodriguez is the newest assistant principal at the high school, replacing Dexter Locke. Mr. Rodriguez and his brother teach at the high school. Most of the students on the trip were juniors, one or two sophomores and a couple of freshmen. It's law that the students be transported on a coach bus if the trip is out of state (although I've ridden a yellow school bus to the Bronx before).
So, how do around 30 people on a coach bus amuse themselves for six hours? Well, we watched movies, sung songs with accompanying ukulele and slept. Sleeping, a favorite among teenagers.
When we got to the Canadian border everyone had to take out their travel documents, such as passports, green cards or birth certificates, and walk off the bus into a building where the Canadian Border Patrol examined everything. The wait in line was very nerve-racking. I wondered what would happen if they wouldn't let me in. But the border woman, having reviewed my documents, granted me access to the great white north. We got back on the bus ready to tackle the Canadian landscapes.
The land in Canada wasn't all that different than what you'd see in northern New England -- flat land with great mountains in the distance. People took out their cameras to capture the awesome sights of the horizon. After a while, the horizon started becoming more urban. We entered the city through a bridge and took a right. After driving down a main road, we entered the Old City, took a few more turns and ended up at Château Bellevue, where we would stay for four days and three nights.
Stay tuned for Part II.
Ethan Long has attended the Hamden School System since 1995. He is currently an 11th-grader at Hamden High. He is also a news editor at ABXY.org. You may contact Long at Streetsim@gmail.com.
---
March 5, 2007
Prediction: Hamden's CAPT Scores Will Drop
Every public high school student has to take the Connecticut Academic Performance Test (CAPT). Many schools require students to have passed the CAPT in order to graduate. Hamden High's CAPT policy requires students to have at least a "proficient" score in the reading, writing and math sections (there is also a science section, but it's pretty much all commonsense). If students do not meet the requirements, they have the chance to retake the test. If they still don't achieve proficient status, they can put together portfolios of their best work to be approved, to ensure that no one wastes their time at Hamden High.
The CAPT usually falls in the middle of March, when the snow is melting and the leaves are starting to grow. Ever since I started high school, the CAPT has taken place in the afternoon. Then last year, the state Education Committee presented Public Act No. 06-8.
It states: "This act eliminates the prohibition against administering before 9: 00 a. m., any state mastery examination or test mandated by the federal No Child Left Behind Act for students in grades seven through 12. By law, students in grades seven, eight, and 10 must take an examination that measures their reading, writing, and math skills. Beginning in the 2007-08 school year, these tests will also include science."
So, many school districts, including Hamden, have changed to an earlier time slot this year. I've written about how students get little sleep at night. This greatly affects focus and quality of work. By noon, most students are finally awake enough to focus. I know that the original law must've had something to do with this, because the report for the repeal stated: "The 9:00 A.M. test time is not proven to improve test performance and it causes valuable teaching hours to be lost." Well, I'm pretty sure that I'm more focused in my later classes than I am in my morning classes, in which I'm usually using the desk as a pillow.
The principal of Darien High School, Mr. Jerry Auclair, appeared before the state Legislature and argued that the restriction uses up crucial budget money as well as deprives his students of eight hours of learning time. Mr. John Vecchitto, principal of the small Nonnewaug High School, said he thinks that by starting early, his students would have "more time to finish."
More time to finish? When I took the CAPT, every section was timed. We were not allowed to be given more time to finish! Nevertheless, the state education board has agreed that the restriction reduces education time.
Nowhere does the bill state that you must start the exam before 9 a.m. Hamden High students enjoyed their early dismissal. With the announcement of the new schedule, many students groaned. We saw nothing wrong with the old one, but we can't stand the new one. Five out of 10 days during the next two weeks have full-hour classes for periods one, two and three. The rest of the day has shortened classes. During the remaining five days, the CAPT is held. Those taking the CAPT are required to come into school at the regular 7:30 a.m. time. Students not taking the test can sleep in and be driven to school by a parent before regular school starts. Yes, parents. The school system is making you take your kids to school in the morning. If schedules conflict with that, then you can send them on the morning bus, but they'll be sitting in a designated area for a couple of hours.
Some students tell me the staff shows movies to kids waiting for the testing to be over. For those who can get transportation, school starts off with period four. The start times for fourth period range from 10 a.m. to 11 a.m. It's kind of hectic, but I am looking forward to being able to sleep in. Still, I would much rather have an early ending to the day.
Of course with declining scores over the past few years, it's obvious that Hamden wants kids to test early in the morning -- while they're still in a state of droopiness. As we all know, sleeping during tests helps out a lot! In all seriousness, I would like to know exactly why Hamden, a district with poor CAPT scores, decided to hold this important test at the worst possible time. I am almost certain that this year's scores will be lower yet.
Anyway, good luck to everyone taking the test this year.
Ethan Long has attended the Hamden School System since 1995. He is currently an 11th-grader at Hamden High. He is also a news editor at ABXY.org. You may contact Long at Streetsim@gmail.com.