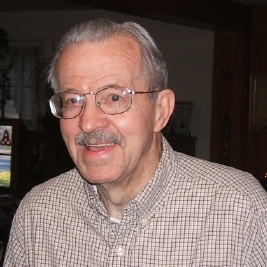 Photo/Sharon Bass
Duane Wetmore, 80, fire volunteer extraordinaire, fire commissioner, retired electrician, HHS class of '45, six kids, six grandkids
By Sharon Bass
The Wetmores, as most in town know, are a firefighting family. It started with Clinton Wetmore around the turn of the 20th century and hasn't missed a generation since. His grandson Duane Wetmore holds the distinction of being Hamden's longest-serving active volunteer firefighter. And is still a member of the Mix District fire company.
Duane was born at 921 Shepard Ave., and after a hiatus returned and remained. He's the oldest of 10 kids. A World War II vet. Teaches Sunday school at Mount Carmel Congregational Church. And keeps a fire scanner on 24/7 in his living room. His sister-in-law is the highly respected Councilwoman Betty Wetmore (R-at-large). And he's married to Sharyn Wetmore, a recent town of Hamden retiree.
Hamden Daily News: So you hold a town record.
Duane Wetmore: I drove a fire truck for 59 years.
HDN: And you're still involved. Why?
DW: Naturally, my father [Clement Wetmore] of course was a volunteer firefighter. He joined this volunteer fire company on Shepard Avenue in 1925. When I got around 12 years of age, I was riding the back of a fire truck, which needless to say you can't do that anymore, or whatever. My grandfather [Clinton] Wetmore, he was a volunteer in the Highwood fire company. That was the first volunteer company ever formed in Hamden. That's where it all started. Then my father, then naturally myself, my brothers and I've had two sons and a daughter join this company. So that made five generations.
HDN: What's the attraction?
DW: I felt that I was always doing something to help the community and that just seemed to rub off on basically everybody. And the old story, if it's good enough for dad and he's enjoying it, why should I? And I think that's the case.
HDN: Do you know roughly how many fires you helped put out?
DW: I have no idea.
HDN: More than 20?
DW: Oh, yes. You mean over the years? Oh, yes. Things have changed. Everything now is emergency calls, which you never had before. Years ago, volunteer firefighters were primarily woods fires. I mean brushfires, fires on Sleeping Giant. And I'm not saying they couldn't fight a house fire but they were used basically for woods fires.
HDN: Ever get injured?
DW: Not really. Here again, I was hanging out of a couple of attic windows on a [burning] two-and-a-half-story house because they brought the [hose] line in from the other end. But I never felt it was dangerous, even though it was. Because here again, this is what my father had done, my brothers and sister had done and no one was ever seriously injured from this.
HDN: You've lived in this town all your life and you're a Republican. Did you ever run for office?
DW: I ran once for councilman from the 8th District. I was talked into it by a good Democrat that wanted me to run.
HDN: Who was the good Democrat?
DW: Uh, well, um, let's just leave that alone.
HDN: OK.
DW: They felt I would do the job better than whoever was running at that particular time.
HDN: When was this?
DW: I think it was Lillian's [Clayman] last term or whatever. Lillian and I got to be close friends. I ran against Carol Noble and naturally we became the closest of friends. We were sitting in front of the Shepherd Glen School freezing to death [on Election Day that year], and she goes, 'I don't know why I am here.' See, she was only put on the ballot two weeks before the election.
HDN: And you never ran again.
DW: No, because I wasn't going to run against Carol. Plus the fact that I live by commonsense. That you try something once, then you look at the whole picture and figure out, 'Could I really ever win this?' And I determined at this point that the town turned Democratic many, many years ago. It was always Republican. And my feeling is there's no way a Republican can win in the 8th District at this particular point in time.
HDN: Do you think Republicans can win any districts now?
DW: Oh, yes. Oh, yah.
HDN: Which ones?
DW: Well, at this point in time the only Republicans we get on the Council are at-large. Like I said, the town for all intensive purposes -- and I want to see it stay the town of Hamden; once I depart, then change it to city -- we basically are a city. I mean we've got a mayor and a Council form of government here. And so there are very few cities [in Connecticut] that are Republican anymore. They're all Democratic. Years ago, we had a [Republican] town clerk who was Walt Connors and 90 percent of the time the Democrats never ran anybody against him. But then again it changed. My own personal thing is when Mix Avenue went to apartments you got a lot of people from the city who moved out to Hamden. The majority of those people who moved into those apartments were Democrats.
HDN: What about you is not well known around town?
DW: I'm an open book. I don't hide anything.
HDN: Do you want to talk about being drafted into the Navy when you were 18 during World War II?
DW: We went into Sampson, N.Y., for boot camp and I had to go into what they call a dental company because I had never been in a dental chair in my life. And so they did a job on me. Eighteen teeth had to be pulled out, but whatever. They did it in one sitting. It hurt a little bit. It wasn't so bad them pulling them. You see this is my problem. See, the man upstairs give me a tremendous memory and I can explicitly tell people some of these things that most figure I'd forgotten about. But you know, it's all there.
HDN: So you are taken away from your home at 18 and have 18 teeth yanked. What was that like?
DW: Well, basically I didn't know, well, here's another thing. It was a physical thing. I had a hernia, which I had gotten when I was 12 years old. Naturally, once I got into the Navy the Navy was going to take care of it. They said they would, you know. But I was going to have to go through basic training first. So when I got up to Sampson this one guy came and talked to me and he says, 'Young man, can I make a suggestion? Why don't you go through boot camp first and then get the operation?' Because naturally years ago, you were two weeks in bed with that type of operation. And they said this way here [boot camp] is behind you. Then I went through boot camp. Came home and met [his late first wife] Marjorie for two-weeks leave and headed back for Rhode Island for what they call pre-commission for ships. I didn't like the sound of the ammunition ships. I was in the fire room, or engine room. I wasn't going to be a deckhand because of my experience as a mechanic. That's why when I was drafted I had a lieutenant from the Navy and a sergeant from the Army arguing over who was going to get me.
HDN: What was it like leaving home for the first time to go into the military?
DW: I never gave it much thought.
---
December 8, 2006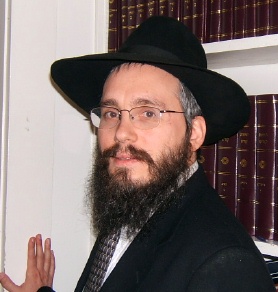 Photo/Sharon Bass
Rabbi Menachem Piekarski, 38, Chabad of Hamden leader, scholar, father of five young ones
By Sharon Bass
Rabbi Menachem Piekarski is a serious man and a delightfully passionate storyteller, and believer. He is the rabbi for the
Chabad of Hamden
, a national movement that's part synagogue, part academia. The Hassidic Jewish man, who grew up in Brooklyn, N.Y., runs services and classes out of his 17 Park St. home. Every moment of his life is Judaism.
The Piekarskis and their five children, 5-13, wrap themselves in religious rituals, prayers and intellectual discussion. The kids are avid readers. The parents are loving and firm. They choose not to be a mainstream American family. The Rabbi, as I call him, adheres to the strictest Jewish doctrine. First instance, in accordance to his interpretation of biblical scripture, family members are not allowed to touch the opposite sex, except among siblings, parents, grandparents and spouses. The Rabbi's son may not hug or even shake the hand of his aunt.
By living frugally, he and his wife, Miryam, are able to send all their children to Southern Connecticut Hebrew School in Orange. After the elementary school years there, the boys and girls are put in separate classrooms. The Rabbi said if he had to, he'd eat two meals a day to give his offspring a Jewish education.
Next Thursday at sundown is the beginning of the eight-day celebration of Hanukkah. On Sunday, Dec. 17, the Rabbi will again light the menorah across from Memorial Town Hall and then host a party in the Miller Senior Center.
Hamden Daily News: What is the meaning of Hanukkah?
Rabbi Menachem Piekarski: Well, if we took the word 'Hanukkah,' the literal meaning is rededication. Where the temple was rededicated after it was defiled by the Hellenists. Hanukkah means rededication. There was the miracle of the oil, where as part of the Hellinists defiling the temple, they defiled all the oil that was in there and couldn't be used in the service. And the miracle happened because they found one jug of oil that was not defiled, and that jug was enough for one day and it burned for eight days. So in essence what Hanukkah celebrates is the victory of the spirit over the material. Or right over might.
HDN: Do you think Hanukkah became a big, materialistic holiday because Jews were envious of Christmas?
Rabbi: Traditionally, on Hanukkah we gave what's called Hanukkah gelt. Now, Hanukkah gelt is not the chocolate coins you find in the store. Hanukkah gelt is money, real money. Hanukkah also relates to education. The Hebrew word for education is chinuch, so the root is the same as Hanukkah. Gelt had a two-fold purpose, a) to show children that you study and work hard. Hanukkah [in Europe, pre-World War II) was a bit of a winter break, although they did go to school, it was a little more relaxed. They played some games and … So they were given gelt as part of that. And some of that money was given to charity. In America, you're right, it became associated with Christmas.
HDN: I assume you give your children just gelt on Hanukkah.
Rabbi: With my family we don't do gifts. Hanukkah, technically, is a minor holiday compared to the other ones. It happens to be in the winter. And parents probably felt guilty that their kids weren't getting what other parents' children were getting [for Christmas]. Or it might be a feeling of inadequacy. They're having a big celebration, what are we celebrating? So Hanukkah became a big thing. There's nothing wrong with Hanukkah being a big thing. There's nothing wrong with kids getting gifts.
HDN: What does Hanukkah look like in your home?
Rabbi: Wait a moment. There's nothing wrong with making Hanukkah being big because we're rededicating ourselves to serving G-d. It's a great thing. But the problem is it became all about the gifts and not about what's behind the gifts. A gift is a good thing. A child should feel that we love them and sometimes a gift for no reason could take a child and boost them. It should be about what motivated the gift and not about the gift. So your question, what's Hanukkah like in my house? Take out the silver menorah. Gotta polish it. You've gotta have the oil and the wicks.
HDN: No candles?
Rabbi: Don't use candles. The miracle is with oil. Nowadays in our society where you can get everything prepared, they actually have prepared little bowls, if you will, pre-filled with oil and a wick. I used to prepare the wick myself and pour the oil. In our busy life every little bit helps. So we light the menorah. And we'll have the latkes, the potato pancakes. And my kids will get Hanukkah gelt. My kids are lucky because I give them Hanukkah gelt every night.
HDN: Do they give it to charity?
Rabbi: Not all of it. The children are taught that when you earn money, 10 percent should go to charity. The older ones, we'll encourage them to choose their own charity. The younger ones, we'll give it to us and make sure it gets to a charity.
HDN: What kind of charities?
Rabbi: Especially with Hanukkah, I tend to look for charities that relate to Jewish education. But if my children want to give to another charity, so be it, as long as it's legitimate. I will encourage them, I'm being parochial, to give to Jewish charity because I believe charity begins at home. We have to take care of ourselves first.
HDN: You said you're not Orthodox ...
Rabbi: No, I didn't say I'm not Orthodox.
HDN: OK.
Rabbi: I am a Jew. Period. I don't like labels. If you're asking me about my beliefs, well my beliefs are that of those who are called Orthodox. When someone asks me what am I, I say I'm a Jew. People come to me and tell me they're a conservative Jew or a reformed Jew or a reconstructionist Jew or a non-believing Jew or whatever it may be, and I say, Jew doesn't carry a label with it. You are a Jew. End of discussion.
HDN: What is the essence of Chabad?
Rabbi: It places an emphasis that our relationship to G-d is not only emotional, not only [based] on pure faith but has to impact our intellect as well. Therefore we have to understand as much as possible. And there's a whole approach on how we relate to G-d. How contemplating about the greatness of G-d creates an emotion of love. That's where Chabad distinguishes itself. The function of a Chabad rabbi, in general, will be to enhance the Judaism of everybody.
HDN: With several other rabbis in town, why do you light the town menorah each year?
Rabbi: The first public menorah lighting [in the United States] ever happened was in 1977, I think, or in '78 right in front of the White House. President Carter came out for that one. Chabad arranged it. Because Chabad, again, wants to enhance Judaism.
---
November 30, 2006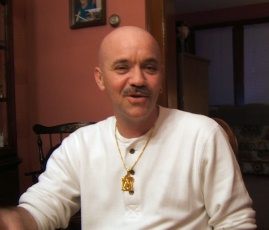 Photo/Sharon Bass
Paul Jacques, 49, community activist, former councilman looking to delete the "former" next year, father of four, grandpa of three
By Sharon Bass
He grew up in New Haven. He characterized his childhood as a political boot camp of sorts. Paul Jacques was surrounded by old-time politicians and became enamored early on.
In 1993, he moved to Hamden. Served on the Democratic Town Committee for 10 years. Represented the 2nd District on the Legislative Council from 2001-2003. Lost to Republican Chris LaTorraco in '03. And lost his 2005 primary bid to Councilman John Flanagan to serve his district again.
Jacques said he's taking one more stab at it in '07 -- either for an at-large or district seat.
His wife, Leslie Jacques, is a dispatcher for the Hamden police.
Hamden Daily News: You said you grew up surrounded by New Haven politicians.
Paul Jacques: I was born into it. My uncle ran for alderman in New Haven. I think he got beat that year. I lived on Cedar Street in a two-family house upstairs from Bill Ambrogio [former Hamden Police Chief Jack Ambrogio's father]. You had the likes of [late Congressman] Bob Giaimo and [late New Haven Democratic town Chair] Arthur Barbieri. People like that, just coming in and out [of the house] all the time. During the election times they would give us bumper stickers to go put on people's bumpers. It was like an adventure.
HDN: Without the car owners' approval?
PJ: Oh, yeah. If we ever got caught we'd have been in big trouble.
HDN: So that was part of your political upbringing.
PJ: Oh, yeah. [laughs] I have to say there was nobody better than those guys. Those were real gentlemen. Politicians, diplomats. They taught you the right way.
HDN: By putting stickers on cars?
PJ: Oh, not that!
HDN: What then?
PJ: You have to be a man of your word. If you give your word, that's your bond. You have to stick by what you say.
HDN: Why did you run for the Hamden Council?
PJ: I got involved with the Democratic Party. I got on the town committee. I got to be chairman of the district.
HDN: What was it like being a councilman?
PJ: I loved it. I really did. I really, really enjoyed it.
HDN: What did you love about it?
PJ: Well, there are so many things. The most important thing, and I don't want to sound corny, but there are so many things you can do for people. A lot of elected officials today are losing sight of that. There may be a hole in [a constituent's] street. They expect you to call them back. Or make an effort to do something.
HDN: In 2003, Republican Chris LaTorraca beat you.
PJ: The year before he was a registered Democrat, which I find funny. I don't think he would have beat me in the primary so they switched him over to the Republicans. At that time, there was a lot of controversy in our party. I was more like an outcast and there were Democrats working against Democrats. Against me, against Mr. Flanagan. They all put their efforts -- Democrats, Republicans -- into [LaTorraca's] campaign. I think he beat me by 20-some-odd votes, 40 votes.
HDN: Then last year, Flanagan beat you in the primary although you got the party's endorsement.
PJ: I beat Mr. Flanagan on the actual machines [but lost due to absentee ballots]. I actually won. I was the only candidate on the endorsed slate running with [former Mayor Carl] Amento … everyone won on Henrici's coattails. He blew everybody out of the water. The people in this district are so supportive of me running, it's just so overwhelming.
HDN: So we'll see you on the primary ballot next year, huh?
PJ: Oh, I'll be running for something. I'll tell you that right now. I'm not going to say it's too early [to announce his intention] or try to play this hide-and-seek game. People out there that may be my opponents, I'm giving them enough warning.
HDN: But you're unsure if it will be for an at-large or district seat?
PJ: Yeah, I don't know exactly what I want to do. I want to see what's in my best interest. Right now I've got people -- this is true -- from all over different parts of town who are trying to ask me to run because in the past I got involved in a lot of issues, not just in my district. But I still may run in my district.
HDN: Which Republican do you think will run in the 2nd?
PJ: Things are being said around town that Mr. [Gabe] Lupo [a police lieutenant] will run again. [Lupo narrowly lost to Flanagan last November.]
HDN: How do you feel running against Lupo?
PJ: I welcome it.
HDN: Do you think you'll beat him?
PJ: If I run in the district, yeah. Absolutely.
HDN: Why do you think Mayor Henrici got over 80 percent of the vote in '05?
PJ: I don't really even know if it was as much of a large victory for Henrici as it was the majority of people wanting Carl out.
HDN: The 80-plus percent was in the general election against Republican Dick Reilly.
PJ: Hamden Democrats outweigh the Republicans three or four to one.
HDN: But Henrici's win was reportedly a record high.
PJ: That doesn't surprise me. The Republican Party hasn't had a viable candidate since I've lived here. [Former Republican Mayor] Barbara DeNicola won, but as I said before with Carl Amento, it's not as much as somebody coming in and winning as much as the one who's in, let's get them out. [Former Mayor Lillian] Clayman was in and she was a very strong mayor. I supported her, too. But then there were Democrats for DeNicola, let's get Clayman out.
HDN: Why do you think Dems turned on Clayman?
PJ: I really wasn't like an insider then. There were little different things that were said. Some people said the year she cancelled the Italian feast that might have been one part of it. Losing sight of people up in Spring Glen that were really heavy supporters in the past went against her. I really don't know. But it was to get her out. Mickey Mouse could have ran that year on the Republican ticket and won. I'm not trying to be disrespectful to Barbara DeNicola, by no means. She was in [office] two years and she was a very good mayor, especially to me. Every time I asked her for something, she was there.
HDN: From your observation, what shape is the Hamden Democratic Party in these days?
PJ: Democratic Party right now, in my opinion, is so divided. I'll say that and anyone reading your newspaper knows. It's not a big secret. There are different groups within the party.
HDN: Did it change with Henrici's election?
PJ: Um, that's a good question. I don't think anything really changed. The leadership changed obviously. But the same players are there; they're just in different roles. The best thing that I think happened is the change in people in the administration in the Democratic Party. And it's a good change because after a while when the same thing keeps going on and on, it's like business as usual.
HDN: How have party dynamics changed since Amento was in office?
PJ: When Amento was in for six years, you had one group that was kind of running things. And let's be honest, the Democratic Party had a chairman that was also chairman of the Police Commission [Neil Longobardi]. There was a small, kind of close-knit group. I wasn't in the inner circle. Amento even put in print one time that I wasn't his best Councilperson. I don't know why, but we didn't see eye to eye the first few years. Now you don't have that because there are different people in positions of power, on boards and commissions.
HDN: How's your relationship with Democratic Town Committee Chair Joe McDonagh? Has it changed?
PJ: Well, no. I always got along with Joe. Joe will tell you himself.
HDN: But in 2005, you were the party-endorsed candidate, yet the Democrats seemed to support Tom Fortuna in the 2nd District primary.
PJ: Because at that time, our town chairman was supporting Mr. Henrici even though Mr. Amento was party-endorsed. A split now again. [Jacques ran on the Amento ticket.]
HDN: What are you predicting for the next election?
PJ: This time around I really doubt at all Mr. Henrici is going to get primaried. So now it's going to be Joe Blow and me. It's heads up. Whether it's going to be Mr. Flanagan or whoever the party person may be. And that doesn't bother me 'cause I know what I'm capable of doing and I'll work my tail off.
---
November 1, 2006
Three months ago, after just 14 years on the force, Tom Wydra completed his meteoric leap to the helm of the Hamden Police Department. With his boyish good looks, fair and thoughtful demeanor and practice of mutual respect, he exudes all the right elements of a winner.