General News
November 20, 2006
From Capt. Ron Smith:
Last Friday, two Quinnipiac University students were arrested for criminally abusing a young woman.
On Nov. 2, the Hamden Police Department responded to the university regarding a sexual assault. The complainant, a female student, told officers that on Oct. 19 two male students joked about urinating on her. A short time later, as she was leaving a friend's dormitory, James Feldeine and Trevon Charles allegedly grabbed her by the arms and pushed her into the boys' bathroom. She said they wouldn't allow her to leave.
The complainant subsequently ran into the shower and turned on the water, believing that this action would prevent her from being urinated on, she said. However, Charles reportedly urinated on the back of her leg.
The female student said she was able to flee from the bathroom and reported the incident to a university resident advisor. Feldeine and Charles then started sending harassing e-mails to the woman, according to police.
On Nov. 17, Hamden police arrested both men at the athletic director's office.
James Feldeine, 18, was arrested for unlawful restraint in the second degree and breach of peace. He was detained at police headquarters on a court-ordered $10,000 bond. He is scheduled to appear in Meriden court on Dec. 1.
Trevon Charles, 18, was arrested for sexual assault in the fourth degree, unlawful restraint in the second degree and breach of peace. He was detained at police headquarters on a $25,000 bond. He too is scheduled to appear in Meriden court on Dec. 1.
---
November 10, 2006
Upon the request of readers who have trouble navigating the Hamden Daily News site, we give you our best shot at explaining. If you're still confused, please let us know. (By the way, when you see words in blue, click on them and you will be transported to a story related to the one you're reading.)
OK, so you open up the site and see the home page. We usually keep one week's worth of "teasers" (beginnings of stories, links to press releases, etc.) on this page. For a month or longer, the stories remain in their proper categories -- those links on the left-hand side under "Inside the HDN." Like "Town Government," "Schools," "Arts," "Carusone At Bat," "Hallway Stories," and so on.
Depending on how quickly those categories fill up (usually town government and general news fill up fast), they are moved to "Archives," their final resting place. That link is under the masthead. Click there and you'll find each category listed with the month and year. Also, we just added a Google search bar. It brings up all stories inside the HDN that contain the entered search words. The Google link will take you to the right page, however, most likely not to the right story (unless it's on top), so you have to scroll down. Hope this helped.
--------------------------------------------------------------
Community Do-Gooders Recognized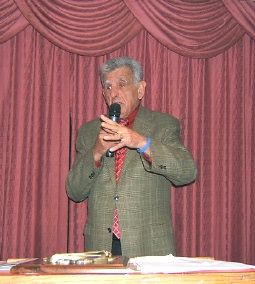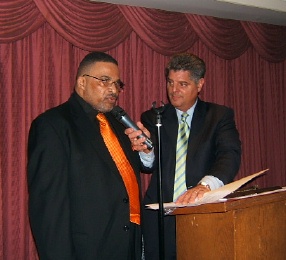 Carusone at the podium. Tolson (bright orange tie) tells the crowd his spirit is strong.
Former Mayor Carusone and Hamden community volunteer Wayne Tolson get "distinguished"
Story and photos by Sharon Bass
This was one award dinner where the eating took a lot longer than the speaking.
People began arriving at The Country House Restaurant in East Haven last night a little before 6. The Unitas Club was throwing its annual award shindig.
First stop was the cash bar.
Former Mayor John Carusone was being presented the lifetime award. Wayne Tolson, who has coached Hamden basketball for 30 years, and Jimmy Miller, a successful New Haven businessman who started life as an orphan, were receiving the club's distinguished service awards.
Someone in the bar area pointed to where the appetizers were, across the dining room of 25 round tables. "The appetizers here are wonderful," said Arts Coordinator Mimsie Coleman. Indeed they were. The shrimp with pasta was especially nice. Some noshers were saying they wouldn't be able to eat dinner because they were filling up on appetizers. Leftovers were doggy bagged.
Dinner was next. Two hundred and fifty people sat 10 to a table. Among the sea of heads were former Mayor Carl Amento, former Police Chief Jack Kennelly, former Public Works Director Joe Velardi, former Town Clerk Nancy Hulburt and current Parks & Rec Director and Unitas president Frank Rizzuti, Finance Director Mike Betz, Economic Development head Dale Kroop, Democratic Town Committee member Ann Ramsey and Police Commissioners Elliott Kerzner and Meg Nowacki. Oh, and state Sen. Joe Crisco (D-17), who just won re-election. Congrats, Joe.
The Unitas Club was founded in 1964 by Italian Hamden businessmen to raise money to donate to charities and offer college scholarships. Every year, the civic organization awards people who have been instrumental in their community.
Baskets of warm bread with crispy crust and little packets of butter arrived at the tables, shortly followed by a tasty, green salad. The evening's main course was either sole or chicken. Tarts made dessert.
At around 8:30 p.m., North Haven's Marie Buemi sang "Somewhere Over the Rainbow," and then MC Len Matteo got things going. He introduced the men, who exercised the art of word brevity in their thank you speeches.

Tolson is vice president of the Hamden Fathers Basketball Association, was an organizer of the Sleeping Giant Day Care and served on Hamden's Quality Education Task Force. He is a labor relations officer for the New Haven School Department. Tolson also talked about his struggle with Lou Gehrig's disease (amyotrophic lateral sclerosis). "It doesn't get my spirit down," said Tolson, who plans to put in another basketball season.
"Let me introduce you to …" began Carusone, as he acknowledged his wife, daughters, brother, grandchildren and sons-in-law. The former two-term mayor, councilman, assistant superintendent of schools, principal and teacher has volunteered for many civic associations, has been active in his neighborhood group and is a noted athlete, who made it to professional baseball in his youth.
--------------------------------------------------------------
Social Shop


Fasulo-McPherson seems to have found her niche. Photo/Erin Elfeldt
By Erin Elfeldt
It may not be the typical occupation for someone with a degree in social work, but Susan Fasulo-McPherson says it's the perfect fit. Her office is a local consignment shop. And her "clients" are her customers, who come from both around the block and around the globe. Many are poor.
She was once a frequent customer of Good As New, located at Whitney and Dickerman, until four years ago when Fasulo-McPherson saw it was for sale and bought it. Though she said she didn't need the money, she wanted to do something on her own.
"I don't need to be doing this, but I think it is important that I show my girls that women can be just as successful as men in the business world," she said.
The work also seems to satisfy Fasulo-McPherson's social-work itch. She donates clothing and other merchandise that's not selling to about 25 charities, in places as close as Our Lady of Mount Carmel Church and as far away as the Dominican Republic and Poland.
Pictures and thank you letters hang above the front counter. They're from impoverished people who live far away and got clothes from Fasulo-McPherson's store. The photos are of them wearing their new frocks.
The shopkeeper relayed a particularly poignant moment. She donated a christening gown to a couple who were burying their prematurely born infant.
"The family didn't have a lot of money, and they were very distressed. It was rewarding to know that I could help them bury their child properly," she said.
---
November 8, 2006
How We Voted

By Sharon Bass
Sixty-two percent -- or 20,407 out of the 32,666 registered town voters -- turned out yesterday. Town Clerk Vera Morrison got about double the typical number of mid-term absentee ballots. It was a possible record-breaker for a mid-term-election in Hamden.
Morrison said she and her crew got down to business at 5 a.m. yesterday. They didn't leave until after 1 a.m. today. It took five and a half hours just to count the 1,254 absentee ballots, she said. As of 3 a.m., Hamden election results mirrored statewide results. Check currant.com for the complete low-down.
Hamden Numbers
(Guide: R-Republican; D-Democrat; CC-Concerned Citizens; G-Green; WF-Working Families; CFL-Connecticut for Lieberman)
Governor
Jodi Rell, R, 10,940
John DeStefano, D, 8,509
Joseph Zdonczyk, CC, 64
Clifford Thornton G, 188
DeStefano won in the 3rd and 5th Districts.
U.S. Senator
Alan Schlesinger, R, 1,276
Ned Lamont, D, 8,294
Timothy Knibbs, (CC), 47
Ralph Ferrucci, G, 117
Joe Lieberman, CFL, 10,170
Lieberman lost to Lamont in Districts 3, 5 and 10.
3rd District Representative in Congress
Joseph Vollano, R, 3,468
Rosa DeLauro, D, 14,616
Daniel Sumrail, G, 272
11th District State Senator
Martin Looney, D, 8,872
Unchallenged
17th District State Senator
Boaz ItShaky, R, 890
Joe Crisco, D, 4,110
Joe Crisco, WF, 210
88th District State Representative
Brendan Sharkey (D), 4,485
Brendan Sharkey (WF), 242
Unopposed
91st District State Representative
Peter Villano, D, 4,884
Unopposed
96th District State Representative
Cameron Staples, D, 2,333
Unopposed
103rd District State Representative
Alfred Adinolfi, R, 1,159
Phil Brewer, D, 793
Jessica Heman (WF), 33
Secretary of the State
Richard Abbate, R, 3,388
Susan Bysiewicz, D, 13,510
Ken Mosher (L), 181
Jean Marie Burness (CC), 136
S. Michael Derosa, G, 352
Treasurer
Linda Roberts, R, 3,835
Denise Nappier, D, 12,451
Steven Edelman, L, 238
Mimi Knibbs, CC, 129
S. David Bue, G, 280
Comptroller
Cathy Cook, R, 3,715
Nancy Wyman, D, 12,227
Richard Connelly, L, 409
Colin Daniel Bennett, G, 309
Attorney General
Robert Farr, R, 2,867
Richard Blumenthal, D, 14,582
Nancy Burton, G, 340
Judge of Probate
Salvatore Diglio, 12,961
Unopposed
Registrar of Voters
Anthony V. Esposito, R, 4,708
Margaret Rae, D, 11,158
Since Hamden has a Democratic and Republican registrar of voter, Esposito wins, anyway.
---
November 6, 2006
At 50 Hours

Democratic Congresswoman Rosa DeLauro implores the Hamden crowd to kick butt for the remaining 50 hours of the campaign. Click arrow to hear her.
Words and videos by Sharon Bass
Dozens of Hamden Dems wolfed down slices of pizza last night at the Italian American Club on Columbus Street. It was their last hurrah before E-Day. An election, they say, that could determine the direction of this state, this country and the rest of the world.
Stay the course by continuing to bomb Iraq and turn more children (at home and abroad) into orphans or death statistics? Stay the course by ignoring domestic problems, like the unlivable minimum wage, the escalating numbers of Americans with no health care, the erosion of the middle class, the billions of tax dollars stuffed into the deep pockets of corporations and GOP lobbyists, the delayed reaction and seeming apathy of FEMA when Katrina hit?
That's what Connecticut Congresswoman Rosa DeLauro, Secretary of the State Susan Bysiewicz, state Treasurer Denise Nappier and Mary Glassman, candidate for lieutenant governor, told the crowd of other Dems like state Sens. Martin Looney (majority leader) and Joe Crisco; state Reps. Brendan Sharkey, Cam Staples and Peter Villano; 103rd House District candidate Phil Brewer; and Hamden politicians former Mayors Carl Amento and John Carusone; Council President Al Gorman; Council members John Flanagan, Mike Colaiacovo and Berita Rowe-Lewis; Police Commission Chair Elliot Kerzner; Planning & Zoning Commissioner Ann Altman; and Democratic Town Committee Chair Joe McDonagh and some of his flock.

Click arrow to listen to Secretary of the State Susan Bysewicz and Treasurer Denise Nappier.

Click arrow to hear lieutenant gubernatorial candidate Mary Glassman (D) talk to Hamden Dems.
---
November 3, 2006
Much About Joe

Democrat Lamont and Republican Schlesinger do it with respect at Quinnipiac. Click arrow for Lamont's closing words.
Story and videos by Sharon Bass
It was 15 minutes before showdown last night, and not a sign of either Connecticut U.S. Senate candidate who would be debating for the fourth and final time. Then Democrat Ned Lamont's bus pulled into Quinnipiac University and supporters, on cue, shouted, "We want Ned!"
Lamont, his wife and their entourage emerged from the NedMobile and were whisked into a studio. Still, no sign of Republican challenger Alan Schlesinger. And not a supporter in sight. Same for third-party candidate Joe Lieberman. But he wasn't coming. This time it would be just the Dem and the Repub.
Since there would not be a live audience, Lamont supporters gathered upstairs at Aunt Chilada's, about two miles north of the university, to tune in. Lamont would show up later.
Two TVs were turned on. No debate. Lots of commercials. But no debate. Folks wondered if they had the right channel. They did. Schlesinger had arrived late, it was announced. And the show began.
Unlike the first three televised debates, this one wreaked of cordiality -- and the ghost of Joe. Here are some lines culled from the debate. Guess who said what. Click here for the answers. May the power of memory be with you. (Nothing new was said.)
"Joe Lieberman has spent your money."
"If you want someone who's going to lie to you … vote Joe Lieberman."
"We're spending $250 million a day in Iraq."
"We've taken our eye off the ball in Afghanistan."
"There are many individuals we can't deal with … It starts with childhood … this hatred."
"There are people waiting to get into this country and are getting killed at the border."
"Make sure we come down on the employers who are hiring the illegals."
"We've lost about 86 percent of our funding for homeland security" under Lieberman's leadership.
"Too much of our money goes to highway construction and not to transportation."
"Joe Lieberman is part of the problem … there's not a dime in Social Security."
"Joe Lieberman is one of the leaders down there who wants to mislead you."
"Joe Lieberman wants you to think everything's OK -- just stay the course."
"I salute George Herbert Walker Bush."
"I think [U.S. Sen.] Orrin Hatch [R-Utah] has been a leader in health care reform."
"Social Security is a big issue for the blacks in this country … they never received fair benefits."
"I believe in affirmative action. I think it's in the best interest of America."
"I think the media has to focus more on the issues."
If not you, Schlesinger or Lieberman?

Hit the arrow to hear Lamont's response.

Post-debate at Chilada's. Hit the arrow for Lamont's quickie.
Brendan & Ned

State Rep. Brendan Sharkey (D-Hamden) and Lamont agree Lieberman is arrogant.