May 29, 2007
Seen at the Parade


HDN contributor Betsy Driebeek and her brother-in-law David Driebeek photographed the town's 71st Memorial Day Parade.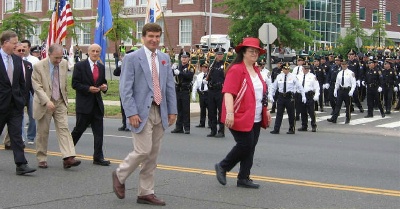 The local political entourage: Town Clerk Vera Morrison (in red jacket) and Mayor Craig Henrici lead the pack with (from left) state Sen. Brendan Sharkey, Sen. and Majority Leader Marty Looney and Rep. Peter Villano right behind.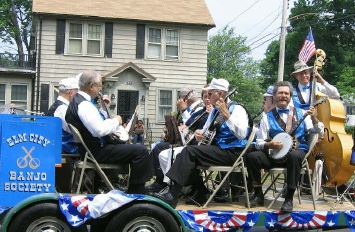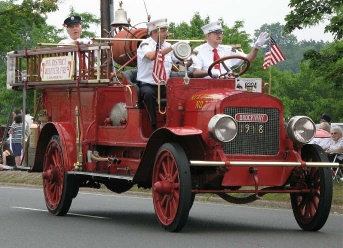 The Wetmores in their very familiar fire seats.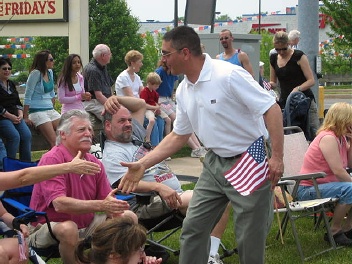 Republican Councilman Ron Gambardella is running for mayor. Photo/Jen Cutrali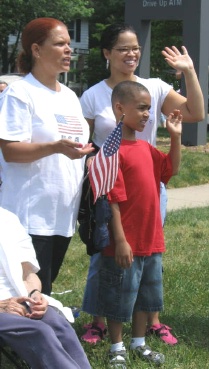 Onlookers.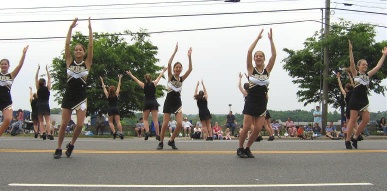 Hamden High girls dance for the crowd.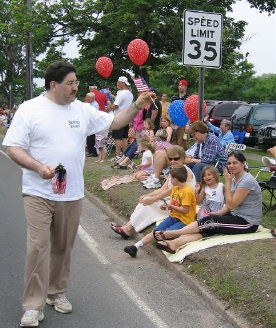 Former Mayor Carl Amento on the parade trail.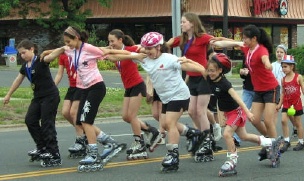 According to Tom Conway, Memorial Day Parade master of ceremonies, 2,500-3,000 folks marched this year. Here are the groups in alphabetical order:

103 Air Control Squadron
Am Vets #9
American Legion Post 150
American Legion Post 88
Antique Cadillac - Robert Ugolik
Bashta's Martial Arts
Bethcar Fellowship Church
Adjutant General's Office
Charles W. Wood Post 10321 VFW
Clear Channel Radio
Columbus Day Committee
Commodore John Barry Assembly
Connecticut Alumni Drum & Bugle Corps
Connecticut Trails Council - Girl Scouts
Cub Scout Pack 610
Cub Scout Pack 604
Dance Unlimited
DAV Chapter #2
Day Spring Lodge 30 and Evergreen Assembly of Rainbow Girls
Dunbar Hill Volunteer Fire Department
Elm City Banjo Society
Gaelic Highland Pipe Band
Gold Star Wives
Greater Hamden Baseball Association
Greater Hamden Scholarship Pageant
Greater New Haven Stroke Club
Hamden Comission on Disability Rights
Hamden Elks Lodge
Hamden Fathers' Baseball/Softball
Hamden Fathers' Cheerleading
Hamden Fire Department
Hamden Grammar School Bands
Hamden Heronettes
Hamden High School Band
Hamden High School Cheerleaders
Hamden High School Dance Team
Hamden Middle School Band
Hamden/North Haven YMCA
Hamden Office of Emergency Management
Hamden Plains United Methodist Church
Hamden Police Department
Hamden Republican Town Committee
Hamden Responsible Dog Owners Group
Hamden Soccer Association
Hamden Volunteer Firefighters
Hamden Women's Club
Hamden Youth Hockey
Hamden Youth Lacrosse
Jewish War Veterans Post 204
Joni's Dance Center
Korean War Veterans #204
Lancraft Fife & Drum
Marine Cadets of America
Miss Belleza Latina, Inc.
Miss Galzxy, Inc.
Mrs. Connecticut America Pageant
Parade Co-Marshals
Paradise Country Club
Relay for Life
Rydas for Righteousness
St. Steven School
State of Connecticut - fly over
Team Esprit
World War II Reenactors
--------------------------------------------------------------------
From the Heart, Hamden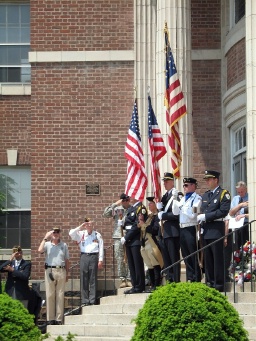 Memorial Day service in front of Memorial Town Hall. Photo/David Driebeek
By Betsy Driebeek
Folks, next year when the fire engines have drawn an end to Hamden's Memorial Day Parade don't make that bee-line for home. Instead, find your way to old Town Hall. That is where you will find the true meaning of the day.
I've been to the parade annually as a spectator, a mom marcher and a reporter -- but I did not know about the important and touching memorial service that takes place after the parade.
Yesterday wearing my reporter's cap, I followed master of ceremonies Tom Conway to the corner of Whitney and Dixwell. He was going to verify the parade participant list for me after the memorial ceremony. So I stood back and watched while I waited.
Veterans who marched in Hamden's 71st annual parade -- whom the crowd so heartily gave thanks to with clapping hands and cheers -- converged at the service. Some stood as color guard, some spoke and some lay ceremonial wreaths at the base of the flag. "God Bless America," "Taps" and "The Star-Spangled Banner" were performed live.
What probably made the ceremony most poignant was when one gentleman asked the crowd to remember -- as they go home and eat their grilled hamburgers -- that there are people in the service right now in Iraq and Afghanistan and some will not make it home.
This was Memorial Day in Hamden after the parade. I hope you will make your way to this ceremony next year.
---
May 28, 2007
13th Annual Classy Classics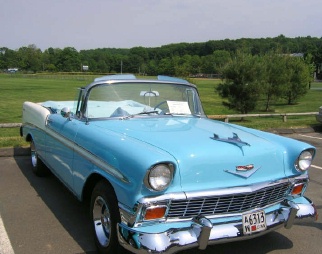 This 1956 Chevy convertible is owned by Connecticut Classic Chevy Club president George Civitelli.
Words and pictures by Betsy Driebeek
Over 700 vehicles converged on a Quinnipiac University parking lot Sunday for Connecticut Classic Chevy's 13th annual Memorial Day Weekend Car Show.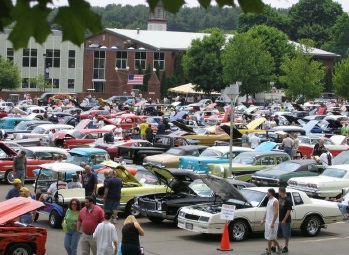 The owners of the cars -- built between 1900 and 1980 -- vied for over 75 trophies. Best In Show awards were chosen by corporate sponsors as well as Mayor Craig Henrici and Police Chief Tom Wydra. Those who entered their cars in the competition were asked to vote for their five favorites.
The classic wheels primarily came from Connecticut, Massachusetts, New York and New Jersey.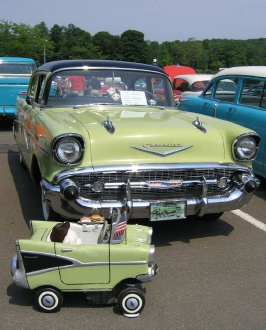 1957 Chevy and its offspring.
The annual event was developed by friends George Civitelli and former Hamden Police Chief Jack Kennelly. According to Civitelli, president of the club, all proceeds go to local charities and toward Quinnipiac scholarships in memory of Hamden police officers, and Southern Connecticut State University in memory of club family members.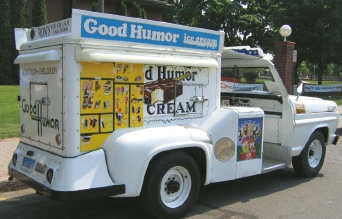 Ron Wojnoski's 1967 Ford Good Humor truck played double duty yesterday. It served up cold treats and also competed in the show. Wojnoski of Fairfield said the last of these trucks rolled off the assembly line in 1969.
During the awards ceremony Civitelli said, "We had a great day but we couldn't have had this show without the help of all the club members who bend over backwards, and our sponsors. Come back next year."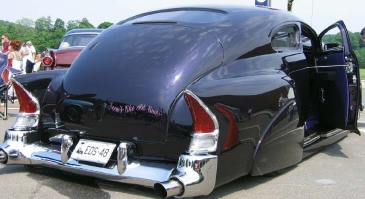 A 1948 Pontiac Silver Streak.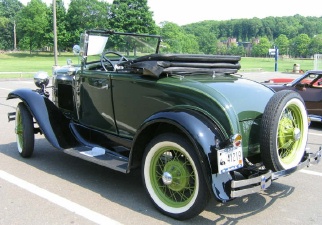 And a 1930 Ford Model A.