General News
June 30, 2006
Library Literary Challenge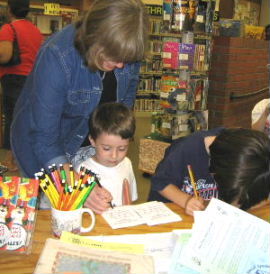 Hamden resident Patti Klaje helps her son Michael Loalbo register for summer reading, while brother Matthew Loalbo handles the job on his own.
Words and pictures by Betsy Driebeek
Classes may be out for summer, but the governor, schools and libraries are reminding kids to keep reading. In accordance, the Hamden Public Library kicked off its "Paws, Claws, Scales and Tales" summer reading challenge this week.
Here's how it works. Kids keep track of the amount of time they spend reading, or if they're too young, the amount of time they were read to. After every two hours, five minutes of reading, the library gives them a stamp, they get to hang up in Miller Library a cutout of their favorite pet inscribed with their name and choose a small prize. When a child has read for 10 hours, 25 minutes, he or she gets a certificate, gift coupons and a chance to enter a raffle. Registration is ongoing.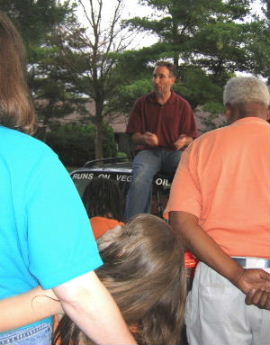 Mankita talking about his veggie mobile.
Adding some swing to the reading kickoff, Jay Mankita put on his show, "The Day the Library Went Wild," performing songs he's written about peace, health and the environment. He also showed the kids his bio-diesel car, which sports the bumper sticker, "Grease Peace - Drive Veggie."
---
June 26, 2006
Lt. Kicak Drops Lawsuit Against Kennelly, Nolan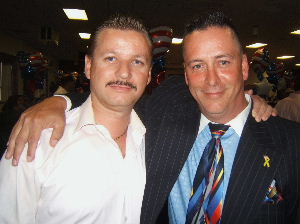 Kicak and Stephen Cahill at the latter's retirement party last month. File photo
By Sharon Bass
At 10:30 this morning, Lt. Bo Kicak, 44, was in Mayor Craig Henrici's office interviewing for both the police chief and deputy chief positions. Meanwhile, his New Haven attorney Mike Stratton withdrew his Valentine's Day lawsuit against Police Chief Jack Kennelly, who's expected to retire this Friday, and former Chief Bob Nolan.
However, it was dropped without prejudice, meaning it could be resurrected. "That is not something that is expected but I don't want to get into the legalities of it," said Kicak, reached at work this afternoon. "The advice from my attorney was to drop it without prejudice."
On Feb. 13, 2006, Kicak filed a suit against Kennelly and Nolan, saying he was skipped over for promotions in retaliation for not allegedly covering up for Kennelly during a drug bust.
"I thought it would be in the best interest of everyone involved" to drop the suit, said Kicak. "Obviously me and the chief have not always seen eye to eye, but I follow out his orders in the everyday business of protecting the citizens of the town of Hamden."
Asked if the suit withdrawal is related to him vying for the top cop jobs, he said no. "This has nothing to do with the present positions that I have applied for. It was just the right time," he said. "The decision was made between me and my attorney [Mike Stratton of New Haven]. It was being kicked around since Kennelly" announced he was retiring.
He said Kennelly's 35 years of service with the Hamden Police Department "is a very long time to dedicate to any profession, especially law enforcement. I wish him well in his well-deserved retirement."
In a press release issued this afternoon, lawyer Stratton is quoted as saying, "It became clear to Sgt. Kicak and Chief Kennelly that their continued dispute was not in the best interests of the department, and that in the end they are on the same team."
"Bo Kicak is an excellent lieutenant, and has always demonstrated the highest levels of professionalism while on the job," Kennelly said in the release. "The suit is over, and its [sic] time for both of us to move on. Nonetheless, I encourage the department to make full use of Bo's abilities in the future, and give him the opportunity to advance that he deserves."
Mayor Craig Henrici said the dismissal of the lawsuit would not influence his decision in choosing the new chief and deputy chief.
"If [Kicak] burying the hatchet, it's an honorable thing to do," he said, adding he knew nothing about the withdrawal of the lawsuit until this afternoon. Henrici said he has interviewed 10 of the 12 candidates -- all white males -- for the leadership positions. Tomorrow, he is scheduled to wrap up the process with Deputy Chief Bill Onofrio and Lt. Ron Smith.
The mayor has interviewed retired Deputy Chief Stephen Cahill, Deputy Chief Tom Wydra, Lt. Tim Wydra, Lt. John Cappiello, Capt. Robert Clark, Sgt. Gabe Lupo, Lt. Brian Carmody, Lt. Francis McDermott, Officer Michael Pantera and Kicak. Henrici said five have applied for both posts.
"I've been very impressed and it's very competitive," he said, adding he's unsure if he will name the new chief and deputy by the end of the week. If not, he said Kennelly might stay on an extra week and an interim appointment would be made.
-------------------------------------------------------------------
Rained-Out Relay


Jill Blackwell of Hamden lost both her parents to cancer within the last six years. She said she was quite disappointed the relay was cancelled, noting, "This is a huge family inspirational event for us."
The cancer-awareness event was cut short but raised every dollar hoped for
Story and photos by Betsy Driebeek
It was supposed to last 24 hours but lasted only three. For the first time in six years, the American Cancer Society's Hamden/North Haven Relay For Life came to a sopping wet halt.
Opening ceremonies were to begin at 10 a.m. Saturday on the Quinnipiac University athletic fields, but were delayed a half-hour because of rain. Laura Ostojic of the ACS said 150 cancer survivors had signed up for the event and were able to take their celebration lap around the track, before the rain bell whistled.
A short time later the field was evacuated due to lightning, said recently retired Battalion Chief Paul Wetmore Jr., co-chair of logistics for the relay. And by 1:30 p.m., the relay committee called an official end to the event.
"The field is unusable and we don't want anyone to get hurt," said Wetmore. "Heat has always been the issue here, but this is the first time the problem is water."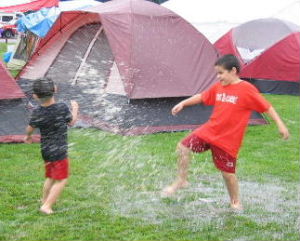 Hamden brothers Blake Bezzera, 4 (left), and Spencer, 7, make use of
the rainwater that flooded the field.
"This is too bad, it took a lot of effort to put this together," said Colette Kroop, daughter of Hamden Economic Development Director Dale Kroop. Colette entered the Kids Care segment of the relay.
Though Wetmore told folks police would keep an eye on their belongings overnight, many soaked souls trudged and splashed through the flooded grass anyway to load up their vehicles.
According to its Web site, the relay is "a fun filled overnight event designed to celebrate survivorship and raise money to help the American Cancer Society save lives, help those who have been touched by cancer, and empower individuals to fight back against this disease."
Although this year's event was cut short, the money-raising effort was not hampered. Ostojic said the $215,000 goal was met. By Saturday morning, $200,000 had been raised. And another $15,000 came in from other donations and the sale of $5 luminarias, which are inscribed with the name of a person who has been touched by cancer. They were to be lit in a ceremony Saturday evening. She said the ceremony would be rescheduled.
---
June 17, 2006
Father's Day is tomorrow, so the HDN asked some Hamden folks, "What's special about your dad?" Interviews and photos by Betsy Driebeek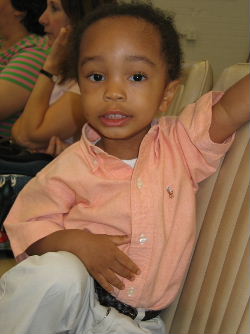 As 2-year-old Nickolas Charles is still a one-word-answer guy, mom interpreted: "When his daddy is home, mommy doesn't see Nickolas."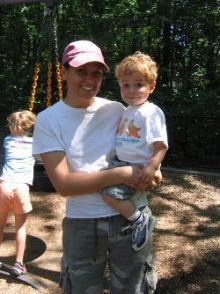 "I thank him for everything he taught me. I look up to him a lot. He's a great man." Maria Barsky, holding son Simon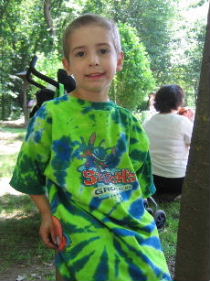 "He's strong, he can lift a tree. I like to play games with him." Kevin Collins, 4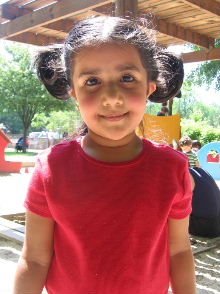 "He reads stories, he plays with me." Sandhya Rajagopalan, 4, YMCA preschool student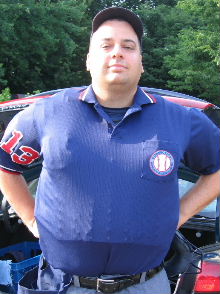 "The values he has instilled in us, giving to community, teaching us to live the right way. He has health problems right now, but still gets up and lives his life. He
tries not to call attention to himself and still helps others. He took me back home as an adult when I needed it, no questions. He sets wonderful examples." Mark Mentone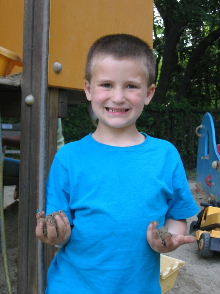 "My dad is sweeter than my mom because he buys more toys than she does. He brings me to the park more, too." Boaz Kaffman, 5, Spring Glen student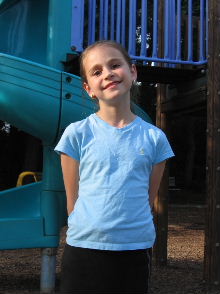 "My dad always finds a place for us to go on vacation. He buys us the Backyardigan characters. Eilee Dingus, 8, Ridge Hill School student
Happy Father's Day, Hamden
---
June 14, 2006
You Can't See This In Hamden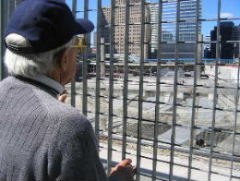 Adolph DiChello of Hamden at Ground Zero.
Story and photos by Betsy Driebeek
A floating brunch by Lady Liberty. A guided tour of lower Manhattan. Browsing in Chinatown. A gelati in Little Italy. Reflections by Ground Zero. And seeing the newly opened firefighters memorial.
Forty-two people, including myself, left Hamden last Sunday and did all of the above. We did it through the town's Adult Education.
We left Hamden High by motor coach at 8:30 a.m. with Adult Ed escort Patti Joy Susi. As we closed in on our first destination -- a buffet breakfast with World Yacht Cruises -- we passed the big-time cruise ships at Piers 90 and 92, the Intrepid at 84 and Circle Line at 83. Then we reached Pier 81 and embarked on our two-hour cruise of lower Manhattan.
We were joined by 308 others, also out for a Sunday brunch on a beautiful June day, albeit a little windy. There were two floors of linen-graced tables, pianists playing classical and soft rock on baby grands, a variety of exotic breads at our fingertips and a buffet.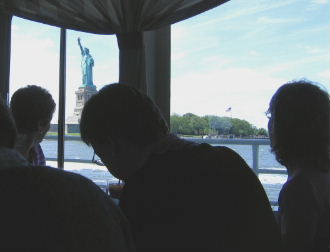 The cruise took us south on the Hudson River. Was that green lady out there putting down her torch and book to grab some chocolate cake?
After brunch, we strolled the decks to take in the views -- did I say windy? If you had seen lower Manhattan from the water prior to 9/11, you would be struck by the emptiness the fallen towers left on the skyline.
After the cruise, we boarded our coach and were greeted by our own city guide, Marta Cooper. "Marta, like Martha Stewart," she joked. "Only I never went to jail and I don't have a gazillion dollars. Other than that, we're twins." She then pointed out Stewart's office and apartment, which abut the lower West Side Highway.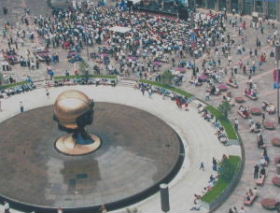 The Sphere -- described as a "monument fostering world peace" -- once stood in the fountain of the World Trade Center plaza (as shown in this picture). It was pulled from underneath the collapsed towers, and the damaged artwork now sits in Battery Park as a memorial.
Next stop, Ground Zero. It was the first time I saw it. We quickly passed by it in the bus, and I had a poignant pit-in-the-stomach moment. We later returned on foot to look through the enclosure protecting the area, trying to fathom what once stood in that enormous empty space, how high the towers were, how it could possibly have felt standing in the same spot that day and all the lives that were lost.
A sign on a metal fence detailed the timeline of that fateful morning:
8:46 - American Airlines Flight 11 hits 1WTC, the North Tower
9:03 - United Airlines 175 hits 2WTC, the South Tower
9:37 - American Airlines 77 flies into the Pentagon
9:42 - For the first time in U.S. history, the FDA cancels all flight operations
9:59 - South Tower collapses
10:03 - United Airlines Flight 93 crashes into a field in Shanksville, Penn.
10:28 - North Tower collapses
Cooper told us the new Freedom Tower to be built at Ground Zero will be 1,776 feet tall, in honor of the year the United States declared its independence. (Tower A had stood at 1,368 feet and Tower B at 1,362.) Our guide said many question such a height in light of the tragedy. But, she said, "We must take back our skies and show our confidence."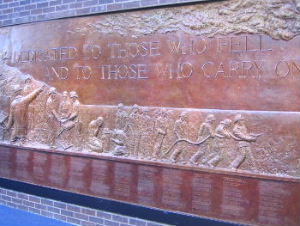 The firefighters' memorial mounted on the sidewall of Engine 10/Ladder 10, across from Ground Zero.
It was opening day of the New York City firefighters memorial. It is a solid-bronze sculpture, 56 feet long and 6 feet high, depicting firefighters responding to the attacks. We were encouraged to make pencil rubbings of some of the 343 names of those who lost their lives.
I can now say that I've been to Ground Zero, but personally it was not long enough. I wasn't able to absorb it all in such a short time. The people who perished there, though I didn't know a soul, deserve more reflection. I will make it back on my own time.
Across from the tower site is St. Paul's Church, the parish George Washington used when he was president. That's where we boarded our coach for a tour of the financial district.
Great and powerful Wall Street is only a half-mile long.
Before leaving the city, we were given time to walk around Little Italy and Chinatown -- next-door neighbors. A lot of us went to Ferrara's for a cannoli or gelati.
We boarded the coach at 5:30 p.m. as planned. We were nicely zooming our way out of the city and then it happened. We bumped into the remnants of the Puerto Rican Day parade. Our last 6.5 miles out of Manhattan took an hour and 15 minutes. But you know what, there was not one complaint from the Hamden excursionists..
---
June 10, 2006
A Torch Runs Through It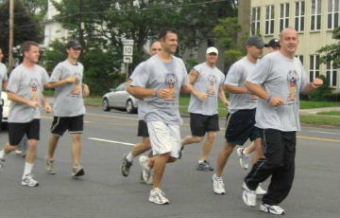 Hamden police begin the second half of their run yesterday. Photo/Betsy Driebeek
By Betsy Driebeek
Hamden cops chased a pickup 8.5 miles Friday afternoon -- the length of Route 10 from Cheshire to New Haven -- on foot.
It was the 20th annual Law Enforcement Torch Run® for Special Olympics 2006. The olympics are being held this weekend at Southern Connecticut State University.
According to the Special Olympics of Connecticut Web site, more than 85,000 law enforcement officers carry the "Flame of Hope" around 50 states and 35 nations to raise awareness and money for the yearly event.
At 3:41 p.m. yesterday, Hamden cops were waiting at the Cheshire town line to join the leg started in Newington at 9:22 a.m. Their run took them down Whitney Avenue, escorted by Hamden and state police officers and a pickup with supplies such as drinking water and torch accelerants.
A 10-minute break was taken in front of the Hamden Police Department and then the run continued down Dixwell Avenue to the New Haven City line, where the torch was passed to a waiting Special Olympics participant.
Hamden runner Officer Mark Sheppard said at the completion of his run, "Special Olympics is a great cause and we're happy to do it. The athletes are an inspiration."
Connecticut's 2006 Torch Run covered over 640 miles in more than 100 cities and towns. Over 3,500 law enforcement officers and Special Olympics athletes participated.
Law enforcement officers started the run on Wednesday, June 7, ending the day at Foxwoods Resort Casino in Ledyard. Day two saw runners converge on West Hartford.
Yesterday, five different routes were taken. They started in Chester, Greenwich, Newington, New Milford and Wilton. The final meeting place for all five legs was Long Wharf in New Haven, where the official ceremonial torch was lit by the five traveling torches.
The ceremonial torch was brought to Jess Dow Field at SCSU at 9 last night to kick off the Special Olympics.
-------------------------------------------------------------------------
Hurry! BioBlitz Ends at 4 p.m. Today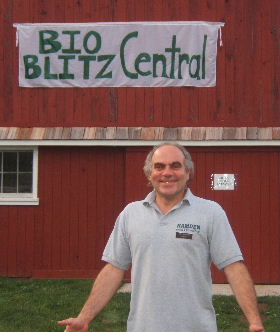 Ranger Vin Lavorgna says to come on down for some scientific fun.
Story and photos by Sharon Bass
Brooksvale Park resembles a mini-science-themed Woodstock this weekend. Tents are pitched, 70-75 biologists, mycologists, herpetologists, botanists and other science types have converged on the northern Hamden wonderland, and Joe Grate's barbecue is smoking away.
It's the BioBlitz. A first-time-ever event of its kind around here.
Yesterday at 4 p.m., the plant and animal scientists embarked on a 24-hour-long counting of birds, bugs, plants, mammals, fish, flowers, butterflies and so on. At the same time, hourly hikes led by volunteers are planned for visitors.
"It's a biological inventory that will really help the park," said Jim Sirch, a Hamden resident and BioBlitz volunteer. "It really helps with knowing what's here so we can protect it."
Ranger Vin Lavorgna said he sure hopes the public will "come out and interact with the scientists."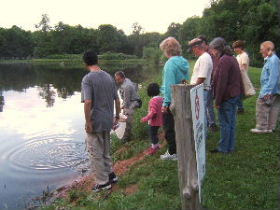 Early yesterday evening, a small group gathered for a combined pond and crepuscular critter walk. Stopping at the pond first, a volunteer leader pointed out the singing of frogs. The surface of the water was dotted with American toad tadpoles, which look like little black goldfish. The hiking guide said it takes three years for the tadpoles to fully develop, and usually after another four they die. On the other side of the pond, herpetologists were filling turtle traps with shrimp and other fish.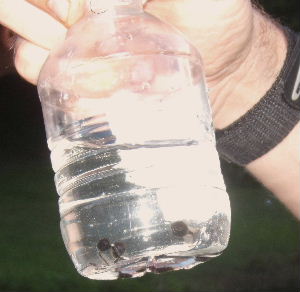 Those black things are American toad tadpoles fresh out of the pond.
A committee of eight, including Lavorgna and Sirch, formed last year to develop the BioBlitz. "We're the eight super powers," the ranger said.
Check back here Monday to get the final tally on the number of living things found at Brooksvale Park.
---
June 7, 2006
Story and photos by Betsy Driebeek
Hamden remembered D-Day last night through the words of those who invaded Normandy, France, 62 years ago, in order to attack and destroy German defenses commanded by Rommel.
The idea for the event, which saw a full house at Thornton Wilder Hall, came from Arthur Erickson, president of Beecher & Bennett Funeral Service. He had received a DVD entitled "Lest They Be Forgotten." According to the cover, the film is "A true life historical account of the Omaha Beach landing," produced and directed by Larry Cappetto.
Moved by those interviewed in the film, Erickson gave the DVD to his friend and chairman of the Hamden Veterans Commission, Abner Oakes. Erickson wanted to show the movie to the public and also have local people share their DD experiences -- from both abroad and at home.
Then local filmmaker Guy Ortoleva got involved. He made his own short film about Hamden's D-Day veterans, the home front and the local industries that supported the war. "I tried to present the local angle to the world event," he said.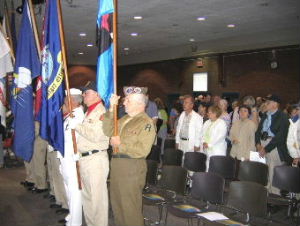 The audience last night viewed both films as well as engaged in a panel discussion entitled "How D-Day Touched This Community," moderated by Ortoleva. There were about 40 veterans in the room and 10 others who had been in Hamden on DD.
Panel members were Hamden residents Ray Larolo, who landed in Normandy on June 8, 1944; Jean Aiken, who was in town that day; and Audrey Cable Linke, author of "World War II Remembered - A Treasury of Heroes," a compilation of interviews.
Larolo, having arrived two days after D-Day, said that the impression of dead bodies floating in the water and lying on the beach is forever etched in his memory.
Aiken recalled exactly what she was doing that day in Hamden.
"It was a beautiful day, warm, and on my side lawn there were 44 card tables set up for a strawberry festival," she said. "We knew what was going on, but we tried to keep things as normal as possible. We were raising funds for the library, when it was around the corner on Whitney Avenue."
When Ortoleva asked Aiken how it felt to have so many town's men in the war, she said, "We were all a part of it. We think that everyone in our 1940 high school class served."
Cable Linke has been collecting war stories for over 50 years. She said it is important to get the stories out because all, including children, need to know the sacrifices made. "These men were magnificent. They are the people who kept us free," she said.
Key speaker of the evening, Assistant School Superintendent and retired Lt. Col. Hamlet Hernandez said, "Some may tell you that the saying 'Freedom is not free' is trite, but if you served in the military, looked in the eyes of danger or saw a friend in harm's way you know that freedom is not free."
Meriden resident Richard Egan, wearing his original uniform of June 6, 1944, closed the event by playing "Taps" on his bugle.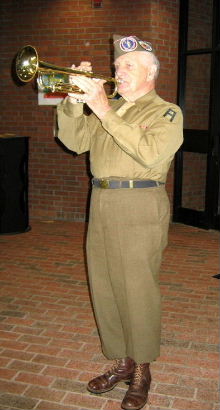 --------------------------------------------------------
Signing Good For Hearing Kids, Too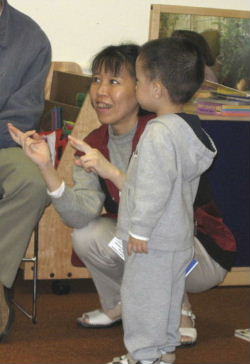 Xiaobo Wu of Hamden signs a song for her son Joye, 26 months.
Story and photos by Betsy Driebeek
According to Debbie Carson, parents and caregivers can communicate with babies even before they are able to talk -- with sign language.
Carson's parents are both deaf and she grew up using American Sign Language (ASL). She says it's her first language and the third most commonly used in the country. She is teaching ASL to her 19-month-old son and has been told he currently has the language development of a 2.5-year-old.
Wanting to pass the word along, Carson embarked on a trek to introduce others to infant and toddler sign language. Last night, she did that at Miller Library.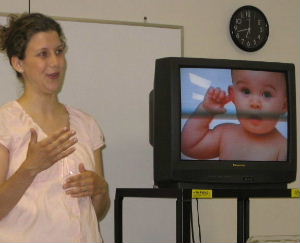 Debbie Carson explains the benefits of teaching sign to babies and toddlers.
She said a child is never too young or too old to learn sign language. "It helps to raise IQs and creates better bonding because the adult is understanding better what [the child's] needs are," said Carson.
Songs with hand gestures -- like "Wheels on the Bus" -- are particularly popular with children because the movements are memorable, and before they can sing, the gestures give the babies and toddlers a way to participate, she said.
Carson does not teach strict ASL. That is, the babies are not learning the alphabet and spelling. Rather she uses ASL to "augment the spoken language, to use one-word signs that are important to children," she said. Carson said she always teaches these three words first: eat, more and milk. "A lot of signs are iconic and easy to remember for the children."

For more information about signing to infants and toddlers visit www.riseandsign.com.
---
June 5, 2006
Cops and friends say goodbye to former Deputy Police Chief Stephen Cahill
Story and photos by Sharon Bass
Everyone from his makers (mom and day Sally and Stephen Cahill), to his babysitter (Town Hall employee Patty Lujick), to the man who hired him (former Hamden Police Chief John Ambrogio) drove to Milford last night to bid adieu to Stephen Cahill. It was a double goodbye.
Last Thursday, he officially retired as deputy police chief after 22 years on the force. On June 13, he is leaving the state and eventually the country for a one-year tour in Afghanistan. He was originally going to Iraq, but changed his mind.
His wife, Gina Cahill, organized the retirement/send-off party at the Pyramid Shriners Club. While droves of cops and friends and family members drank and laughed at 60 bucks a head (open bar), Gina Cahill's eyes were red and moist most of the evening. She and Stephen became an item when they were 12. She doesn't want him to go.
But Stephen Cahill, 45, has an apparent thirst for challenge. He said he's leaving the police department before he wanted to. And needs a thrilling distraction.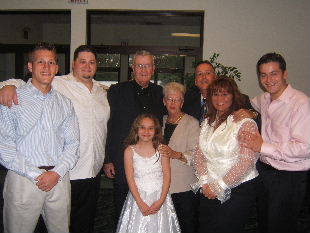 Stephen Cahill's clan: (left to right) son Austin, son Kevin, dad George, mom Sally, wife Gina and son Stephen Jr. Daughter Nikki is the little one in white and Stephen is behind his mother and wife.
"I'm really proud but I can't get past feeling sad," said Gina Cahill, an animal control officer for Hamden. And she's bitter that her husband felt he had to leave the force prematurely.
"I think my husband would have been the best chief Hamden ever saw. He has the respect of the men," she said. "Over the years I've been on the sidelines watching how politics played out. And in the last couple of weeks, I've seen a lot of true colors come out."
Her husband will teach Afghani police how to investigate their government for corruption.
"I was upset," Sally Cahill said from inside the Shriners club kitchen. "But then I leave everything up to the hands of the lord. I feel peaceful and that's the only way I can handle this. Otherwise, I'd scream."
"I'm going there for the weather," Stephen told his mother. "It's 137 degrees there and 30 at night.
"I feel like I'm being pulled there. I just want to be part of making right what happened on 9/11," he said. He'll be paid $130,000 for the year.
But his son Austin Cahill, 20, had a different explanation for his father's unpopular-with-the-family choice.
"He thinks he's Sylvester Stallone, 'First Blood,' 'Rambo,'" he said. Austin is entering Southern Connecticut State University this fall, with long-range plans to become an attorney.

A Stroll Around the Room
Ambrogio was chewing the fat with East Haven Police Chief Lenny Gallo.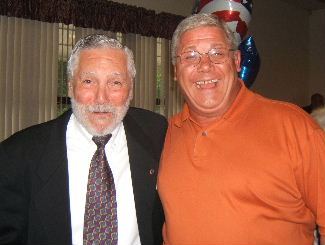 Ambrogio and Gallo.
"I hired him," Ambrogio said of Cahill. "I've known him since he was a kid. He was a tough street cop and he was able to make the transition to administration. He was honest. He was tough. And he was loyal -- and you could teach him anything else."
Public Works Director John Busca was having a drink with his friend Dominique Szarkowski, who recently came to Hamden from the country of Poland. "I wish him a happy and healthy tour of Afghanistan," said Busca.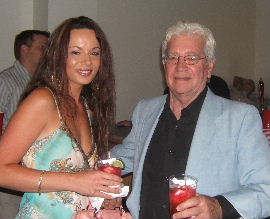 Dominique Szarkowski with her friend Public Works head John Busca.
A few yards away, Lt. Bo Kicak was chatting with the man of the hour. Kicak is suing Police Chief Jack Kennelly, who is retiring at the end of the month, and former chief Bob Nolan for allegedly being passed over for promotions in retaliation for not going along with a cover-up after a drug bust.
"He'll be extremely missed," Kicak said of Cahill. "He's one of the rare individuals who has the combination of brain and brawn."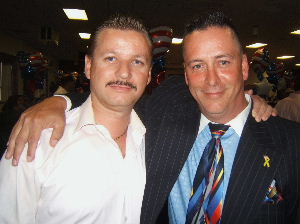 Lt. Kicak and retired Deputy Chief Cahill.
A live band called Timeless cranked out tunes from the '60s to the '80s. But only the children danced.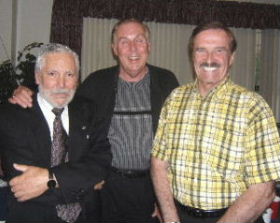 Hamden's last three chiefs: Ambrogio, Bob Nolan and Kennelly.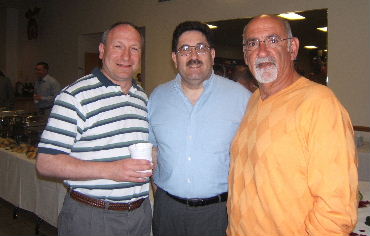 Councilman Jim Pascarella, former Mayor Carl Amento and Police Commissioner Marty Ruff.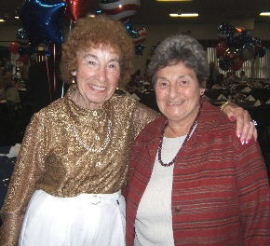 Animal Control Officer Jean Murray with former Mayor Barbara DeNicola.
The lights dimmed and a handful of people made speeches. Unlike at other cop parties, the speakers were brief and polite. None of the typical bawdy humor. There were children in the audience.
Ambrogio praised Cahill for being a good cop.
"When Stephen played Little League he showed his leadership ability," said George Cahill Jr., Stephen's brother. "We're sure that what he does following the Hamden Police Department, he will do very well."
Sgt. Gabe Lupo wished Cahill good luck. Neither Kennelly nor Nolan spoke.
Austin Cahill took over the mike. His spontaneous speech to his dad ran the gamut of emotions, and included some witty bits.
He started off thanking his mother for being there while his father was gone a lot doing investigations. "My mom took care of us," he said. Teary Gina Cahill got a standing ovation.
Her son continued. "My father could have retired and played golf. But he's going to Afghanistan. He's having a midlife crisis. My brother told him to get a girlfriend. I told him to get a Harley." The crowd laughed.
"No girlfriend. No Harley. I've been proud of my father, except the illegal searches," said Austin. And then he announced the last speaker of the night: "My father, Stephen Cahill."
"I have this napkin because there are tears coming out of my eyes," he said, holding a white linen napkin near his right eye. "I appreciate everyone coming out. I am humbled."
His 9-year-old daughter Nikki sat on the floor before him taking pictures of him. "What are you doing there?" he asked. And the two smiled at each other.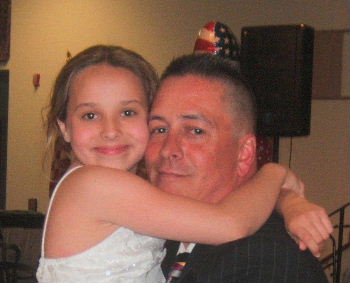 Stephen Cahill and his daughter, Nikki.
A martini was served to the man of honor and he talked about the time he got arrested. It was 1980, Cahill said. He was on a picket line and was put in jail.
"Two years later, I didn't know what to do with my life. I already had eight kids and I needed a job," said the father of five. "Luckily, my father knew Jack Ambrogio and I got hired" as a Hamden cop. Shortly after coming on, he said, Internal Affairs investigated his arrest.
"So they worked me over for a while," said Cahill.
Switching gears, he said, "I picked my girlfriend when I was 12. I picked the best. I had the best mother and the best father."

The Next Day
Today a stretch limo was to pick up Stephen, Gina and Nikki Cahill to take them to Myrtle Beach, S.C.
"He said he's leaving his golf clubs home," said Gina. Stephen golfs three to four times a week, she said.
They plan to come home Saturday. The next Tuesday, Stephen will head down to Virginia to start this latest chapter of his life.
---
June 1, 2006
Mary Enters the Hard Life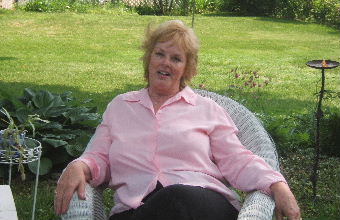 Just retired, Mary DeSarbo listens to the birds while taking a deep breath. Photo/Sharon Bass
By Sharon Bass
For 28 years Mary DeSarbo served thousands of people. Now she's decided to serve herself.
She retired last Thursday from her job with Hamden Community Services, and said she is really gung-ho about doing whatever whenever. If she feels like gardening, she will. She's got some awesome flowers growing in her Hubbard Place back yard -- black-eyed Susans, poppies, daisies and irises. And there are tomatoes and lettuce as well.
Or she might get out her easel and paint. She left the Miller Library yesterday with an armload of books on painting. DeSarbo said she'll get to see her two grandchildren more now. And at times, the 60-plus-year-old woman said she'll just sit in her quiet, pleasant yard, watch the birds and think about life.
"I've helped people and now it's my time for me to do what I want to do," she said. "I'm really just being. I'm really at peace. It's been a great journey. I've met beautiful people."
DeSarbo's planned no vacations. No real changes. She's opening the latest chapter of her life with few expectations and little pressure.
From her back yard, DeSarbo talked about her life transition. First, she spoke about working at the Keefe Center for nearly three decades.
"If you have ever worked at the Keefe Center, the majority of the people become your family. You share their grief and happiness. You see their children born, their grandchildren," she said, sipping iced tea.
"We're called Keefies," she said. "Once a Keefie, always a Keefie." With her boss, Vanna Francia, DeSarbo helped start the town's food and fuel banks. She also worked on the annual toy drives.
"The majority of the time, I looked forward to going to work there," she said. And related a couple of fond memories.
About 15 years ago, she said two women came at separte times looking for food and fuel assistance. After DeSarbo helped them, she said she became best friends with both.
Then there was the family in dire need that came to the Keefe Center. DeSarbo said the father had cancer and he and his wife had three young children. "Just showing that someone cared about them. That they were not alone in this quest," she said. "Most people come at a very low point."
"It's going to leave a hole, not just in the department but it's going to be hard for the people who relied on the many things Mary did for Hamden residents," said Francia. "You develop a real feeling for the community and you can't learn that. It takes a long time" to develop. She said she hopes to fill DeSarbo's position soon.
The new retiree grew up in the small town of Bennington, Vt. Her graduating class had 28 students. She and her husband, Anthony DeSarbo, moved to Hamden 30 years ago, to the home they still occupy.
When her mother died a year ago, DeSarbo said she reexamined the priorities in her life. "It made me start to think about retirement. It soon becomes more than about money," she said.
This Friday from 5 p.m.-8 p.m., there will be a retirement party for DeSarbo at the Playwright at 1232 Whitney Ave. Buffet dinner and gift/$25 per person. FMI, contact John Cabral at 562.5129, or Peggy Craft 287.7040.
---------------------------------------------------------------------------
By Deputy Fire Chief Clark Hurlburt
Hamden's Office of Emergency Management would like to remind all residents that the official start of hurricane season starts today. Last year saw a record number of named tropical systems and this year's season is predicted to be equally as hazardous.
Since 1900, 39 tropical systems have impacted New England. Twenty-five were hurricanes, while 14 were of tropical-storm strength. Any tropical system is capable of bringing a combination of high winds, large costal storm surges and severe inland flooding along streams, rivers and low-lying areas.
In Hamden, we can expect widespread power outages, which could last several days or weeks. While Emergency Management is prepared to open several shelters in the event of a severe storm, we urge all residents to prepare for themselves during and after the storm.

Hurricane supplies
To prepare for a pending storm, people should stock up on certain essential supplies in order to survive without outside aid for three to seven days. Necessary items will tend to sell out quickly when a hurricane watch is received. So it is prudent to purchase nonperishable items well in advance. Primary items to have on hand include the following:
· Potable water: at least 1 gallon daily per person for three to seven days. The municipal water system can be knocked out or rendered undrinkable with contamination from storm water.
· Food: at least enough for three to seven days including nonperishable packaged and canned goods. Remember to have a non-electric can opener on hand. For sanitary purposes, have paper plates and plastic utensils. If you plan to use an outdoor grill have extra fuel on hand and stored safely. Don't forget about food for special needs family members such as babies and the elderly.
· Extra blankets/pillows: if evacuated to a shelter bring these items along.
· Clothing: seasonally appropriate, rain gear, extra (dry) shoes
· First Aid kit: over-the-counter medicines such as aspirin.
· Prescription medications: enough to get through seven days.
· Toiletries: moist wipes.
· Flashlights/spare batteries: avoid candles; many post-storm deaths have been linked to fires started by unsafe use of candles and oil lamps.
· Battery-powered radios/TVs: an NOAA weather radio is very useful.
· Vehicle fuel: fill your tank well in advance of a storm; gas stations rely on electricity to run their pumps.
· Cash: banks and ATMs may not be open or available for an extended period.
· Keys.
· Toys/books/games that do not depend on electricity.
· Important documents: insurance cards, medical information, etc., should be kept in a waterproof container.
· Hand tools: ones that do not need power.
· Pet care items: identification and medical records are essential. Immunization and rabies shot documentation is needed to bring an animal into the pet area of a shelter. Have an ample supply of pet food and water. A carrier or cage and a muzzle or leash. Be prepared to care for your own pet while at a town run shelter.
A hurricane or tropical storm watch will be posted when impact from a storm can be expected within 36 hours. At that time, Hamden Emergency Management will open its Emergency Operations Center. Phone numbers will be listed on local radio and TV stations for residents to call with non-emergency problems or questions. A hurricane or tropical storm warning will be issued when impact of a storm is expected within 24 hours. You should have your preparations completed prior to the issuance of a warning.
Though a storm ends, danger can remain for many days. Avoid downed utility wires. Any wire should be assumed to be live until proven otherwise. Do not drive through standing water. Avoid flooded roadways and damaged bridges. Take care when using makeshift cooking and lighting implements. Follow all manufacturers' instructions. Gas grills and camp stoves can produce lethal amounts of carbon monoxide, and should only be used outdoors or in well ventilated areas.
Emergency Management has printed materials available that can answer many questions about getting prepared for storms and other emergencies. You can call OEM Director Clark Hurlburt at 407.5880 for more information.