Hamden loves her local pizza. That's for sure. Of the 164 votes that were cast in the HDN's "Hamden's Finest Pizza" contest, many included energetic praise for the pizzeria of their choice.
Two shops tied with a winning 37 votes apiece.
Congrats! And thanks to the readers for voting.
------------------------------------------------------------
Simon Sez: 'Oy, It's Hanukkah'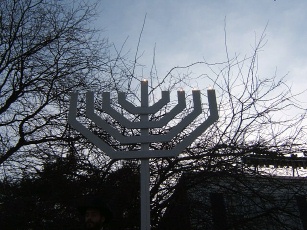 The menorah in Freedom Park was lit yesterday on the third day of Hanukkah.
Words and visuals by Sharon Bass
The big hit at this year's town Hanukkah celebration was a hyperactive, joke-cracking, singing Simon Sez character, Steve Max. But before the theatrics, Chabad of Hamden Rabbi Menachem Piekarski turned on the electric menorah lights in Freedom Park, leading the gathering of a few dozen souls in song and prayer.
"The menorah is a symbol of freedom," the rabbi said late afternoon yesterday.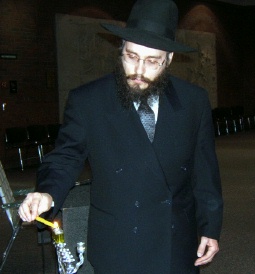 Rabbi Piekarski lights three little vats of oil on the menorah.
Then it was off to Thornton Wilder Hall for another menorah lighting -- this one with oil and wicks -- latkes, doughnuts and Max.
Councilman Mike Germano dropped by for a while. Asked why, he said he enjoys his friends' Jewish customs and won second place in a "Dreidel-off" at Quinnipiac University's Hillel center when he was a student there. The university's rabbi, Reena Judd with family, also came by.
Below are videos of Max entertaining the troops.

Simon Sez does a shtick with Hamden High sophomore Craig Factor.

Eunes Harun, 8, a Dunbar Hill student, and Alisha Brabham, 9, of West Haven, get a kick out of Max.

Simon Sez, "Everybody dance!"
------------------------------------------------------------
Story and visuals by Sharon Bass
Thornton Wilder Hall was home to a powwow Saturday. Native Americans and friends and family of a Hamden man who died on his 23rd birthday -- coming home from a New Jersey powwow -- poured in. They celebrated through dance, drumming and selling handmade wares.
It was the second annual Mid-Hard Winter Dance. A dance that began two years ago in honor of Chris Olson, the young man who tragically lost his life in 2004.

Click arrow to watch the Native-American dancing.
Dancers adorned in colorful feathers and costumes came from Connecticut, New Jersey, New York, Massachusetts, Ohio and one from as far away as South Dakota. Some had met Olson years ago in the Boy Scouts, like Dave Paquette of Meriden who helped organize the powwow. The Quinnipiac Dancers, a division of the Order of the Arrow, an honor society of the Boy Scouts, performed. They regularly meet at Our Lady of Mt. Carmel in Hamden.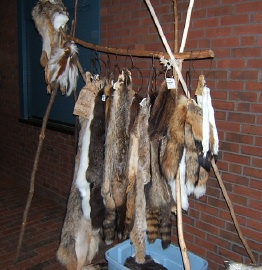 Vendors set up outside the hall. They peddled jewelry, T-shirts and animal pelts. A horse tail was offered for $25; badger, wolf, white ermine, muskrat and mink fur pelts had price tags as high as $225 and up (in picture above).
------------------------------------------------------------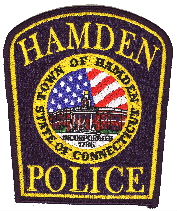 Stabbing, Shooting Under Investigation
From Capt. Ron Smith:
On Dec. 14 at approximately 4:30 p.m., Hamden police were dispatched to 160/162 Shepard St. on a report of a stabbing. Upon arrival, police found the victim sitting in a chair with a stab wound to the chest area. The victim, whose name is being withheld for investigative purposes, was transported to the Hospital of Saint Raphael.
The preliminary investigation revealed that the victim and suspect became involved in a physical altercation. During this altercation, the victim was stabbed. The Hamden Detective Division is continuing the investigation.
Nothing further.
On Dec. 16 at approximately 1:30 a.m., Hamden police responded to the area of 815 Dixwell Ave. regarding a shooting. The victim and his friend were standing outside the 24/7 Store waiting for a sandwich. They were approached by an individual who was brandishing a firearm and attempted to rob them. The victim struggled with the armed subject and was subsequently shot in the buttocks. The armed subject fled the scene. He is described as a black male, 16 to 19 years of age, 6 feet, 1 inch, average build, wearing dark clothing and a dark-colored mask.
The victim, whose name is not being released at this time, was transported to Yale New Haven Hospital. The Hamden Detective Division is continuing the investigation.
---
December 11, 2006
Vote for the Finest Pizza in Hamden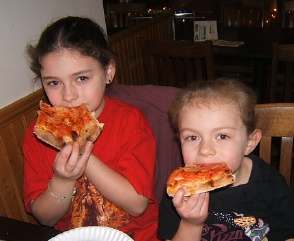 Craft sisters Brianna, 8, and Ellie, 6, both Spring Glen School students, are really into those slices. Their grandmother is Peggy Craft, who works in Town Hall. Pizzeria location to remain a mystery. Photo/Sharon Bass
By Sharon Bass
When I moved back to the area from Maine in '05, I figured I'd hop over to New Haven (a former stomping grounds) from my Hamden home to get some rocking apizza (Maine pizza, in a word, stinks). While I will always rate my native New York pizza numero uno -- IMHO, it is the world's finest -- the pies at places like Modern Apizza and Sally's are still pretty serious.
But, as it turned out, I didn't need to do any pizza hopping. I've found shops in Hamden that rival the ones just south of us. So I got this idea to ask readers to vote for their favorite pizza joint in town, since there are quite a few good ones. I've listed all the places I could find. Quotable comments explaining choices are very welcomed, and submissions can be anonymous. The winning pizzeria will get a professionally printed frameable certificate from the Hamden Daily News proclaiming it "Hamden's Finest Pizza," according to readers.
C'mon. This will be fun.
The List (in alphabetical order)
Click here to send your vote and comments to the HDN. (Note: In the spirit of objectivity, corporate chain "pizzerias" are included.)
Blues Brick Oven Pizza, 2035 Dixwell Ave.
Cafe Bella, 1670 Whitney Ave.
Caserta Pizza & Pasta, 1014 Dixwell Ave.
DiMatteo's Pizza & Restaurant, 2100 Dixwell Ave.
Eli's Brick Oven Pizza & Market, 2402 Whitney Ave.
Domino's Pizza, 2545 Dixwell Ave.
Giovanni's Pizzeria, 1612 Dixwell Ave.
Legend Pizza, 1500 Dixwell Ave.
Modestino's Apizza, 1911 State St.
Paesano's Pizza, 1370 Dixwell Ave.
Paul & Eddy's Pizza, 1630 Whitney Ave.
Pizza Choice, 1216 Dixwell Ave.
Pizza Time, 1216 Dixwell Ave.
Popular Pizza, 2644 State St.
Primo Pizza, 3000 Whitney Ave.
Sergio's Pizza & Restaurant, 3860 Whitney Ave.
Si Mangia Pizzeria & Panini, 3825 Whitney Ave.
Sorrento's Brick Oven Pizzeria & Restaurant, 244 Skiff St.
Star Pizza Restaurant, 1380 Dixwell Ave.
Tonino's Pizzeria & Ristorante, 3480 Whitney Ave.
Village Pizza, 1370 Dixwell Ave.
Any missing? Please let us know and the entire list will be reprinted.
---
December 4, 2006
Christmas Tails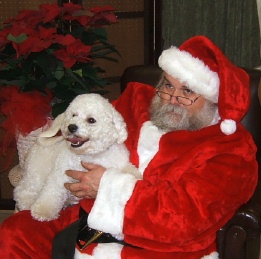 Henry "Santa" Gilmore poses with Sparky, a Bichon that lives on West Shepard Avenue.
Story, photos and videos by Sharon Bass
Pampered pedigrees and rescued mutts alike got the royal treatment yesterday inside the Keefe Center. Their nails were manicured, their ears cleaned and their mugs snapped while on Santa's lap.
It was the first annual Wagging our Way to See Santa, put on by the Happy Tails Foundation. The idea was to raise money to help pay for stray dogs' medical bills, said Gina Cahill, one of Hamden's two animal control officers.

Michelle Pascua-Murphy's pup, Casey, gets a manicure -- or is that a pedicure? -- at the Keefe Center. Michelle, 10, goes to Helen Street School.
Pics with Santa went for $10. Volunteers from the foundation and Hot Diggity Dog, a Whitney Avenue groomer, sold baked goods for humans, gift baskets of doggie treats and did the nail and ear work.
Henry Gilmore of Lakeview Avenue played Santa. About 75 canines sat on his lap between 10 a.m. and 3 p.m. to get photographed. Dolores Giannini, foundation chair, was not the only one who expressed hope that Gilmore would make a repeat performance next year. He seemed to get along with even the friskiest pups, who wanted off his lap.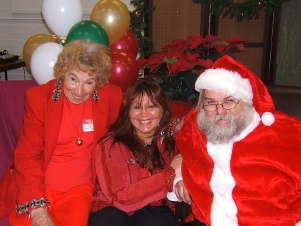 Hamden's animal control duo Jean Murray (left) and Gina Cahill with Santa Gilmore.
The dog of the hour was Furman, a 2-year-old Rottweiler rescued by Cahill last winter on a cold, cold night. She said she brought him to Gabriella Scirocco, owner of Hot Diggity, for grooming and socialization. He wasn't ready for adoption.
When he was ready, Scirocco said she couldn't let the guy go. "He was so scared when I got him. He actually fell in love with me," she said.
---
December 1, 2006
Fresh Thai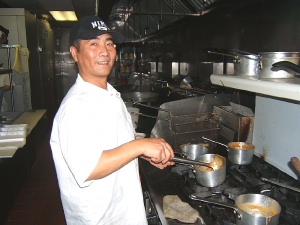 The chef in his new home. Photo/Sharon Bass
By Sharon Bass
Nai Rui Jiang left his native China for Thailand when he was 5. There he would stumble upon his destiny: becoming a chef. "I fell in love with cooking. It's an art," the 43-year-old new Hamden resident said yesterday at the grand opening of his sixth Thai restaurant in the United States.
This latest one is Exotic Thai at 2151 State St. It's a tough spot for a business to thrive. There's just a small Laundromat next door and no foot traffic. A Chinese buffet that used to be there closed in 2005 after just two years. But Jiang said he's not daunted. "It's not your everyday Thai or Chinese food. I use very little oil," he said of the dishes he creates. "I know my skill."
He last left that skill in Indiana where he said he had a bustling restaurant. Before that he served folks in Iowa and Illinois such specialties as mee krob ("Crispy noodles mixed with shrimp and chicken, sautéed in a delightful sauce and garnished with bean sprouts and cilantro," $4.95), yum yai salad ("Fresh garden greens with julienne of chicken, shrimp, hard-boiled eggs and peanuts in a sweet and sour sauce," $5.95) and prik-king ("Your choice of meat and fresh cut green beans sautéed in a red garlic sauce and garnished with wild lime leaves." $7.95). He opened five restaurants in the three "I" states, all of which he said he sold and are still in operation.
Since landing in Hamden six months ago, the soft-spoken man who wears an ever-so-slight smile said he goes to New York City nearly every day to pick up fresh seafood. "It's got to be fresh," he said, more than once, as this reporter dug into some pad Thai with tasty shrimp and truly tender chicken.
Exotic Thai opened on Oct. 17. The chef said 30 percent to 50 percent of his business is takeout. Jiang's niece works for him as well as five other employees. But Jiang said he still does most of the cooking. He insists.
"Cooking for me is a relaxation. I cook when I go home. It's an enjoyment," he said. "I love working in the kitchen."
Good thing he does. For the first six months of a new restaurant's life, Jiang said he puts in 12- to14-hour days, seven days a week. He plans to be open 365 days a year. And he delivers.