General News
---
December 14, 2005
Story and photos by Sharon Bass
Nothing -- I mean nothing -- was off limits last night at Jack Kennelly's, uh, roast, or toast or whatever the hell the excuse was to throw the new police chief a big party. The place was the Laurel View Country Club and it was packed with cops, politicians, Town Hall workers, lawyers and more cops. The jokes were crude (lots of little boy potty humor). The evening was a total gas.
After guests juiced up at the bar and feasted on calamari, pasta and roast beef at the trough, the toast began. Perennial MC Mike Iezzi (aka Hamden Republican Town Committee chair) ran the show. All toasters were male cops, of course, who uproariously showed they had the balls to hit below Kennelly's and each other's belts.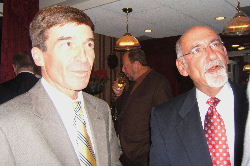 Mayor Craig Henrici and Police Commissioner Marty Ruff.
First up was Police Chief John Comparetto of Wayne, N.J. "For the young guys, you can't get away with anything. We've done everything," he said of his and Kennelly's drinking and partying in the '80s. He told a tale of passing Kennelly's business card to the "smelliest female urchin" at a bar one night, when Kennelly was a sergeant. He told the woman he was the "big shot" Kennelly and to give him a call. Apparently she did. Or so Comparetto said, which triggered back-and-forth phone calls between him and Sgt. Kennelly.
Former Mayor Carl Amento said upfront that he couldn't compete with the likes of Comparetto. Amento appointed Kennelly chief this fall. "To me there was no other choice. He's the best. He's a killer of a guy," he said.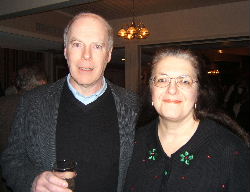 Town Clerk Vera Morrison with hubby, John.
Back to the bashing.
"People ask very often how do you become a chief," said East Haven Police Chief Lenny Gallo. "In Jack's case he was caller No. 8." After a string of pretty funny jabs, his voice softened. "Jack Kennelly, you're truly going to be a wonderful chief. God bless you."
Then Bobby LaTorraco, CEO of American Medical Response (AMR), took a whack at the mic.
He said he moved back to Hamden last Thursday. "It dawned on me that the Hamden police are so dedicated (that they never leave and) as they get to the end of their careers, they get senile," said LaTorraco. Former Police Chief Jack Ambrogio "left in an ambulance," he said. Bob Nolan, whom Kennelly replaced, "I bring him a wheelchair and a Star Wars lunchbox."
He called Kennelly "Joe Camel," because the chief is a big smoker. "A balanced diet to Jack is a Camel in either hand," said LaTorraco. "Jack, you're a class person. You're a good friend. You're a good husband."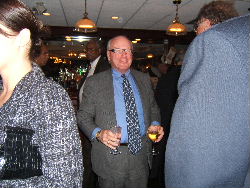 Here comes Sen. Joe Crisco with both hands loaded.
Nolan followed.
"I was going to be really nice tonight but Ambrogio told me, 'You don't have to be politically correct anymore,'" because Nolan is now retired.
He made fun of LaTorraco's height, suggesting he stop walking on his knees. Cracked a few more jokes, and then turned to his successor. "All joking aside, I wish Jack the best. He's put in 30 years on the force."
Things really heated up when Ambrogio had the floor.
"This is the first semi-annual Jack Kennelly appreciation dinner," he said, eliciting a huge laugh from the audience.
"Jack has taken all the politics out of the chief's job," Ambrogio said. He pointed out that Kennelly had been a town councilman, chair of the Council's Public Safety Committee, a former Republican and today a Democrat.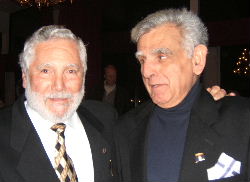 Pals Jack Ambrogio and John Carusone.
He made humorous remarks about some of his past nemeses, such as former Mayors John Carusone and Lillian Clayman. "Ann Altman writes, 'It was best when we were enemies. My site was so busy,'" he said of the former councilwoman who runs the Web site, Hamden Women for Honest Government.
Iezzi took a different tone. "As I look around it really warms my heart. Both parties. People who have fought for years," he said. "Jack's a good cop. He's a good friend. And everyone knows his favorite saying, 'I don't get mad. I get even.'"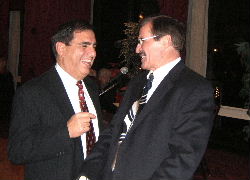 Mike Iezzi and the chief.
Then it was the man of the hour's turn. He got even.
About Ambrogio, Kennelly said: "Can you imagine the nerve of him saying I have a semi-annual function? He had 153 of them a year and is still waiting for another."
About LaTorraco: "He's a character, isn't he?" And then referred to him as an "asshole." He called AMR, American Midget Recovery.
With Kennelly's wide trademark grin, he said to the AMR exec, "You thought it was going to be fun. You thought you were going to get even with me.
"If (LaTorraco) could ever find anyone to love him as much as he loves himself, it would be the love affair of the century. He has to have two offices -- one for himself and one for his head."
Kennelly launched into stories about LaTorraco's chronic flatulence. You had to be there and you have to be a guy to really appreciate the jokes about having gas and having to release it in socially unacceptable places.
Moving on.
"Ambrogio, you're next.
"He's the only police chief who got paid 22 times for his vacation pay.
"Look at the guy. He's about 103 years old and he'll outlive all of us.
"He has an ego only second to John Carusone.
"Now, Jack, you know I love you."
"I'd like to take a moment to say something about Mayor Craig Henrici," said Kennelly. Henrici had already left the party.
"He left a law practice where he was making $150,000 a year to become mayor. When asked why he said, 'I really want to give back to the community that has been so good to me.' Yeah, right. And I have a bridge in Brooklyn to sell you."
Kennelly continued. "I will never forget the faith and confidence Carl Amento has for me." And he then spoke warmly of the two women in his life: his sister Mary Ellen Kennelly and wife, Pam.
"I promise to be the best chief of this town."
---
December 13, 2005
Eva and Her Boobs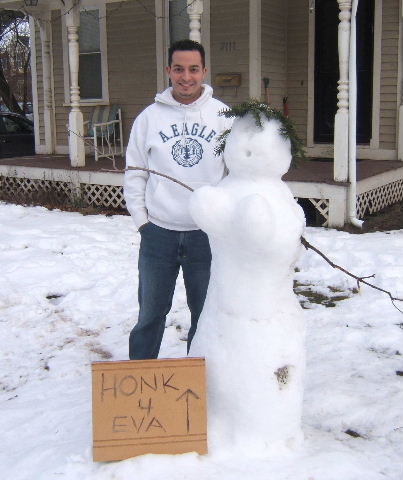 Eva with co-creator/admirer Mark Milano. Photo/Sharon Bass
Three QU students build the woman of their dreams
By Sharon Bass
If you've driven by 2111 Whitney Avenue since the snowstorm, you've probably seen Eva. She's a shapely woman that stands outside all day and night sporting the sign, "Honk 4 Eva."
She's made of what fell from the sky last Friday. Her creators are three Quinnipiac University seniors -- all guys, natch. They say they've taken a real liking to her and seem pretty possessive of the snowchick they named after actress Eva Longoria, of TV's "Desperate Housewives."
"We wanted to build a snowman but we're college guys and I've never seen a snowwoman," said Mark Milano. He and his roommates Gary Ragusin and Chris Goodall did the handiwork, which took them one and a half to two hours. They used kitchen knives to sculpt Eva's curves "so you can tell it's a woman," said Milano.
"We've had quite a bit of honking," he said.
"It's not every day that you see a female snowman," said Ragusin. "We wanted to spice it up a bit. To wake up to honking for Eva isn't so bad."
But honking is about all these guys will tolerate when it comes to their Eva. "I think we need to be the only guys around her," said Milano.
He said there was no "real driving force" behind the idea to make their woman. "We just wanted to have fun" in the new snow, said Milano. "I've had the occasional snowball fight and built small snowmen, but nothing of this caliber."
The three Eva creators live with two other Quinnipiac seniors in a privately owned house. They've known each other since their freshman days and lived on campus until this year, only moving to Whitney Avenue because the school doesn't provide on-campus housing for seniors. Their home is clean and tidy. A "no smoking" sign hangs on the front door.
"It's more convenient living on campus," said Ragusin. Milano agreed, saying he misses being around the other students and getting cooked meals.
But what about Eva? Could they have made her on campus?
With more snow predicted this Thursday, the guys plan to build another Eva. Asked what she'll look like, Ragusin said, "We'll use our imagination. The more the merrier."
---
December 10, 2005
Words and photos by Sharon Bass
After weeks of various town-wide efforts to collect toys and clothing for needy kids, yesterday parents and grandparents came out in droves -- waiting up to six hours on line inside the Keefe Center -- to take the gifts home for the holidays.
Pickup time started at 10 a.m. but people started lining up at 6:45 a.m., said Vanna Francia, director of Community Services, the town department that orchestrated the toy drive.
"The fact that people are here that early, it just shows you what they do for their children," she said late in the afternoon from the overly heated Keefe gym where the booty was kept. "There's nothing for adults here."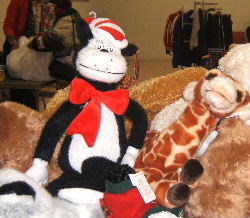 Poor Cat in the Hat and friends. No one seemed to want them.
Three adults at a time were permitted in the gym to take a maximum of three items per child. Francia said there were 1,500 toys and articles of clothing for the 461 kids on the gift list. The hottest item was a new dirt bike, which naturally was snatched up at the get-go.
Community Services got a lot of help in collecting gifts and money. The Hamden High cheerleaders, local unions, both political town committees, the Hamden Police Benevolent Association, American Dance Experience, Laidlaw Bus Company and the Bank of America pitched in.
Gretchen Ferri went shopping with the nearly $3,000 that was raised. She found stuff at Kohl's, Toys R Us, Walgreens and the Gap. She said she was particularly impressed with the Gap.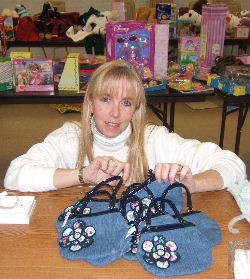 Gretchen Ferri couldn't say enough about the Gap's generosity. She said she bought these little denim purses there for a song.
"Gap was unbelievable," said Ferri who works for Community Services. "Gap did so much for us. I couldn't believe it. I was crying in the store." She said the national chain store gave her "huge, huge" discounts on polo shirts, jean jackets, "a ton of girl's pocketbooks" and baby clothing.
Also, Party City donated countless rolls of wrapping paper.
---
December 8, 2005
Local inventor makes garbage a little friendlier
Story and photos by Sharon Bass
Bob Roscow has two burning objectives in his life right now: to market his trashcan straps and to sue the state of Florida. They're not related issues, but they're both as real and kicking as the Woodlawn Street man himself, who is also the town's Zoning Commission chair.
First the straps.
"Unlike other invention ideas I've had, I can tell you exactly when I thought of this one," Roscow said from his very cluttered home, where boxes and books and papers and all kinds of knickknacks occupy every inch of living space.
The idea came to him about five years ago while staying at a Florida motel (no connection to the lawsuit), said the 56-year-old architect-turned-inventor. About every two months, he'd fly down there to visit his ailing mother in the small town of Inverness, where Roscow grew up.
Being a small town and all, there is just one motel which has "teeny, tiny trashcans," he said. As is often done, the plastic garbage bag inside the teeny, tiny can was knotted on the side to keep it from sliding off.
Yeah, right. The knot didn't work, as Roscow learned when he disposed fast-food wrappers in the trash receptacle. Here's what happened.
The restaurants in small Inverness close at 8 p.m., which posed a dilemma for the budding inventor who is used to eating a late dinner. So it was either the golden arches or the king for nighttime eats.
He brought his takeout meal to his little room in the little motel in the little town. When he threw the wrappings and Styrofoam (still used at the turn of the 21st century) the plastic bag -- knot and all -- took a nosedive into the teeny, tiny trashcan.
Later for that, he thought. Once back in Hamden he went to Jo-Ann Fabrics on Dixwell Avenue to buy elastic straps, Velcro and glue. His brain matter was in high gear. He was cooking. He had an idea.
The garbage-bag problem was not unique to the itsy-bitsy trashcan in Florida. He had experienced it often in his life. And, he learned, so have others.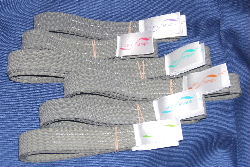 Roscow's straps.
Roscow got busy. He cut the Velcro into 4-inch strips and glued them on either end of the elastic bands. He then wrapped a strap around the rim of his kitchen garbage to hold the plastic bag in place. He said nothing about it to his wife, Beth, a special ed professor at Southern Connecticut State University. The two used the kitchen garbage all week without a word about the new can strap.
At the close of the week, he and his wife finally discussed the strap. Both conceded to pushing and pushing the garbage down all week while the bag stubbornly clung on.
Roscow called a patent attorney in Stamford to see if his can-strap idea was already taken. The lawyer's search revealed nada.
Things were going swimmingly. Roscow could smell his can-strap fame approaching, when he discovered the attorney never sent his application for an "adjustable liner retainer" to the United States Patent and Trademark Office. The lawyer forgot.
So it was later for the Stamford lawyer, and Roscow retained new counsel in Hartford, who finished the job.
"The fees are astronomical," said Roscow. When asked how much he's spent so far on his invention, he said, "Well in excess of a small house in Hamden." While the bounty of the money has gone to legal bills he's had other invention-related expenses, and not one strap yet sold. He figured he'd have to sell 100 million to 300 million a year to recoup his money and then some.
Roscow designed the straps himself but hired Cheney & Company in New Haven to do the logo and marketing. He's also paying for strap production, which is being done in Asheboro, N.C.
Originally, Roscow had seven sizes in mind. That was scaled down to four, which measure 22 inches to over 80 inches, he said. Each strap has a label that is color coded according to size. For instance, purple is the smallest. A twin set is expected to cost $4.99, with the inventor getting a "really small" royalty.
He said he's negotiating with a national hardware chain to carry his straps, but didn't want to reveal the company's identity just yet. Roscow is also peddling his invention to stores, a health-care facility and a bank, all in Hamden.
"I like to compare it to a Band-Aid," he said. It's a simple invention "but has a lot of utility. Let's put it this way, there are billions of garbage cans in the world and people are frustrated with bags slipping in."
Roscow said his straps are currently being tested at the Cotton Gin on Whitney Avenue, a doctor's office in Cheshire and the Holiday Inn Express in Asheboro. Plus, he's given can straps to friends who reported they didn't know how they ever did garbage pre-strap days.
"Anybody who's ever had them swears by them," he said.
Positive feedback is what he attributed to his stick-to-itiveness. Especially since it's taken five years already and he's hit a few walls. "Friends who have used it and these test sites just can't believe how easy it is and how it takes care of the problem," said Roscow. "These are washable. They're reusable. The only criticism I've gotten is they don't wear out." Meaning, he won't get much repeat business.
However, there is a silver lining. The straps, the Zoning chair said, can accidentally fall into the garbage bag when being removed and thrown away.
But what about big rubber bands and bungee cords? Won't they do the trick?
"People use them. They work but they're not real safe," said Roscow. They can snap in your face when removing them.
The former architect has worked on other inventions, but none have gone as far as the straps. Beforehand he had gotten a patent for a "micro-tuss," which is an "ultra strong material made of wire to be used on structural panels, like walls," he said. Roscow also got a patent on a super-duper TV remote control idea, which has computer ability to update the remote according to TV Guide listings. Both ideas are on hold.
Some of his inventions never made it to the patent office. Like the one he dreamed up for a remote-controlled military helicopter with multiple warheads. His latest brainstorm is a driver monitor.
"Some people would call it Big Brother," said Roscow. The device is designed to make a sound or movement to alert someone who's driving unsafely, like going too fast when there are curves up ahead. He figured the monitor could be mandated by a court of law when issuing sentences to those convicted of driving while under the influence. And insurance companies might offer a discount to customers who use the driver monitor.
"Thomas Jefferson is one of my heroes," he said. "He was an architect and God knows how many things he invented."
OK, now for the Florida lawsuit.
Roscow made it very clear that he really, really detests Jeb Bush, the president's bro and the governor of the sunshine state. Among other things, Roscow said he's particularly angry with Jeb for wanting to extend Florida's Suncoast Parkway through state conservation land.
"It's a $600 million road to nowhere and you will be paying for it because 80 percent would be funded" with federal dollars, he said. So he's hired a lawyer in Florida to try to stop the governor from wrecking the land.
"I'm very independent," the Hamden inventor said. "That's a mild understatement." In fact, he said, his hyper-independence is why he's no longer an architect. Where ever he worked, "they kept wanting to pigeonhole me."
And this is one inventive guy who won't be tied down. Strapped maybe. But obviously can't be made to conform.
---
December 5, 2005
QU Students Help Katrina-Ravaged Family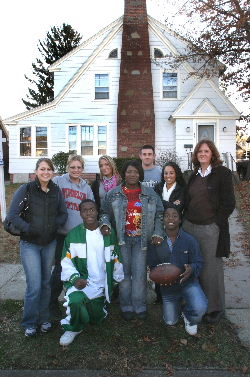 Student helpers from Quinnipiac.
By Emmett Luty
Days after hurricane Katrina hit the Gulf Coast in late August, many who thought they would be displaced for a week discovered it would be much, much longer.
The collision of the hurricane and the beginning of the academic year led to a number of difficulties for Gulf Coast families, who scrambled to find new homes and new schools for their children. Perhaps the only good part of this dilemma is that it led to a lot of support from colleges across the country, including a successful effort by a class at Quinnipiac University.
Students in the university's ethics and human values course are required to perform community service. This year, professor Shannon O'Roarke said she suggested that her class sponsor a family that was adversely affected by the hurricane to fulfill the requirement. (The family asked to remain anonymous.)
O'Roarke got in touch with Interfaith Refugee Ministries, the organization FEMA chose to help Katrina evacuees in Connecticut. Soon after, Interfaith contacted O'Roarke to say it had a family from Biloxi, Miss., in dire need of help. The family -- a two-parent, two-child household -- lost their house and car in the storm. The mother ran a cleaning business; the father worked in shipping. His job had brought him to Connecticut and New York before, so it seemed like a logical place to resettle.
The Quinnipiac ethics class was divided into four committees: two for fundraising, one for housing and another to acquire furniture and house wares. The two fund-raising groups took a variety of approaches. Students like junior Kristen Ritter called local businesses for gift certificates to raffle off to the public. Ritter also said that "dorm-storming" -- going door to door through the dorms asking for donations and selling raffle tickets -- was very effective. Other committees members asked friends, families and coworkers to contribute.
John Donnellan, a senior, raised money from his lacrosse teammates. He was the first person to meet the family, as he picked them up from New Haven's Union Station when they arrived to look for houses in the area. He said they seemed happy to finally be starting over.
"It was a whole new step in their life," Donnellan said. He took them to see a few houses and also to a rental car agency so the family could look at homes on their own. After the family found a suitable place in West Haven, Donnellan helped unload a moving truck of salvaged things from the family's Biloxi house. The furniture and house wares committee also collected much-needed furniture, most of which was donated by the community.
In the end, the family found a house on its own. Still, there were financial and bureaucratic issues to be taken care of. The student housing committee helped the family sort through the red tape, which would otherwise have been daunting for a displaced family.
---
December 4, 2005
For the Have-Nots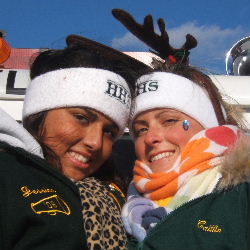 Caitlin Kingston and Jessica Proto, "the pixies," gave it their all yesterday to raise money and collect toys for kids in need.
Words and pictures by Sharon Bass
When a girl becomes a Hamden High cheerleader she winds up rooting for more than just the home team. She finds herself going to bat for the needy as well. Yesterday bore evidence to this when 25 cheerleaders, dressed in green warm-up suits, spent nearly six hours in the Toys R Us parking lot -- in the windy cold -- to collect money and holiday gifts for other children.
The cold, they said, paled in comparison to their burning desire to make kids who don't have much happy.
.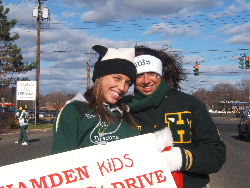 Self-described best friends Amanda Morgillo (left) and Gina Martino, cheerleaders with a mission.
"We've been getting a lot of money so it's really worth it," said Gina Martino, senior co-captain.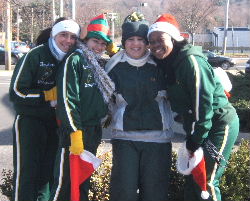 A quartet of good doers: (left to right) Nicole Ferrara, Marissa Barletta, Alicia Liguori and Misty Jones.
"It's very cold," said Alicia Liguori. Finishing her sentence, Misty Jones piped in, "But it's helping out kids and our community and we love it."
Such summed up the sentiment of the ninth annual "Hamden Kids Holiday Toy Drive," a combined effort of the cheerleaders and the town's Community Services Department. Cheerleading coach Chris Wilson and Gretchen Ferri of Community Services coordinated the fund-raiser. And a handful of Hamden cops and firefighters were on the scene for protection and recognition with two big fire engines and a police car.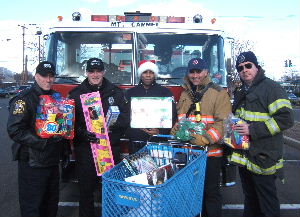 The guys: (left to right) Police Officers Scott Levenduski and Stephen Rossacci and firefighters Danny Mota, Jeff Woodford and Lt. Tim O'Flynn.
"Donations! Donations!" the cheerleaders cried to drivers-by. The girls were in constant motion to ward off the low temp.
"It's worth it standing out here in the cold," said Marissa Barletta. Again a buddy finished another's sentence -- "helping kids out," said Nicole Ferrara. And the girls giggled.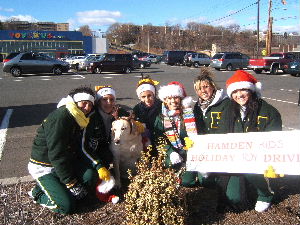 Group huddle: (left to right) Lauren Ercolano, Bethany Potenziani, Riley Michael Panaroni, Brittany Panaroni, Stephanie Colella, Alyssa D'Andrea and Jordyn Mastroianni.
At the end of the day, said Wilson, the cheerleaders pulled in nearly $1,200 and lots of new toys. They will be distributed to parents and guardians on Friday, along with donations from other town toy drives, at the Keefe Community Center.
--------------------------------------------------------------------------
For the Haves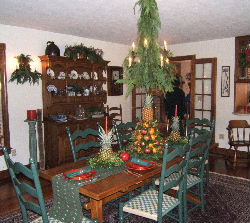 Inside the Lynn residence at 14 Hunters Way, all dolled up by Flowers From the Farm.
Story and photos by Sharon Bass
While Hamden High cheerleaders froze their fannies off collecting toys for the poor, the wealthy opened their finely decorated-for-the-holiday homes to visitors. At no expense to the six homeowners who participated in the "Holiday Home Tour" yesterday, local florists did their abodes up.
The event was sponsored by the Hamden Chamber of Commerce and Calcagni Associates Real Estate. People were charged $20 a head for advance tickets, $25 at the door, to get a peek at how the rich live. Proceeds go to the Hamden Education Foundation.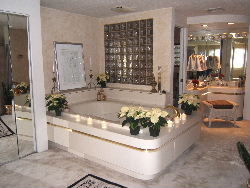 Holiday plants, by Juliet's Flowers & Gifts, adorn the master-bedroom jacuzzi at the Newman homestead.
Showcased were the Fiss 1931 colonial at 236 Edgehill Road (Window Box), the Lynn Connecticut granite home at 14 Hunters Way (Flowers From the Farm), the Newman stone ranch at 50 Hill Top Road (Juliet's Flowers & Gifts), the Coughlin 1990 Tudor at 14 Guenevere Court (Glen Terrace), the Bonadies contemporary colonial at 21 North Woods Road (Lucian's Greenhouse) and the Schmidt Tudor at 50 Birchwood Drive (Hamden Florist).
----------------------------------------------------------------
For the Holidays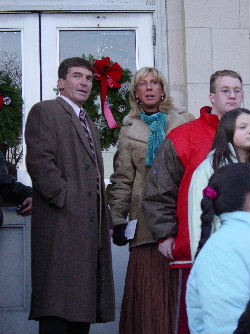 Mayor Henrici and Hamden's First Lady Lauren look over the crowd to watch the lighting of the town Christmas tree.
Words and pictures by Kirsten Walker
The weather outside was frightful
The crowds and songs delightful
Dixwell was the place to go
And it glowed and it glowed and it glowed.
Yesterday felt like old man winter was in the crowd but the warmth of the festivities kept everyone cozy. It was the town tree lighting. After a countdown led by Mayor Craig Henrici -- coached by Arts Commission Director Mimsie Coleman -- the big woody plant across from Memorial Town Hall was aglow. Christmas carols were sung and the siren from a fire truck heralded the arrival of the jolly man in the bright red suit.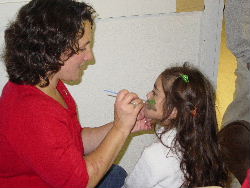 Carla Rousseau face painting in the rotunda of Memorial Town Hall.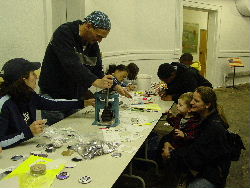 Button making in the rotunda.
Inside a gaily decorated old Town Hall, kids queued to greet Santa. Members of Hamden's Rotary poured cider and handed out treats. Carla Rousseau painted faces. And the holiday season was officially ushered in.
---
December 1, 2005
Freddie Saves the Mrs.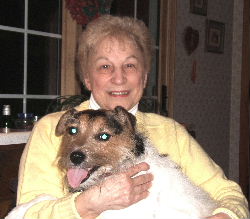 Mary-Nell Valintas holding her little savior, Freddie.Photo/Sharon Bass

By Sharon Bass
Freddie was fixing to dine on turkey and carrots and peas. But he had to wait. First, his "grandparents" had to do a little boasting about him.
So the 30-pound, 6-year-old, hyper Jack Russell terrier shredded a 12-pack beer box with his teeth while the story of how he saved his "grandma's" life was told.
It was the night before Thanksgiving. Larry Valintas went to bed around 9 p.m. as he usual does. His wife, Mary-Nell Valintas (aka grandma), was staying up to watch the UConn men's basketball game, which started at 10. The couple lives on Gaylord Mountain Road.
"I remember at 9:30 in the evening I was getting low," said Mary-Nell, 73, who has insulin-dependent diabetes. She tested her blood sugar level, which was 54 (normal range for a diabetic is 70-140), and then walked toward the kitchen to get something to eat to raise her blood sugar.
"Apparently I went into the living room and that's all I remember," said Mary-Nell.
"I went to sleep and the dog jumped up (on the bed)," said Larry. Some time later, he said, Freddie went into the living room and barked and barked. Larry called out to his wife to see what was going on. But she didn't respond.
"I walked in there and she was on the ground and he (Freddie) was down there looking at her and barking at her," said Larry. Mary-Nell was unconscious. He retrieved a glucose stick and put it in her mouth. "But she was too far gone so I called 9-11."
Paramedics were first to arrive. They gave Mary-Nell intravenous glucose.
"She started to wake up," said Larry. And she wanted to stay at home.
But her blood sugar had plummeted to an almost unheard of nine. She was taken to the Hospital of St. Raphael, where she had worked as a registered nurse for 35 years, and was discharged at 3:30 a.m.
"Freddie saved my life. My husband was in there sleeping," said Mary-Nell, whose daughter Mary-Nelle Valintas is an accounting clerk in Hamden's Finance Department. (That's not a typo; her daughter's name is identical except it has that extra "e.")
"I always have loved him. I talk to him during the daytime like a person," said Mary-Nell.
"He's a good puppy," said Larry.
Freddie is actually Mary-Nelle's dog. But he lives with his "grandparents" since Mary-Nelle is not allowed to have pets in her apartment.
He's not your everyday pooch. His granny and grandpa brag that he's the smartest thing around. They feed him a human diet. His staples are cabbage, corn, broccoli, boneless, skinless chicken breast, veal cutlets, lamb and cantaloupe.
"He eats apples off the tree. He'll eat tomatoes, too, off the vine," said Larry. "For happy hour, he has popcorn and a little potato chip."
"He likes beer," added Mary-Nell. And at 9 o'clock every night, Freddie and Larry have a nightcap together. Larry downs a cold glass of milk with a Drake's cupcake. And Freddie gets a Milk Bone. It's probably a good reminder to the precocious boy that despite his human lifestyle he is a dog. And a lifesaving one at that.
Good boy.