General News
August 22, 2006
From the HPD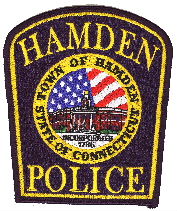 Hamden police confiscated about 14 grams of marijuana on Aug. 18, after searching two Hamden residences. Estimated street value is $280. Packaging material was also recovered at the scene. Police seized a 1993 Mercedes Benz as part of the investigation.
Arrested was Roosevelt Lewis, 39, of 50 Arch St. He was charged with possession of marijuana, possession of marijuana with intent to sell and possession of drug paraphernalia. Lewis, who was detained at police headquarters on a $10,000 bond, has a Sept. 1 court date.
The street crime unit and detective and patrol divisions simultaneously executed the two search-and-seizure warrants as part of an ongoing investigation into narcotic sales.
Assault, Firearm Arrest
Early morning yesterday, Hamden police arrested Willie Jenkins, 24 (unknown address), for assault in the first degree, reckless endangerment, criminal possession of a firearm and unlawful discharge of a firearm. The arrest pertains to a shooting incident that took place on Aug. 1 in the area of 22 Warner St.
Jenkins had turned himself in to the West Haven Police Department. He was detained at Hamden Police Headquarters and subsequently transported to Meriden Superior Court yesterday morning.
---
August 9, 2006
Record Primary Turnout for Hamden


Anna Casa of Spring Glen in good spirits outside the Cotton Gin.
The DTC may ask Lieberman to give it up
Story and photos by Sharon Bass
They began filing into the Cotton Gin around 8:30 last night. State Rep. Brendan Sharkey. Council members Curt Leng, Matt Fitch, John Flanagan, Gretchen Callahan, Carol Noble and Mike Germano. As well as other local Ds. Drinks and munchies at the Whitney Avenue watering hole were on the Hamden Democratic house.
While primary results were not yet in, folks rejoiced over their party's record-breaking turnout.

Joe McDonagh (bending over in green suit) jots down district results as they come in. Standing in back is Matt Fitch; on far left is a hunched-over Curt Leng.
"It's phenomenal," said town committee Chair Joe McDonagh. Some 56.6 percent of Hamden Dems voted in yesterday's primary. That's 7,461 out of a registered 13,187. That mirrored the statewide sentiment, which chose Greenwich businessman Ned Lamont (146,061 votes or 51.78 percent) over incumbent Joe Lieberman (136,042 or 48.22 percent) for U.S. Senate; and New Haven Mayor John DeStefano (134,944 or 50.77 percent) over Stamford Mayor Dan Malloy (130,826 or 49.23 percent) for governor. There were obviously no slam-dunks.
"It's a tremendous turnout for Democrats and an all-time record for Hamden for a primary," said DTC Vice Chair John Morrison. Nearly as many voted as they did at the Nov. 5, 2002, general election -- 56.8 percent, which included all voters -- when Barbara Kennelly tried to unseat former Republican Gov. John Rowland.

Franz Douskey hands Joe McDonagh a paddle figuring the other Joe would need it to get upstream -- or something like that.
After Lieberman conceded and announced his independent run. And after DeStefano gave his acceptance speech, McDonagh denounced his support of Lieberman and said he's throwing his weight behind Lamont.
"If Joe decides to ignore the will of the Democratic Party, I'm going to work as hard as I can for Ned Lamont," said McDonagh, one of the few stragglers left at the Cotton Gin when the races were called, at around 11 p.m.
"I want Ned Lamont. I support the Democratic slate. That's my job," the town committee chair said. "I hope somebody will introduce a resolution to ask Joe not to run" as an independent in the general election.
Marjorie Clark said she would. Norwalk and Canterbury have already passed such resolutions, the DTC member said. Her plan is to suggest it at the next committee meeting later this month.
"He has betrayed his party that has supported him for 30-some-odd years," she said.
Fellow DTC member Al May wanted Lieberman but wasn't surprised he lost. "I thought he ran a terrible campaign. He came off as a petulant 'Who does this guy [Lamont, last night's winner] think he is?' I think Lamont won not because of the war but because [Lieberman] is out of touch. He was always trying to run for president or to be a national kingmaker," he said.
But with three terms under the junior senator's belt, May said he'd rather see Lieberman in the U.S. Senate than his opponent -- an unknown until this race.
"It means you're going to give up 18 years of seniority and send Mr. Smith to Washington," he said.
Hamden Primary Breakdown


There's Sy Hatkin manning the 6th District booth.
Registered Democrats: 13,187
Voted in the Aug. 8 primary: 7,461
Absentee ballots: 610 "And that's a lot for a primary," said Town Clerk Vera Morrison.
Military and overseas ballots: 39
Just military: 23
Vote totals:
Ned Lamont, 3,740
Joe Lieberman, 3,626
John DeStefano, 4,108
Dan Malloy, 2,991
By District (there are 11 town districts for statewide and national elections; nine for local):
1st - Lamont, 272; Lieberman, 280; DeStefano, 301; Malloy, 231
2nd - Lamont, 206; Lieberman, 254; DeStefano, 261; Malloy, 186
3rd - Lamont, 291; Lieberman, 337; DeStefano, 424; Malloy, 194
4th - Lamont, 324; Lieberman, 379; DeStefano, 376; Malloy, 294
5th - Lamont, 555; Lieberman, 274; DeStefano, 453; Malloy, 348
6th - Lamont, 337; Lieberman, 257; DeStefano, 313; Malloy, 257
7th - Lamont, 212; Lieberman, 293; DeStefano, 309; Malloy, 175
8th - Lamont, 288; Lieberman, 379; DeStefano, 368; Malloy, 278
9th - Lamont, 276; Lieberman, 359; DeStefano, 365; Malloy, 243
10th - Lamont, 407; Lieberman, 296; DeStefano, 362; Malloy, 319
11th - Lamont, 221; Lieberman, 271; DeStefano, 258; Malloy, 205
---
August 7, 2006
A possible record number of independent Hamden voters are going Democrat for the U.S. Senate primary
By Sharon Bass
Joe McDonagh happened by the Registrar's Office the other day. In the 40 minutes the Hamden Democratic Town Committee chair was there, he said, six people came in to either change their voter registration from unaffiliated to Democrat or to register to vote. In the same 40 minutes, roughly the same number of people telephoned about getting an absentee ballot or to switch registration.
The whirl of voter activity is, of course, over the U.S. Senate primary race between newcomer Ned Lamont and three-term incumbent Joe Lieberman. According to an Aug. 2 Quinnipiac University poll, Lamont leads Lieberman 13 points among likely Democratic voters.
As of July 31, according to Hamden's Registrar of Voters Office:
* There were 12,964 registered Democrats (the number has since grown), 4,506 Republicans and 14,378 unaffiliated voters.
* The highest Democratic registration in Hamden history was 13,161, in November 2005 after the mayoral primary.
* Unaffiliateds are at the lowest in two years. After the 2004 presidential race, unaffiliated voters numbered 16,330.
* As a result, Democratic registration is at the highest percentage in recent history -- nearly 41 percent.
* Republican registration is at the lowest in two years and possibly in recent Hamden history (in 1994, the year John Rowland was elected governor, there were 6,692). There are now 622 fewer registered Republicans than there were in 2004, a drop of over 12 percent in two years.
McDonagh dug up some data from his personal archives about the last statewide Democratic primary in 1994, which led to a five-way gubernatorial race that November with now-ex-convict John Rowland narrowly taking -- and then defiling -- the seat. Registered Hamden Democrats then totaled 10,829, about 20 percent lower than today's count.
In that primary, former state Comptroller Bill Curry beat former state Sen. and current Congressman John Larson (D-1st District). In Hamden, Curry got 1,654 votes to Larson's 1,125. Total town-wide turnout was 27 percent.
Wish They'd Sit a Spell
Of course, McDonagh would like all those who registered Dem for the Lamont/Lieberman primary to stay Dems.
"The fact is, to a degree in Connecticut you are disenfranchised if you register as an unaffiliated voter. You lose the chance to help select the November candidates," he said.
McDonagh contended that many unaffiliateds vote D anyway. He cited these stats:
In 2004, nearly 18,000 Hamdenites voted for John Kerry for president.
In the same year, nearly 20,000 voted for Congresswoman Rosa DeLauro.
At the time, Democratic registration was fewer than 13,000.
Therefore, something like 5,000 unaffiliated voters went for the Demos.


"Obviously, there are a lot of voters who want a chance to decide who will be on the November ballot, especially in the U.S. Senate race," McDonagh said. "I say to them, 'Great. Welcome to the Democratic Party. Now, stay with us, because that is where you belong.'"
Building a Younger Party
Responding to the decline in membership, Sarah Morrill, vice chairwoman of the Hamden Republican Town Committee, said the reason is at least twofold.
"I think to a certain extent people want to be part of what they perceive to be a winning team. It's very much like ethnic enclaves that have formed, like all Italian and Latino neighborhoods," she said. "And people know Hamden is Democratic so they move here because they think they'll be more in line with their neighbors. Where a lot of Republicans go to North Haven."
She said the RTC is trying to break down stereotypes. "We're not the old, white male party it used to be. In Hamden, we're trying not to be that," said Morrill. "We are actively recruiting younger Republicans. And I think we've been quite successful in that." Morrill is 28. Jennifer Cutrali, RTC secretary, is 23. And Sandra Brown, chair of volunteer and recruitment subcommittee, is 26.

While many unaffialateds say they're registering Dem to vote for Lamont, Morrill also has a slightly different take.
"A lot of conservatives want to keep Joe Lieberman [in office]," said Morrill.
---
August 3, 2006
Hamden Couple Bring Clean Water to India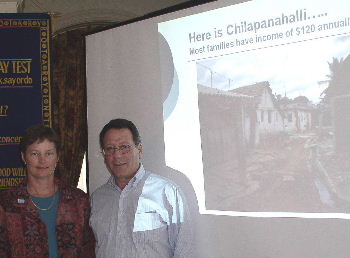 Cathy Forsberg and Michael Lipman. Photo/Al May
By Al May
Ever heard of Nayakarahalli, India?
Chances are, until fairly recently, the residents of that poor village of about 119 households in the southern part of the country, not far from Bangalore, had not heard of Connecticut either.
That's changing, however, thanks to the efforts of a Hamden couple, Mike Lipman and his wife, Cathy Forsberg, both accountants and members of the Rotary Club of Hamden.
Because of Lipman, Forsberg and Rotarians from Hamden and India, families in Nayakarahalli now have access to cheap, yet highly effective bio-sand water filters that promise clean drinking water for many years to come. The filters were provided to the village by the South Asia Pure Water Initiative, a nonprofit company the Hamden couple created in 2005 with a startup grant from a Connecticut foundation. SAPWI is a small factory in Kolar, a town not far from Nayakarahalli. It is in this factory that the bio-sand filters are manufactured, using locally available materials such as concrete and copper, with fine sand and coarse gravel serving as the filtration media.
"The bio-sand filter was developed by a Canadian scientist as an inexpensive yet effective way to remove dissolved particles and pathogens from contaminated water," said Lipman. "The filter has been tested by various government, research and health institutions in more than 30 countries and found to be effective in water purification."
The filters are low cost to produce ($25, which is covered in whole or in part by a sponsor subsidy) and require no chemicals, electricity or replacement parts to run, which makes them perfect for use in poor communities, like Nayakarahalli, where the average annual family income is about $125. A filter can provide a household of up to 15 people with clean drinking water for 25-30 years.
"The filters provide the users not only with health benefits, but economic ones as well," Forsberg said. One example, fewer days off from work due to contaminated water-related illnesses.
The North Haven Rotary has also adopted a small village in the region to which it is donating $2,200 to ensure all needy families have access to this simple technology. Besides covering the cost of the filters for up to 50 families, North Haven's Adopt-A-Village funds also cover training for a community steward whose job it is to operate and maintain the filters, and an educational program to teach village children about water sanitation.
The program's goal is to place 15,000 filters in south India to serve 225,000 people within the next five years. Ambitious as this goal may seem, the Hamden couple think it is doable.
"It is really amazing the way this project has taken off," said Lipman. "When we started, we thought we'd get a pony, but what it has turned into is a racehorse."
Al May lives in Hamden and is a member of the Rotary Club of New Haven.
----------------------------------------------------------------
Heat Hampers Hamden Happenings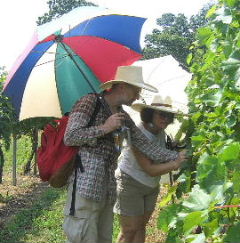 Anna-Marie Giblen of Darien and David Hoskins of Stamford protect themselves from the sun as they admire grapes at Lockwood.
Words and pictures by Betsy Driebeek
Both Plant Science Day at Lockwood Farm and the Friends of the Library annual Book and Bake sale at Thornton Wilder saw smaller crowds than usual yesterday -- presumably due to the roaring high temps.
At Lockwood, John Shepard, a mosquito trapping and testing technician manning a West Nile Virus booth, said he felt the crowd was about half the size of last year's. "I told my family to stay home," he said.
"The weather has really put a damper on things," said David Hoskins, who drove up from Stamford for what he thought was his 10th consecutive year. "In the hot sun, it's hard to do the arithmetic."
Richard Cecarelli, research farm manager at Lockwood, said, "The diehards are enjoying [science day] though. People I have talked with tell me they are really pleased."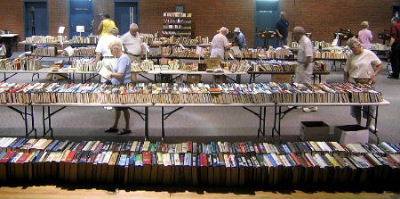 A few browsers for many books.
Over at Thornton Wilder Hall, Second Hand Prose Bookstore coordinator Jean Akins said Tuesday evening's sales were pretty good -- over $1,900 worth of books and baked goods were sold. But she and other volunteers -- wearing red price stickers to stand out from the browsers -- felt the heat was keeping people away yesterday.
"Especially with the news [media] urging people to stay home," Akin said.
---
August 1, 2006
Woody Wins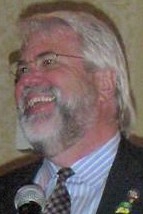 Sign-locater extraordinaire Woody Hoyt. Courtesy photo
By Sharon Bass
Only one reader was able to correctly identify all seven town-line signs in the HDN's "Locate These" contest. That would be Woody Hoyt, co-owner of Eastern Fuel at 3552 Whitney in Hamden.
"I knew where all of them were for one reason or another. You wouldn't believe it if I told you how I knew," said Woody.
Try me.
Here's what he said: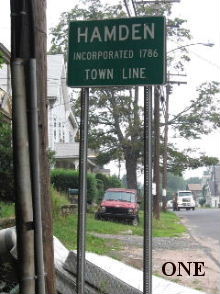 1) State Street/New Haven -- "That's the only one I didn't recognize." (Yet guessed right.)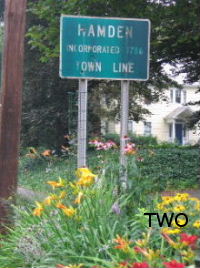 2) Whitney Avenue/New Haven -- "I've driven by that many a time. All the flowers is a dead giveaway."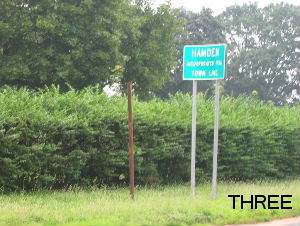 3) Fitch Street/New Haven -- "That's Beaverdale Cemetery where my parents are buried."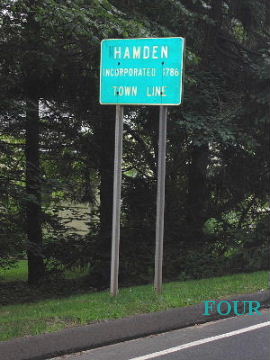 4) Broadway/North Haven -- "Every Tuesday morning I drive by that after a Rotary meeting I have in North Haven."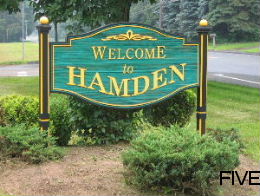 5) Whitney Avenue/Cheshire -- "My parents lived in Cheshire when they were alive."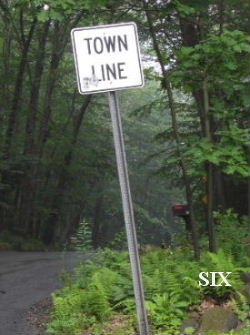 6) Gaylord Mountain Road/Bethany -- "That's not hard to forget because that's the funkiest town-line sign I've seen anywhere."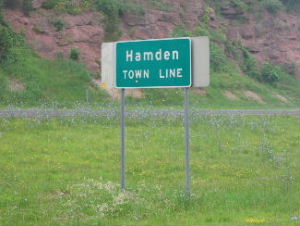 7) Route 40 Connector/North Haven -- "I drive by that one almost every day. I drive a lot, huh? I never realized how much I drive."
The 58-year-old oilman and his brother have run the family-owned biz for 33 years. His ancestors opened the Hamden shop in 1890.
"We started selling firewood. Then coal. Then it went to oil," said Woody. When he retires, he said his niece and nephew who already work there will take over, keeping it in the family and out of Corporate America's claws.