Carusone At Bat
April 26, 2006
Hamden Seniors Take on Hamden Cops
By John Carusone
Well, it's official. My Senior Silver Bullets softball team will play a third game with the Hamden police team. The game will be played for the benefit of the Association to Find a Cure For Autism.
Hamdenite Pat Afragola is heading the effort for the association. Donations will be sought at the game and numerous raffles will be held. The game will be played at Hamden High on Saturday, June 10, at 7 p.m. It will be a great night to bring the entire family to watch the seniors and the police decide who will win the series, now tied at 1-1.
Officer Mike Pantera will once again lead the police. It is expected that Chief Jack Kennelly will take the mound again. Our team will contain some great athletes from the past who still have the skills to play and defeat younger teams. Joining me will be fellow Connecticut Slo-Pitch Hall of Famer Jody Reilly. Hamden's Bob Palmer -- my teammate on the Columbus Bears baseball teams of the '50s, later signed by the Baltimore Orioles -- will also play. Newcomer Cheryl Mrazik, a college All-American, will add a coed flavor to my team. John Sullivan Sr. will once again play against John Sullivan Jr. to add some family drama to the game.
Officer Pantera scoffed at the idea that the seniors will prevail. He commented, "I'm surprised the seniors will be up so late. I hope they don't fall asleep during the game." My response is that the only team ending up in dreamland that night will be the police.
After my successful cancer surgery this year and my successful rotator cuff surgery last year, one would think I had slowed down. Well, not quite. I have been elected the new commissioner of the Wallingford Senior Softball League, and will be the playing manager of the Wallingford Cardinals in the over-60 league. I also will be the playing manager of the Wallingford Senior Softball team in the over-60 Connecticut state league. In addition, I will be playing in the Milford over-50 league with Gabe's, and will be part of a Connecticut over-70 all-star team sponsored by Gabe's to enter all-state and regional tournaments to qualify for the 2007 Senior Olympics in Kentucky. This will be my third Olympics, having competed in Louisiana and Virginia.
I'm back.
John Carusone was mayor of Hamden from 1987-1991, assistant school super from '69-'82 and a legislative councilor from '65-'69. The Hamden native is now retired but stays active in town affairs -- and has a lot to say about them. (Note: The views expressed here are not necessarily those of the Hamden Daily News.)
---
April 19, 2006
By John Carusone
At one time, Hamden named school buildings after prominent Hamden educators and politicians. Alice Peck, Michael Whalen and Margaret L. Keefe come to mind. The problem with that policy was that after a generation or so residents questioned who were these people? Eventually geographical names were chosen.
But let's talk about one of those forgotten people -- Margaret L. Keefe. She came to Hamden in 1907 to be the first principal of the original Spring Glen School. In 1911, she was appointed superintendent of schools, a position she would hold for 43 years, eventually retiring in 1954. Along the way she established a record of autocracy and progress unparalleled in Hamden's history.
A spinster herself, she made it clear that no female teacher hired by her for the elementary schools could be married. It was her feeling that if you had your own children you could not pay enough attention to your pupils. So my teachers at State Street School were Miss Nugent, Miss Donahue, Miss Powers, Miss Flood, Miss Whalen, Miss Ahern, Miss Murphy and Miss Fitzpatrick. Eventually, Ms. Keefe hired George Esposito to be the first male elementary teacher, later to become the first male elementary principal.
And smoking -- it was forbidden by Ms. Keefe. If a teacher had to smoke she went outside, even in the winter. Her fingernail inspection was unreal. During her visit to your school all the boys had to spread their hands on their desks with their fingernails visible. She would pass up and down each row with a ruler in her hand. If your fingernails were dirty, she would rap your hand with her ruler. You would then have to rush to the lav and wash your hands and fingernails and come back for a second inspection, which you had better pass.
Ms. Keefe did consider my mother, Josephine, to be her "pet." In 1922, she awarded mom the yearly essay prize for her piece on the brickyards off State Street. The prize was $3. She also awarded mom the penmanship prize as mom's Palmer style penmanship emulated Ms. Keefe's.
In 1929, she asked my mother to contact all Hamden students who had graduated from Commercial High in New Haven to come to Hamden Town Hall to speak in favor of the town buying the Humiston property on Dixwell Avenue, to be the site of the first Hamden High School. Ms. Keefe vehemently opposed using Meadowbrook for the high school as she felt that recreation should be the major use of that property. In her own way she was a forward thinker.
Along the way, Ms. Keefe also built Church Street, Helen Street, State Street, Mount Carmel, Centerville, Putnam Avenue, Newhall Street and Pine Street (later to be named after her). In 1950, she broke all tradition by building Dunbar Hill School all on one level, which resulted in the Hamden Chronicle labeling the school a "country club" and calling for her resignation.
Also in 1950, my father, Dom, Bill Natale, Bill Busca and Steve Terani of the fledgling East Side Civic Association arranged a meeting with her to talk about the future of State Street School since it didn't have a library. All elementary schools had branch public libraries adjacent to them, so every Friday you walked to the library to get books. At State Street we walked to the basement of St. Stephens Church to get our books. At that meeting -- which lasted all of 10 minutes -- Ms. Keefe reminded my father and the others she alone would decide what to do with the elementary schools and ushered them out. Additions were eventually added to all elementary schools and libraries added.
In 1954 her tenure ended with the opening of the second one-story school, Alice Peck, and the appointment of Dave Wyllie to replace her. And what was her response to his appointment? Since Wyllie's and her tenures overlapped, she had his desk moved to the school hallway so he would not hear what she was saying. The Board of Education's office was then at the high school.
Now, I would think it is clear why a school was named after Ms. Keefe. She did manage to close Hamden's last one-room schoolhouse in 1954, the old West Woods School, now visible to residents on Hillfield Road. Hamden saw a phenomenal growth in its educational system including our first high school. With all her idiosyncrasies, she was a solid educator who developed Hamden into a first-rate system. For her time, she oversaw Hamden's largest school building program. She was a true educational giant.
John Carusone was mayor of Hamden from 1987-1991, assistant school super from '69-'82 and a legislative councilor from '65-'69. The Hamden native is now retired but stays active in town affairs -- and has a lot to say about them. (Note: The views expressed here are not necessarily those of the Hamden Daily News.)
---
April 12, 2006
By John Carusone
Now that the new middle school is almost ready to open, I am reminded of how this building was sold to the public and how the former middle school was so trashed to make it impossible to have a straightforward discussion on the issue.
Let me say at the outset that our new middle school is the first school building in Hamden's history to be built on the basis of misinformation and outright deception. The abandoning of the existing site and building was also accomplished on the basis of misinformation and outright deception. Even now the proponents feel it is necessary to pass out inaccurate information to hopefully bolster their shoddy case. We read that the middle school has to cost a million dollars more because of the numerous stumps buried on the site as a result of the 1989 tornado.
Let's set the record straight. If any stumps were buried there it was not the result of the 1989 tornado. Hundreds of trees felled by the tornado were stripped down to chips leaving Hamden with the largest pile of wood chips in the country.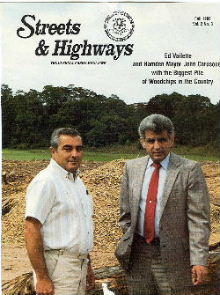 Please note the above photo of the magazine cover of then-Public Works Director Ed Vailette and me. We were talking about that in an interview. FEMA awarded us a $100,000 grant to take the entire pile to a plant in Massachusetts where they were burned. This is just another example of the misinformation that continues to be spread.
Let's review the existing middle school site claims. Remember the claim that it would cost between $20 million and $40 million to clean it up? Well, now the Connecticut Department of Public Health says the site has "no apparent public health hazard." Recall that all students would have to be housed elsewhere while construction was taking place. A Department of Environmental Protection spokesperson said not so. Recall that the middle school site was deemed not large enough for a renovation and building addition. State BOE personnel said not so. And the fear tactic regarding the loss of a state grant if the site was not abandoned and the new plan approved for Meadowbrook? Once again, not so.
And how about Meadowbrook? The site was clean? Well, not quite. After 100 years of fertilizers and pesticides, it cost huge amounts to clean up. That wasn't supposed to be. And the building would not be seen from the street? Are you kidding? That building is so close to the street that residents in the Beecher Heights neighborhood can't see the sun rise.
Recall the claim that the veterans' monument would not be encroached by the building? What a sham. Right now if a veteran or a family wants to read a name on the memorial they can only drive by -- and that makes viewing impossible.
All of this is a tragedy for Hamden. There isn't one single solitary claim made by opponents of building on the existing Newhall Street site and proponents for building on Meadowbrook that has held up to public scrutiny. What is also sad is the large number of Hamden residents who were taken in by this deception. Although I must say that prior to the election while the building began to take shape, numerous residents contacted me advising me that although they supported the project in the past, they saw firsthand how they had been deceived and would not be supporting Amento in the election. I always hesitate to use the word "lie" because it is so harsh a charge. Is there a better word? I'll leave that answer to history.
John Carusone was mayor of Hamden from 1987-1991, assistant school super from '69-'82 and a legislative councilor from '65-'69. The Hamden native is now retired but stays active in town affairs -- and has a lot to say about them. (Note: The views expressed here are not necessarily those of the Hamden Daily News.)
---
April 5, 2006
Mayors' Projects From Great to Terrible
By John Carusone
My book "The People and Politics of Hamden -- Some Personal Remembrances" is in the final typing stage. My daughter Laurie, an editor in her own right, is completing the book which I will self publish this year.
In one section, I take author's liberty in choosing physical projects that have benefited Hamden the most, and those which have had a negative effect -- and the administrations responsible. I will exclude schools here since they will require a full column.
So which project is No. 1? That honor goes to the administration of Democrat Bill Adams for Laurel View Country Club and golf course. Adams, a Marine Corps veteran of Iwo Jima whose most severe expletive was "good gawd," had a total understanding of Hamden.
There was only one shaky moment with this project. I had left the Legislative Council to join the Hamden school system and was replaced by Fred Malzone. He had had back surgery and could not attend the meeting where the clubhouse-restaurant was to be voted on. Six-six was the predicted vote before the meeting. Adams needed one vote. He called me and implored me to talk to Malzone and get him to the meeting. I contacted a mutual friend, Joe Brandi. We put together a board stretcher and got Malzone to the meeting where he voted in the affirmative. The alternative was defeated, supported by those who wanted to preserve the A.C. Gilbert house and renovate it for a clubhouse, which would have seated 75 restaurant customers and had no "19th hole."
No. 2, with a degree of humility, would go to my administration for purchasing the area known as the Boston-Maine Railroad to become the premier hiking-biking trail in the area, now known as the Farmington Canal walkway. Resident Virginia Dowd deserves much credit.
The day after my 1987 election she called me as a representative of a group known as Rails to Trails to invite me to walk the canal. That walk sold me on the idea to purchase the entire line.
No. 3 goes to Republican Lou DiMeo for renovating and adding to the abandoned Centerville School, turning it into the Miller Library Complex -- the most used building in Hamden today.
No. 4 goes to Democrat Pete Villano for his planning and development of our industrial park off Dixwell Ave. While not getting as much attention as other projects, that park has generated millions in tax revenue.
No. 5 would have to be my administration's response to the 1989 tornado in which the Newhall, Highwood and Putnam neighborhoods were completely rebuilt in just over a year. Those efforts led to FEMA calling our recovery the "best in the nation."
No. 6 goes to Republican Lou DiMeo again for his transformation of the abandoned Mt. Carmel School into Hamden's elderly housing complex. He received national recognition for his reuse of abandoned school buildings.
No. 7 goes to Democrat Bill Adams again for his development of Freedom Park across from the historic Town Hall, which replaced a dilapidated gas station. The rumor has it that Bill's ashes were spread over the park.
In my opinion the worst building decisions included the DeNicola Sr./Hartley Administration's support of building the Meadowbrook apartment complex on the flood plain. First Selectman John DeNicola Sr. and Second Selectman Rachel Hartley, then town historian, overrode a motion by Third Selectman Bill Adams in 1963 when he attempted to have the property in question declared open space. Since that time, millions have been spent correcting the flooding problems Adams had predicted. In DeNicola's and Hartley's defense, there were no environmental laws at that time regarding building on a flood plain. DeNicola was a great selectman and mayor, but this is history.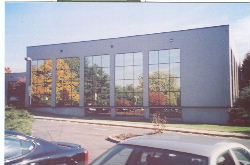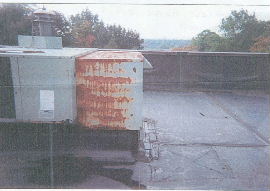 Government Center and its problematic roof. Courtesy photos
The last two projects belong to the Amento administration: the purchase of Government Center, which made no logical, financial or historic sense; and building on Meadowbrook and desecrating the veterans' monument, forever negating the central park concept for Hamden.

Well, that's my opinion. If anyone has any further suggestions, please contact me as I still have time before actual publishing to include projects on both ends of the spectrum.
John Carusone was mayor of Hamden from 1987-1991, assistant school super from '69-'82 and a legislative councilor from '65-'69. The Hamden native is now retired but stays active in town affairs -- and has a lot to say about them. (Note: The views expressed here are not necessarily those of the Hamden Daily News.)
---
March 29, 2006
By John Carusone
I was recently informed that the Clean & Green Commission would be doing a State Street cleanup. So I thought it would be a good idea to discuss some of the history of the area as it figures quite prominently in Hamden's growth.
The area known today as State Street was the first Hamden settlement in the 1640s. It was known as Neck Lane. In the early 18th century the state renamed the area State Street. Among the early settlers were the Atwaters. The David Atwater home at 1804 State St. was sold to William Linton, the engraver for Charles Dickens. The home was named Appledore and is a beautiful example of architecture of the time. Linton is buried in the State Street cemetery.
On 1845 State St. is another Atwater home of later years. This is the neighborhood my maternal grandparents came to -- grandpa in 1897, grandma in 1901-- to plant our roots. When State Street School was constructed in 1914, my mother was a member of the first class to attend the school, and in 1922 was in the first graduating class.
Grandpa worked in the Davis brickyards mining clay for the sum of $3 a week. Grandma, in between raising four children, was a day laborer on the Daddio farm on Putnam Avenue. Grandpa had originally built a house of brick where Detroit Steel once stood.
Grandma came over in 1901 and would not live in that house since there was a troop of gypsies in the woods. Grandpa was forced to sell it and bought the house on 314 Welton St., which became the family homestead for generations.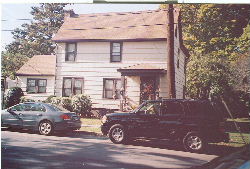 The Welton Street homestead. Courtesy photo
It's interesting to note that the clay pits grandpa worked in were flooded in the 1938 hurricane and became the clay pits we swam and ice-skated on as boys. Jack Streeto of Atlas Street was driving a "dinky" the day of the hurricane. A "dinky" is an electronic car that runs on a track from the bottom of the pit to the top. The clay is then unloaded and it goes back to the bottom to pick up more clay. When the hurricane struck, Jack was at the bottom when the pumps failed and water gushed in. He had to race to the top just in front of the onrushing water. A steam shovel was left in the pit to be swallowed up by the water. As youngsters, we always swam to the center of the pit and attempted to swim down to the steam shovel. We never could see it because it was well over 50 feet down.
Today State Street is seeing quite an economic revival. Economic Development Director Dale Kroop is helping to usher in numerous businesses. The Connecticut Bus Terminal will shortly occupy the former Detroit Steel Site. Hopefully, another grocery store will occupy the vacant former A&P on State Street. The Clean & Green Commission is following in the footsteps of the Beautification Commission I formed in 1989. Member Rosa Jones, an individual I appointed, served in an outstanding capacity on that commission. One has only to note her flower arrangements on Ridge and State, which beautify that corner.
State Street is thriving once again. The infamous Farricielli dump is closed and the tire pond is being covered over. It does appear that an industrial park will eventually emerge there to the benefit of all taxpayers. Newly appointed Town Planner Leslie Creane has taken the lead to make sure the town's interests are protected.
State Street is truly an exciting story. Thanks Clean and Green Commission for your latest efforts to focus on this area. At one time Dixwell Avenue was known as Hamden's "magic mile." Can anyone come up with a descriptive phrase for the State Street area? If so, let me know.
John Carusone was mayor of Hamden from 1987-1991, assistant school super from '69-'82 and a legislative councilor from '65-'69. The Hamden native is now retired but stays active in town affairs -- and has a lot to say about them. (Note: The views expressed here are not necessarily those of the Hamden Daily News.)
---
March 22, 2006
You Had to See Porky in Action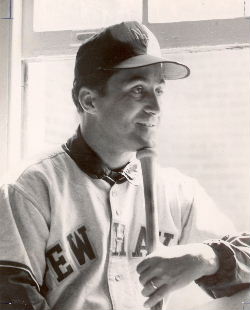 Florindo Frank "Porky" Vieira. Courtesy photo
By John Carusone
When you are involved in athletics for a long time, you get to play with the legends. Swinging a bat against Satchell Paige certainly falls into that category. But there is one player who transcends all others -- Florindo Frank "Porky" Vieira.
Porky just retired from the University of New Haven where he set many records that will never be broken: most wins ever for a Connecticut coach; most national tournament wins; over 60 of his players signed major league contracts; and as a basketball player he won the collegiate scoring title while playing for Quinnipiac. And the list just goes on and on.
I could take up this entire column listing Porky's accomplishments, but let's bring this to a personal level. I met Porky in 1954 when he and Southern Connecticut State University star Paul "Topsy" DelGobbo put on outstanding exhibitions of shooting in the legendary SCSU-Quinnipiac basketball series.
That was my freshman year at SCSU and I became one of the school's starting pitchers. Playing at Quinnipiac was Vieira, also a very talented baseball player. In May of that year, I had won my first start against Western Connecticut State and was sky high. The next game was against Quinnipiac. I went in as relief, and the first batter I faced was Porky. On a two-strike pitch I threw what in those days was called a jug handle curve. If the ball has a sharp break, a good hitter will usually swing over it. Porky did and struck out. How about that?
A couple of innings later I faced him again and tried the same pitch. He hit a rope (line drive) at Bowen Field so hard it did not bounce off the hill but damn near imbedded in the hill. So went my success against Porky in later years.
Above is a cartoon drawn by a teammate that hangs in my office. It tells the whole story. It's hard to make out, but the caption says, "Carusone fooling the batter." That's me behind the pitcher's mound peeking over with my left hand just rolling the ball to home plate. And, of course, at home plate with a very large bat is Porky. I never had much success fooling him.
We became teammates and opponents over the next years. In the Connecticut State League he played with the Milwaukee-affiliate Meriden Braves and I with the Hamden Townies. In 1959, Porky formed a Connecticut all-star baseball team called Vieira's All-Stars. He asked me to play with him and that was quite an honor. I had won the Connecticut League batting championship at 440. I had long since given up pitching and was playing in the field. That team included George Hanchette, later to become a West Haven High coach; Johnny Giampolo, University of Bridgeport All-American shortstop; Charley Doyle from Naugatuck High School that won three state championships in a row; Notre Dame's all-stater Ray-Ray Ciarleglio; and Ansonia's Allan Webb, soon to become the New York football Giants defensive safety. I later was signed by the Braves and became Porky's teammate.

We recently had an old-timers game in Hamden. Unfortunately, Porky could not attend. What would have made that game so special was that my Hamden teammate Ken Perrone had become the winningest coach ever at Salem State in Massachusetts and he would have coached against Porky -- the winningest coach ever in Connecticut. A couple of years back when my brother's boy Matt had just pitched a no-hitter against the University of Bridgeport, I spoke to Porky about whether Matt had the tools to go all the way. Matt had been and still is the all-time winningest pitcher at Hand High School. Porky already knew all about him. How's that for being aware of local players? However, Matt decided not to go the pro route.
I recently saw Porky at UNH when my senior league basketball team played an exhibition there at halftime. We shared those events again and his memory is as good as mine. I only wish kids today could have had the opportunity to see Porky play. How many of them have ever seen a two-handed hook shot from the corner? Or a set shot from mid-court? Or Porky stealing the ball from Globetrotters legend Marques Haynes? Florindo Frank "Porky" Vieira is a true living legend and deserves all the accolades he gets.
---
March 15, 2006
By John Carusone
Well, now the good news. My colon operation was a complete success just as Dr. George Yavorek, my top-notch surgeon, predicted. The two-hour laparoscopic surgery removed the malignant area (polyp) in the superficial layer of my colon with no problem. The cancer was caught as early as possible. Lymph nodes were also removed and checked. No cancer.
However, I did have a post-operative problem in that my abdomen became distended. Dr. John Amodeo, my surgeon's equally talented partner, got me quickly back into the hospital where I was treated, again successfully.

I am back home ready to get involved in the senior athletic program which I have enjoyed so much over the past few years.
If there is a lesson to be learned from my experience with colon cancer, it is that even if you have NO symptoms, check with your doctor to see if you should have a colonoscopy (especially if you're over 50) just as I did. My primary care physician Dr. Dom Schioppo, himself a noted athlete of the '50s, said that I should be a poster boy for how to take care of yourself. I am a very lucky guy.
And what are symptoms of this very curable cancer? Unexplained weight loss, fatigue, loss of appetite, abdominal pain, change in bowel habits, rectal bleeding, blood in stools -- to name some common ones.
I must say that the past week has put my entire life's achievements into proper perspective. None of my previous achievements could ever equal the victory I have just won. Because this victory, unlike winning a mayoral election or a batting championship, is a victory that prolongs my life. Now what could be better than that! (Editor's note: Glad you're back, Johnny.)
John Carusone was mayor of Hamden from 1987-1991, assistant school super from '69-'82 and a legislative councilor from '65-'69. The Hamden native is now retired but stays active in town affairs -- and has a lot to say about them. (Note: The views expressed here are not necessarily those of the Hamden Daily News.)
---
March 8, 2006
Guts of Johnny Carusone

By John Carusone
In my column last Wednesday, I said this week's would be a serious one. Take a look at the picture above and try to figure out what it is.
You are getting a look at Johnny Carusone that no one has ever seen (except medical types). That's my colon, and the two pictures on the right show a single polyp which is cancerous. How about that?
Here's some history. I had no symptoms -- no weight loss, loss of appetite, etc. My colonoscopy was routine -- and this cancerous polyp shows up.
My surgeon, Dr. George Yavorek, will operate on me for two hours at St. Raphael's. He's tops in his field. And what is my prognosis? Sounds unbelievable but he says I have about a 99 percent chance of full recovery. Is there a lesson here? You bet there is. If you haven't had a recent colon check do it now. March is Colon Cancer Awareness Month. Remember, I had no symptoms at all. My recent physical was so good my regular doctor, Dr. Dom Schioppo, said my numbers were off the chart. Items like cholesterol at 164.
Dr. Yavorek tells me I will spend a couple of days in the hospital and then have three weeks of home recuperation. In May, I will be back playing in the Wallingford Senior League. How about my mental state? Let's put this in perspective. I have been to bat over 10,000 times during my baseball and softball careers. Every one of those at-bats was as serious to me as anything. Now I am going to bat with a real issue. How small those 10,000 at-bats seem now. How's that for perspective?
Dr.Yavorek will remove the pictured area of my colon -- it's just a very small section. Because this was picked up so early there will be no further treatment necessary. There will be some discomfort but nothing debilitating.
Just to get back on town issues for a moment, recent statements regarding the current middle school must be corrected. The building is not 180,000 square feet, but 117,000 square feet. The playfield area is 656,000 square feet. This building is large enough to house both the Board of Ed and a community center. The Putnam Avenue School should be sold and the former Newhall Street School should be demolished.
Also, I'm planning a column on Hamden's Clean and Green Commission. They are beginning a State Street cleanup project. I'll be writing about the history of State Street and my family's involvement in it.
---
March 1, 2006
By John Carusone
Now for some potpourri. Let's start with the Olympics. How in heaven's name did curling become an Olympic sport? My suggestion is that if it is to remain so then I think Italian bocci should also be added. I can recall some very competitive bocci games at Hamden's now-defunct Italian festival. There are bocci teams all over this country.

As far as our Olympic hockey team, why not revive our 1960 and 1980 teams to take the place of our "professionals?" We could certainly use more "miracles." Hamden's Bob McVey of the 1960 Olympic hockey team would surely have been an asset this year!

And how about the latest Bush administration gaffe? At least 12 government agencies "reviewed" a lucrative deal with the Arab country of Dubai to manage some American ports, but did not bother to notify -- guess who? Why, of course, the president. This guy is the most uninformed and disengaged president in American history. Remember, the country of Dubai of the United Arab Emirates owns this port management company. This is not a private company. This is also the country that had nine to 11 hijackers' dollars funneled through its banks. Now it comes out that it has hired former Republican senator and presidential candidate Bob Dole to lobby his Republican cohorts.
Is this deal starting to look like a cash cow for the Republican Party! Remember that this company will need 100-200 visas for its workers. Do you, or do you not, think that al Qaeda will figure out a way to infiltrate our country via our ports? How safe does this deal make you feel? And Bush says he will veto any stopping of the deal by Congress.
On a lighter note, spring training has begun. A short time ago I wrote a column about baseball of the '40s and '50s. I mentioned some players who I think would have made it today. Remember, back then you literally died in the minor leagues.
Well, here are some pitchers of that era who would have been starters on any team today. Hamden's Paul Zavorskas would lead the staff. He is the only American amateur pitcher to ever defeat the professional Cuban team. He was my teammate in American Legion baseball and with the semi-pro Hamden Medics, Collegians and Townies.
Guilford's Bob Palmer did spend three years in the Orioles chain but got sick of the endless minor league bus rides that led to nowhere. Bob was my teammate with the Columbus Bears of the '50s. West Haven's Joe Guglielmo, a recent inductee in West Haven's Athletic Hall of Fame, actually got a tryout with the Cardinals but was considered too short to make the majors. Yet he is the all-time winningest pitcher for West Haven and Providence College. He, too, was my teammate with the Hamden Townies and St. Paul's of the West Haven Twilight league.
Rounding out the staff would be East Haven's Hal Lawler who led Rollins College to a victory in the national college world series, and North Haven's Dick Newberg who could have been a Don Drysdale clone. Like Palmer, he had minor league time with the Pirates. This pitching staff could start with any major league team today.
Next week my column will be a very serious one.
John Carusone was mayor of Hamden from 1987-1991, assistant school super from '69-'82 and a legislative councilor from '65-'69. The Hamden native is now retired but stays active in town affairs -- and has a lot to say about them. (Note: The views expressed here are not necessarily those of the Hamden Daily News.)