---
Carusone at Bat
December 28, 2005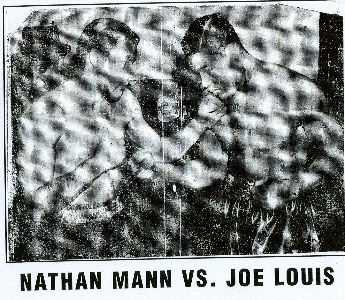 By John Carusone
Recently I spoke to Mike Ortega, son of Boxing Hall of Fame great Gaspar Ortega. Mike told me that a Connecticut Boxing Hall of Fame formed in 2005.
The first class of inductees is led by the legendary Willie Pep. I was somewhat baffled that Hamden's Nathan Mann was not inducted. Here is a State Street neighbor who at one time was ranked as a top-10 heavyweight. He eventually fought the equally legendary Joe Louis for the heavyweight title and lost, but came back to win the New England heavyweight title.

He began his career as a welterweight winning 20 out of 22 fights. As a heavyweight he won 75 fights, knocking out 45 of his opponents, and lost 11. His 1938 fight against Louis saw Hamdenites rent 10 railroad cars and travel to Madison Square Garden to watch the fight. Traveling to see Nate fight were my uncle, Nate's close friend Al Vaiuso and my father, Dom. Nathan's purse that night was $24,000. He used it to buy the Rose Garden restaurant on State Street. Uncle Al became bartender there and was always a frequent golf partner of Nate.
He was born on Olds Street and went to State Street School with Uncle Al and my mother, Josephine. Throughout his entire life he always referred to my brother Dick and myself as "Josie's boys." My first real memories of Nate came after he returned from the U.S. Coast Guard in 1945 to return to his boxing career after World War II. He had served in Commander Jack Dempsey's unit, another boxing legend. Nate would run from his home on Olds Street down State Street, turn left on Benton Street (our home), go to the freshwater pump located where the Wyatt Oil Terminal is now located, and then turn around and run back to State Street, up Ridge Road to sheep's lot in East Rock Park, and then home again.
Word spread like wildfire that Nathan was running. We would join in the run with him and stay as long as we could. He was a neighborhood icon. He won over a dozen fights when he returned, splitting two fights with Maine heavyweight Eddie Blunt. In 1948, he was once again ranked in the top-10 heavyweight class. The word was if he regained the New England heavyweight championship he would get another shot at champion Joe Louis, who was now on the downside of a fabulous career.
Nate was to fight Fairfield's Bernie Reynolds at the old New Haven Arena. This would be the first time I would see him fight. Mom let me go with Uncle Al. What a shock! Nate was 33. Reynolds was much younger. Nate was hit with punch after punch pummeling him until Round 8 when the fight was stopped. What shocked me more were the ethnic slurs leveled at Nate. Italians were still feeling the effects of Benito Mussolini. And the derogatory comments made about Nate's owner, gangster Dutch Schultz.
There was nothing unusual about mob influence in boxing but Nate was there to win, not lose. After the fight we all went to the Rose Garden, which was the usual practice after his fights. When I saw him come in the restaurant I was shocked. His face was so swollen his eyes were nearly shut. His face was so swollen you couldn't even see his ears. He announced his retirement that night.
In 1972, Nathan returned from Florida, where he had been living, to attend the State Street School reunion. That was the first time I heard him tell of his fights with Louis and Reynolds. As far as the fight with Louis, Nate had won the first two rounds, but got careless and clobbered at the end of Round 2 with a trademark Louis right. He never remembered anything after that. With Reynolds he was so overconfident that he hardly trained.
Nathan's great nephew Matt Menchetti, golf pro at Laurel View Country Club, was instrumental in having the town of Hamden honor Nate a few years back. Nathan Mann now certainly belongs in the Connecticut Boxing Hall of Fame.
John Carusone was mayor of Hamden from 1987-1991, assistant school super from '69-'82 and a legislative councilor from '65-'69. The Hamden native is now retired but stays active in town affairs -- and has a lot to say about them. (Note: The views expressed here are not necessarily those of the Hamden Daily News.)
---
December 21, 2005
How Carusoneville Got Started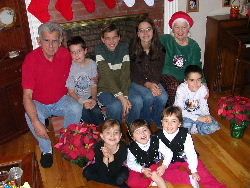 JC and his clan.
By John Carusone
It seems unbelievable but this year marks the 108th holiday season celebrated by my family in the same area of Hamden. This was so unusual that Preservation magazine featured the story in its May 2001 issue.
My maternal grandfather, Dominico Vaiuso (sometimes spelled Voiiso thanks to Ellis Island personnel unfamiliar with Italian names), emigrated from Caserta, Naples, in 1897. He worked in the brickyards off State Street for the sum of $3 a week. But he had a real job perk. He was able to take rejected bricks, and over a four-year period built a brick house where Detroit Steel once stood, soon to be the new home of the state bus terminal.
In 1901 he sent for his bride Luigia Marra (or Mara, same reason as his name). They'd already had one child in Italy who had died of malaria -- the reason my grandfather came to start a better life. But living in the woods around the new homestead was a troop of gypsies. Grandma said no way, and threatened to go back to Italy. As a result Grandpa sold that home and bought a house on Welton Street where they raised four children: my mother, Josephine, her sister, Julia, and brothers Alex and Tony.
That same troop of gypsies stayed in those woods until Detroit Steel was built in 1947. I can recall seeing them as I walked to State Street School with my brother Dick. Even during the war, they were able to elude the troop and war supply trains before they came through. It was like they always had advance warning. My aunts and uncles also raised their families in this neighborhood. Grandpa became active in the neighborhood and was one of the early incorporators of the area's first volunteer fire department, the Merritt St. Volunteers.
They built an addition to the firehouse where dances were held weekly. In 1931 Dominic Carusone (Carasone, Carasomo, same reason) met Josephine Vaiuso (Voiiso) at a dance. They were married in 1933 in St. Stephen's Church on State Street (where Krauszners stands). My brother Dick and I came along shortly thereafter.
The war years are indelibly stuck in my mind. I recall coming out of the Loews Poli Theatre on Dec. 7, 1941, with my parents and the usher somberly stating, "The Japs have bombed Pearl Harbor." All of a sudden our neighborhood became a very strange place. Frank Wirtz, a neighbor, was our civil defense director. He would put on a white helmet and wander the neighborhood tapping on your window if light could be seen. Mom had to put blankets on windows where darkening shades did not cover completely. I will never forget the day a Western Union telegraph boy came down Atlas Street on his bicycle. I was playing in my back yard on Benton Street watching him. He rang Frank Hearn's doorbell. He handed Mr. Hearn a piece of paper and Mr. Hearn crumpled on his front steps. I ran inside and told my mom what I had seen. She came out and immediately upon seeing what Mr. Hearn held also began crying. It was a telegraph notifying the Hearns that son Francis had been killed in France. And today Hearn Lane is named for Francis Hearn.
When the war ended a tremendous celebration was held on the corner of Webb and Benton, which included a huge bonfire. That was quite a day. Some years later I learned that my father, Dom, was nearly deported back to Italy when someone in the government decided he never attained his citizenship. Dad had served in the Navy in World War I. And here he was in 1941 working in Winchester's on the secret M-1 rifle. Finally, in 1943 the matter was straightened out. He went on to serve as a charter member of the RTM and I had the honor of representing the 6th District as a charter member of the first Legislative Council and later as mayor. My wife, Sylvia, and I were married in 1962 and raised our three children, Mary, Laurie and Valerie in the same area of Hamden.
There is so much tradition here. While Grandpa helped build the first firehouse, I served on the committee to build the replacement on Ridge Road. Dad served on the committee to add to State Street School. I served on the committee and planned the replacement of Ridge Hill School. Dad served on the committee to build a new St. Stephen's Church. I served on the committee to build St. Stephen's School. Mom and Dad were the earliest organizers of the East Side Civic Association that fought marshland dump development, while Sylvia and I served in the same association that successfully fought dump operations in the same area.
Recently the town named an athletic field after me across the street from the family homestead on Welton Street. I have chronicled all of this in a book I hope to publish next year entitled, "The People and Politics of Hamden -- Some Personal Remembrances." We hope this tradition of community involvement continues with our grandchildren. And so from us and them a very merry Christmas and a very healthy and happy New Year!
John Carusone was mayor of Hamden from 1987-1991, assistant school super from '69-'82 and a legislative councilor from '65-'69. The Hamden native is now retired but stays active in town affairs -- and has a lot to say about them. (Note: The views expressed here are not necessarily those of the Hamden Daily News.)
---
December 14, 2005
Clinton Did Sex; Bush Does Murder
By John Carusone
Let's talk a bit about the national political scene. Allow me some observations.
Isn't it the height of political hypocrisy that the "moral giants" who found Clinton's behavior to be grounds for impeachment are themselves mired in the real corruption of the Cheney-Bush team? Is there anyone out there now except Fox News who doubts that the dishonest version of already hyped intelligence by the Cheney-Bush team has put this country into jeopardy with the horrible situation in Iraq now deteriorating daily?
Did you notice how Fox News reported the story about 10 Marines killed and 11 wounded in a roadside bomb attack and was the only network that added, "But seven Marines returned to duty immediately." This, of course, was to add a positive spin to a terrible tragedy. This gang added the charge that Jack Murtha, a real military hero, was a "coward" for suggesting our troops begin a pullout.
If JFK were alive today he would write a chapter in "Profiles in Courage" about Jack Murtha. Murtha is absolutely correct in his plan. The "terrorists," as Murtha and most of our generals see them, are made up of hundreds of groups of Middle East crazies -- most who can't speak English and would never be able to enter the USA to harm us. They are thrilled to have such a golden opportunity to shoot our kids in the back in Iraq. All the neighboring crazies have to do is walk across the unguarded Iraq borders and together with local crazies kill Americans.
The idea that it is better to fight terrorists in Iraq than here is foolish. The vast majority could never get here. Murtha and our generals have said the best way to get our troops out of harm's way is to work toward a political settlement. There will be no military victory in Iraq. The most perplexing politician in all of this is our Sen. Joe Lieberman. As you recall, he found time while Clinton was out of the country to criticize Clinton for his behavior. Yet he has remained silent throughout this tragedy apparently not finding fault with any aspect of this unnecessary war.
Bush likes to portray himself as a war president sometimes referring to FDR. Let's say right out that Bush would never be even a pimple on FDR's you know what. Can you imagine FDR allowing John Nance Garner to make a major foreign policy speech? We all saw Cheney in that role while Bush was being mauled on his foreign trip. Who is the president? Jay Leno had it about right when he opined that when Bush refused to testify before the 9/11 Commission unless Cheney accompanied him, the only issue to be resolved was "which knee Bush would sit on." What else do we need to see that this crowd is heading for the title of the most corrupt of all the modern administrations? DeLay, Libby, Rove, Cunningham, Halliburton, Frist, Republican congressmen and on and on.
For the historical record, which news outlets like Fox ignore, the most corrupt administrations were Reagan's and Nixon's. Reagan had 32 felony convictions and Nixon 31. Clinton, much to the chagrin of his haters, had one. Housing Secretary Cisneros did not tell the FBI how much he had paid his mistress. $244 million spent investigating Clinton turned up his affair. We also learned from Starr -- the Larry Flynt of prosecutors -- all about Clinton's sexual prowess or lack thereof and some physical data, which I shall not delve into here. Douglas Brinkley, noted historian, has labeled Clinton's presidency as "great" but then the "impeachment." Clinton's response to that was he considered the impeachment to be "the greatest misuse of political power in the history of the Republic."
What better description of the Cheney-Rumsfeld-Wolfkowitz-Bush disastrous foray in Iraq is there than Clinton's comment on the impeachment? Most of us have seen the bumper sticker: "Clinton lied, but no one died." Rummy ended the week with his ridiculous comment that Iraq now has a "free press." We now know that $100 million has been appropriated to insert phony stories in Iraq's "free press." How's that for teaching democracy? Of course, we have seen the same dishonest scenario here in the USA. Remember Armstrong Williams?
---
December 7, 2005
Whatever Happened to So and So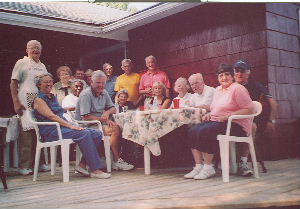 Seated (left to right): Judy and Bob Gott, John Daniels, Barbara DeNicola, Lynne Resigno, Bobbie Ryan, Tim Ryan, Dick Jagoe and Alberta Jagoe. Standing (l to r): Tony Proto, Joanne Wentworth, Bob and Donna Norman, Lou DiMeo, yours truly and Tony Resigno. Photo/Sylvia Carusone
By John Carusone
Now that Mayor Craig Henrici has begun the job of naming key department heads and staff members I am reminded of those individuals I chose and the pressures you endure from many competing interests.
A solid test of those individuals is to follow their career paths once they leave government. My CEO was Elizabeth Smith, the first female to hold that position, who is now Dr. Betty Smith, chairperson of the political science department at South Dakota State University. With her was Jean Blue, now associate dean of the Quinnipiac law school.
Barbara Tito was my tax collector and Ed Palleria was my purchasing agent. I allowed both to join the Town Hall union so there would always be continuity in those departments. Tito has remained in that position where she has been recognized by her peers as outstanding. Palleria was improperly terminated by a succeeding administration.
But the process of protecting the purchasing agent has allowed current agent Judi Kozak to stay put and operate without political pressure. Mike Betz was my first finance director but left to take a higher-paying civil service position with New Haven. He was followed by Pat Barbato, who had been a finance director for Bill Adams and had served as deputy tax commissioner for Connecticut.
Also hired at that time was budget coordinator Lou Affinito, who recently retired and is considered one of Hamden's most talented finance officials. Chief Assessor Jim Clynes is still around and has also been recognized by his peers for job excellence. Town Attorney Hugh Manke is now a senior law partner with the prestigious firm of Updike, Kelly, and Spellacy. John Turner, Hamden's first African-American town attorney, is now Judge John Turner. Same for Personnel Board member Patty Pittman who is now Judge Pittman. Chief Clerk Vin Curran became Rev. Vin Curran. Public Works Director Ed Vaillete is the PW Director for the town of Clinton. Rec Director Bob Ceccolini and Town Planner Shirley Gonzalez were also recognized by their state peers for their outstanding work.
Now what do former mayors do in their free time?
Well, I belong to a very exclusive club. See if you can guess what the club is all about. Two of the members were all-state football players, one a former baseball teammate. Another was a teammate and spent time in the Red Sox chain. Another was a star player for the early Hamden Medics baseball team. One was a Channel 8 anchor. The club is open to males and females, Republicans and Democrats.
Well, up to now you have heard of famous clubs or groups in history. The "gashouse gang," the "steel curtain" or our group -- the "has been club." We are all former mayors or first selectmen of area towns who get together twice a year for a summer picnic and a Christmas dinner.
These formers include John Daniels of New Haven, Hank Luzzi of East Haven, my Columbus Bears' teammate First Selectman Frank Larkins of Guilford and former Hamden Mayor John DeNicola. I am sure we all recall Bob Norman of Channel 8 fame and later East Haven mayor. Other members of this exclusive club are Alberta Jagoe of Milford; Sal Guerra of West Haven; Barbara DeNicola, Pete Villano and Lou DiMeo of Hamden; Judy Gott of Branford; Tony Proto of East Haven; Tim Ryan and Joanne Wentworth of North Branford; and Walt Garwych and Tony Resigno of North Haven.
We now invite outgoing Mayors Carl Amento and Dick Borer to join our club. The only ground rule is to leave your politics at the door. This is a great group of people.
John Carusone was mayor of Hamden from 1987-1991, assistant school super from '69-'82 and a legislative councilor from '65-'69. The Hamden native is now retired but stays active in town affairs -- and has a lot to say about them. (Note: The views expressed here are not necessarily those of the Hamden Daily News.)
---
December 1, 2005
By John Carusone
Now that Craig Henrici is the new mayor of Hamden, those close to the political scene -- and taxpayers -- await his appointments to key positions. One that needs no further action is the recent swearing in of Police Chief Jack Kennelly.
My first encounter with Kennelly was not a favorable one. Just prior to my taking office in 1987 controversial Chief John Ambrogio appointed Kennelly and Bob Nolan as deputy chiefs, with no authority to do so.
Ambrogio and I had clashed in the campaign over what I felt were his administrative decisions as chief. His appointments of Nolan and Kennelly were clearly his shots across my bow and in my opinion his loud and clear message that he alone was in charge. Through the action of my Town Attorney Hugh Manke both of those positions were vacated and both men relegated to their original posts. Both sued my administration and both lost. A decision by Judge Cabranes in federal court upheld my decisions.
Yet there is an extreme irony in all of this. Both of these men were outstanding policemen -- "cops' cops" if you will. Nolan was an outstanding administrator and Kennelly had a record of meritorious service that saw him receive the department's medal of valor, seven unit citations, seven letters of recognition and 44 letters of commendation.
Yet both of these fine officers were, in my opinion, put in harm's way by Ambrogio and were caught in the titanic struggle I had with Ambrogio. I always felt I had an obligation to help Nolan and Kennelly in any legal way I could. During my final year in office, I was able to support the Police Commission when it unanimously appointed Nolan as inspector. That led to Nolan being named police chief by Mayor Barbara DeNicola.
The road to help Kennelly took a different tact when he decided to run for the Legislative Council's 7th District. He asked for my advice and I readily accepted to help him win two elections. Now he has reached the pinnacle of his illustrious career and deserves all the accolades he will get.
I also must say how fortunate Henrici is to begin his mayoral tenure with a police chief whose only goal is to be the best he can be regardless of party politics and without meaningless mind games and power plays.
One of the most prevalent "what if " questions asked in Hamden is what if I had been successful in removing Chief Ambrogio? Who would I have named as police chief? I never had to make that decision but certainly these two officers would have been under consideration.
I do have a challenge, however, for Kennelly. His police softball team has played my senior softballers twice. The series is now even, 1-1. As far as I can determine the only reason Kennelly and his team won the second game is because I didn't play due to a torn rotator cuff and tendon that have since been repaired by surgery. The series finale will be played again to benefit Hamden's youth boxing program. Officer Mike Pantera has already challenged us to play a night game since he obviously feels that will be to our disadvantage since seniors have to be in bed early, according to him. Well, we accept the challenge and will play at night (but not too late).