Carusone At Bat
By John Carusone
It's safe to say that I have probably seen every movie about World War II that has been made. The horrible conflict of the Holocaust -- depicted so dramatically in Steven Spielberg's "Schindler's List" -- I thought would never be topped in any Hollywood drama. But that movie, as spellbound as it is, can now take second place to Dutch director Paul Vorhoeven's masterpiece "Black Book."
It's the true story of Dutch Jew Rachael Stein who masqueraded as a gentile and joined the Dutch underground in Holland during the war. She infiltrated the upper levels of the Nazi SS occupation and became a hero of the resistance until she was double crossed by underground Dutch resistance fighters who had become Nazi collaborators. During World War II, Holland was rife with anti-Semitism.
The movie is in Dutch and German with English subtitles. It has already been nominated as Best Foreign Language Film of the Year. The actors are unknown to American film audiences. Carice Van Houten plays Rachel Stein and is completely authentic. Waldemar Kobus, Christian Berkoll, Hans Ackerman and Sebastian Koch, who plays Gestapo head Major Muntze, are solid in their performances. This picture will have you riveted for the two and a half hours it runs. You will have to wait till the end to find out who the Dutch collaborator is who turned on Rachel Stein. No Hollywood scriptwriter could have come up with the ending because it is completely true.
The film has an "R" rating and is certainly not for children. It is ugly, brutal, degrading, horrifying and spectacular. World War II Holland is best known for the Anne Frank saga. Anne Frank was turned in by Dutch collaborators as was Rachel Stein. A number of Dutch citizens did collaborate with the Nazis. The scene where the collaborators get their retribution will frighten you for its brutality, but it is real and that's why this movie deserves all the accolades it will get.
John Carusone was mayor of Hamden from 1987-1991, assistant school super from '69-'82 and a legislative councilor from '65-'69. The Hamden native is now retired but stays active in town affairs -- and has a lot to say about them. (Note: The views expressed here are not necessarily those of the Hamden Daily News.)
---
May 23, 2007
By John Carusone
Since I wrote my last column on the presidential candidates of both parties, the dust has settled somewhat and it does appear that the jumble of candidates is beginning to break up. As far as the Dems go, it appears now that Hillary Clinton is the frontrunner having successfully staved off the financial charge of Barack Obama. She holds a comfortable lead in most polls. I believe the appearance of husband, Bill, in such a prominent way has helped her campaign.
I'm beginning to sense a Clinton-Richardson ticket. Gov. Bill Richardson, an Hispanic, would be a tremendous asset in the Dems winning New Mexico, Arizona and Nevada, which would make it a certainty that they would win the White House even if they lost Ohio and Florida. If I were to give Mrs. Clinton any advice at all, it would be to distance herself from racist bigot Rev. Al Sharpton.
Sharpton reminds me of a black Joe McCarthy, the vicious Wisconsin senator of the '50s. White pols pander to Sharpton the same way all pols pandered to McCarthy, afraid of being attacked. Sharpton has yet to apologize for the Tawana Bradley incident and has refused to ask O.J. Simpson to apologize to the Brown and Goldman families. Yet Sharpton demands apologies from Caucasian comedian Michael Richards and shock-jock Don Imus. Which of them has committed murders?
On the Republican side, finally Rudy Giuliani got it right on the abortion issue. After floundering on both sides of the issue and looking ridiculous, he finally decided to say straight out that he is pro-choice. There is no way this country is going to let the far-right evangelical crowd ever get in a position of political prominence again. They mixed religion and politics in such a way that must have had our founders turning in their graves. Rev. Jerry Falwell, the architect of most of the religious intolerance of the past, has passed away. This anti-Semitic ("God doesn't hear the prayers of Jews"), anti-Catholic, anti-gay, anti-black preacher has spewed more divisiveness than any other preacher of this era. Let's see if Giuliani has the courage to continue to stand up to this crowd.
John McCain continues to amaze me. His recent trip to Baghdad with 100 heavily armed troops, helicopter gun ships and roof top snipers surrounding him as he walked down a street made him look silly, as he acted as if he were taking an afternoon stroll through the Hamden Plaza.
"It's safer," said McCain of Iraq.
But his latest gaffe has everyone wondering if this is the same man who graduated from the Naval Academy and served so honorably and courageously in Vietnam. On "Meet the Press," he opined that the American public will tolerate a never-ending stay in Iraq just as they have with our longstanding commitment in South Korea. Please senator, our commitment in Korea is a PEACEKEEPING MISSION and has been since 1953. There has been no hostile action in Korea in 54 years.
And finally, Sen. Chuck Hagel is considering an independent run. He will make a difference to both parties. A pronounced conservative but a dove on Iraq. Some Dems will love him and some Republicans the same.
John Carusone was mayor of Hamden from 1987-1991, assistant school super from '69-'82 and a legislative councilor from '65-'69. The Hamden native is now retired but stays active in town affairs -- and has a lot to say about them. (Note: The views expressed here are not necessarily those of the Hamden Daily News.)
---
May 17, 2007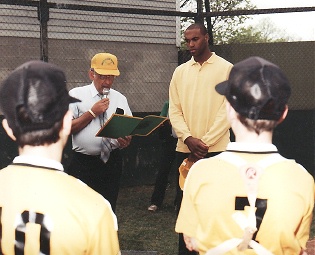 Yours truly honoring Scott Burrell at 1991 Hamden pee wee league opening day. Courtesy photo
You Know Burrell?
By John Carusone
A sports columnist for a local newspaper recently opined that Trumbull's Chris Drury is the best athlete ever to come out of Connecticut. There is no doubt that Drury, now with the NHL Buffalo Sabres, is a true NHL standout. But has that sportswriter ever heard of Hamden's Scott Burrell?
Burrell is the only Connecticut athlete ever drafted No.1 by two professional sports: basketball by the Charlotte Hornets and baseball by the Seattle Mariners. Burrell opted to focus on basketball and recently ended a solid 12-year career in the NBA, European and Far Eastern professional leagues. Winning an NBA championship ring with the 1998 Michael Jordan Chicago Bulls was a great accomplishment. In an abbreviated baseball career, Burrell was rated by all professional personnel as a certain major league starting pitcher.
Another talent of his was his spectacular performance as quarterback for Hamden High, where he won All-District honors before giving up the sport to concentrate on basketball and baseball. I remember Scott as a very young boy when his sister Lynn was coaching my daughter Val in a summer softball league. He wanted someone to pitch to him which led his sister Lynn to say, "Let him hit, he thinks he's great!"
Scott's father, Sam, and I were baseball teammates at SCSU and in the Greater New Haven amateur and semi-pro leagues. Last week at the Democratic Town Committee affair honoring former Dem mayors, Sam and I reminisced about SCSU's first southern baseball trip in 1957. (I know I related this anecdote in an earlier column, but for those who missed it or didn't remember it, it's a good read.)
Sam was the only black on the team. He and I were roommates because Doc Moore wanted us, both lefthanders, to be together all the time. The South was totally segregated at that time so Doc had arranged that we only stay at university dorms or military bases where we were playing. On the way down all the guys were feeling hunger pangs and Doc Moore and assistant coach Gene Casey relented and we stopped at a Howard Johnson's in Williamsburg, Va. As we walked in, there was a noticeable quieting of the usual restaurant hubbub. Myself, Doc Moore, Sam, Paul "Topsy "DelGobbo, Bill Johnson (later West Haven fire chief), Ed Ferrucci, later a New Haven principal, and coach Casey headed for a large table in the rear corner. When we sat down, a waitress came over and put menus in front of everyone but Sam and me.
She said very clearly, "We don't served coloreds here." To which Doc Moore replied, "Only Sam is colored. Johnny's white." The waitress came over to me and got nose to nose with me to try to discern what was the ethnic truth of this swarthy Hamden Italian.
At this stage I got out of my seat and said loud and clear for all patrons to hear: "Sam, let's get the #*)#*@#*out of here. The others joined our walkout and it was only then that I realized how close we had come to real physical trouble. The place was stone cold and all stared at us in a way I will never forget. Eventually we did get our hamburgers at a restaurant that served "coloreds only." What a day that was!
John Carusone was mayor of Hamden from 1987-1991, assistant school super from '69-'82 and a legislative councilor from '65-'69. The Hamden native is now retired but stays active in town affairs -- and has a lot to say about them. (Note: The views expressed here are not necessarily those of the Hamden Daily News.)
---
May 9, 2007
Goodbye State Street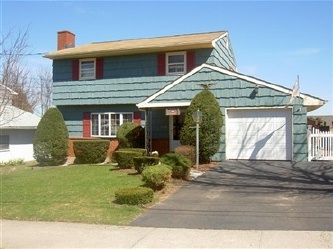 The Carusone homestead. But not for long. Courtesy photo
By John Carusone
It's hard to believe, but after 43 years at 120 Daniel Road, my wife, Sylvia, and I decided it's time for a change. So we put down a deposit on a condo and just placed our home on the market.
There is so much happiness we have shared in our home. Our three daughters grew up here. All of our seven grandchildren have spent many happy times here. Why are we selling? I recently survived a bout with cancer. It looks like my survival rate is over 98 percent. If we don't make a change now we probably never will. What a great neighborhood this has been to raise children. It is a safe environment. Ridge Hill School continues to be a quality school. All of our neighbors have been so pleasant to live with. In 2000, PRESERVATION magazine chronicled our family and the neighborhood in a feature story.
There is so much history that has taken place in our home. The site negotiations for the Ridge Hill School were planned there in 1967. I shall never forget that Sunday morning when Bing Humphrey, chairman of the school site negotiation committee, showed up at my home prior to meeting property owner Henry Gargiulo. Bing brought a bottle of his homemade wine to the meeting. He knew full well that Henry Gargiulo would have his own homemade Italian wine.
What a meeting it was. And yes, we eventually acquired the site. The addition to the high school when the rink was being planned became a reality when our neighbors, the Dragos, interceded with their parents who owned the site to sell the property to the town. And, of course, lots of strategy meetings were held there for my campaigns.
Will we miss our home and our neighborhood? You bet we will. But we will keep in touch with our neighbors. Sylvia and I were going through photographs that we have taken over the years. How our home has changed. When you live for so long in one place you are bound to make changes and improvements. A large kitchen next to a large family room with a raised ceiling, skylight and bay window and our in-ground pool have been the areas where we have spent so much time. My daughters and all the grandchildren have learned to swim in the pool. A far cry from my youth when I learned to swim in the clay pits in the Quinnipiac marshes.
Mary Jo Deck and Susan Santoro of Press-Cuozzo are handling the sale. And for the record , the condo has a pool and we have joined LA Fitness, which also has a pool. However, it doesn't have a heated back porch.
We have a sign hanging over the French doors leading to our pool deck . It reads: "And they lived happily ever after." Yes, we have.
John Carusone was mayor of Hamden from 1987-1991, assistant school super from '69-'82 and a legislative councilor from '65-'69. The Hamden native is now retired but stays active in town affairs -- and has a lot to say about them. (Note: The views expressed here are not necessarily those of the Hamden Daily News.)
---
May 2, 2007
By John Carusone
Let's test your memory. Who said "The light is at the end of the tunnel?" Who said "Most of the country is pacified?" Who said "All we need are 50,000 more troops?" Who called war opponents pacifists and yuppies?" If you guessed President Lyndon Johnson and Gen. William Westmoreland, you are correct. But if you also guessed President George Bush and Defense Secretary Robert Gates, you are also correct.
The war in Iraq is a debacle. It is a foreign policy blunder of epic proportions just as Vietnam was. It is militarily un-winnable as every American general, including David Petraeus, has said. All that can be hoped for is to find a relative moment of stability to try to find a political solution exactly as the Baker-Hamilton Commission recommended.
Over 3,400 innocent kids are dead with over 20,000 wounded. The Bush gang is willing to sacrifice more kids in order to keep this war going until the '08 election, when they can claim that it was the Democrats who were the cut and runners when they surely will end this debacle. This is without any question the most dishonest and corrupt administration in American history and that will be its legacy.
And to compound this dishonesty the "performance" of U.S. Attorney General Alberto Gonzalez before a Senate committee has to make every American citizen cringe. Can you believe the AG of the United States couldn't recall 64 conversations he had with key players about how eight solid U.S. attorneys were fired? What's clear is that all of those fired were fired because they were prosecuting too many Republicans and not enough Democrats. Gonzalez's testimony drew this comment from Bush that Gonzalez was "honorable and honest." Let me add a prefix to that statement. Gonzalez was dishonorable and dishonest in his testimony. Presidential advisor Karl Rove, who is also being investigated for his role, ran this show. He orchestrated the firings and Gonzalez simply carried out his commands. How's that for a U.S. attorney general?
And even in the World Bank, the Bush gang continues to corrupt whatever they touch. World Bank president Paul Wolfkowitz and Stephen Hadley, advisor to Secretary of State Condoleeza Rice, have let politics enter into the professional banking world by selecting political hacks to fill key positions. And we now find out that Wolfie has a "companion" that deserves a $50,000 raise. Hopefully, the WB directors will fire Wolkowitz, who will then be able to figure out how he is going to respond to George Tenet's sensational book that details how the Bush gang lied in order to get us into Iraq on the pretext of WMD. The real reason: OIL.
I mentioned before what the Bush legacy would be. It began with a stolen election and now can be characterized as an eight-year American nightmare.
John Carusone was mayor of Hamden from 1987-1991, assistant school super from '69-'82 and a legislative councilor from '65-'69. The Hamden native is now retired but stays active in town affairs -- and has a lot to say about them. (Note: The views expressed here are not necessarily those of the Hamden Daily News.)
---
April 25, 2007
The Meadowbrook Park that Will Never Be
By John Carusone
I attended a meeting of the Meadowbrook Park Committee and came away with a real sense of sadness and frustration. While landscape architect Chris Fererro made a solid and professional presentation, it is sadly clear that because of the new school on Meadowbrook very little prime land is left to really develop what could have been Hamden's Central Park.
In 1991, I appointed Chris Rendiero, Goldenbells founder, to come up with suggestions to develop an entire golf course. He recommended a combination of active and passive recreation. For the active concepts he recommended a three-hole executive golf course with driving range capability, tennis courts, hiking and biking pathways, bocci courts and perhaps softball diamonds. For the passive activities he recommended picnic areas, a carousel, a band shell, a green area, a nature center, a garden center similar to the Pardee Rose Garden on Park Road, a resident or club planting area, along with the Veterans' Memorial.
Obviously, most of these suggestions will never come to fruition. There is one area that I believe should be incorporated into the new design. The Veteran's Memorial site that was eliminated by the school building should be reintroduced into the new site plan. The one acre that was eliminated by the building should become a permanent part of the new plan. That space should be reserved for veterans' families that want to plant a shrub or put in a ground plaque or a bench just as we planned in the original 1989 memorial design. Further, that space should be dedicated to Hamden World War I hero Sgt. Bernard Early, who was the real hero of the 1918 battle of the Meuse-Argonne that saw Tennessee Cpl. Alvin York steal all the credit for that battle.
As I said in previous columns, the York version of what happened that day continues to crumble. York himself refused any public comment on the battle other to release his ghost-written diary of what happened. When the Army reluctantly awarded Early the DSC, the New Haven area held a Bernie Early Day. York refused to attend. The Army's recent attempt to make Jessica Lynch and Pat Tilman heroes of the Iraq war crumbled within weeks because of public and media scrutiny. York's version would have crumbled in record time had his actions been scrutinized as closely.
Some years ago Hamden World War I vet Fred Tyrell, who had been gassed in France and knew Early, commented, "The Germans couldn't kill Bernie, but the Army sure did!" Fred McCarthy, legion commander of Post 88, in a letter commented: "Your first article takes me back in time to the fifties and our Sunday family gatherings. Most of my relatives were in the Army and often spoke of the injustice."
I think it is time that the people and town of Hamden tell the people and the state of Tennessee that we do not accept the hoax that was Cpl. Alvin York.
John Carusone was mayor of Hamden from 1987-1991, assistant school super from '69-'82 and a legislative councilor from '65-'69. The Hamden native is now retired but stays active in town affairs -- and has a lot to say about them. (Note: The views expressed here are not necessarily those of the Hamden Daily News.)
---
April 18, 2007
By John Carusone
There are so many contradictions that exist between Corporal York's story and the actual facts of the situation that it would take another movie to correct the public perception of York's version of events that day. According to reporter Craig Smith of The New York Times, York said he led a patrol to outflank the heavy frontal German positions. Not true. The patrol was led by Sgt. Bernard Early.
His platoon was ordered to commence the flanking attack. In Legion Magazine in1968, and in the book "The Doughboys," by Laurence Stallings, he goes even further commending Early with the following comment, " There was nothing suicidal or ill timed about Early's essay in minor tactics. It was not only classic it was as native as the Republic itself." The foray led to the first battle of the day. Early and his men came upon 30 German soldiers and a battle ensued in which 15 to 18 of the Germans were killed or wounded. The rest surrendered which began the capitulation of all the German forces. Early was wounded six times in the firefight but remained in control until he could be evacuated. York was unscathed during the entire battle.
Another participant in the battle named William Cutting told another contradictory story about York's version. Cutting's real name was Otis Merrithew. He claimed that the eventual German surrender was when the German major handed him (Merrithew) his luger pistol. This was viewed by the entire company. York had claimed it was he who took the surrender. Merrithew told the following story: "York had continued to object to fighting and it worried him (Merrithew) that as they advanced through murderous fire York had hesitated at killing the enemy in a few of our prior battles and during training at Camp Gordon he had been in jail more than he had been out because of his pacifist views.York and Sgt. Early had fought over the subject of killing. York had continued on about the foolishness of war until Bernie Sgt. Early threatened to blow his brains out!"
About the surrender Merrithew said after the surrender, "Only then did York and some fellow soldiers come out of their hiding." When the 1941 movie "Sgt. York" was being filmed, Merrithew threatened legal action against Warner Brothers because they had not portrayed the German surrender as it actually took place, according to Times reporter Smith. In 1929, the Army awarded Early the DSC because they no longer could doubt his heroism. For whatever the reason Merrithew, long ignored, eventually received the Silver Star in 1964 when he recanted his former story.
About the movie itself, the NYT July, 1941, movie review noted , "The movie was based on York's diary." Smith had reported that the diary had been ghost written by Tom Skeykill, an Australian soldier poet.
According to Smith, York's family has never made the real diary available to historians.York had refused to serve as a movie consultant opting only to request that star Gary Cooper play him. A far cry from real World War II hero Audie Murphy, who not only acted as a movie consultant for the war drama "To Hell and Back" but played himself to ensure the film's accuracy. Murphy was the most decorated soldier of the second world war.
Only six affidavits from soldiers supported York's version. The Early family is on the hunt for letters sent by Early's fellow soldiers which tell of Early's heroics and debunk York's version. Time will tell if the greatest military hoax \in history can be righted.
John Carusone was mayor of Hamden from 1987-1991, assistant school super from '69-'82 and a legislative councilor from '65-'69. The Hamden native is now retired but stays active in town affairs -- and has a lot to say about them. (Note: The views expressed here are not necessarily those of the Hamden Daily News.)
---
April 11, 2007
By John Carusone
"It didn't happen that way." So said Hamden World War I hero Bernard Early to his granddaughter Karen, daughter of Early's son, Jack. Yesterday I met Karen, now Karen Scott, her son, Robert, and Kevin Early, son of Charles Early. They had contacted me a while ago based on a column I wrote that debunked the tale of Tennessee soldier Alvin York.
Later, New York Times reporter Craig Smith did a similar piece which clearly showed the inconsistency of York's version of that day in 1918. Some Tennessee professors later claimed they had found the exact spot where York's heroics took place because they found pistol shells where York said he had killed many Germans. Those shells proved nothing other than York had fired his pistol and probably did kill some Germans. What those shells don't prove is how York singlehandedly captured or killed 152 Germans and silenced between 35 and 52 machine gun nests.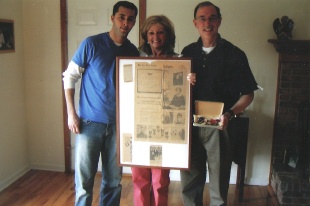 Karen Scott holds a 1962 Register article that details Bernard Early's heroics. Her son, Robert, and grandson Kevin hold medals and bullets from Early's wounds. Courtesy photo
I'm going to do two columns on this issue because of the interest this case is now generating after so many years. Let's destroy the first myth. York was not a sergeant then. He was a corporal. Early was not a corporal. He was a sergeant and York reported to him. Let's discuss the political and social climate of 1918 to put the entire incident in perspective. I believe there are four major reasons that the Army initially chose to ignore Early. First was that draftees of that period were largely uneducated. Public school for most was limited to a few years of primary education with no high school at all. As draftees they were commanded by officers, college-trained and upper class. There was no middle class then, only upper and lower. They were easily convinced to accept the officers' and Army's points of view on all military matters. They would not challenge the system.
Second, there was tremendous prejudice in America against the Irish."Irish need not apply " was a favorite saying at that time. Let's not forget that our ally Britain hated the Irish whether they were homeland Irish or American Irish. The Sinn Fein had opposed British Home Rule so on Easter Sunday 1916, they expected German help to invade Dublin. Britain had also attempted to begin conscription in Ireland. Britain got word of the plot and arrested and executed many of the leaders. I can't believe that Britain would have stood idly by while an Irishman was honored for war heroics. Third, Early was Catholic at a time when there was tremendous anti-Catholic sentiment.
Fourth, there was opposition to America's entry into World War I. A hero was needed. York fit that bill, Early did not. York, a Protestant, was more acceptable. The Army hierarchy was mainly Protestant. York, a former conscientious objector, said he spoke directly to God who said it was "OK to kill Germans."
Next week I am going to delve into some of the many inconsistencies of York's fabricated story. Stay tuned.
John Carusone was mayor of Hamden from 1987-1991, assistant school super from '69-'82 and a legislative councilor from '65-'69. The Hamden native is now retired but stays active in town affairs -- and has a lot to say about them. (Note: The views expressed here are not necessarily those of the Hamden Daily News.)
---
April 4, 2007
By John Carusone
The Bush Administration has developed a new definition of a lie that by any standards insults your intelligence. Remember this is the moral crowd that tried to impeach Clinton because he lied. OK, let's have some fun!
Alberto Gonzalez, our attorney general and the No. 1 law enforcement official of our country, has been caught red-handed lying about his role in the firing of eight Untied States attorneys. He has characterized his blatant lie as a "mistake." So if you call a lie a "mistake," it's not a lie. Isn't it amazing that his chief aide Monica Goodling would take the fifth because if she testified before Congress she would have to commit perjury. So by taking the fifth there is no lie.
Scooter Libby really didn't lie. All he did was protect Cheney's butt. So that's not a lie. He should be pardoned because his actions -- even as he has been convicted as a felon -- were heroic in the eyes of the crazies. And that's no lie! Newt Gingrich really didn't lie to his first two wives. All he had to do was apologize for his affairs. You see, if you are sorry for your transgressions they are no longer lies. Rudy Giuliani didn't lie when he "forgot" how many times his present wife was married. So if you forget, it's not a lie! Guiliani also "forgot" that he had been briefed about the criminal background of Commissioner Bernard Kerik's business associates.
FBI Director Mueller didn't lie about the wiretap program. In his early testimony to Congress he characterized the program as meeting high lawful standards. Now that evidence to the contrary has been exposed, Mueller says "shoddy bookkeeping" was at fault. So he didn't lie.
And the granddaddy lie of them all: Saddam Hussein had WMD and we had to go to war so there would be no "mushroom cloud" over our country.
So who are the biggest liars of all time? Let's name them. George Bush, Donald Rumsfeld, Dick "Draft Dodger" Cheney, Condoleeza Rice, Paul Wolfkowitz and Colin Powell. And what is their explanation now for this military debacle that has led to over 3,300 innocent kids being killed and over 20,000 being wounded? Why the intelligence was "flawed." That's the biggest lie of all time in America's history. These individuals cherry picked intelligence to justify going to war when they knew full well there were no WMD. There were no deals for Iraq to buy uranium from Niger.
And the latest Bushcapade defies any description. Did you see Bush reading the transmissions from bloggers in Iraq telling how successful the troop surge has been? "Markets were reopening, streets were now safer, etc." It turns out the bloggers had visited Bush in 2004 in the oval office and are strong Bush supporters. In the final tragic chapter of this outright lie, a market was blown up shortly thereafter killing over 100 Iraqis with an additional 177 being murdered on one of the "safe" streets.
This is the most dishonest administration in American history.
John Carusone was mayor of Hamden from 1987-1991, assistant school super from '69-'82 and a legislative councilor from '65-'69. The Hamden native is now retired but stays active in town affairs -- and has a lot to say about them. (Note: The views expressed here are not necessarily those of the Hamden Daily News.)