Arts
May 8, 2006
Singing for Someone Else's Supper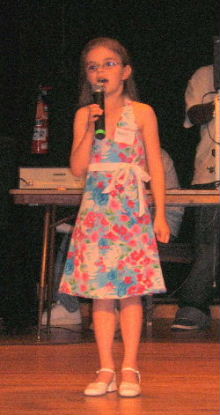 Maia Dingus, 6, sings "Reflection" to a packed house.
A new Hamden High student effort holds its first fundraiser for the hungry
Story and photos by Sharon Bass
Here's the kids' goal: raise $7,200 to receive a truckload of $35,000-$50,000 worth of groceries for 400 economically poor Hamden households.
Last Saturday, the kids -- a newly formed group of Hamden High students called Hamden Helping Hunger -- got about a grand closer to its goal. It threw a competitive "New York Style Talent Show" at Thornton Wilder Hall, drawing 6-year-olds to middle-aged folks. Organizer/parent Ec'sha MarQuez said $1,400 was raised, of which roughly $400 went to event expenses. The truckload of food would come from the international Christian group Feed The Children.
The first performer of the evening was also the youngest. Maie Dingus, 6, chose to sing "Reflection" from Disney's "Mulan." However, there was a pregnant pause before she began. The guy who was spinning the CDs with instrumental backgrounds for the singers thought the song was "Reflections," a hip-hop tune.
Maie stood still on stage, looking puzzled, as she listenend to the unfamiliar music. The error was fixed and the Ridge Hill student went on to deliver a very sweet and perfectly in tune rendition of the Disney song. Her mother and father, 8-year-old sister, Eilee, uncles, an aunt and grandparents from Bridgeport came to see her.
Trophies were given to first- and second-place winners from each category and third-placers got a prize (most categories had two to four competitors).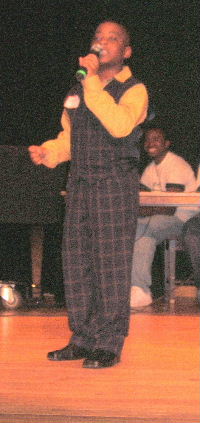 After Isaiah Bostic, 8, belted out
his number, an audience member
said, "I'd like to get his autograph --
now."
There were four judges -- Hamden High English teacher Leonora Henderson, Ridge Hill teacher Doreen Stohler, Hamden Arts Commission Chair George Moore and Rodger Gabriel of People's Bank. But their job was not to determine who was the best. It was to determine whom the audience clapped for most vigorously.
Maie Dingus was one of four in the young children's singing category. First place went to Elisa Kanner, 10, for a charming "Tomorrow."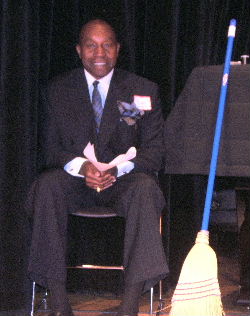 Guidance counselor Byrd, aka the Sandman.
There was also a "Sandman" on stage. Hamden Middle School guidance counselor Roland Byrd played the part. He sat next to a broom, ready to sweep off bad acts. But, of course, he swept off no one. "That would be cruel to do to kids," he said before showtime.
The only time he might have used the broom was during a skit performed by adults Lois Gilbert and Wynter Woody. Woody played a fake doctor and Gilbert a potential patient who wanted to know what she could get fixed for $60. Woody tells her what she can't afford: a brain tumor, lupus, testicular cancer. If there were any humorous lines they were drowned out by the tasteless theme.
Otherwise, the show brimmed with high, high energy, some great talent and stage attitude.
Julie Rizzo, 15, did a tap dance routine that rivaled that of New York pros. Not only were her steps tight and clean, but she was also very personable on stage, remembering to smile and make love to her audience.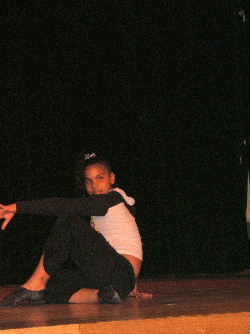 Dancer Stephanie Joyce, 10.
Rizzo competed against Stephanie Joyce, 10, another solo dancer, and two groups -- 6 Lil Mamas (who were 4 Lil Mamas last Saturday night) and CT's Finest, a large group of teens. Both groups moved around the stage with attitude and strength, and were quite impressive and fun to watch.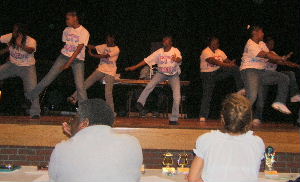 CT's Finest beat up the stage.
The audience chose CT's Finest for first place and Rizzo for second. Then organizer MarQuez announced the rules had changed. The tap dancer was in her own category and since she had no competition was also given a first-place trophy. That gave Lil Mamas second place, instead of third.
Same thing happened in the "Spoken Word" category. Nicole Myrie, 12, clearly won the audience over with her poem about equality -- and was then told by MarQuez she was in a category by herself. First place instead went to Christopher Singleton, who sang a comedic song while playing the piano. And Aaron Carpenter, 16, got second place in the category of two for his gospel rap performance.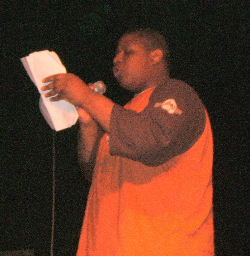 Aaron Carpenter reads his rap sermon.
A special note about 11-year-old Justin Green, who was truly in a category of his own Saturday night. The young boy played the classical violin with awesome grace and skill. After the show, he said he'd like to go pro.
---
May 1, 2006
Battle of the Bands:
The Finals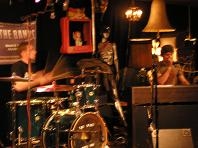 The Queen-Killing Kings take home the gold.
Story by Chris Clark; photos by Dave Amrani
Let me start off by saying that the final round last Saturday of The Space's Battle of the Bands was one of the best shows I have ever been to. The musical talent and diversity was amazing. As a judge, I was forced to listen more carefully and give more thought to each act than I normally do. The music scene here is in much better shape than I thought. At the risk of sounding cliché, all these bands deserve credit for getting up there and doing their thing. Here's my review of the final round.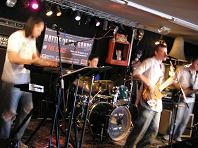 Ory'Hara was one of my favorites of the entire event; however they weren't as tight as they were in Round 5. At the beginning of their set they explained that their normal guitar and keyboard players were away and the fill-ins had only had a week or so to learn all the songs. If the singer hadn't told us that, I would have thought they had been practicing for months. They were tight, but just not as together as they were two weeks earlier with the permanent members. Being the opener is hard, but they had people dancing right away with their fast-paced blend of punk and Atari music. I would definitely go see these guys again.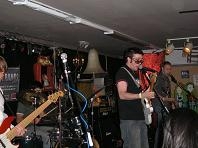 First Ave. was also less tight musically than they had been last time. I'm in a band and I know it's hard to get an audience warmed up when it's still light outside, so I have to give them credit. They got people up to the front of the stage right away and the kids were moving and having fun. This band writes some good pop-punk songs and if they had only been as tight as they were in the last round, they would have definitely been in a position to win.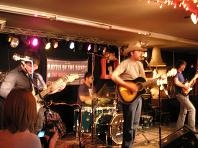 The Tires were great. They put on a fun show and they write amazing country songs. The thing is, all their songs are about tires so you'd think their act would be gimmicky. But they only use tires as a metaphor for other situations that anyone can relate to. With only a 25-minute set instead of a full half-hour, they had less chance to play slower, stretched-out country ballads and stuck mostly to faster, upbeat songs. I liked them even better tonight than I had last time. I wish they had a CD for sale.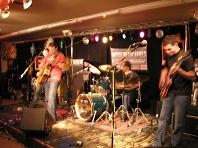 Brittle Sails are a good band, but they aren't my cup of tea. Both nights I enjoyed the first song of their set, but after that the numbers all sounded the same. The singer has a falsetto style that's charming at first, but loses my attention mid-set. Some of the other judges really liked them and they got a good response from the crowd.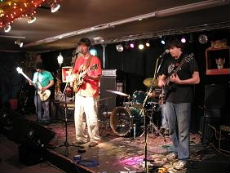 When Gravity Sings wasn't at all like I remembered them. They have a very original sound and seemed to switch it up a lot more Saturday night than they did in Round 5. One of the most important things to me in a band is that they are memorable in some way. If they don't have something to offer that catches your attention, they really aren't worth a second listen. This band writes catchy songs filled with hooks you can't get out of your head. Fun set.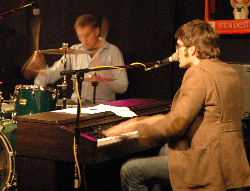 The Queen-Killing Kings were the clear favorite with all the judges after the preliminary rounds were done. They put on such a great set in the first round that I didn't think they could top it. Somehow they managed to. The songs are genuine and the pianist's voice is warm and emotional. The two-piece, drum and piano combination added to the originality. The best part of their set was the last song, a piano ballad with no drums. The singer -- with just piano and voice -- delivered such a strong closing moment I got goose bumps.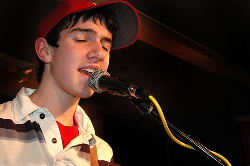 Aurora was one of the youngest bands in the Battle. In the last round, their style was rock with a funk influence, but at the finals most of the songs were straight pop punk. I'm not sure, but I think they might have changed a member or two. I liked their set. They were having a lot of fun and that energy really rubbed off on the audience.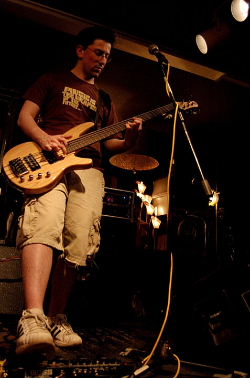 Bushwhack clearly had the biggest draw of the night. They play all instrumental songs, no vocals, but with a ton of energy. The instrument levels were a lot louder than they needed to be, and that distracted from the musicianship. They use elements of many different musical genres and switch up tempos well. One thing that really bothered me was that the majority of their audience seemed to be parental and they all wore Bushwhack shirts. The band obviously worked hard to get so many people in the door, but it takes away from a show when most of a band's audience is relatives.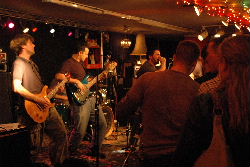 Dropshift was next. Their style is metal-influenced hard rock. They remind me of System of a Down. While they are a good band, they leave you with nothing to remember. The music isn't particularly interesting or catchy, and there are a billion other bands out there doing the exact same live show. When taking notes for their set, I couldn't find much to say because I've seen it so many times before. These guys are good musicians and if they could just find their own identity they would be a great band.

Until We Fall plays a style that I'm not a big fan of: screamo. There are tons of other bands out there doing the same thing because that's what is popular right now. But there was something about this band that grabbed me more than the rest. First of all they had more energy, even at 11 at night, than most of the other bands in the Battle. They're really young. Their songs are musically and lyrically much more interesting than some of the more popular bands of the genre. They have the brute, hardcore, wall of sound style down to a tee, and they know what they're doing when they get on stage.
Two winners were to be picked by the end of the night. One would be purely based on what we as judges decided; the other would be our choice between the two bands that drew the most people. The judges' vote was unanimous for The Queen-Killing Kings.
The two top-draws were Bushwhack and Until We Fall. This is where it got sticky. At first we went around the room saying which band we'd vote for. Some of the judges couldn't decide, though, and it was an even split between the ones who could. After a good 20 minutes of deliberation, Bushwhack won the vote, 4-3. I was one of the three. The thing that put Bushwhack over the top was that they are doing something completely original, while Until We Fall is catering to the current trend.
My view was that Until We Fall brought in an audience of peers, whereas Bushwhack drew parents and family. From being in a band, I know that it's much harder to gain the respect of your peers than to get a carpool of family members to a show. I know for a fact that both bands worked very hard to get people out. Originally, the draw vote was going to be based simply on numbers without the judges' vote. Bushwhack drew more than Until We Fall so it's fitting that they won the draw vote.
Each year these Battle of the Band events keep getting better and better. This was a great experience. We all got to witness some bands we didn't know about. I know it sounds corny, but I really wish there weren't just two winners. All of these bands deserve credit and everyone who made it to the finals should know that they deserved to be there.